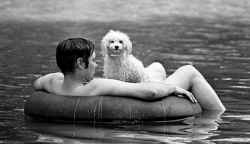 We do have a lot of occasions like Valentine's Day, Christmas or New Year, but we don't always have it on a costume-themed-party the way we have it for Halloween. Obviously, it's one gathering that people tend to look very unique, scary, eye-catchy and just so out of this world sometimes. Some would attend parties with their family, love ones, co-workers and friends. While there are some who only have dogs at home, can they not bring this little creature to party? To think, a dog is a man's best friend! So where ever the owner goes, surely dogs would like to come too. What are you worrying about?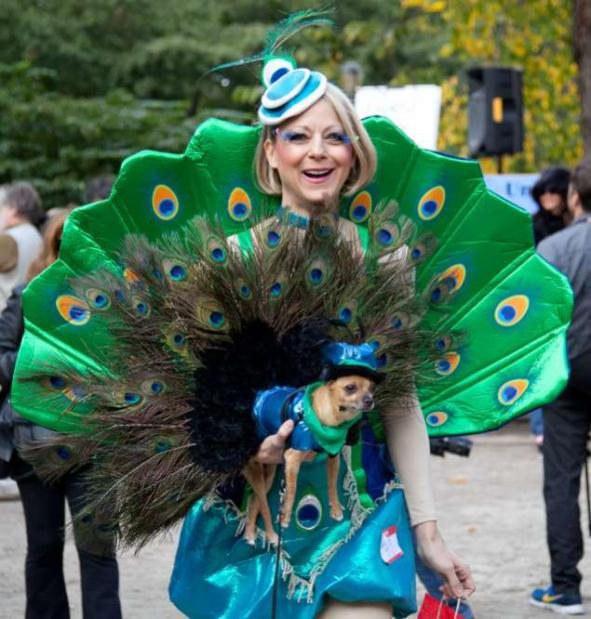 You can actually rock the night out with your dog if and only if you'd dress it awesomely perfect. Pets are naturally cute and lovable so you may think they don't fit the for the Halloween party. But think twice! They can be very scary too and all you have to do is browse below and see which among the costumes would suit your pet's personality. In our compilation below you will see the very common Halloween characters, TV and movie characters, animal costumes for dogs, superheroes, funny dog costumes, cute dog costumes and many more. Of course, if your goal is to frighten people then don't forget to teach them "awoooooo" howl. Cheers and may you and your dog turn the heads of the party people in the event your attending. You can also dress them up even if you're just going out in the neighborhood for a trick-or-treat.
Basic Halloween Character Costumes
Talking about the common characters associated with Halloween season. From ghosts, spirits, vampires and Dracula, Frankenstein, witches, mummy, skeleton, devil, zombies and pumpkins too.
Ghost or Spirit Costume for Dogs
Very simple yet awesome costume I may say. If you don't have much time to find one, then with this ghost costume it would only take less than an hour to make it. All you need is a white cloth, black broad pen and a pair of scissors. You only have to cut 4 holes, 2 for the eyes and 2 for the ears. If your dog is as obedient as the one on the photo below, it's not hard for you to dress it up like a spooky ghost. Still cute though!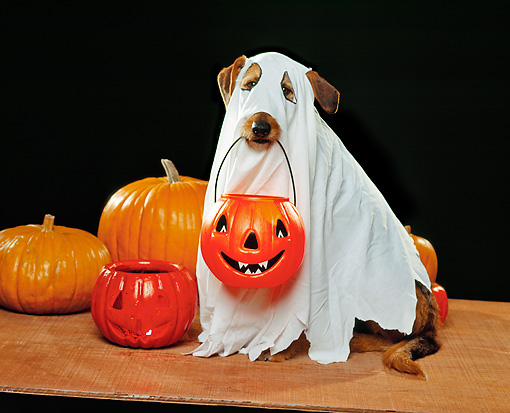 Photo courtesy of Kimballstock
If there's a gang of them, oh such a total riot! Some believed that dogs can see ghosts and that's the very reason why they are howling. Looking at the picture below, I assume they'd be howling the whole time they are together because they are all ghosts!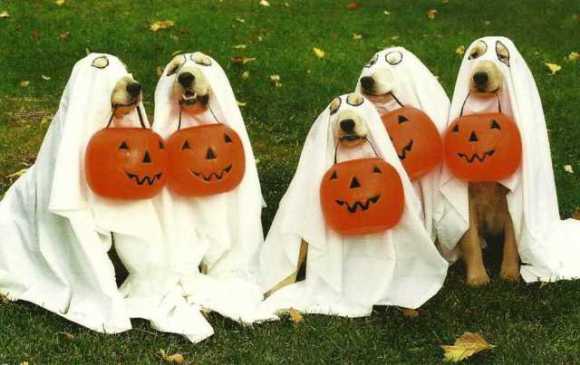 Photo : Petslady
Dracula or Vampire Dog Costume
With that prop of coffin beside the pup, no doubt it's a vampire. You better hide because it looks really hungry and ready to sip anyone's blood!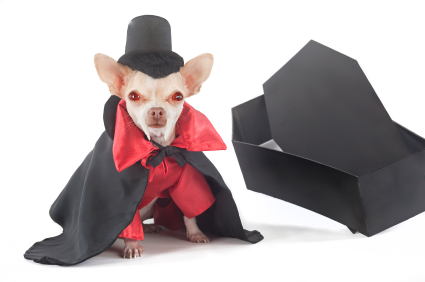 Photo : mysmalldogclothes
Bat Dog Costume
From vampire, let's get a little smaller. I'm talking about bats so here's one photo of a bat costume for dog. It's got tiny wings and an entire black cloth for the body.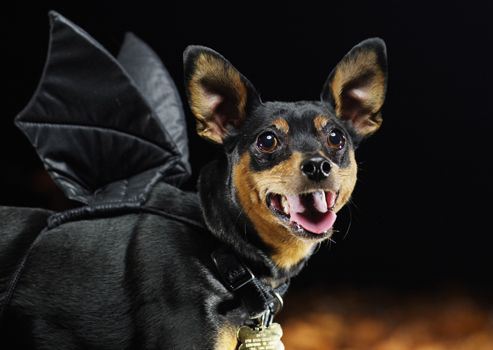 Photo: ehow
Frankenstein Dog Costume
The horror monster is indeed alive!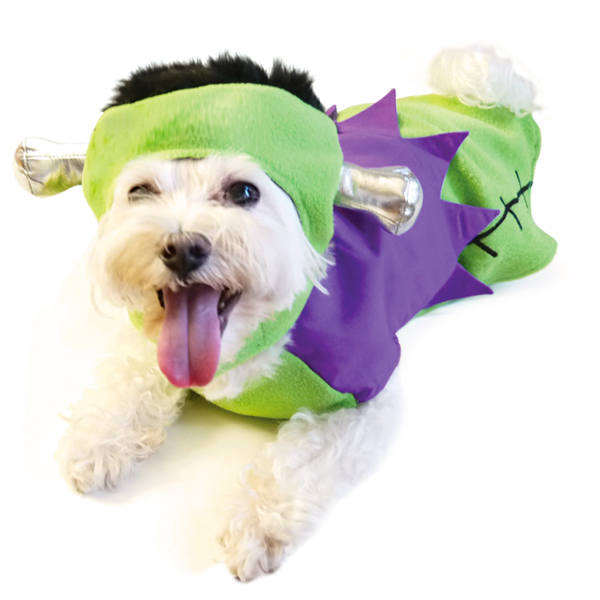 Photo : Beescorner
I think this one below is spookier because those long spiky hair adds up to the more realistic Frankenstein look!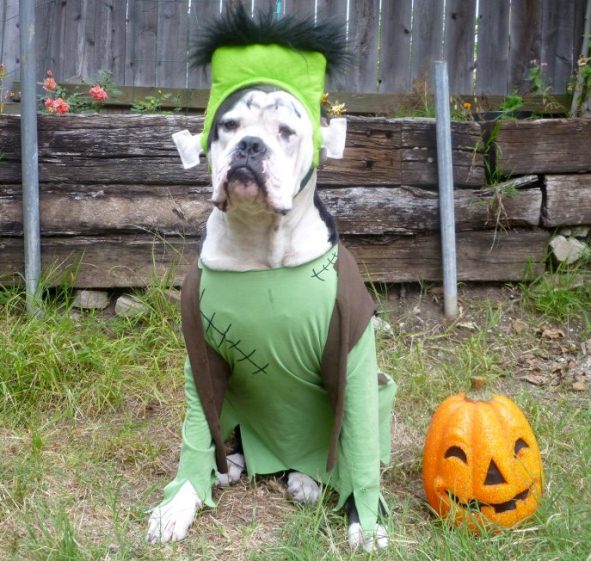 Photo : weirdnews
Witch Dog Costumes
Witches are those who perform black magic that could either harm someone or turn into a different creature. Get out of the way, else these witches might turn you into a dog!
Witch Costume for a Female Dog. Witches are usually female but not limited to.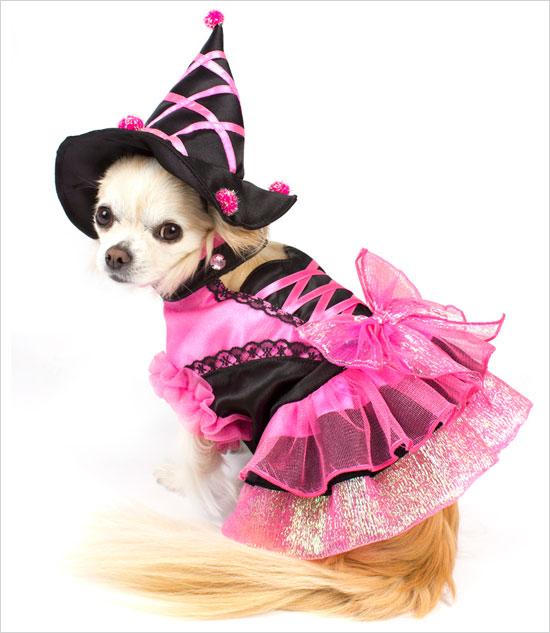 Photo: gwlittle
Witch Costume for a Male Dog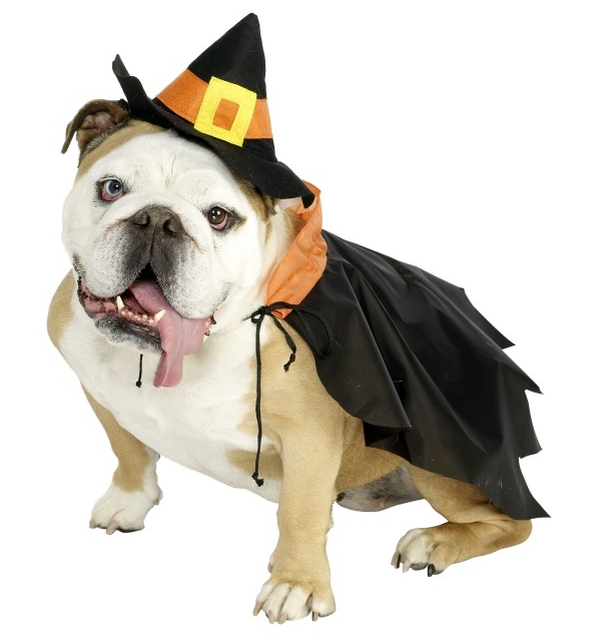 Photo: petsclan
Mummy Dog Costume
Like the ghost or spirit costume, this one looks easy too. You just need a torn-out cloth or even bandages would do. Such a cheap dog costume. Time to mummify your pet.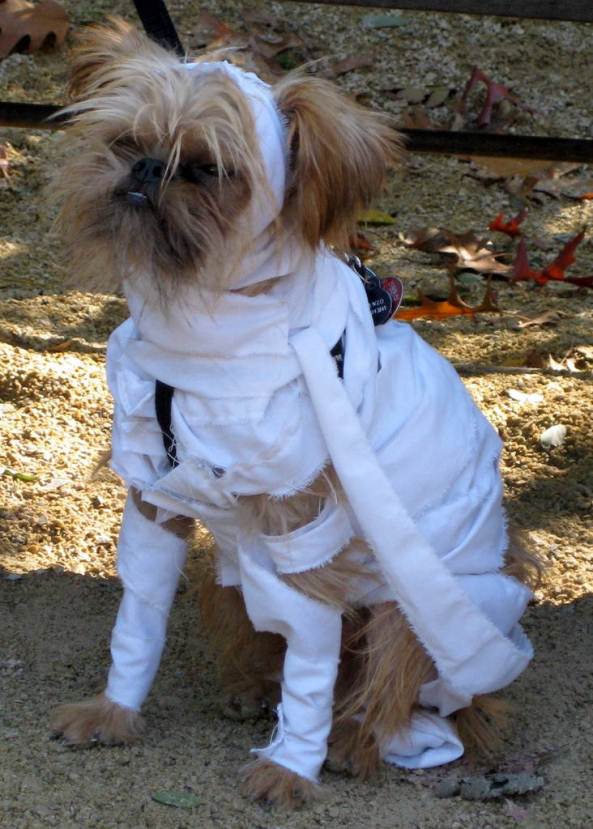 Photo: manhattan.about.com
Skeleton or Skull Dog Costumes
Hey ho people. I'm going out for a trick-or-treat tonight in the neighborhood hoping I could get a bunch of yummy bones. Could you give me a hint where the bones are?:) If only you knew! (lol)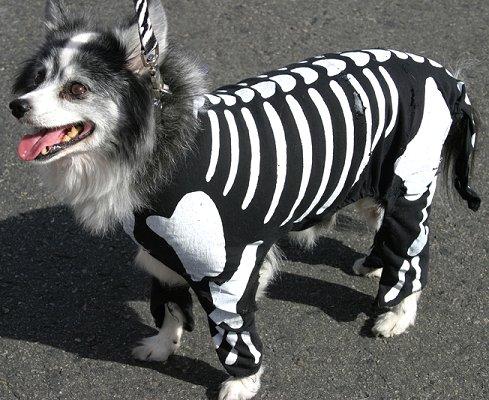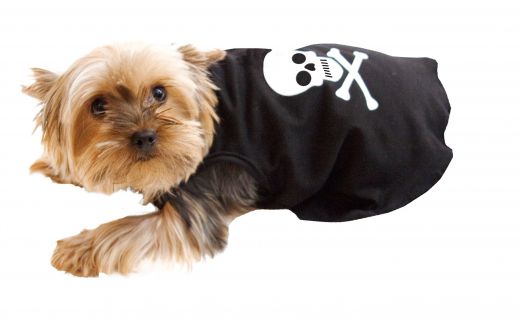 Photo: barnaclebill.hubpages.com
Devil Costume for Dogs
The king of darkness is ready to party. It's a "No more Mr. Nice Guy" tonight!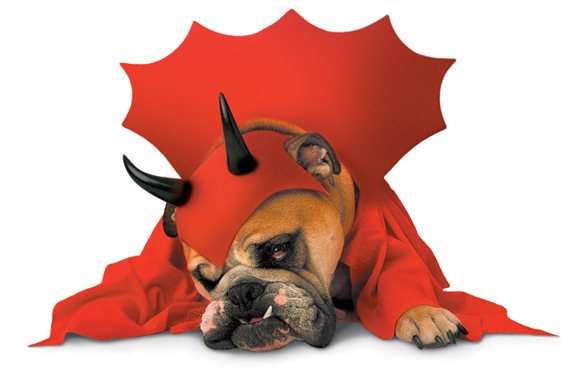 photo: costumecreations
Zombie Costume for Dogs
Are those intestines I'm seeing? Ewww!! Whoever did this costume is super talented. With those crows fighting over the dog's intestines adds up to this horrifying scene.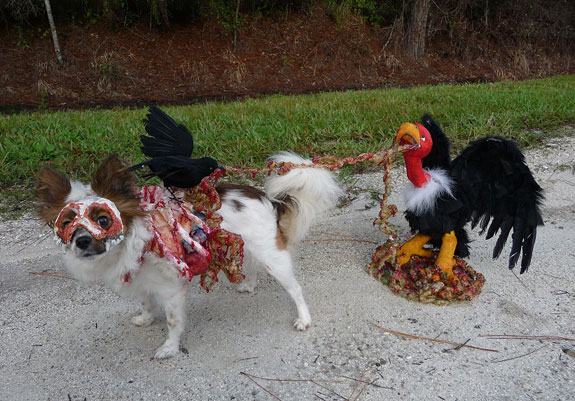 photo: puplife
Pumpkin Costume for Dogs
A less of creep, but since Pumpkins are strongly associated with Halloween then here's a Pumpkin dog costume. That bright orange outfit can still capture everybody's attention.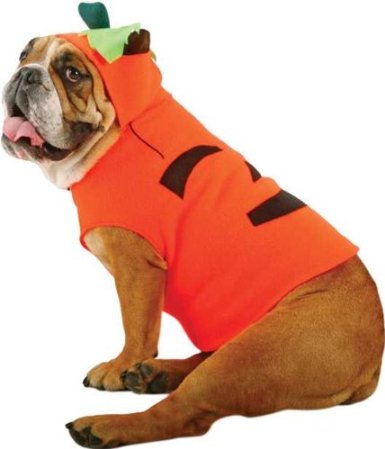 Photo: halloweendogcostumes
More Scary Costumes for Dogs
Headless Dog Costume
This one is a total creep, but considering it's a huge costume a dog may be easily annoyed to wear this.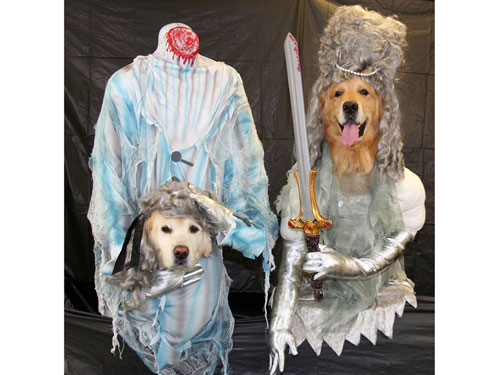 Photo: Womansday
3 Heads Dog Costume
If you're afraid of a headless dog, how about seeing a dog with 3 heads? I'd feel the same way for both!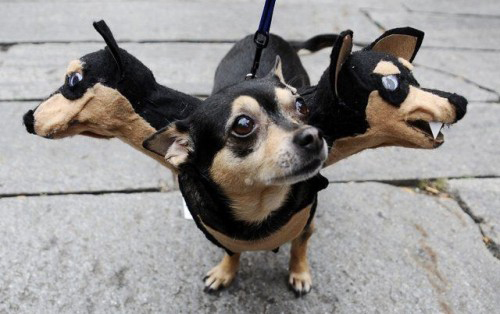 photo: clevelandseniors
Dog Costume with a Knife Stuck on a Bleeding Head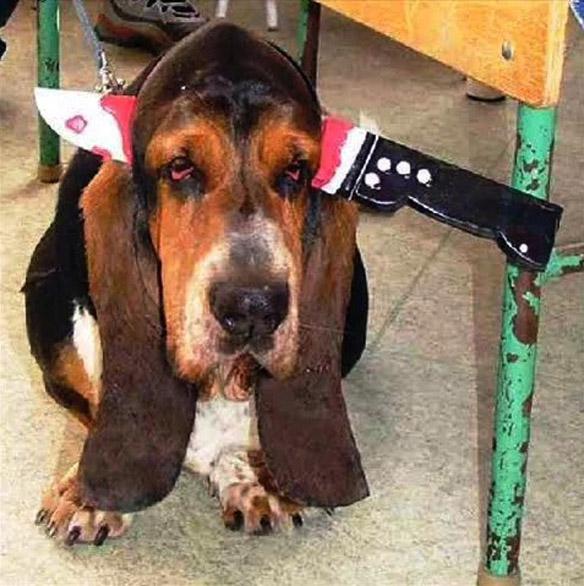 photo: en.paperblog
TV and Movie Characters Dog Costumes
Wanna bring your pet, but don't want them look spooky? If you just want to keep your pets pretty and sweet, well no problem. There are lots of dog costumes below and can also be used on other occasions aside from a Halloween Party.
Let's begin with the Superheroes
Superman Dog Costume
It's time for the "up, up and away!" Just don't show me my kryptonite (yummy bone) because you know I'd get really weak.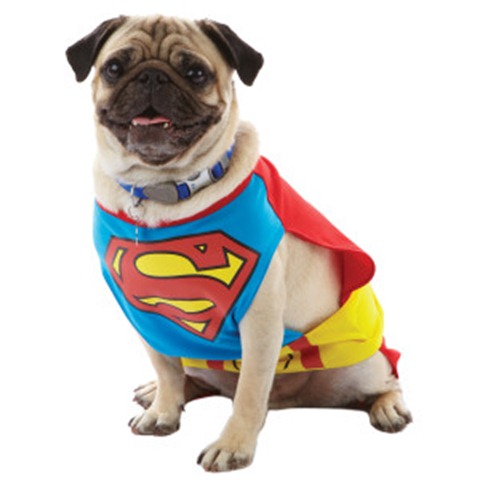 photo: irresitablepets
Batman Dog Costume and Wonder Woman Dog Costume
By looking at the picture below, it looks Batman and Wonderwoman are officially dating. I thought Batman is for Catwoman? Oh so silly. He is now Batdog and we all know dog can't love a cat! So Catwoman is out of the scene for now!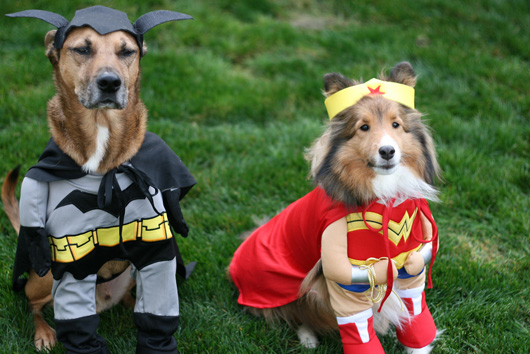 photo: mnn
Spiderman Dog Costume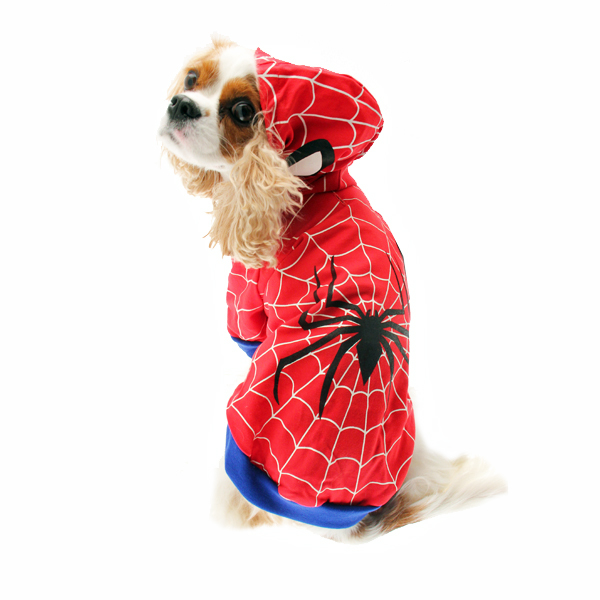 photo: baxterboo
Uncle Sam Dog Costume
US Citizenship for your dog. This is another polyester costume features red, white and blue bodysuit. Also includes matching hat. Can also be used on 4th of July.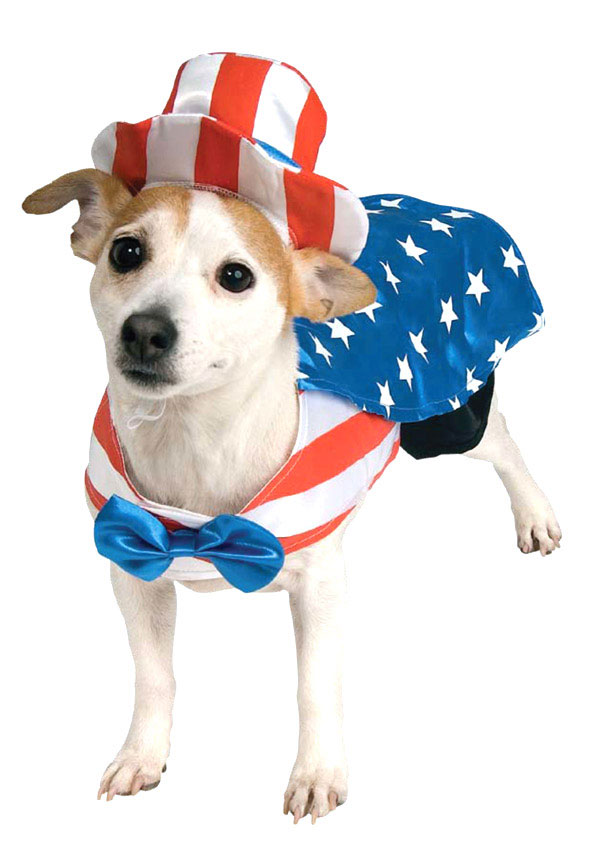 photo: costumecraze
Famous Super Mario and Luigi Brothers Dog Costume
photo: gadgetsin
Marilyn Monroe Dog Costume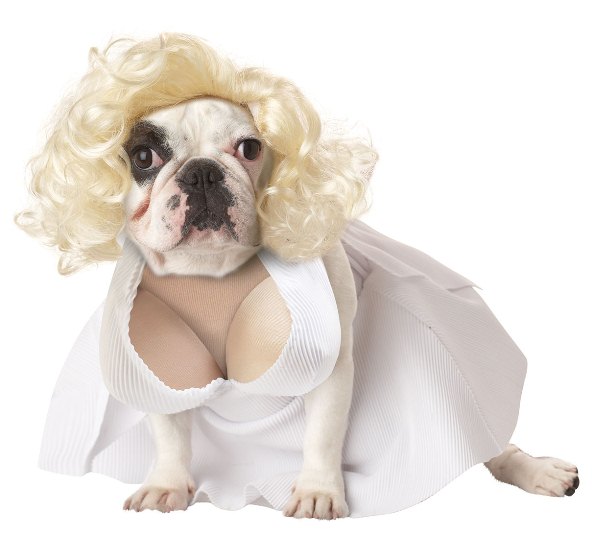 photo: costumecraze
Animal Dog Costumes or New Creature Dog Costumes
Killer Shark Dog Costume
Just look at the sharp teeth! Who wouldn't be afraid of this pup?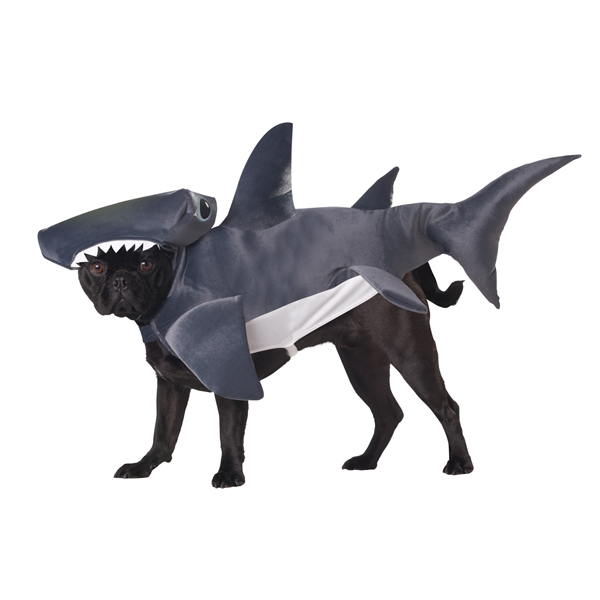 photo: baxterboo
Dinosaur Dog Costumes
Sharp teeth, ugly feet. What are you waiting for? Dress your dog into a spooky creature on a dark night!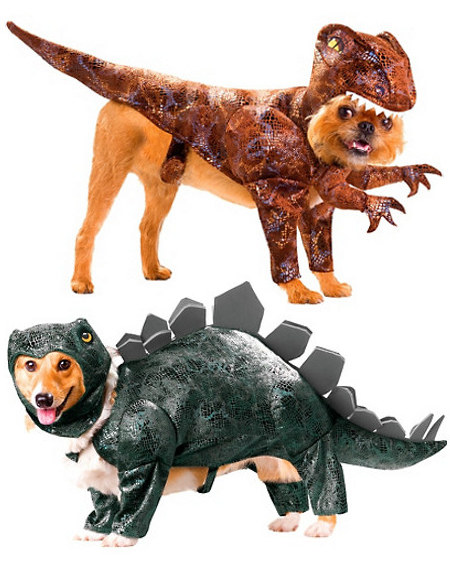 photo: theyellowranger
Lobster Dog Costume
I'm not scared at all, I'm actually starving looking at this dog!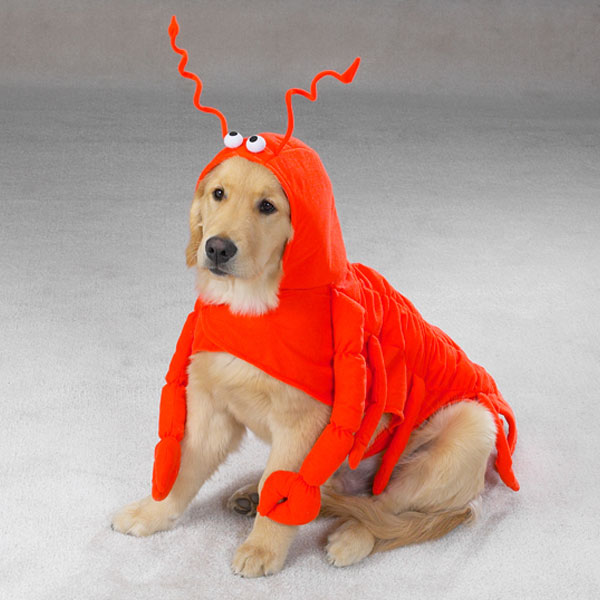 photo: spoilurpets
Caterpillar Dog Costume
You may be ugly for now but don't worry you will be a pretty butterfly someday! 🙂 Next year's Halloween I believe!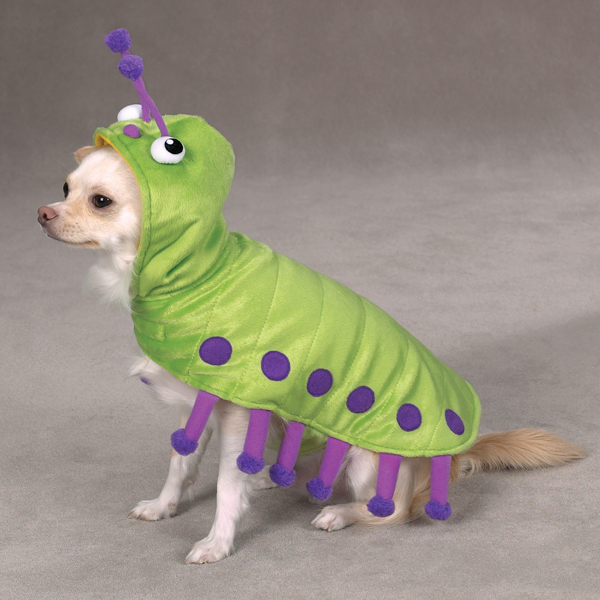 photo: emmaeraeshalloween
Bee Dog Costume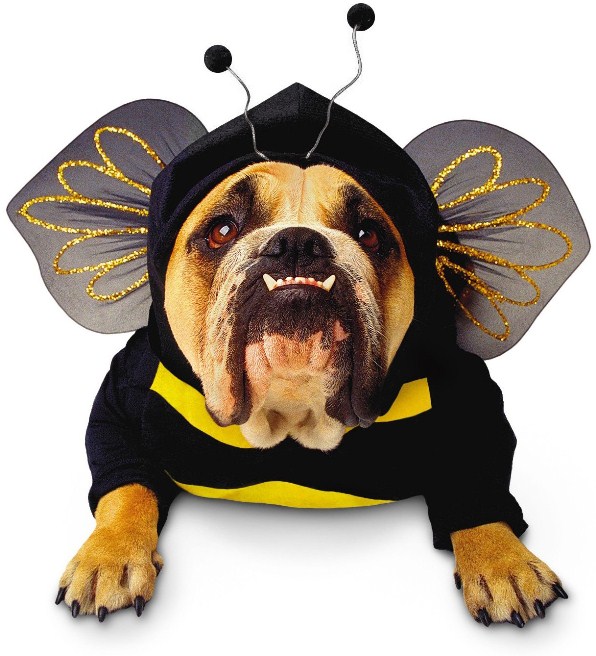 photo: costumes
Skunk Dog Costume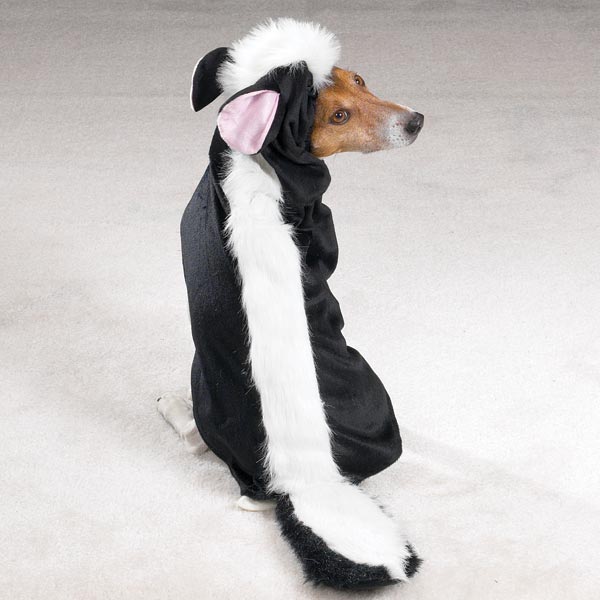 photo: badasspetz
Cave Man Oooops sorry! Cave Dog I mean!
This is a Flintstones inspired costume. Shirt and wig are included.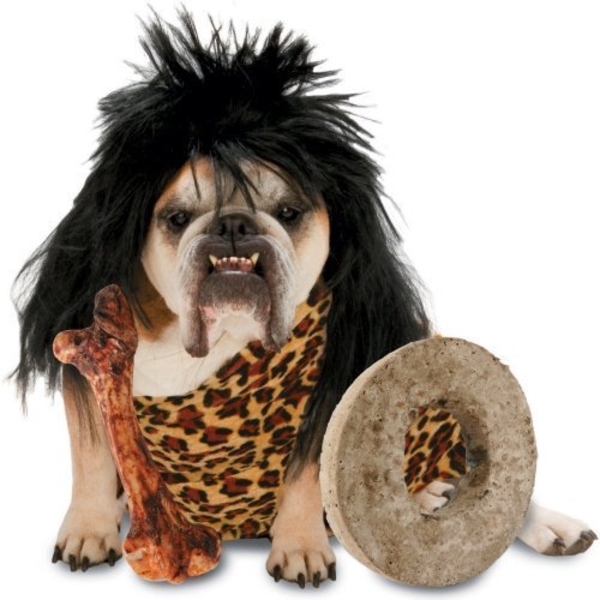 photo: folkparty
Punk Dog
Turn your pet into a cool rock star!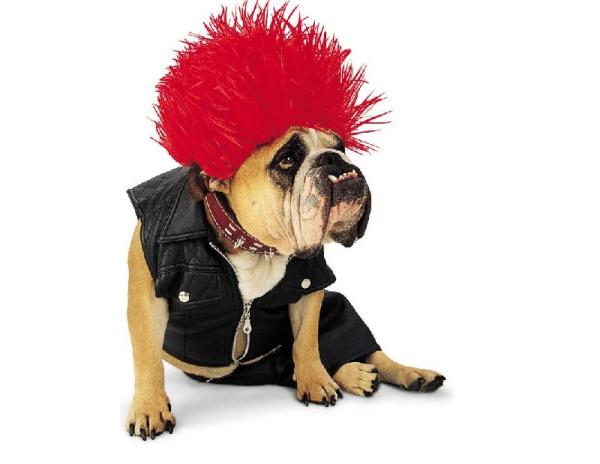 photo: kdhamptons
Pirate or Captain Hook Dog Costume
Oh that hook looks sharp!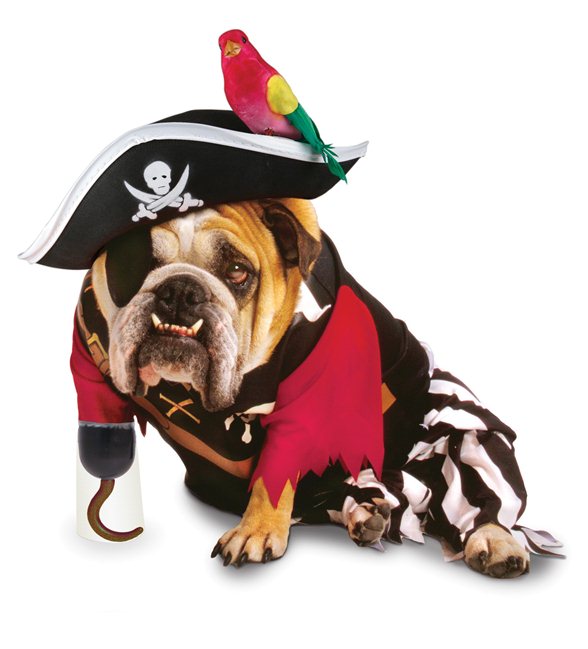 photo : costumecreations
More wholesome or friendly looking dog costumes so kids can hang with your pet too!
Pretty Flower
So pretty! Would love to try this for myself, oh i mean for my kitty! Includes the pink flower cape and antennae.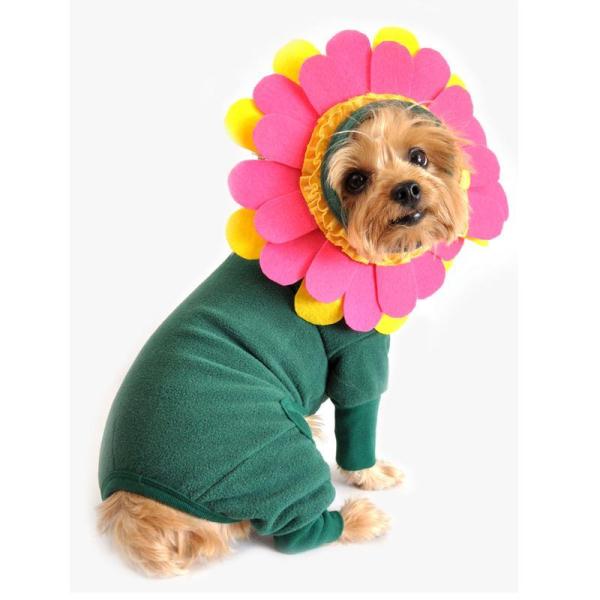 photo: beescorner
Hotdog Costume for Dogs
Literally, it's a hot dog!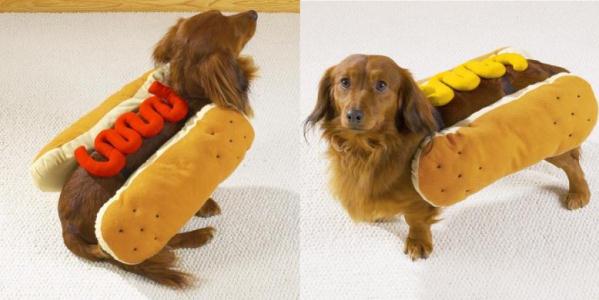 photo: ebay
Clown Dog Costume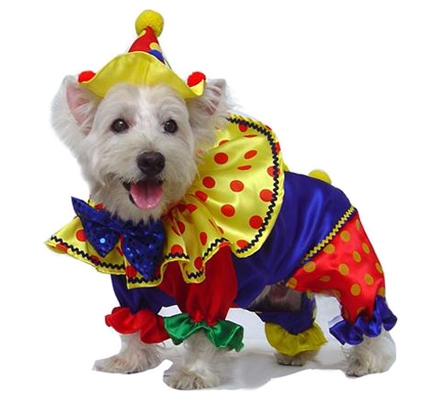 photo: badasspetz
Angel Dog Costume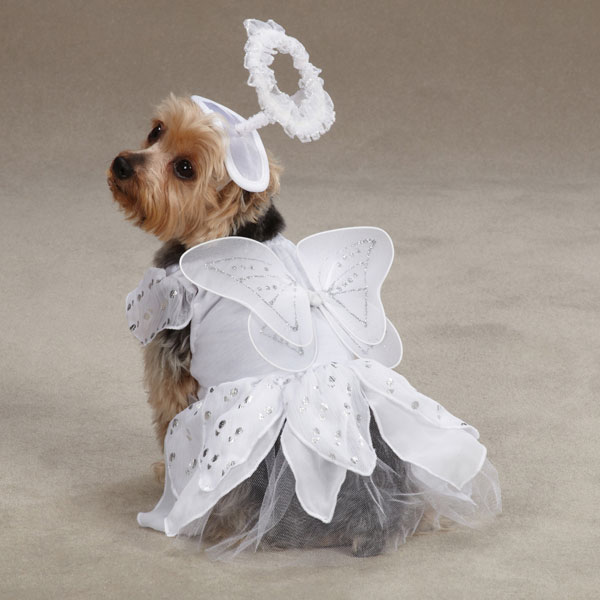 photo: baxterboo
McDonald Dog Costumes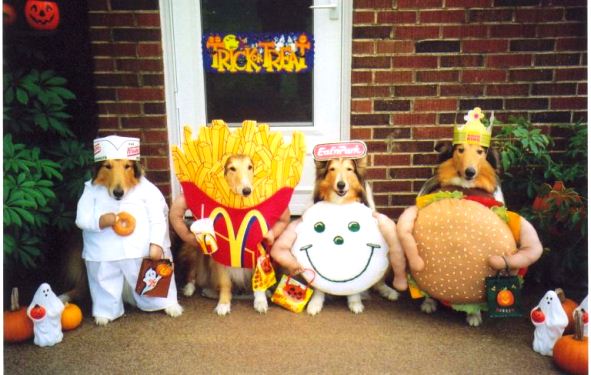 photo: 3113
We should agree that sometimes when we're seeing someone walking along with his or her pet, we stare not at the owner but instead to the cute little thing. They are obviously eye catchers too. So why not let them be fashion icons and let them own the night on a Halloween Party. People would surely love them, take pictures of them and if your pet can sign autographs then surely you need to bring a pen on that occasion. Let your dog enjoy this Howl'oween 2013!