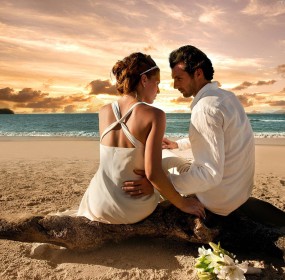 Nothing makes a newly-wedded couple happier than to know that everyone around them- their family , relatives and closest friends are indeed celebrating with them on their wedding day. To be able to start a positive, hopeful, exciting and blessed new family of their own, they needed to be advised and supported by their loved ones. Sure they'd appreciate it a lot to hear and receive inspirational, encouraging, warm, touching, kind and great wedding messages that can mold them into a good husband and wife as they begin the journey of married life. The parents, some of principal sponsors, maid of honor and best man are usually given the privilege to congratulate and greet the couple during the wedding reception. In front of everyone, they would express their love and desire the best for the new Mr and Mrs.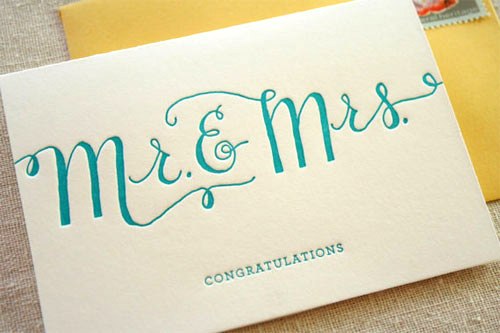 If you are attending a wedding someday, even if you're not to speak wishes for the couple during the reception, I'm sure it's your joy to exert a little effort of writing them any of these wedding wishes, wedding greetings, wedding quotes and wedding messages below. Supposed you're gonna to give a gift, why not include a nice wedding card, note or tag would do. If you can't be present on the wedding because you're away, then send them a letter, or through email, Facebook wall or mobile SMS. Just express how happy you are for them and let them know they are well-loved and supported to keep the married life happy and successful.
According to my teacher in college, the greeting "Congratulations" should be properly addressed to the groom while the "Best Wishes" should be properly addressed to the bride. Hmmmm, if it's actually the proper way, then it seems like the groom had just won a jackpot while there is a tone of warning and hoping of good luck for the bride (LOL!). But anyway, here are some nice Wedding Wishes for a card, letter or note you're sending. For some lines below, just don't forget to add the phrases "Happy Wedding Day", "Best Wishes", "Congratulations", "Good luck" or "Have a Happy Marriage" .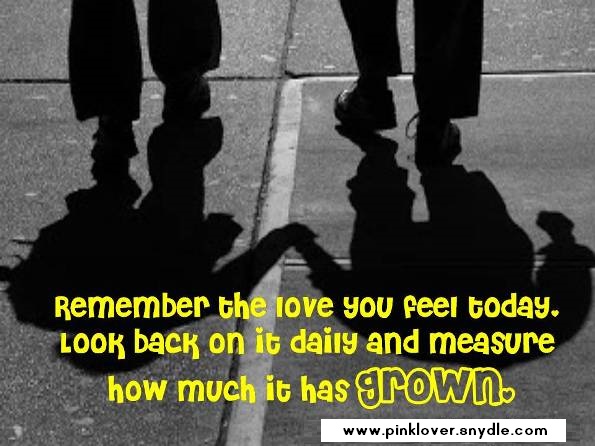 Remember the love you feel today. Look back on it daily and measure how much it has grown.
Dear friend, as you are starting a new innings of your life, my good wishes are always with you. Wishing you a happy married life.
On your special day dear friend, wishing you all the happiness, love and togetherness forever.
As you tie the knot with the love of your life today, wishing you years of togetherness and companionship.
Wishing you a life full of happiness ahead.
Let good luck and understanding stay with you forever.
Wishing you all the love and happiness in the world and congratulations on your marriage.
May you be as rich in life as you are in love.
May there be a generation of children on the children of your children.
Wishing you the best of life today and in the days to come.
I wish you eyes full of joy and long, interesting life together. Be happy!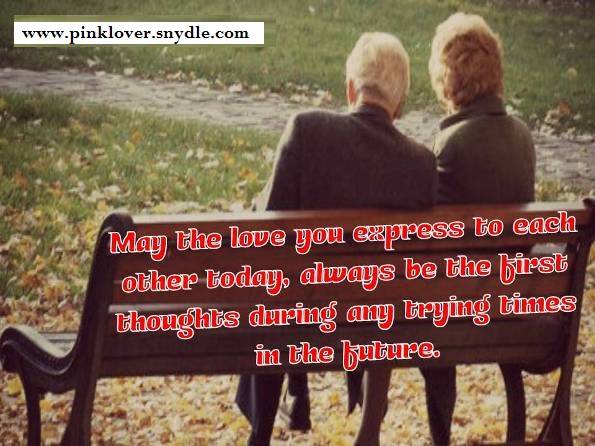 May the love you express to each other today,
always be the first thoughts during any trying times in the future.
I wish you to live in peace and in perfect union at least till your golden jubilee!
Let good luck and understanding stay with you forever.
Wishing you all the happiness there is and as you both live out your lives together
may they be entwined as you grow old together.
You two are one of the best couples I have ever seen,
may God grant you a happy married life!
On your special day dear friend,
wishing you all the happiness, love and togetherness forever.
As you tie the knot with the love of your life today,
wishing you years of togetherness and companionship.
Wishing you the joy and happiness that you both deserve,
make sure you kiss every night before going to bed.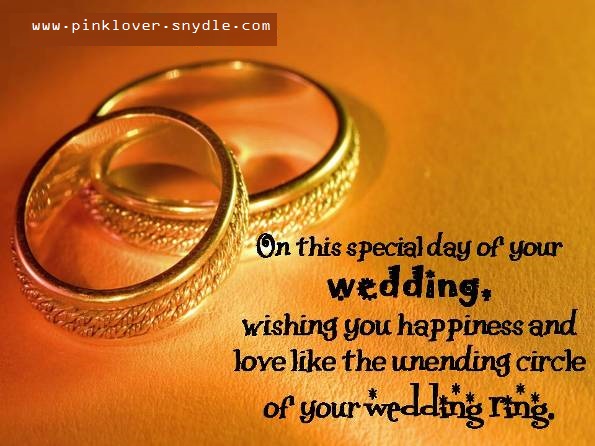 On this special day of your wedding wishing you happiness and love like the unending circle of your wedding ring.
Dear friend, as you are starting a new innings of your life,
my good wishes are always with you. Wishing you a happy married life.
On your special day dear friend, wishing you all the happiness,
love and togetherness forever.
Dear friend, you mean a lot to me and on this special day of your life,
I would like to pray God to fulfill all your dreams and wishes.
Congratulations on your marriage.
Some Funny Wedding Wishes
It's supposed to be a happy occasion,
so you might as well try some of these humorous wedding wishes below.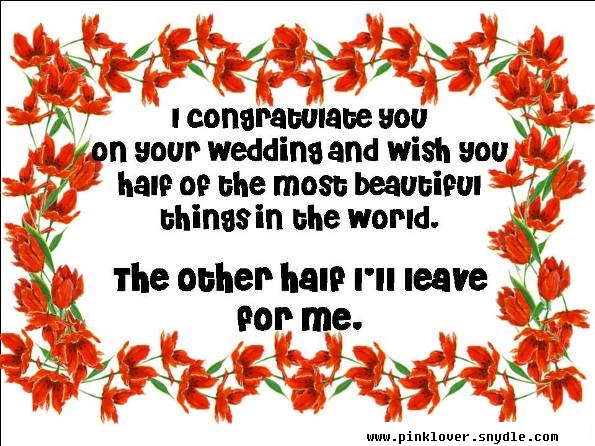 I congratulate you on your wedding and wish you half of the most beautiful things in the world.
The other half I'll leave for me.
2 become 1: one bed, one remote,
one bathroom! Congratulations on your union as life partners!
Welcome to the dangerous world of married life.
It's too late to repent! Have an amazing journey!
Do you know what late nights, parties and weekend hanging out with friends have in common?
You won't have all of them from now on.
Love one another and you will be happy.
It's as simple and as difficult as that.
Marriage marks the end of a love story and the start of a wrestling match.
Wishing you the very best of everything anyway.
As you wed today, here's my advice for the newlyweds – stay married!
The best is yet to be!
Why marry when jumping in front of a train is easier and faster?!
Just kidding! Hope your wedding finds you smiling 🙂
Before you got married, you were madly in love with each other.
Now you will be mad at each other as well.
I'll tell you the secret of a happy marriage.
It remains… a secret to all! Wishing you all the best for the times ahead!
Here's a wedding poem full of wishes for the married couple..
All earthly goods I wish thee.
All that's good for thee and thine
And still, not only earthly
But all we know to be divine.
May earth and heaven mingle
May earth and heaven be one
All through your earthly journey
Till sets your earthly sun.
In Sunshine and in shadow
Through dancing and in song
May heaven bless your union
Throughout your whole life long.
And here's another wedding poem
We wish you both long lives in consent
Whatever happens, try not to break.
No matter sometimes how hard it seems,
You don't give up and follow your dreams.
Together is always easier to fight,
Never forget that and stay unite,
You know that happiness in everywhere:
in dreams, in flowers, in music, and air.
So find it together and share your joy,
Find your own way life to enjoy
Since now stay together, our dear groom and bride,
Be happy, be joyful side by side.
From buds of two trees Flowers bloomed
To unite your two hearts
Marriage blossomed
Vows exchanged today
are to keep you tied today through eternity
It's in heaven today you maybe wedded,
but here are the million wishes that you remain eternally bonded
Wedding Quotes for Cards
You can also write Wedding Wishes Quotes or Marriage Quotes on you greeting card if it could help you express more of your message towards the groom and the bride. In some of these quotes, the beauty and hardships of a marriage are mentioned but it's the holding on to the vow for each other is what matters most. Keep browsing for the wedding love quotes below!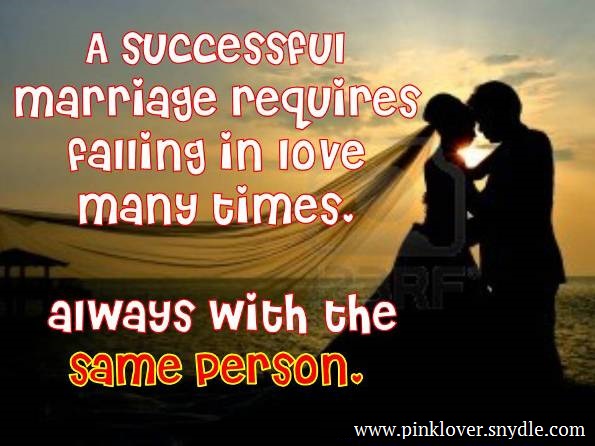 A successful marriage requires falling in love many times, always with the same person.
The more you invest in a marriage, the more valuable it becomes
~ Amy Grant
Spread love everywhere you go: first of all in your own house. Give love to your children, to your wife or husband, to a next door neighbor… Let no one ever come to you without leaving better and happier. Be the living expression of God's kindness; kindness in your face, kindness in your eyes, kindness in your smile, kindness in your warm greeting.
By: Mother Theresa
True love is like ghosts, which everybody talks about and few have seen.
By: Francois de La Rochefoucauld
There is no remedy for love than to love more
By: Henry David Thoreau
I first learned the concepts of non-violence in my marriage
-Mohandas Gandhi
Only choose in marriage a man whom you would choose as a friend if he were a woman
~Joseph Joubert
Never strike your wife – even with a flower
~Hindu Proverb
A happy marriage has in it all the pleasures of friendships, all the enjoyment of sense and reason and indeed all the sweets of life.
There is only one happiness in life, to love and be loved
~ George Sands
Happy marriages begin when we marry the ones we love, and they blossom when we love the ones we marry
~ Tom Mullen
The proper basis for a marriage is mutual misunderstanding
~ Oscar Wilde
Marriage is three parts love and seven parts forgiveness of sins
~Langdon Mitchell
The surest way to be alone is to get married
~Gloria Steinem
Love is grand; divorce a hundred grand
Marriage is the institution where the woman loses her the name and the man his solvency.
The most dangerous food is wedding cake
~American Proverb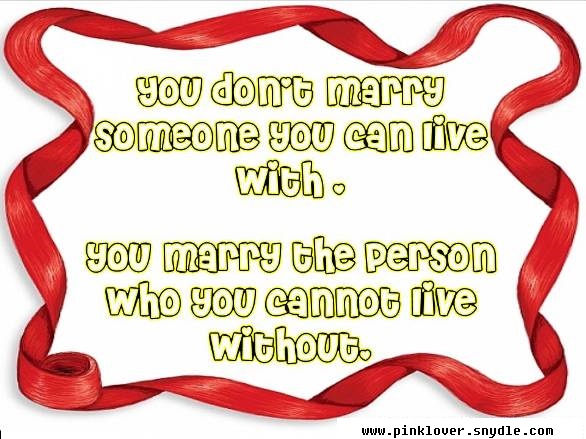 You don't marry someone you can live with – you marry the person who you cannot live without.
Never say marriage has more joy than pain
~ Euripedes Alcestis
In matrimony, to hesitate is sometimes to be saved
~Butler
Marrying means doing whatever possible to become repulsed of each other
~Arthur Schopenhauer
Marrying is all about just obtaining a piece of paper. Divorcing is just obtaining another
~Celeste Tan
Our wedding was many years ago. The celebration continues to this day
~Gene Perret
Funny Wedding Quotes
Here are some Funny Wedding Quotes to lighten up the atmosphere. Well, some weddings are aimed to be very serious and solemn but today, modern weddings wanted it to be very light and just enjoying the celebration. With some of these funny wedding day quotes, the newly-wed would surely laugh and giggle with each other. These quotes are not meant to make fun of the said holy occasion but these humor-filled quotes are actually reminders of what and where probably may the couple be wrong, at some time of their relationship as husband and wife. So in a away, these are still honest advice.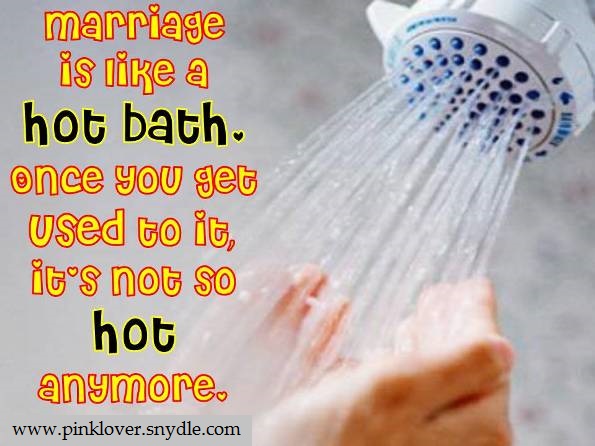 Marriage is like a hot bath. Once you get used to it, it's not so hot anymore.
Marriage is the only war where you sleep with the enemy
~ Gary Busey
Marriage is really tough because you have to deal with feelings… and lawyers
~Richard Pryor
When a newly married couple smiles, everyone knows why. When a ten-year married couple smiles, everyone wonders why
Marriage is like a bank account. You put it in, you take it out, you lose interest
~Irwin Corey
Marriage is the chief cause of divorce
~Groucho Marx
A man in love is incomplete until he is married. Then he's finished.
~ Zsa Zsa Gabor
Keep your eyes wide open before marriage, half shut afterwards
— Benjamin Franklin
I don't worry about terrorism. I was married for two years
~ Sam Kinison
The secret of a happy marriage remains a secret
-Henny Youngman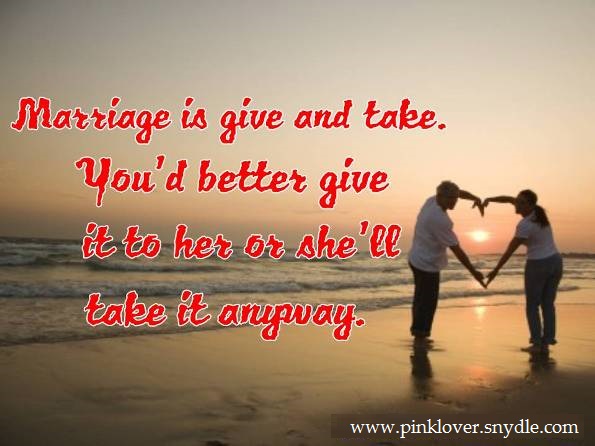 Marriage is give and take. You'd better give it to her or she'll take it anyway.
~ Joey Adam
I love being married. It's so great to find that one special person you want to annoy for the rest of your life.
~ Rita Rudner
Always get married early in the morning. That way, if it doesn't work out, you haven't wasted a whole day.
~Mickey Rooney
All marriages are happy. It's the living together afterward that causes all the trouble
~Raymond Hull
What do you call a group of people where two people are thinking of love and all others are thinking of food?…… WEDDING!
A wedding is a funeral where a man smells his own flowers.
How marriage ruins a man! It is as demoralizing as cigarettes, and far more expensive
~ Oscar Wilde
Don't marry for money; you can borrow it cheaper
~ Scottish Proverb
I believe in tying the marriage knot, as long as it's around the woman's neck
~W. C. Fields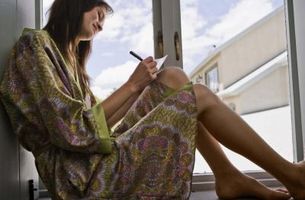 Hope you've found the perfect wedding greetings and messages that are very useful not only for wedding cards but also you could write on wedding guestbook, email, SMS and Facebook wall post. You might wanna post the wedding photo greetings above and tag the couple! It would melt them how sweet you can be in extending your congratulations and wishes for them. Let them know you are sharing their happiness with them. You will never know how the couple would remember you in the coming years later whenever they look back and reminisce their big day, especially the big love and support they have received from family and guests through good words. Whatever wedding wish and greeting, be it the serious with deep meaning or the light humorous yet meaningful advice, it makes the couple overwhelmed. Make them feel that love is all around!