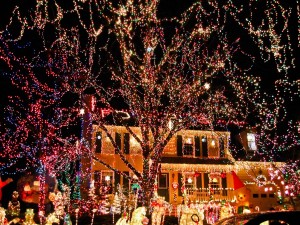 During the yuletide season, we expect to see grand and amazing Christmas lighting displays on commercial buildings and public areas. These are usually the malls, amusement parks, city halls and large offices. Some home owners who are capable enough spend extras for Christmas lights for their yards and exterior of their homes show off their light decors too. They are either bored or just addicted having beautiful sparkling lights all over their compound. Little do they know, their homes have become remarkable to passersby, taking pictures and selfies which eventually turns their pretty home into an "instant tourist attraction" in their place. Isn't that great? You are sharing the holiday joy of your home towards the people seeing it from the outside. If adults are so happy seeing your Christmas lighted house, how much happiness and delight could it be bringing to the little ones and the downhearted people?
Every year, I look forward to seeing Christmas lighted houses on our local TV news. Beautifully decorated homes with tons of Christmas string lights, of different patterns and colors are featured on the news programs. Every time the owners of the home are interviews, they are just so happy to see how their homes are decorated and they didn't expect people seeing it would also appreciate the decors. What's good about it, it's free to walk by and get near for pictorial purposes. Some owners even allow people to enter so they could show more of what's inside their lovely homes, at a given time period. I was thinking to myself, if and only if I had pretty exteriors and facade like them, if I had extra money to spend, I would surely do the same. I'd have my house filled with colorful Christmas lights for everyone to see. I always believe that amazing sight like this could sooth the mood of people. Blinking, sparkling, dancing light is mood changing stuff for me, it may work for you too. What do you think?
Don't forget to check out the rest of out awesome Christmas ideas!
If you would like to have a Christmas house this year, here are the best inspirations! The best and Magical Christmas House Lights Ideas. Turn your home into an instant talk of the town and most especially, let the radiant Christmas atmosphere of your family shine towards other. Whether you have a tiny house or a mansion, it doesn't really matter because these Christmas lighting ideas for your house will really stun everyone! Let's move it and mesmerize your neighborhood!
Simple DIY House Christmas Lighting Ideas
The home owner in the first sample didn't bother to decorate the house itself, just the bushes and some lighted candy canes outdoor.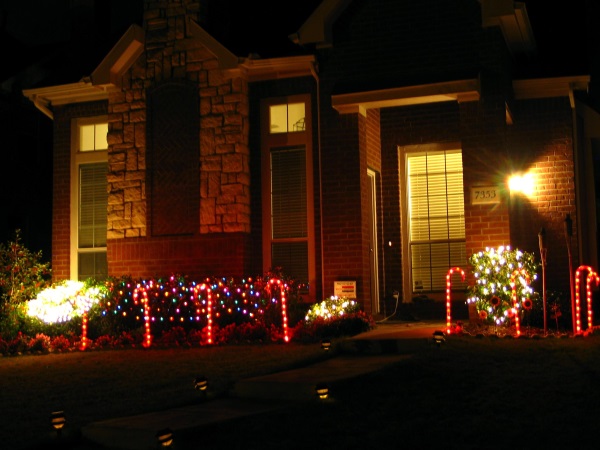 Simple DIY Christmas House Lighting Ideas
This one, aside from the lights on the bushes and for the fence, a tree was formed with string lights. Also, some details like the windows, doors and the roof are decorated with lights.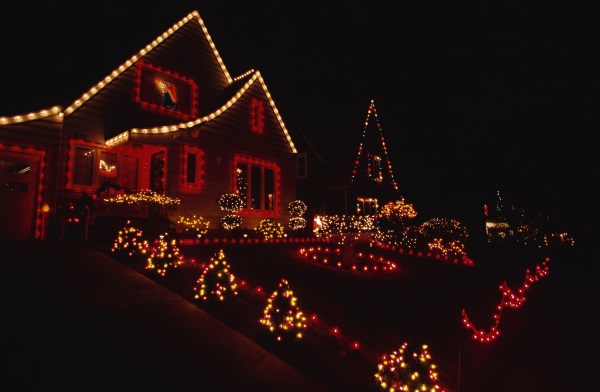 Easy DIY House Christmas Lighting Ideas
One basic way to decorate your house with Christmas lights is by maximizing the existence of your trees. If you have trees in your yard then you are lucky enough. Hang on uniform or colorful bright lights.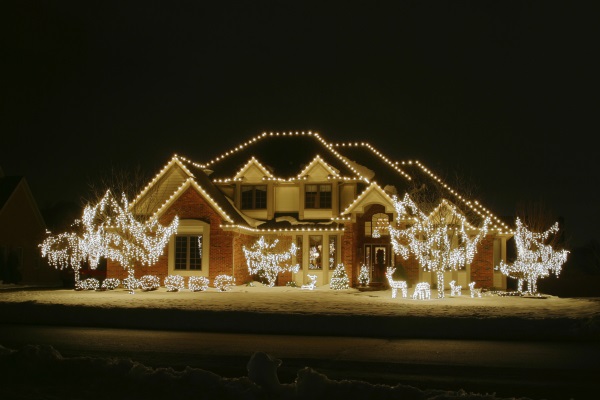 Cute DIY Outdoor Christmas Lighting Ideas
This home simply proves that you don't need to live in a mansion for your to make your home attractive. Even this tiny house is pretty enough with those hanging lights all over.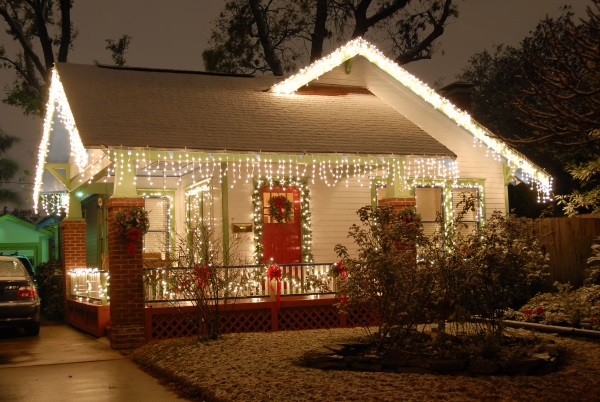 image source
DIY Outdoor Christmas Lighting Ideas
This may look funny or the one who decorated being careless, but seriously I still find this magical! With no specific pattern to follow, they just let the string lights hang and wrap all over the house.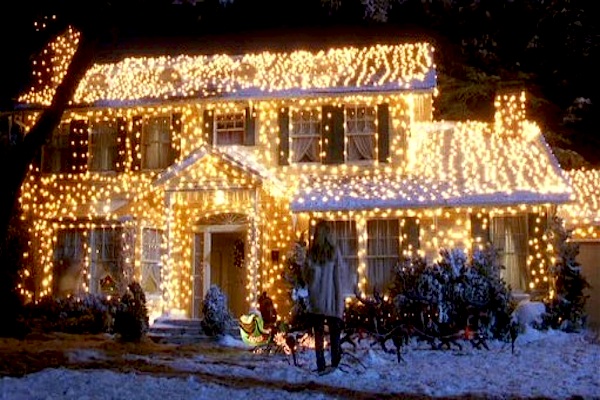 image source
There you go, another home which turned their trees and bushes into Christmas decors.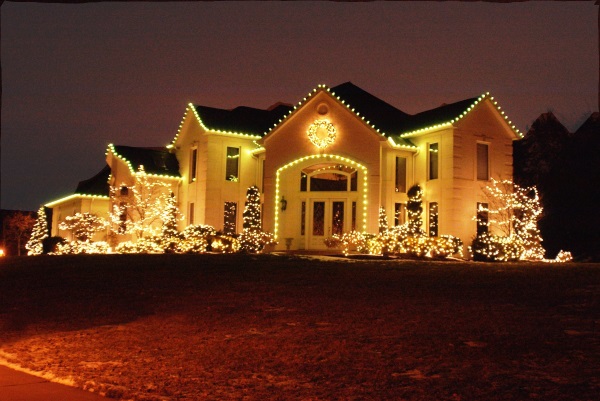 image source
I just love those tiny attractive lights. They look like stars from afar.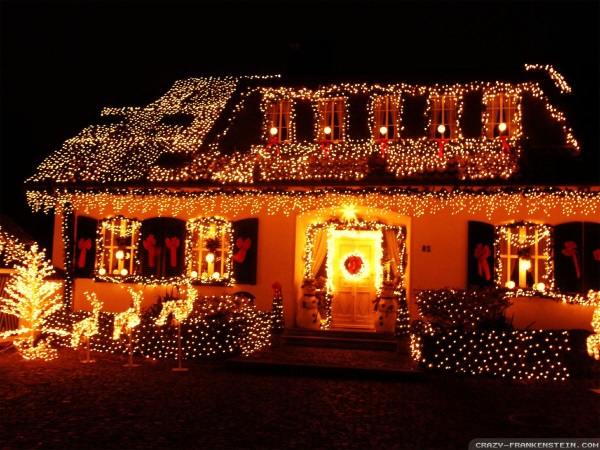 image source
To home owners who could afford to spend extra for tube lights, here's a sample of tube lights formed into "MERRY CHRISTMAS" greetings.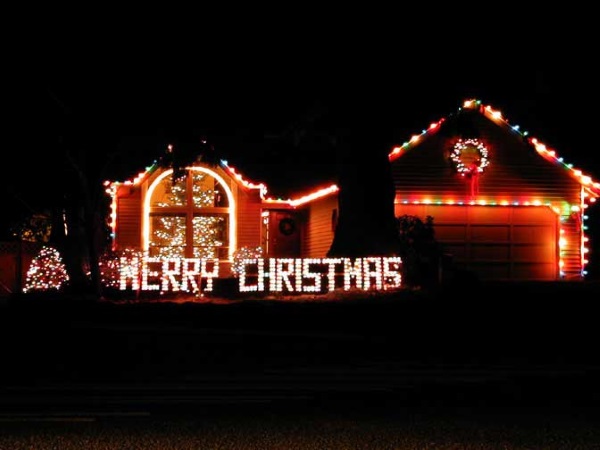 image source
Simple Christmas trees for your yard. Tiny bulbs for your pathways too!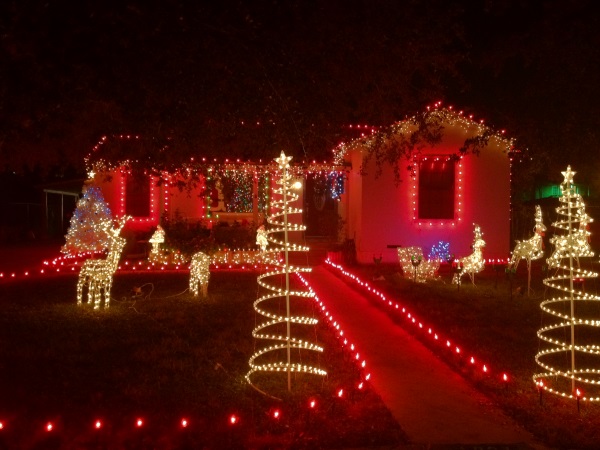 image source
Santa welcomes everyone who would love to take pictures of him and this beautiful home.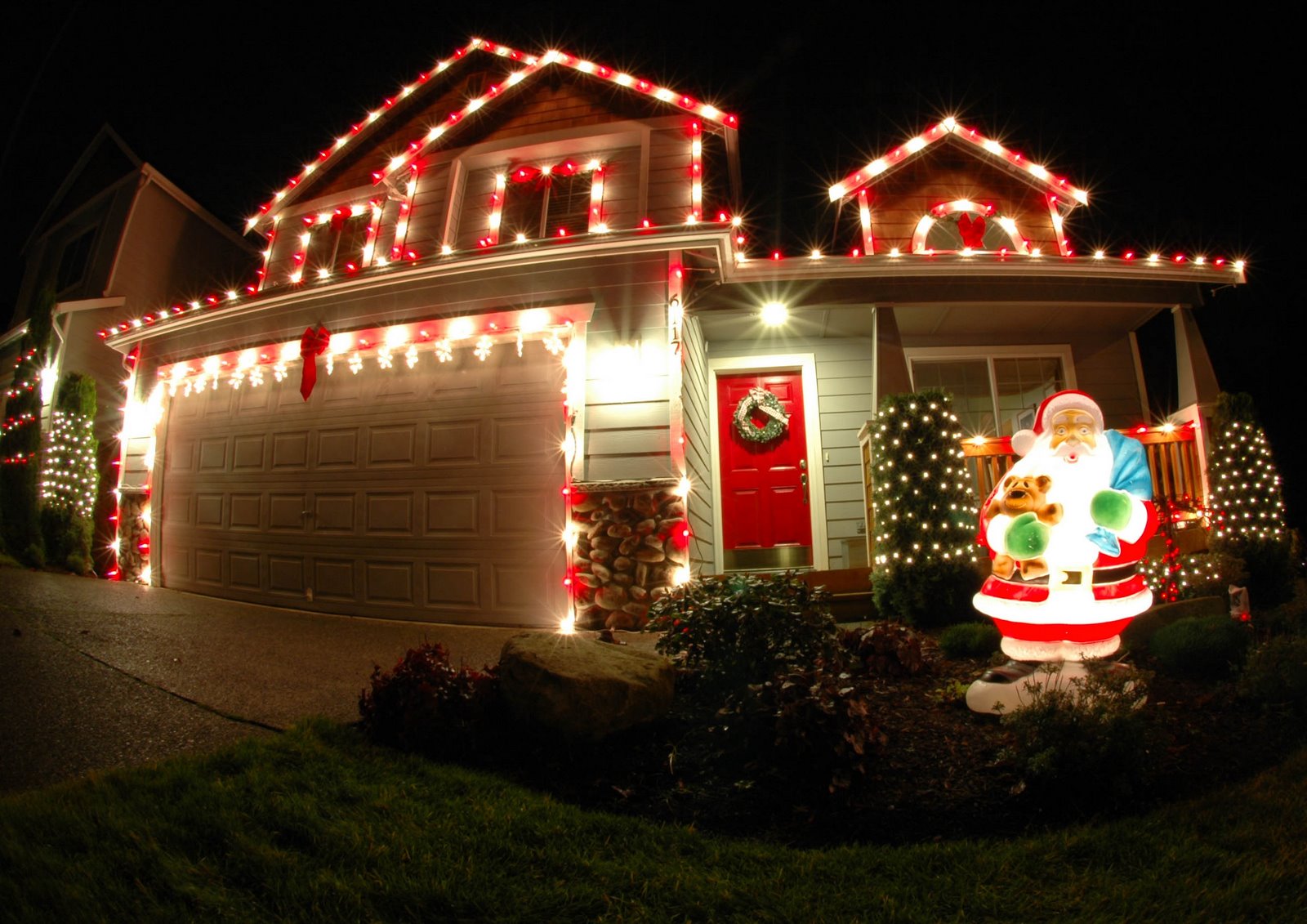 image source
Another simple way to decorate Christmas light for your home. This is way cheaper because you only pick specific details and parts of your yard to emphasize.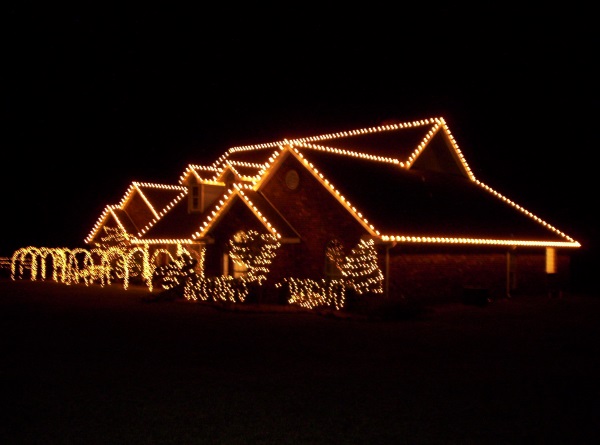 image source
Christmas Light Decorations for Trees
Here are few more samples on how to make use of the trees in your yard. Some just wrap lights of the same colors, while this one has different colors for each part. I love that the green lights are used for the branches close tot he leaves. The green lights and the leaves compliment each other.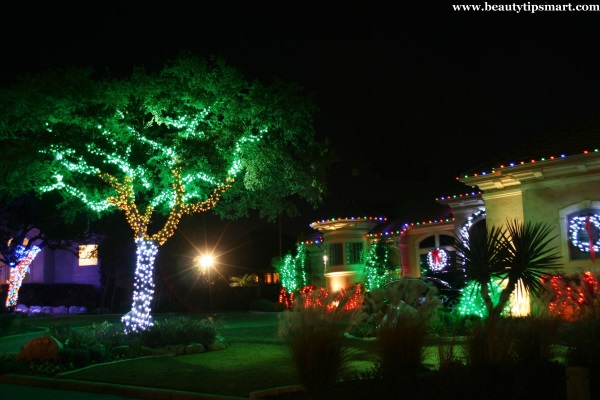 image source
Outdoor Christmas Decoration Ideas
There are ready made Christmas items sold on the department stores that would be adorable if you display them on your yard. Kids would go crazy wandering all over your place.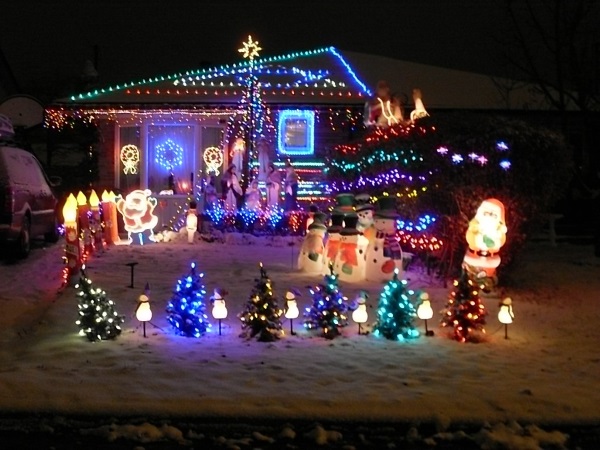 This Christmas house is too adorable with the tall Christmas tree light outside.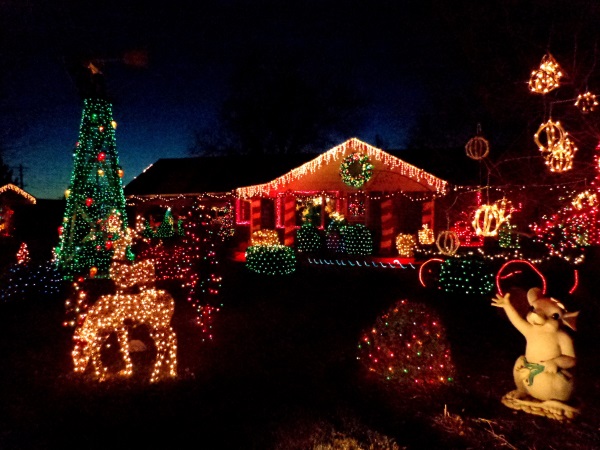 Another Christmas tree lighting idea for you to try.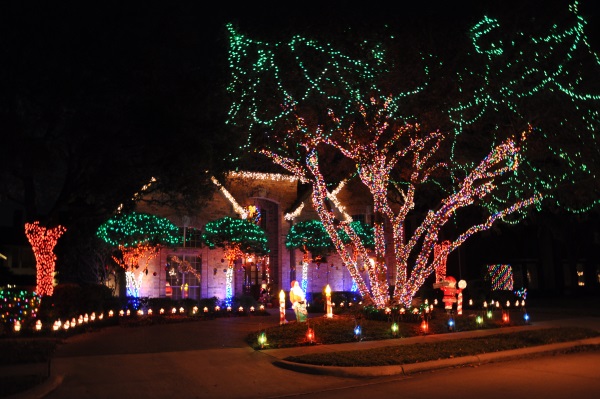 image source
I love how they decorated the tall tree backyard with few lanterns instead of the string lights just like in the front yard.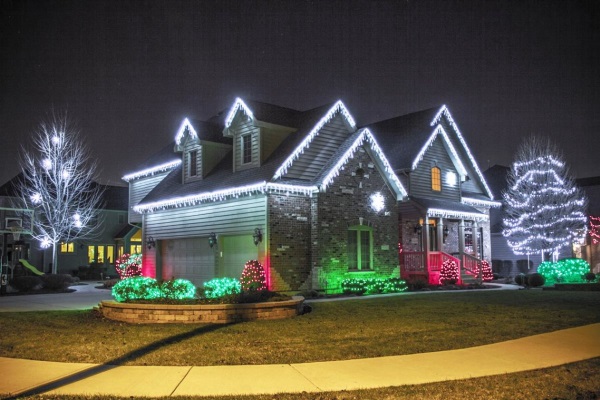 image source
Snowflakes and Winter Christmas Outdoor Lights
Blue and white making it a very cool season for everyone to enjoy.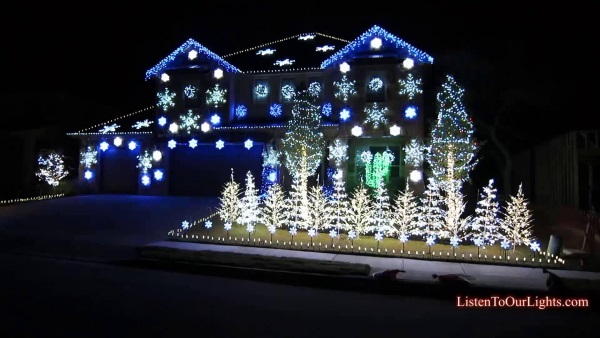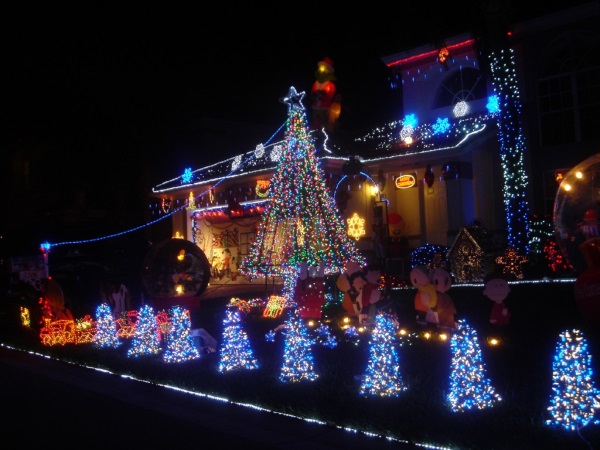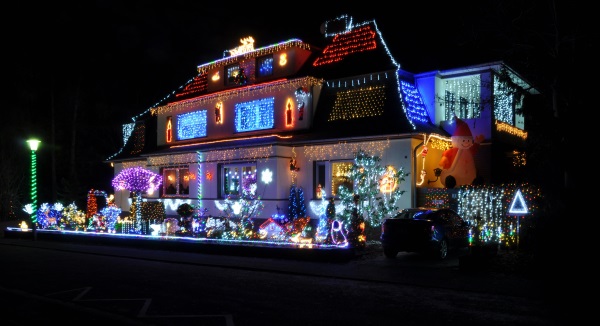 This one looks like a Christmas carnival!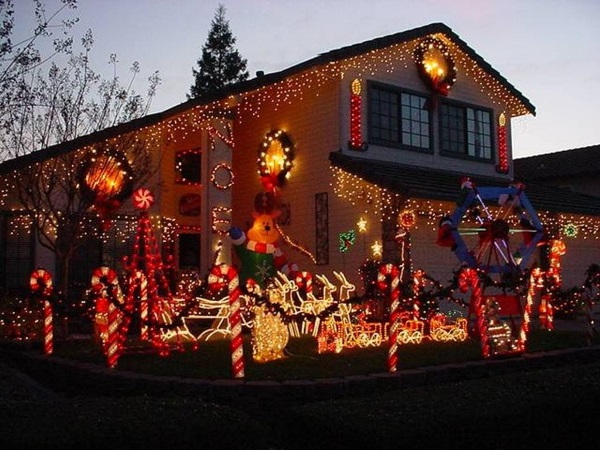 The house is too colorful with all the decorations and the Christmas light decors all over their yard adds to it's perfection.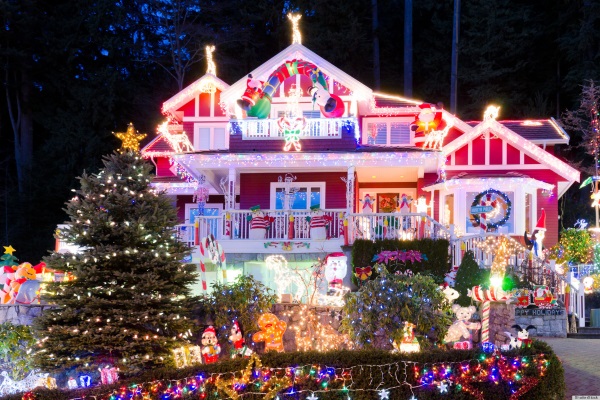 image source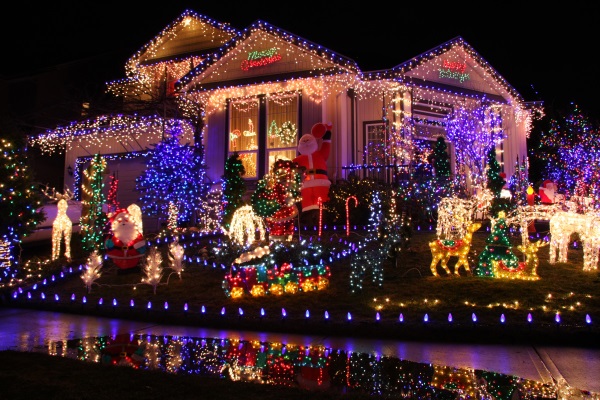 image source
This Christmas house has tons of elves, snowmen, toy soldiers and many more Christmas characters standing outside!
image source
This house is almost covered by Christmas lights!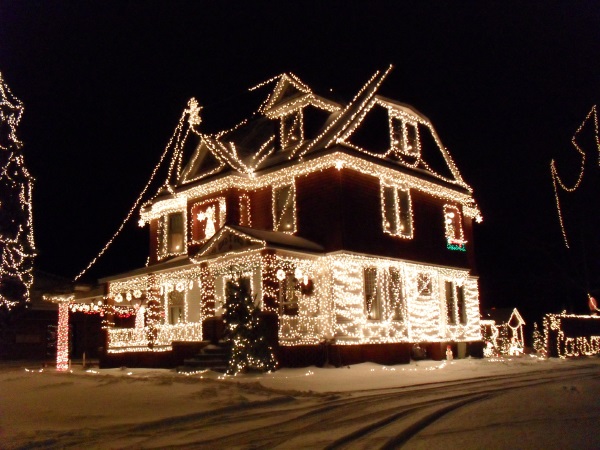 image source
Very basic outdoor Christmas light decor. They just emphasized on the huge tree and made the fence decors simple.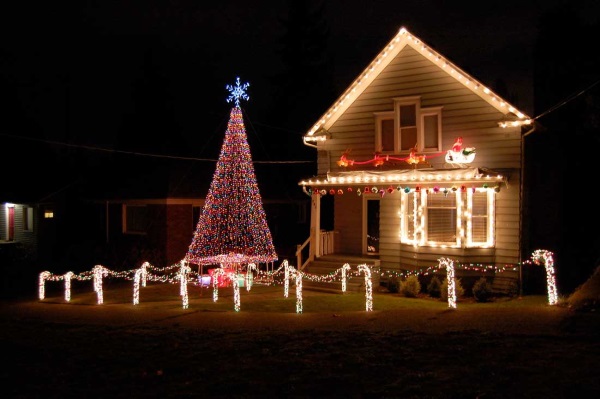 image source
Okay, another easy Christmas decoration for outdoors.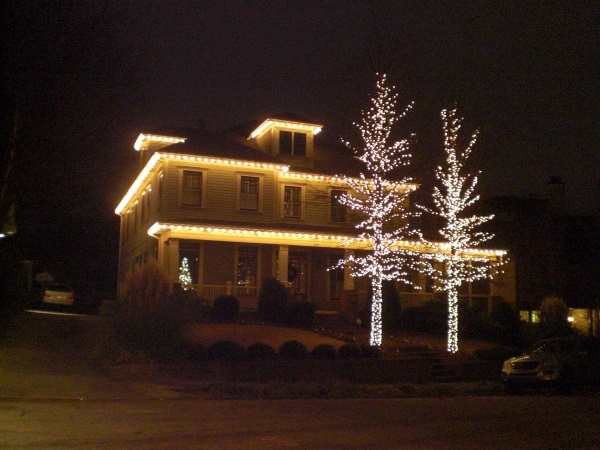 image source
This would be prettier if Santa had enough lights on him so he would be seen easily.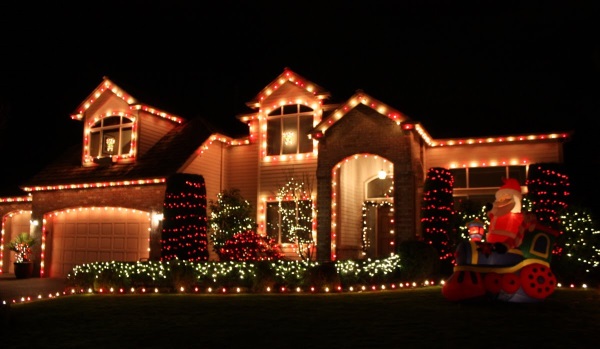 image source
Wow. A large house and all those trees turned into Christmas trees!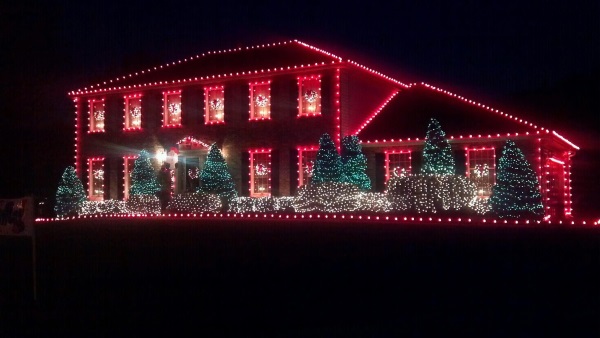 image source
Cute Outdoor Christmas Light Decorating Ideas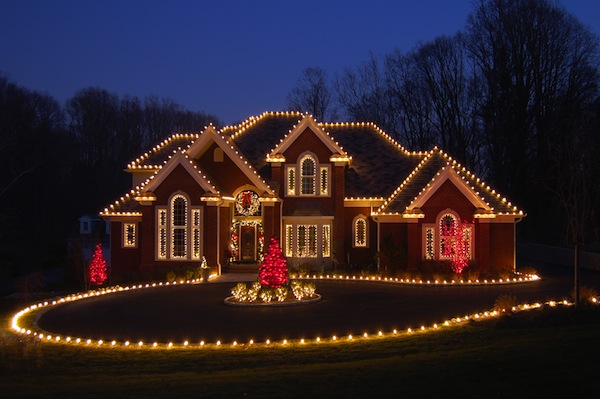 image source
More unique and creative Christmas lights decorating ideas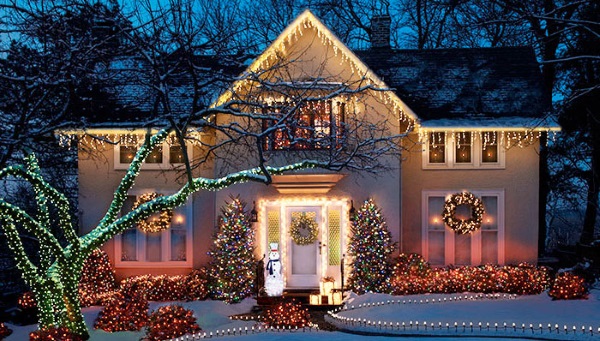 image source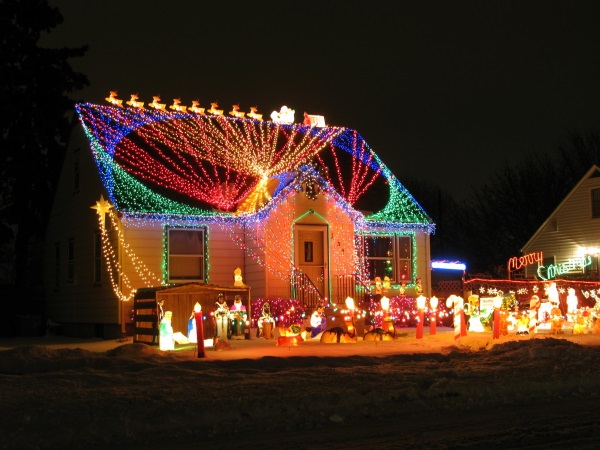 image source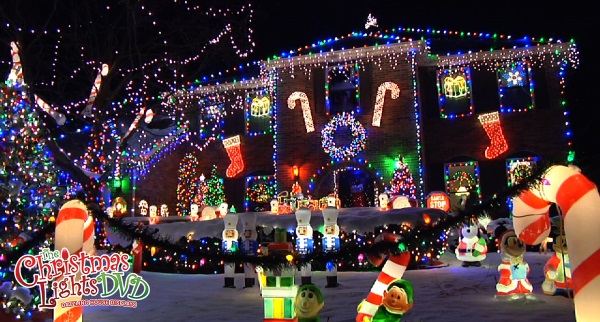 image source
Beautiful Outdoor Christmas Light Ideas
This is one of my favorite in this collection. I love how the home owners turned their house into a rainbow Christmas theme display. The colors are so eye-catching!!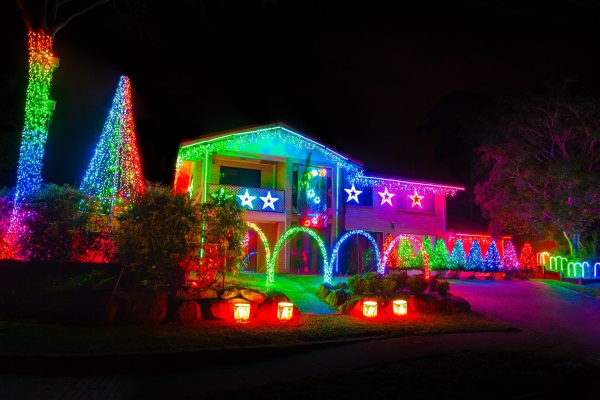 image source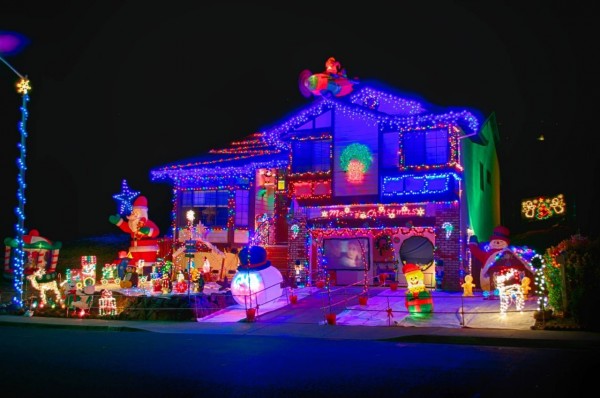 image source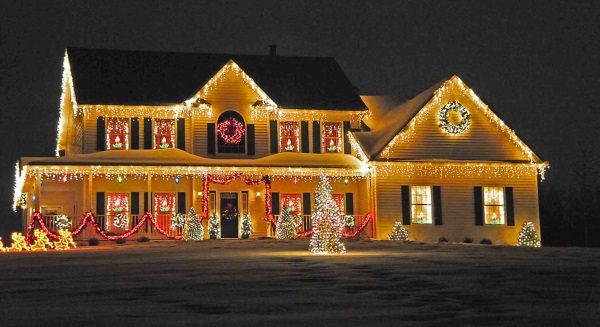 image source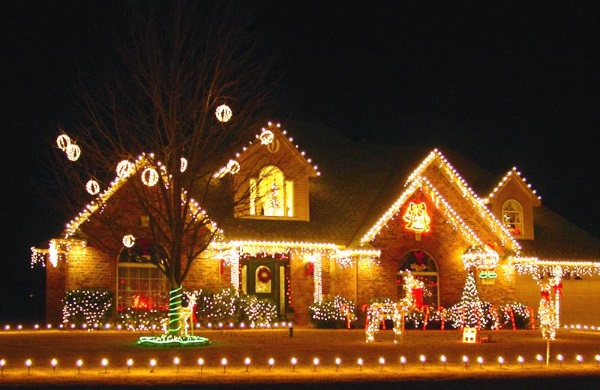 image source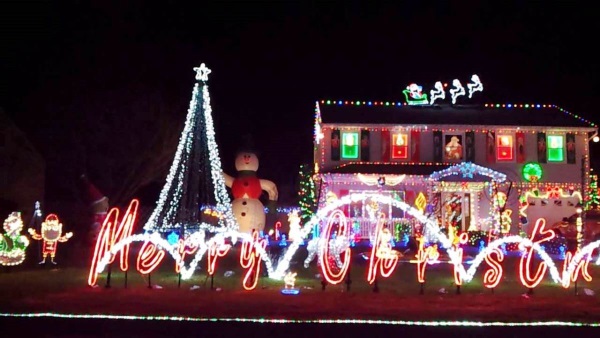 image source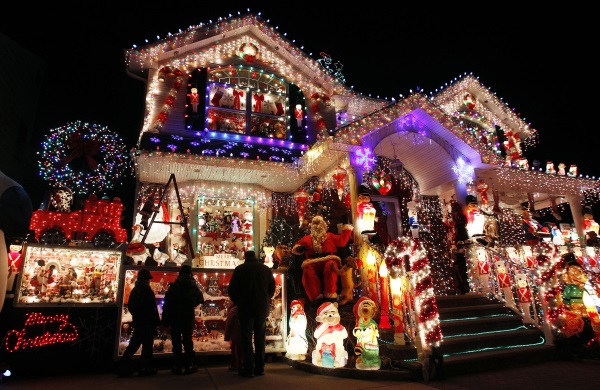 image source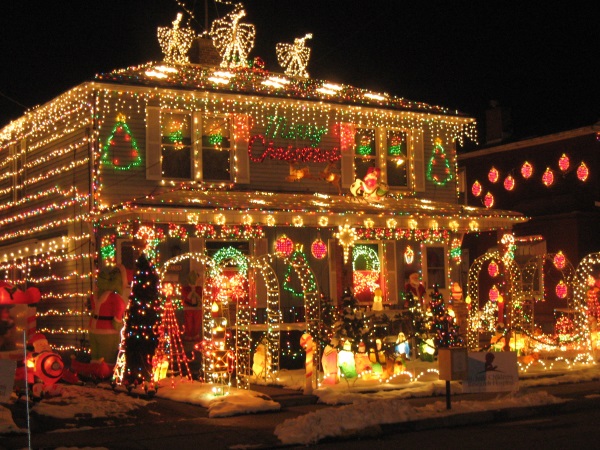 image source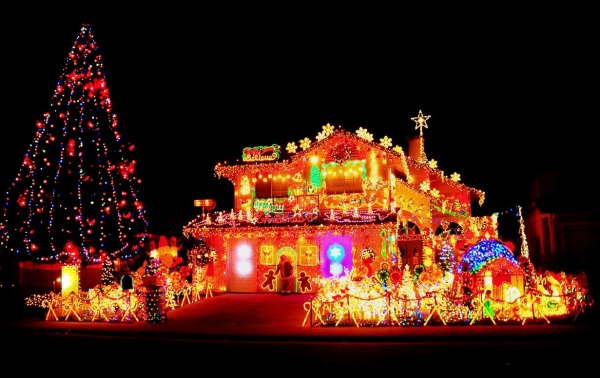 image source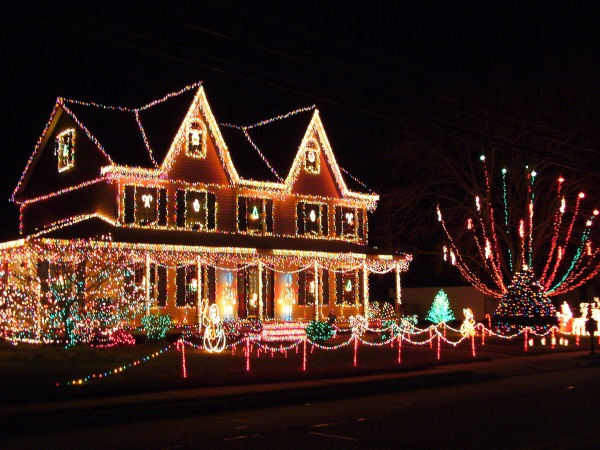 image source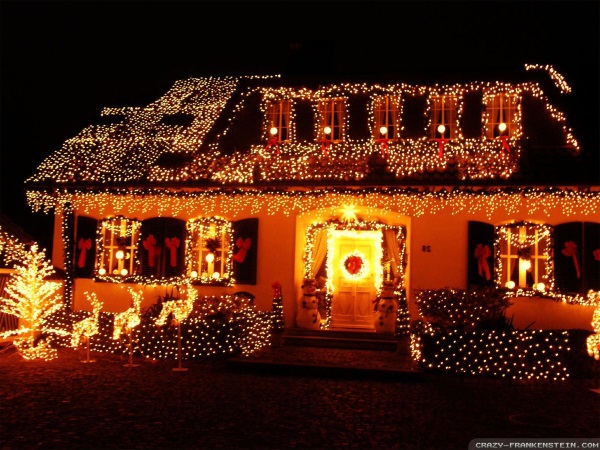 image source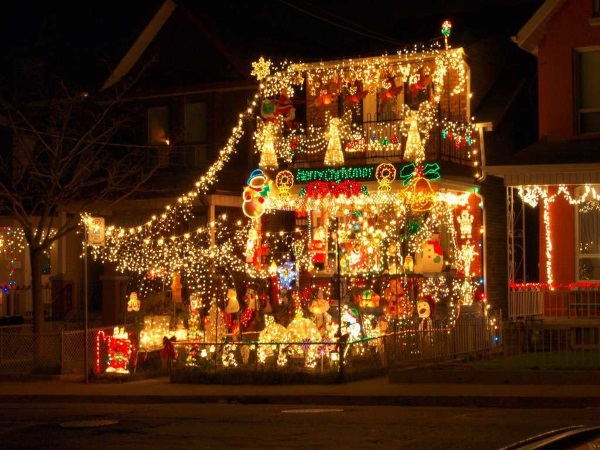 image source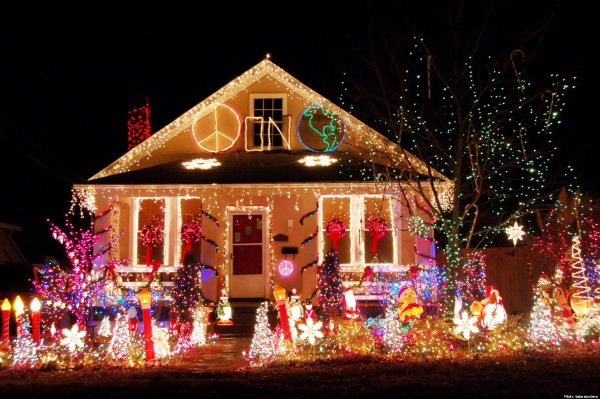 image source
Christmas Lighting Ideas for Farms or Ranch
If you have this large lot like the sample below, I guess it would be possible to create this large lighting decor. Extravagant!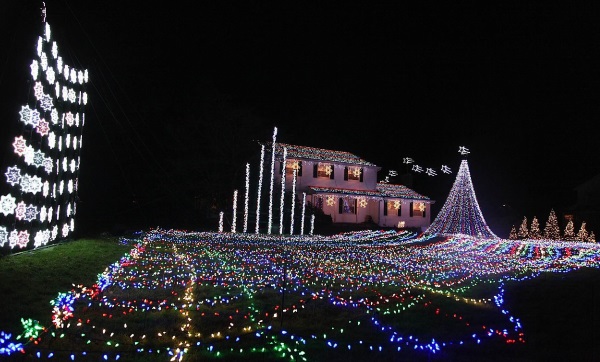 image source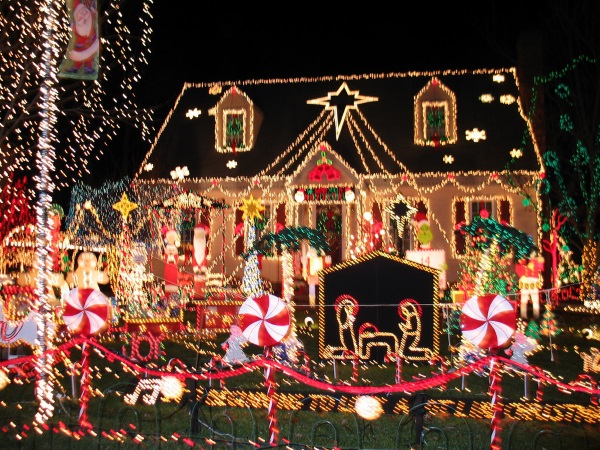 image source
Did you enjoy our Christmas lighting adventure? Well, I did! Our usual outdoor Christmas lighting was wrapping some tree with string lights. This time, we don't have short trees anymore. I just wanted to create a big lighted Snowman if I could find paper lanterns. One big size and another one which should be bigger. I'd fill it with led light inside, or string lights. Just at least we have one highlight outdoor decoration. What's your plan? Have you been thinking for a lighted Christmas DIY too? We would love to know about it. You can share it on our comment section so we could feature you here. To end this post, keep in mind that regardless how dark or bright your home is, most importantly we make ourselves "light" to those weary and who might be needing our help. Let's stick to the deeper meaning of Christmas. Take care everyone!