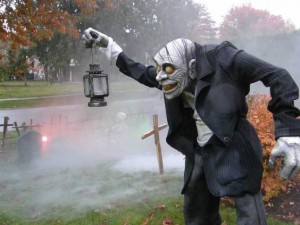 The ultimate task for a party goer attending a Halloween costume party is to dress up in a unique and realistic spooky costume. While being the host of the said party, setting up the entire venue into a creepylicious and mysteriously haunted is the going to be the greatest mission. The host of the party would sure want to impress the guests that would leave a lifetime experience and would set the standard of how a scary venue should really look like. Most probably, you have few ideas of the very common decorations like spider webs all over, hanging huge spiders, blood stains, witch mask on the wall, white cloth covering the seats, skull on the table and the famous candles to light the venue. Nowadays, party hosts would first consider about their theme before preparing the decoration materials needed. Some may want it really shocking, some may want it yucky and horrible and some may want it a little light, cute and funny so kids aren't traumatized upon leaving the party venue.
Here are some awesomely figured-out indoor and outdoor Halloween Decorations from artistic people who are generous enough to share with us their ideas. You have the choice to modify some materials used or some parts of the designs if you have better ideas in mind. Just carefully match each decoration with each other. Keep on browsing and soon you may start your Halloween decoration planning.
Outdoor Halloween Decorations
Make your house the spookiest and the most mysterious among the houses in the neighborhood. When guests and trick-or-treaters step closer to your gate, they'd have that weird feeling.
Reminder: Just not too eerie, else you'd end up having no guest for your party! (lol)
Giant Spiders Attack
Such a brilliant idea to put the giant spiders all over the house and those webs look like there's no way for the people inside the house to survive.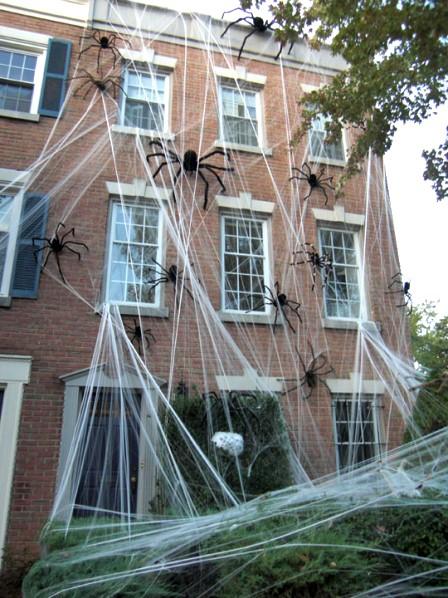 Jack O'-Lanterns 
The very basic and famous outdoor decoration during Halloween is put lots of Jack-O-Lanterns everywhere on your lawn.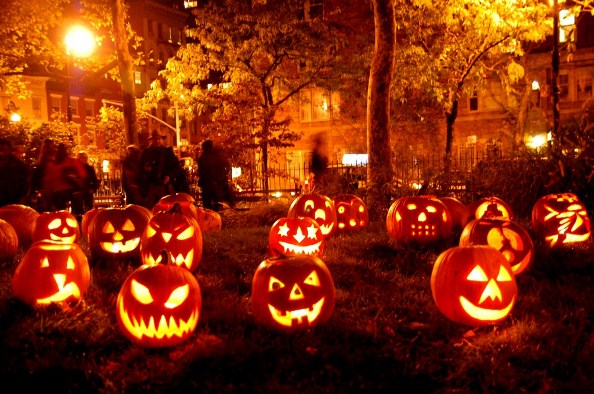 Spiders with Skull Heads
These ugly decors would surely be the reason why your visitors must watch their steps! They are bigger than spiders and worst, they got skull heads.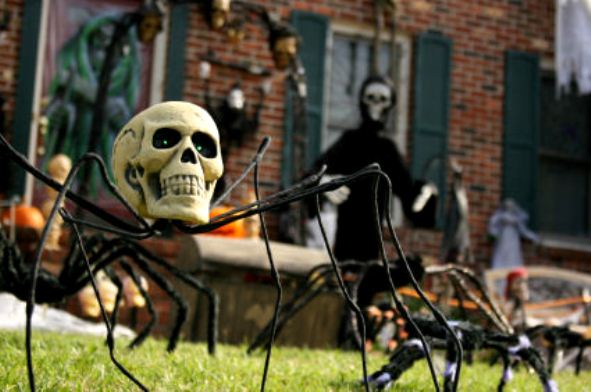 Ghost Usherette 
If you are expecting visitors for your party, why not prepare an usherette to meet them immediately on your front lawn. The decorations below includes a cloth set up as a ghost, skull lamps and bones everywhere on the ground, tombs all over, spider webs on the gate and a spot light towards the ghost. Everyone passing by your house would sure throw a second look.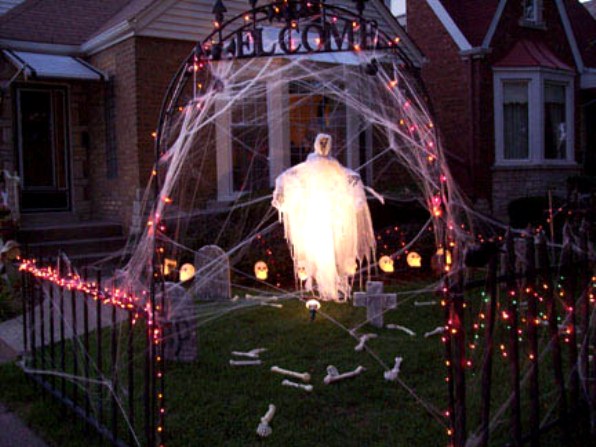 Photo : occultview
Cemetery Themed Outdoor Decoration
Turn your backyard into cemetery-like with a standing skeleton. Set up large tombs, spotlights and I don't know how you'd do it but those mists are adding up to scene's fright.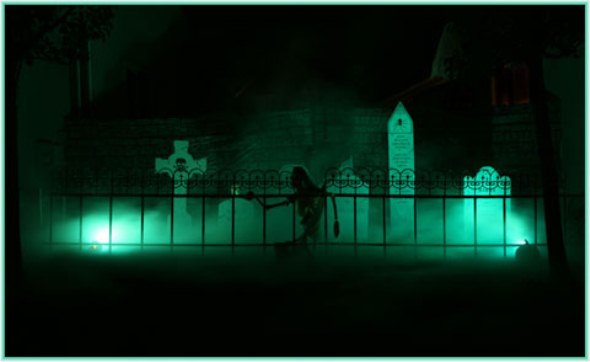 photo: hallowhandyman
Skeleton Rising from the Grave (ground)
This is truly awesome. Just slightly bury the skeletons butt and back and raise it's hands and feet as it it's attempting to get up from the ground.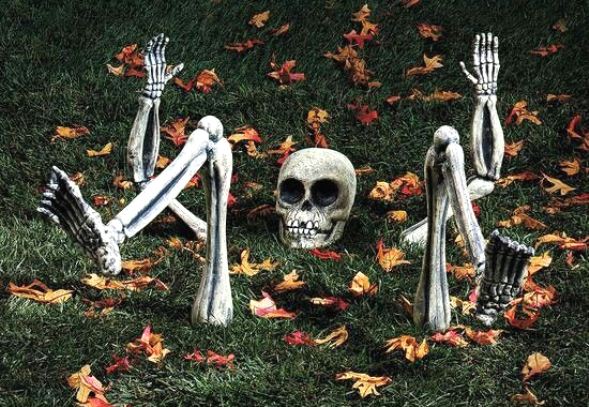 A Witch by the Porch, Balcony or by the Window
The neighborhood are just too jealous you have a visitor by your porch. I am just not sure if it's an invited visitor!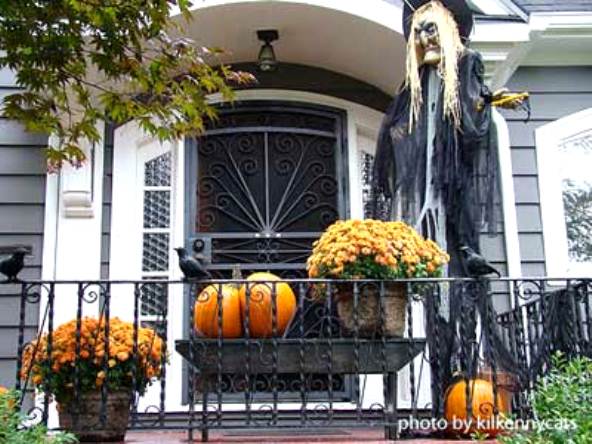 DIY Halloween Direction Post
Make the kids or guests believe that your compound is that big everything area sounds spooky to visit.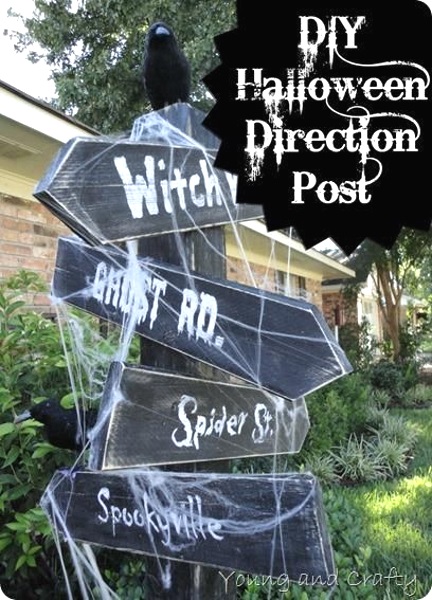 Trick-or-Treater Silhouettes
If I were to see this myself, I'd honestly be frightened too!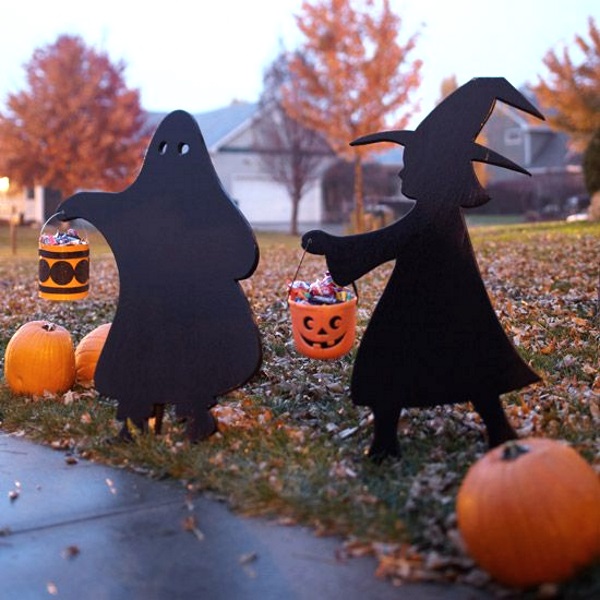 Bone pieces on a wheelbarrow
This one's a very creative Halloween decor idea.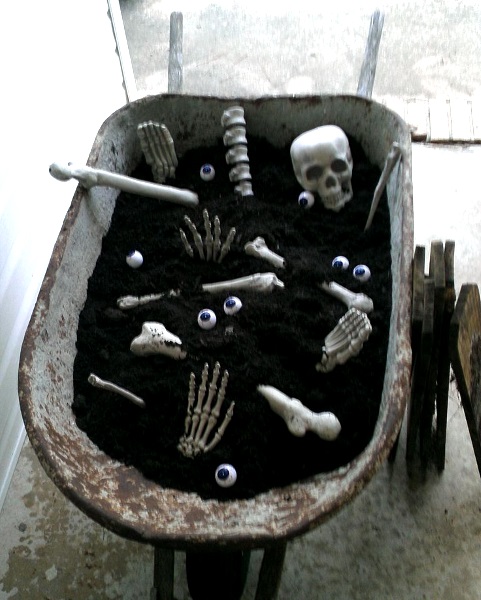 Cemetery Theme 
Tombs are placed on the path towards your door. That green light effects are just right to make the visitors cautious of what's gonna happen once you pass by the tombs.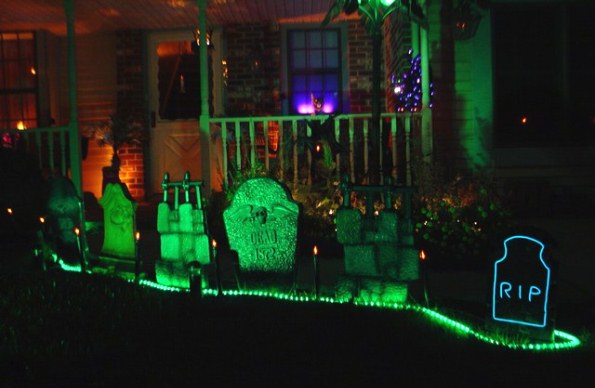 Spooky Door Greeter
Those pumpkins are obviously glowing and mad. That glowing ghost seems accommodating but I won't dare enter since the face isn't visible.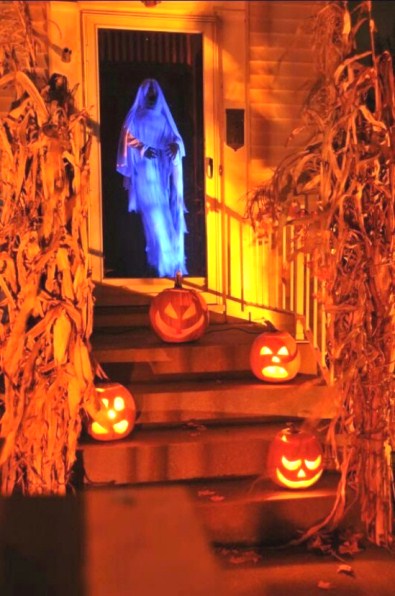 Bloody Victim Hanged on a Tree
No doubt, even i would be very frightened to see something like this especially on a dark Hallow evening!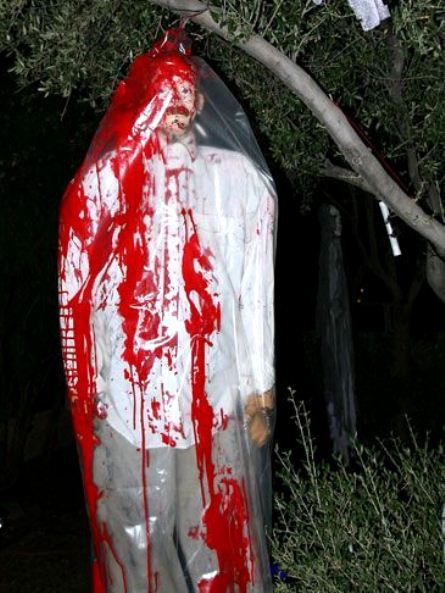 The Witch is In!
An upside down witch legs stuck into a huge vase. Such a lovely door greeter!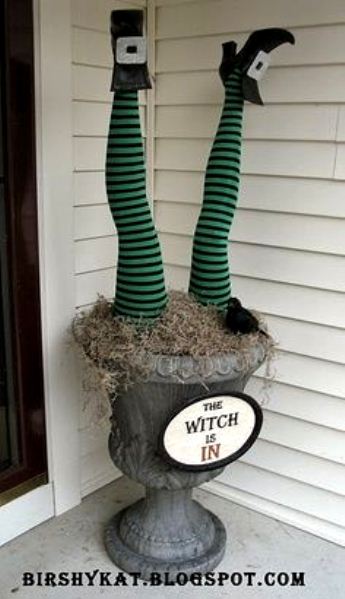 Witch Doormat
If you don't like the upside down witch legs on the huge vase, you might like this witch legs doormat idea.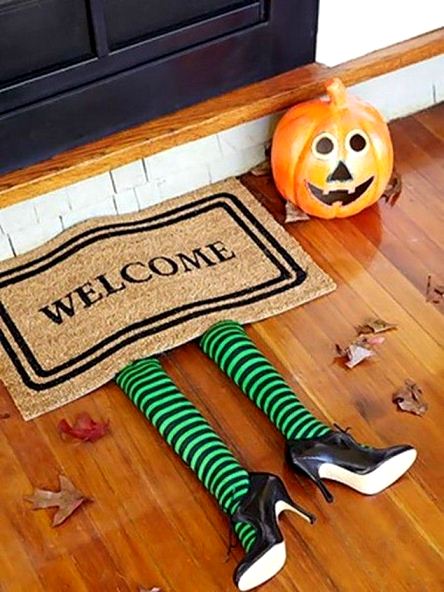 Blood Footprints on your Doorstep
You can use red paint, but I could suggest you use different feet. Just in case you have huge monster feet, I think that'll be great too.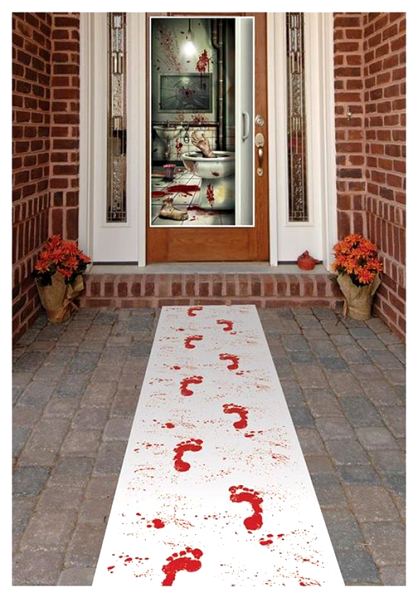 photo: Beth Mansfield's Facebook
Mummified Door (Kids-friendly door greeter)
You can use same bandages, white crepe paper or whatever white strips you wanna use to make it look like a mummy. Of course don't forget the eyes too!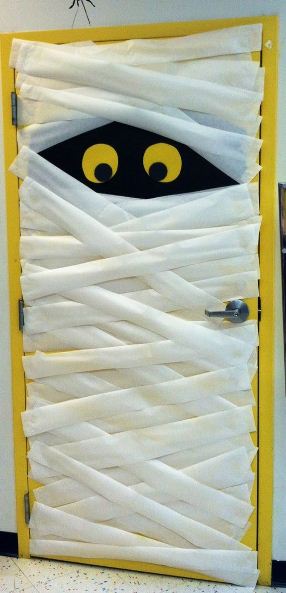 Climbing Skeletons
These 3 skeletons would surely be instant celebrities when you place 1 on the roof holding the hand of 1 skeleton attempting to climb to the roof and another skeleton as look out just like in the photo below.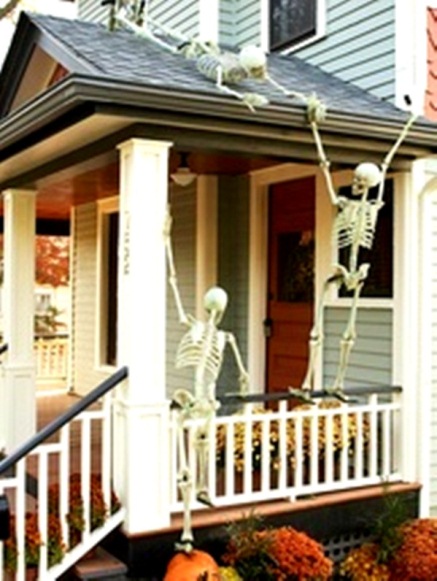 Kids-Friendly Outdoor Halloween Decorations
Casper the friendly ghost and smiling Pumpkins
Since adults can tolerate (hopefully) some horrible Halloween decorations, we couldn't expect that the kids are also capable to enjoy the props in the venue. So here is a very sample of a kid-friendly decoration. The cartoon character Casper the friendly ghost and his uncles, though they are ghosts evidently they are smiling so children may not be frightened at all. Along with these balloon happy ghosts are bright and are also smiling balloon pumpkins.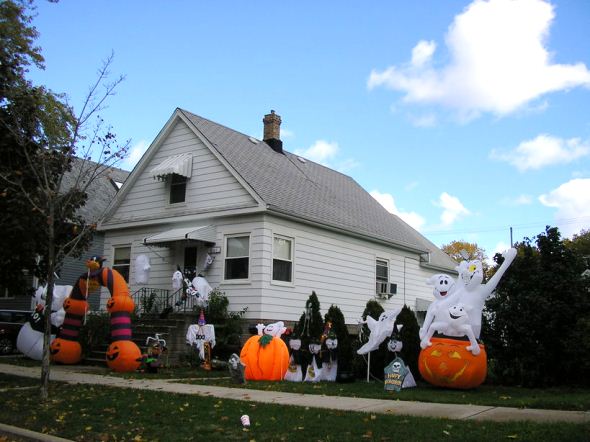 Photo: city-data
3 Piece Ghostly Group Decor
Well, looking at them daytime I'm sure they aren't traumatizing for kids. But even to see them at night, I'd say they are less scarier than those outdoor decorations above.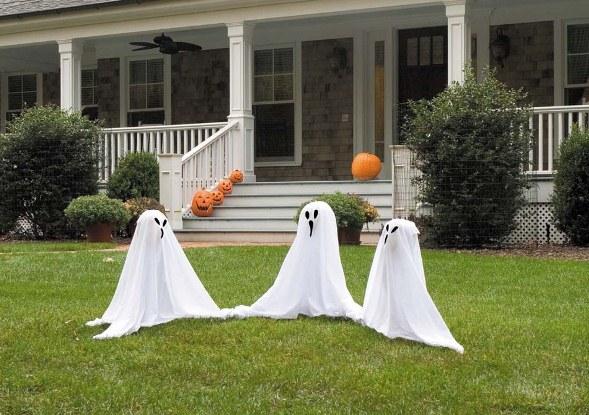 photo: spirithalloween
White and Orange Pumpkins
These decorations are very elegant that they don't even look scary at all. Some pumpkins are painted white. The 3 layers Jack-O-Lanterns are really lovely. That wreath with a tiny pumpkin was too friendly it's not going to be a horrible mood in here. Close to being Christmas decors too.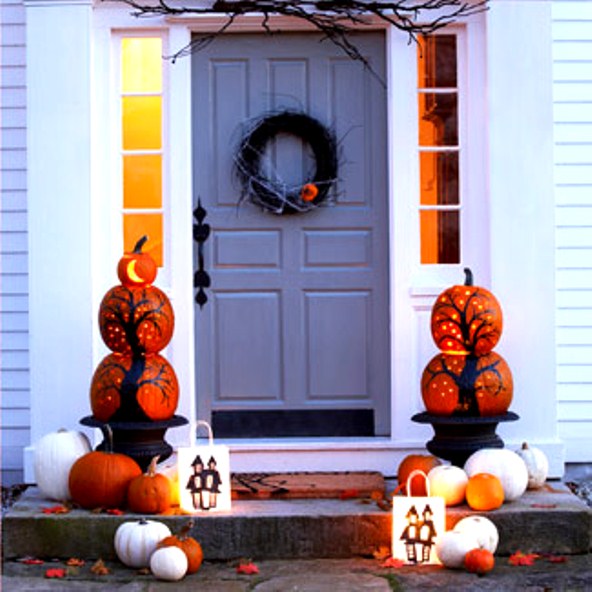 Super Huge Eyes on a Tree
From afar, you would immediately see this since the eyes are super huge.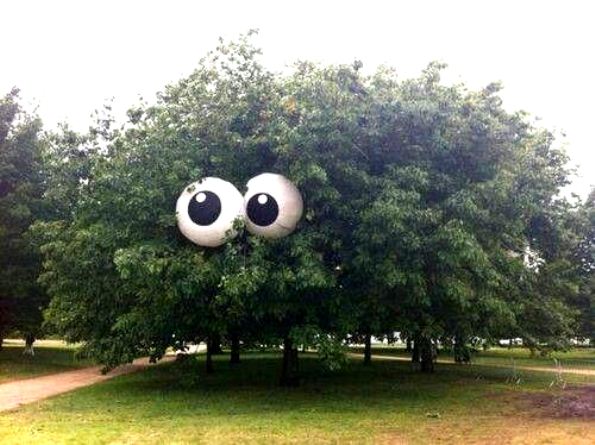 Bats and Pumpkins
The very classic hanging bats made of black paper or card boards and pumpkins of different sizes decorated on the doorsteps.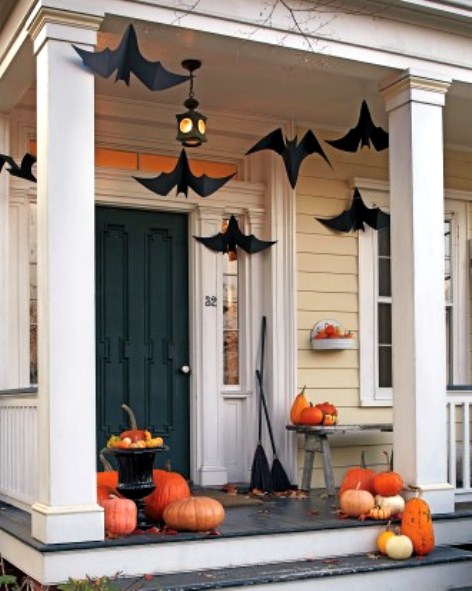 Witch Hat Luminaries Halloween Decor

Christmas-like Halloween Decorations
Definitely kids-friendly! Those bright lights tell me the owner planned an early Christmas decoration too Though there are pumpkins and hanging white and black cloths, it's not that scary at all. It looks more of a park than a haunted place.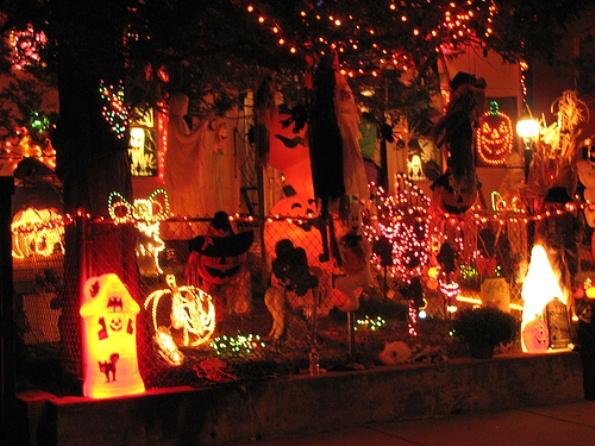 photo: modernhome-decoratingideas
Indoor Halloween Decorations
Abandoned House
Those rotten curtains, spiders and rats everywhere, skulls on the floor could mean it's an abandoned house that no one cares to change curtains and clean the place. It's as if a witch is living in that house that's why skulls are all over!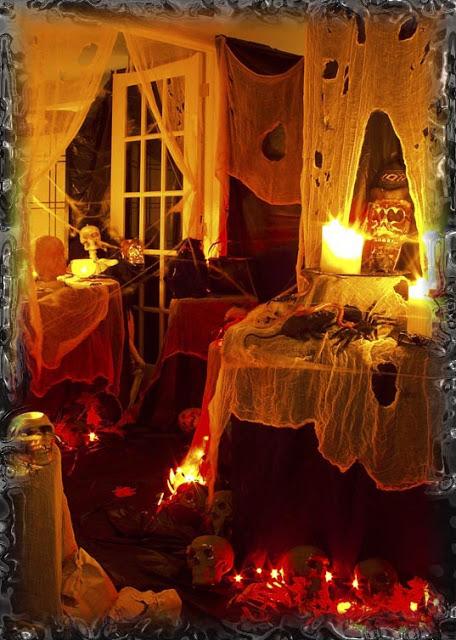 photo: modernhome-decoratingideas
Hanging Skulls
Isn't it nice to dine under a chandelier with skulls hanging? Go find skulls from the store then paint it black and hang using strings or ribbons.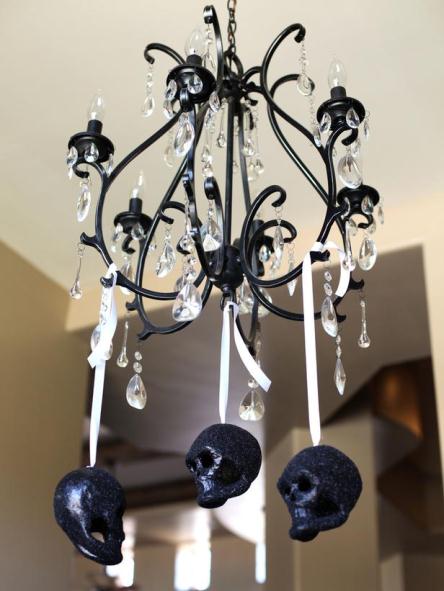 Bleeding Candles
Looking at the candle, someone may think that it's actually bleeding.  It's a nice Halloween decoration. Remember that the basic decors include candle and blood.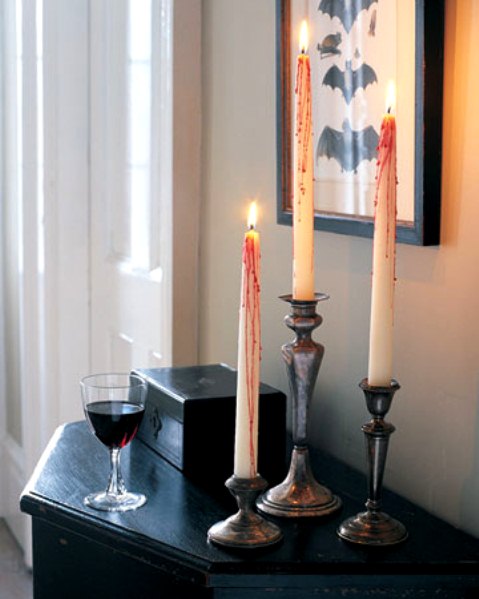 Paper Bats and a Shadow
Immediately upon entering the house, these paper bats can surprise your visitors too. Very easy patter and cheap materials too.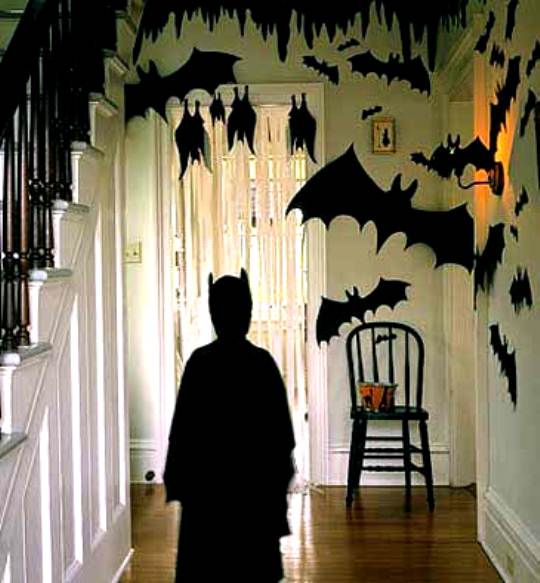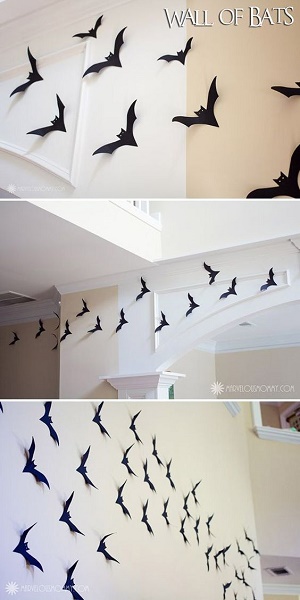 Ghost Fence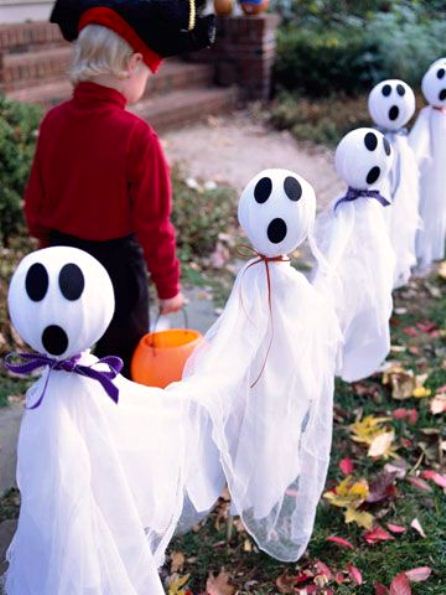 Bat O-Lanterns
If you're bored with the common orange pumpkins, then make it black and add some nice cardboard bat wings so now you've got some nice Bat O Lanterns! (Though it's not really a lantern since you don't put a candle in it)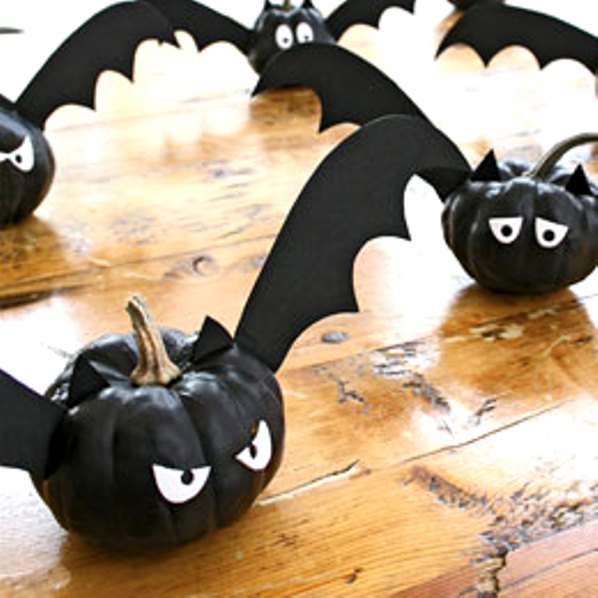 Halloween Decorations for the Table Setting
Designed Balloons
For the dining area, a Halloween balloon center table would do. Decorate the balloons with skull designs or bat designs as seen in the photo below. Colors commonly associated for Halloween are of course black, white and orange.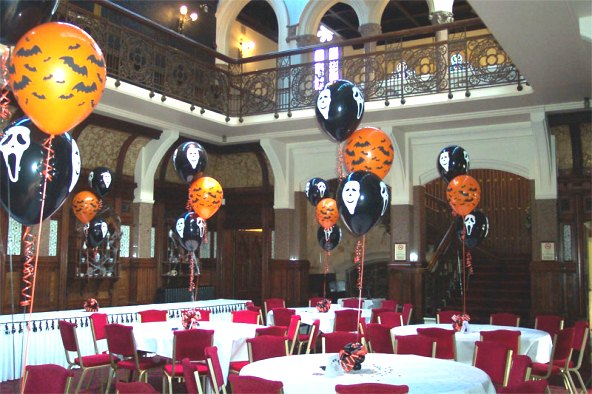 Candles and Halloween Patterns
As I've said, one of the classic Halloween props is the candle. But this time it's not the usual candle but instead, Halloween associated patterns are aligned with the candles so when it's lit up, the shadow of the patterns are visible on the wall – even larger. It add's up to the spooky evening mood. The photo below has a mad pumpkin and mad (black) cat. I suggest you can try bats, skulls, spiders, witches and ghost patterns.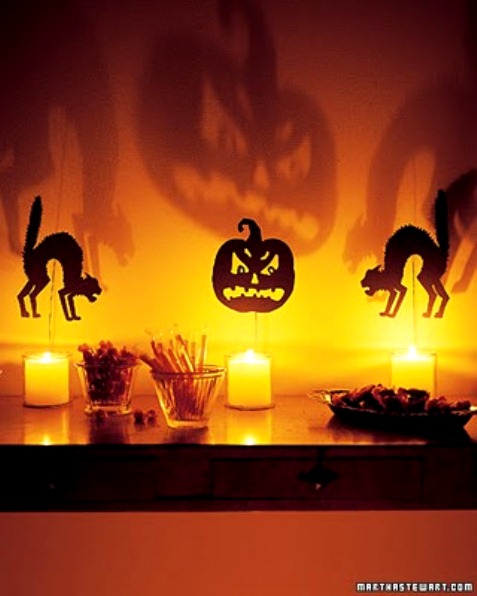 Hand Candy Bowl
If "the hand" of Adam's family was a scary thing, how much more seeing a hand skeleton upright from a candle bowl. You can choose whatever candy you'd like to prepare just make sure to position the hand as shown in the photo below. Don't forget to tie a black ribbon around the bowl to make it more delightful! Would anyone dare to have some candies?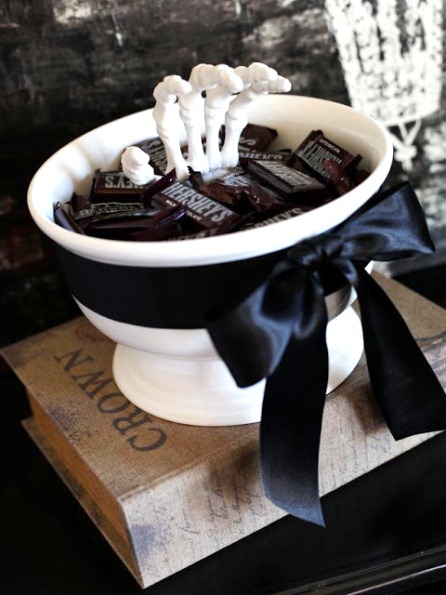 Easy Edible Halloween Centerpiece (Super Kids-Friendly!)
Again, so kids wouldn't be traumatized with your party then this is one of the best Halloween decoration idea for you. Choose some orange, yellow and white combination of gummy bears. Just set it up with some nice pumpkins too.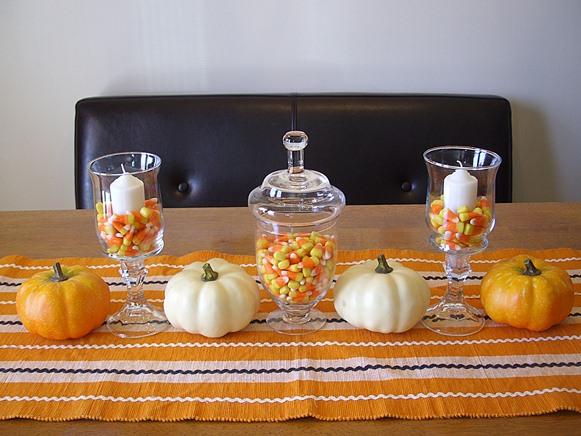 Tissue Paper Mason Jar Luminaries
This is not just for the table setting but you might consider using this jar luminaries to light the venue. Very easy to prepare. You just need an empty jar, a candle, tissue or crepe paper to cover the jar and those eyes. It looks like a mummified jar!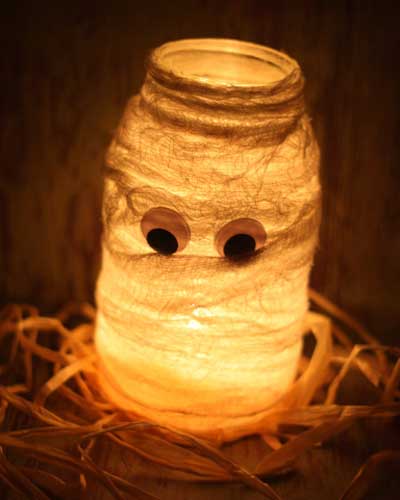 Pumpkin Candle holder
If you're looking for a candle holder than suits the season, I'd say a creative carved pumpkin will do just like in the photo below.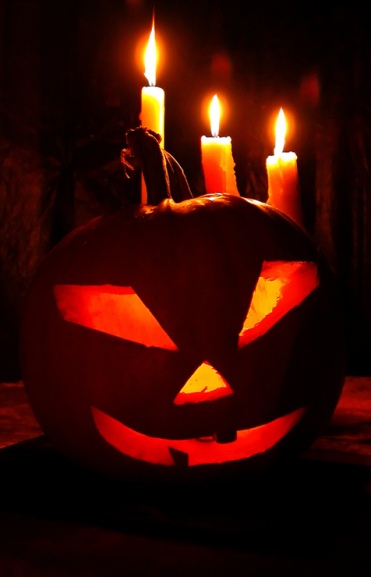 Mini Pumpkin Spider Tea Lights
Same concept as above, only that you'll be using tiny pumpkins this time and add some spider legs. Still these are candle holders.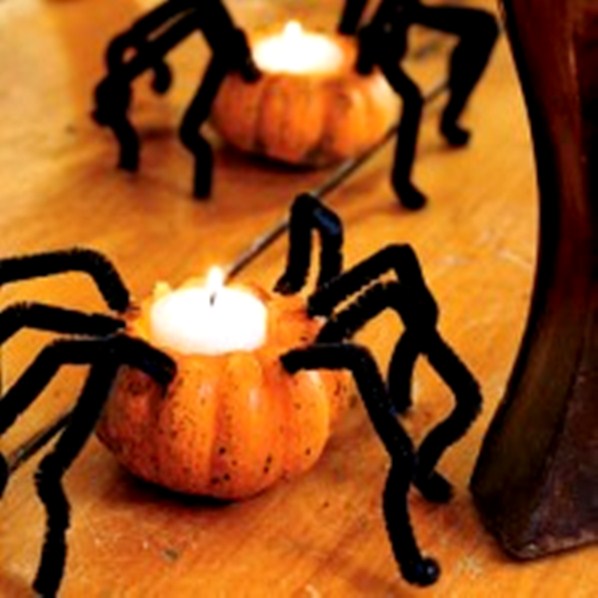 Monster in the Trunk
You'll need an old chest,  hands of a monster then glowing eyes. Looking at the photo below, it's as if someone is peeping and just taking time to surprise everyone present in the Halloween party venue!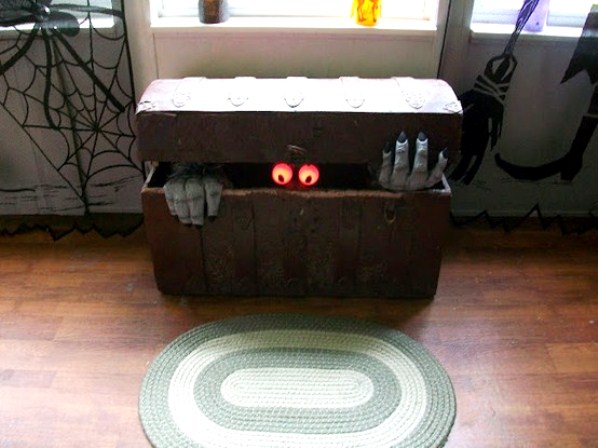 A Pot with Legs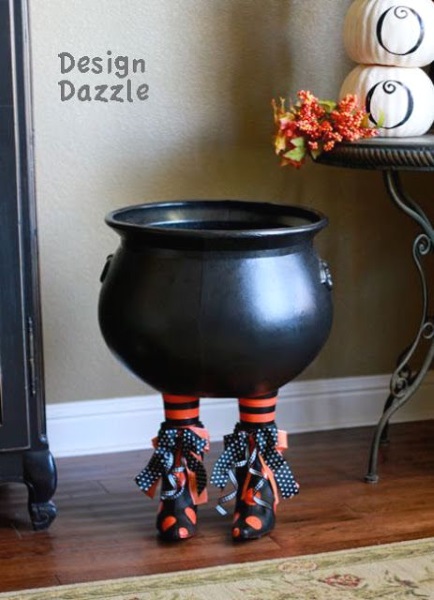 Floating Umbrella Skirts with Legs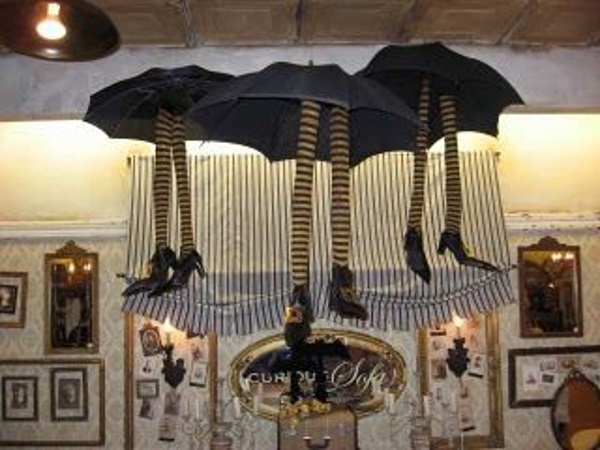 Legs under the Sofa
Just imagine how your guests would react upon seeing these legs under your sofa. Your choice of whatever socks and shoes you'd like to use. The creepier the better.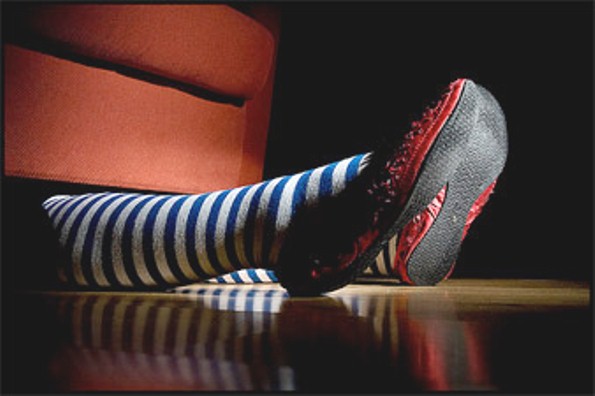 Creepy Toilet Monster
Just in case you have enough time to even add some few Halloween touches on your comfort room, then this might be a simple yet fun idea. Don't forget those little details like pumpkin, spiders, rats, skull and most of all that black card stock design with huge peeping eyes!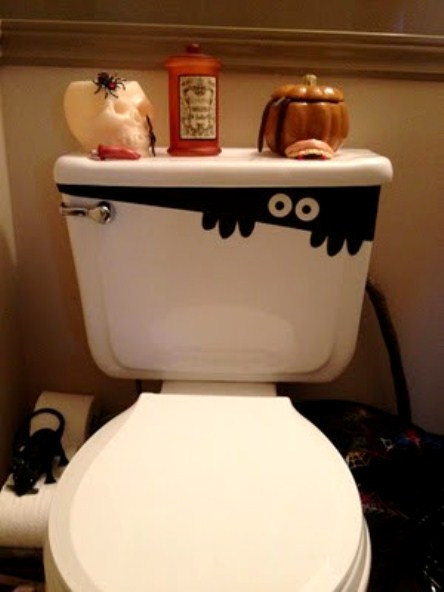 It's up to you whether you'd like to decorate the party scene alone or you want some few Halloween touches on some other parts of your house (bathroom,kitchen,stairs). With the compiled decoration ideas above, I'm sure you're getting more excited for this year's Halloween party! Don't just  frighten people but instead may your party be fun-filled too. Good luck and we sure would like to hear from you about your party's success!