I don't know about you guys, but for me a party isn't a party unless there's food! Yeah! Come to think of it, we can't just come to a venue exerting effort to be wearing the dress code, play games, mingle and have fun then just stare at each other when we all get hungry and thirsty right? It's a super duper MUST to prepare some food stuffs for everyone to share!  Specifically, this post is generously created to provide you with interesting, delightful, yummy and very eye catching best Halloween recipes since it's the event that's gonna happen very soon. This post has random Halloween appetizers, Halloween desserts, Halloween snacks, Halloween cupcakes and cakes, Halloween drinks or in short, all about Halloween Food Ideas! You can also below because some are very suitable as Halloween treats and goodies for trick-or-tricking kids, especially those found in the Halloween Pops. I'm sure you will like everything below so I suggest you bookmark this page immediately! *winks*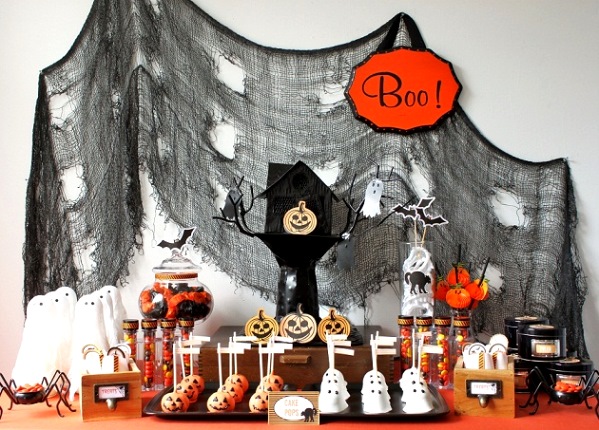 As a Halloween Party host, your task doesn't end on putting up Halloween decorations, arranging Halloween music for backgrounds, displaying some Halloween crafts but take note that preparing Halloween recipes is another great big challenge for you to take! Worry not because you are still 2 weeks away from the Halloween party week and right in this page you'd find Halloween recipes that would go along with your spirit-filled, spooky, creepy, mysterious, shocking, weird, eerie and amazing Halloween party (whatever it may be!) Some recipes are too sweet looking while same may look gross so if in case you're expecting kids for the party then consider some kid-friendly Halloween food. Luckily, there are tons of candy pieces available in the market for the mix and match. Enjoy and we would be happy if you could share some thoughts on the comment section. Free Facebook, Twitter shares and happy Pinterest pinning too!
Meat Head
As what the author of this recipe said, this could either impress or distress the party guests (lol!) It sure is spooky but still looks yummy. I'm sure this is going to be the center of attraction among the food you're going to serve. Try this Meat Head yourself!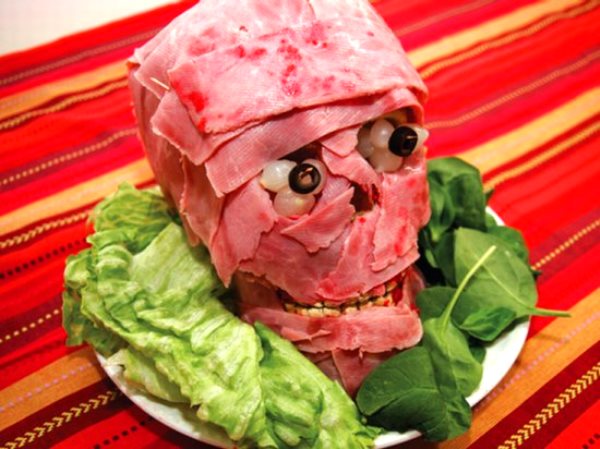 Halloween Stuffed Peppers
Do the pepper carving and you're all set to stuff them with whatever Halloween recipe you like. Just not the large ones of course, just those would fit these wonderful peppers! Like in the sample below, those are yummy spaghetti! Awesome Halloween Stuff Peppers!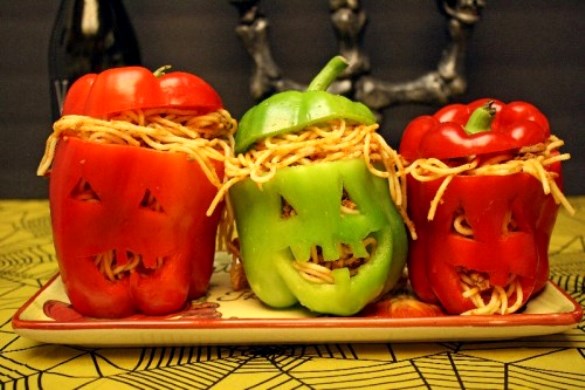 Meatloaf Like Mummy 
Yup this is a meatloaf covered by pasta strands! Such a healthy Halloween recipe that everyone could share. Those eyes are mozzarella circles and the eyeballs are olive cuts. Are you doing this Meatloaf like Mummy for Halloween 2013?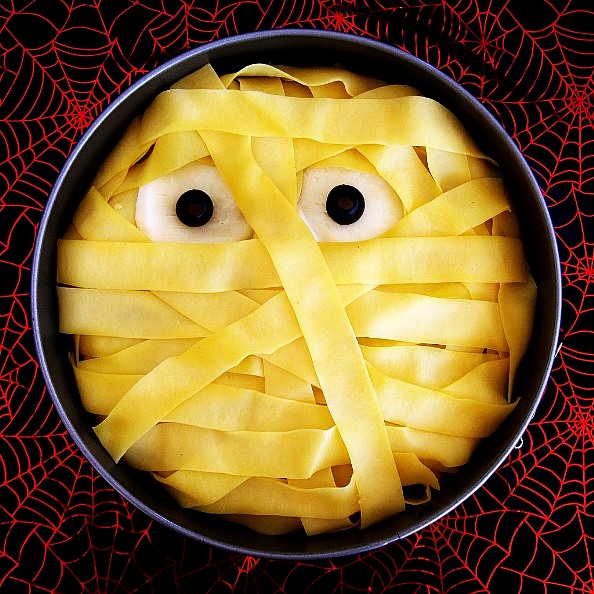 Ghoulish Grape Hands
These are just gelatin molded into hand gloves. Whoever thought of this is very smart!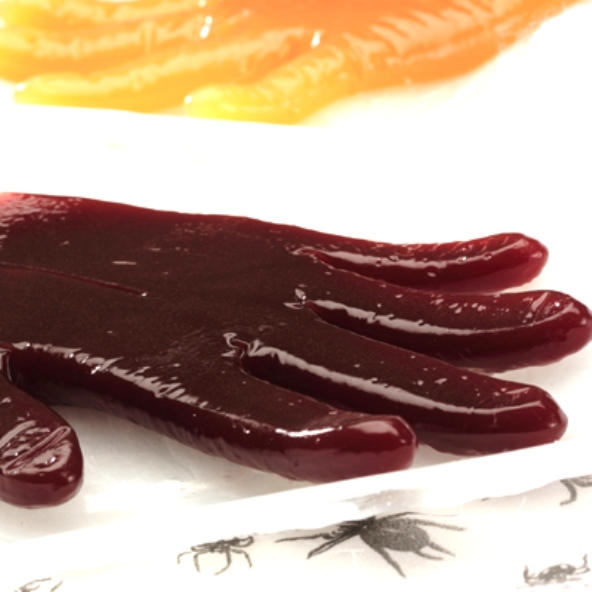 Scary Meat Hand
From one hand to another hand, but this isn't a dessert recipe because it's actually made of meat. Again, this is a meatloaf with cheese and ketchup on top. The nails are made up of onions as well as the wrist bones. It was molded on a hand-shape gelatin molder.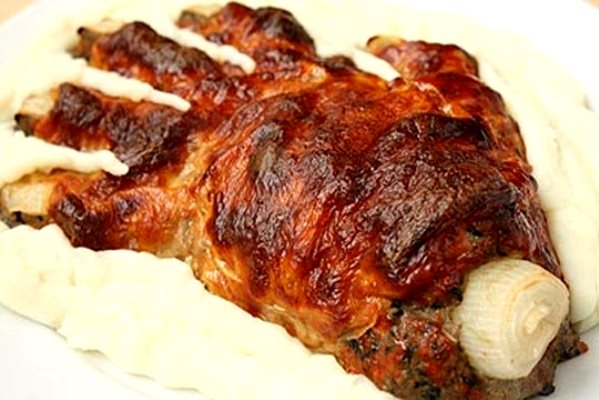 Creepy, Dead Man's Finger Food Sandwiches
Well what would you do seeing bloody fingers served in the party? Would you dare to taste them? I would! I'd rather bite these fingers than my own. lol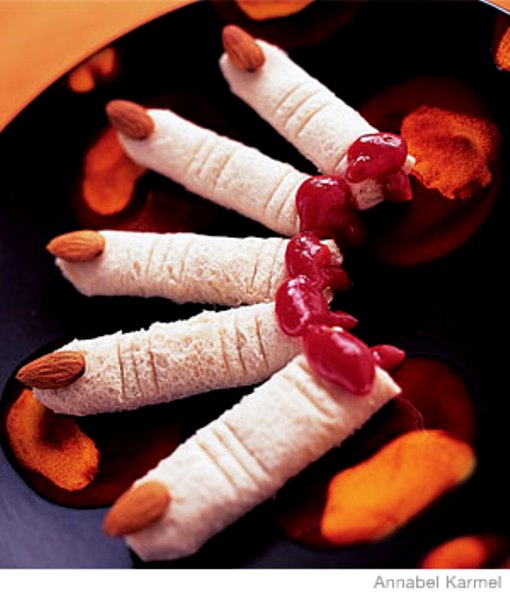 Monster Toes (For Halloween)
I've been seeing tons of Halloween Fingers like above, but when I saw this one, I realized Halloween toes are cool too!  Those blood (ketchup) all over adds up to the creep.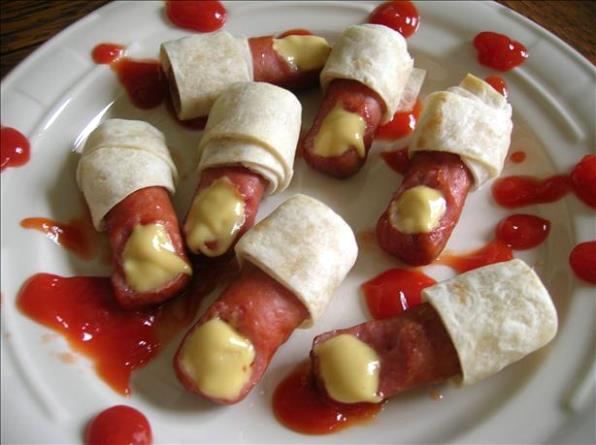 Tombstone Brownies
There you go, tombstone brownies that looks really delicious. That peeping ghosts behind 1 tombstone makes it more adorable.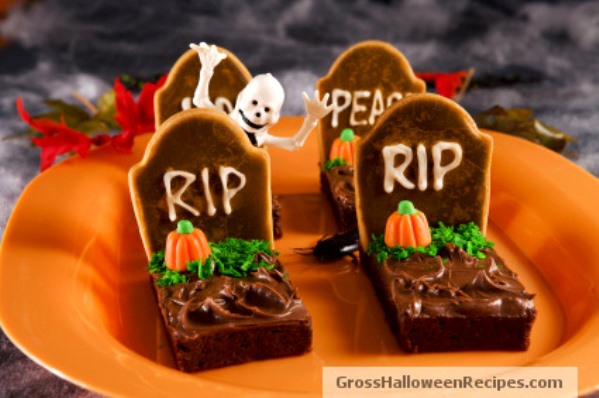 Chocolate Snack Cake Bats for Halloween
This is a cake roll designed as a bat.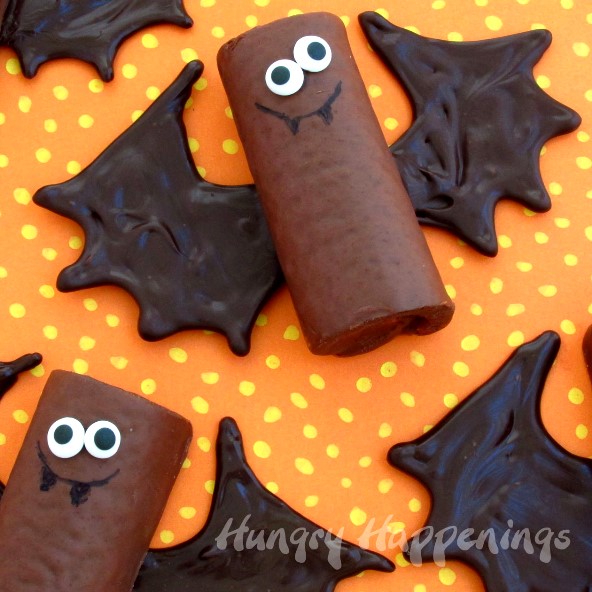 Halloween Mummy Cookies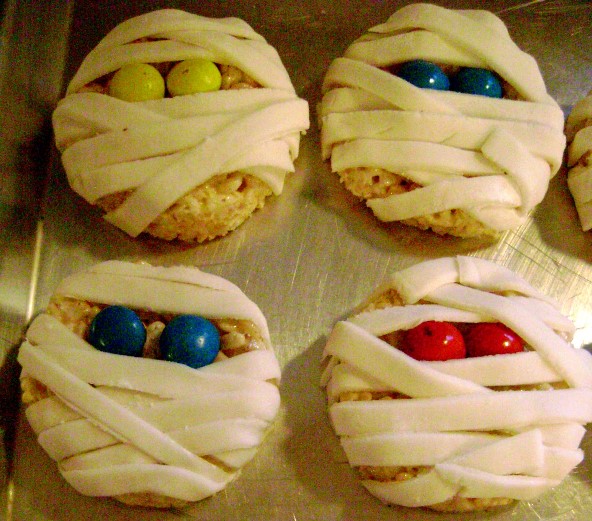 Halloween Mummy Spinach Dip
This is a mummy shaped bread loaf having the spinach dip in it.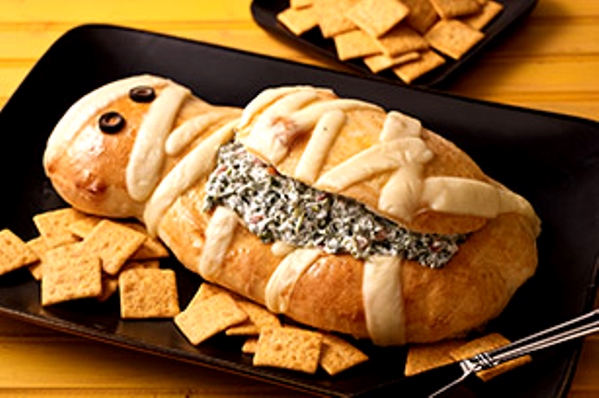 Bittersweet Chocolate Cookies Recipe
Oh these skeleton shape cookies aren't spooky at all. These are actually Gingerbread cut cookies but it compliment well with the meringue!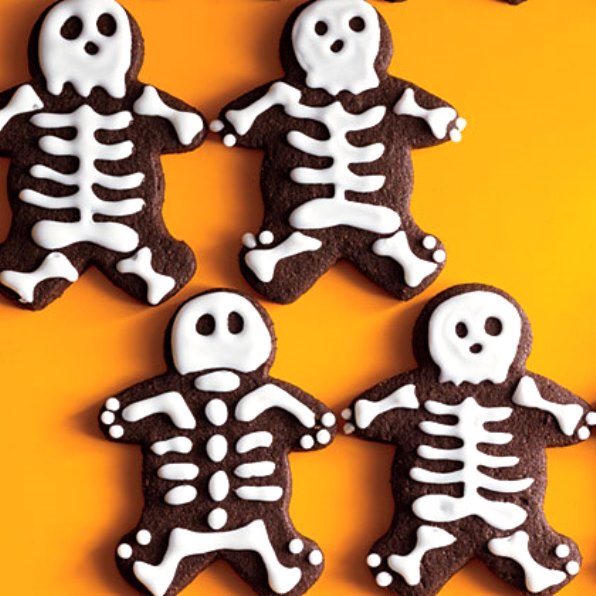 Monster skewers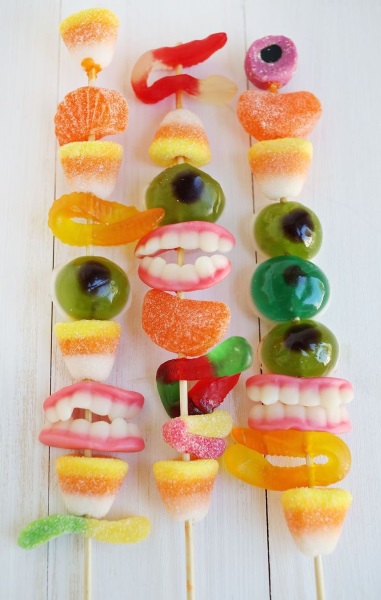 Melted Witch Brownies

Clementine and Celery Pumpkins
Here's a healthy Halloween recipe and with no cooking required. Just peel the Clementine (Mandarine Orange) then insert the celery at the center of it. Wuhlaaaaaaaah! It's done!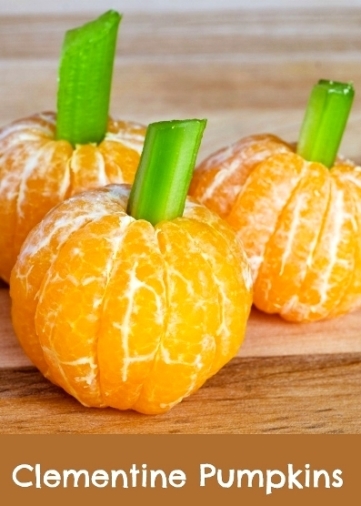 Halloween Strawberries
These Halloween gourmet idea is another healthy and easy to do recipe. Just dip the strawberry on melted chocolates then decide for the random designs, like candy pieces. How about some orange frosting and turn it into a pumpkin? Or the plain white like a mummy. That would be great too.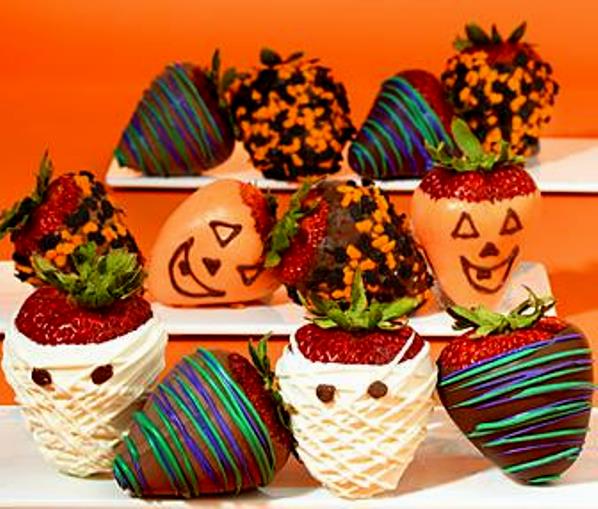 Strawberry Ghosts
Another strawberry treat that everyone would surely enjoy. Very simple and again easy to do. Even kids can do these!  Dipped in melted chocolate chips as its eyes.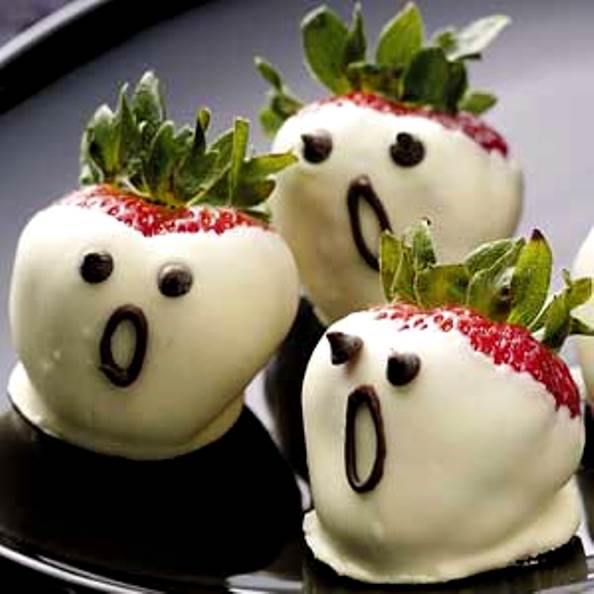 Melon Brain
It was carved to look like a human brain. Though it's not bloody, the concept of copying the look of a brain was indeed cool.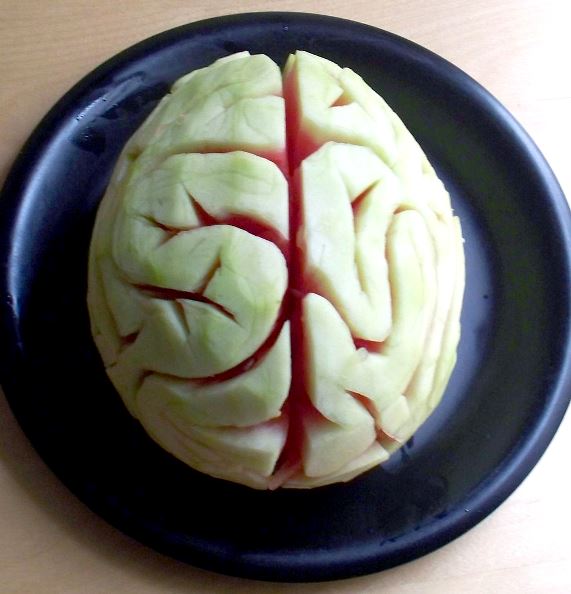 Zombie Brain Jello Shots
From one Halloween brain recipe to another. My oh my, who so disgusting?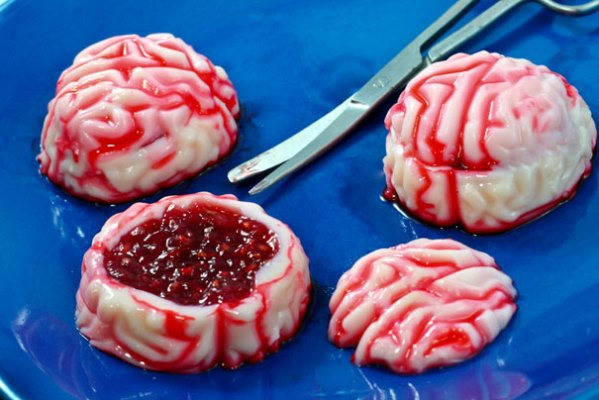 Raspberry Jello Worms on a Bed of Chocolate Doughnut Crumbs 
Ewww. Who would dare to try them?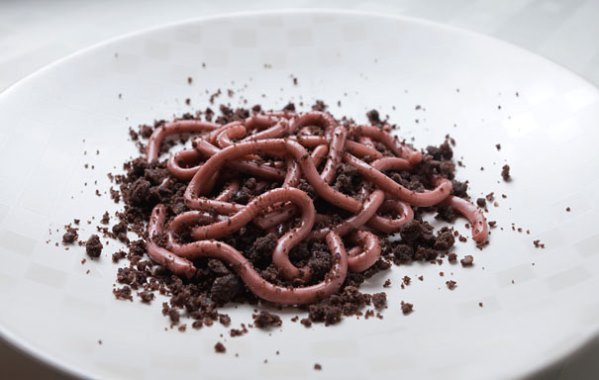 Spook-tacular Chocolate-Dipped Pretzels
This recipe doesn't require cooking and takes about 45 minutes of preparation. It's one of the easiest Halloween recipe and sure kids and adults would love these. Looking at the picture, the pretzel rods are dipped into the chocolate and then rolled onto some candy pieces. They look weird as if they are rotten thin bones so they fit to be a part of the Halloween menu. For ingredients, servings and instructions of Spook-tacular Chocolate-Dipped Pretzels.

Halloween Monster Eyeballs
Woah. Aren't these lovely? These are mini powdered doughnuts then decorated with red decorating gel, green M&M's and black decorating gel or icing. I'm sure guys can do this one!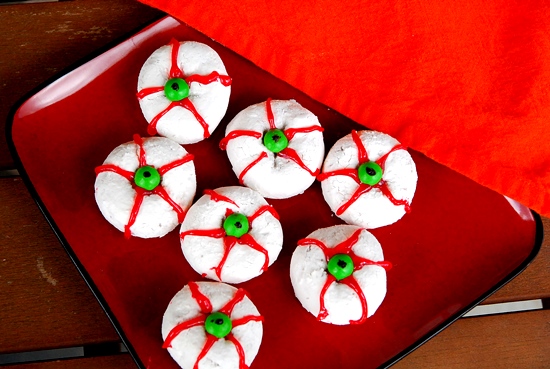 Cheeseburger Jack-o-Lanterns.
Another easy Halloween recipe here. This is just the basic burger but the cheese are cut into pumpkin designs.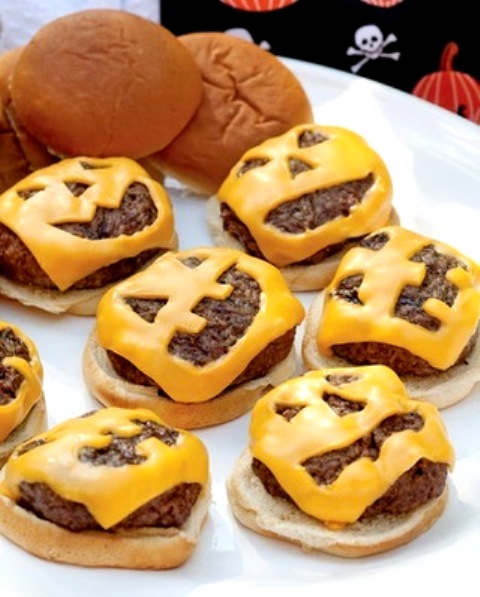 Guacamole Puking Pumpkin
An ideal snack dip I would say..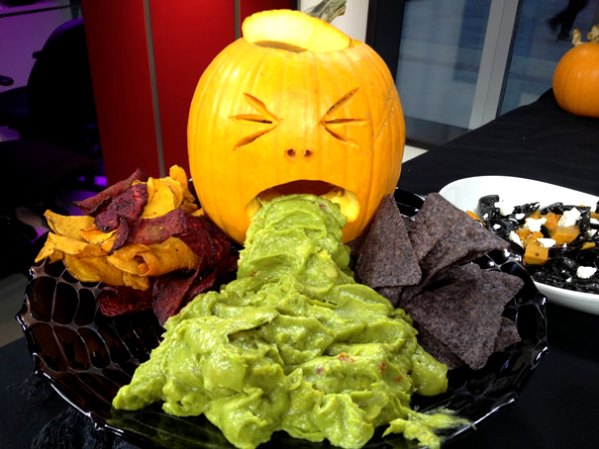 Raisinets Spiders
Here's another no-cooking-required recipe. It's very easy! Looking at it, obviously it's a cookie sandwich turned into a spider. Pretzels are used as it's legs and those eyes are raisins. If you make lots of these then it would be wonderful and your guests would go crazy adoring your Halloween edible creations! See the instructions and servings for this Raisinets Spiders.

Boo-tiful Jello Cups
Oh another ghost concept recipe. Why do we always see them? Basically because they are the simplest Halloween creature design next to spiders. So we would just expect lots of recipes design into these fluffy ghosts.
Abuelita Sugar Skull Cookies
Here's another delightful recipe. These are cookies skull-shaped cookies with Skull and Bones candy pieces used as the eyes and mouth of the skull cookie. Would take 53 minutes to be done! For ingredients, servings and instructions of Abuelita Sugar Skull Cookies.

Mummy Dogs
Wrap the hotdog with dough strips and turn it into a mummy. Just leave some space for the face. Sausages could be another option too. Those eyes are mustard.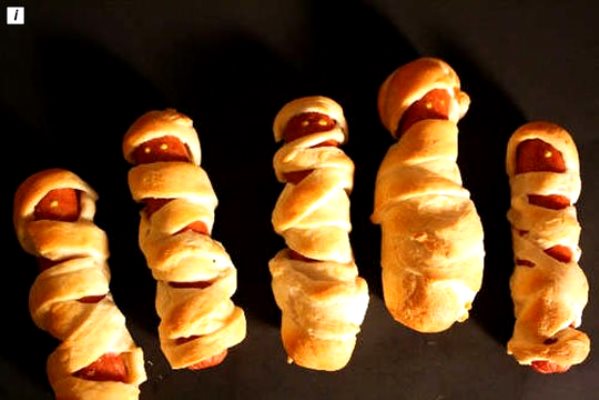 Easy Pumpkin Rice Krispies Treats for Halloween
Orange rice krispies with green icing on top as leaves and Tootsie roll chocolate as the stem. You can draw a face to make a Jack-O-Lantern face using cookie icing. From outdoor Pumpkin carving, try bringing your pumpkin addiction into your kitchen. This is going to be an enjoyable bonding moment with your kids if you let them help you.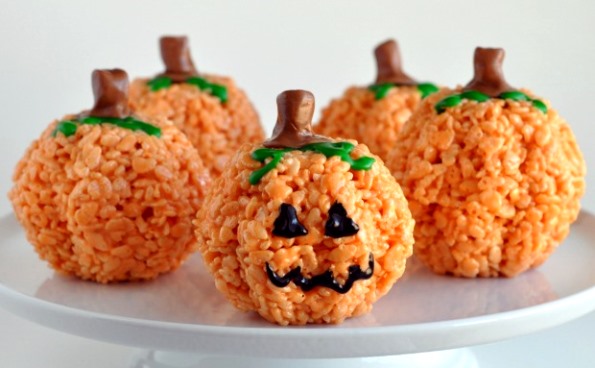 Or Brain Krispies?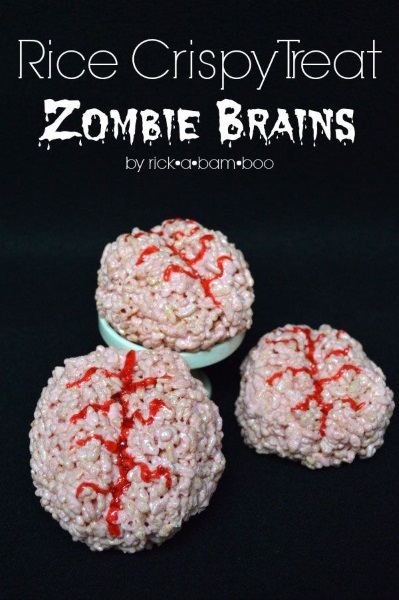 Halloween Cakes and Halloween Cupcakes
These desserts would sure add up to your Halloween party's dining perfection! Enjoy the different Halloween cake and cupcake ideas that would melt the heart of any diet-fan visitor on your party.
Monster Eye Cups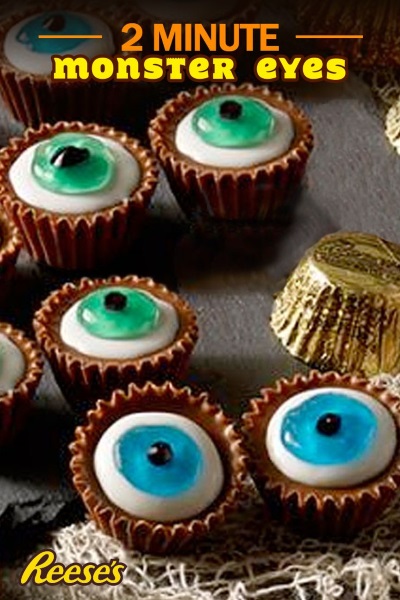 Werewolf Cupcakes
Done wonderfully are these mad and wild werewolf cupcakes courtesy of Annie's Eats. Obviously it's a chocolate cupcake and was inspired to do it because she was a fan of Twilight series. lol!  The ears and mouth were actually made of marshmallow then coated with chocolate. The eyes and nose are M&M's.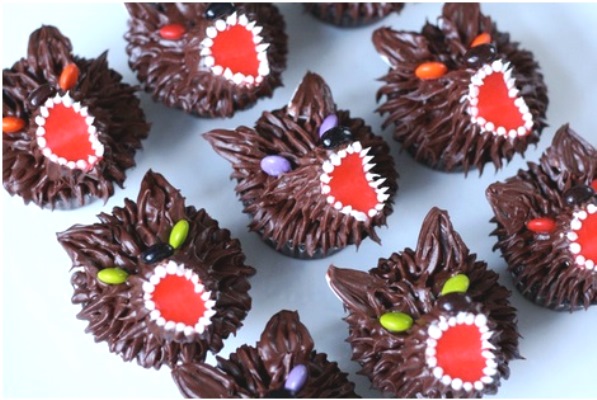 Halloween Witchy Cup Cakes
Just bring out that Martha Stewart in you! Haha. Try to be very creative, imaginative, stylish and wonderful as she is by trying different Halloween treats just like these. Cute witch cupcakes!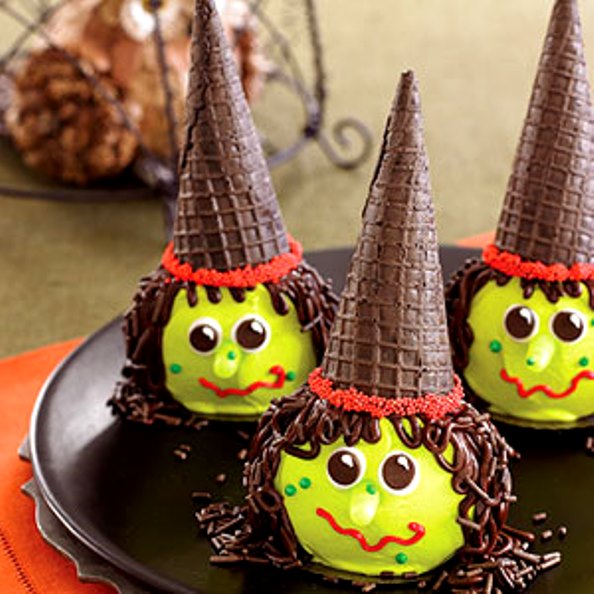 Jack Skeleton Cupcakes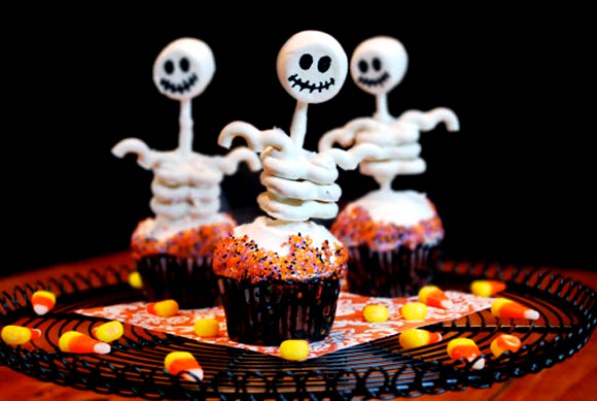 Boo-tiful Cupcakes: Hi Hat Ghosts!
Having the "boo" on it's name, you know we're talking about ghosts right? They are supposed to be scary but looking at this sweet cupcake with really white frosting and mini chocolate chips as their eyes and noses, ohh I'll never be scared! This one is the basic ghost cupcake. Learn how this Boo-tiful Cupcakes: Hi Hat Ghosts is beautifully done!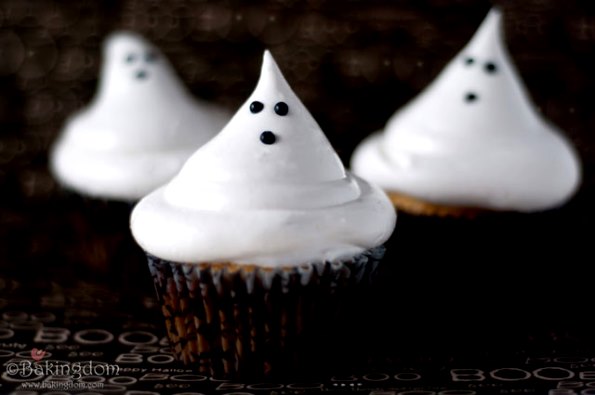 There are actually lots of these boo-tiful (ghost) cupcakes, they just differ in flavors and designs. Oh, some have modified names too. Check out more of them.
Boo-tiful Cupcakes
The white ghost and the pumpkin inspired frosting makes these cupcakes more adorable.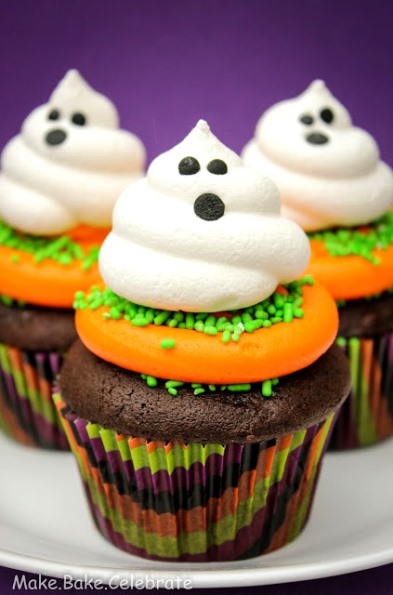 BOO-TIFUL GHOSTS
These are very rugged ghosts! These time they look a little (just little) scary!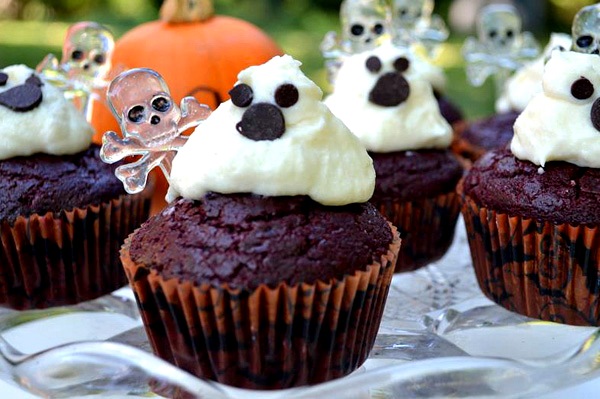 Cobweb Cupcakes
To make 24 cupcakes would take 70 minutes but again, it looks sooo worth it! Very tempting! This cupcake obviously has a spider on top and choco cobweb effect too. Learn how to make this Cobweb Cupcake.

Skulls N' Bones Cupcakes
Would take an hour and 20 minutes to make 24 cupcakes but it's all worth it! Your kids would sure love to help on putting the fancy monster mixed up candy pieces that includes skulls and bones over the vanilla cupcake. Then there's the choco bar with the "boo" icing. It's so cool! For ingredients, servings and instructions of Skulls N' Bones Cupcakes.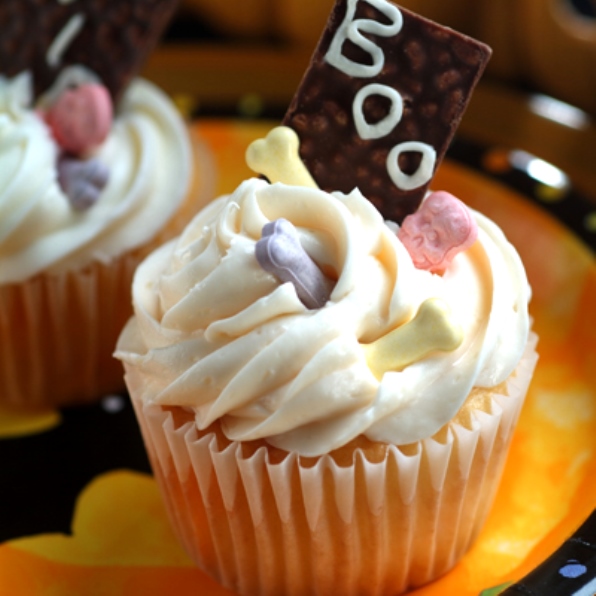 Halloween Witch Hat Cupcakes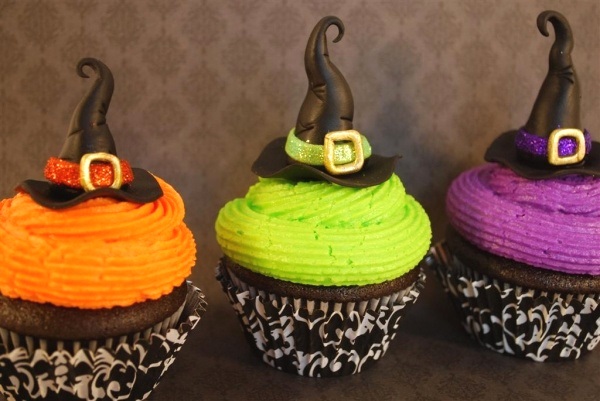 Frankenstein Cupcakes
Who doesn't know him? I know he's scary but this cupcake is such an adorable right?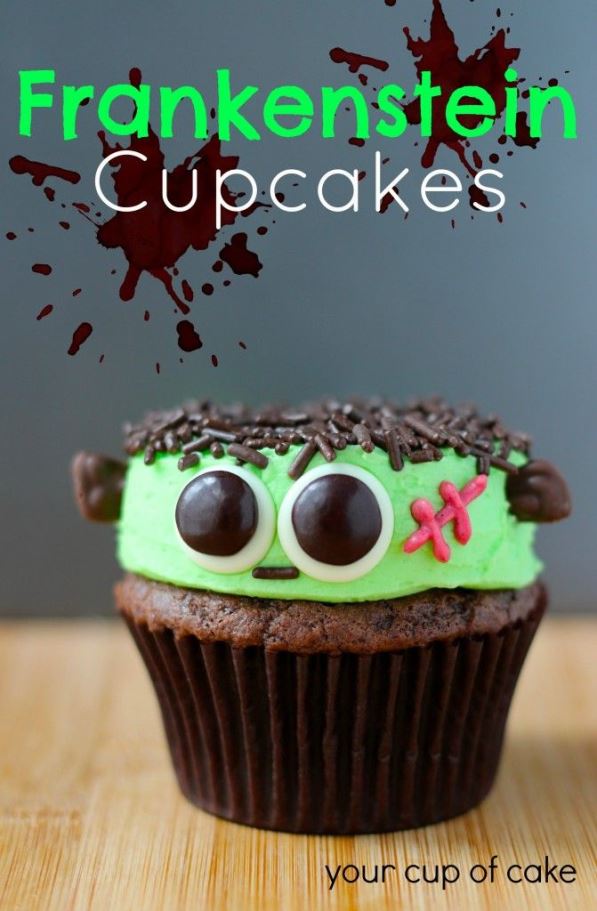 Scrumptious Skeletons
Instead of preparing candies, some party host would prefer cupcakes like these. Those skeleton design are too cute to be scary.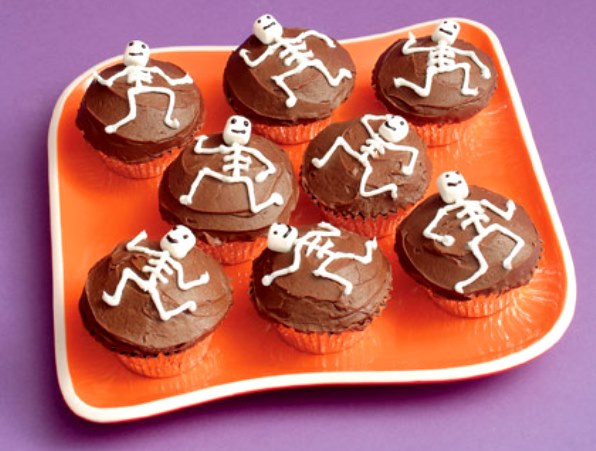 Brain with Blood Clot Cupcakes
This is freaking scary! On top are twirled vanilla icings to create that brain-like effect, then there you go with the cherry pie filling for the blood clot effect. Bloody yummy I may say! Try this Brain with Blood Clot Cupcakes this year?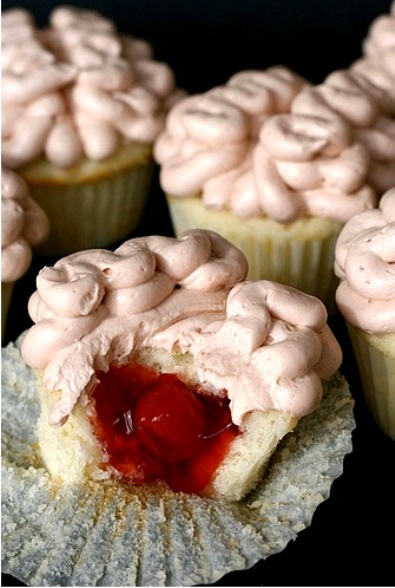 No-Bake Spiderweb Cheesecake 
Oh well here's another mouth watering Halloween recipe! Melted chocolates used to decorate as spider webs, then you can place some spiders upon display on your party.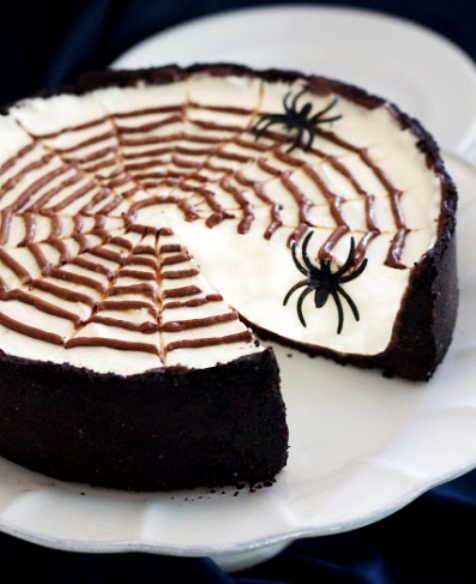 Boo-tiful Halloween Cake
Let's get bigger, from cupcakes to cakes. Again, another awesome edible spirit that you can try! Those fluffy marshmallow ghost frosting are so inviting!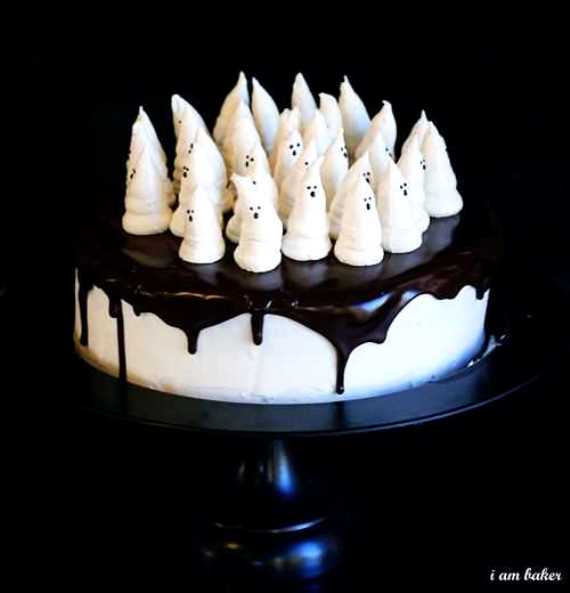 Pumpkin Spice Ghost Cake
This cake for 12 servings is done in 1 hour and 30 minutes. It's more difficult than doing the cupcakes of course. Candy corn on top of the cake and licorice strings were made as ghost faces pressed onto the side of the cake. Learn how to make a Pumpkin Spice Ghost Cake.
From the name itself, no doubt this is a very spectacular edible display on your Halloween party. I'm sure your family and friends would not miss posting a picture on this on their Instagram or Facebook profiles (lol). Since this one looks complicated, it's done in almost 2 hours but again, it's worth it! Learn how to make this Spooktacular Haunted House.
Cat Litter Cake
From the good looking cakes, let's move on to something really gross. Oh my who let the cats out?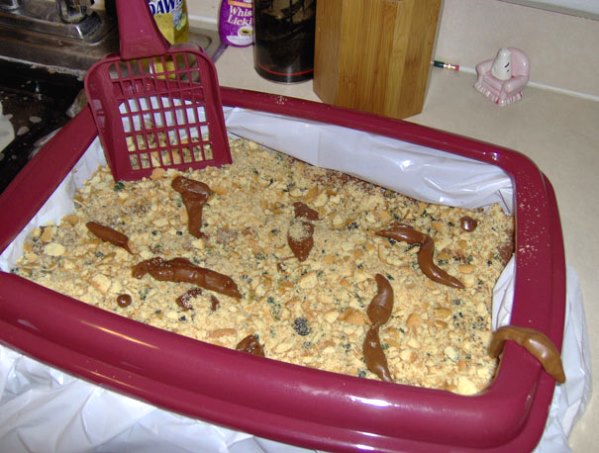 Icky Intestine Cake for your Halloween Guests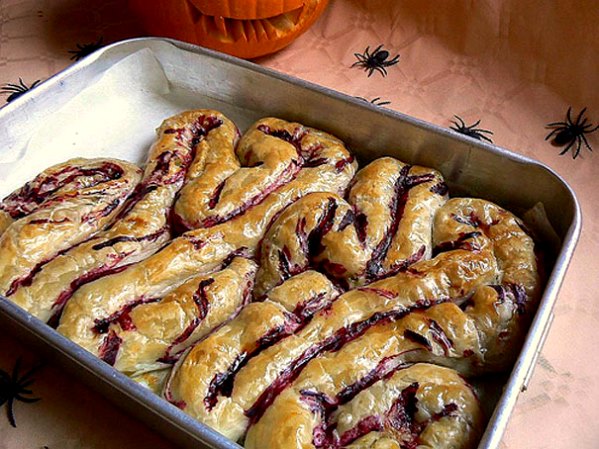 Childbirth Strawberry Cake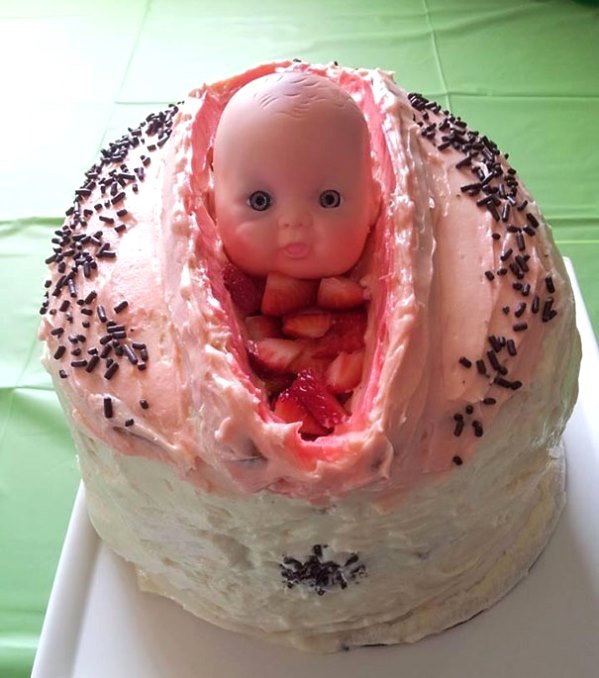 Halloween Pops
These are wonderfully made Halloween Pops with different designs and concepts. Just one thing for sure, they're with sticks that make them pops!
Monster Pops (Frankenstein)
Another simple Halloween treat recipe. Those are just marshmallows coated by decorator frosting icing (with green food coloring). Those eyes and nose, as well as those hair strands are chocolates, then the marshmallows are inserted in lollipop sticks. Yahoo easy but looks tasty! Learn how to do Monster Pops (Frankenstein).

Monster Chocolate Cherry Pops
Here's another interesting Halloween Pop recipe and it's got random designs.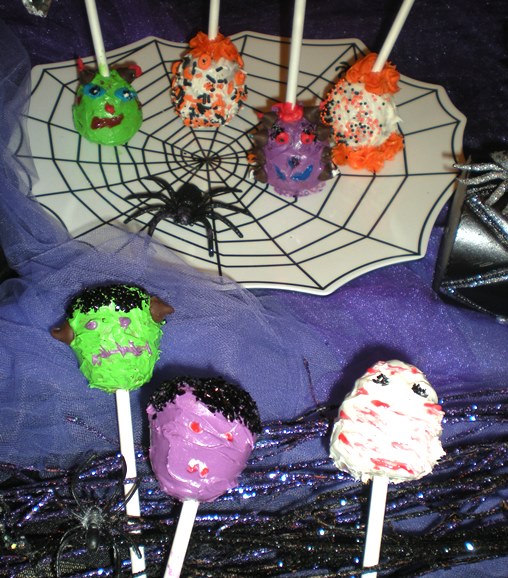 Mummies, Monsters, & Hybrids Cake Pops
These are modified version of Halloween Monster Pops courtesy of Ms. Fox. Done as mummies but not limited to white! Being colorful made it more tempting to eat.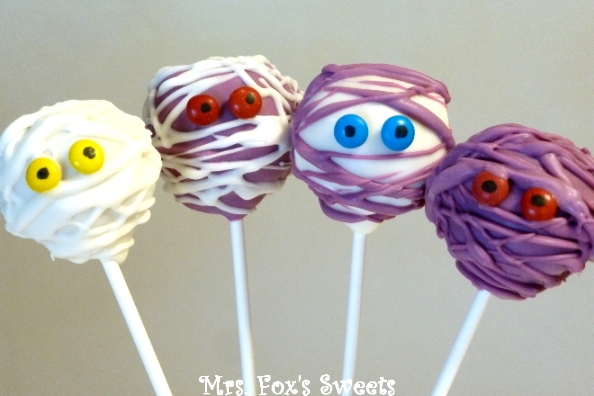 Monster University Oreo Pops
Of course, monsters are also associated with Halloween so let's not forget about the famous Monster University Halloween pops. Sure your kids know about these characters and no doubt they will love them!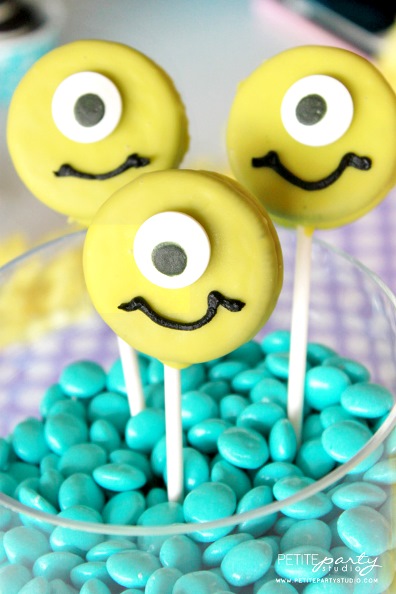 Boo-tiful Cake Pops
Not limited to ghosts, these cake pops are done with cats and pumpkin designs. Much better and attractive on your dining table!
Spooky Cake Pops!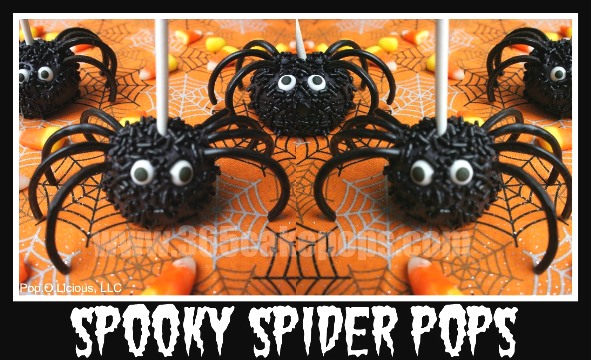 Boo-tiful Meringue Ghost Pops
Aren't these cute ghost pops? They look yummy too!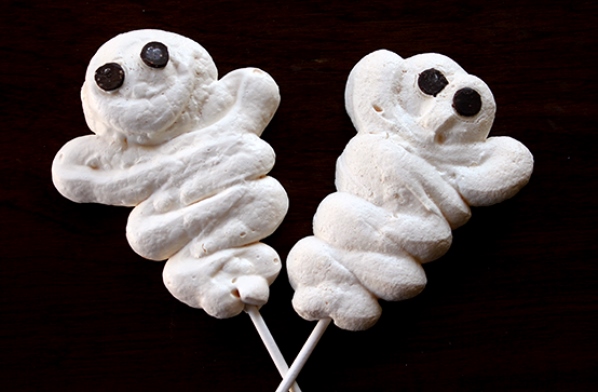 Halloween Drinks
Even if these drinks would look weird and give you that eerie feeling, would you not obey your thirst when you're really tired partying! Craving for that fulfilling drink or thirst quencher. Okay let's see how brave you could be to try any of these 5 Halloween drinks.
Vampire's Weakness (Blood Orange Spritzer)
Willcookforsmiles generously shared her idea for a bloody Halloween drink. No this won't turn you into a vampire because this is just a blood orange soda. Strictly for adults because it's rum! The bloody effect on the wine glass are just melted cornstarch with red food coloring. Pretty neat!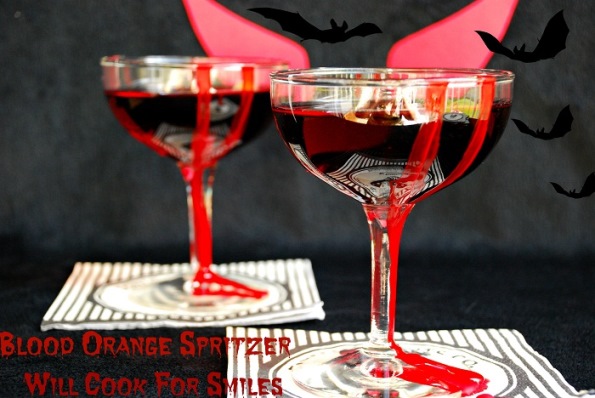 A root beer float, made with yogurt and vanilla. To make it suitable for Halloween parties, added were yucky looking gummy worms. It does look like cemetery ground with worms coming out of it. Yucks!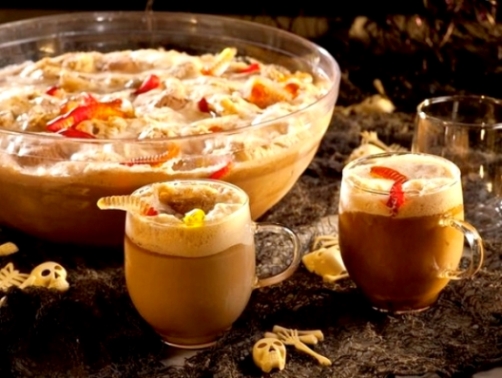 Bone Chillin' Brew
Those floating hands are actually ice made from frozen hand plastic gloves. Try it yourself!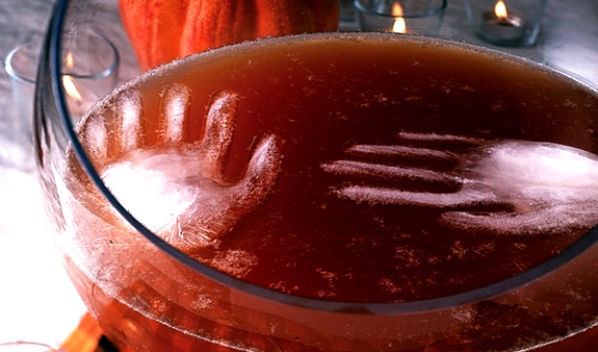 Swamp Juice
It doesn't look neat, because it's made to look really ridiculous like a swamp but who knows it might taste really well right? Obey your thirst with this Swamp Juice made up of lemonade but filled with lots of gummy creatures and the green food coloring is the very reason why it's green.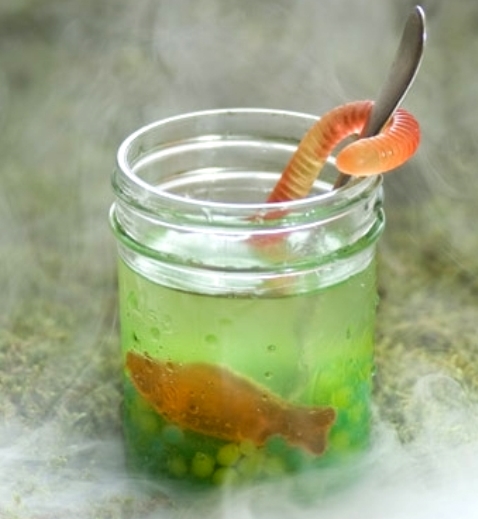 Shrunken Head Punch
Putting a twist into your punch are some carved firm apples turned into heads.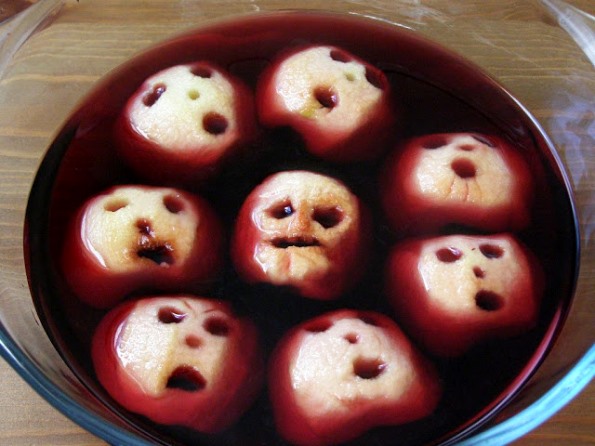 Toddler Toddy Punch
Just make sure your kid won't get wild knowing you've dismantled her little toy.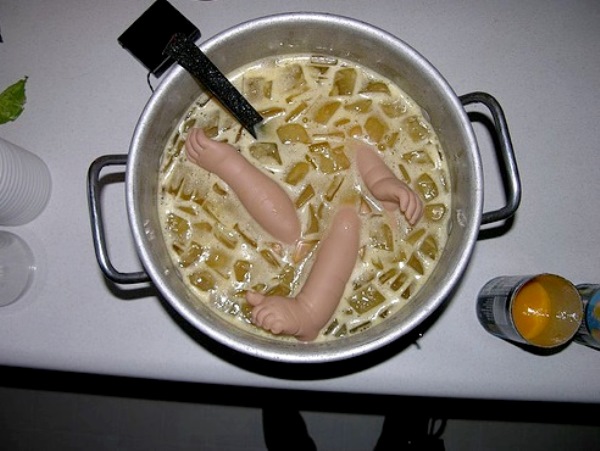 Whatever you plan to served on your Halloween party, do consider your budget, time and availability of the ingredients. If you got your own support group in preparing your Halloween food, snacks and appetizers then that would be awesome. Some parties don't really served heavy meals, some pika-pika or finger food will do. I hope you enjoyed the list and will add up soon as I see interesting Halloween recipes to suggest to you guys.