In the past, bottles were only pretty and useful when they are of good shape. I recall collecting unique perfume bottles and I would also see uncommon wine bottles being reuse as container at home. I must admit that things have changed nowadays. Aside from the boost of Mason Jar Craft Ideas, wine bottles have also become very in demand in terms of DIY projects. Regardless of their common shape, people have found amazing ways to utilize them and be useful in so many ways. Would you believe that from how throw-able they can be, they are very popular on special holidays and occasions. Wine bottles can be re-use, re-purpose and redesign to become home decorations you've never imagined. They could come in many colors, many designs, many ways to be used during Christmas, Birthdays, Halloween, Valentines Days, Spring and even on regular days. Are you getting excited? I present to you my top favorite Bottle Crafts DIY ideas. This could also be a nice bonding activity for you and your husband/ wife, girlfriend/ boyfriend. Try it yourselves! When you see these ideas below, I'm sure you will never throw glass bottles ever again.
I am not to discourage you, but honestly bottle crafts are too dangerous to use and display at home if you have kids around. They would unintentionally bump into it and break it which may lead to accidents. So as a friendly advice, don't do this unless your children are already grown up. Remember, even if you tell the young ones not to touch it, they will definitely find ways to be able to get a hold of it. So better not to have even one, got it right?
Christmas Bottle Craft DIY ideas
Display Christmas lights in a whole new, non-traditional way this year – in wine bottles! An LED light string can transform the wine bottle display into a lasting and useful memento!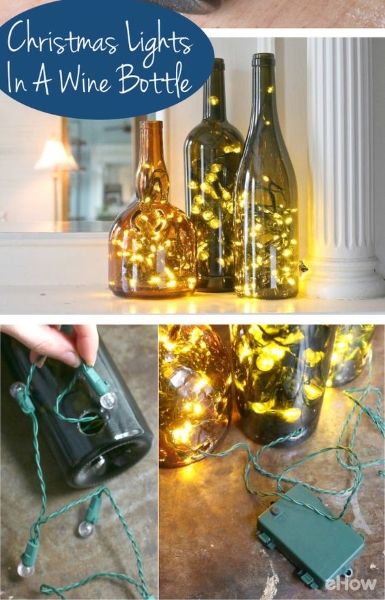 DIY Wine Bottle Snowman Crafts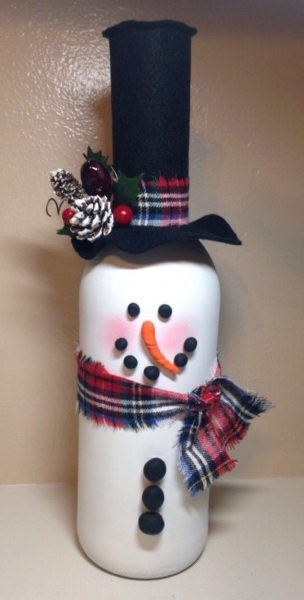 Cute Santa idea for wine bottles!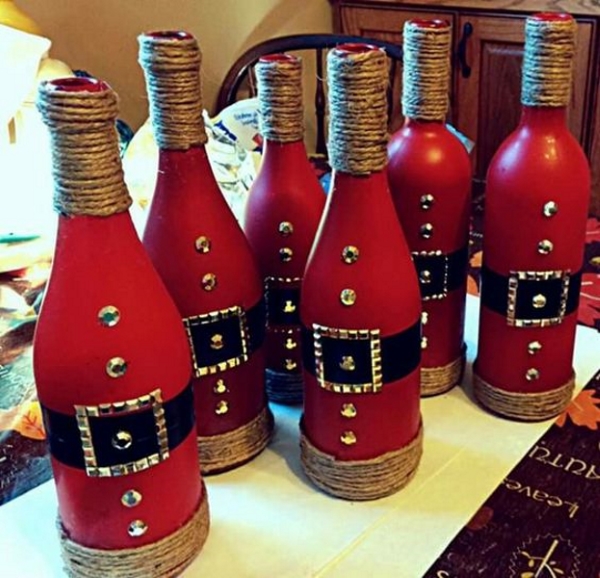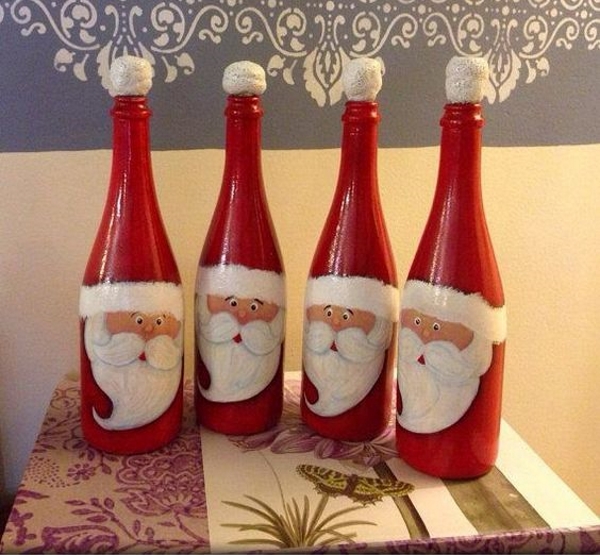 Red Christmas wine bottle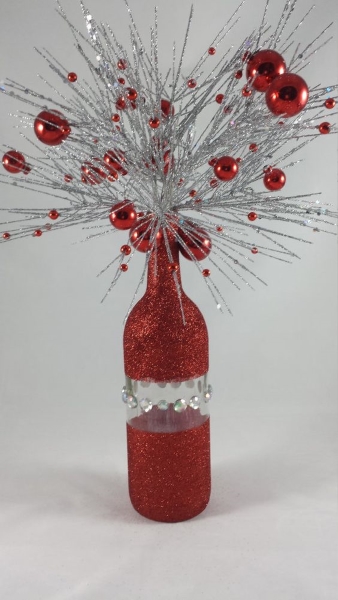 Winter Wine Bottle Centerpiece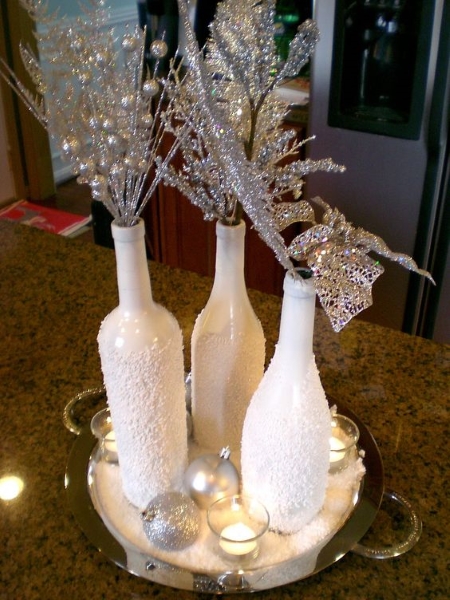 Grinch Lighted Wine Bottle

Halloween Bottle Craft DIY ideas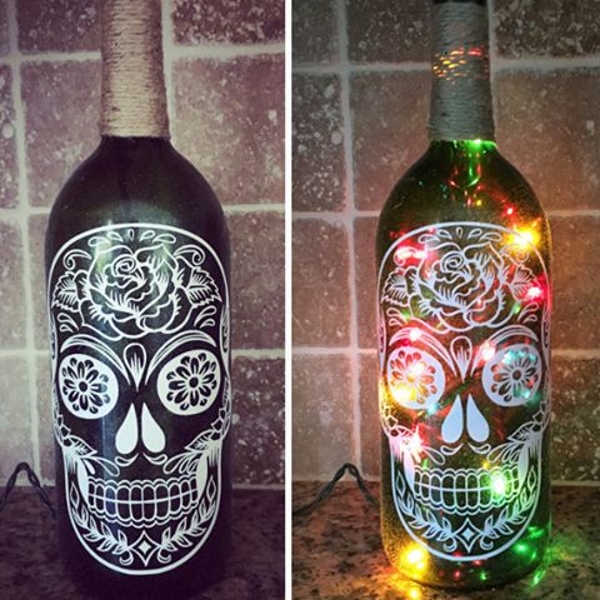 Jack Nightmare Before Christmas Wine, applicable both for Halloween and Christmas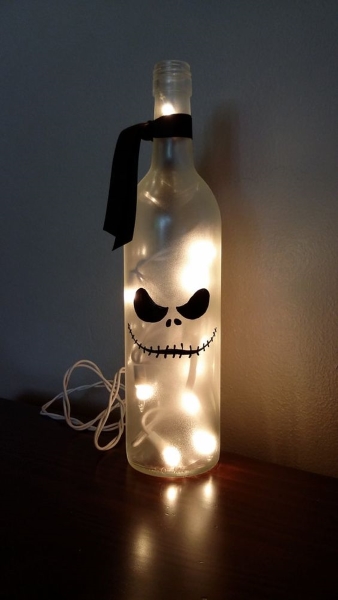 DIY Wine Bottles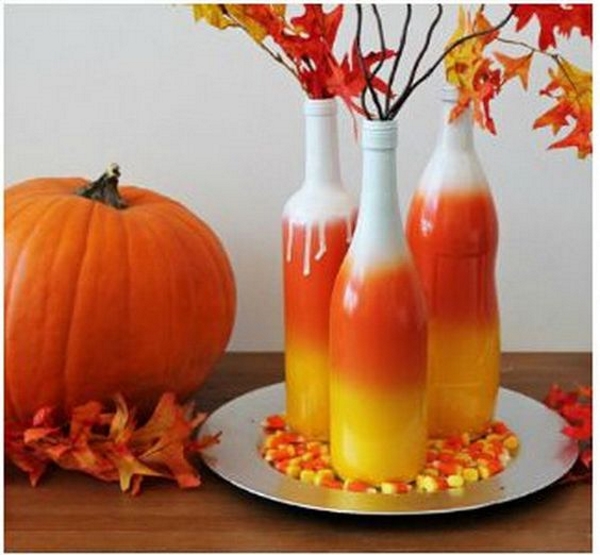 4th of July Bottle Craft DIY / America wine bottle crafts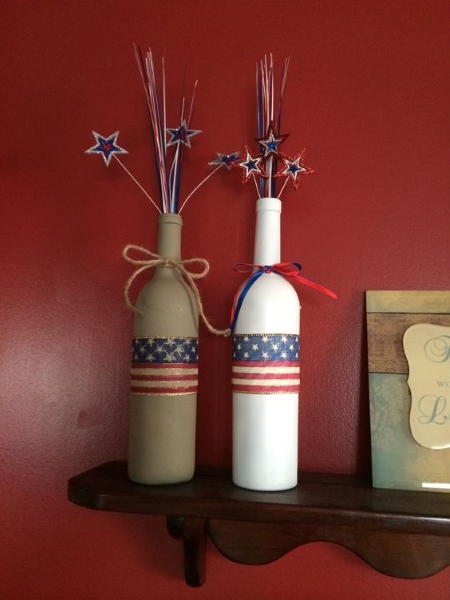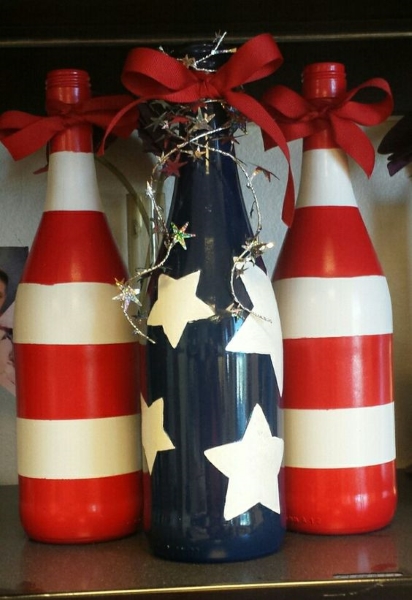 Wedding Bottle Craft DIY decorations
Some neutral paint and neutral color burlap and embellishments you can use make these to match any events like weddings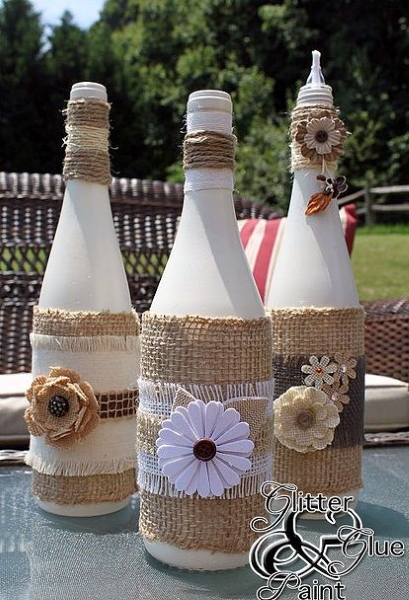 Coral hand painted wine bottles with twine and lace & burlap flowers. Since it's pink, it also suits as a debut party decoration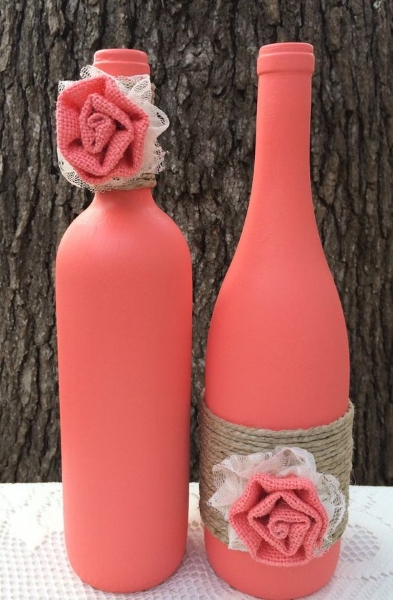 This also qualifies for a Valentine's day wine bottle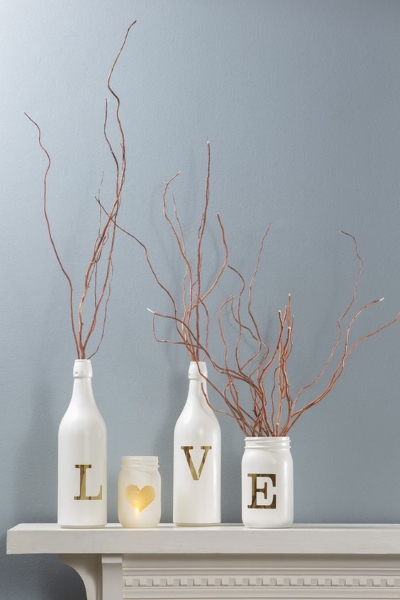 Mr & Mrs Twine Wrapped Wine Bottle Set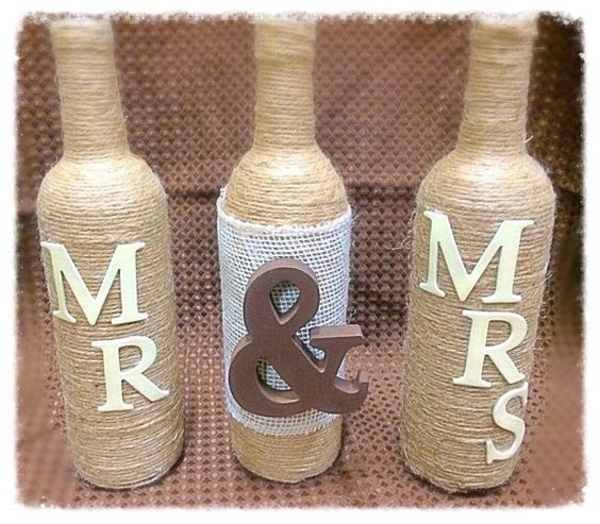 Golden Wine Bottle Decorations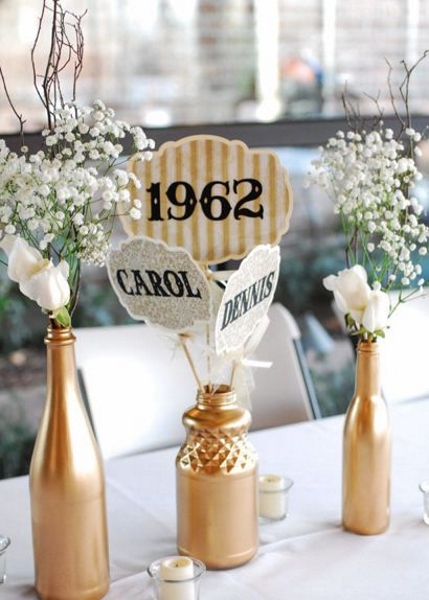 Twine wrapped bottles- perfect for center-pieces..would look so cute and eclectic with the twine wrapped mason jars with candles in them!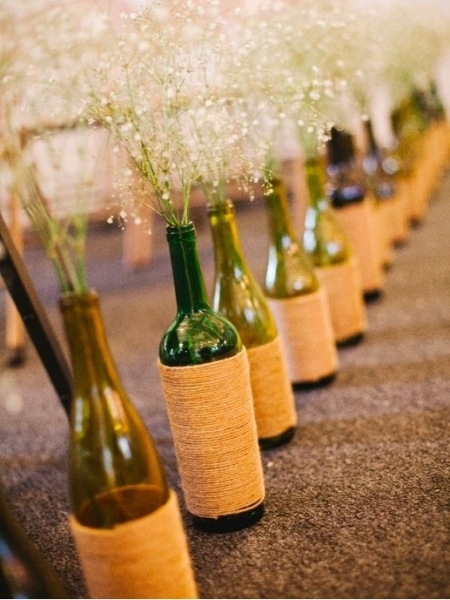 Give your wedding some glam-biance with gold painted bottles.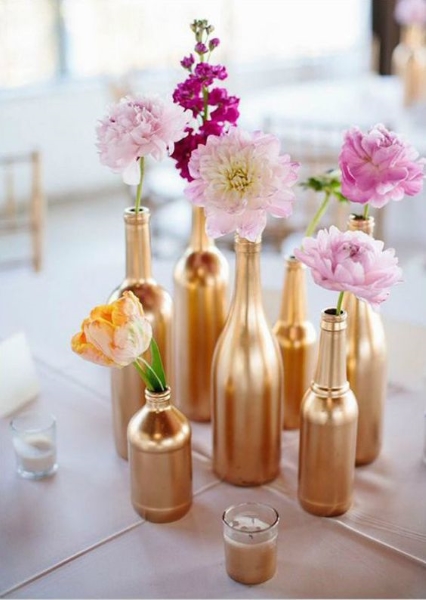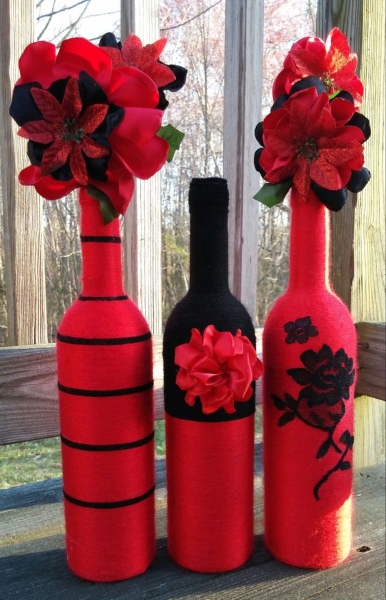 Outside Wedding Decoration – Bottle Garland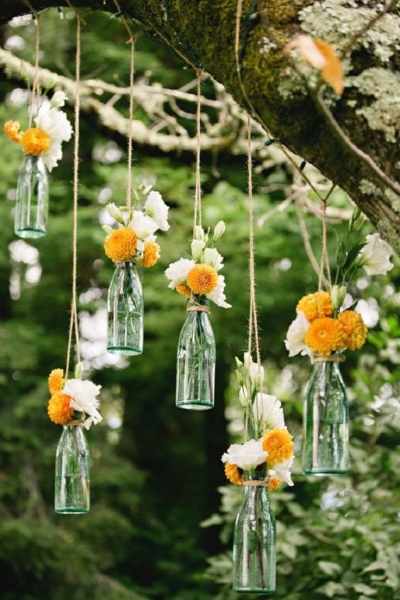 Valentine's Day bottle idea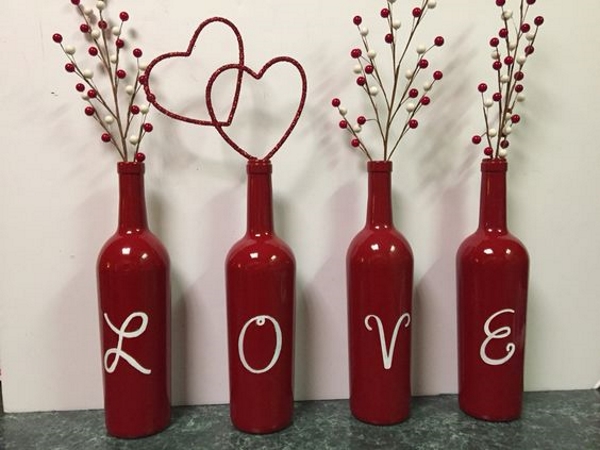 Twine Wrapped Bottles Dark Red and Twine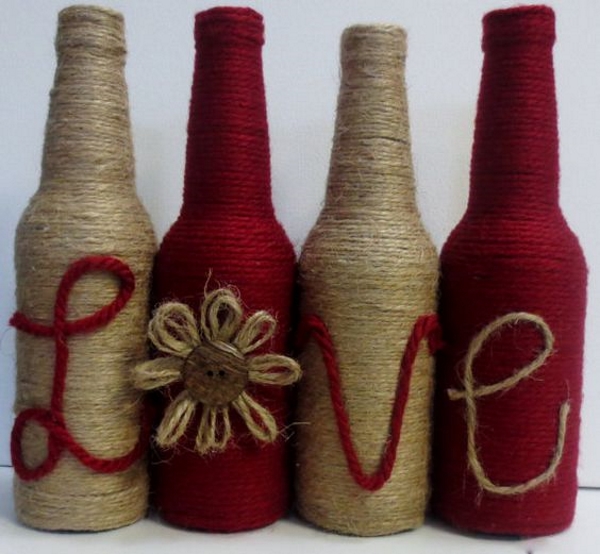 Spring Bottle Craft DIY ideas
Easy DIY Bottle Vase Centerpiece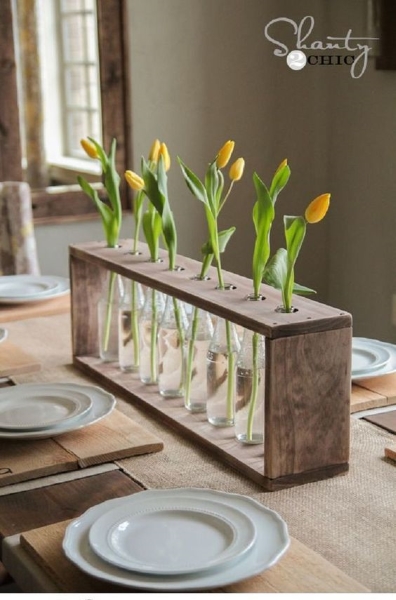 This is ONE bottle, displayed here as a set. It is painted antique white with added twine, flowers and butterflies. You can choose which to pair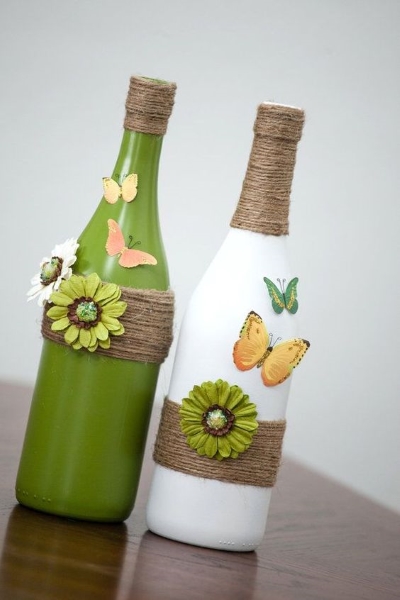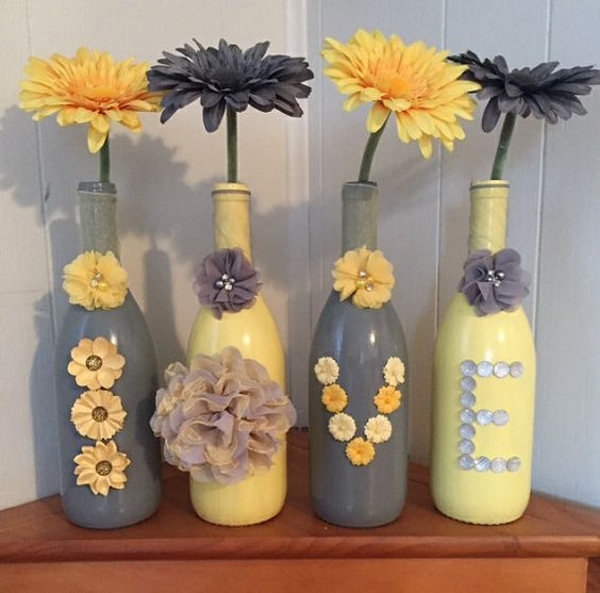 Embellished Wine Bottle Candle Holder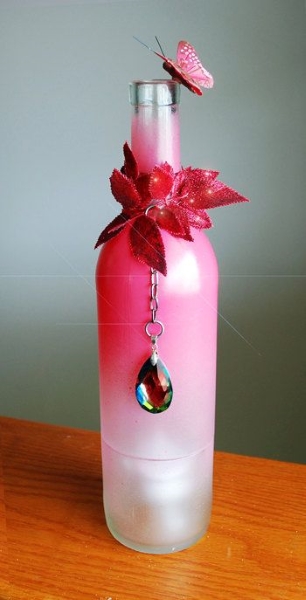 More Bottle Craft DIY ideas for home
DIY Bottle Chime Projects
Moon Wine Bottle Wind Chime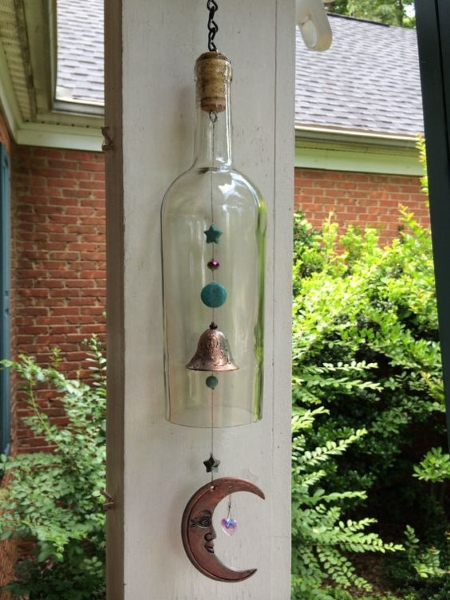 Recycled wine bottle wind chime Cobalt blue glass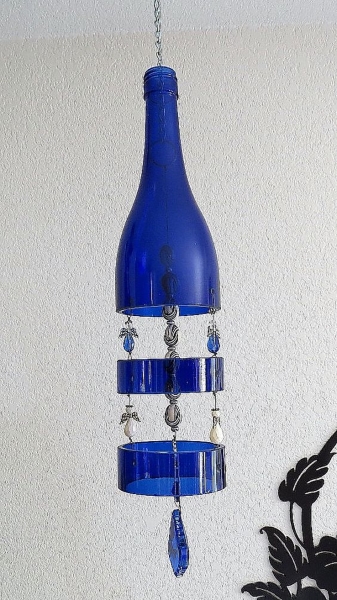 Wind Chime, "Turquoise Daisy" , made from recycled wine bottle – fashioned into a Wine-Chime!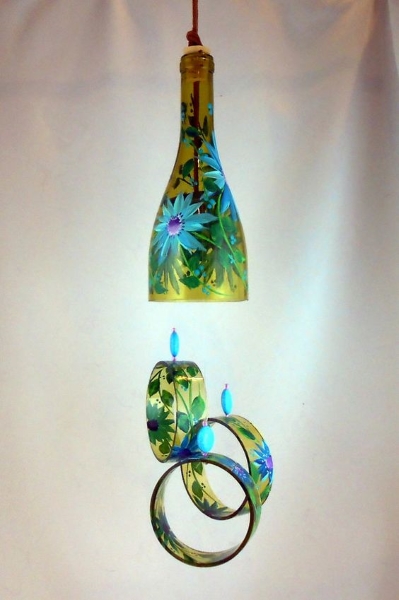 Bottle Playful Wind Chimes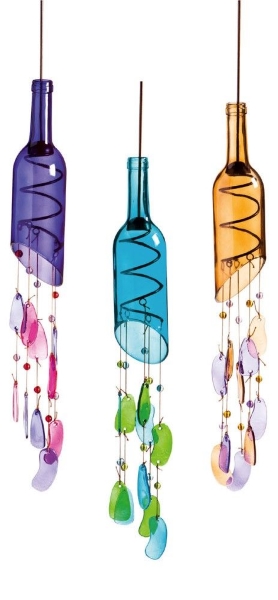 Recycled Sky Vodka Bottle Wind Chime

Intelligent Ways to Use Your Old Wine Bottles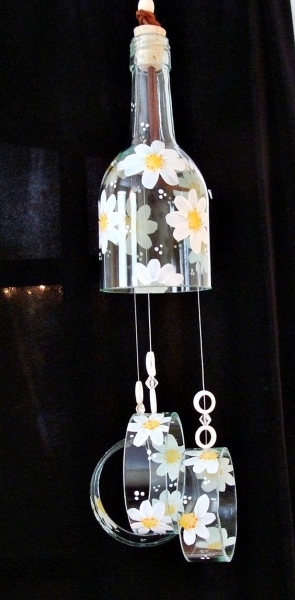 DIY Wine Bottle Lamps / DIY Wine Bottle Chandeliers /DIY Wine Bottle Torches
Reuse Old Wine Bottles As Incredibly Cute Tiki Torches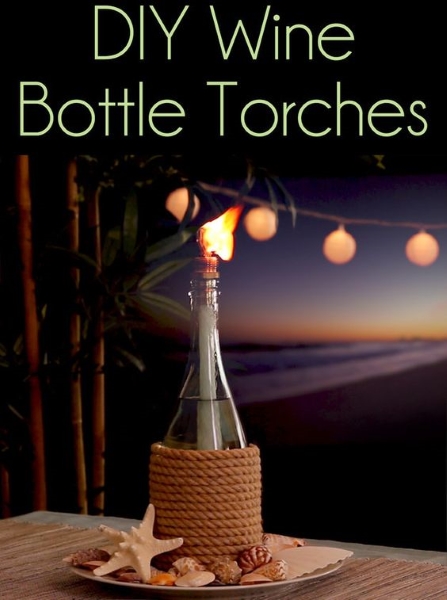 Declaring War on Mosquitos: DIY Wine Bottle Tiki Torch Redeem Your Ground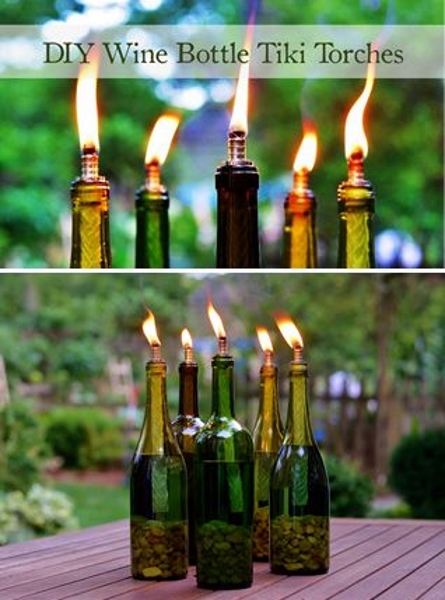 Simple DIY Wine Bottle Lights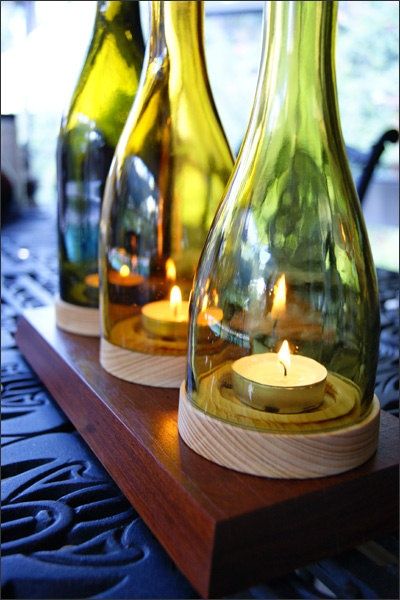 DIY Bottle Craft ideas / DIY Bottle Flower Vase / DIY Bottle Centerpiece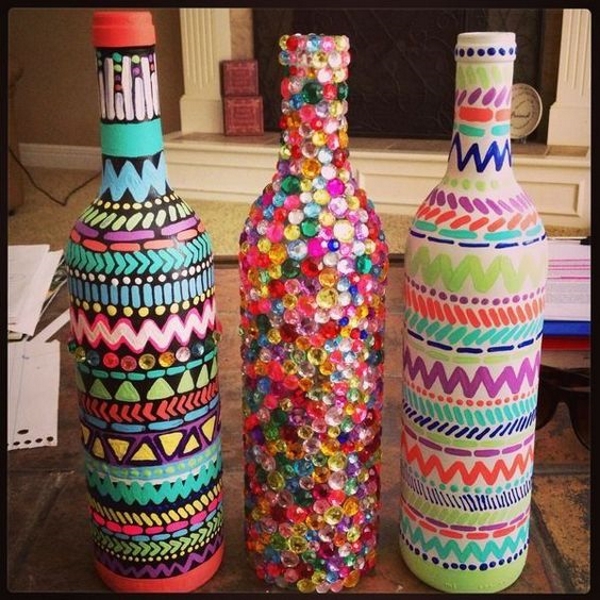 Beach themed Wine Bottles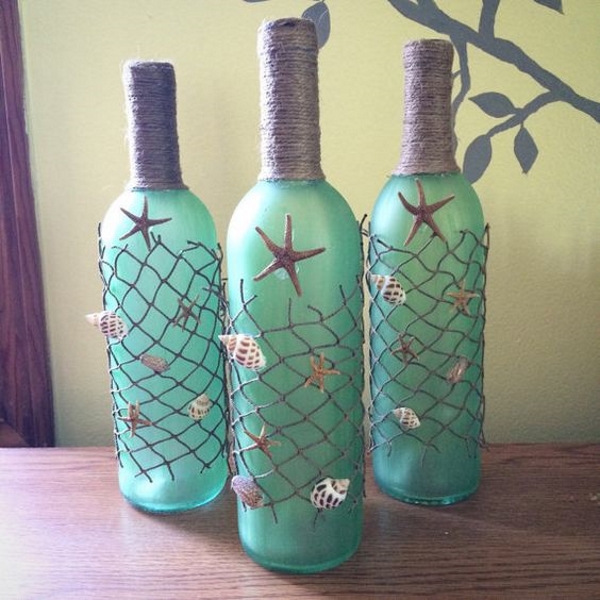 Grape inspired wine bottles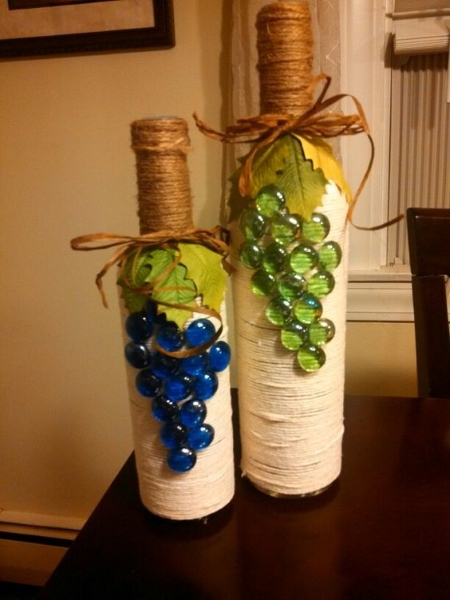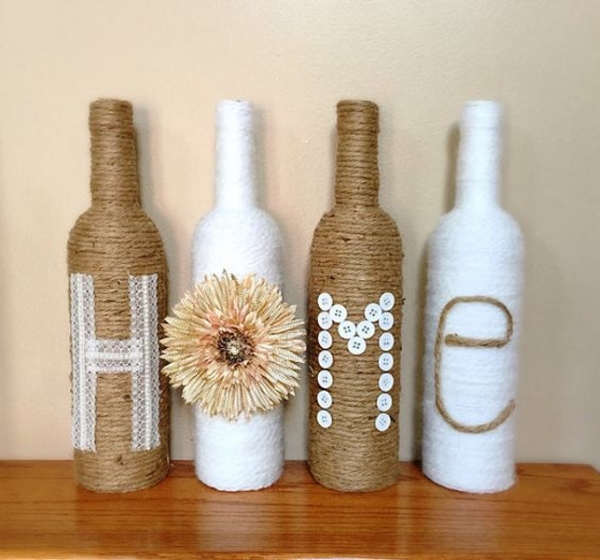 Custom twine wrapped wine bottle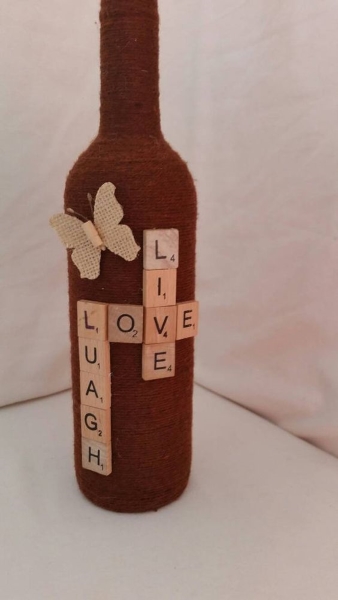 Boho Wine Bottle Vases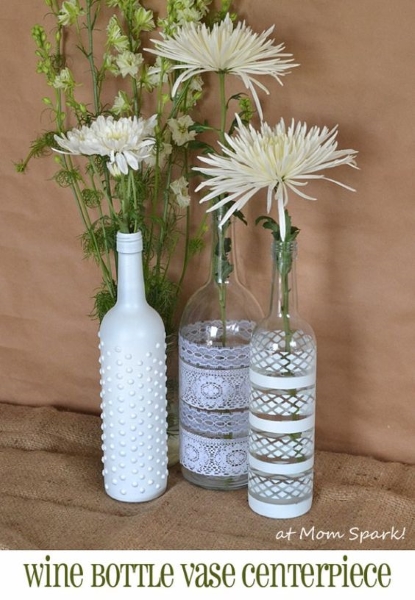 Live laugh love Wine bottle champagne bottle vases crafts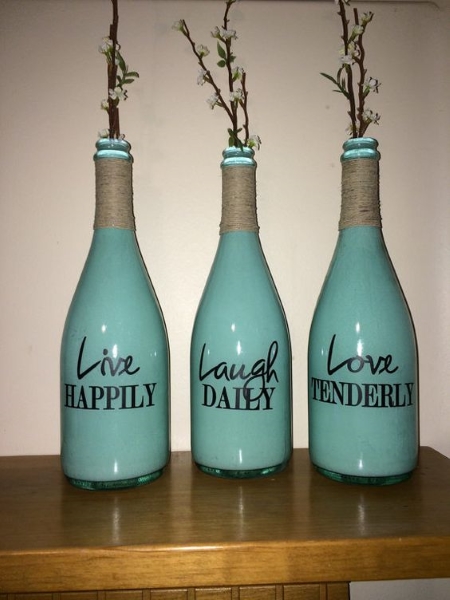 DiY Painted Bottles- cute upcycle idea for Starbucks latte bottles and now you can buy empty milk bottles at craft stores too.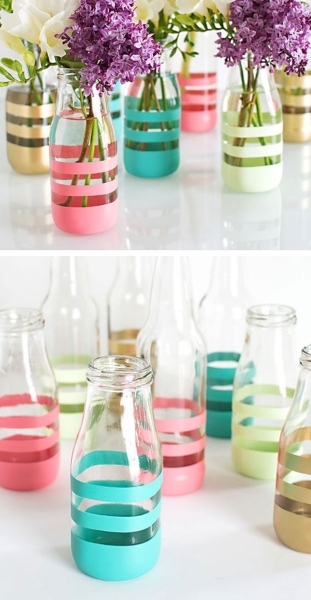 Empty Wine Bottle Projects – Don't Throw them Out… Repurpose Instead!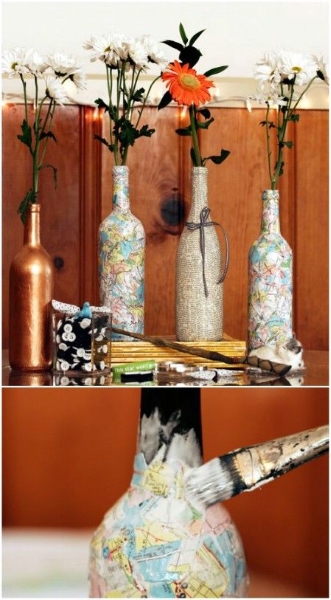 Family Twine Wrapped Wine Bottle Decor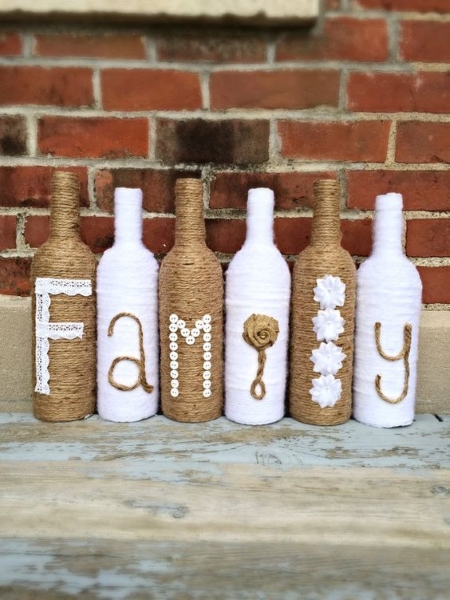 Superman – Batman – Superhero Series – League of Justice – Decorative Light Up Wine Bottles With Lights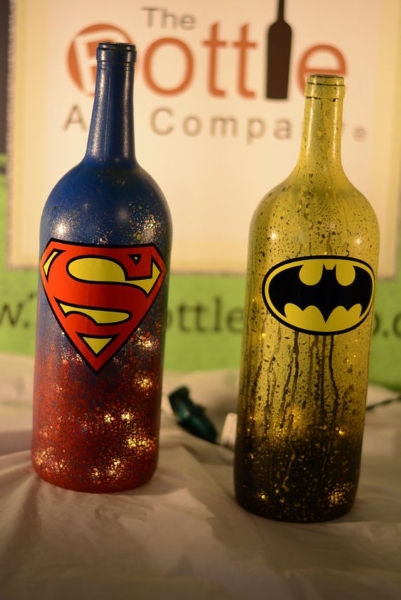 Bottle Craft DIY garden ideas
Cool DIY Self-watering Planter using a wine bottle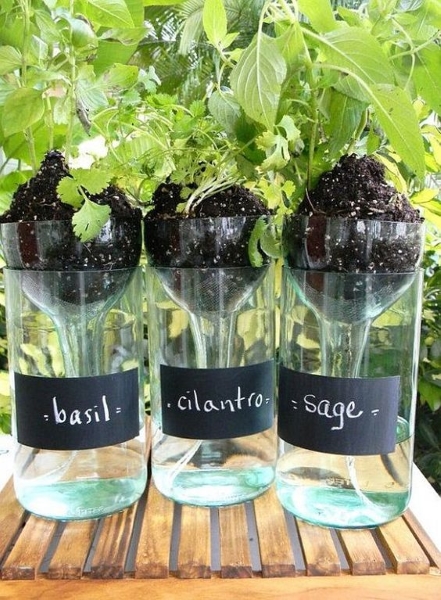 Wine Bottle Sconces are great with candles or flowers, or both!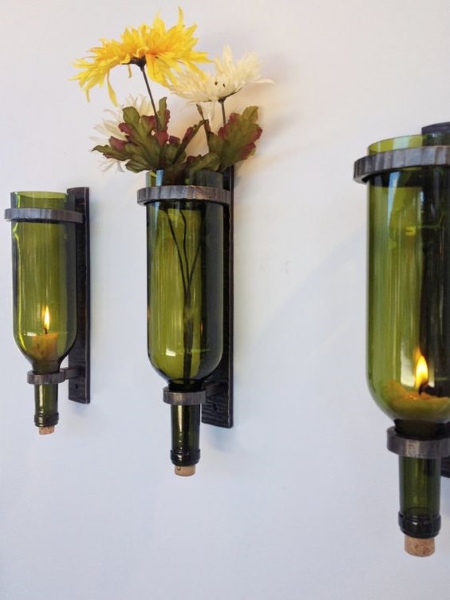 Succulent Wine Bottle Planters and reclaimed wood succulent planter

A diy wine bottle bird feeder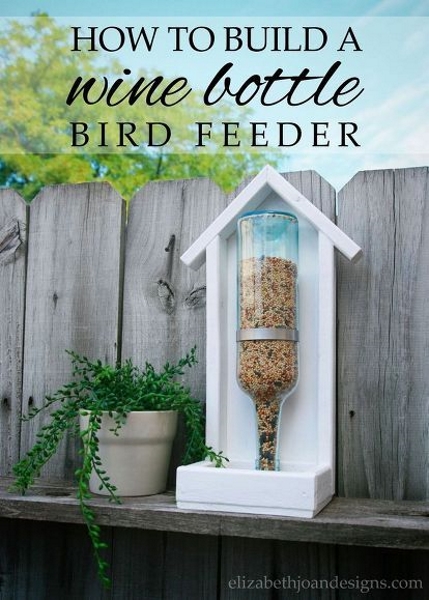 Wine Bottle Peacock Yard Art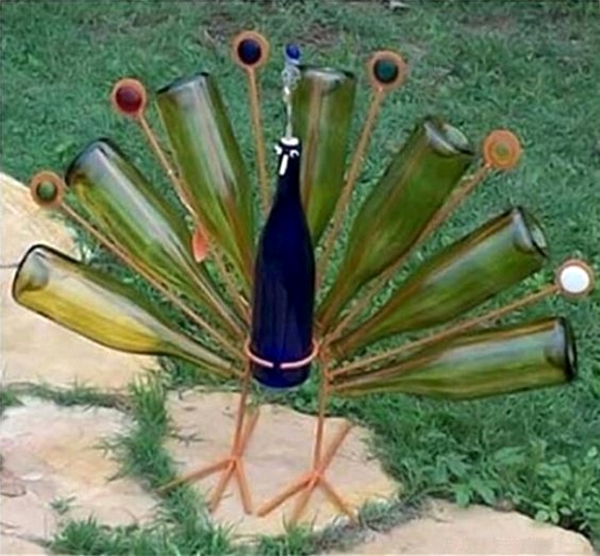 DIY Fruit and Hummingbird Feeders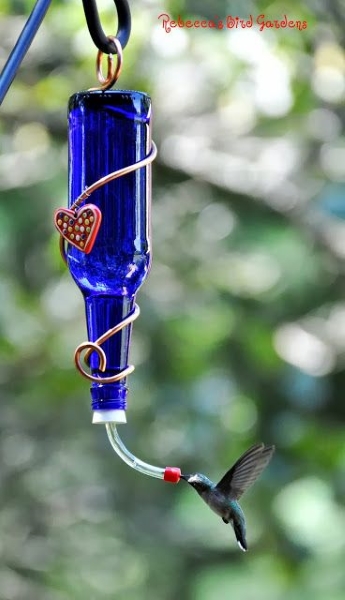 DIY Modern Herb Garden From Recycled Wine Bottles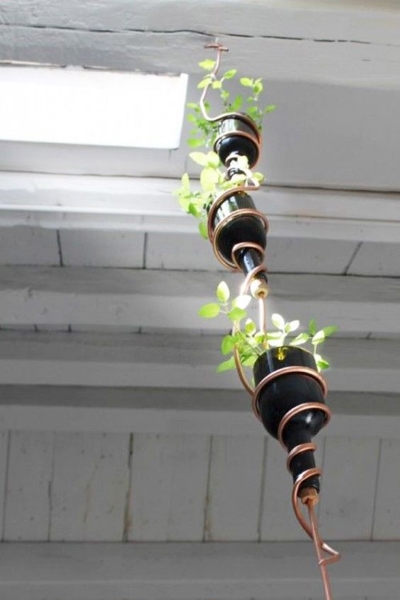 Diy flowers and dragonfly wine bottle crafts – bells, iron wire, garden crafts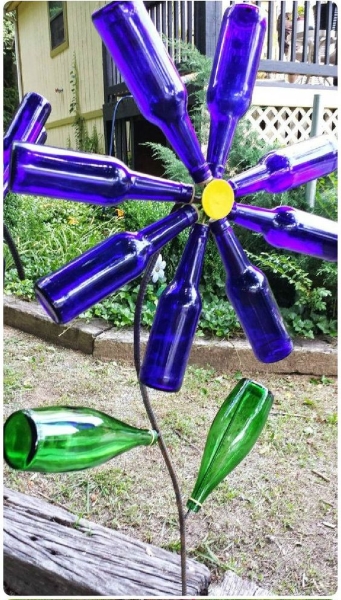 You don't have have a formal decorating or interior design course, all you need is the will to try and start one. Who knows, you might discover your hidden talent in creating useful stuffs out of recycled items. If you have been a follower of this page, you would realized we've been addicted to arts and crafts, DIYs, recycling materials and everything that is related to creativity and imagination. If you would ask me, my favorite in this collection are the Christmas DIY wine bottles and the DIY bottle chimes. Here's a link on how to cut bottles flawlessly, using water and oil. It's amazing!
[youtube http://www.youtube.com/watch?v=2keRTbA2zAQ?rel=0]
I do hope every post we publish serves as an inspiration for your future hobby or home decorating ideas. Good luck and enhance your crafting skills. Let's let from each other and if you have any other ideas in mind, please don't hesitate to write us on our comment section. We would appreciate it. Thanks and enjoy!