If you're done with Santa Claus party, Rudolph the Red-Nosed reindeer and even Snowman party during Christmas gatherings – well I do think you should consider the next character for the holiday season. I would describe these characters as bubbly, cute, sweet, adorable, hug-gable, kissable and very tame looking. Whenever I see these creatures on movies like Madagascar film series. Too irresistible, they even had their own adventure on the next 4th film entitled Penguins of Madagascar! You got me there, I'm obviously talking about penguins! If you ever considered putting up snow-related decorations, making penguin Christmas decorations would surely entertain not just your little ones but even adults too! Are you getting excited already? Well, I am and rest assured upon finishing this collection- it will surely put a big smile on your face because these Penguin Christmas Decoration Ideas are really refreshing and unique. Something you don't always see even on department store displays. You will be the talk of the neighborhood especially if you pick some from our penguin outdoor decorations below.
So okay, you may have enough time or would just start to decorate on last minute but trust me, lots of the ideas below are possible even on short span of time and luckily some could be done using recycled materials like used bottles, flower pots, wine bottles, clothespin, old ball ornaments, bottle cap, pine cones, light bulb, paper materials, rocks and many more. Do you know you can even dress up your refrigerator with an awesome penguin patterns? That would really be nice and I might as well not remove it the whole year round. Your season is sure to be fun and adventurous with these great ideas to decorate your house – or get ready for your next Christmas party in case you're in-charge with the theme decorations.
Let's think outside of the box and let go of our traditional Santa, Reindeer and Snowman ideas for the mean time. Let's fill our space with lots of penguin decorations and no doubt you will have lots of visitors wanting to take pictures with any of your displays. Let's not keep you waiting and begin the fun. Don't forget to share the good news to your dear friends on Pinterest, Twitter , Facebook and Instagram okay? We would love to know your feedback about this collection. Enjoy everyone!
Let It Snow Penguin Clothespins
Cute gift idea for office mates!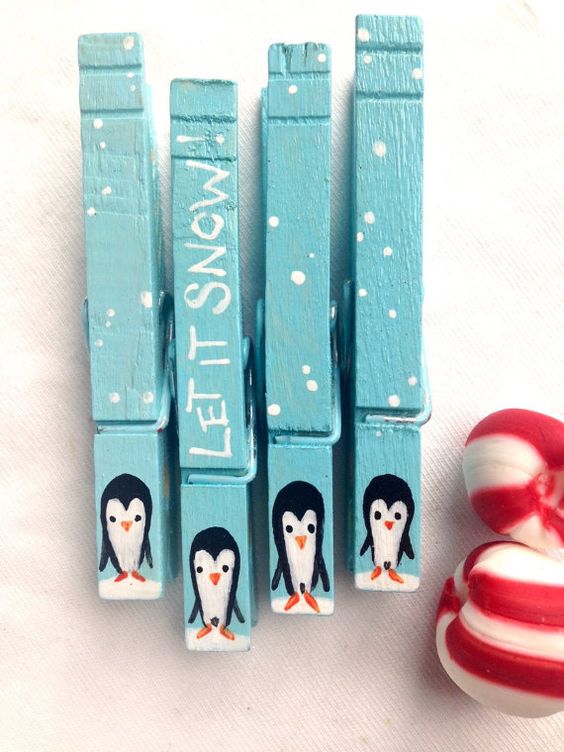 Penguin Christmas Ornament made of clothespins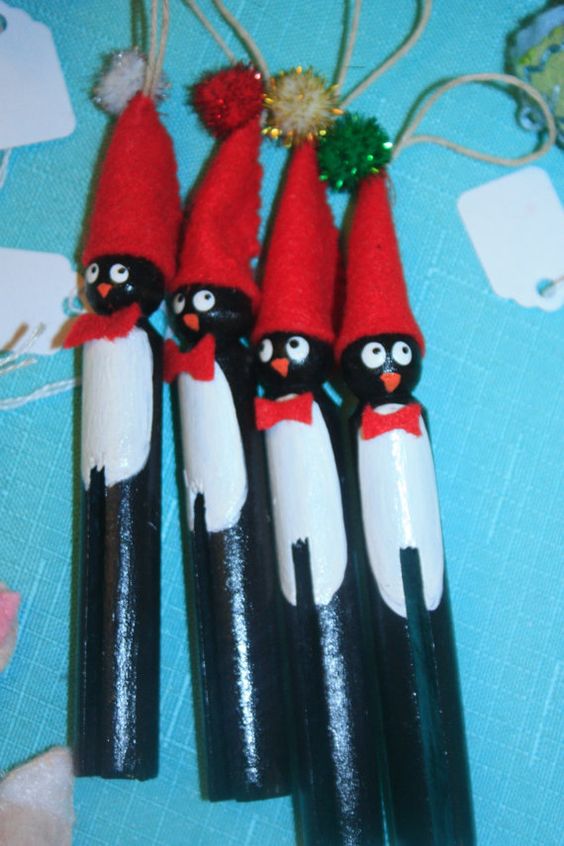 No matter how you dress it or paint it, this penguin will always look perfect!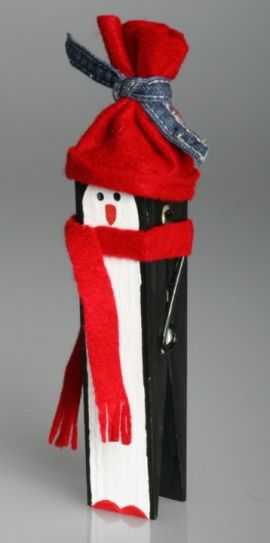 DIY Penguin Christmas Ornament using bottle caps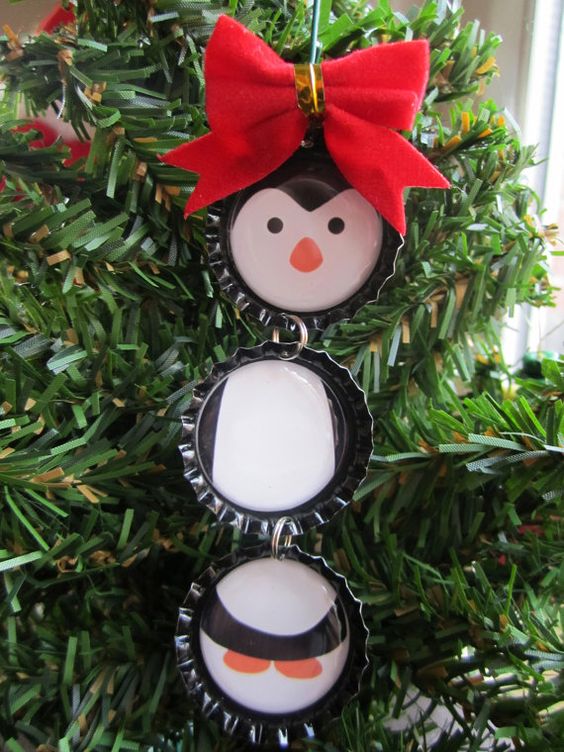 Cute penguin tree ornament – can be used as a felt ornament or a paper gift tag (or make a felt one & use as a gift tag then hang on the tree – just embroider the name, or write on with fabric pens!).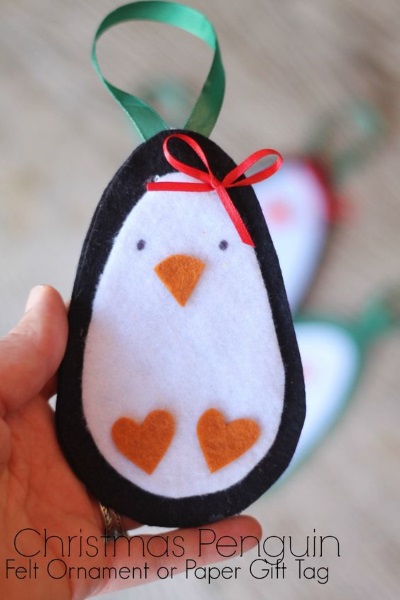 Christmas Tree Penguin Ornaments that if you sew it together, they'd look good as penguin banner or buntings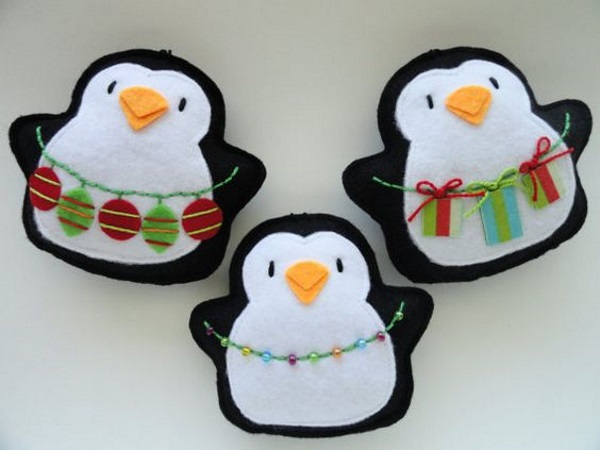 Crochet Penguin Christmas Ornament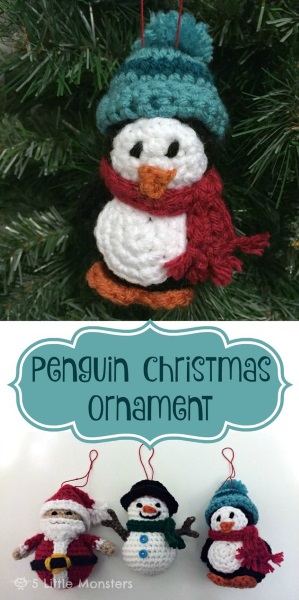 Another Crochet Penguin Christmas Craft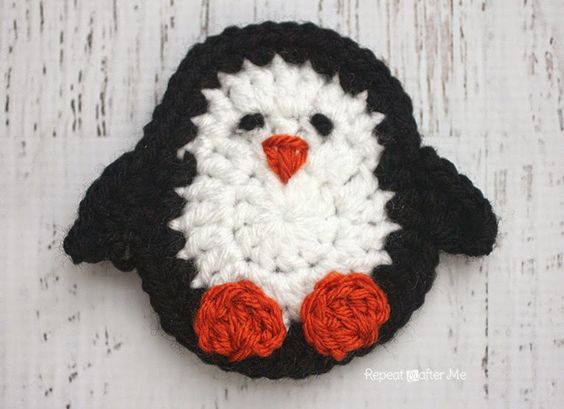 Make this cute and easy pine cone penguin ornament craft.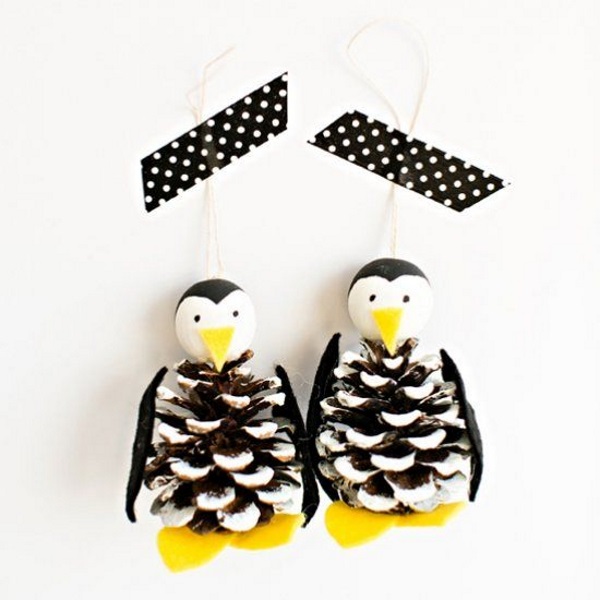 Too cute to handle!! Please make it four, like the Penguins in Madagascar!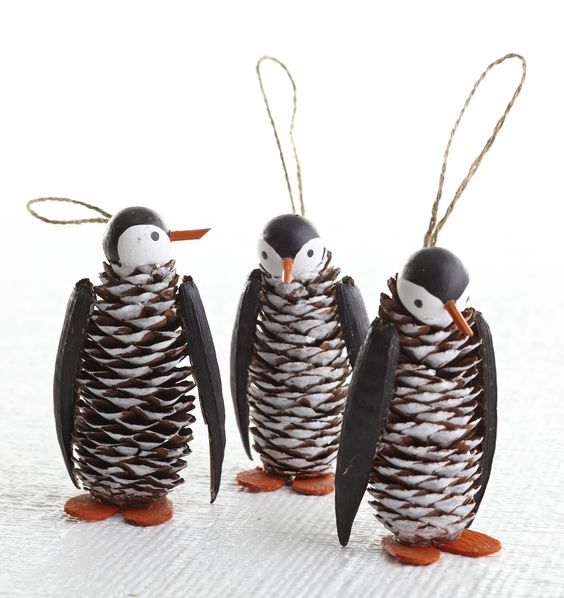 Personalized Hand painted Penguin Christmas Ornament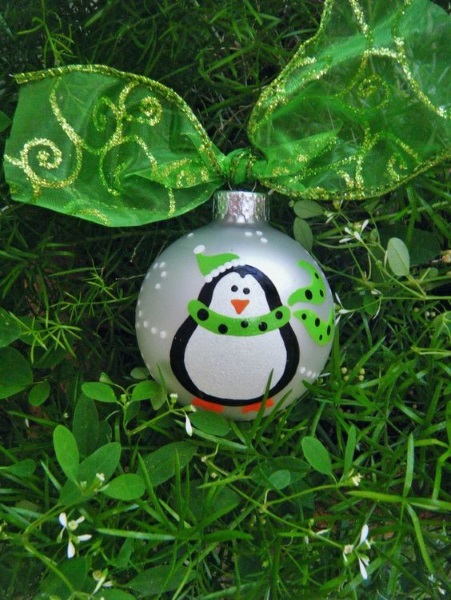 Cute and easy penguin Christmas ornaments for penguin lovers out there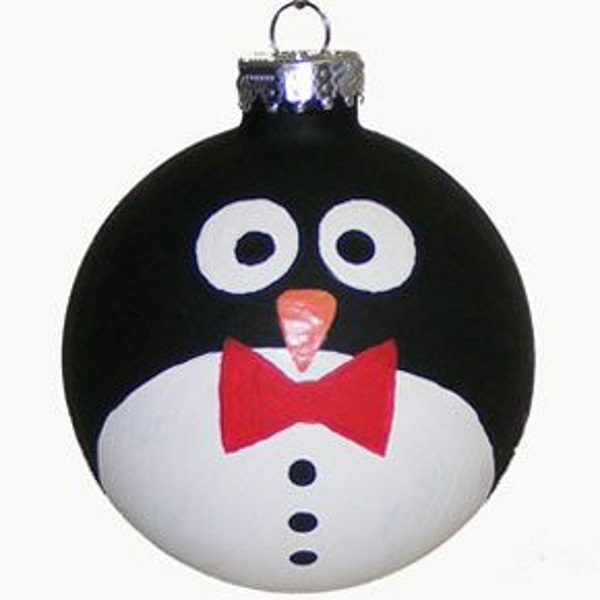 Penguin Christmas Tree Ornament – made from a light bulb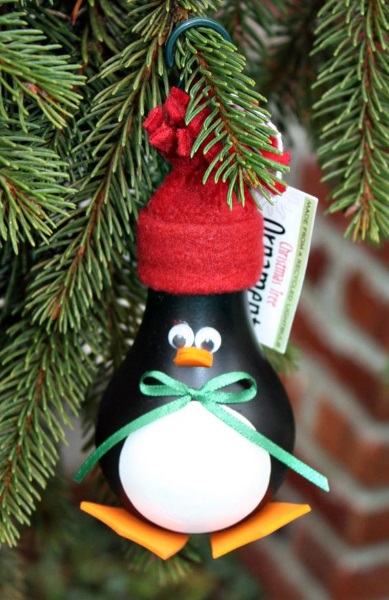 A little paint, felt, and scraps of ribbon turn used light bulbs into one-of-a-kind Christmas ornaments!
Penguin Christmas Tree with Santa hat!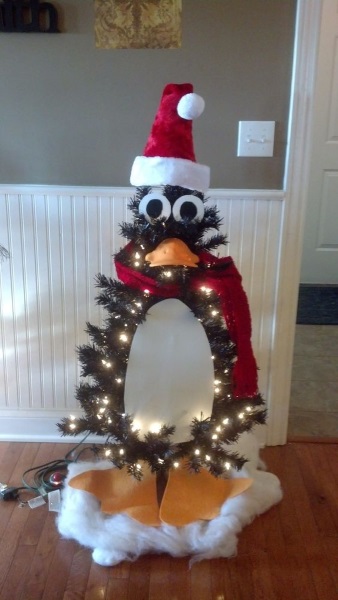 Christmas Penguin Wall Art Decorations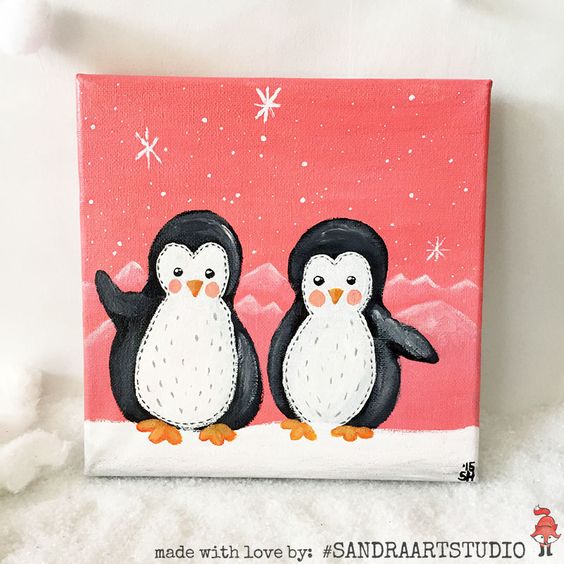 Penguin String Art! Ideal for Christmas wall decorations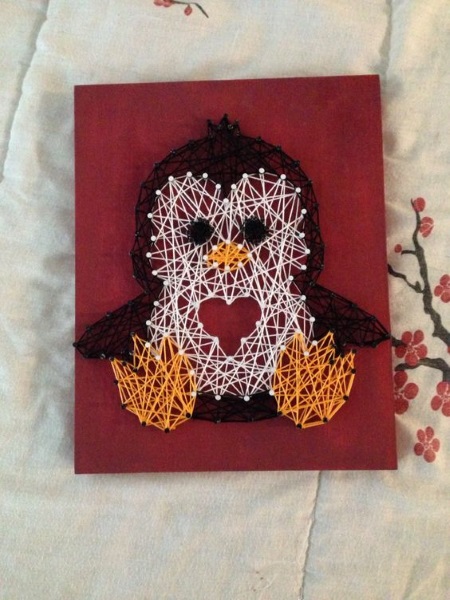 Penguin Button Craft – Try this as a gift for your loved ones!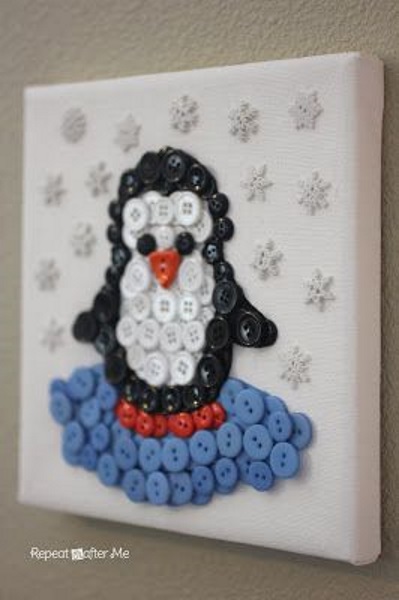 Penguin Feet Christmas decoration
This is perfect for homes with toddlers. Let them join the fun of Christmas decorating!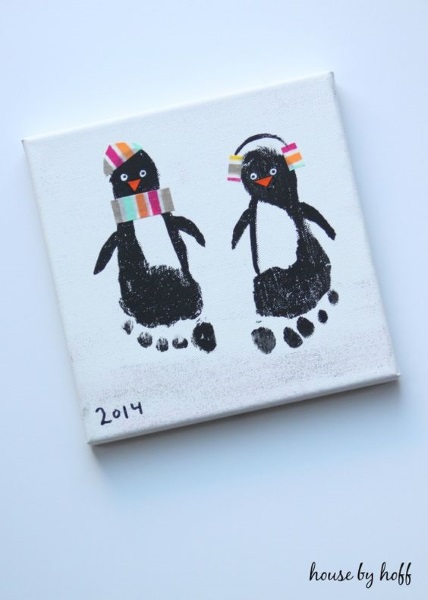 DIY Penguin Party Balloons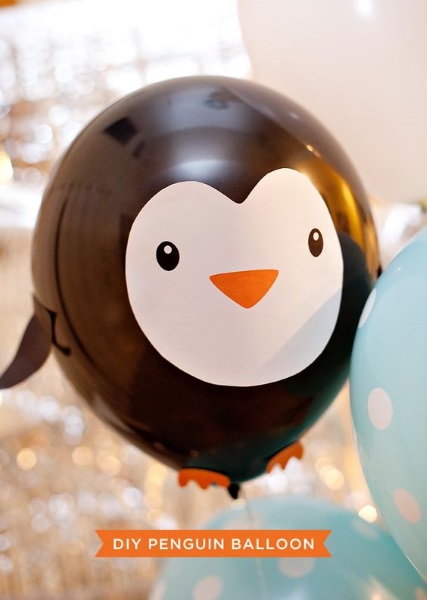 My forever favorite, penguins sliding down the stairs! Ohhh I want this badly on Christmas!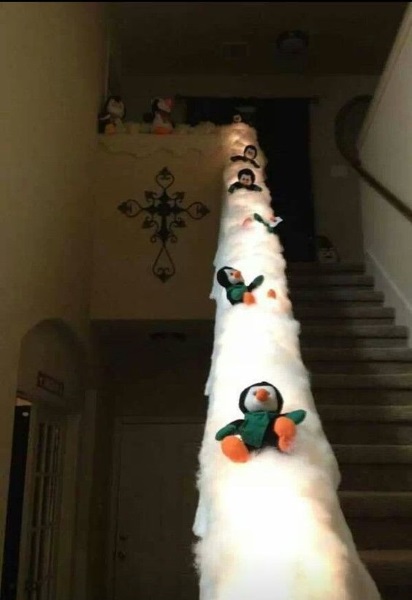 Christmas penguin fridge decoration definitely doing this on my fridge this year!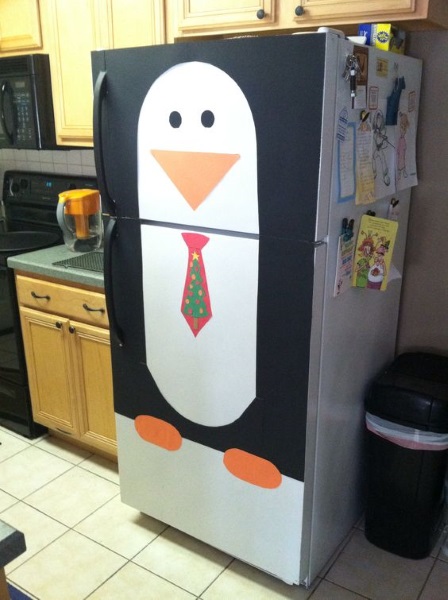 Happy Penguin Christmas Fridge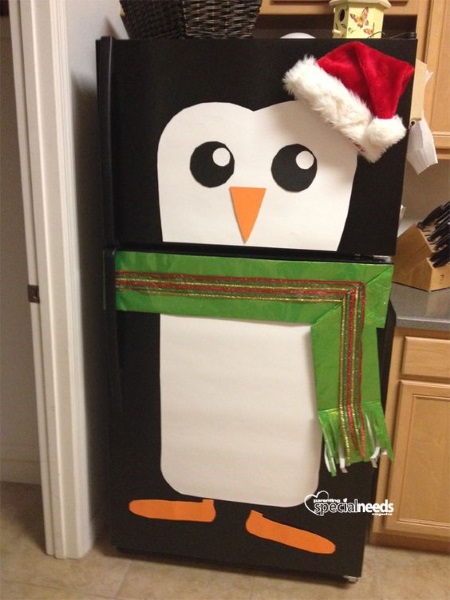 Cute looking DIY pillows would make a great accent on your beds and couch! They can also be given as a DIY gifts

Penguin Christmas Wine Glasses (Candle Holders) use glitter blast spray paint
Do you know this penguin pine cones are not just for tree ornaments, dress them right and prettily so they would suit as your centerpiece too!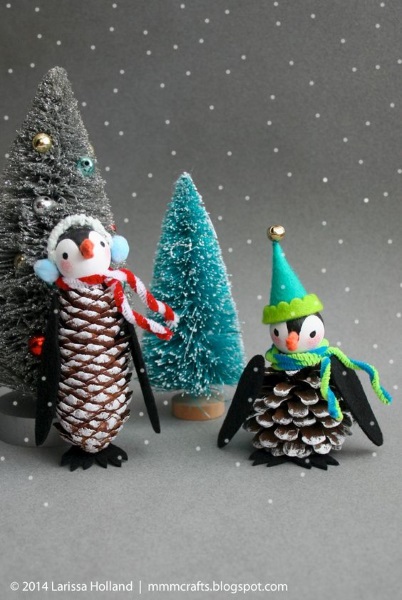 Penguin Christmas Table Decorations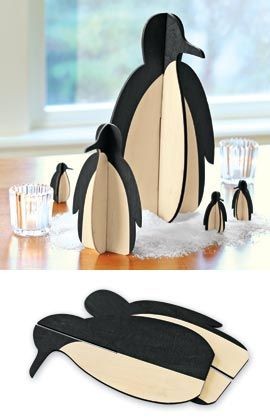 Plastic Bottle Penguin Christmas Craft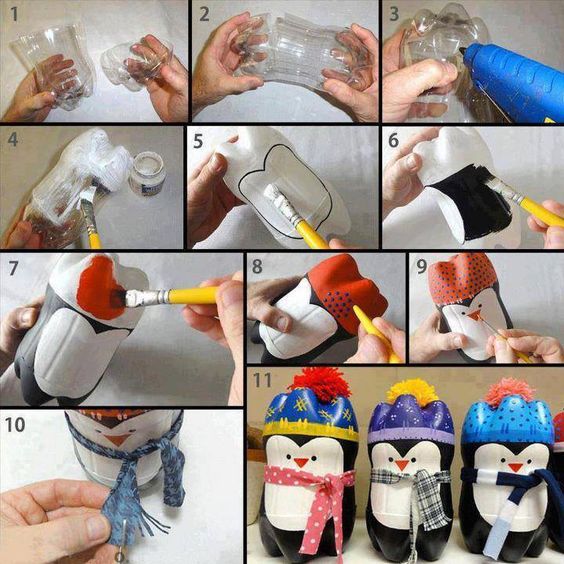 Penguins made out of recycled water bottles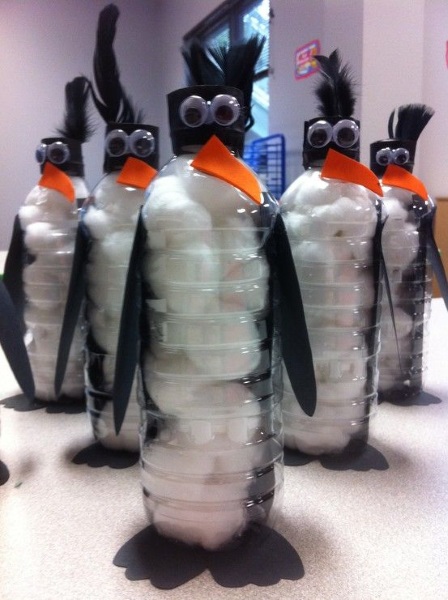 To make this flower pot snowman ornament use a 2″ flower pot, wooden bead head, felt top hat with holly sprig, broom, ribbon scarf, black satin ribbon hanger with a jingle bell attached, pulled through from the inside for hanging. Coat the entire ornament with a glittery top coat for a sparkly effect before decorating. The arms and broom are optional. It looks nice without them too. Shows up very nice against an evergreen tree.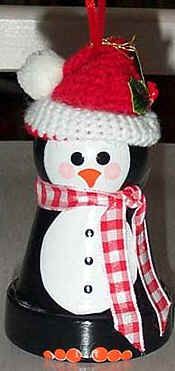 Penguin Christmas craft ideas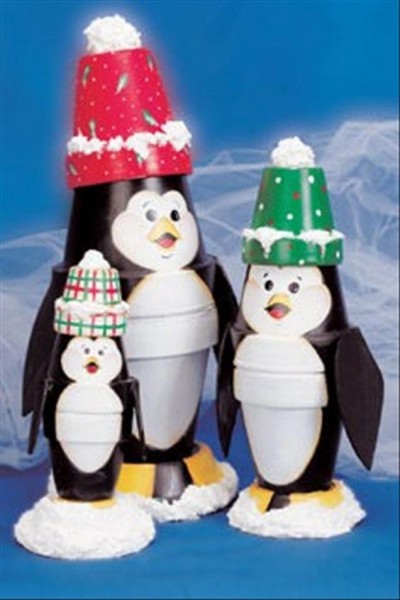 Cute Idea for a Christmas penguin pedestal, then put lots of chocolates and candies there. The kids will sure love the idea!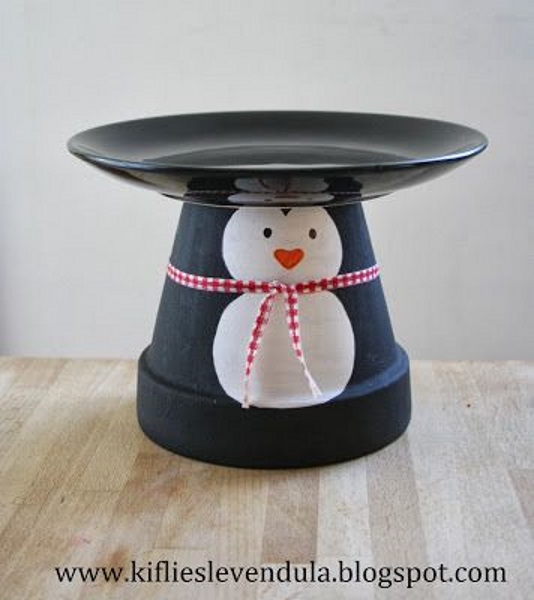 Rock Penguins – Hand Painted Penguin Decoration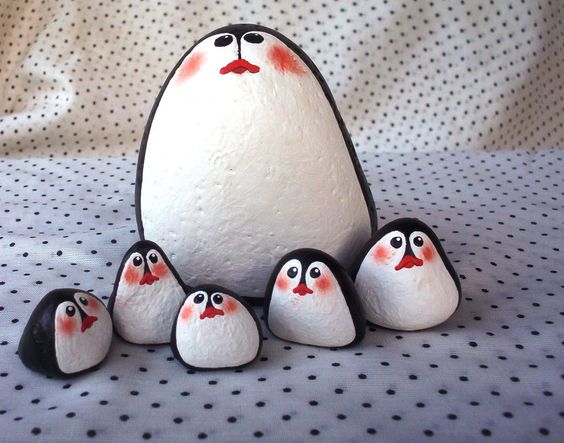 Cute Penguin Trashcan
The creator of this is really smart!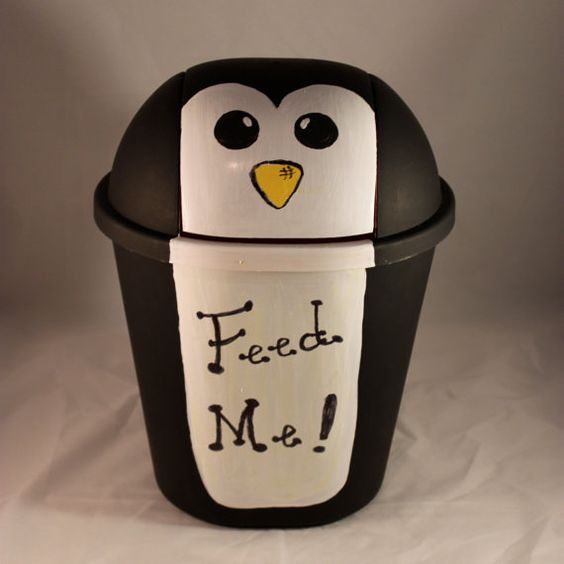 Penguin ~Door handle decor~~how sweet….♥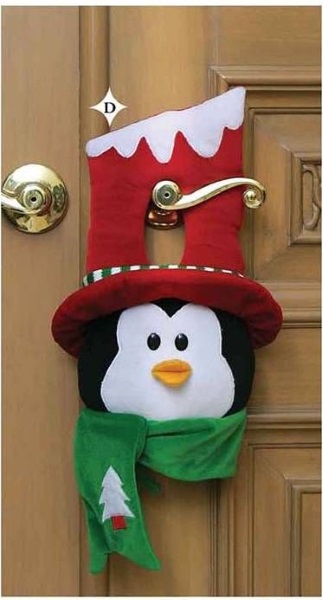 The Christmas wreath is gone and the front door looks a little bare. Add some whimsy to your home with a cute penguin craft winter wreath!

Mesh penguin Christmas porch decoration, could also be a nice wreath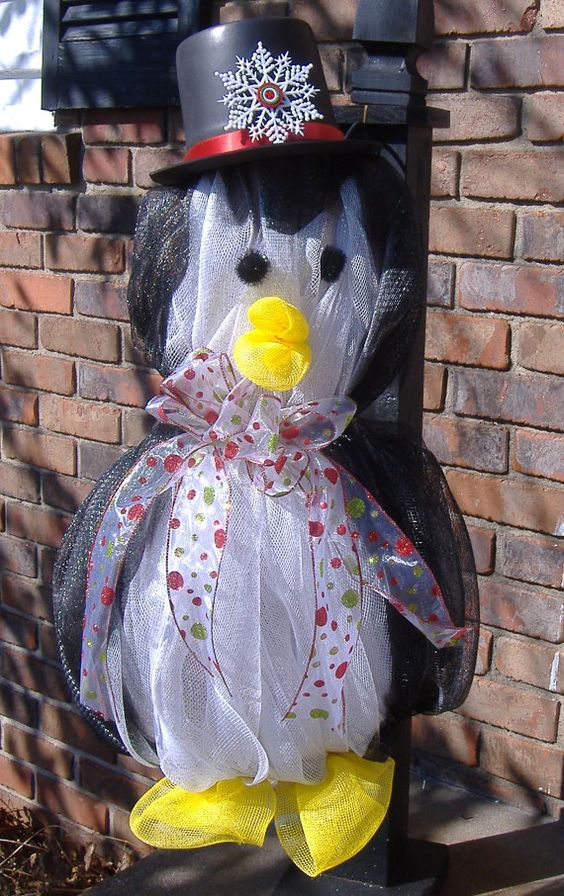 Penguin Christmas door decorations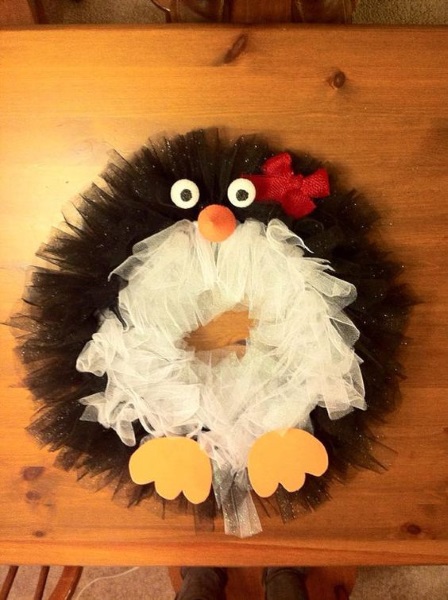 Mesh Penguin Christmas Wreath
Penguin Christmas Door Decorations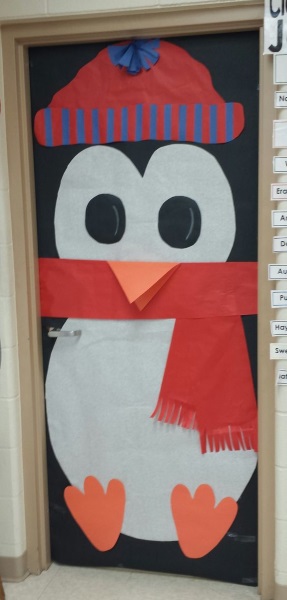 DIY Penguin Christmas Door Decorations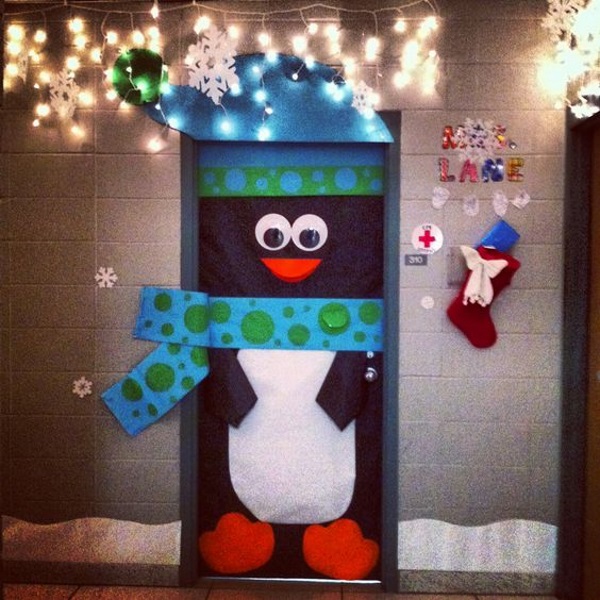 DIY Penguin Christmas Door Decoration Ideas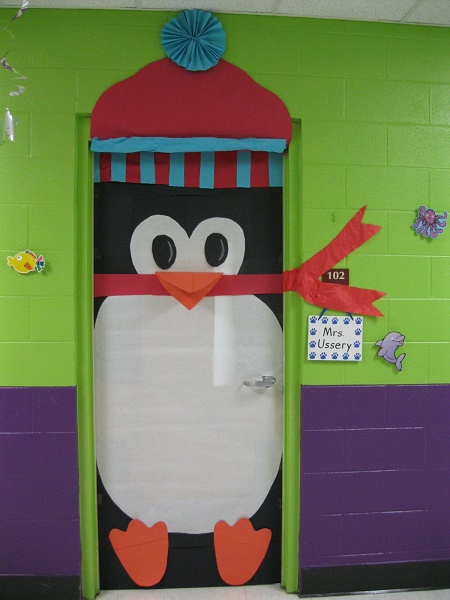 Outdoor Christmas Penguin Decoration Ideas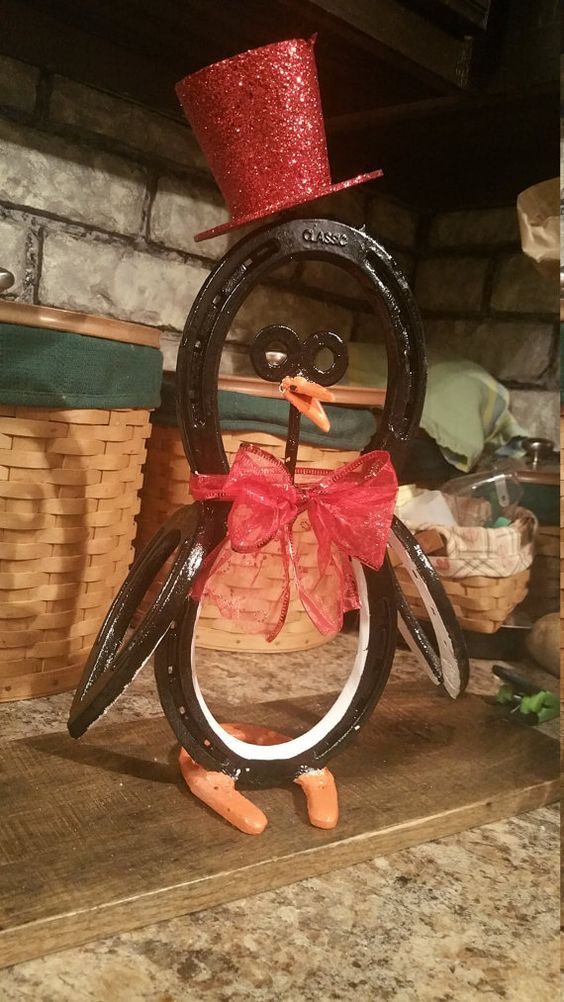 Penguin Wood Pattern for Christmas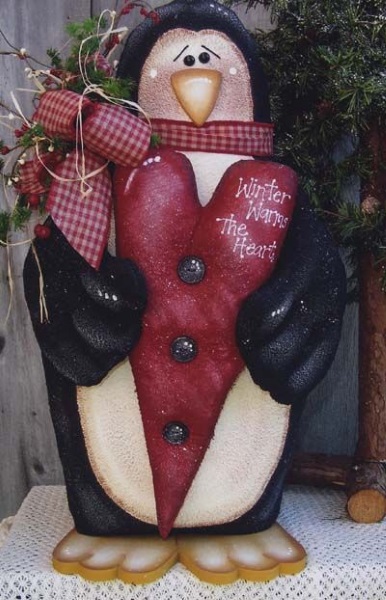 Wood Pallet Penguin Christmas Decorations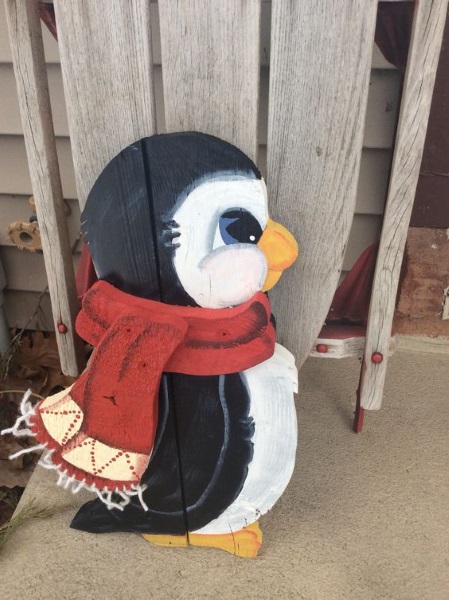 Wood Pallet Penguin Porch Christmas Decorations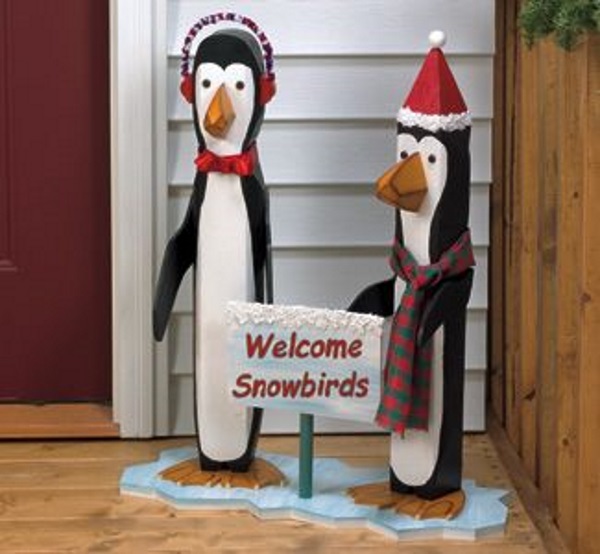 Wood Pallet Penguin Christmas Decoration Ideas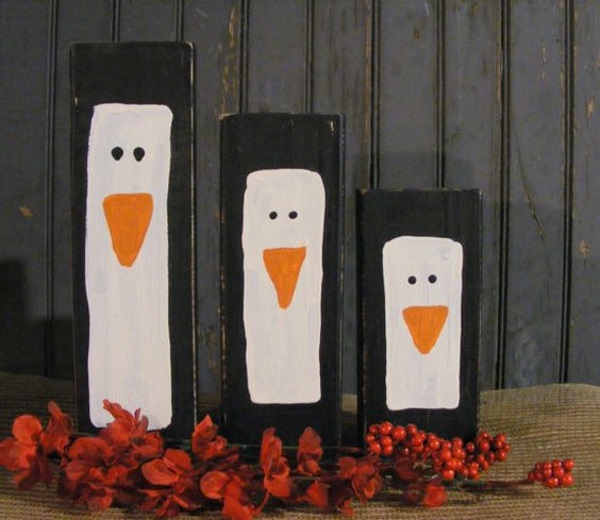 Penguin Wood Christmas Yard Decorations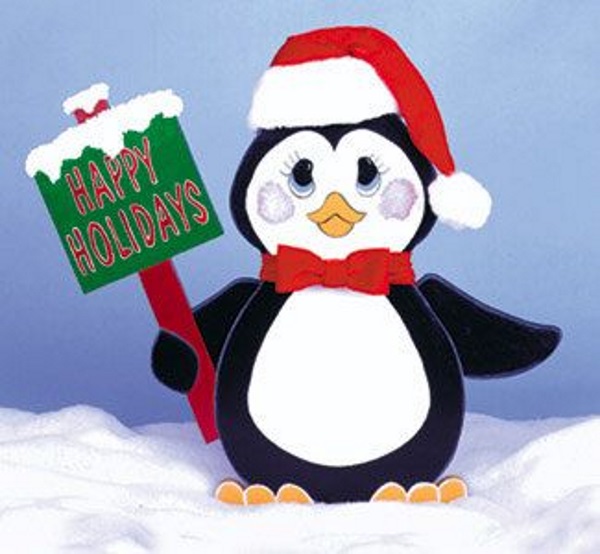 DIY Christmas Yard Decorations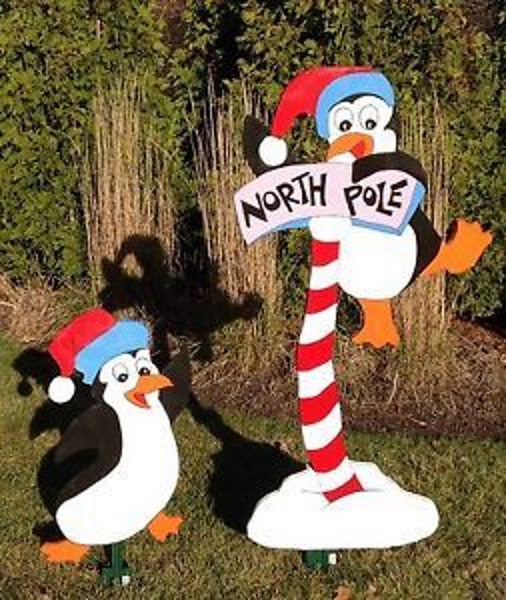 Penguins with Scarf and Hat Wooden Christmas Outdoor Decorations Hand Painted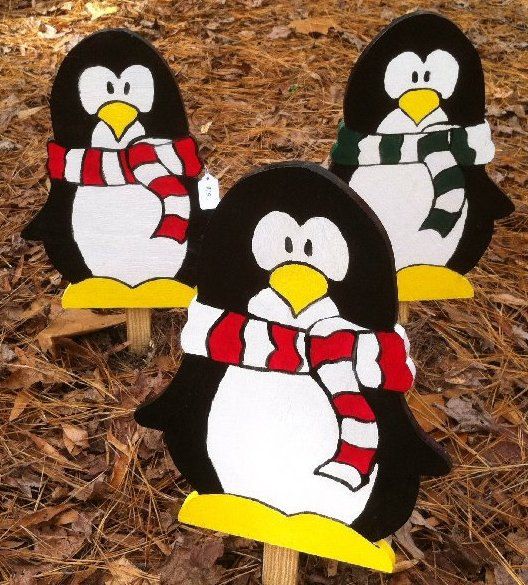 I'd have to admit, I fell in love over and over again with each penguin decorating idea above. All looked colorful and too inviting. Who would not have a selfie with any of them? They're soooo cute and if they're real you would want to cuddle them. It's up to you if you want to have assorted of Christmas characters for your home, but if you want it uniform that would be great too. Don't forget, we already published our collections for Santa, Snowman and Reindeer so you better check on them too okay? Another Christmas party theme done and hope there'd be countless people to be seeing this and be just creative on yuletide season. What's your favorite? Mine will always be the penguins sliding on the stairs. They all look like children just having fun with each other. As early as now, Merry Christmas 2016 everyone!