Santa Claus is the most famous fictional character associated with Christmas. Though it's been a very long argument among Christmas whether it's right to include him or celebrate with his existence during Christmas season, at home we were never really bothered. He's a part of what the society remembers, not that they worship him but the story of his journey around every household's chimney is told on movies and TV shows. Whether it's real or just a fantasy, the holiday season is made even more magical because of Santa's adventures with his elves and reindeer.
Why is that old and fat guy likable? Well, he is described to be bubbly, funny and lovable among kids. He is described as generous to the young wishers who wrote him letters, telling him they have been nice and not naughty. With his remarkable "ho-ho-ho" laugh, even adults are undeniably fan of him too. In some Christmas party and gatherings, someone would dress up like Santa and mimic him walk or talk to set up a joyful mood. You may not have enough budget to rent or buy a Santa suit, why not try doing something else? How about looking on your storage area for there could be some paint leftovers? Or see if there are scrapbook papers that you could use. If you have red, white, yellow and black then you are all set for some DIY Santa Decoration Ideas. Some are really easy ideas and some that would take an extra effort. Let's begin!
DIY Santa Craft Decoration Ideas
Hand Painted Santa Key Ornament
I'm sure every household have some extra keys so this could inspire you to paint some for a unique ornament.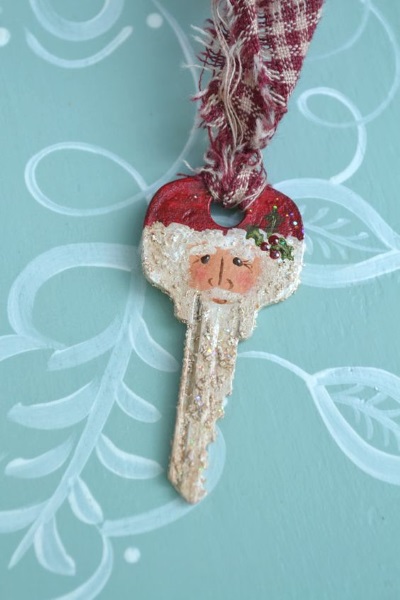 Santa Ribbons or Santa Banners
When you're done doing these patterns, get a string and tadaaaaa – you've got a Santa banner!

Painted Fork Santa Christmas Ornament that you could possibility try if you're talented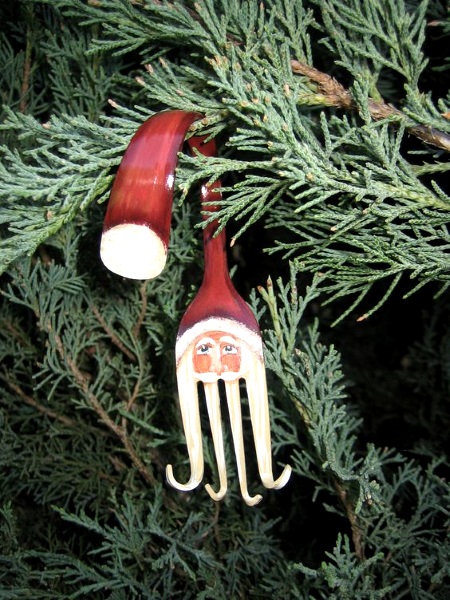 Santa suit mason jar lid ornament, then covered with red yarn. Instant!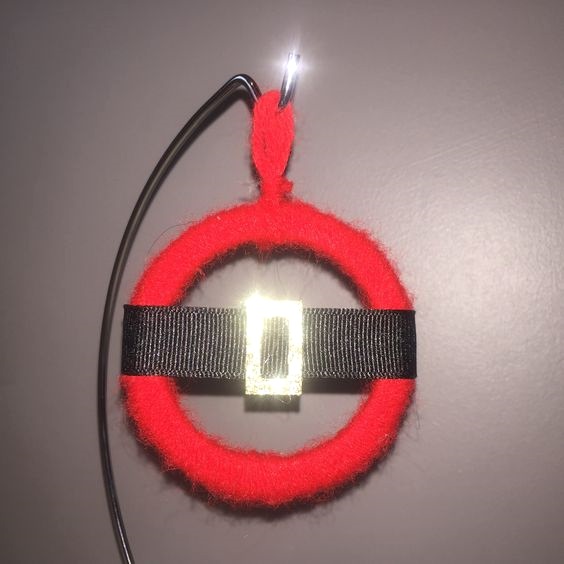 Santa Shell DIY Ornaments
For those living near the beach, or if you just had shells for dinner then don't throw them yet! Clean them and dry them up, be artistic and pain them like tiny Santa. They could be pretty ornaments too.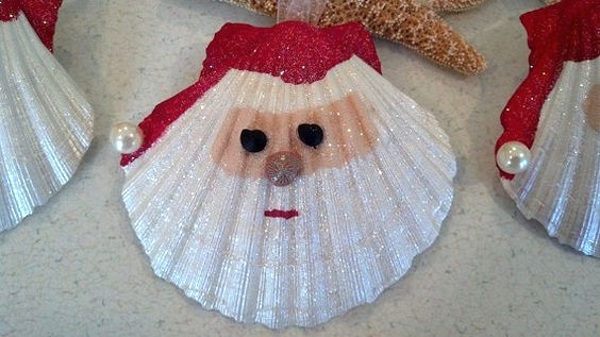 Making your own Christmas ornaments is a lot of fun, and a great activity for kids! This DIY felt Santa ornament would be cute on any Christmas tree!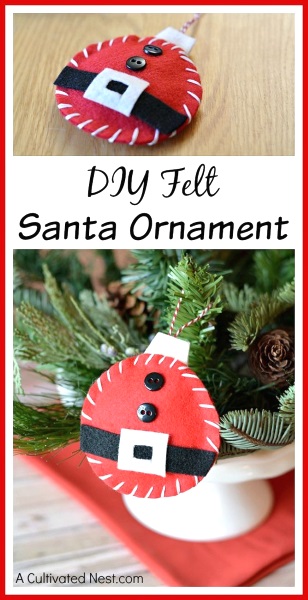 DIY Santa Paint Brush Decorations
Cute paint brush! Great idea to make for neighbor gifts, friends, students or just decorations for your own home. Make the string long enough to fit over a door knob.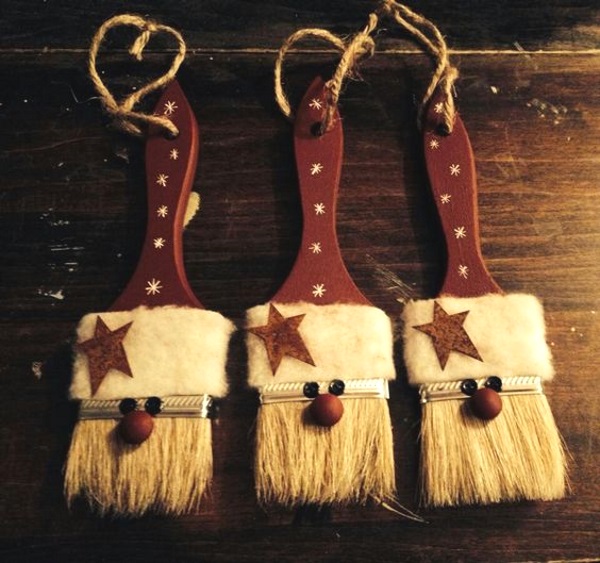 Bristle Beard Santa Fabric
This one's fancier!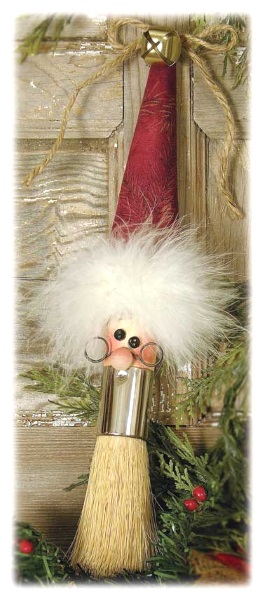 Cinnamon Stick Santa Ornaments
Never thought that Santa could also be thin!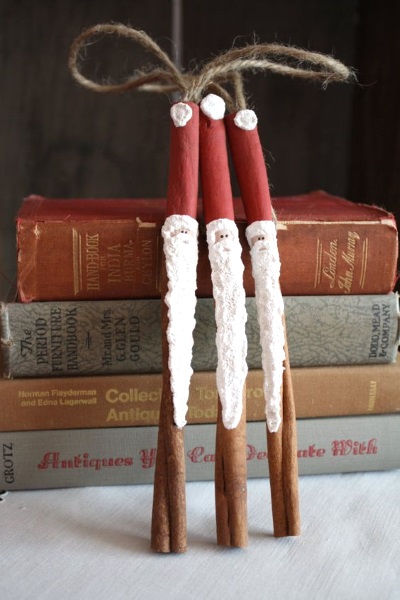 Handmade Santa Claus Christmas Ornaments.
Easy DIY would be great for office gift parties or ornament exchanges. Cheap cheap cheap!!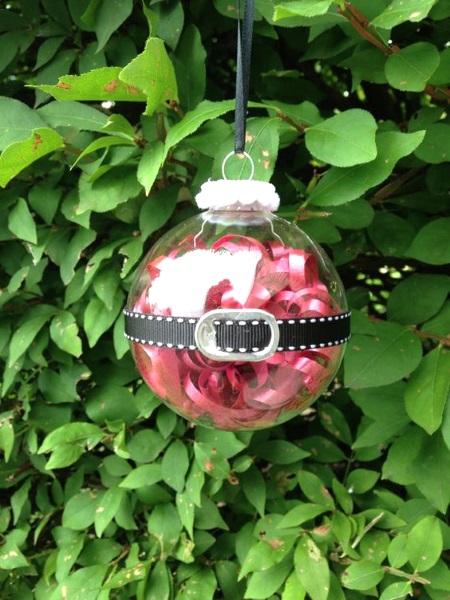 Hand painted Santa Ornament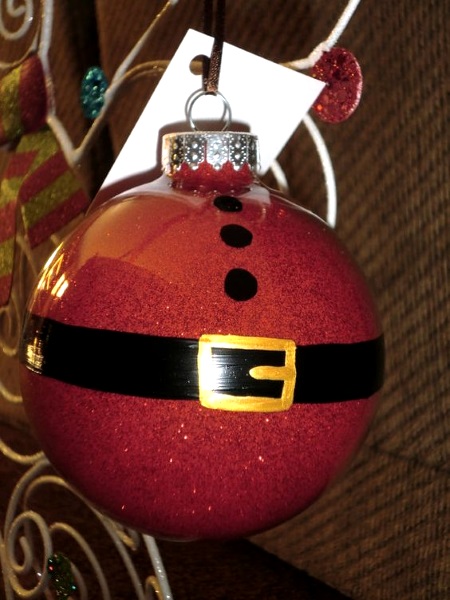 Light Bulb Santa Ornament
Don't throw your defective bulbs and make use of them wisely. They're cute this way.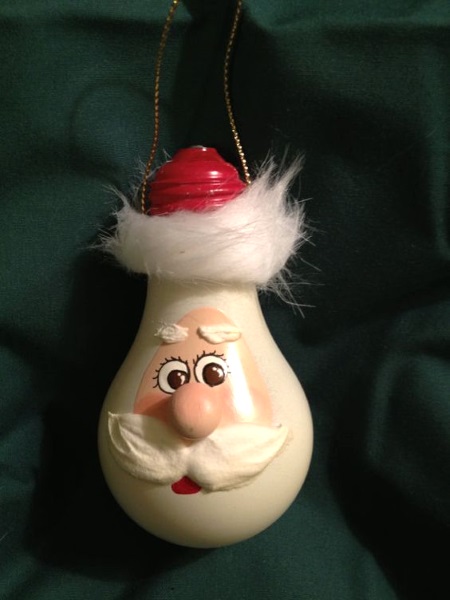 These wine glass centerpieces will add a beautiful touch to your Christmas table. Can also be used as a candle holder.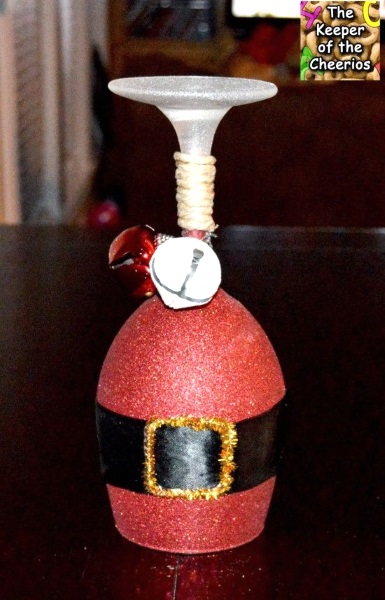 DIY Santa mason jars are very useful in so many ways. Use them as container of goodies or even flower vase!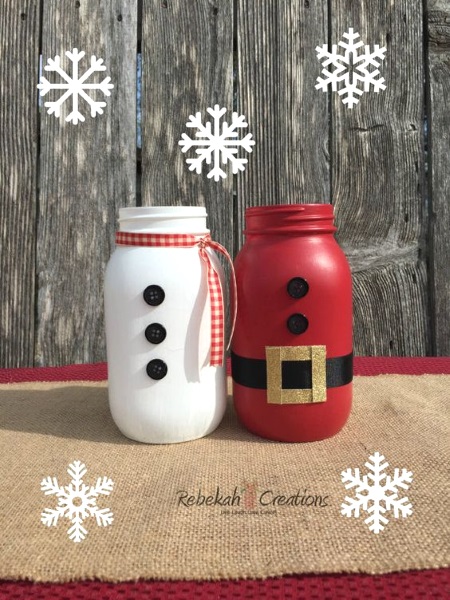 Diy Santa Claus Wine Bottle crafts – yarn, bells, beads, Christmas decoration, table ornaments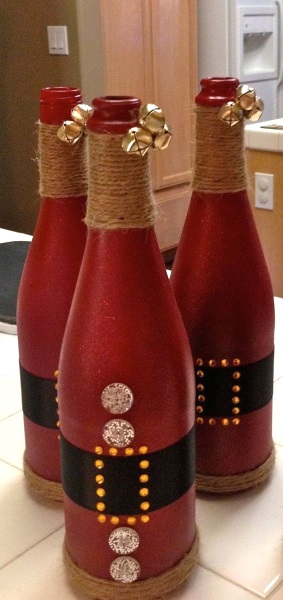 Some very creative Christmas decoration ideas using wine bottles! Santa bottles!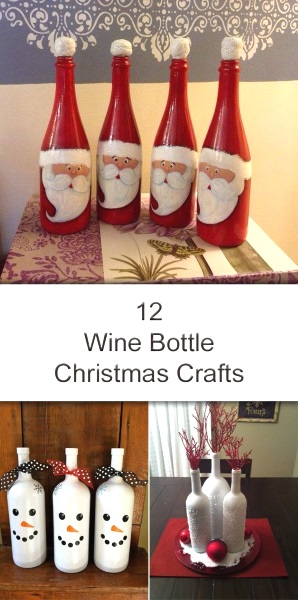 Styrofoam Santa hats table decoration!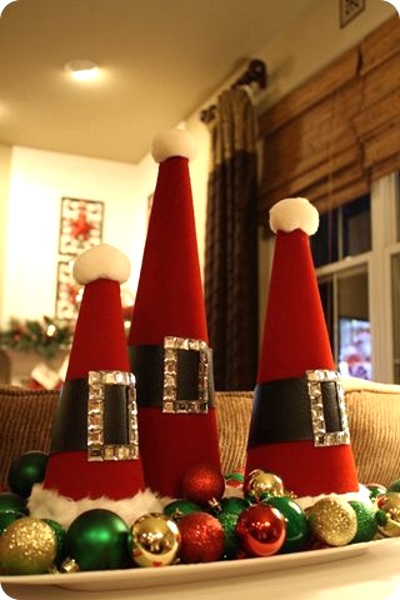 Santa Centerpiece or Santa Figures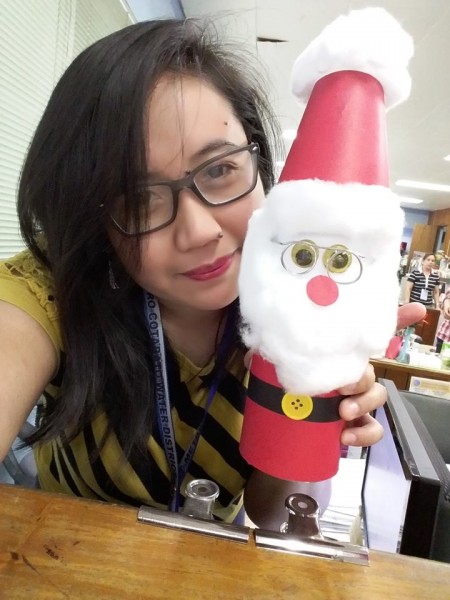 Santa candle holders….♥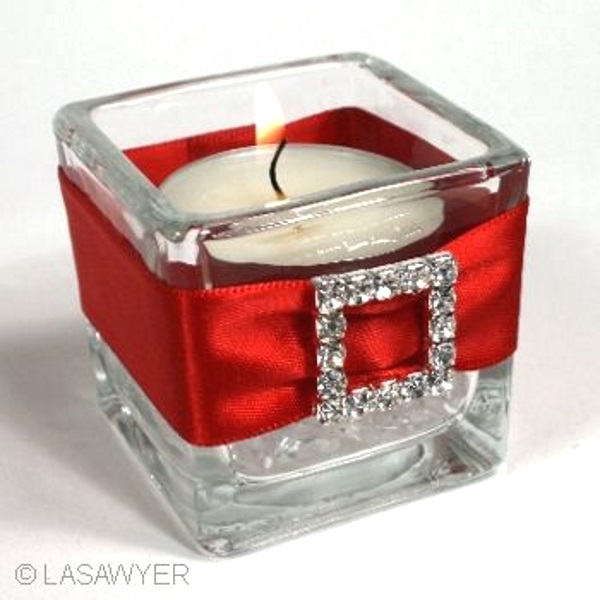 Not just a candle holder, this would also look good as hanging planter.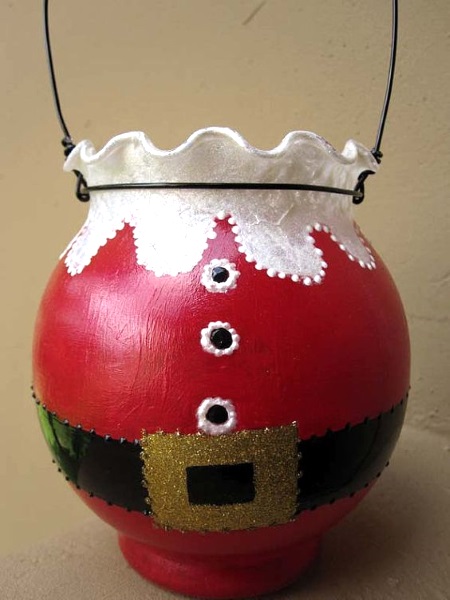 Put the cookies for Santa on it 🙂 Kids and adults would go crazy over it!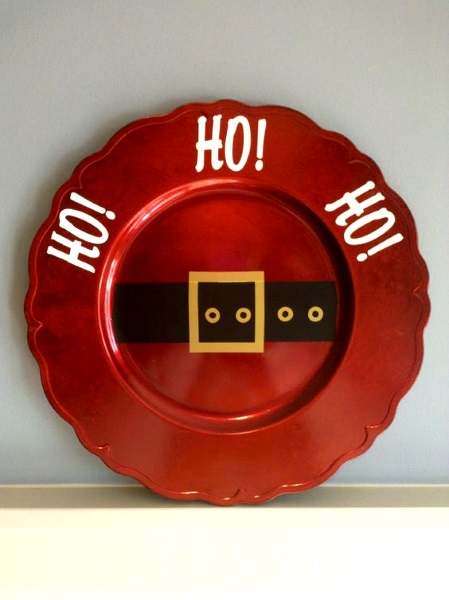 Coffee can with a belt :-). Santa's centerpiece or perfect as flower vase too!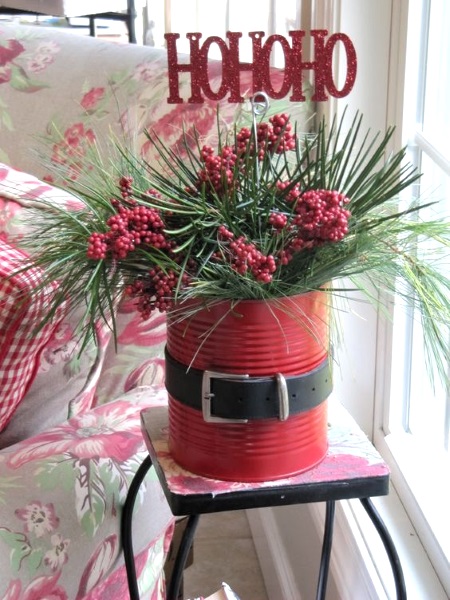 Not just a flower pot, but instead of wrapping goodies on wrappers, try this idea and give your neighbors some creative gifts and say thank you to them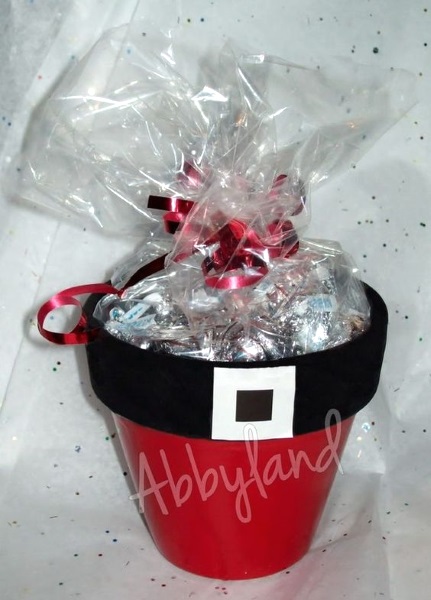 These are fun to use for "Christmas Eve" buckets that Santa's elves leave on our doorstep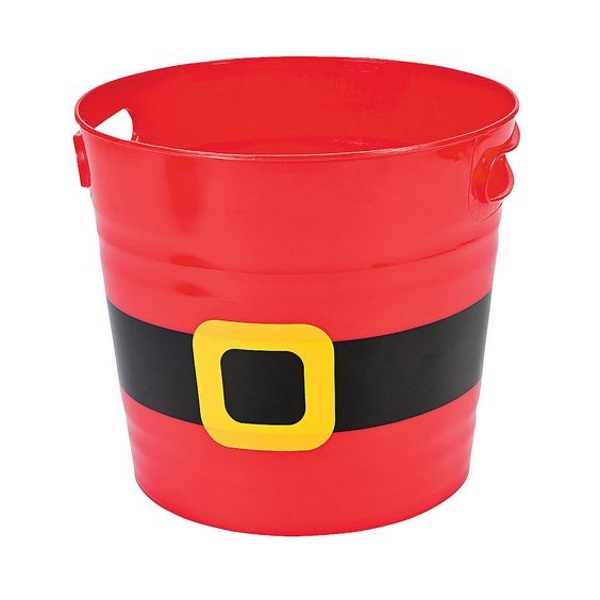 Santa Trash Can
It's cute and doesn't not look messy. Very occasional!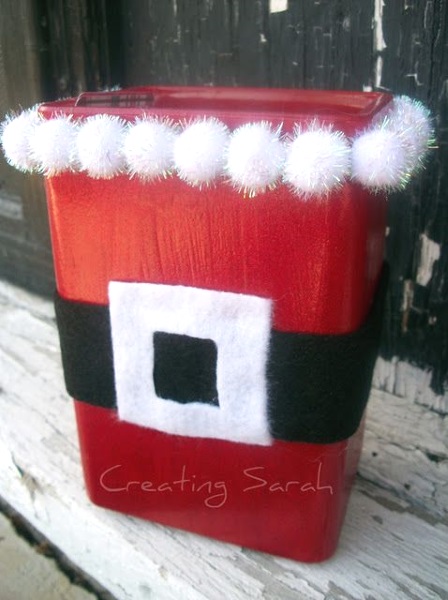 Santa Footprints
Put a shoe down and sprinkle some baby powder around it. So magical for kids!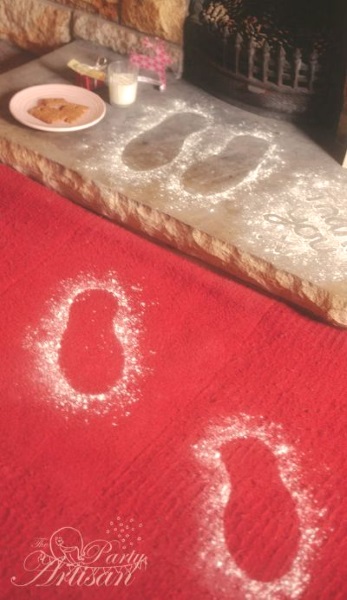 DIY Santa Wood Decoration Ideas
Do you have some extra wood? Or do this to your fence post! A cute Christmas sign.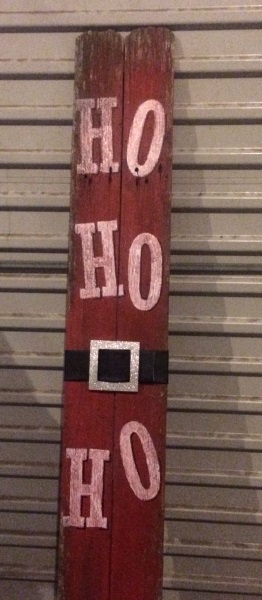 Some blocks that could be possibly made into Santa head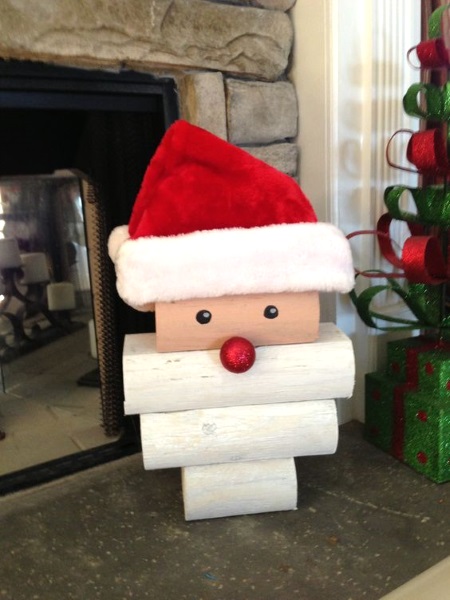 Very popular and beautiful SANTA Belt Christmas Decor Wood Blocks. Beautiful red, black, wooden blocks with jolly white letters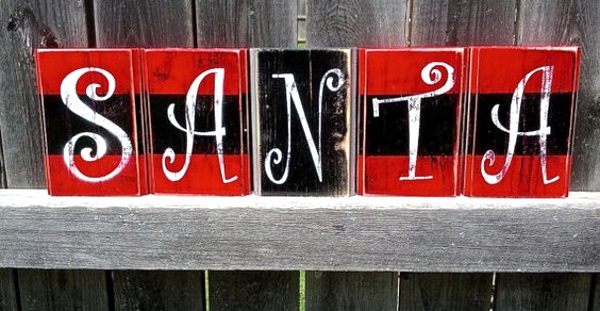 A Ho Ho Ho lighted marquee plank will make you jolly! This fun sign with the Santas Belt detail will be perfect in your home.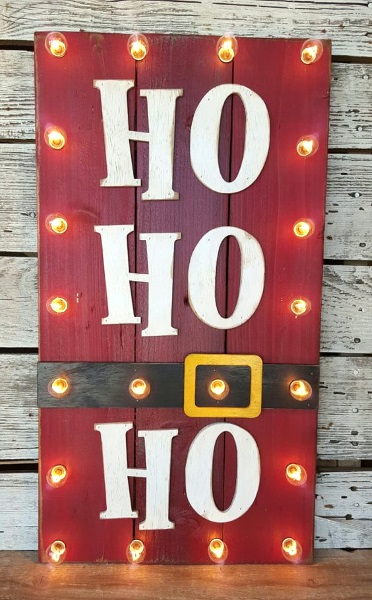 DIY Log Santas that would surely be eye catchers on your yard!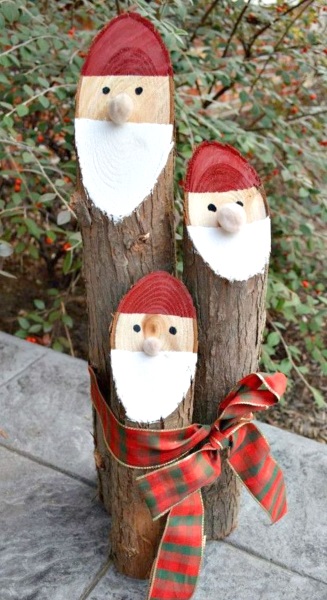 Santa letter ornaments that could be hanged on your door know, or use it as wreath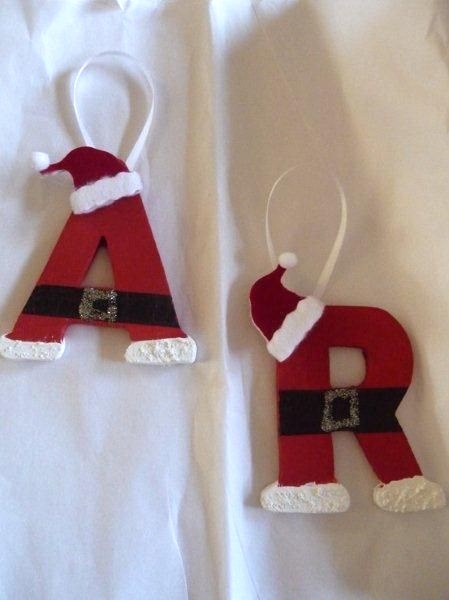 Fence Post Happy Santa with Hat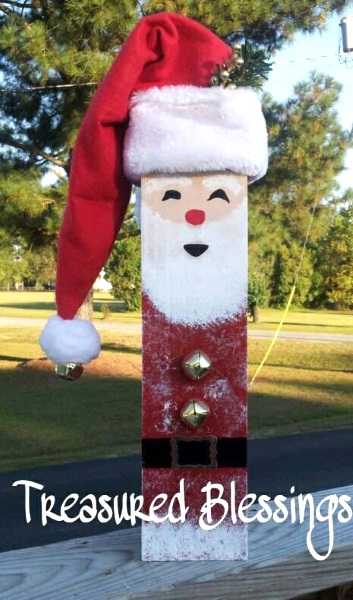 Santa pillow with red pillowcase over pillow form and black belt.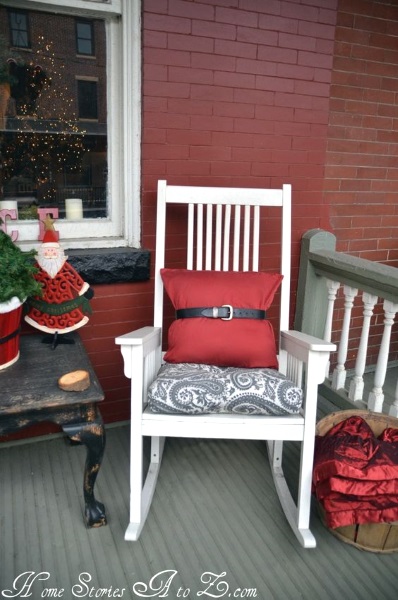 Santa crochet bunting pattern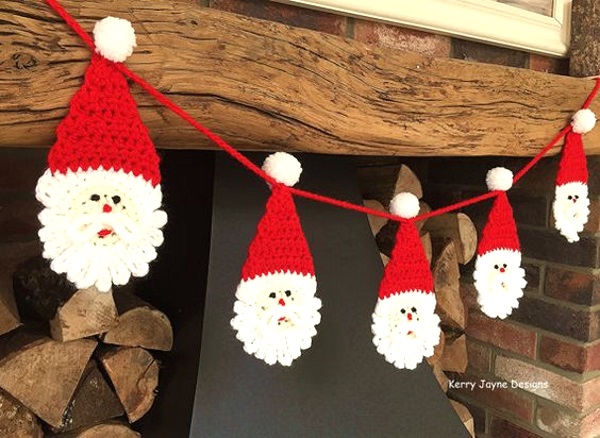 Santa hats, sewed along each other to make a nice and cute curtain.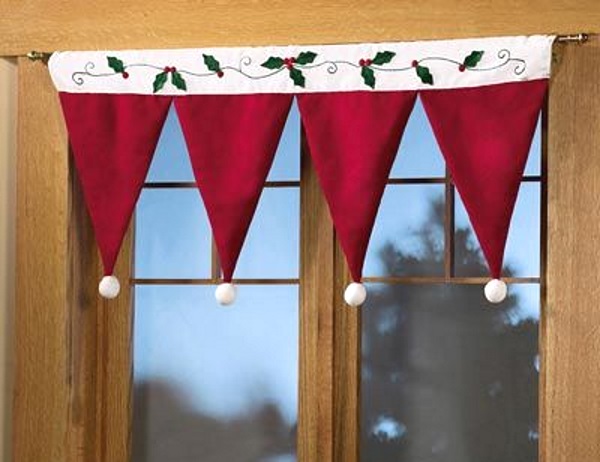 Dining Room Santa Decorations / Kitchen Santa Decorations
Santa chair hats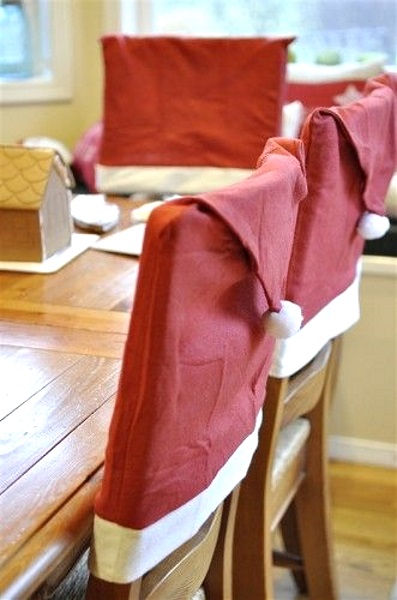 Red Santa Suit Holiday Dining Chair Covers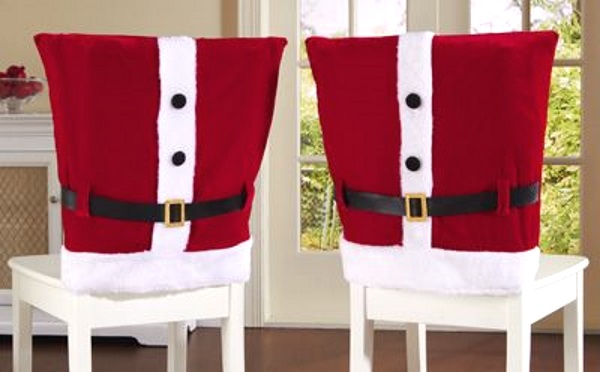 Santa table cloth / Santa Belt Decorative Holiday Table Linens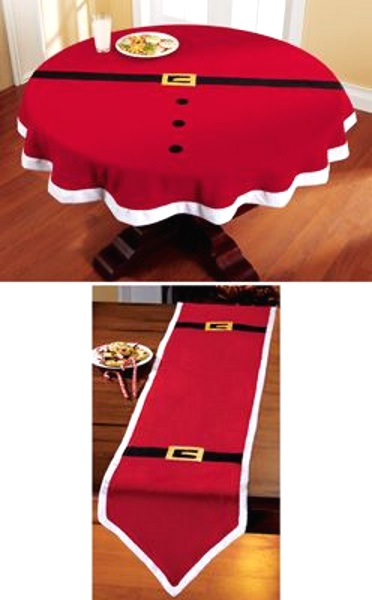 Velveteen Santa Belt Window Valance Decoration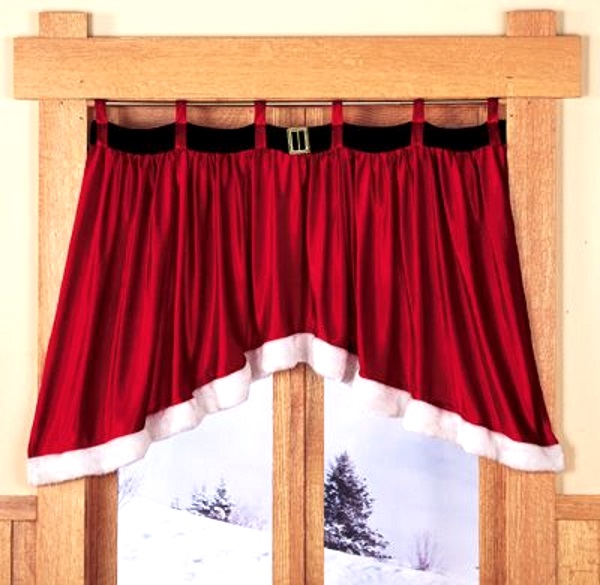 Santa Suit Shower Curtain…yeah, I want this!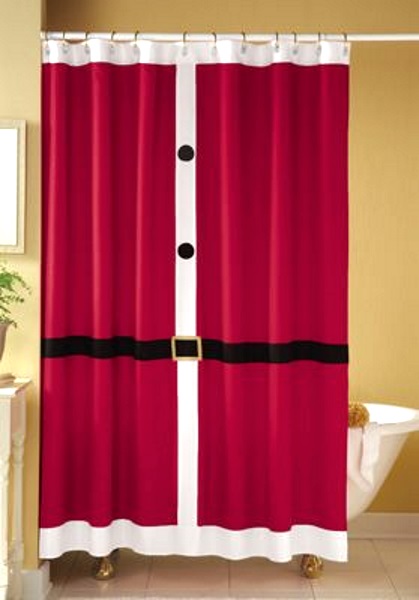 Crochet Santa Wreath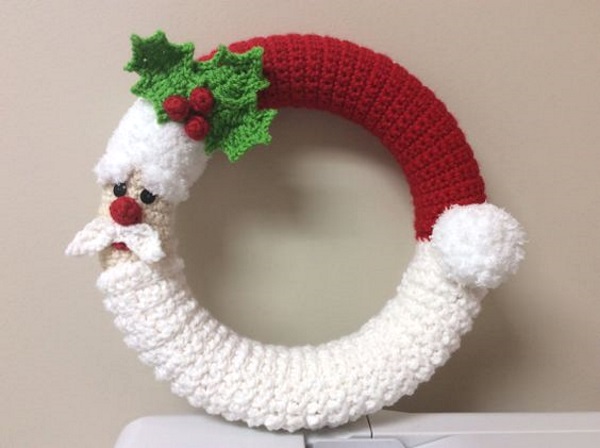 DIY Santa Tulle Wreath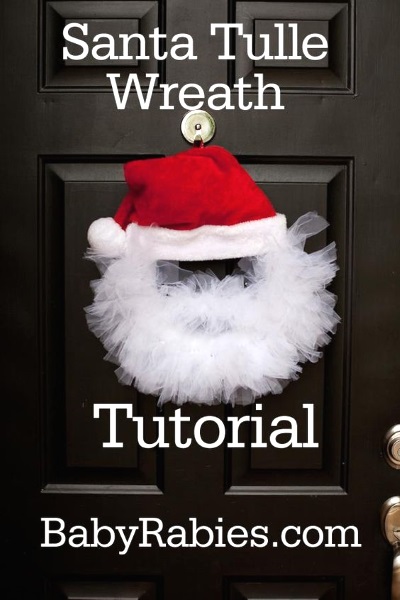 Santa Dress DIY Door Decoration ideas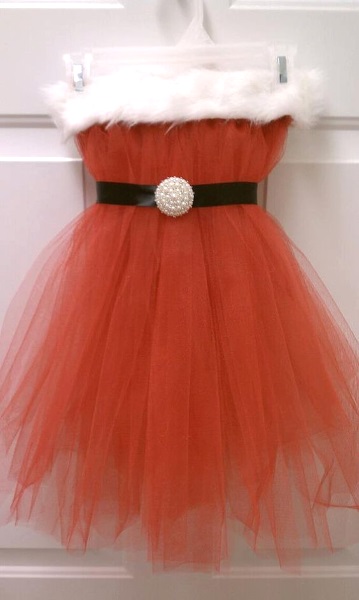 Here's a Santa door hanger, turned into flower holder!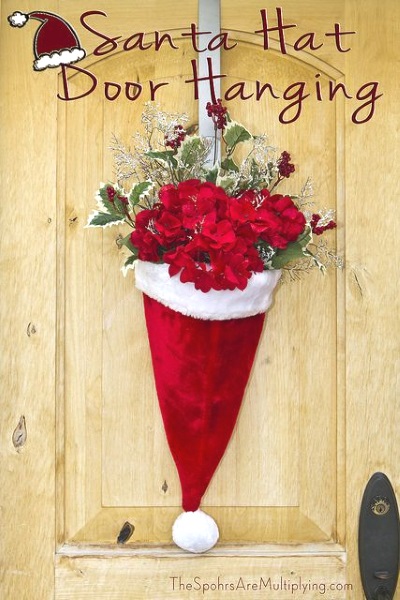 Red Santa Burlap Wreath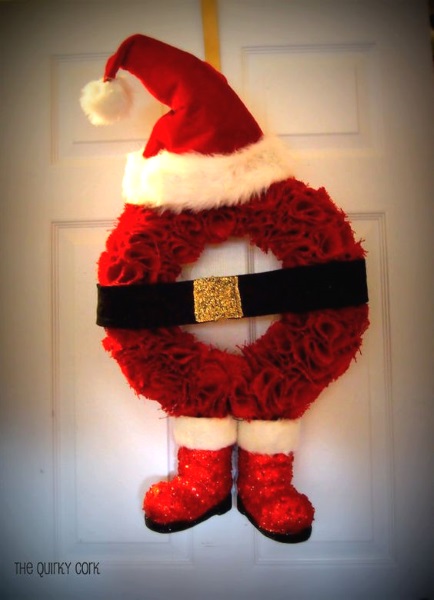 Santa Wreath. Cute with that ho-ho-ho!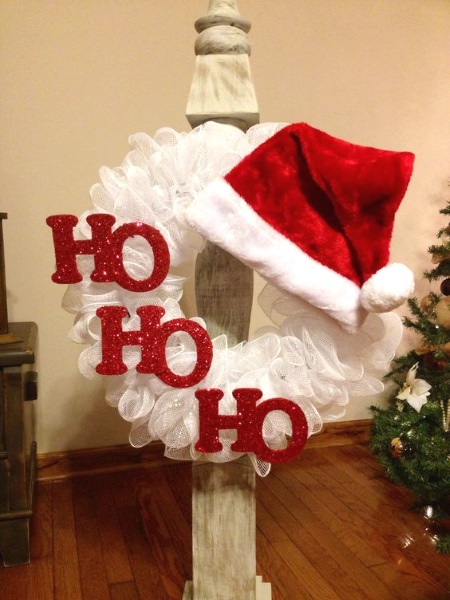 A moon-shaped Santa wreath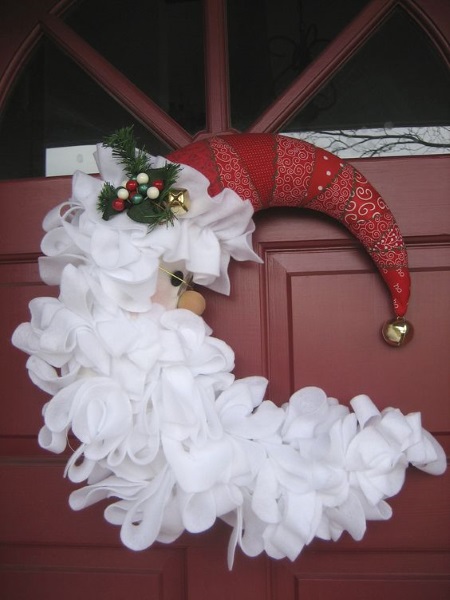 Hang a Christmas Santa Suit from a string of lights for an amazing outdoor Christmas DIY decoration
How about making a Santa door for your home, office or school?
I'm surely gonna try lots of the decoration ideas above and I know that my kids would be so excited to see them done. That red suit will always be associated with Santa Claus, alone. He is one character that simply adds spark all throughout the Christmas celebration. For as long the moral lesson of introducing him to kids is about telling them that nice kids gets what they want while naughty kids don't, I will keep on believing that he isn't a bad story to tell the young ones after all. Let's put away too much negativity and just spread the goodness of something. Let all those excited for Christmas 2016 see this collection by sharing on your social media. Do you have any other ideas? Please write us on our comment section. Enjoy everyone and let's practice our ho-ho-ho's!