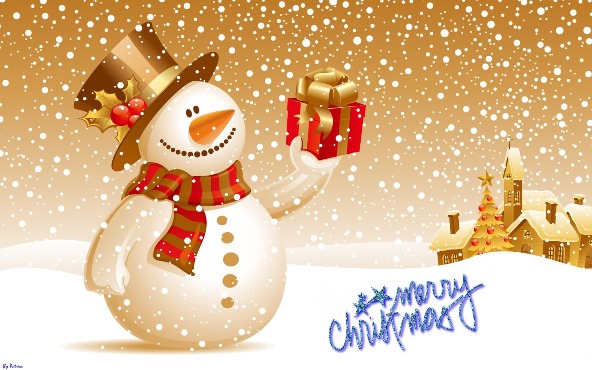 Frosty the Snowman is the next favorite Christmas character, not just of the kids but also of the adults. If you knew the song about him very well, he is described as a jolly, happy and also a mysterious snow. There's a magic about how he came to life and only the kids know what his secret is, the very reason why the young ones are so much attached to Frosty. Cute as he is, his fluffy figure and white complexion is a very in demand Christmas decoration. Also, since the Frozen movie was out and attracted kids towards their very own snowman Olaf, that makes it even more ideal to use snowman Christmas decorations in the coming holiday season. I'm getting more excited about this, I'm sure you are too!
Whether it's Frosty or Olaf the snowman, it's okay. They're family anyway! This post is a collection of various and easy to make 50 DIY Snowman Christmas Decoration Ideas. It comes in different materials, from fabric to cans, bottles, papers, glasses, buttons, tires, shovel, pile of wood, flower pot and many more! As you continue to browse, you will surely fall in love with Frosty and Olaf over and over again. Thinking of a winter white Christmas theme this year? Snowman crafts and decorating ideas are just perfect for that! If you like this collection, don't hesitate to share it on your social media accounts. Share on Facebook, Twitter, Pinterest, Instagram or email your loved ones so they could enjoy snowman's cuteness overload too. If you're crafty and has more ideas to offer, we could feature it here so you just have to write us on our comment section. Enjoy!
Adorable Olaf Sock Snowman,I'm sure the Frozen fans will love it!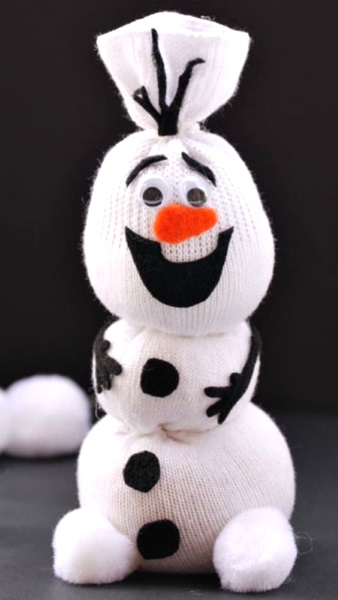 Check out Santa Christmas Decoration ideas!
Just did this today! HOT HOT HOT! DIY Snowman Lantern!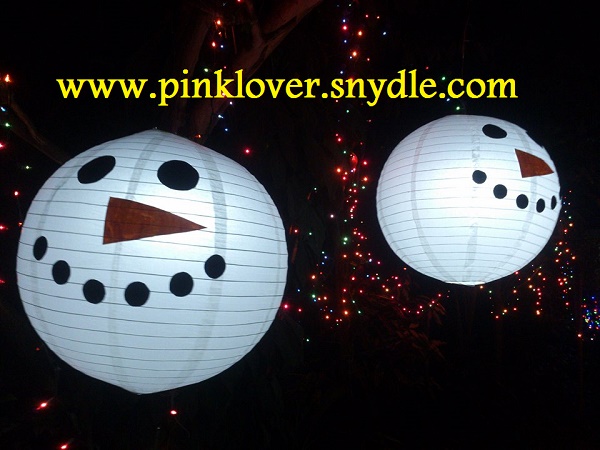 Buy a white paper lantern, your choice of size. I picked the largest one!
Cut 2 black circles for the eyes and 6 smaller circles for the mouth.
Cut a cone-shaped orange for the nose.
Since it's already a cute decoration, I did this with a twist. I looked for battery-operated bulbs and luckily I found solar light bulbs. So now, look! It's a DIY Snowman lantern! Best when hanged along with colorful Christmas lights.
What's trending? This very adorable DIY melted snowman for Christmas 2016!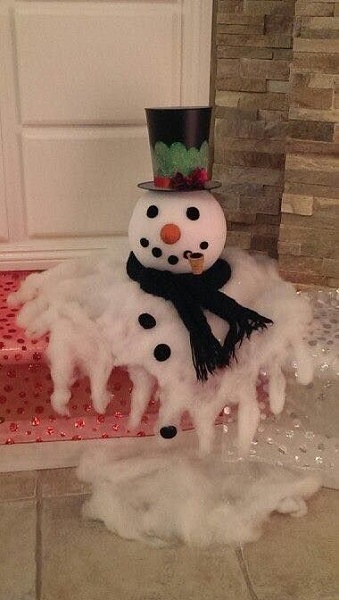 Balloon String Art Snowman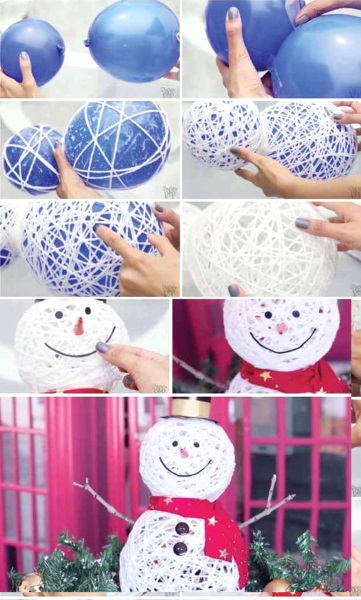 These tea light snowman ornaments are really easy to make and they look ADORABLE! Turn on the tea light and the "flame" becomes the snowman's carrot nose! The last time I checked on Ebay, each would cost 1$.

DIY Cheap Snowman decoration idea
This is the cheapest I believe. Collect the bottle caps from your drinks the whole year round and you will have enough Christmas tree ornaments.

Buttons and yarn snowman ornament idea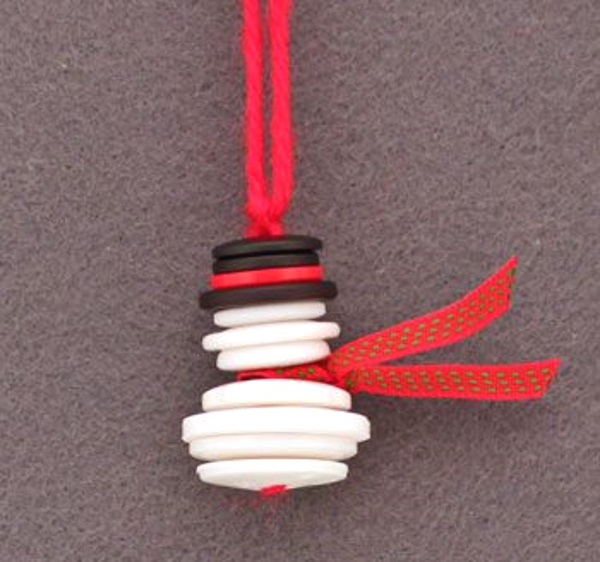 Do you have unused rusted spoons? You can try this idea!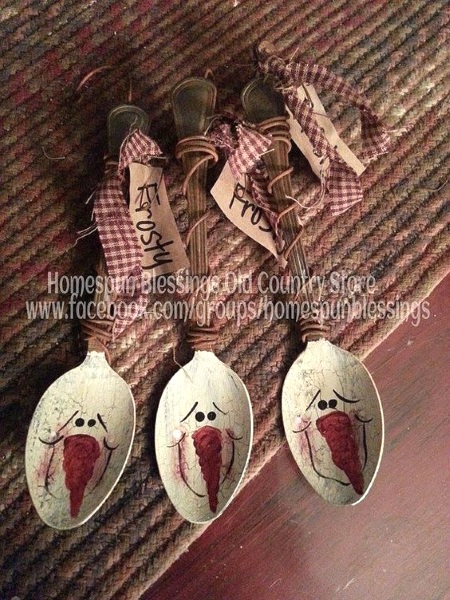 Snowman Block Ornament – these would be cute for baby's first Christmas!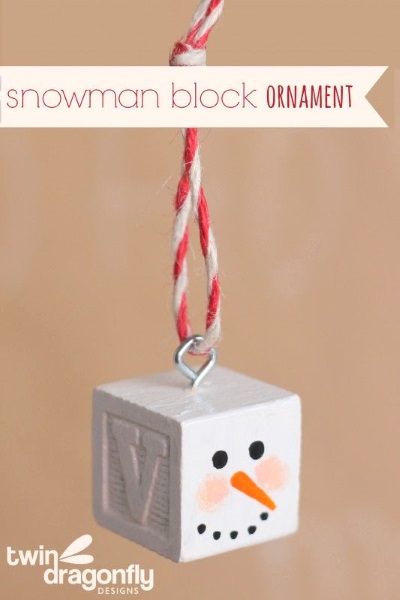 Paper Snowman Garlands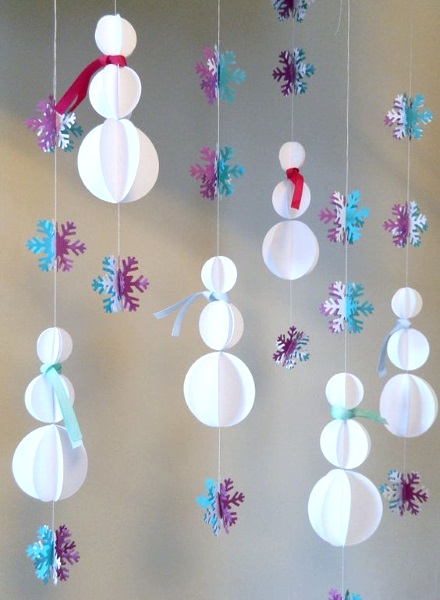 Snowman Christmas DIY Crafts

A little snowman made from an old vintage book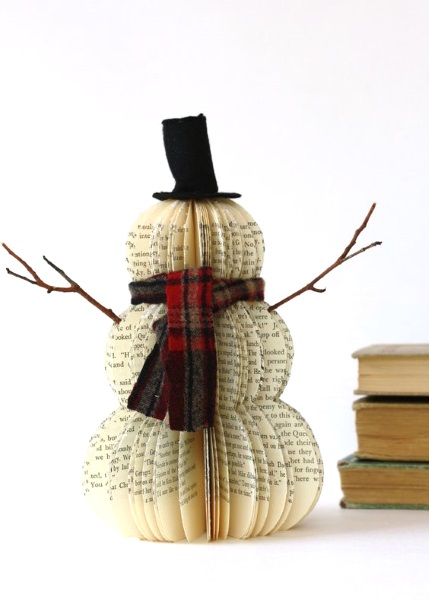 Cheap DIY Christmas Decoration
Buy a set of ping ping balls and draw them like the face of Frosty the Snowman. Very cute!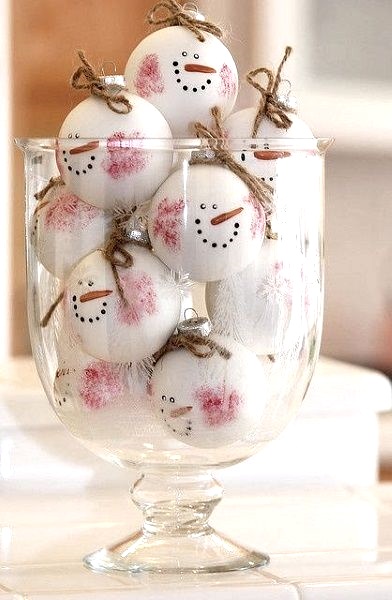 From Ping Pong balls snowman to softball Snowman / baseball Snowman
These balls are really useful even on Christmas season!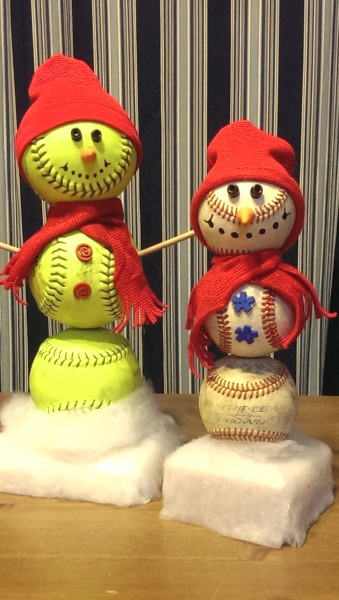 Snowman Sunglasses Ornaments
How cute are these!!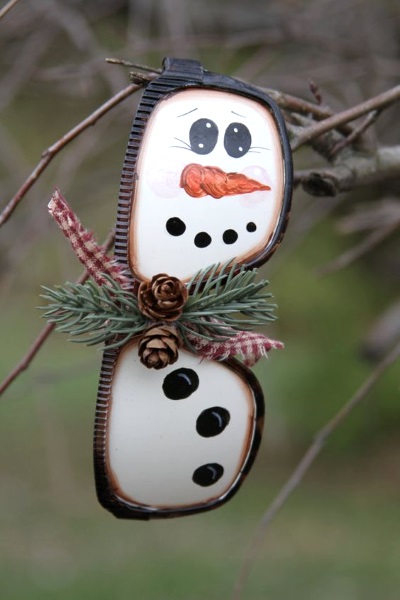 DIY Snowman Ornament with your own palm print. Very personalized!

Light bulb Snowman Ornaments

If you have candle holders like this, well grab the chance to maximize it's use!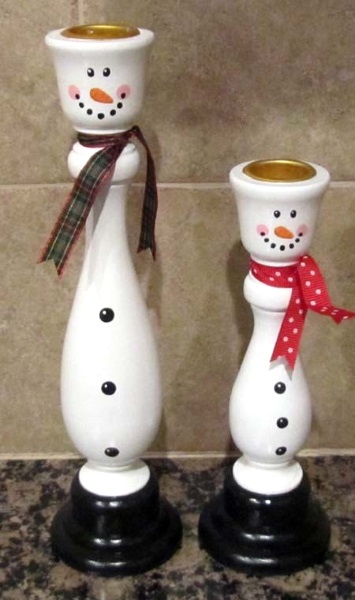 One of the most interesting things about Christmas holiday is because of the many craft ideas and decorations.
Glass block snowman candle holder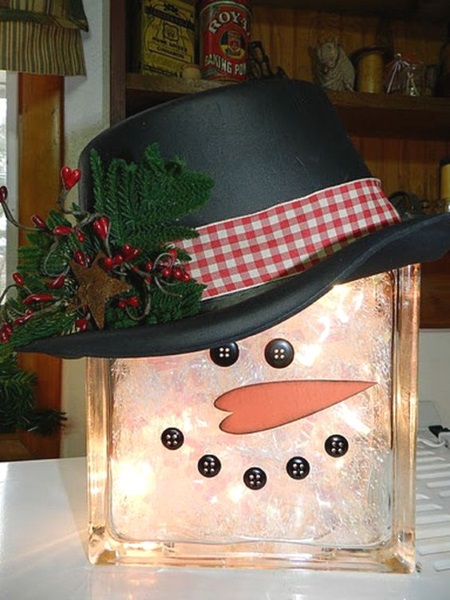 Lighted " Goldfish Bowl" Snowman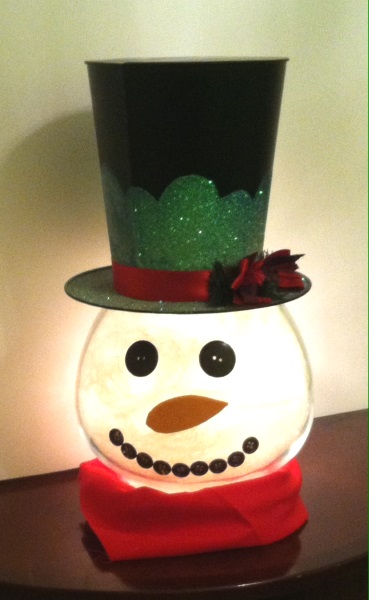 DIY Tissue snowman, for your extra tissue use as your bathroom Christmas decor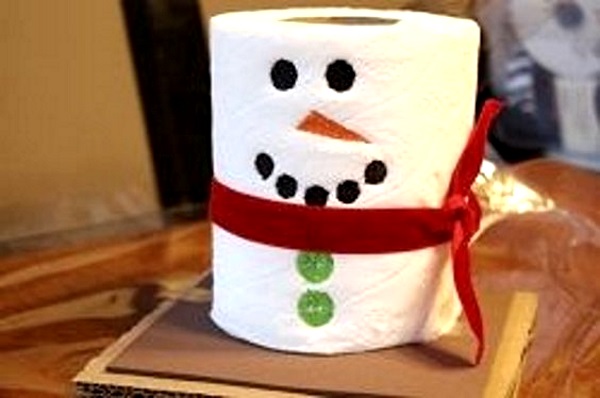 Snowman soap – this is cute and will keep kids washing their hands this Winter.
Whimsical Christmas Decoration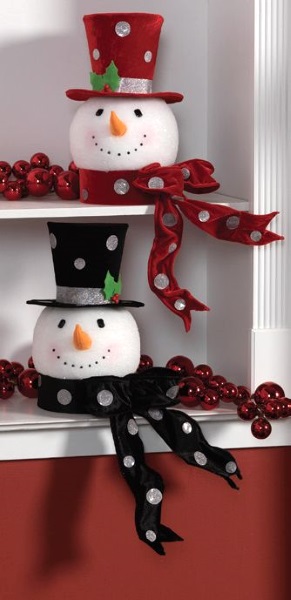 Take a look at more of these DIY Snowman Crafts for Christmas, which will melt your heart during the Christmas season.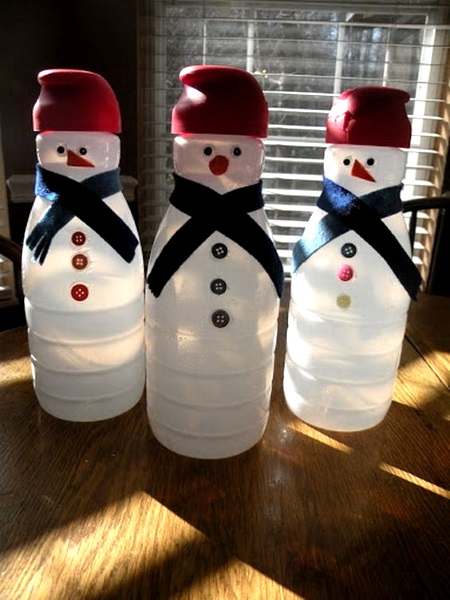 If you're looking for a quick and easy Christmas craft, look no further! This adorable tin can snowman is not only a great way to recycle some leftover tin cans, but it's a really fun project and it's fast and simple to put together!
DIY Tin Can Snowman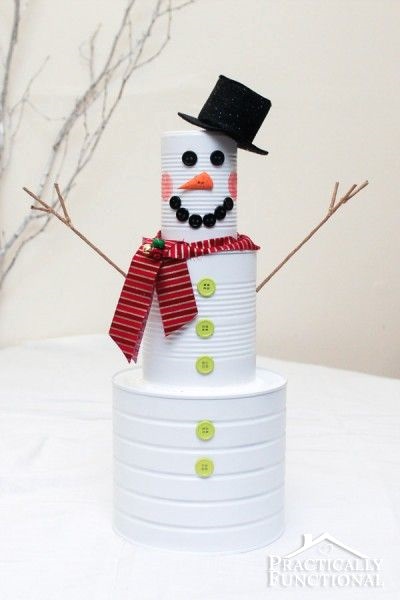 Snowman wind chime recycle cans, or snowman chandelier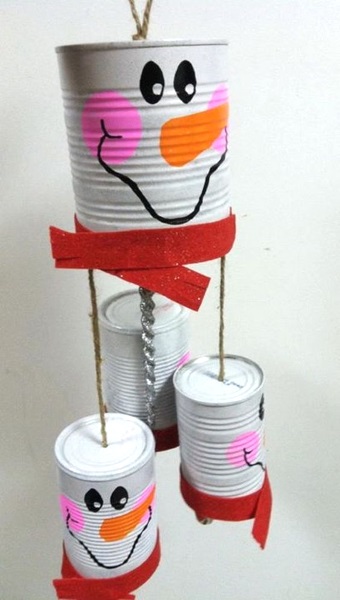 Flower Pot Snowman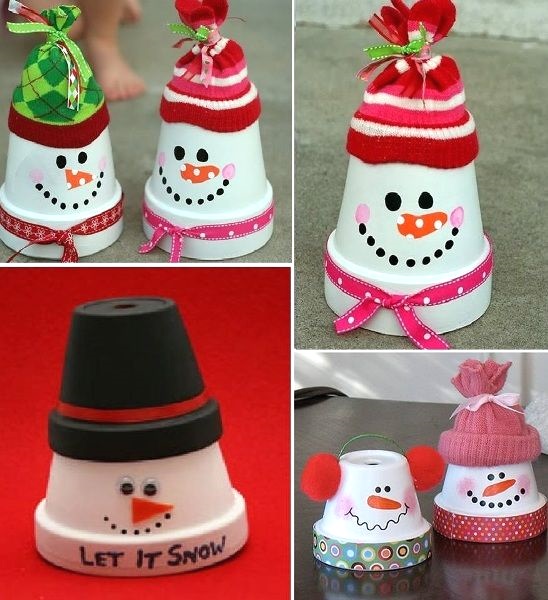 Snowman Mason Jars Christmas Mason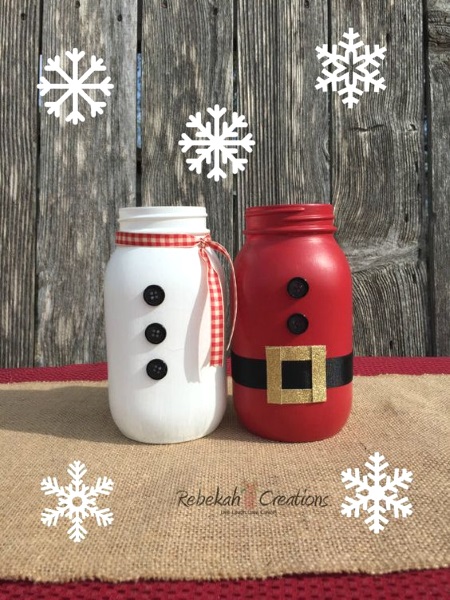 We could do a variation of Snowman Crafts and Decoration ideas using WOOD.
Wooden snowmen Christmas blocks with hand painted wooden snowman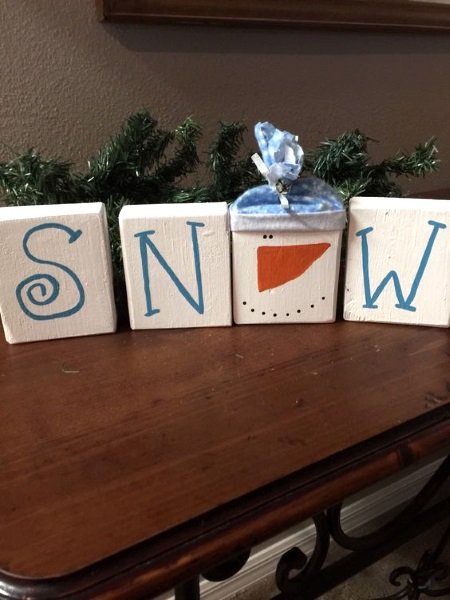 Winter Blocks with snowman Christmas decoration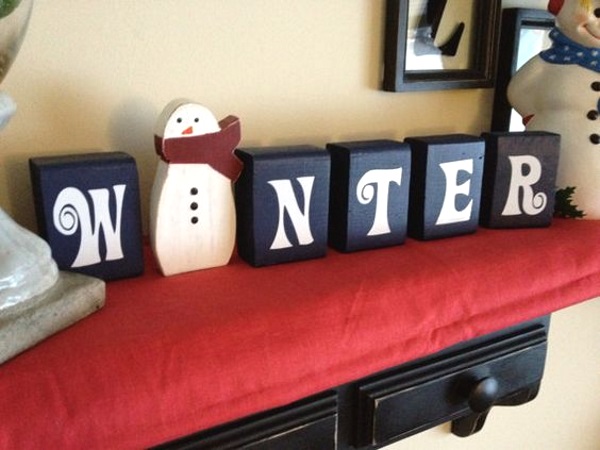 Snowman Wood Block Set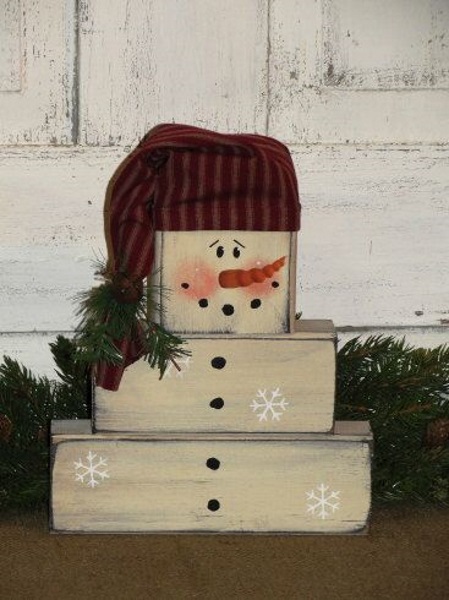 Christmas Snowman Decoration ideas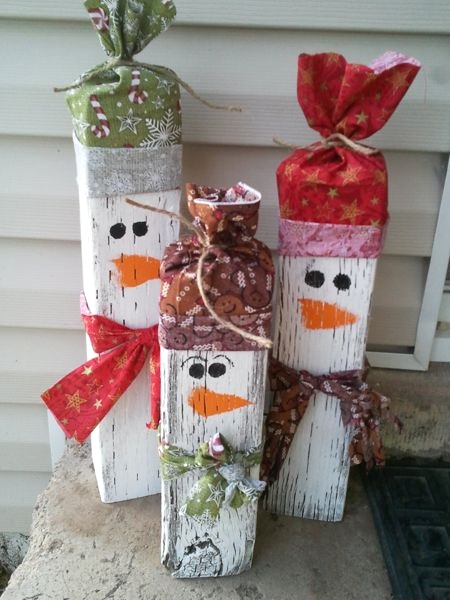 DIY snowman decoration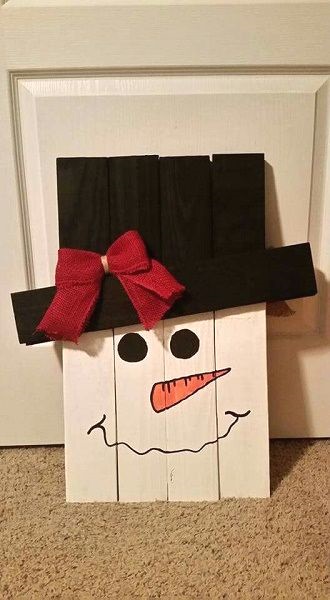 How about this reversible snowman and scarecrow that you could display on other days.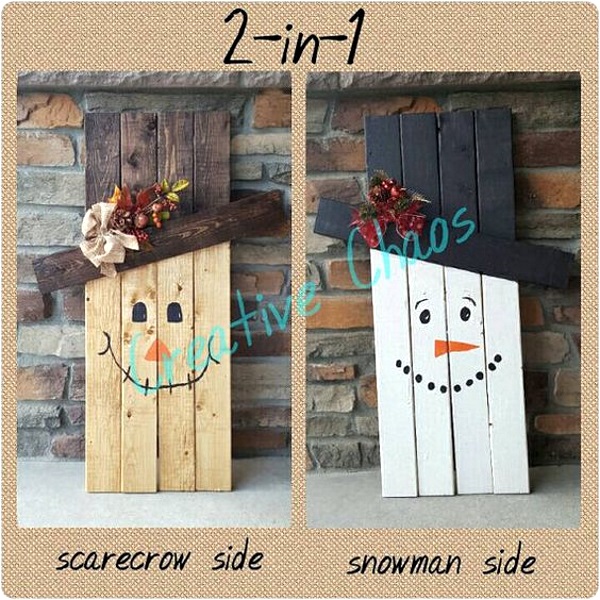 Rustic Christmas Decorations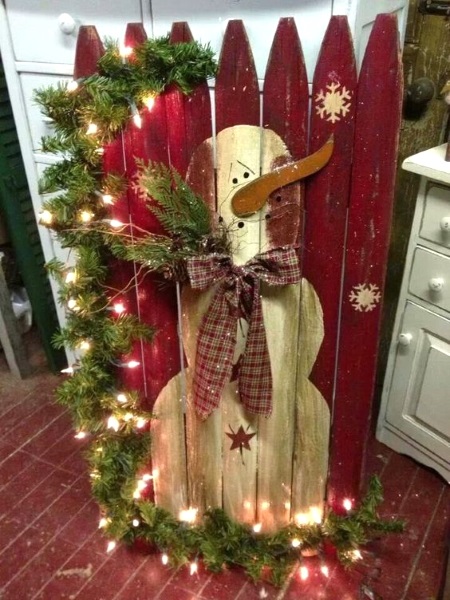 Joy, snowman, hand painted on barn wood. Great to decorate your porch for Christmas right through the winter!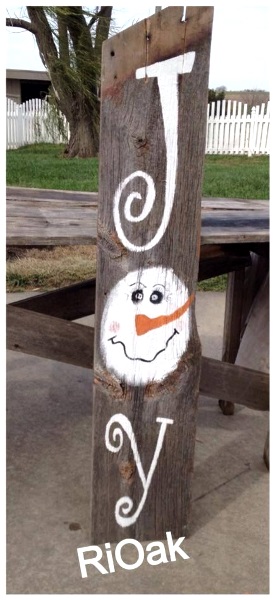 Snowman Christmas Fence Post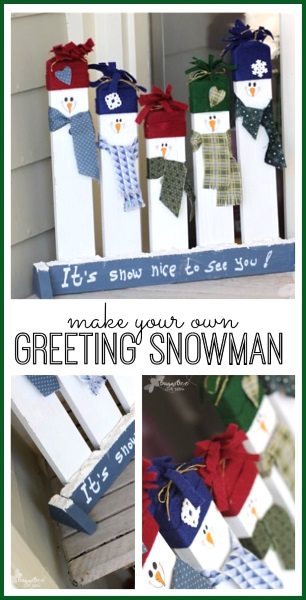 Wooden Snowmen for Christmas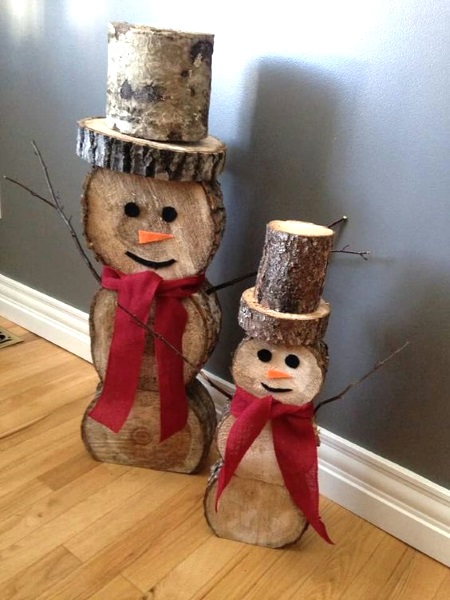 Snowman Gift Tower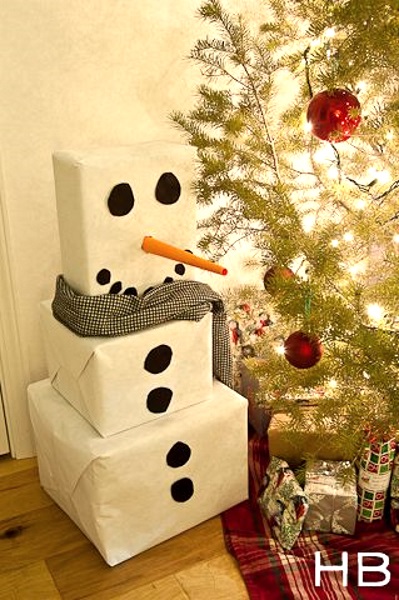 Maximize what you have to decorate for Christmas. Check out these stacks of books…snowman & reindeer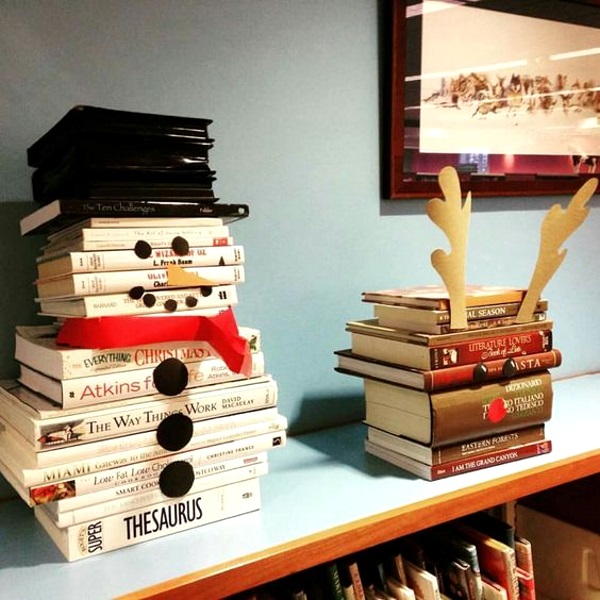 Love it! One of my "someday when the kids are older" crafts!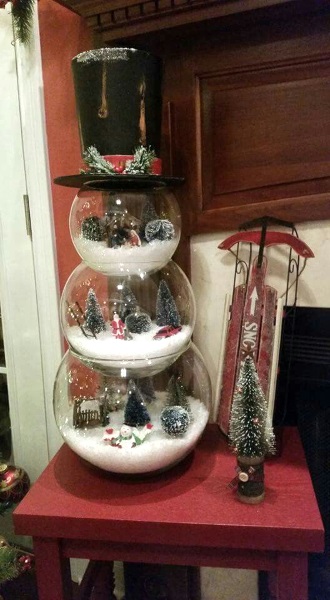 Christmas fishbowl Snowman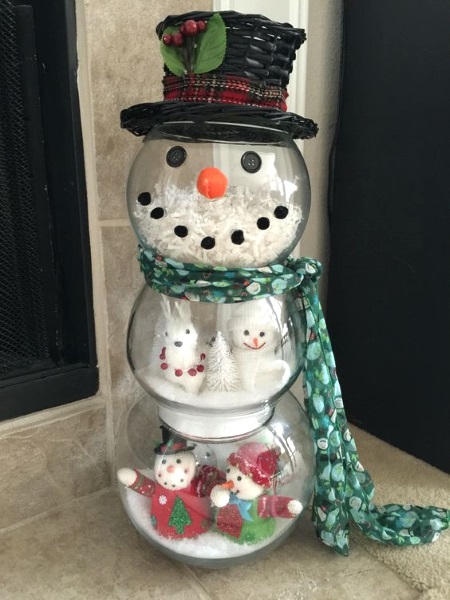 Tomato cage snowman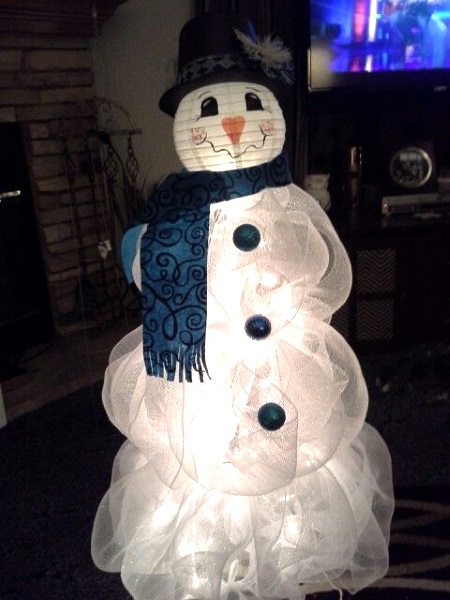 Snowman Christmas tree – I love this!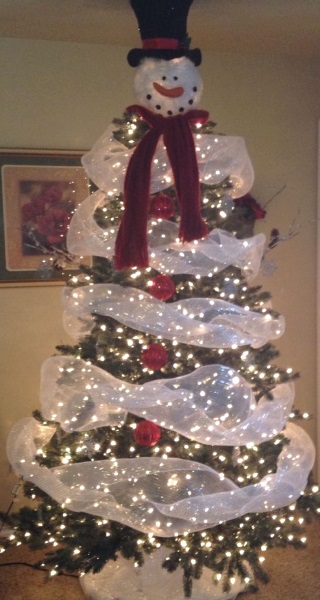 I suddenly need a white Christmas tree! Snowman Christmas Tree!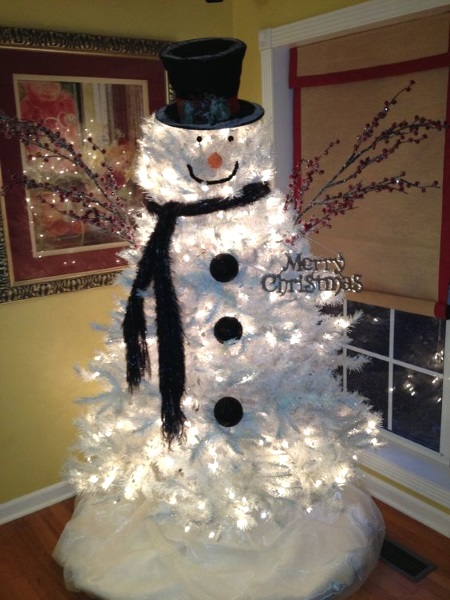 Perfect Christmas decoration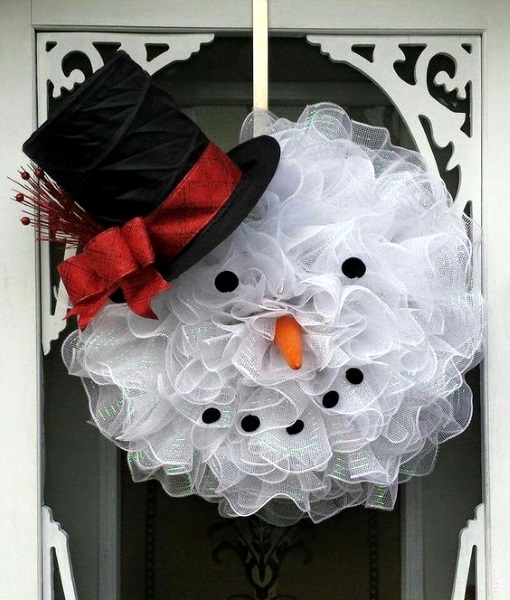 Totally awesome snowman grapevine wreath for winter and Christmas. Made with black, white, and red, fun and funky holiday wreath. Two sizes of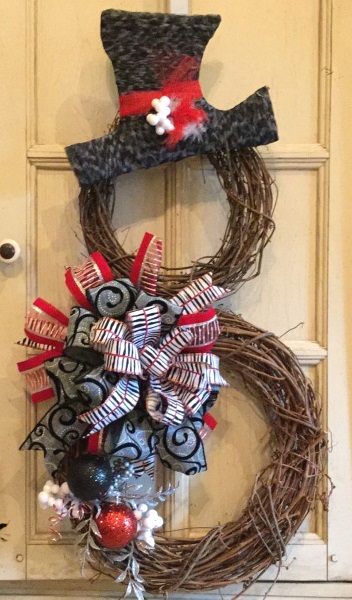 Let It Snow Deco Mesh Snowman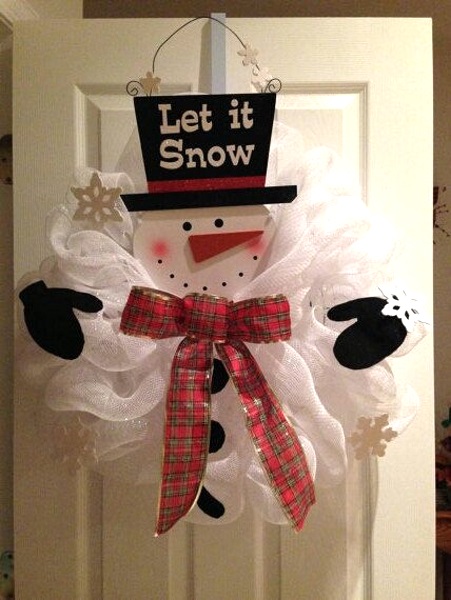 Snowman Refrigerator. I'm sorry, I think this is so cute. I don't know why ;-). nnm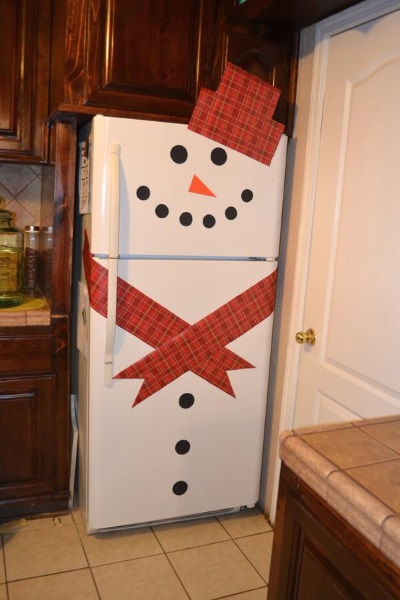 Christmas Snowman Door Decoration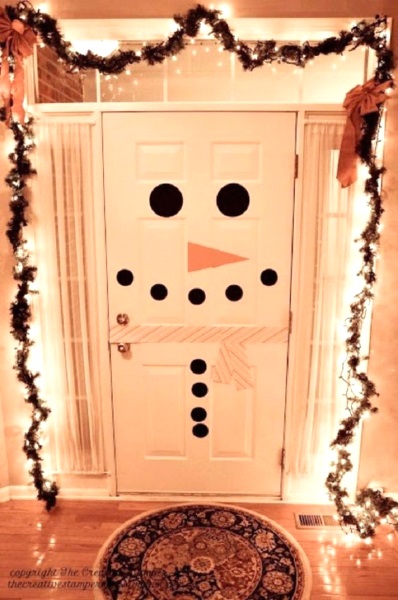 Primitive snowman shovels
Who would have thought that shovels could be great displays too?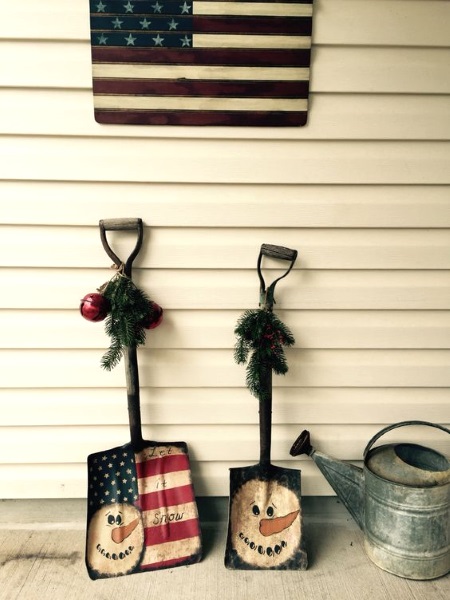 DIY Snowman made of Tires
Very pretty and really huge. Who would not love taking pictures with this life size snowman?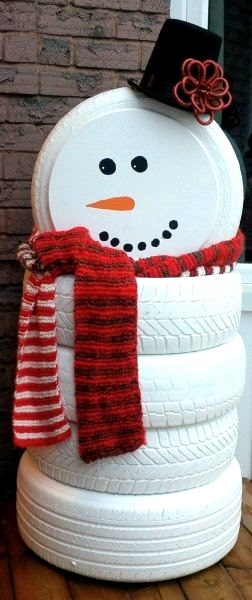 I told you snowman is such a cute idea for Christmas decorations. He should have melt you and brought back the kid in you, wanting a jolly looking and adorable snow around your house for December. What's good is that there are tons of easy snowman crafts above that you could do quickly and even let your kids assist you in doing them. I wanted to try the fridge snowman and maybe would have it the whole year round. It's not that bad after all. I do hope you enjoyed this collection. Spread the magic of white Christmas and consider the adorable crafts and decoration ideas above for your Christmas season this year, or maybe in the coming years!