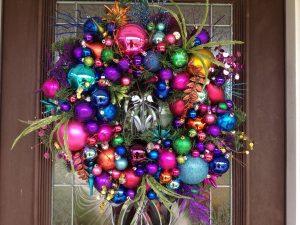 Decorating for Christmas is a part of our tradition. We may not know it, but we are crafty by heart because we get to choose on how to decorate our Christmas tree and every part of our homes. When we choose for color combinations, we are actually getting involved and unknowingly bringing out the artists in our own little ways. Nowadays, there are tons of ready-made decorations sold on departments stores. They are all assembled and just needed to be hanged at homes. There's some garlands, lanterns, banners and even Christmas door decorations. Do you actually know that we can relive a bit of our old Christmas customs than by making our very own DIY decors? You can give it a try by checking our famous and most favorite diy Indoor Christmas Decorations.
There's nothing more that makes a home look inviting or welcoming than hanging a beautiful Christmas door decoration. Wreaths have been used as a decorative sign of Christmas for many years now. Christmas wreaths nowadays are not just displayed on the door but even indoors. Lately, we would see them hang-ready and sold on stores but actually, Christmas wreaths is one of the easiest DIY Christmas decoration adults can do. There are even easy and simple door decorations that you can have kids to assist you. Making your own Christmas wreath helps you to get into the festive spirit and having the kids around to help you is a nice bonding activity within the family. In this collection, we have picked the most realistic artificial Christmas wreaths and garlands found online. Indeed a great and huge selection you might wanna try all of them, if and only if you have a dozen of doors at home (lol). These are fun and easy DIY Christmas wreaths for you to try this year! Find inspiration and the one that suits your home perfectly. Also, save the photos of what you wish to use next year! By the way, the rest of our Christmas decorating ideas are irresistible too. Check them out.
Everyone visiting your home will be so surprised of how your door can be amazing with the holiday rainbow colors. Let them wonder how prettier it would be in the inside! Get your things ready and spend some time for a personal DIY Christmas wreath making adventure. Browse on and this year, you'd surely impress your family and guests! Let your friends know about this compilation of Best DIY Christmas Door Decorations so they can have a nice Christmas project too. Share on Facebook, Twitter, Pinterest, StumbleUpon or email them and they would sure thank you big time! More than just a decorative touch for our doors, wreaths tells that we are celebrating this season of Jesus' birth. Think out of the box. Forget about the usual Christmas greenery. These samples have tons of red, green, pink, yellow, blue, brown, glittered gold and silver. Just too wonderful!
Christmas Tree Door Decoration
Form a nice, red, glittered cloth into a Christmas tree. Glue ornaments and put a tree topper like a ribbon, star or whatever you like.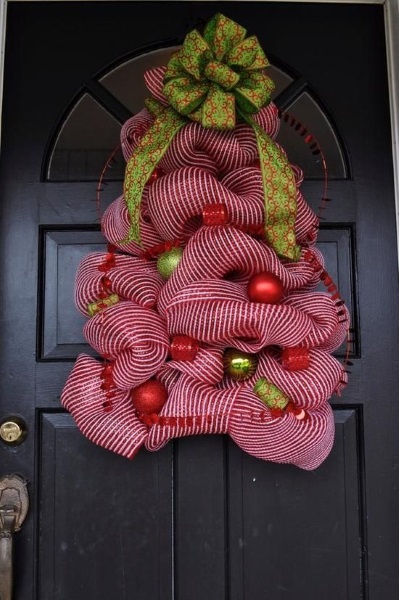 I've always wanted a big red-berry Christmas wreath for my front door. Guess I'm going to have to make one! Super easy instructions.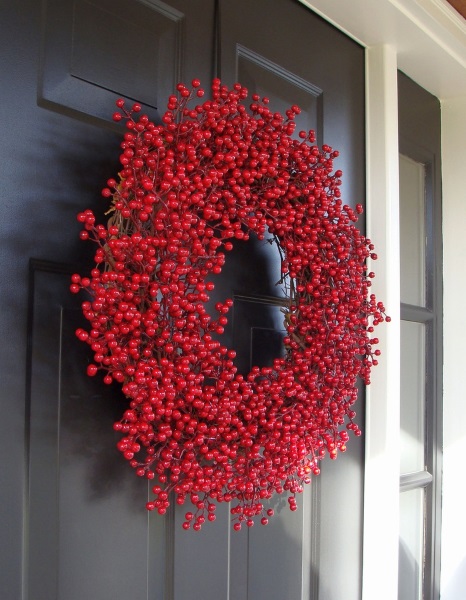 Christmas Berries DIY Wreath
These red berries are known as Holly Berries or winter berries. With their solid red color, perfect material for a DIY wreath.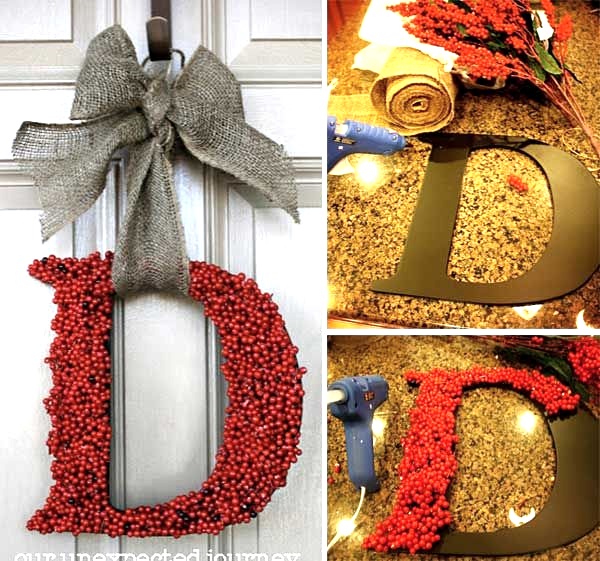 Christmas Door Hanger
A very easy door decoration. Pick a nice garland or ribbon and tie your pine cones just right.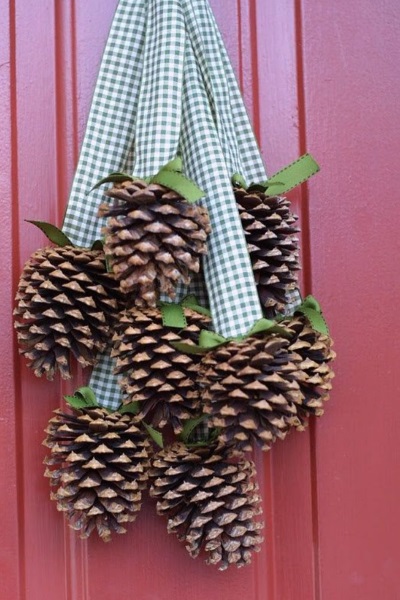 Pine Cone and Berry Wreath
Do you have lots of pine cones and berries? This rustic Christmas door decoration is simple but the feels of the season is very obvious.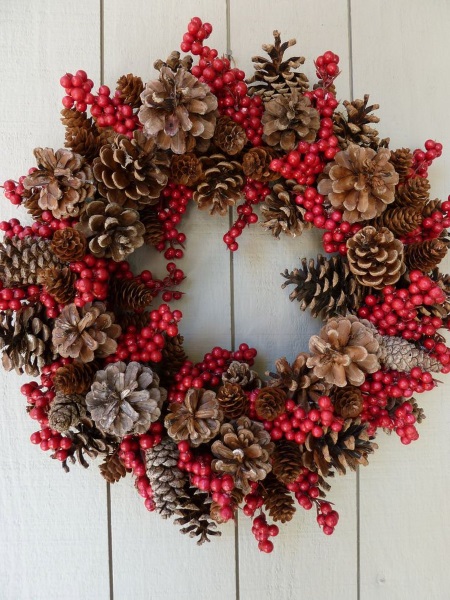 Snowy Pine Cone Wreath
Paint the pine cones white and finish by adding red berries in between.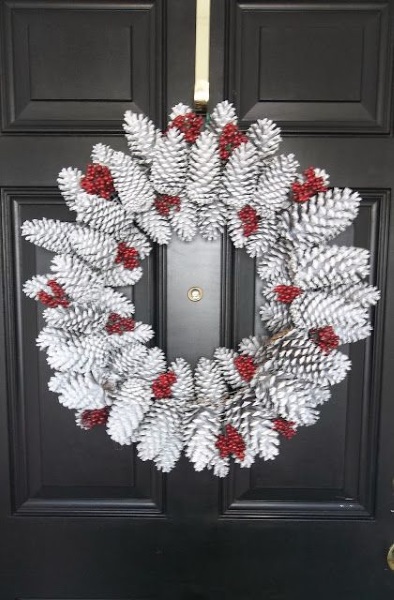 Christmas Candy Candy Door Wreath
Who would have thought that candy canes would make a fancy and cute door decor? Simple arrange them in alternate sizes and the output is gorgeous.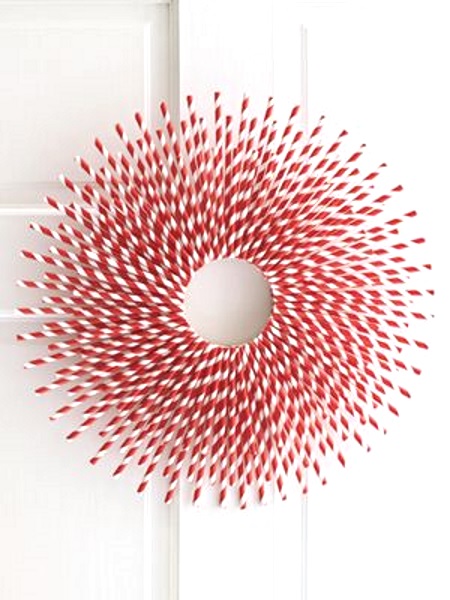 Candy Candy Door Wreath
This Christmas door decoration looks good for Valentines day too. Do you agree?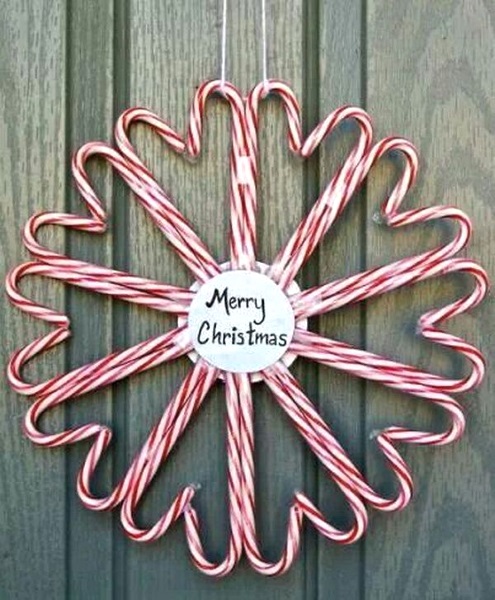 Candy Cane Christmas Wreath 
Would you believe this is made of colored loofahs? Tulle is a perfect material for this kind of project too.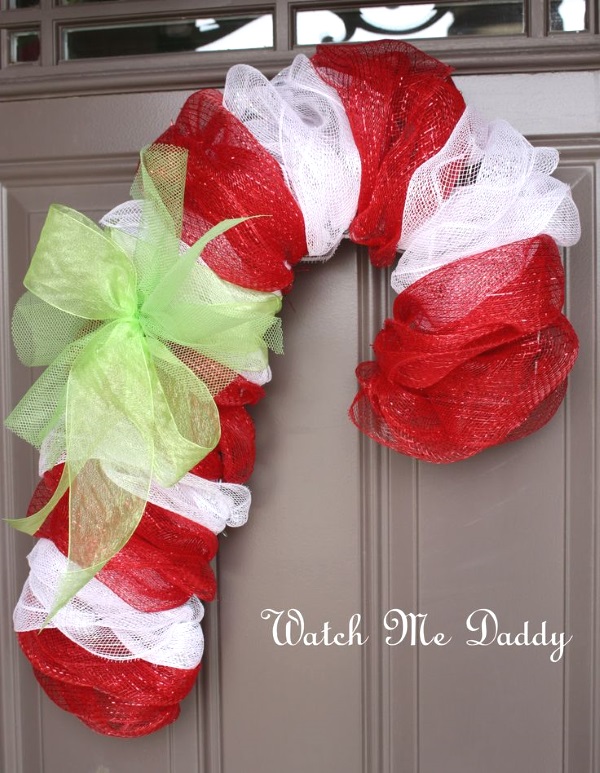 image source
Here's a pretty Gift Christmas Wreath made of tulle, glued with ornaments and a gift embellishment at the center.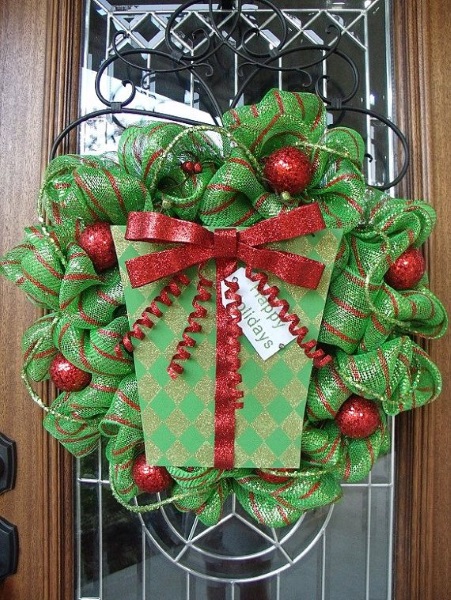 Simple Christmas Door Decoration
This looks plain and simple but the touch of greed + red makes it adorable.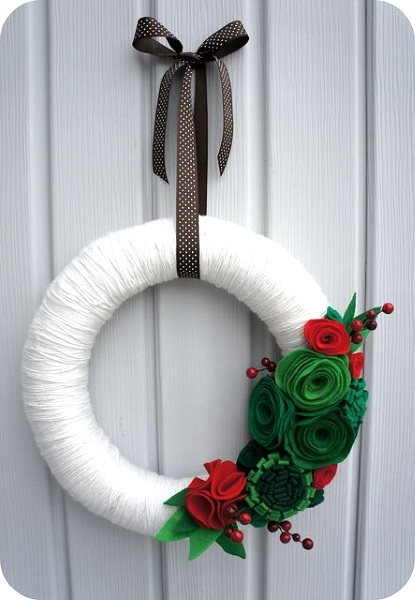 DIY Christmas Bauble Wreath
This project requires different sizes of Christmas balls and of different texture – the glossy and the matte.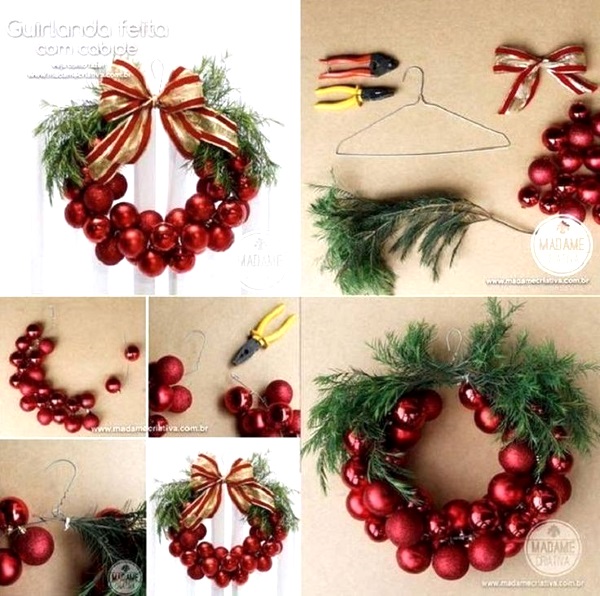 DIY Christmas Crayons Wreath
I love crayons! And I love this wreath!! Totally cute and colorful!! DiY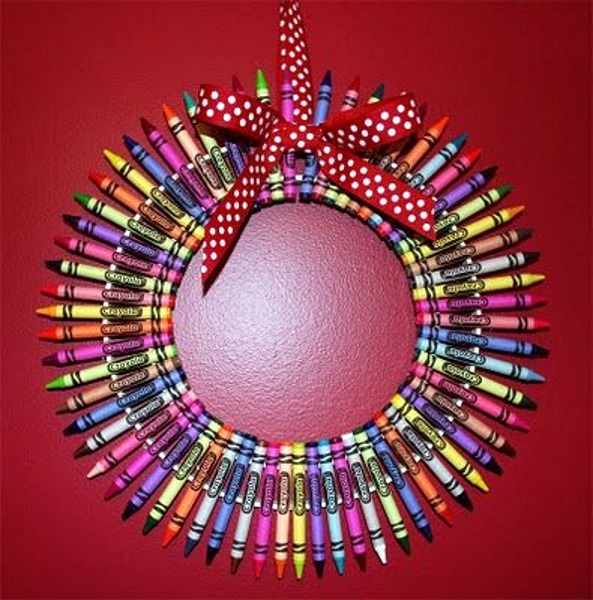 Santa Christmas Door Hanger
Create an initial of your family name. Okay, supposed it is Bob then make a "B" out of Styro foam, cardboard or wood. Paint it patterned to Santa's suit and there you go!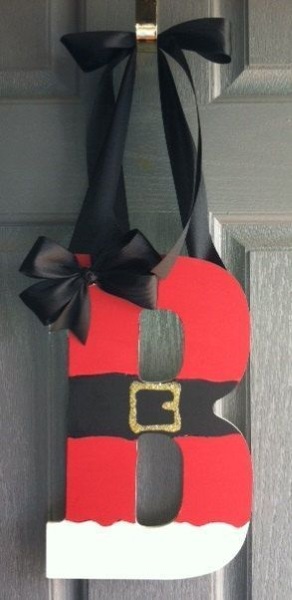 Christmas Santa Wreath
These are red cloth cut into uniform strips and turned into a wreath. The belt adds to it's perfection!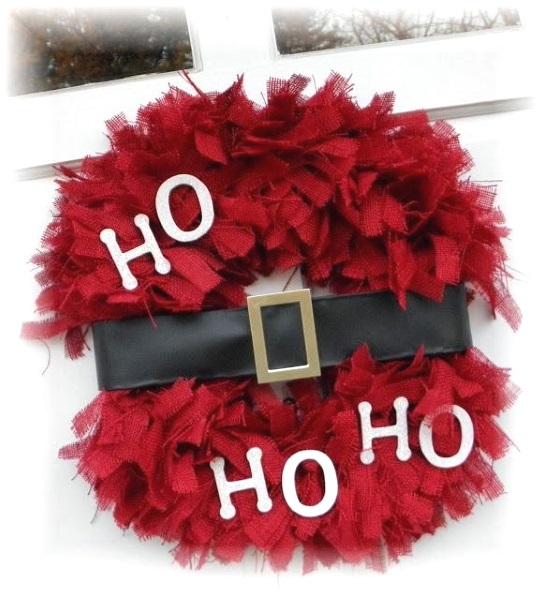 Santa Wreath Christmas Door Decoration
Lovely! One of the easiest in the Santa wreath samples. There are Santa hats available for sale and the only thing you have to do is the white tulle as his beard and mustache.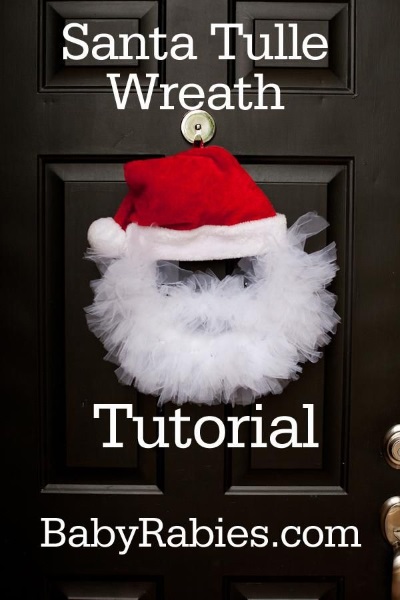 Grinch Santa Wreath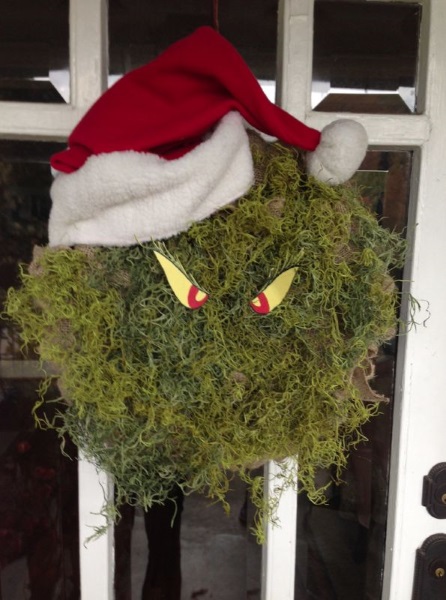 Another Santa Christmas door decoration..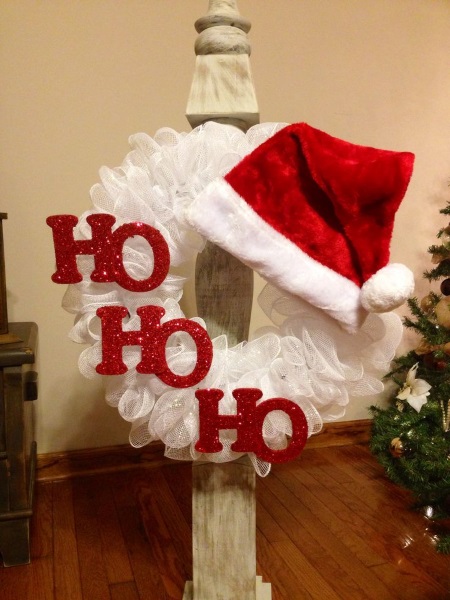 Santa Dress Door Decoration
I so love this! Very sexy and indeed an eye catcher. Hang on your doors now!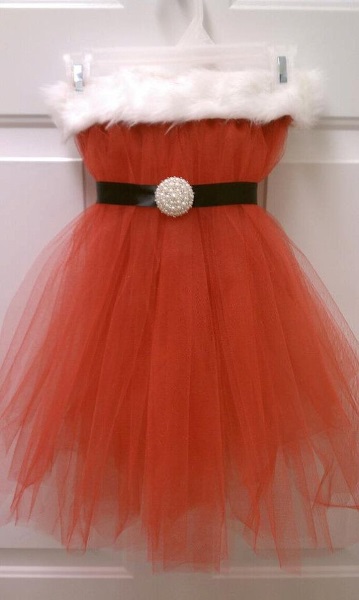 Snowman Christmas Wreath
Tulle is indeed a very useful material for Christmas decorations. It's glittery effect is much related with the yuletide season.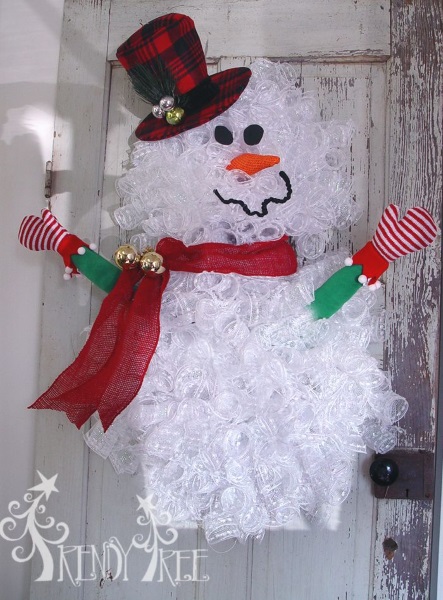 Rustic Snowman Christmas Wreath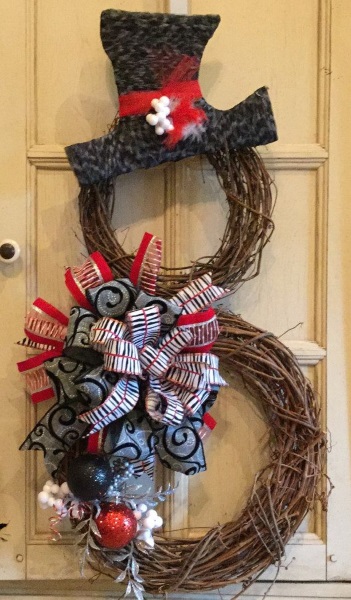 Rudolph the Reindeer Tulle Wreath
How adorable is this? and how easy!! Oh, my! Maybe a small version for ornaments? Cool.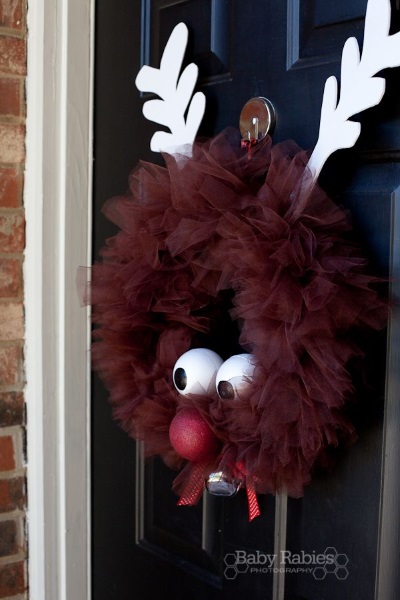 Elf Christmas Wreath
Very clever idea!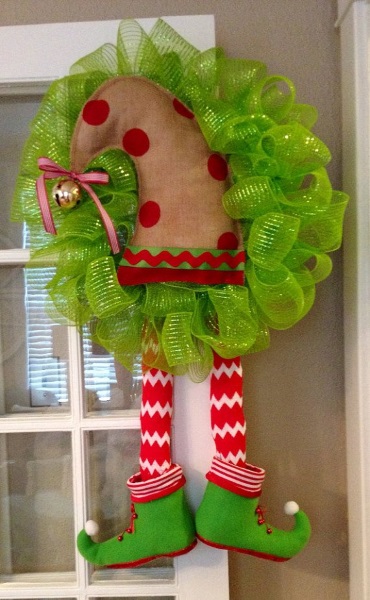 3D Paper Star Wreath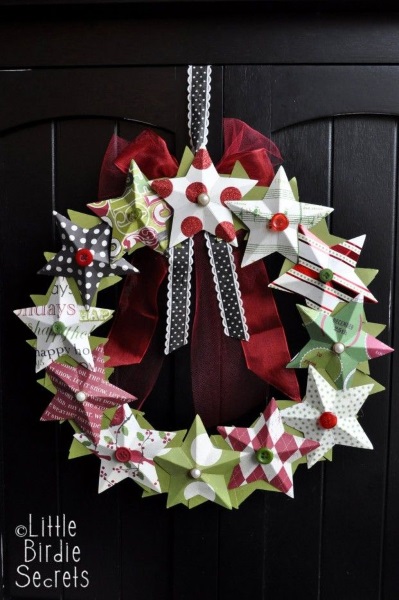 Glittered Snowflakes Wreath
This would be really easy…Snowflakes and a foam wreath form! Instead of hanging all snowflakes ornaments on your tree, make a wreath instead!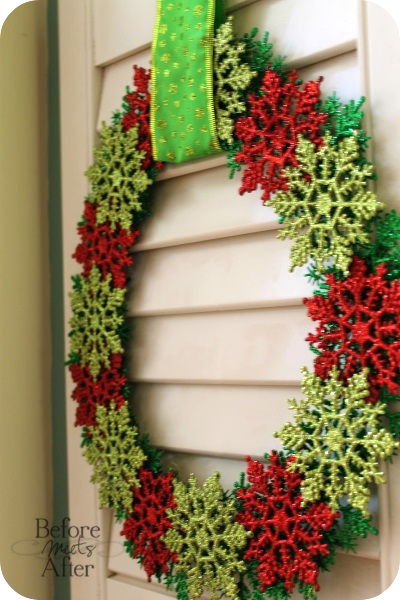 Easy Christmas Wreath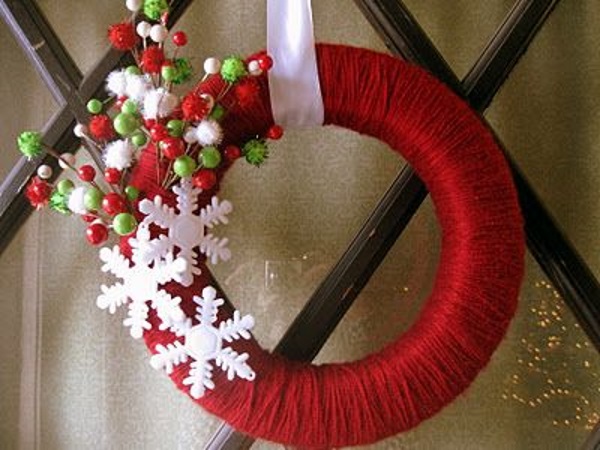 Beautiful Christmas Wreath
The combination of red, green and white with snowflakes is overly awesome for your doors this year.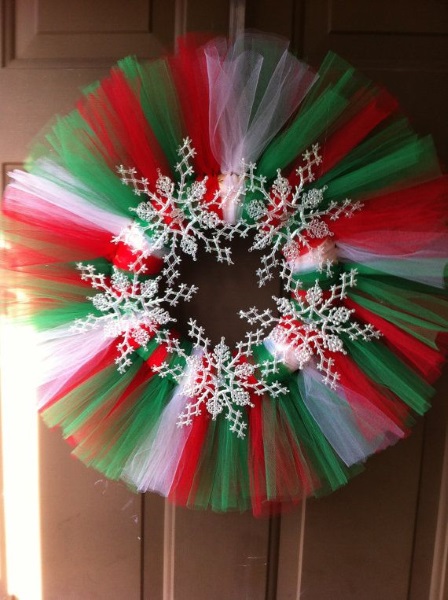 Poinsettia Christmas Wreath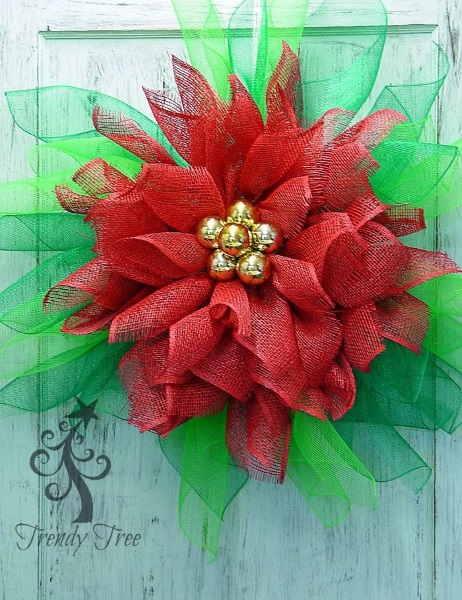 DIY Christmas Wreath Door Decoration
Twirl your green, red and white tulle alternately on a circle frame. Hang tiny stockings with the names of family members written.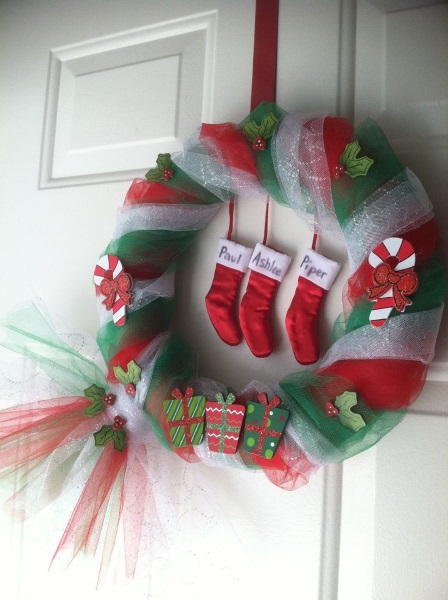 Twigs Christmas Wreath
Pick up some thin long twigs and berries. Paint them white and turn into a wreath.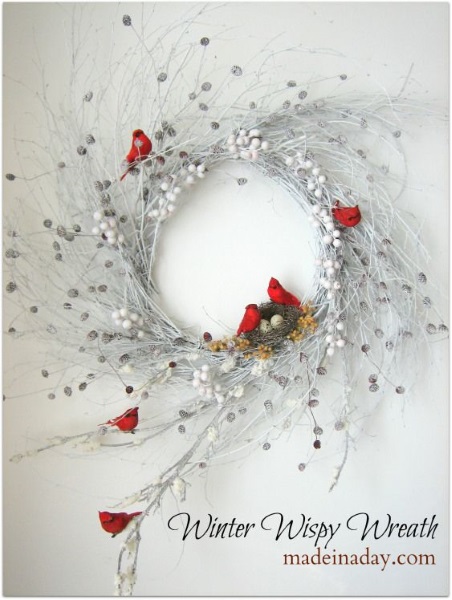 Christmas Light Bulbs Wreath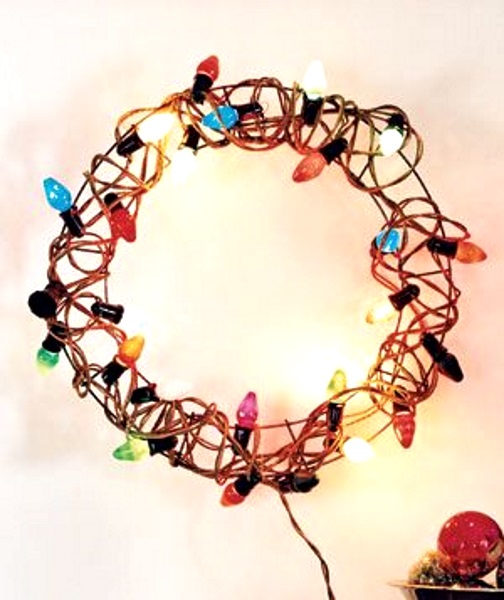 Music Sheets Christmas Wreath
Very simple and moms would surely love this kind of wreath. So fresh and sweet.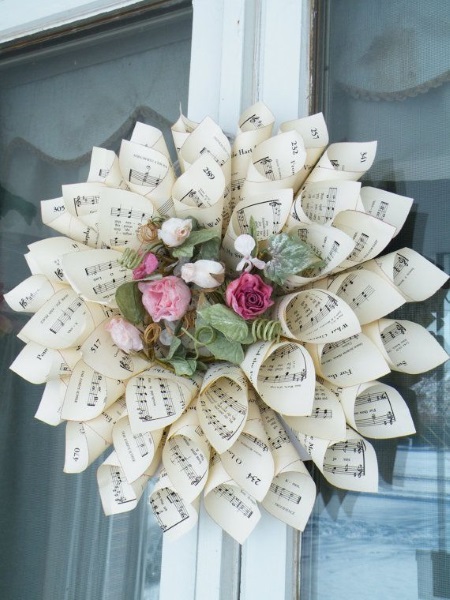 Christmas Gift Wrap DIY Wreath
Wreath made from gift wrap scraps. Starting on this today!!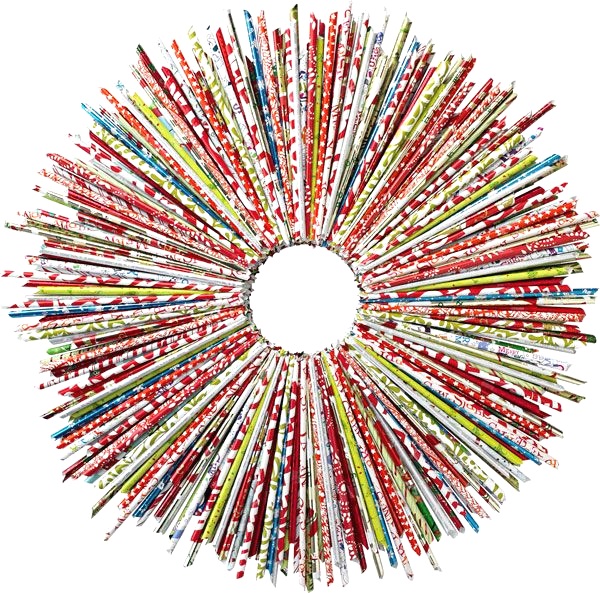 Wine Cork Christmas Wreath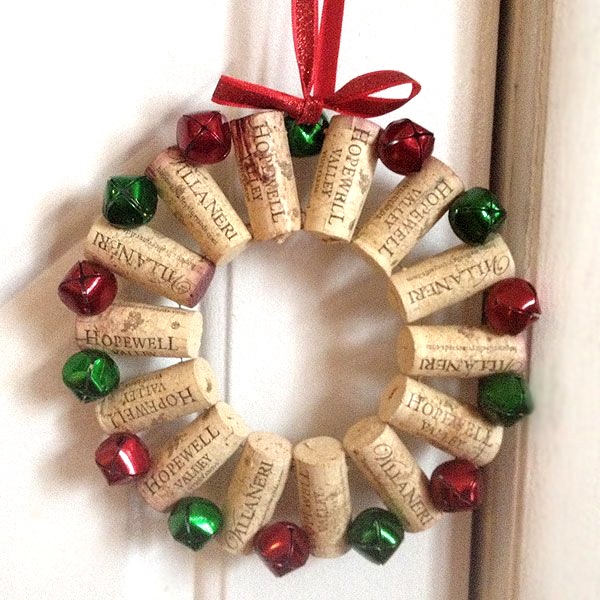 Cork Christmas Wreath for the holidays! I have so many corks I need to do something with them!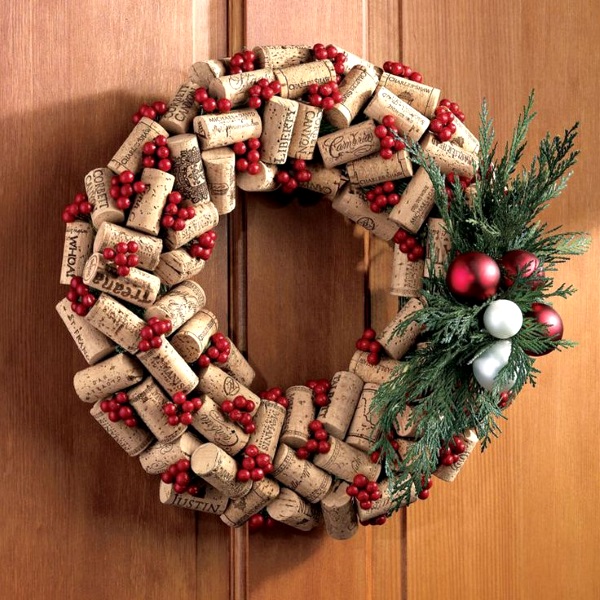 Frozen Christmas Wreath
These two samples are Frozen themed Christmas decors. Blue, light blue and white tulle with ornaments and snowflakes.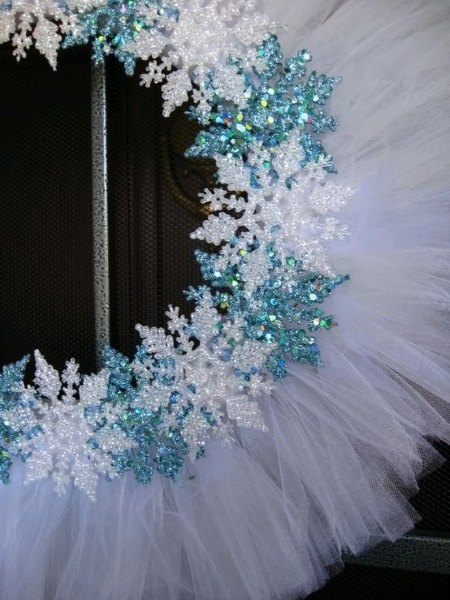 Winter Berries Christmas Wreath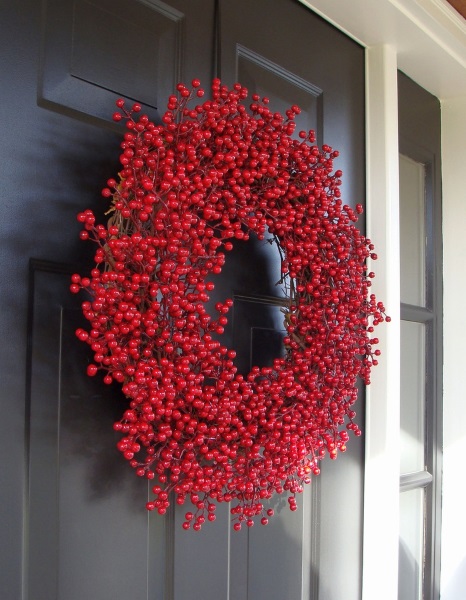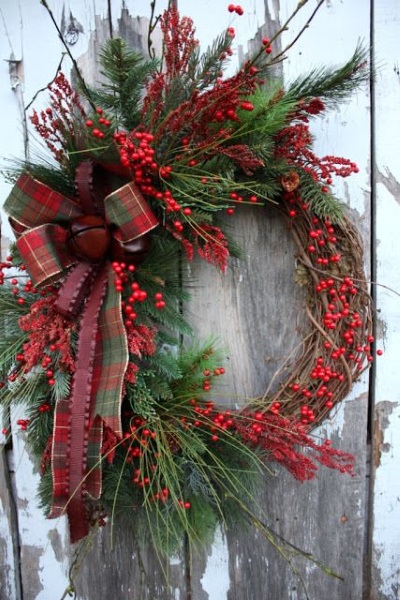 Rustic Christmas Door Decorations
For home owners who wanted it a bit rustic and simple, here are few Christmas wreath samples for you.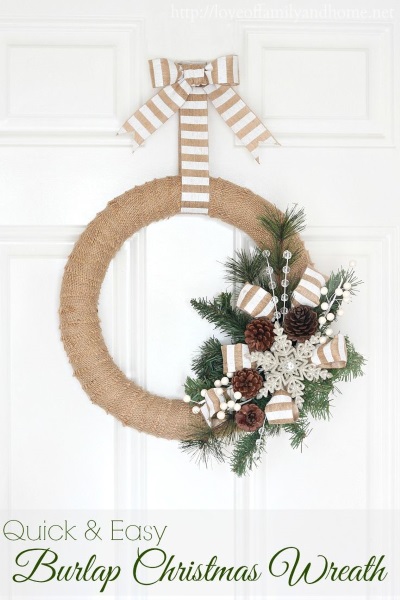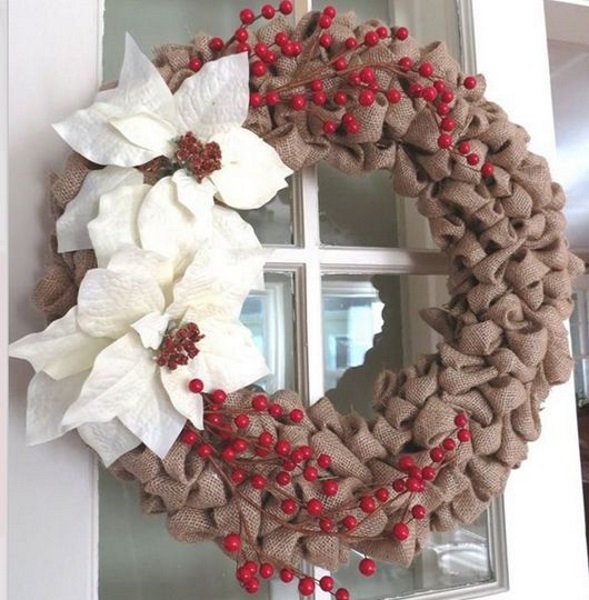 Wood Slide & Burlap Christmas Wreath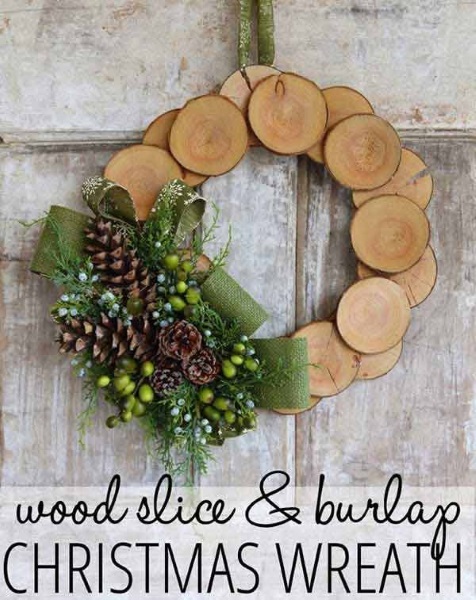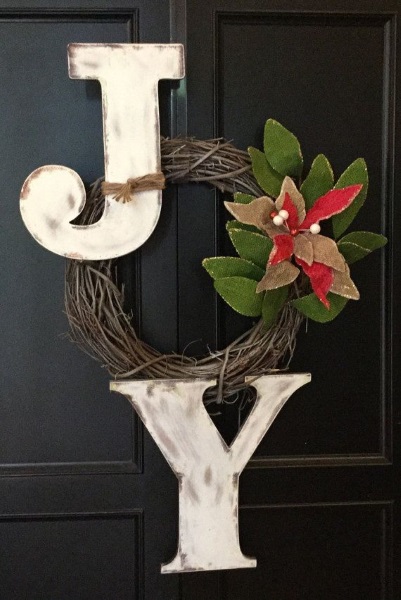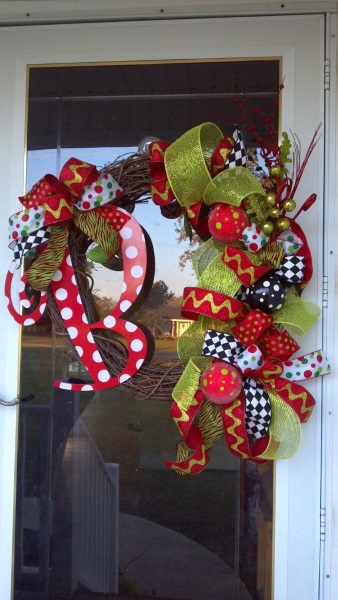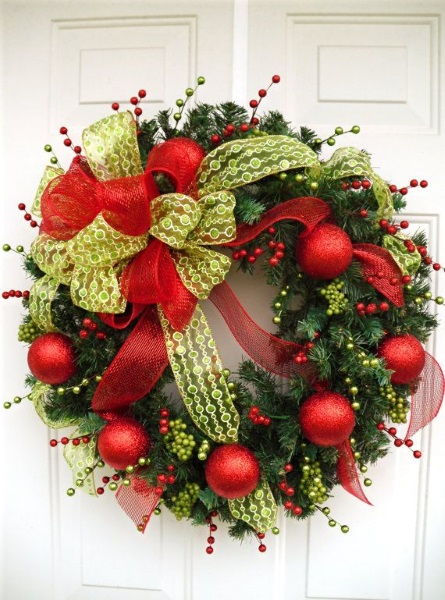 Ornaments Christmas Wreath
Hot glue bright and bold ornaments to a wreath frame for a flashy, contemporary twist.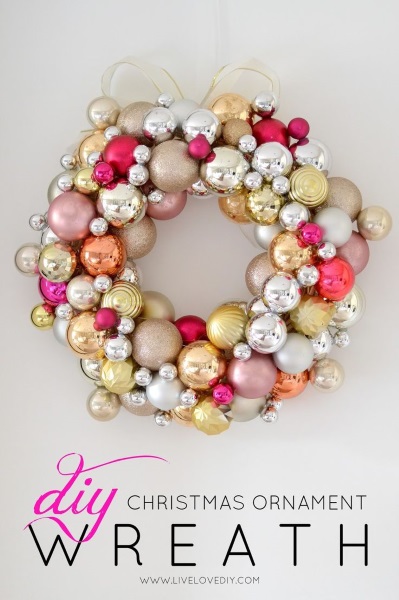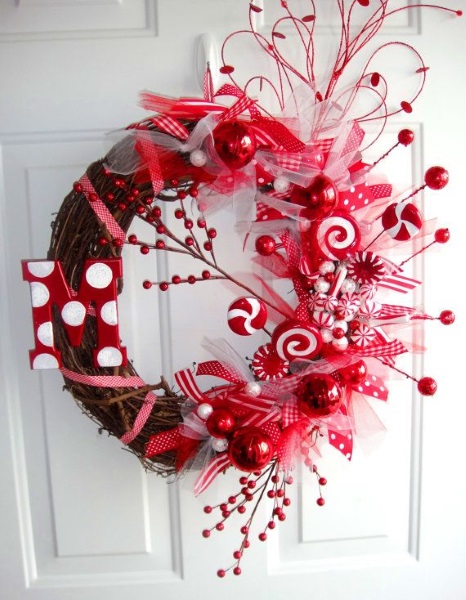 Old Frames Christmas Wreath
These are Christmas door decorations that used old frames whether square, circles and rectangles – name it! Sky is the limit for your design and ideas! Prepare some ornaments, snowflakes, ribbons, berries, pine cones and more!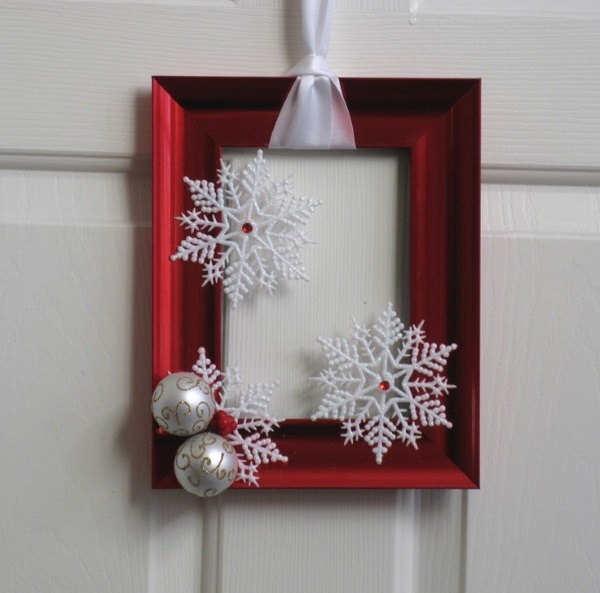 Picture Frame Christmas Wreath with Snowflakes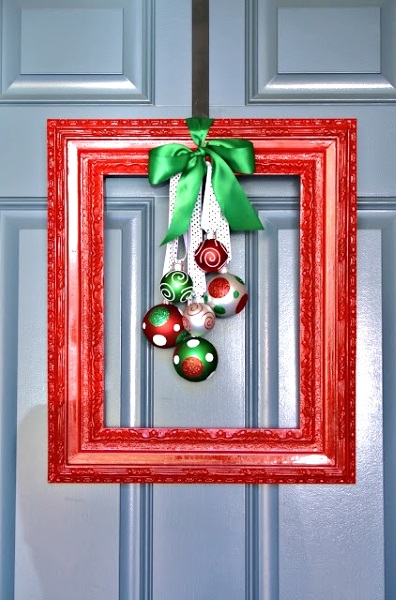 Window Christmas Wreath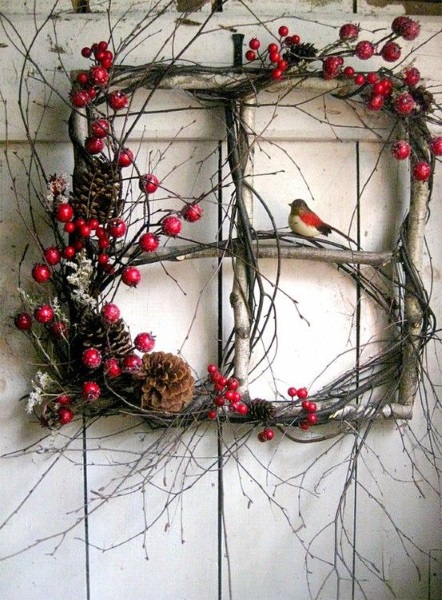 And because it's the season to be jolly, fill every part of your home with lovely Christmas decors. Such a great way to get into the spirit. Wreath is a beautiful way to welcome friends, family and co-workers to a home or offices (yes you can also hang a DIY wreath on your office if you like!) Add a personal touch to your Christmas decorations and keep on spreading the joy and fun of the season. We do hope you like the ideas for making Christmas wreaths, all of which look pretty hung on the door or displayed around your home. Let everyone see that you can do more effort for a prettier holidays season decors. Enjoy and don't forget to share us your masterpiece!