It's beginning to look a lot like Christmas (singing)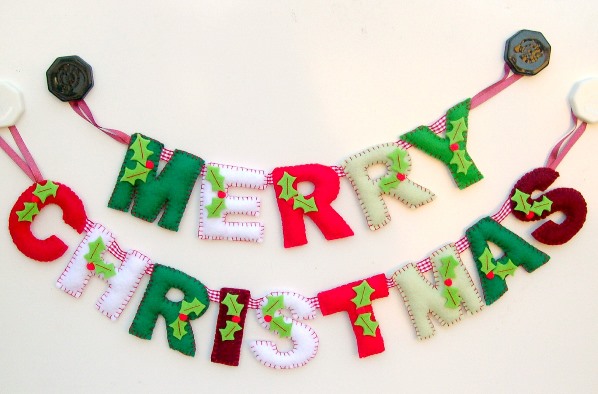 I and my sister went to the department store yesterday. We were chilling on a very cold Saturday afternoon and how the wind blew reminded us that indeed, Christmas season is approaching really soon. The attractive and colorful Christmas decorations on every establishment were so inviting for shoppers to come in and check on some gift ideas for the holidays season. Kids would be so delighted to see the filled toy sections. The malls are playing the best Christmas songs and the Christmas lights are sparkling as if they jive with beat of the music. Geeeeeeeez! Christmas is coming really really soon and there's no way to slow down the days.
Well honestly, I'm excited for this season. If there'll be one (valid) reason for me to hope of it's delay, maybe it's because I wanted to save more for my gift-giving budget for family and friends but overall, Christmas is such a lovely occasion to celebrate. Some are even too particular to greet people around them. Count me in! I don't know if we're too sentimental or just expressive that immediately when the calender hits September 1, we would greet family and friends "Merry Christmas" and remind them to shop for our gifts as early as now. Haha! September, October, November and December or the so called BER-months are like four long months of Christmas. That's how we treat it here in the Philippines.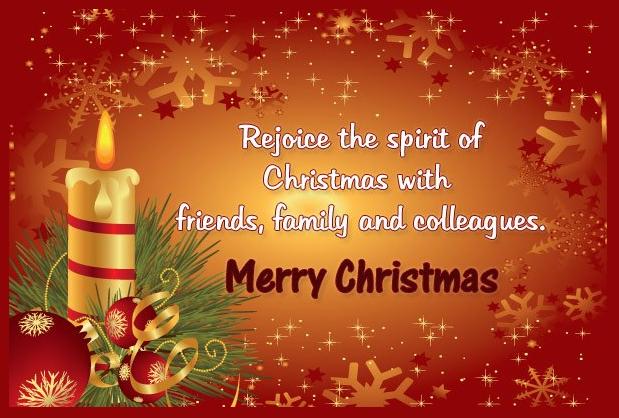 SOurce: http://www.iraidaconstruction.com/christmas-prayer-cards-message/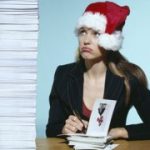 Take note, not because we greeted each other in advance would mean we would allow Christmas day pass without sending holidays season greetings. That's a big NO! Of course, that's the most important day to express our love and joy so it's best to send a very heartwarming Christmas greetings message, sayings, quotes and bible verses on December 24 which is the Christmas eve. Here are my personal favorite and they could be yours too 😉
Christmas Greetings Message , Christmas Card Sayings Verses for Cards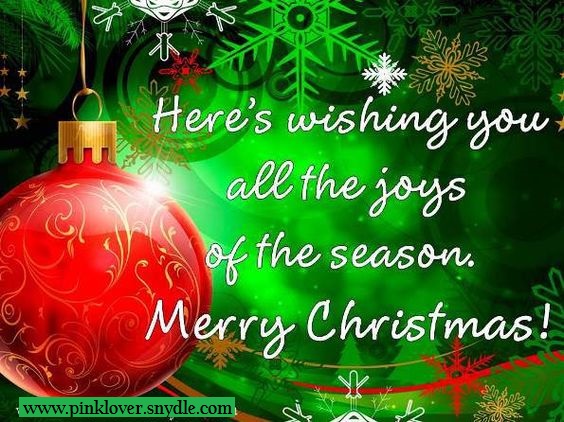 Here's wishing you all the joys of the season. Merry Christmas!
Merry Christmas and
Happy New Year.
We hope your holidays
are unforgettable.
Christmas is the Blessed season
which engages the entire world
in a conspiracy of love.
Merry Christmas!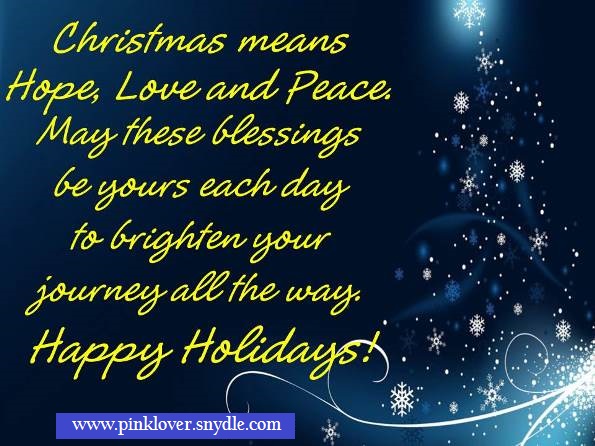 Christmas means
Hope, Love and peace.
May these blessings be yours
each day to brighten your journey
all the way. Happy Holidays!
Let me pray that this
Christmas would become a reflection
of your values, desires,
affections and traditions.
Merry Christmas.
May this Christmas greeting find
you and yours in good spirits,
ready to celebrate the gifts of
peace and joy
with friends and loved ones!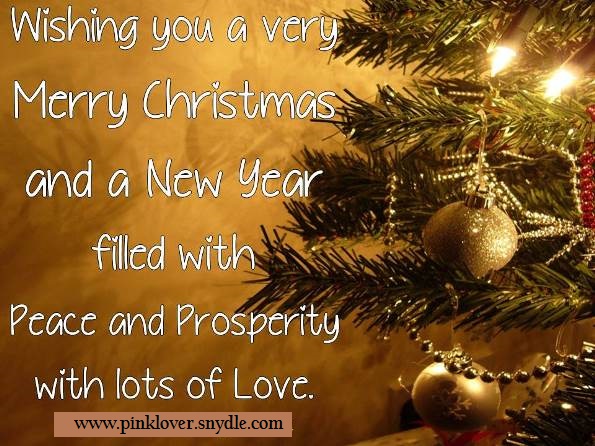 Wishing you a very Merry Christmas
and a new year filled with
peace and prosperity
With lots of love!
May the miracle of Christmas fill your heart with warmth and love. It's the time of giving and sharing, the time of loving and forgiving.
Merry Christmas to Everyone!
May all the sweet magic
Of Christmas conspire
To gladden your hearts
And fill every desire. Seasons greetings!
More Christmas Greetings Sayings and Quotes
Holiday greeting messages also comes with seasonal quotes and sayings. Some from famous personalities, famous songs or maybe from unknown personalities.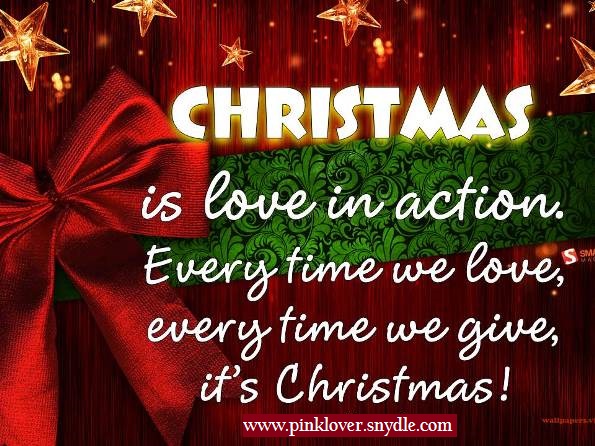 Christmas is love in action. Every time we love, every time we give, it's Christmas.
Christmas waves a magic wand over this world, and behold, everything is softer and more beautiful.
Christmas, shouldn't be about gifts, it should be about love, forgiveness, kindness, compassion, to give and be someones angel when they need it the most.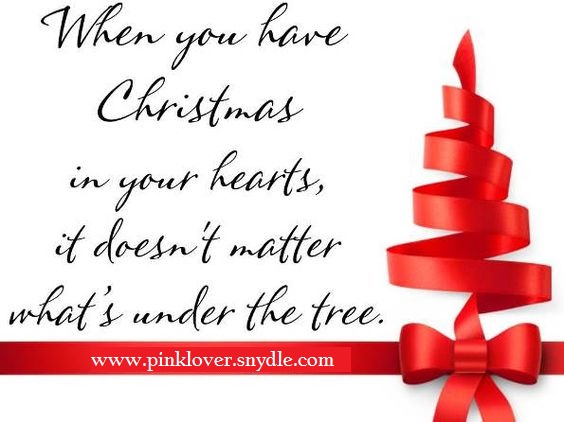 When you have Christmas in your heart it doesn't matter what's under the tree.
The Reason for the Season by Margaret Jones
Two thousand years or more ago today
A precious little baby lay
In a manger rude and bare
A star shone brightly above there
Kings, Wise Men and Shepherds too
Came to see the baby new
So we have the Christmas Season
That Little Baby is the reason.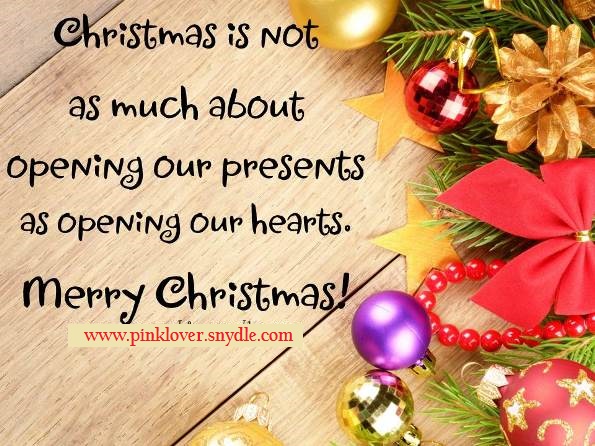 Christmas is not as much about opening our presents as opening our hearts.
Christmas does not come from the pockets, it comes from the heart. It's not about gifts, rather family and friends. MERRY CHRISTMAS!
Religious Christmas Cards Messages / Christmas Bible Verses
Christian Christmas cards would surely never missed at least one Godly phrase or Bible verse. Usually, it would speak about God's sending Jesus to humanity to save or simply to share that Jesus Himself is God's gift to mankind. Bible verses and phrases are good card wordings that Christian recipients would surely appreciate.
Christmas is not about giving and receiving gifts. It's about the birth of Jesus in the manger! Jesus is the reason for the season!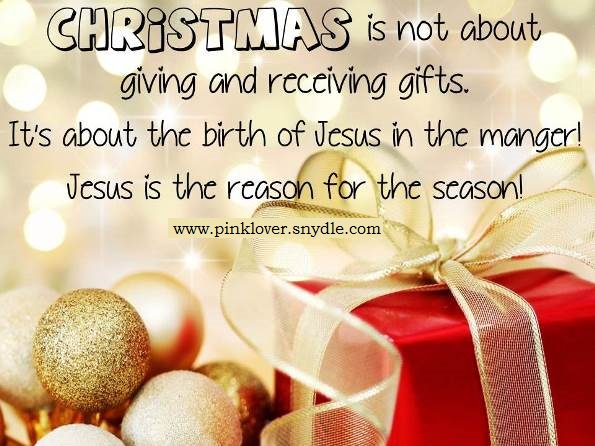 LET THE BELLS RING OUT by Hilda Mullinger
The bells ring out it's Christmas
Let their joyous sound be heard
For they tell the news that Jesus is born
They ring to spread the word
May you have a Joyous Christmas and remember "Jesus is the Reason for the Season.
Halleluiah! by Margaret Jones
Let us rejoice
The angels sing
Today is born
A heavenly king
From humble beginnings
A stable so bare
He now reigns in Heaven
And sends us His care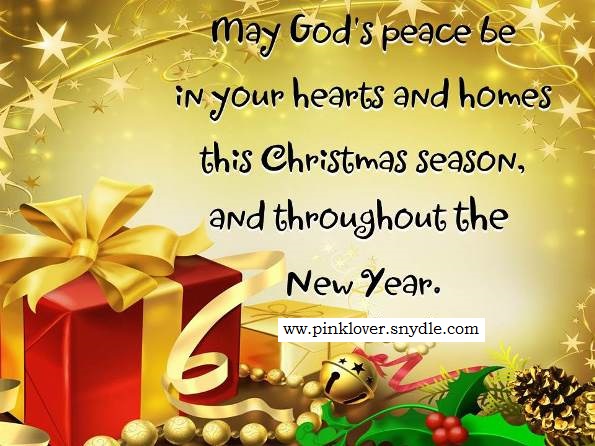 May God's peace be in your hearts and homes this Christmas season,
and throughout the New Year.
On This Christmas Day,
Let Jesus Grace You His Divine Power Of Love,
Happiness And His Wisdom..
Celebrate Merry Christmas.
Matthew 2:10 When they saw the star, they rejoiced exceedingly with great joy.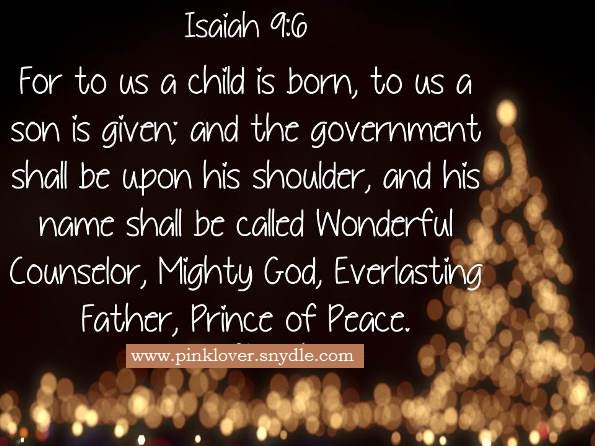 Isaiah 9:6 For to us a child is born, to us a son is given; and the government shall be upon his shoulder, and his name shall be called Wonderful Counselor, Mighty God, Everlasting Father, Prince of Peace.
Acts 5:31 Him hath God exalted with his right hand to be a Prince and a Saviour, for to give repentance to Israel, and forgiveness of sins.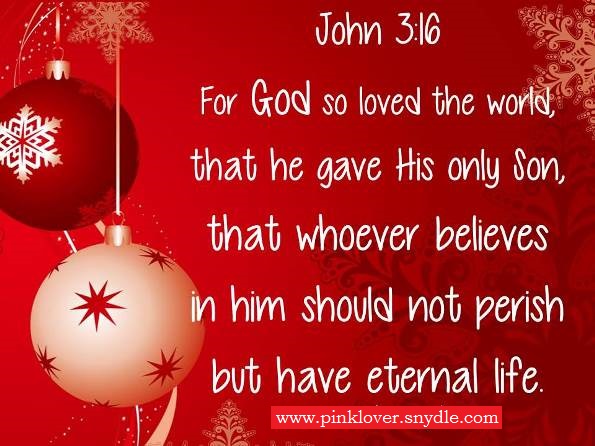 John 3:16 For God so loved the world, that he gave his only Son, that whoever believes in him should not perish but have eternal life.
Matthew 1:21 She will bear a son, and you shall call his name Jesus, for he will save his people from their sins.
Luke 2:14 "Glory to God in the highest, and on earth peace among those with whom he is pleased!"
Romans 15:13 May the God of hope fill you with all joy and peace in believing, so that by the power of the Holy Spirit you may abound in hope.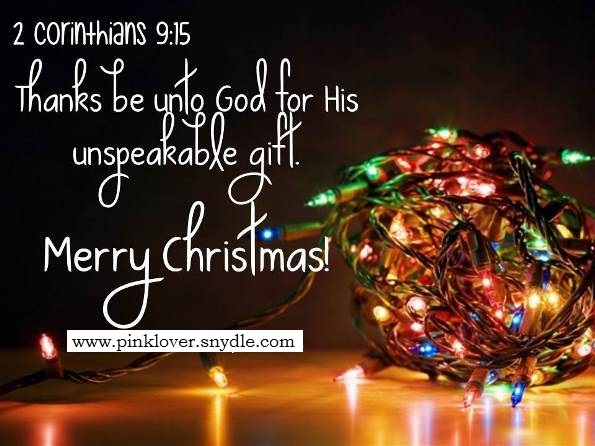 2 Corinthians 9:15 (KJV) Thanks be unto God for his unspeakable gift.
Inspirational Christmas Greetings and Messages
These Christmas greeting card messages that are remarkable enough to uplift anyone's spirit. The best way to celebrate this season is to be a blessing to others even with how we speak to them. Our words can be powerful enough to mend broken soul or to give hope to those who find it hard to get through each day.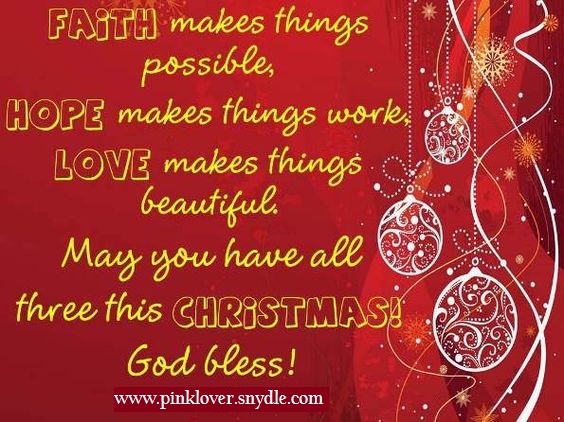 Faith makes things possible,
Hope makes things work,
Love makes things beautiful,
May you have all three this Christmas!
Nativity by Joan Drochmann
It's love that makes this season
a special time of joy,
The love and gentle mercy
of a tiny infant boy,
And may His gifts be granted
abundantly to you,
Throughout this happy season,and in the future, too!
The Gift by Margaret Jones
The best Christmas gift of all
Was not wrapped in shiny paper
But in swaddling clothes
In a manger in Bethlehem
Merry Christmas!
To my friends and family, near and far: I love you all and hope you have a very Merry Christmas!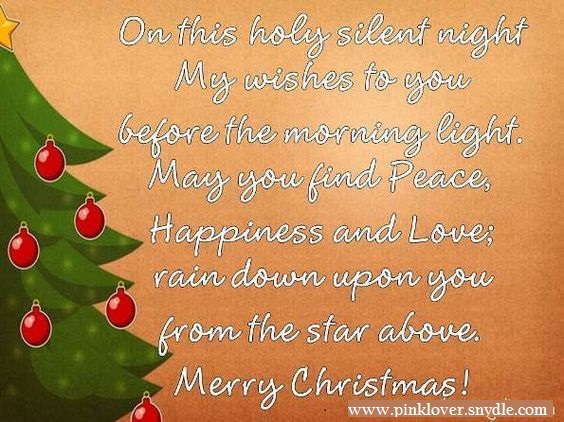 Christmas wish by Nikola Middlemast
On this holy silent night
My wishes to you before the morning light
May you find peace,happiness and love
rain down upon you from the star above.
Merry Christmas Wishes Messages
Above all, we don't just greet our dear ones without wishing them abundant blessings. When our hearts our filled with too much love and joy, we definitely would wish the same towards our dear ones.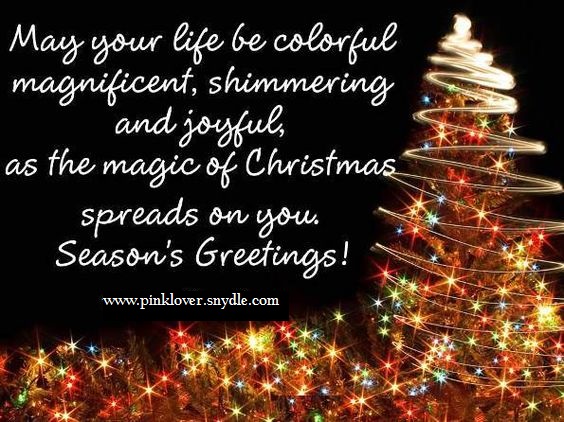 May your life be colorful
magnificent,shimmering and joyful,
as the magic of Christmas spreads on you
Season's Greetings!
Joy resounds in the hearts of those
who believe in the miracle of Christmas!
Wishing you all the peace, joy, & love
of the season! Season's Greetings!
Merry Christmas and may God's grace be with you. Make merry not just on
this wonderful holiday but all through the year!
May your world be filled with warmth & good cheer this holy season & throughout the year. Merry Christmas!
Wishing your Christmas be filled with peace & happiness. Season's greetings!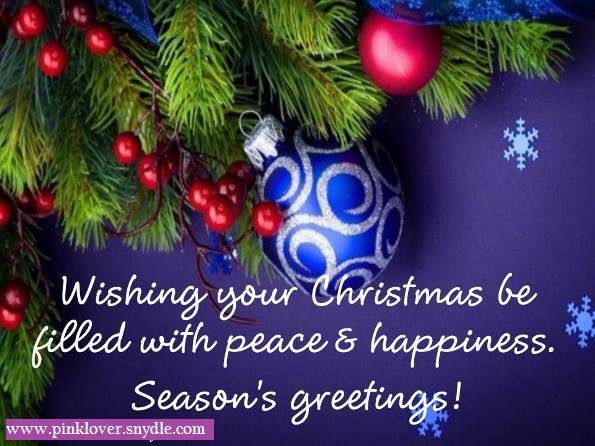 May your Christmas sparkle with moments of love, laughter & goodwill
& may the year ahead be full of contentment & joy.
Have a Merry Christmas.
Christmas Message Greetings for Family
These are lovely Christmas messages, sayings and wishes for family members. They most deserved our greetings so send your father, mother, brother, sister, uncle, aunts, grandfather, grandmother, cousins or children the sweetest Christmas greetings ever! Christmas also symbolizes family. Yes! Haven't you realized that upon looking at the manger? There's Papa Joseph, Mama Mary and Baby Jesus. Extended families are there too- the angels, shepherds and the animals 😉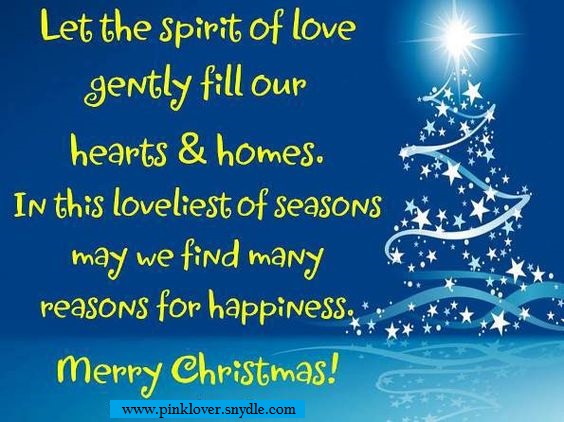 Let the spirit of love
gently fill our hearts & homes.
In this loveliest of seasons
may we find many reasons for happiness.
Merry Christmas!
The secret of love is perpetuating the present…
My present is you.
My gift is you.
Merry Christmas
I do love you.
The best Christmas of all is the presence of a happy family all wrapped up with one another.
Each one of you are precious to me! I am so blessed to have you in my life and I love each one of you! Wishing you a beautiful Christmas!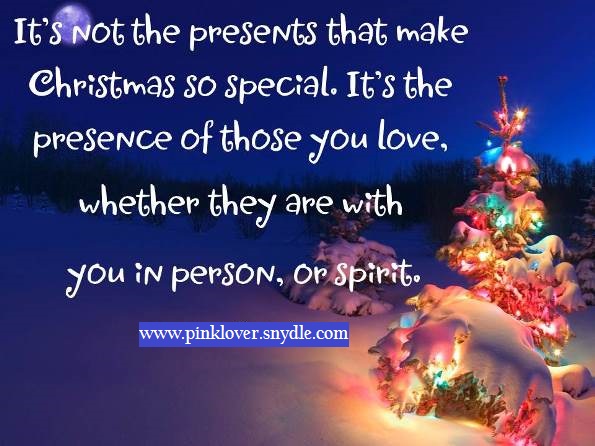 It's not the presents that make Christmas so special, it's the presence of those you love, whether they are with you in person, or spirit
May the peace and blessings of Christmas be yours; and may the coming year be filled with happiness!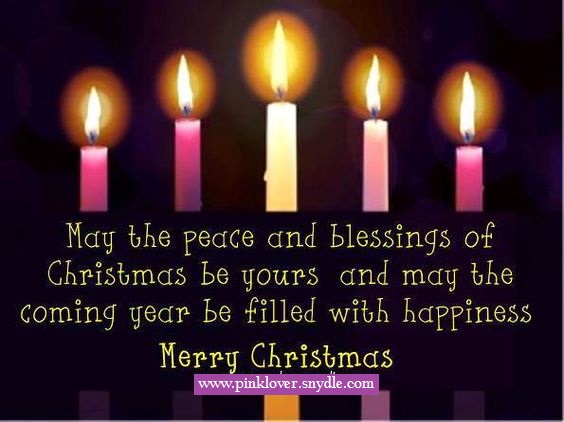 Christmas Message for Friends
Friends that are forever dear to us would so love to receive a touching Christmas text message from us. Whether it's a short greeting or a long expression of our love for them, let it be know. These are awesome friendship Christmas greetings and messages.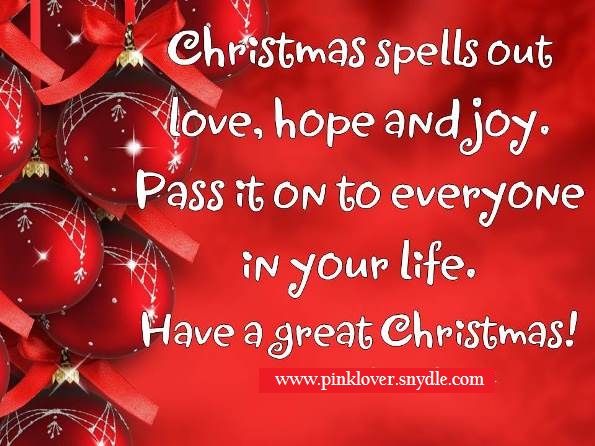 Christmas spells out love, hope and joy.
Pass it on to everyone in your life.
Have a great Christmas.
My Christmas wish not only for me and my family, but for all of you as well: peace of mind, health of body, strength of spirit.
May your holiday season be full of wonderful expectations and lots of super surprises! Merry Christmas!
Before The Church Bells Ring.
Before The Holy Star Appears.
Before Networks Get Jammed
Let Me Wish You A
Merry Christmas!
May the Lord send you His blessings on this Christmas Day and throughout the coming year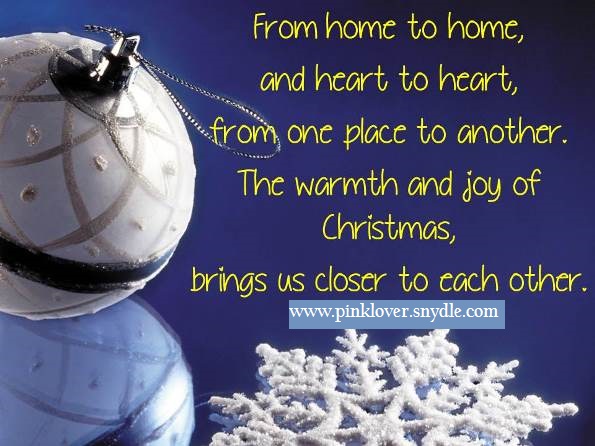 From home to home, and heart to heart, from one place to another. The warmth and joy of Christmas, brings us closer to each other.
Merry Christmas Wallpapers / Holiday Seasons Backgrounds
You could actually print these Christmas templates on a photo paper and instantly you have your Christmas post cards ready for delivery. You can write something at the back of this post card to make it more personal.
Have yourself a very Merry Christmas. Count your blessings and be thankful. May you all reap the fruits of your handwork.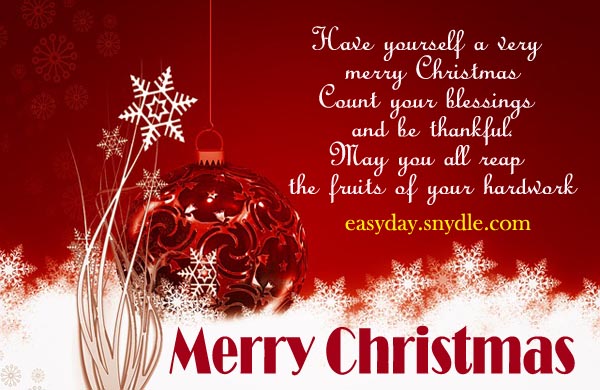 Keep Christ in Christmas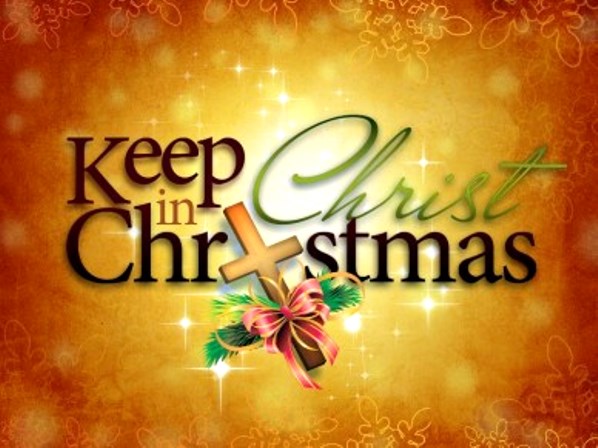 Merry Christmas!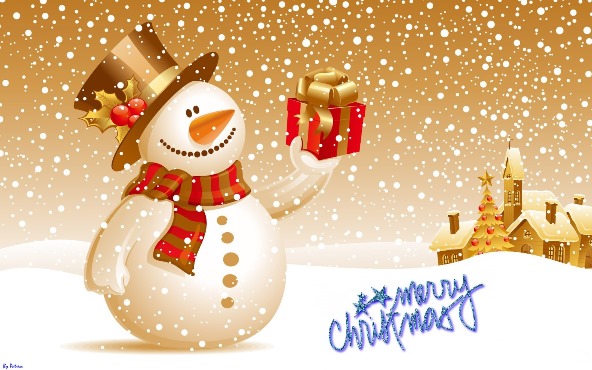 Celebrate, Jesus celebrate!  -Romans 5:1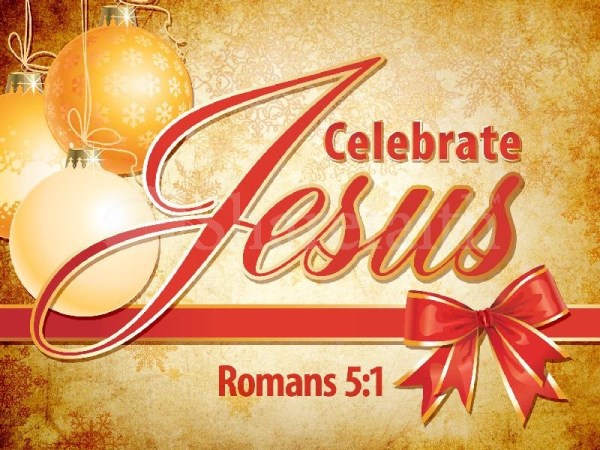 May you enjoy all the gifts of Christmas. The gift of happiness, the gift of joy, the gift of love. Wishing you a blissful holiday! Merry Christmas and a Happy New Year.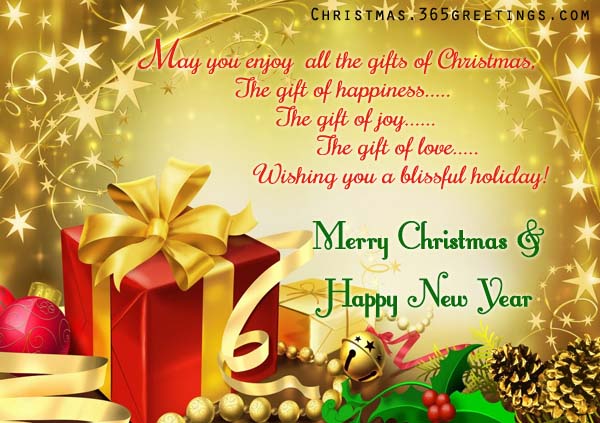 Joy to the World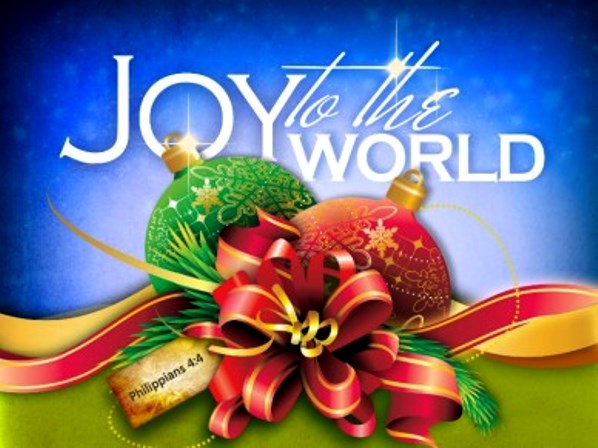 May the sweet magic of Christmas not only fills in your heart and soul but also spreads to your dears. Wishing you a Christmas filled with fun and joy!
Merry Christmas! Joy to the world the Lord has come.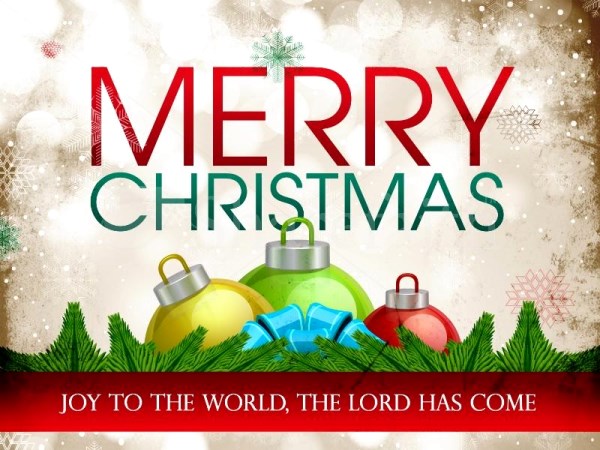 May the peace and blessings of Christmas be yours; and may the coming year be filled with happiness!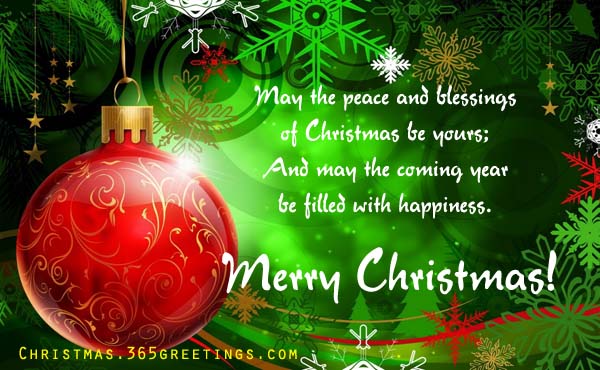 Spirit of Christmas. Celebrating the coming of Messiah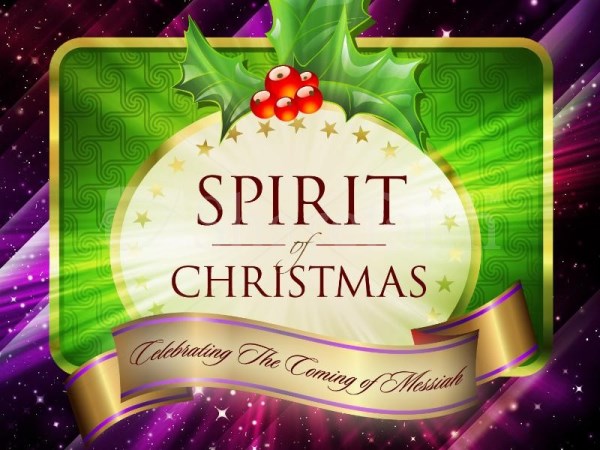 The Power of Giving. – 2 Corinthians 9:7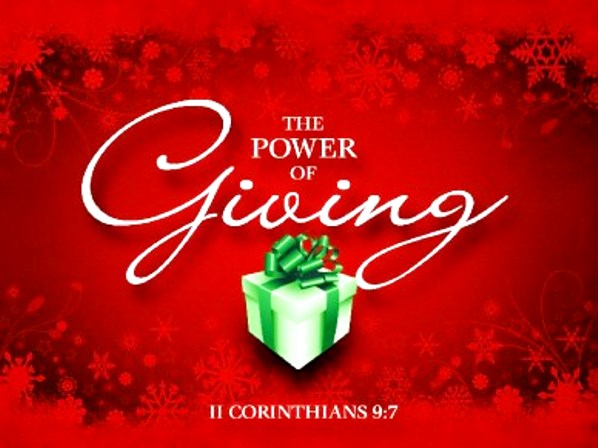 The season of joy is here once again. Let's rejoice and welcome this holiday with smile. Wishing you a Christmas filled with love and happiness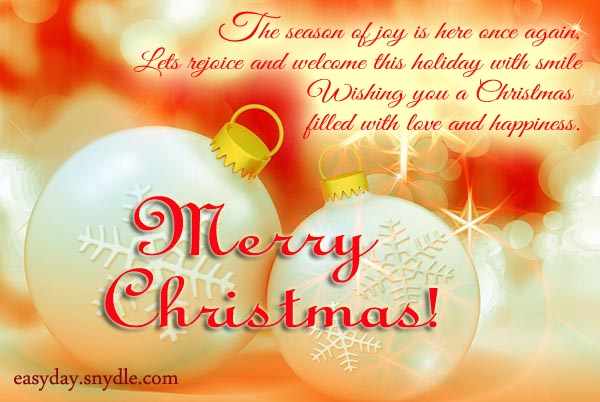 The joy of Christmas. Share the season!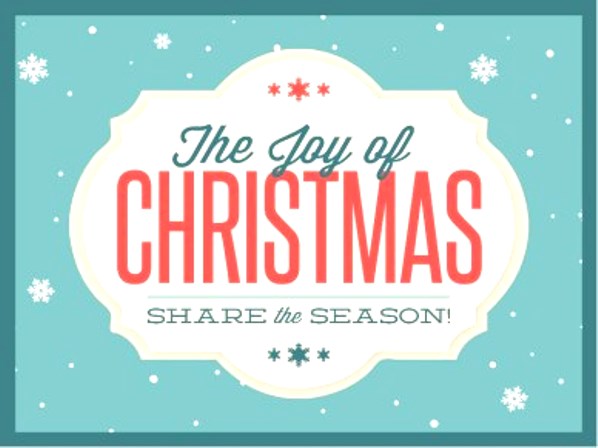 Let the spirit of love gently fill our hearts and homes. In this loveliest of seasons, may you find many reasons for happiness.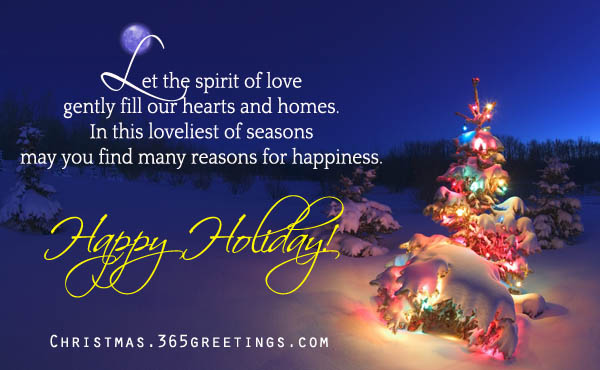 Glory to the King. – Psalm 99:2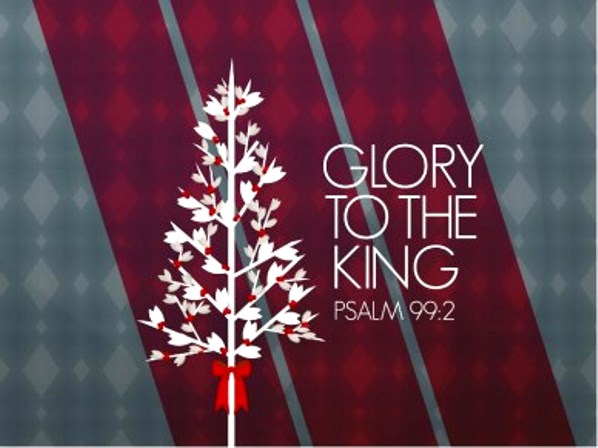 These Christmas greetings message are best to as Merry Christmas text messages, email greetings, Facebook status, Twitter, Pinterest and other social network. If you're planning to make a homemade Christmas card, I do wish you'd visit my other compilation. Trust me they are worth trying!  If you have more suggestions to make this post better, please write down on our comment section. We would love to know more about your Christmas thoughts and sentiments. Let's help to make this holidays season merrier!