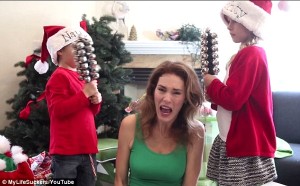 For Christian families, Christmas season is no doubt the busiest occasion of all. To decorate your homes- indoor and outdoor, go shopping for gifts and hampers for a long list of people, think of a delicious Christmas eve feast menu that the family would love and prepare nice greetings and wishes for you to send to special people. With the activities mentioned above, everyone should agree that the busiest in the house would be our beloved mothers. Yeah they organize everything for this yearly event and it turns out perfect as planned. Oh how adorable our mothers are, right?
They see to it the the husband's and kids' needs are catered. Most of the time they ignore grooming themselves for this special season because they have less time for their personal needs. This year, let's make a little change but definitely a beautiful gesture for them. Do you know the favorite nail salon of your wife or mother? Or maybe a sister, aunt, grandmother or a friend who works so hard and you wanted to treat this Christmas? Print any of these Best Christmas Nail Art Designs and show to the nail salon staff. I'm so sure your treat's recipient will be very happy not only for the free nail manicure, but because these nail art designs are really great. Even in this little detail, the spirit of the Christmas festivity is present. Come on dear husbands and kids, treat your beloved ladies in the family! Have a pick!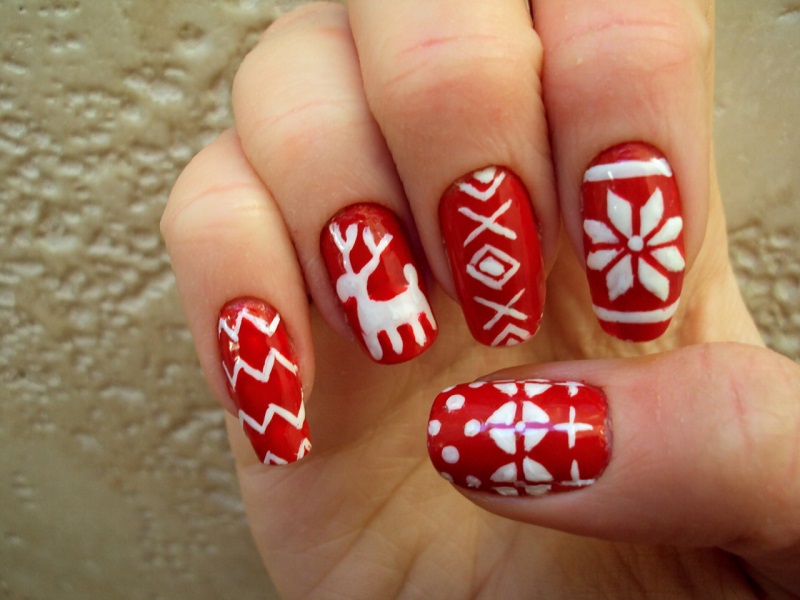 Easy and Simple Christmas Nail Art Design Ideas
If in case you're a woman reading this collection and you know how to do your own nails then I suggest you try the easiest and simplest Christmas nail designs. Impress everyone with your yuletide season nail art.
Red with Gold Christmas Tree Nail Art
I bet silver for the tree is also lovely!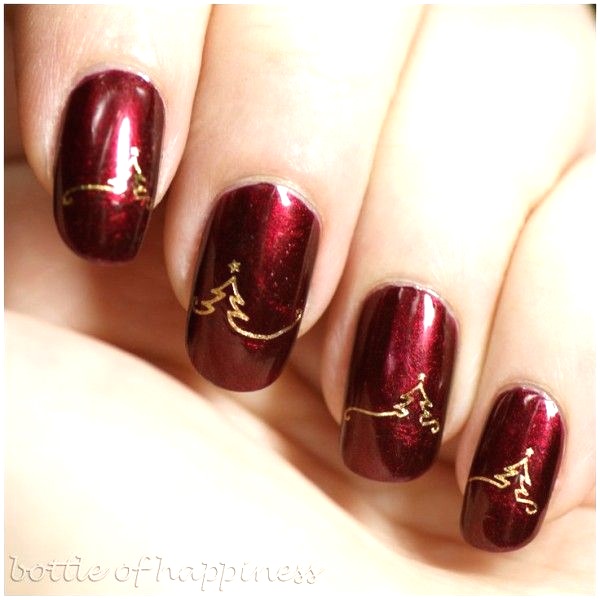 Christmas Star Nail Art Design
The star is an important symbol for Christmas. It led the three wise men for them to see where the Son of God , Jesus was born. Here are few star inspired Christmas nail art. The first one emphasized the brightest star.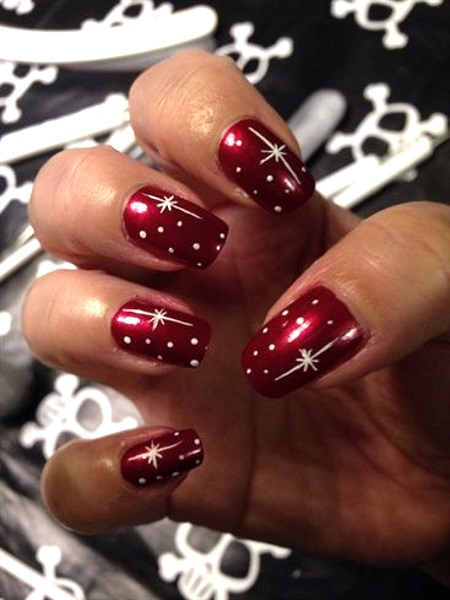 image source
Try a blue and white nail art combination.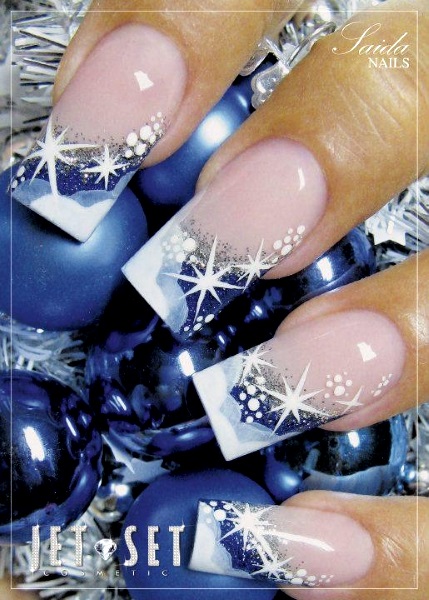 image source
This one has 3 tiny stars and some glitters on the tip of the nails.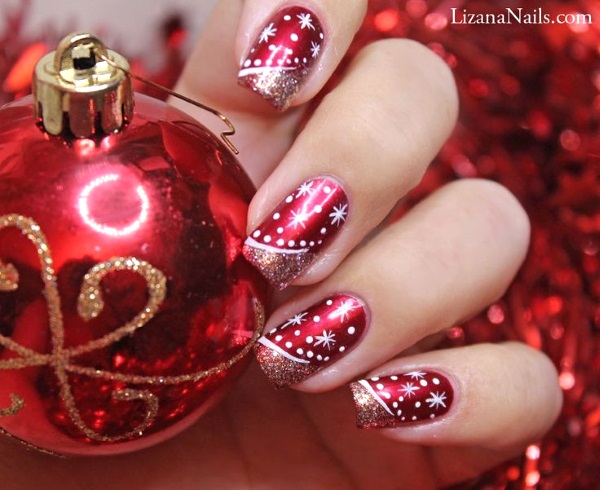 Christmas Gift or Ribbon Nail Art
Jesus is the greatest gift that God gave to man kind. Gift nail art for you to try. The first sample even had a Christmas tree marble nail art on one of the nails.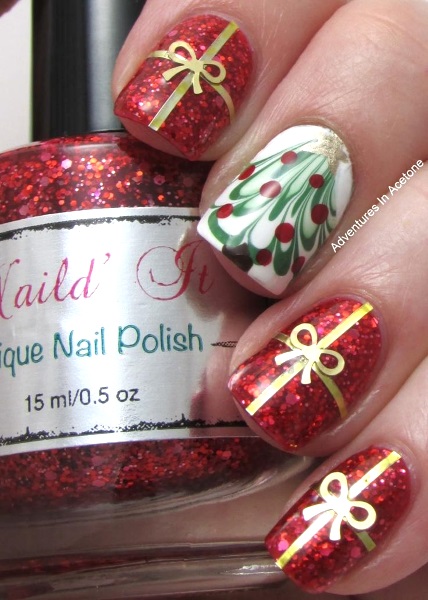 image source
French tip of white and an alternate red and green ribbons for each nail.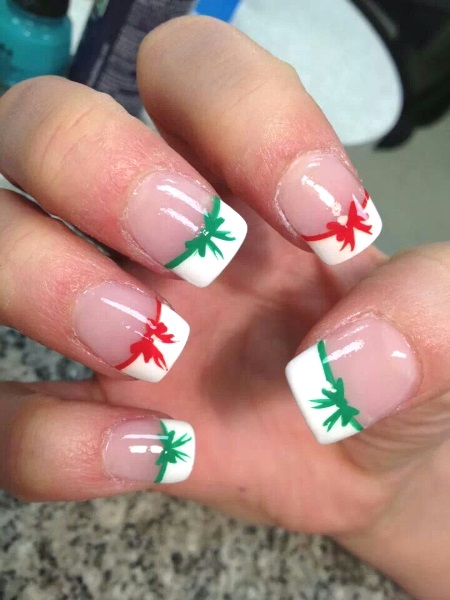 Red and Green Christmas Nail Art ideas
We all have to agree that red and green are the most famous color combination for the Christmas holidays. The following are samples of beautiful ways to paint your nail. Along with the green and red, you have the option to add glitters.
Red and Green Marble Christmas Nail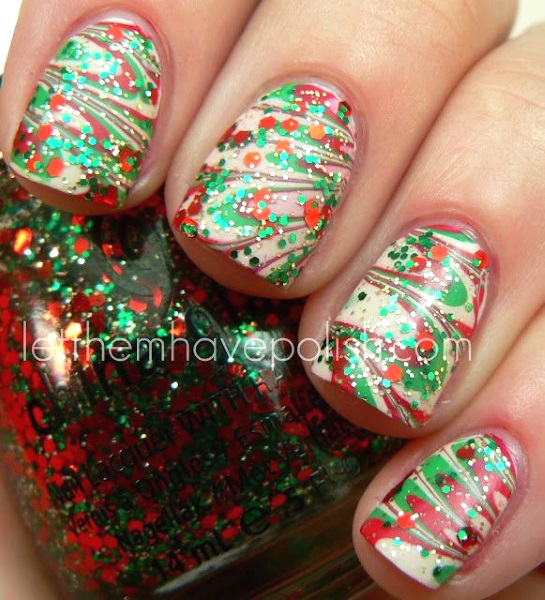 image source
Dotted Christmas Nail Art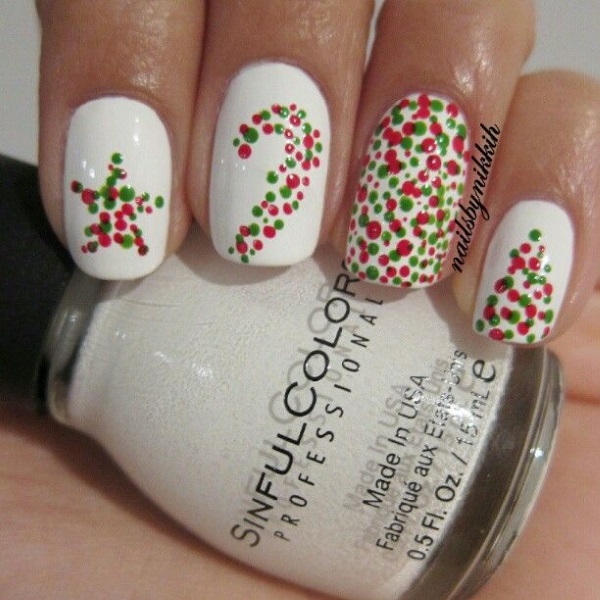 French Tip Christmas Nail Art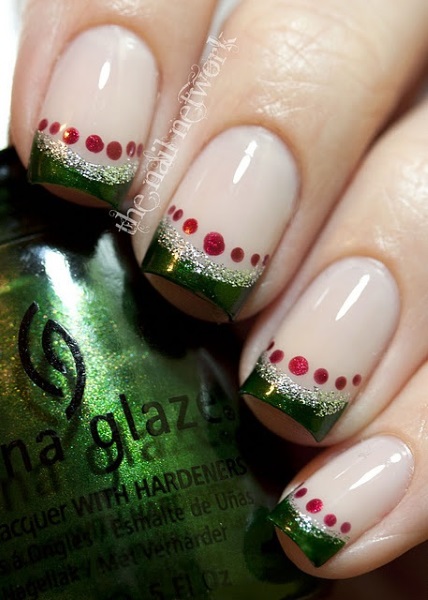 Glitter French Tip Christmas Nail Art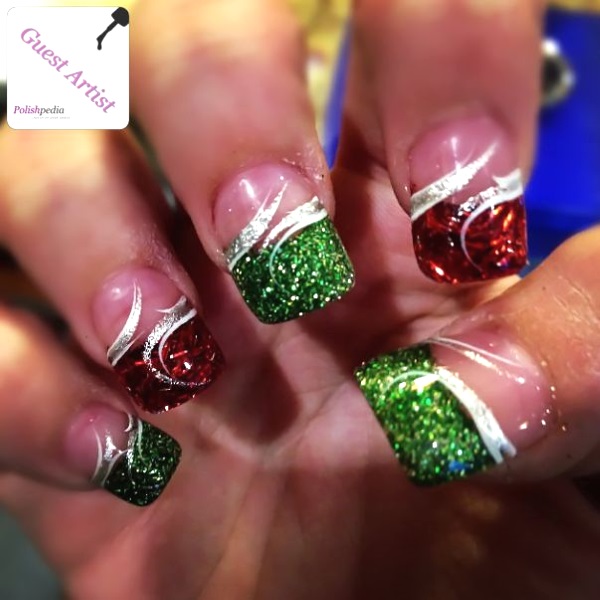 French Tip Red and Green Christmas Nail Art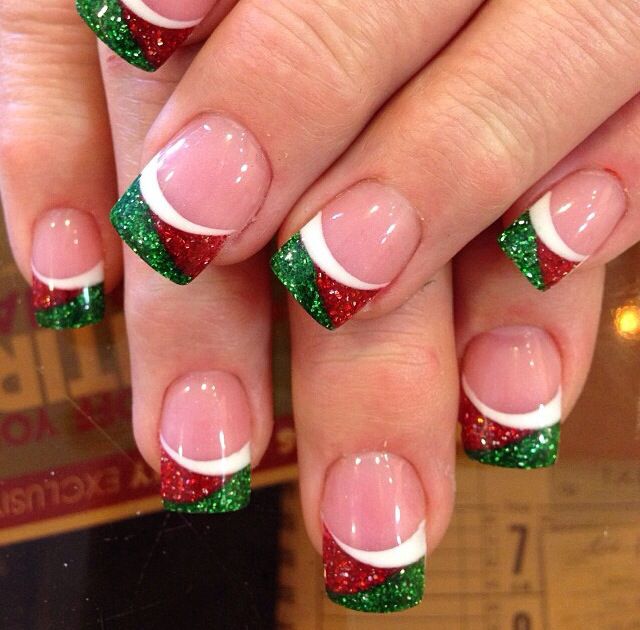 Peppermint Christmas Nail Art Designs
Luckily, there's a strip of green in this design too!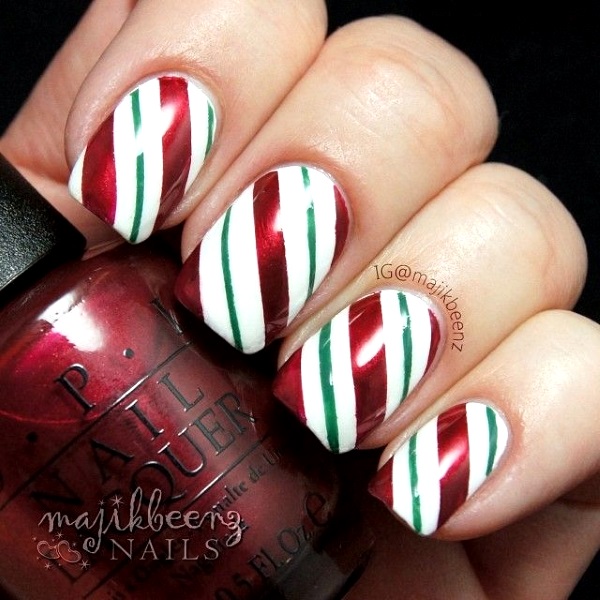 Gold Christmas Nail Art
Some people are into too much color for their nails. This gold Christmas nail art is perfect for you. Very simple yet classy.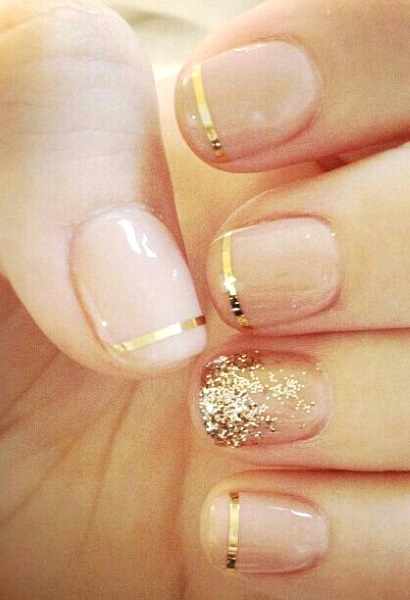 Winter Nail Art of Snowflakes Christmas Nail Art Designs
For some countries, this yuletide season is also their winter season. The very reason why winter , snow, snowflakes and snowman are also associated with Christmas. It's up to you on how to make your nail art unique. Add some glitters, artificial Swarovski or gems maybe, re-invented with french tips, snowman, deer and to make if more fun, do it alternates (with a nail painted with solid color).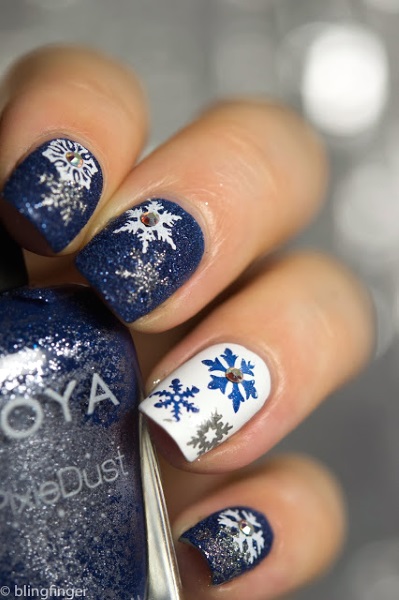 Snowflakes Blue Christmas Nail Art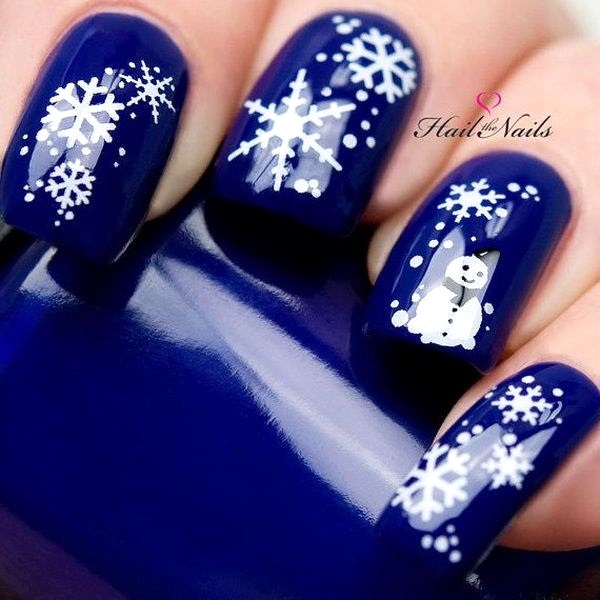 Snowflakes Red Christmas Nail Art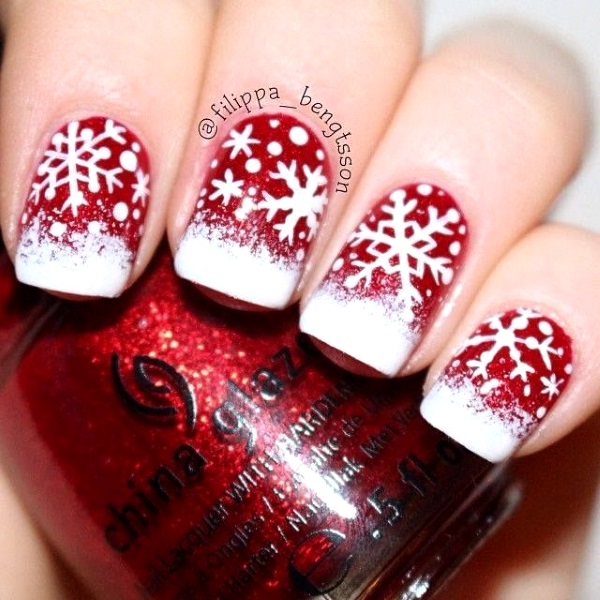 Snowflakes Turquoise Christmas Nail Art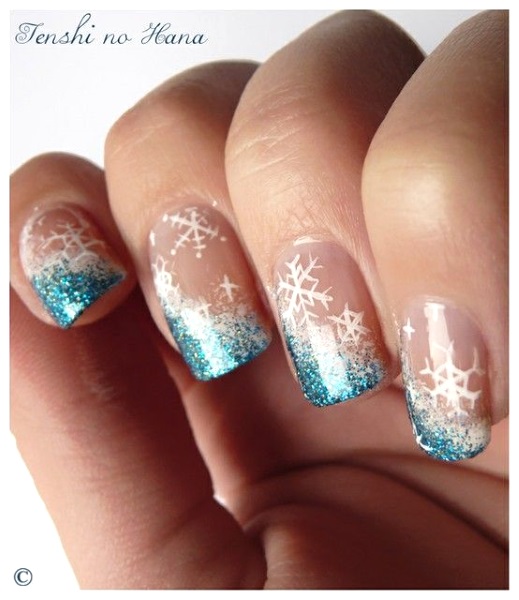 Snowflakes Purple Christmas Nail Art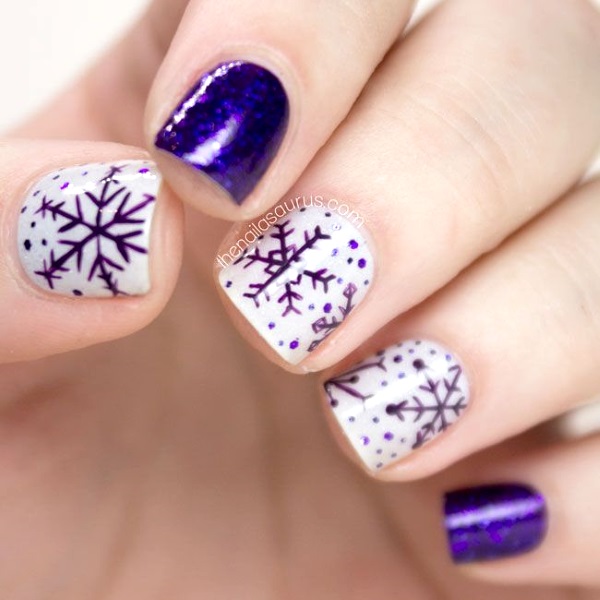 Snowflakes Pink Christmas Nail Art
My favorite color! But reindeer there isn't my type. I'd rather add gems or glitters to make this magical.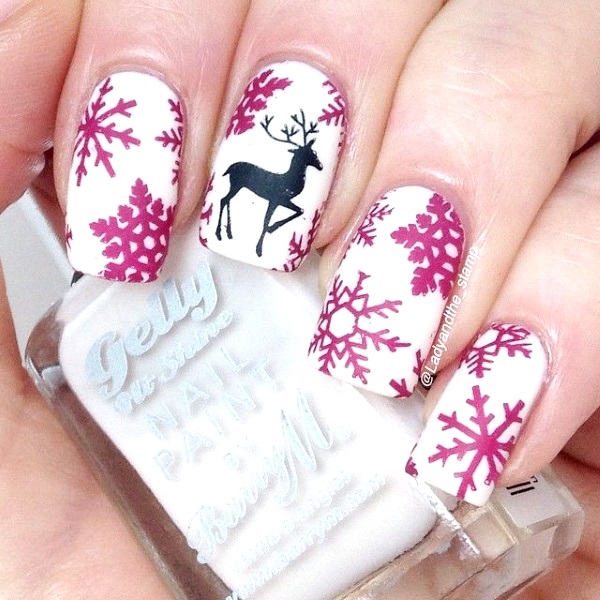 Snowflakes Glitter Christmas Nail Art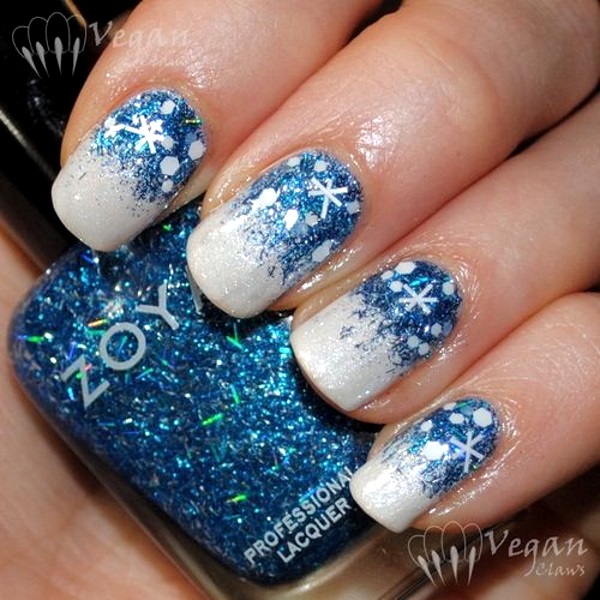 image source
Christmas Tree Nail Art Designs
This first sample shows you can paint your nails with a solid color. Paint a Christmas tree on the middle nail and for the rest, add some glitters dust instead.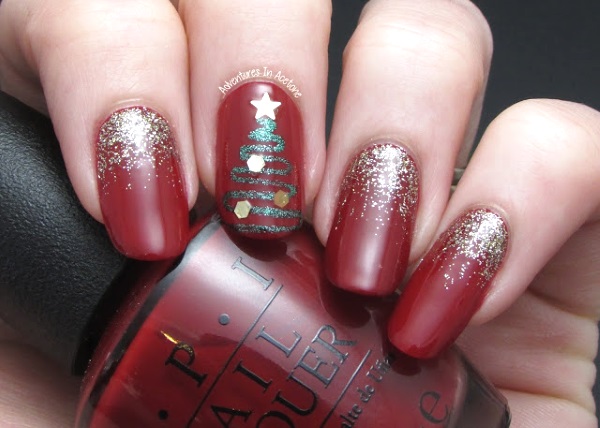 This is the most beautiful Christmas tree nail art I've seen so far. Well, there's no tree there but the base color of the nails is glitter green. Then the stars and red dots seemed like ornaments on the tree. Isn't it lovely?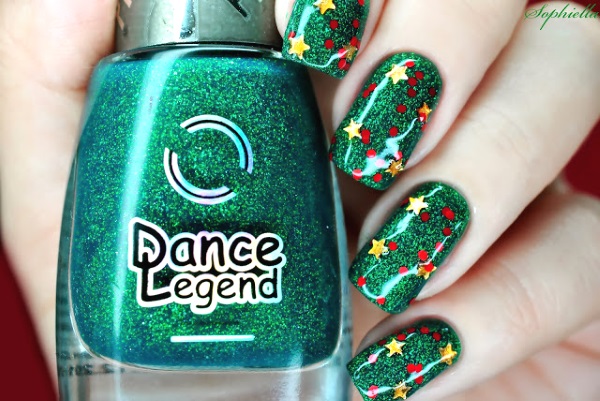 This sample has dots for red and green instead of glitters.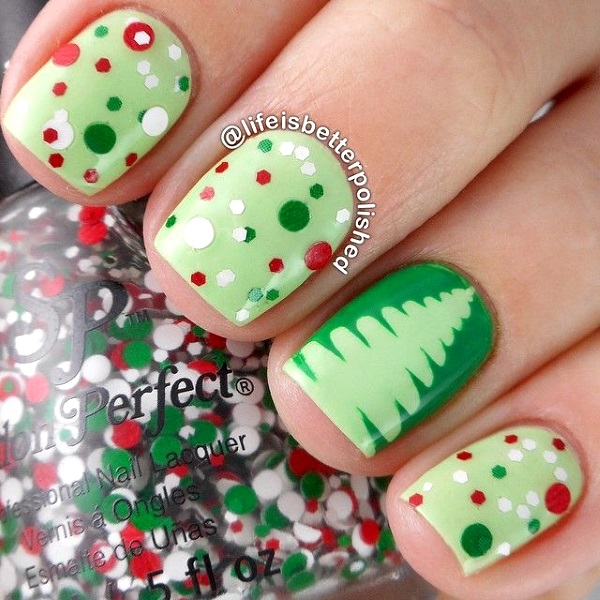 Santa Christmas Nail Art Designs
Though fat Santa Claus could not be found in the bible, he was introduce to us by our society. He was believed to deliver gifts to the good kids around the globe. He passes through the chimney and goes everywhere via his sleigh with his reindeer led by Rudolph. His mustache and beard are dominant on his face.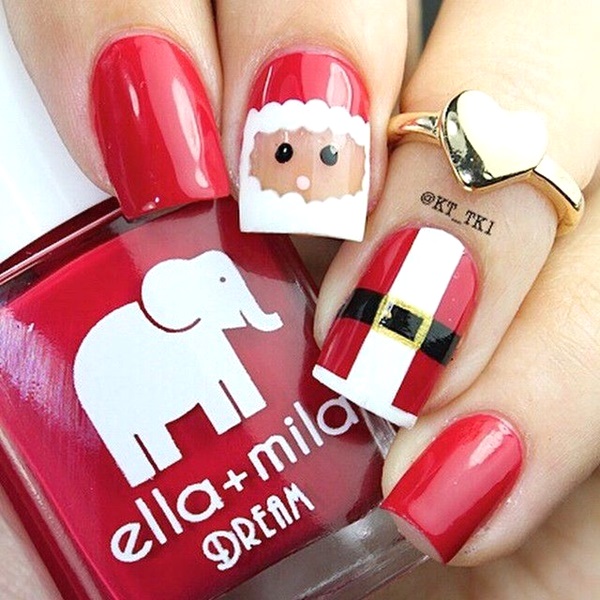 Santa Hat Christmas Nail Art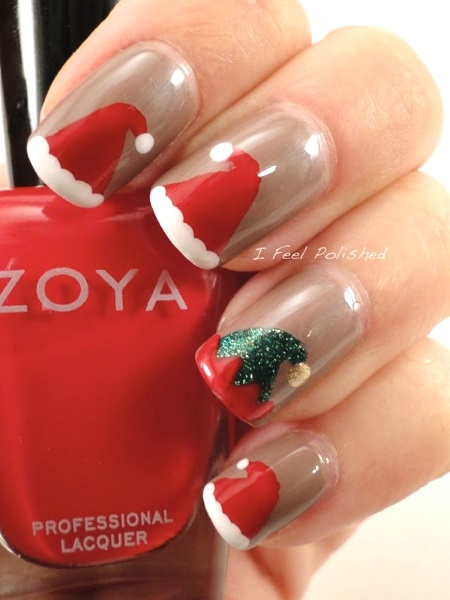 Santa Suit Christmas Nail art
Oh, there's famous Rudolph the red-nosed reindeer with his shining nose.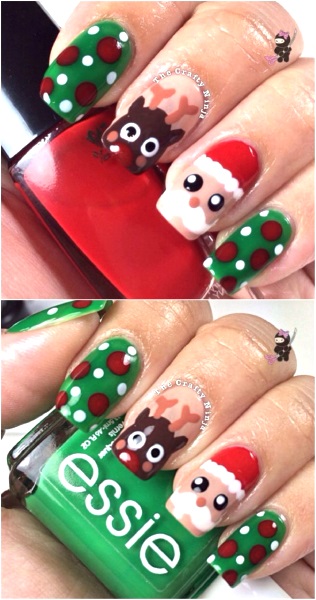 Santa Minion Christmas Nail Art Design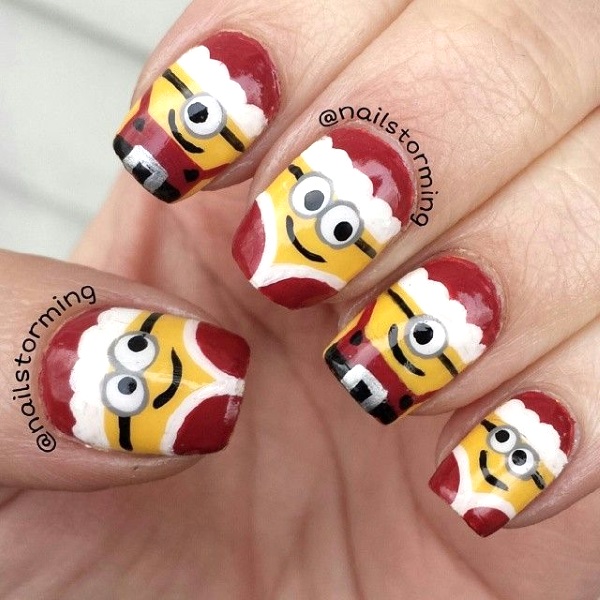 Frosty the Snowman Christmas Nail Art Design
The winter figure, the playful snowman who was believed to be a fairy tale but only the kids knew about that magical moment when he came to life then danced and played with them. His personality of being jolly best describe this nail art ideas.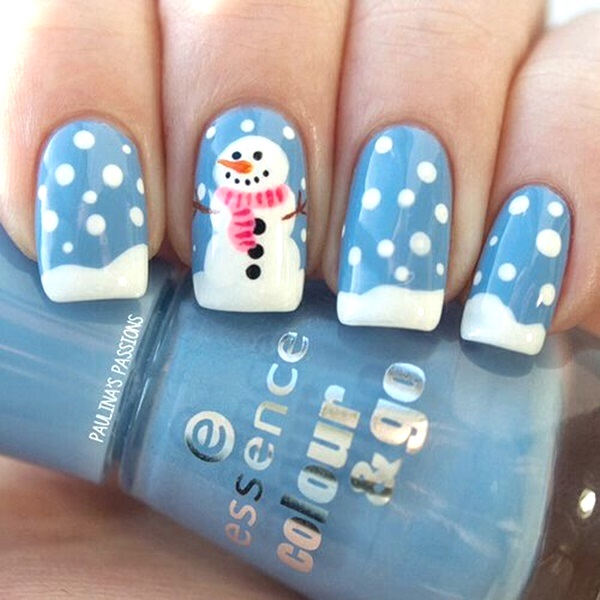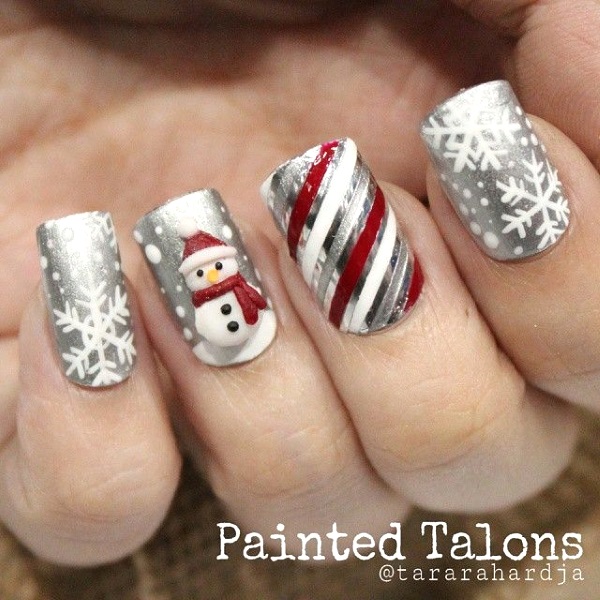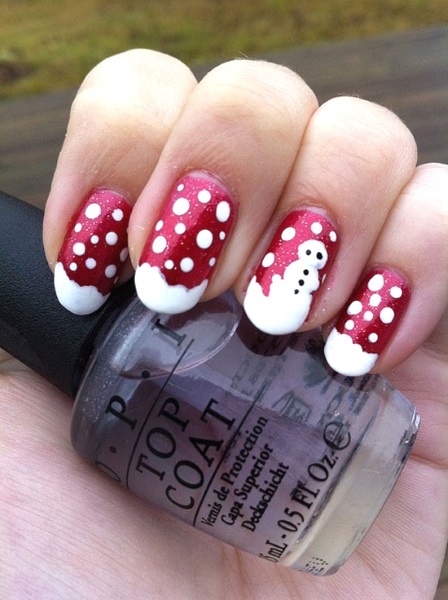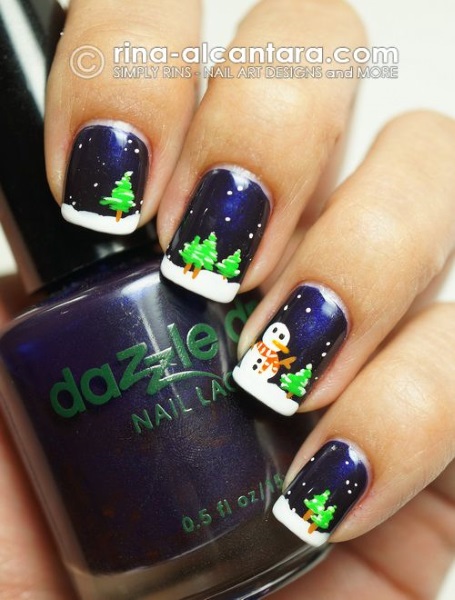 I guess this is the re-incarnation of Frosty. Meet Olaf from the movie Frozen. He loves warm hugs! Olaf Christmas Nail Art Design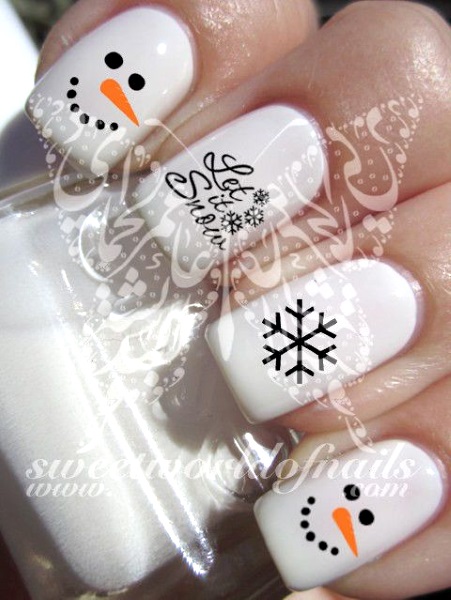 Cute Christmas Nail Art Idea
This ones too adorable. A combination of Santa, Frosty, Christmas Tree and Peppermint nail art idea.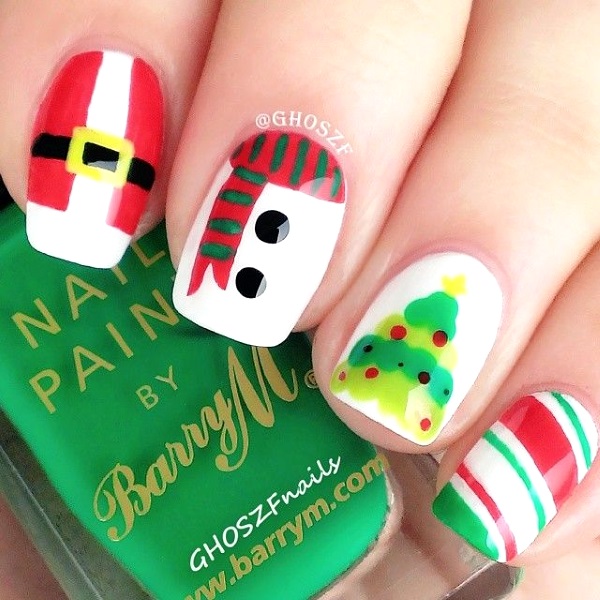 Mistletoe Christmas Nail Art Designs
Among the Christmas decorations and symbols, this is one of the most favorite of the lovers. To be standing under the mistletoe gives you the opportunity to kiss and be kiss. That's what I saw on T.V. but we don't really have that practice here in our country. Mistletoe nail art idea with a touch of gold and silver is really pretty.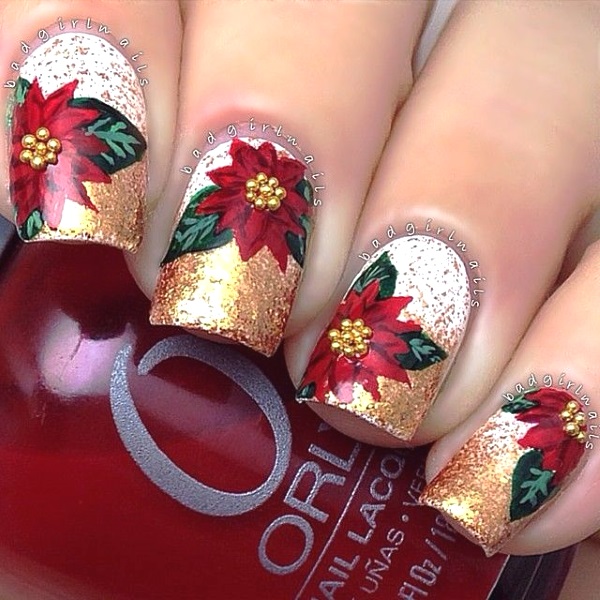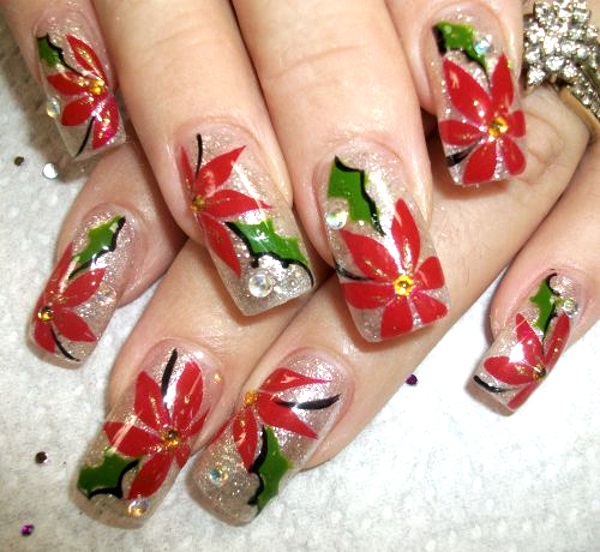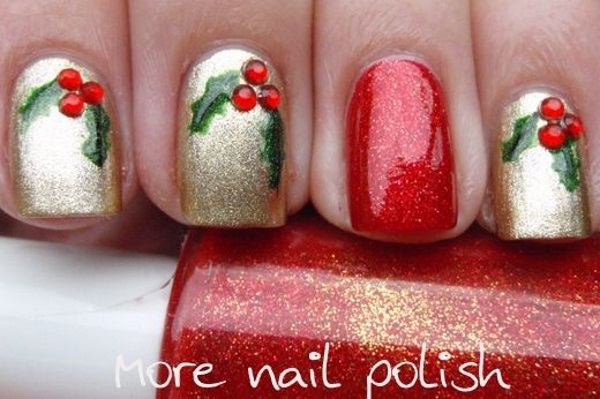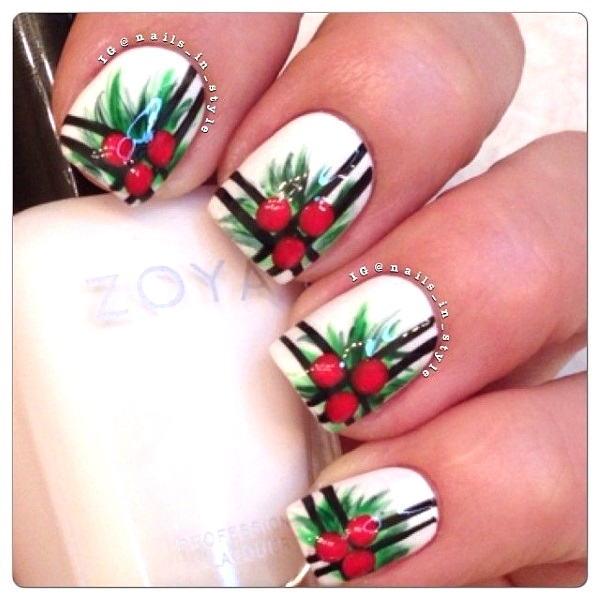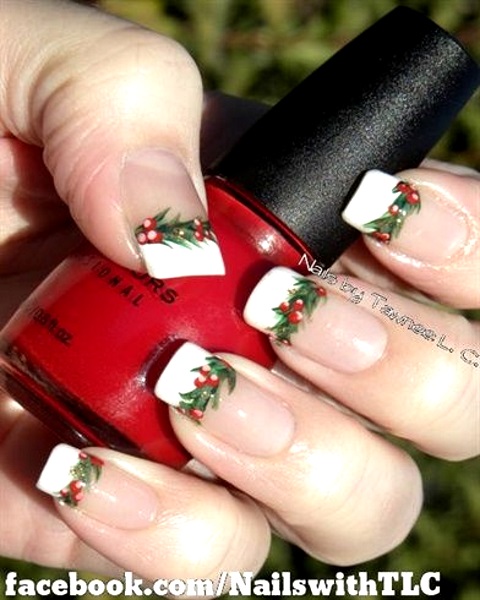 Christmas Light Nail Art Design
Those fancy gems are perfect light bulbs!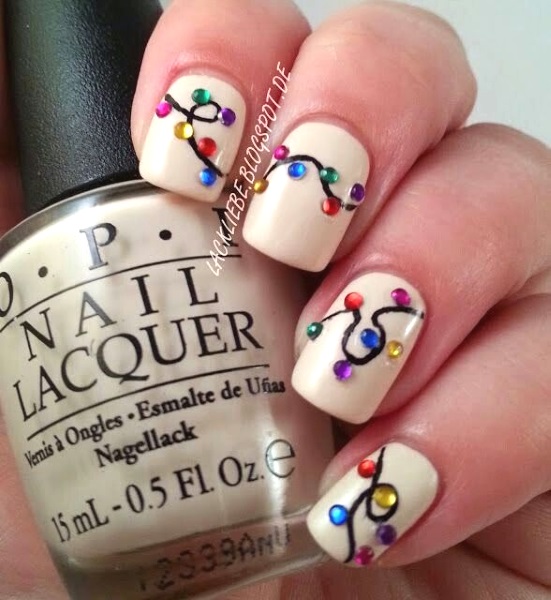 More Christmas Glitters Nail Art Design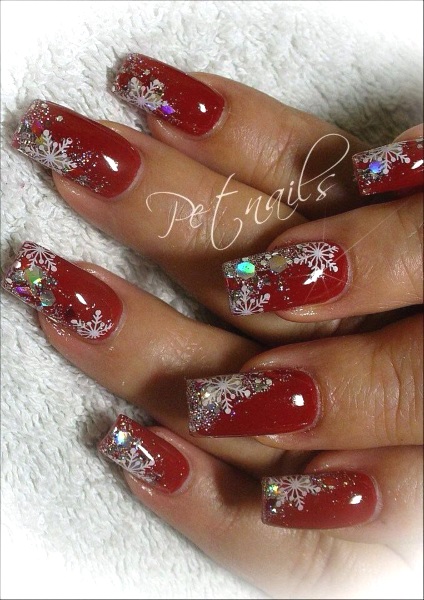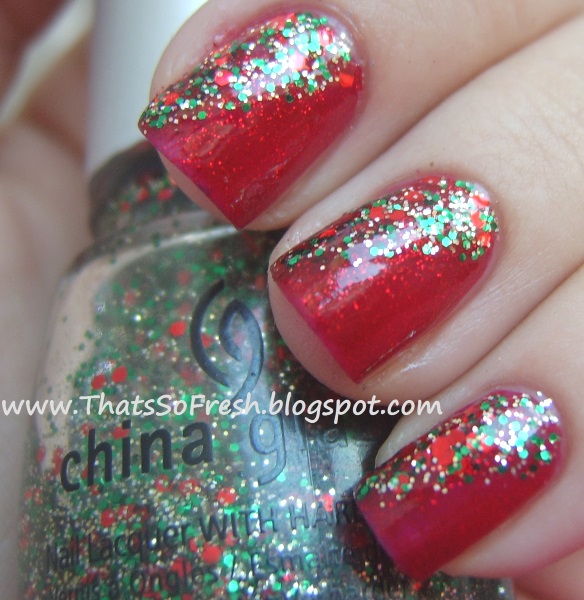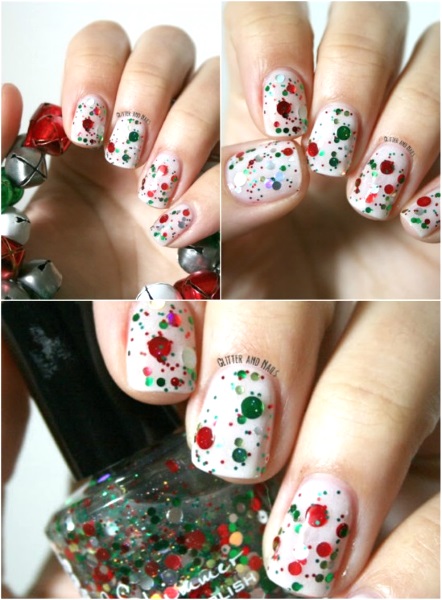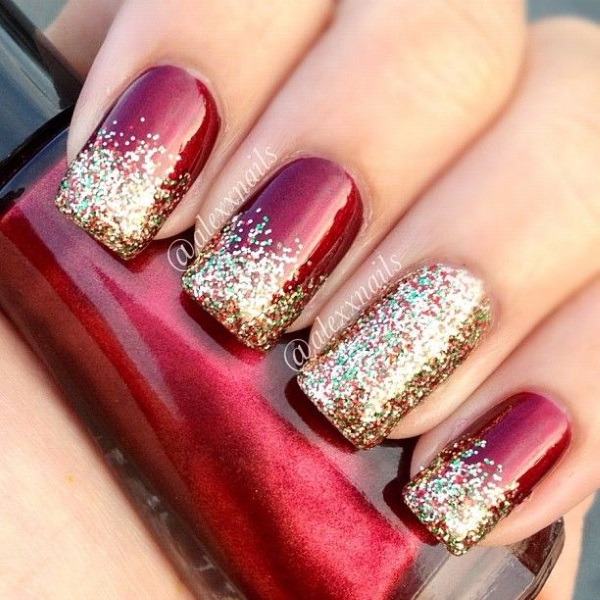 Penguin Christmas Nail Art Design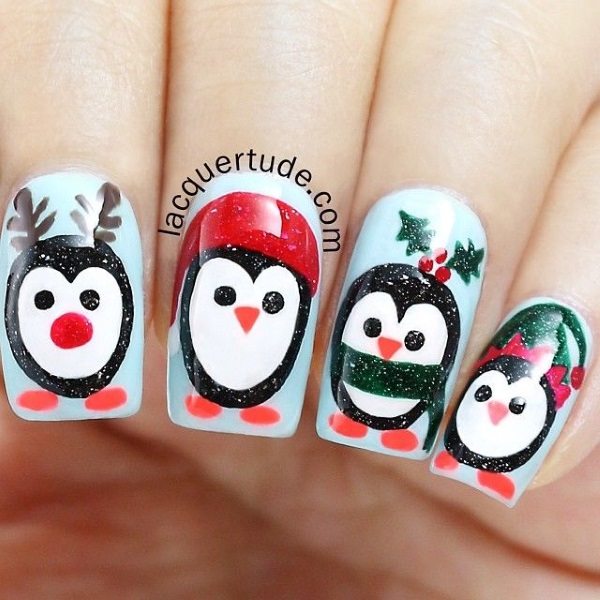 Christmas Balls or Christmas Ornaments Nail Art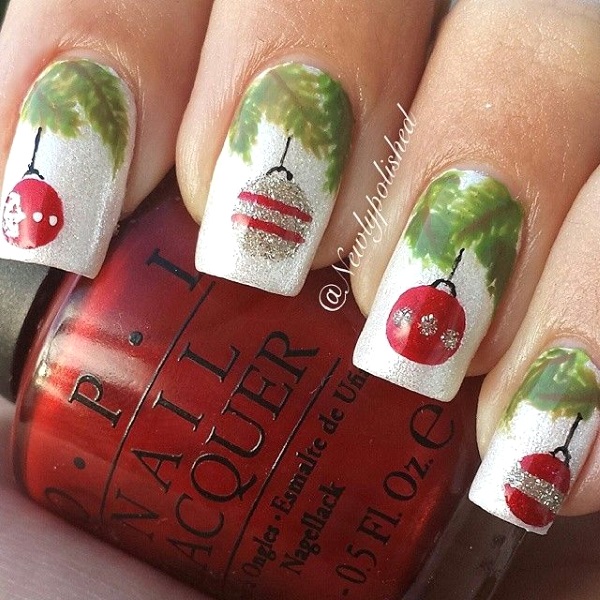 Black Christmas Nail Art Designs
Not that they are dull and Gothic, but some really loves black. So these are few black Christmas nail paint for your to try.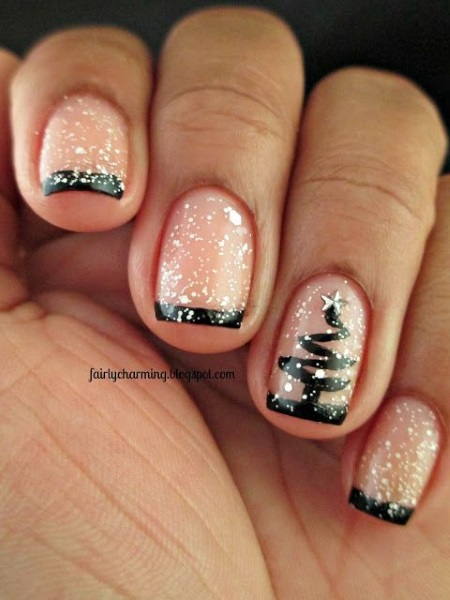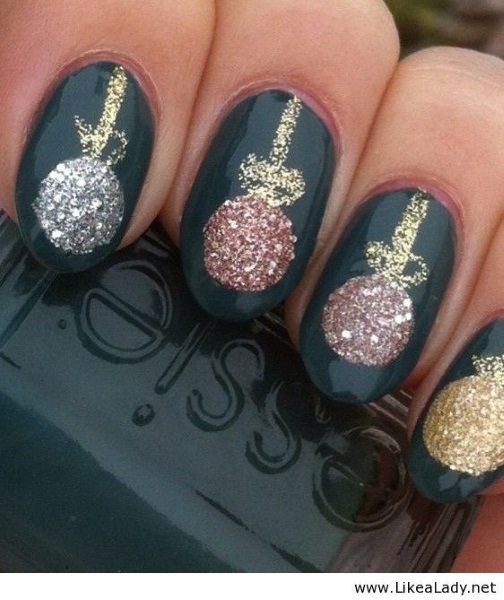 Christmas Pudding Nail Art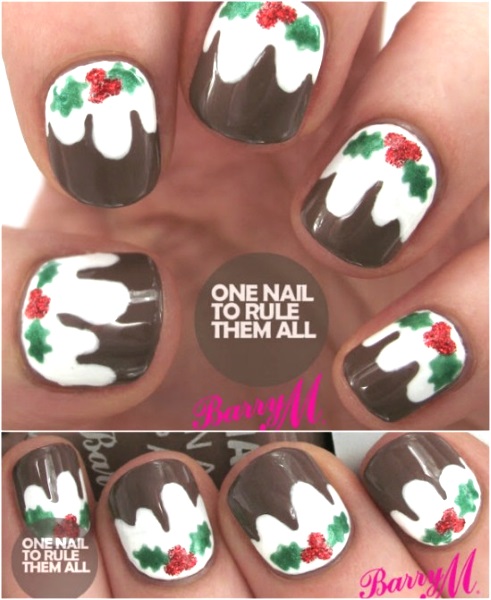 We didn't want to confuse you by gathering all the best, beautiful, elegant, easy, cute Christmas nail art paint ideas. We just wanted the best for your ladies. We do hope they'd like all our designs and would make them happy. Please feel free to share your own favorite Christmas nail art design ideas. Our comment section is open for your suggestions. Pinterest, Twitter, Facebook and email would love to see this awesome collection so don't hesitate to share. Merry Christmas in advance!