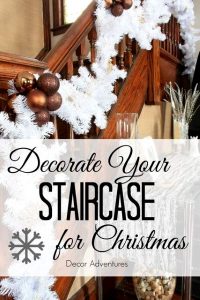 Few more days till Christmas and can you believe it? We're getting closer to our get-together party and holidays from work! Gifts sending and lucky when we're receiving too. The yummy delicacies on our table, the warm presence of the family and especially the gratitude for the birth of Jesus. A merry season indeed. Each year we seem to have more to do and prepare than the previous years, especially for the Christmas decorations at home. Just when you thought you're all set for Christmas, you realized you are living in a 2 storey house and the stairs is too dull for the occasion. Too empty, you don't know what to do about it to match the awesome decors to the other areas of your home. Well, you're in the perfect page that simply answers your quest for the most Beautiful Staircase Christmas Decorations.
This page will provide you the best Christmas decorations for stairs. Who knows? It could turn out to be one of the highlights in your home when family and guests notice how attractive it could be. Decorate your staircase for Christmas using garlands, strings lights, pine cones, snowflakes, ornaments, twigs, luminaries and more unexpected stuffs for a beautiful and festive holiday look. I'm sure everyone wouldn't miss to have picture taking moments near your attractive stairs. Most of the decorating ideas below, the stair decorations are matched with the Christmas tree theme or your decoration theme for each year. Are you getting excited? Oh well, let's get it started!
More of our Best Christmas ideas in here!
Matched Staircase Decorations with Christmas Tree
I guess this would work for homes where the tree stands near the stairs . This one is blue Christmas theme and looks really cool.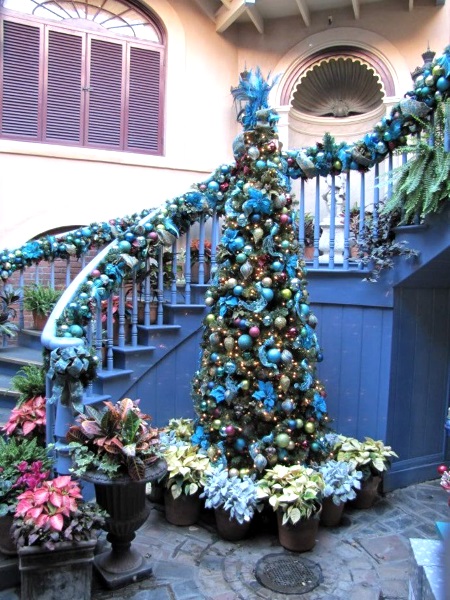 Bold snowflakes in red on the wall add to the staircase decorations while the Christmas theme for this home is gold. Those lanterns on each steps adds more beauty.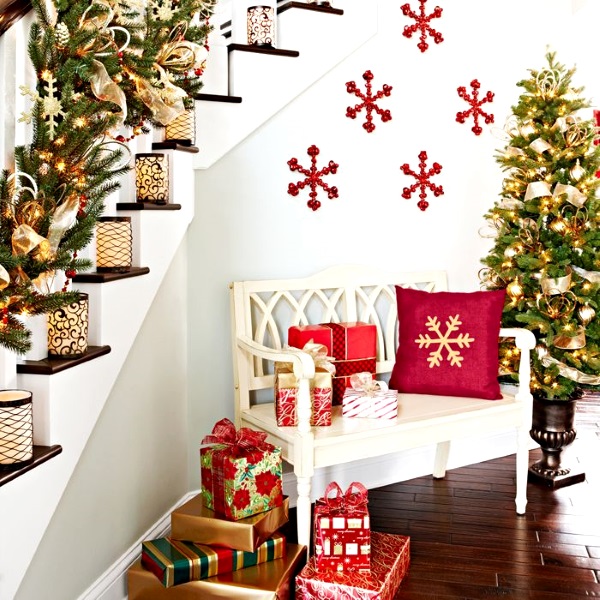 Stunning Red Christmas Theme Decoration for Stairs
That ornament wreath and Santa are so adorable!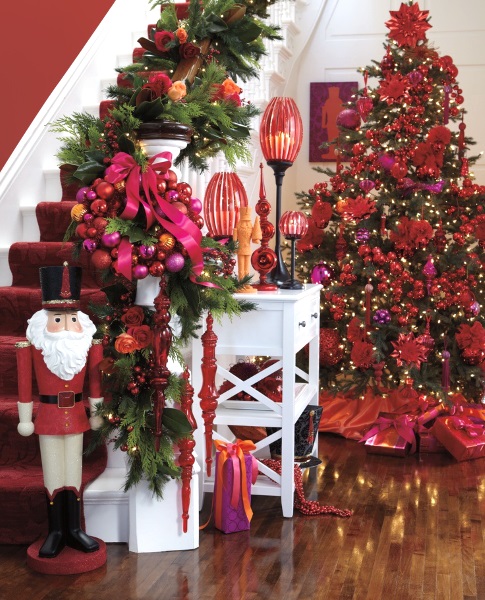 This house looks like a mansion. Amazing luxurious Christmas decoration with elegant high Christmas tree filled with lots of beautiful ornaments and stunning staircase handrails decors.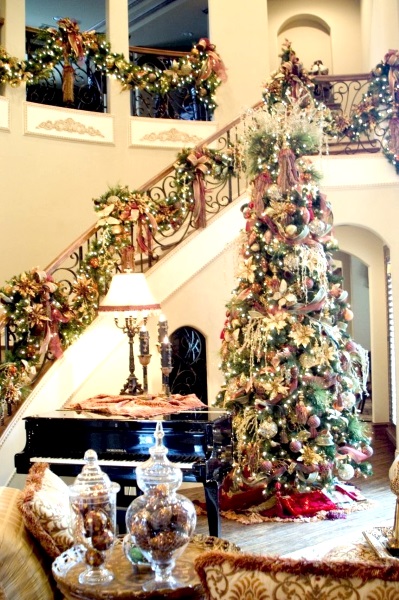 And because I love pink bows!!! Here's a creative Christmas tree decorating idea especially if you have daughters.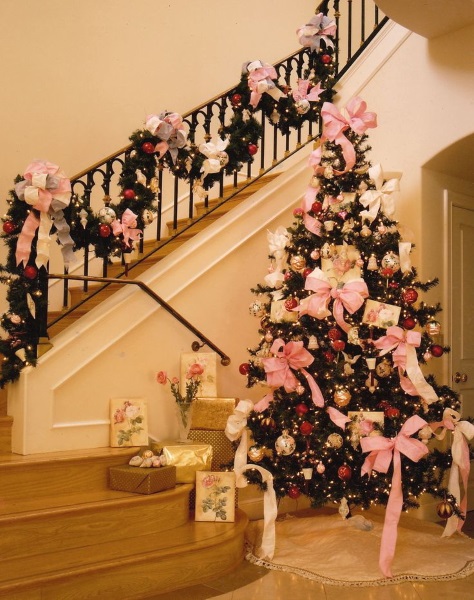 Easy Staircase Christmas Decorating Ideas
A bright staircase inspiration from On Sutton Place. Decorate it with vines and hang same colored ornaments of different sizes. Light up your staircase with string lights….no cords…no connectors..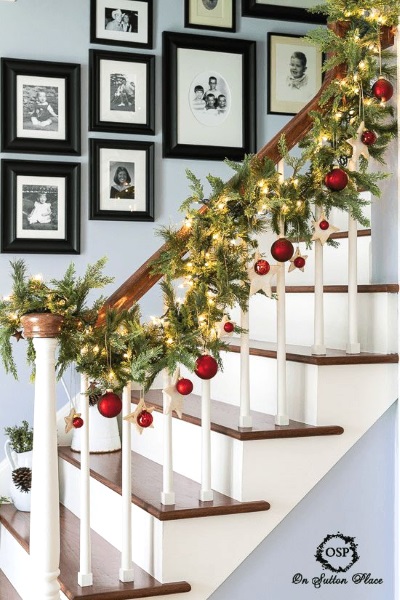 Or decorate it with different colors of ornaments. That's one super affordable staircase decoration especially if you already have lots of ornaments from your previous Christmases!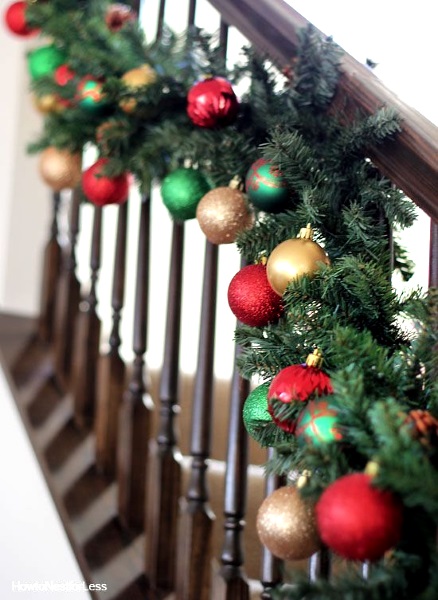 A bunch of Christmas balls turned into banister garland would be so lovely.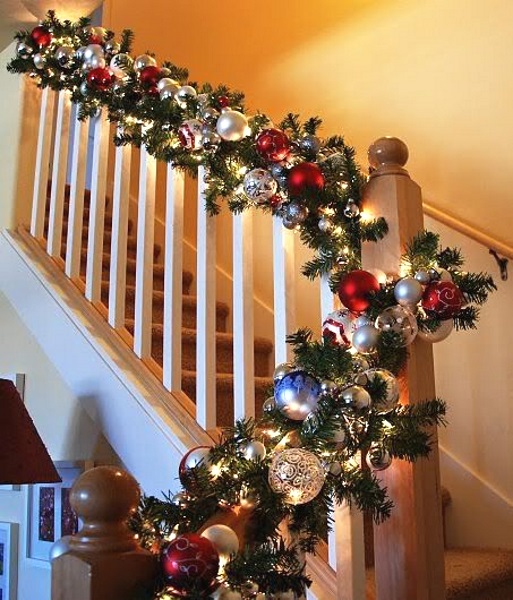 Simple Christmas Decorations for Stairs
If you prefer something simple and more modern, try hanging colorful Christmas balls tied using colorful ribbons too.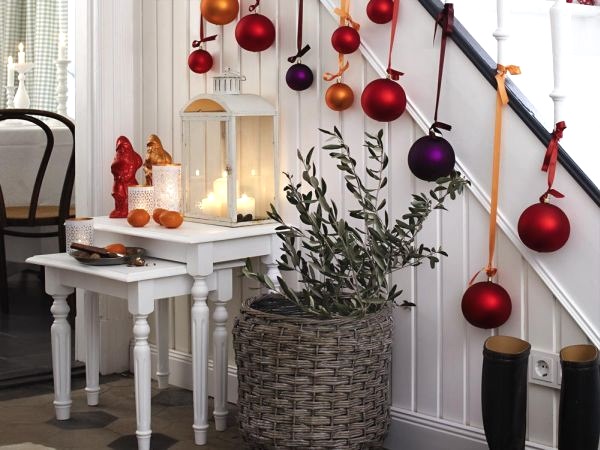 Rustic Decorated Bannister
For the holidays. Love the horseshoes on the staircase the bells on the garland.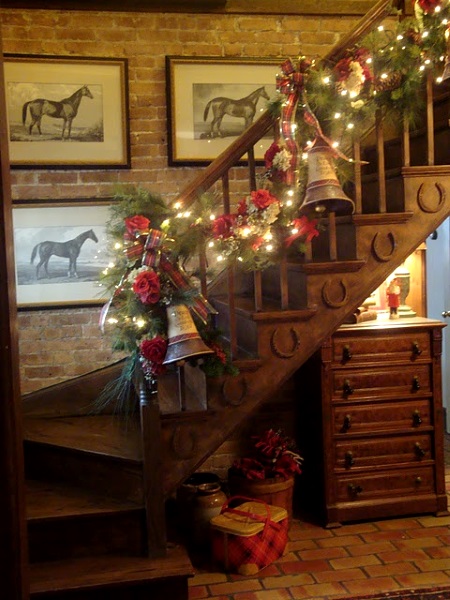 White Christmas Stair Decorations
I learned that if you have Christmas balls and you wanted to change how they look for the following years, just buy a cloth with a pattern you really like and dress the balls. Like the sample below, a white cloth is used to dressed it up for a white Christmas theme.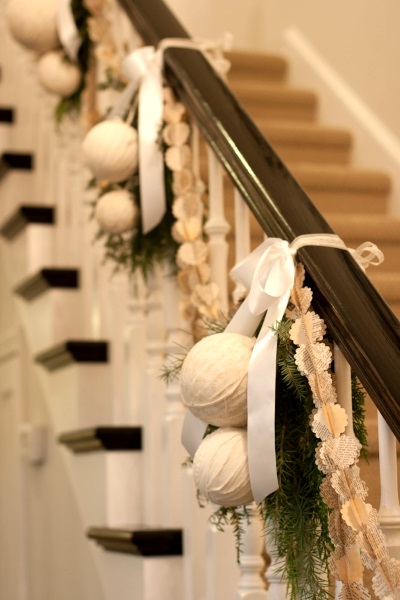 Beautiful Christmas Staircase Decorations
These samples will turn your staircase into a fairy tale!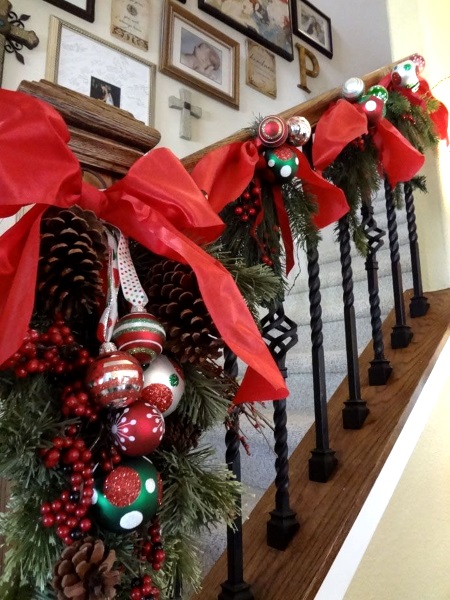 Rustic Sparkling Staircase
Pine cones decorated along with green garlands or vines makes the decor look natural and refreshing.
For any Christmas theme, make paper wheels that matched you color of the season.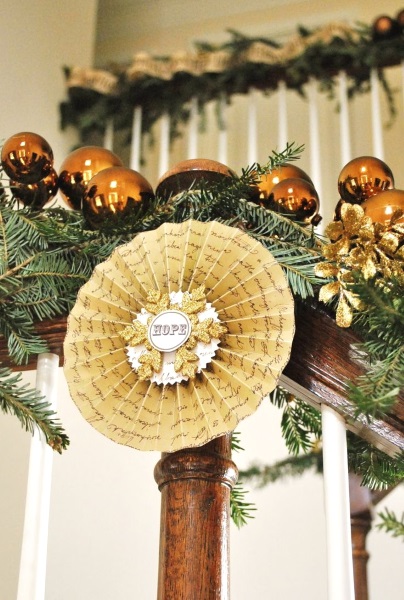 Stairs Decorated Deco Mesh Garland
Green and red will always be everyone's favorite for the holiday season. Make sure they're glittered and that would be magical!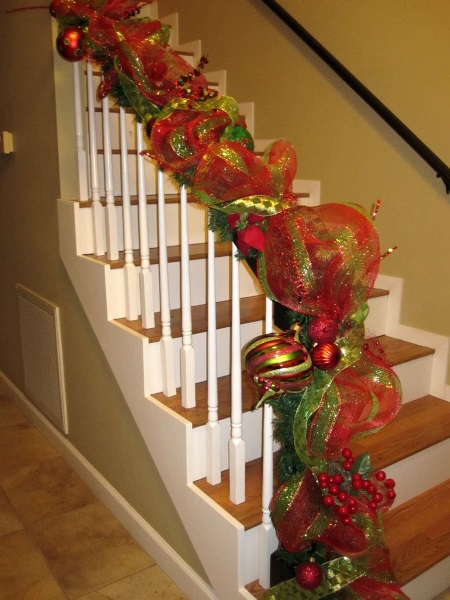 This cute staircase decoration isn't just for Christmas, but also for New Year. Do you see some polka dots? I'm seeing lots of them!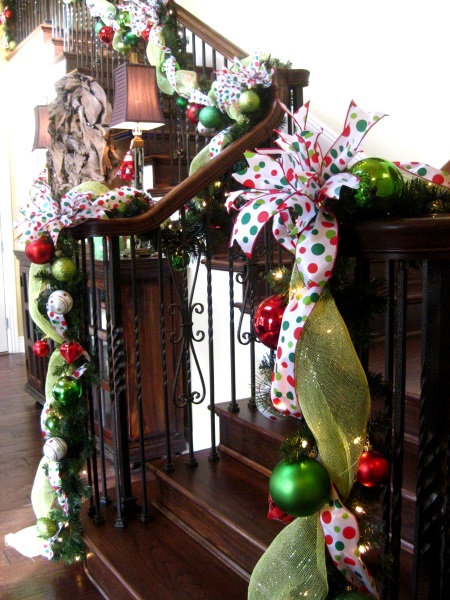 Lighted Garlands Christmas Decoration for Stairs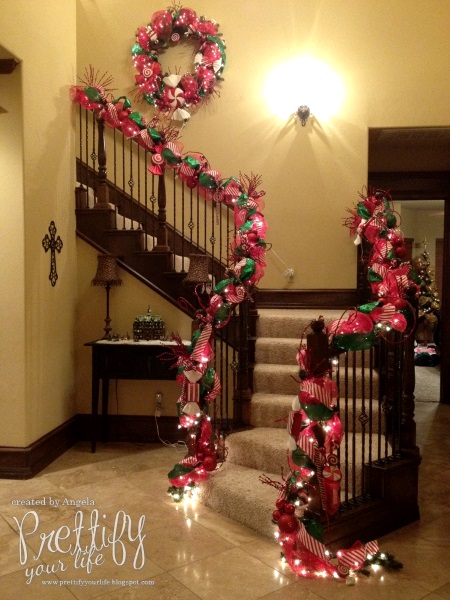 Very creative Christmas staircase decorating idea having those boxes with letter. If not "ho-ho-ho", I'm sure NOEL or JESUS would suit the stairs too.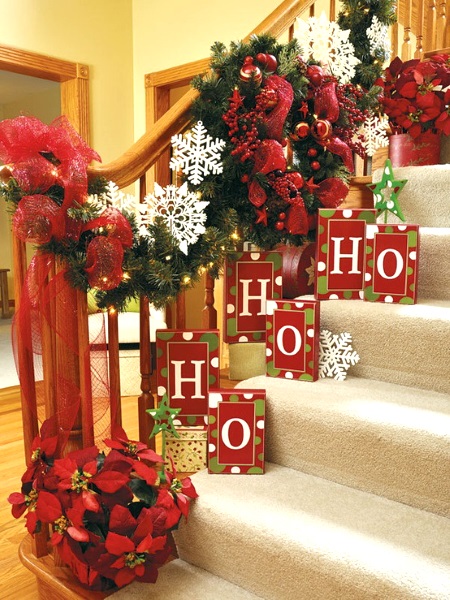 Staircase Garlands with really huge bows.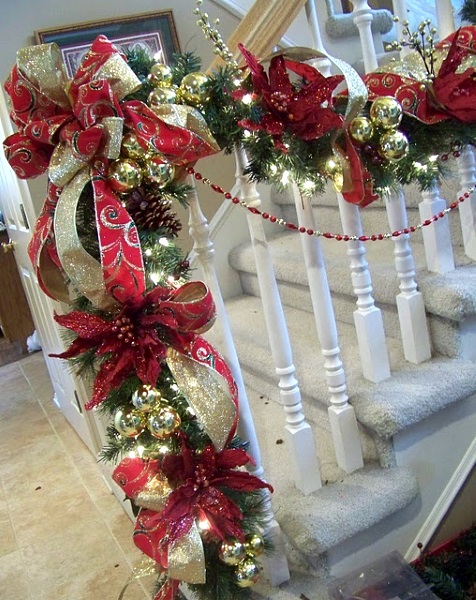 DIY Staircase Christmas Decorating Ideas
Ornaments in quiet hues with touches of blue, grey and snowy white create a sense of magic and wonder in this Scandinavian-style home.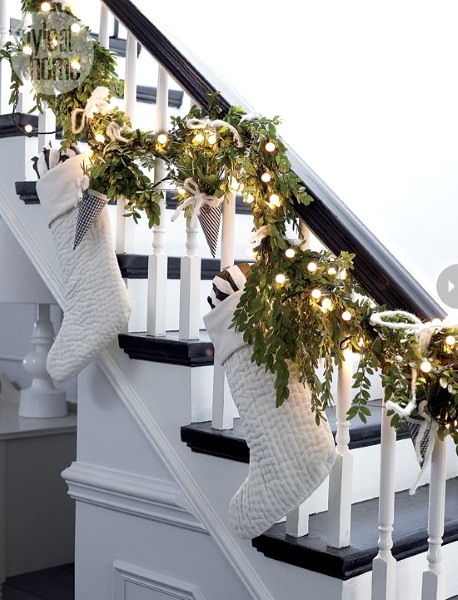 Instead of hanging the stockings above the chimney, try hanging them on the staircases this year. And oh, don't forget the Christmas balls because they'd look good in there.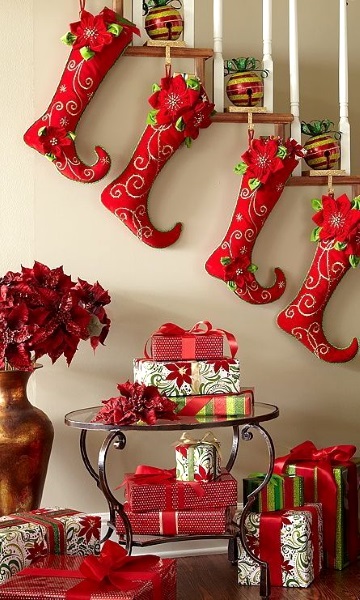 More Christmas Staircase garland designs you will really love.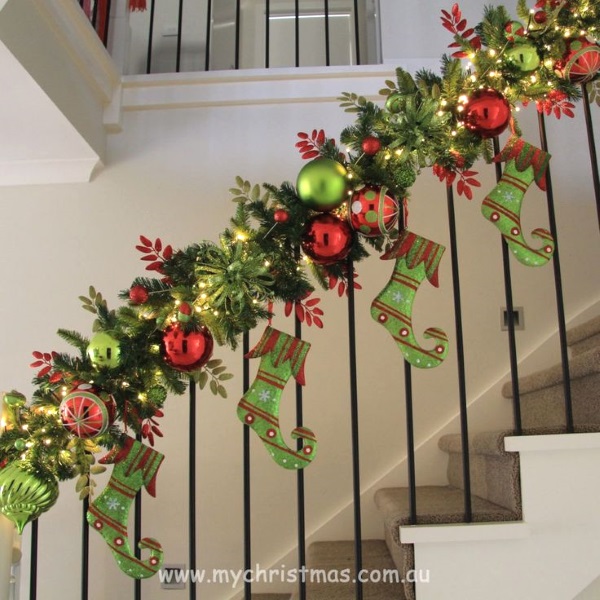 Decorating a Staircase for the Christmas with Wreaths
This sample has one wreath made of ornaments!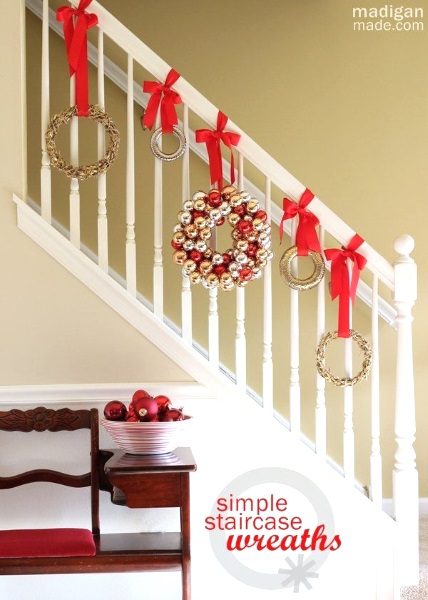 This sample has wreaths made of green garlands with a rustic ribbon.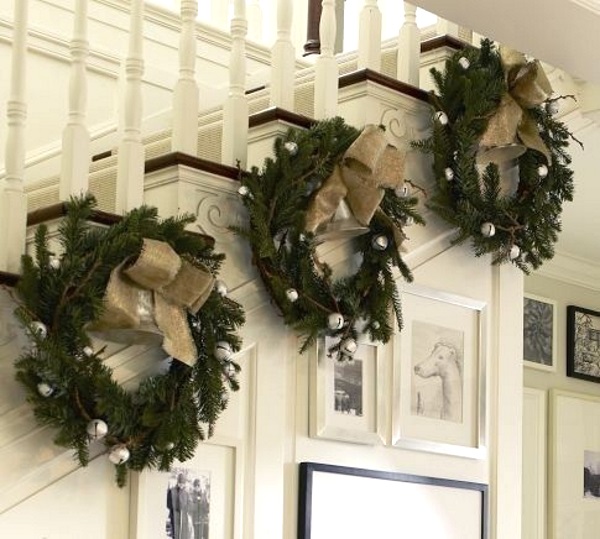 Ohh a hat at the end of the staircase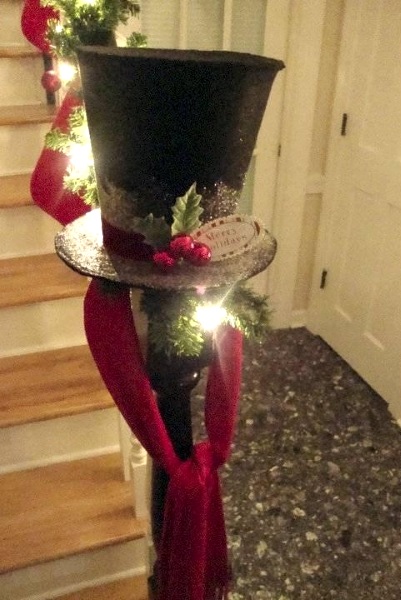 Gold staircase bundle of ribbons. Gorgeous!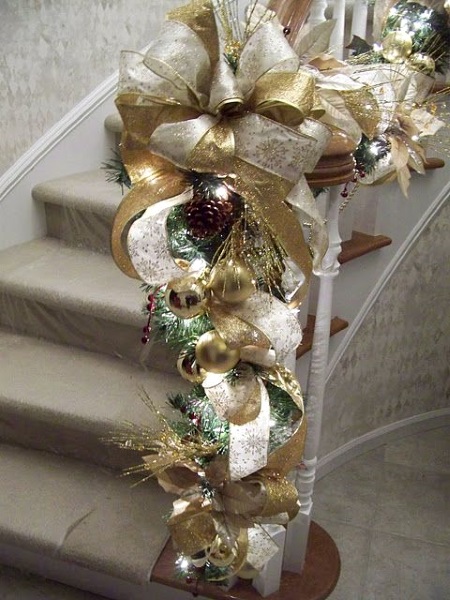 DIY Ornament Cluster/ Arrangement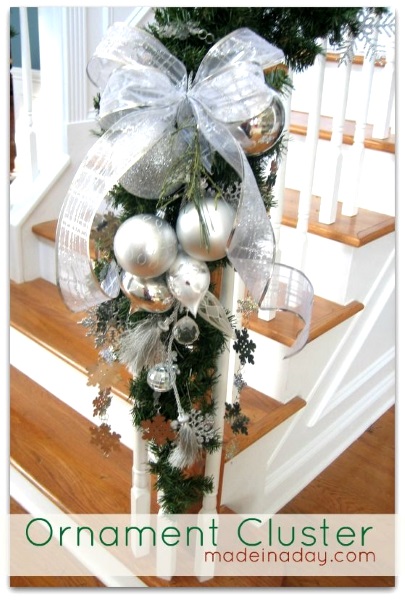 PineCones Christmas Stairs Decorations
Simple Bow Christmas Stairs Decorations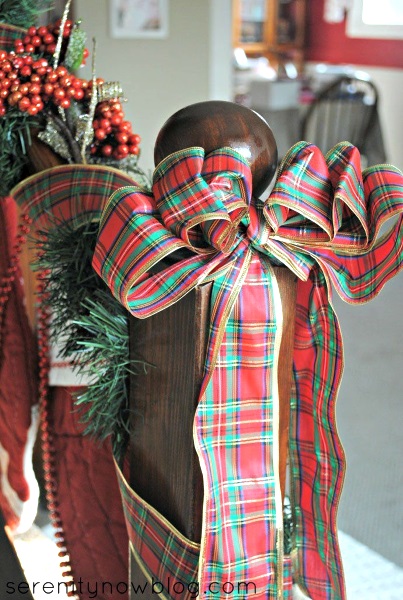 Stars and Vines Stairs Decorations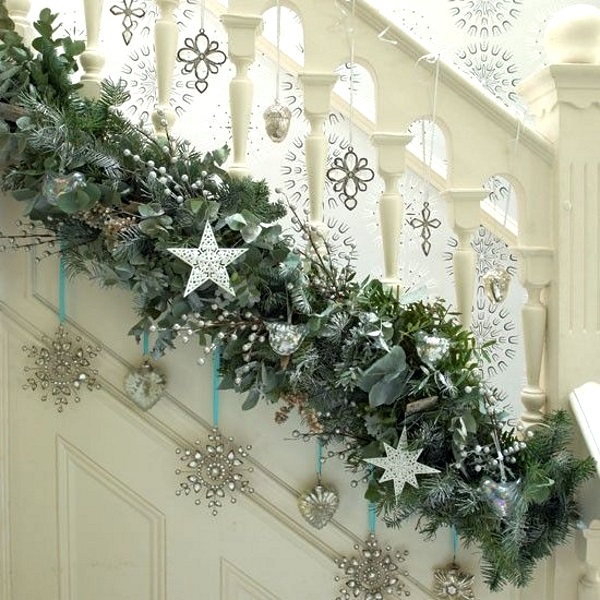 Swags of greens, pretty bows, and a few unique embellishments are all you need to dress up your staircase and brighten your entryway for Christmas.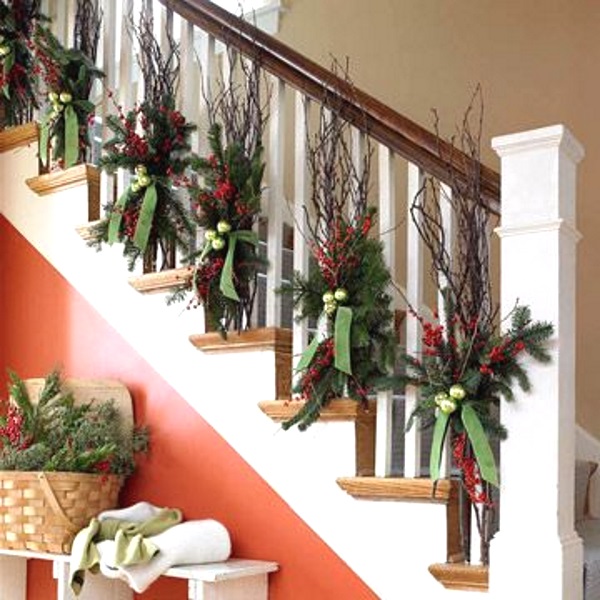 Here's to a closer look. The vines, twigs, pearls, ribbon and cranberries do compliment each other.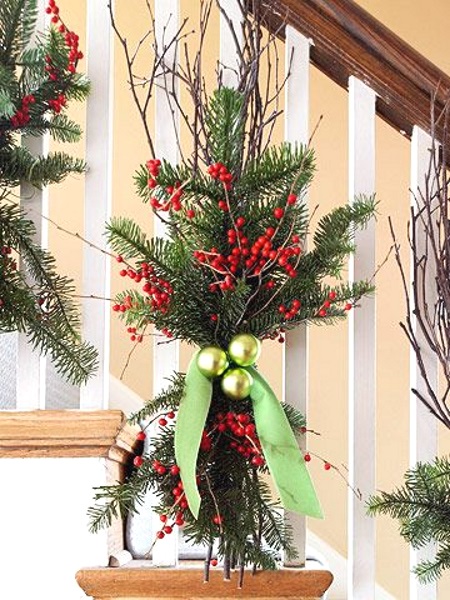 Christmas Staircase Swag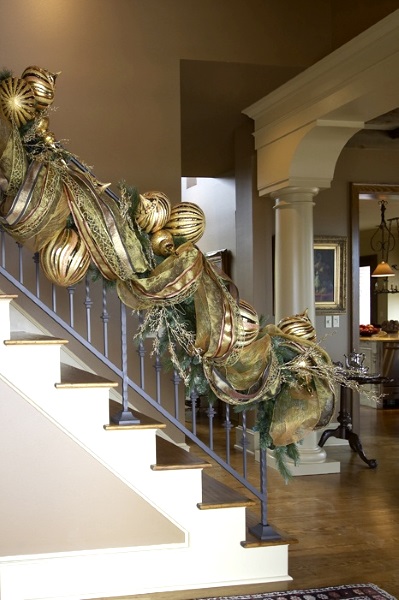 Style your stairway with beautifully decorated garland at the base around the spindles instead of the normal railing dressing. The result is stunning and you can actually hold onto the railing while on the stairs – functional and safe!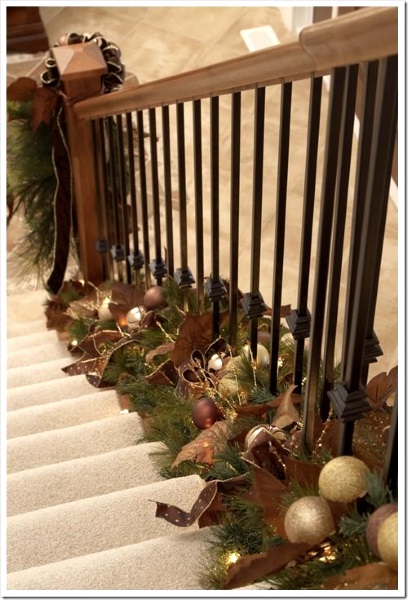 Aside for decorating the handrails, you can also decorate it this way. Too gorgeous indeed!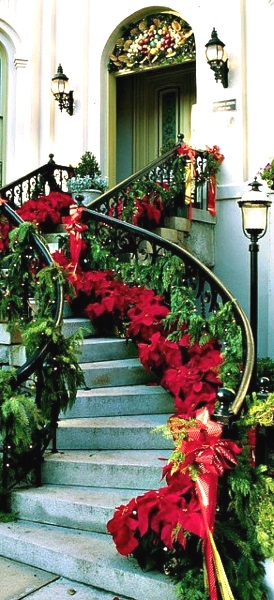 A garland winding up the stair rail is decked with fresh-cut greens, holly branches, giant pinecones, and pheasant feathers.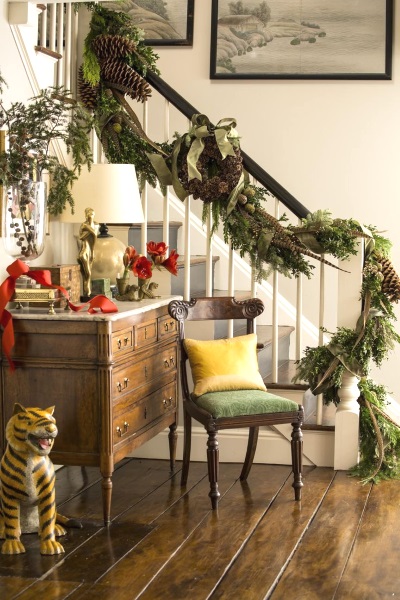 Christmas Lights for Stairs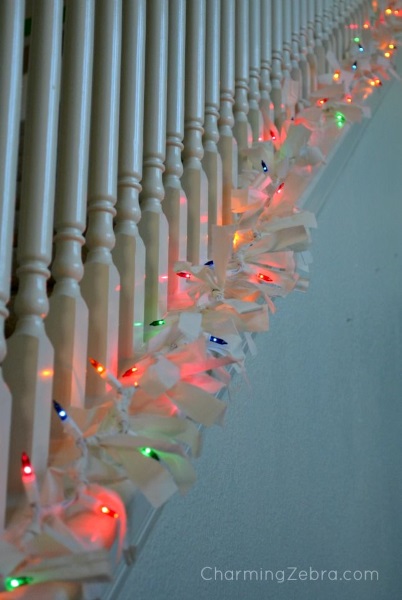 How to add that extra bit of sparkle to your home, just decorate you stair spindles with string lights.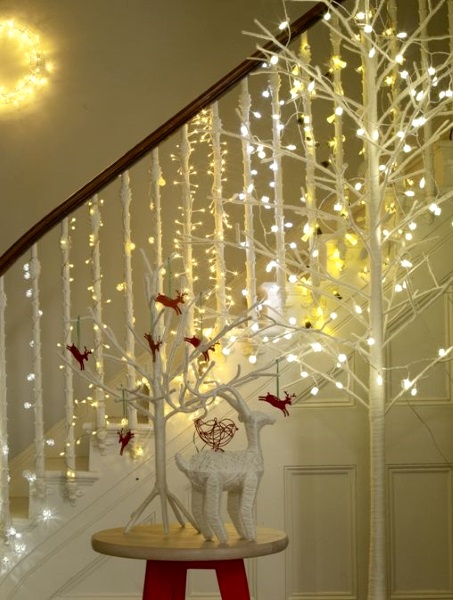 Beautiful Staircases Decor for Christmas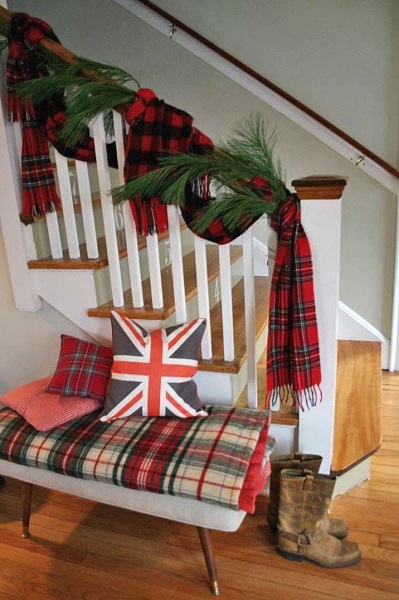 Gifts on the stairs!
Ideal for indoor or outdoor decor, the Majestic Double-sided Pre-lit Garland drapes elegantly atop your mantle, down a staircase or above a doorway and gently flickers to create a festive ambiance.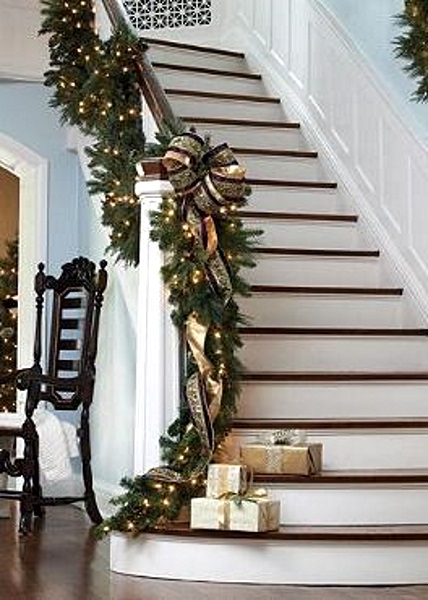 Pearls, lights & snowflakes stair decors
The snowflakes always remind me of my favorite movie Frozen and Periwinkle too (Tinkerbell's twin sister!).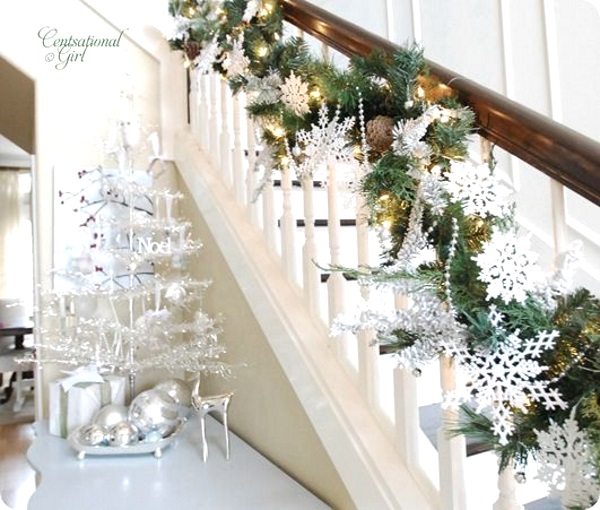 Simple Snowflakes for Stairs on Christmas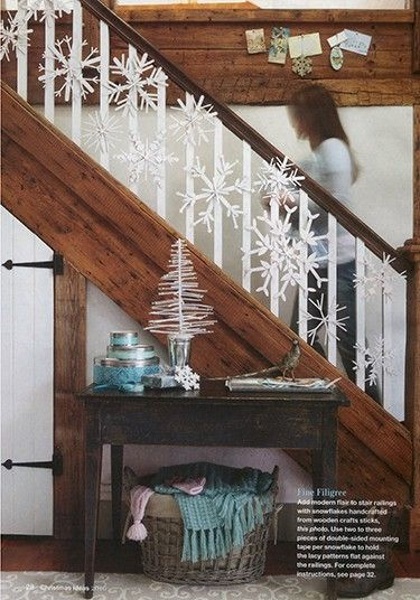 Unique Staircase Christmas Decoration
It's super spectacular with branches, lights, bead garlands & dangled gold ornaments.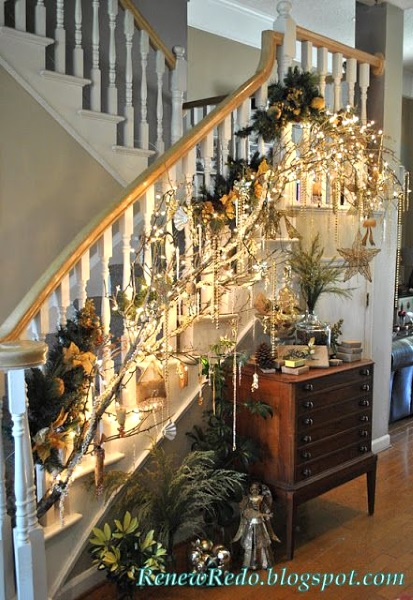 Love these vintage blow mold Santas on the stairs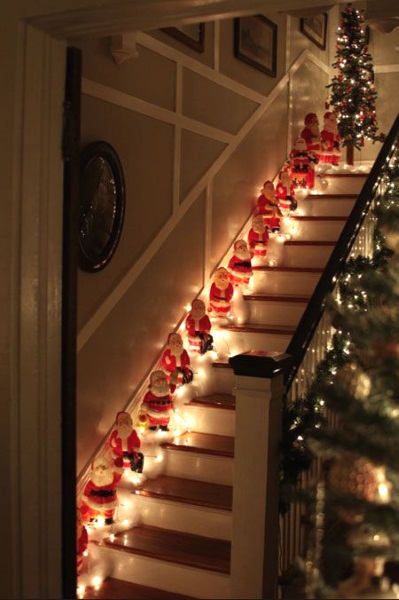 Do you have extra blocks at home? Do you think you can do some lettering using wood? This could be your stair decor this year!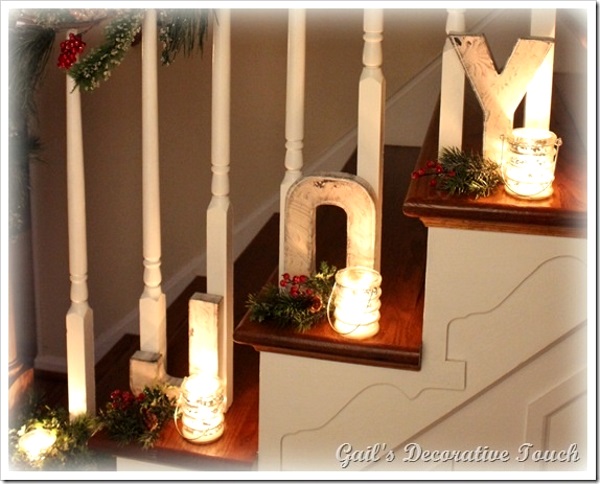 Christmas Jar Stairs decoration
Such a pretty touch to the stairs for Christmas but not ideal for homes with kids and pets.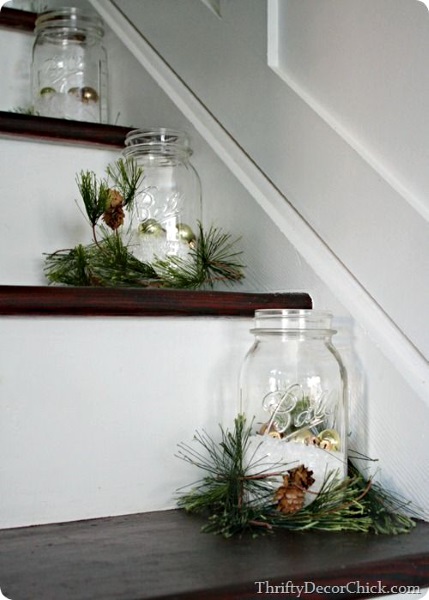 I want to do this on my staircase this year! The names of the Santa's reindeer written on each staircase. One sample I saw, instead of these names, written were "Have Yourself A Merry Little Christmas". A bright idea I may say.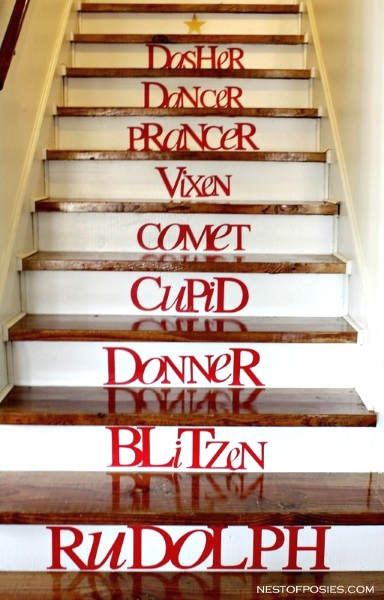 Another DIY stair decoration, with paper lanterns and lush greens encircling the banister add traditional charm to this staircase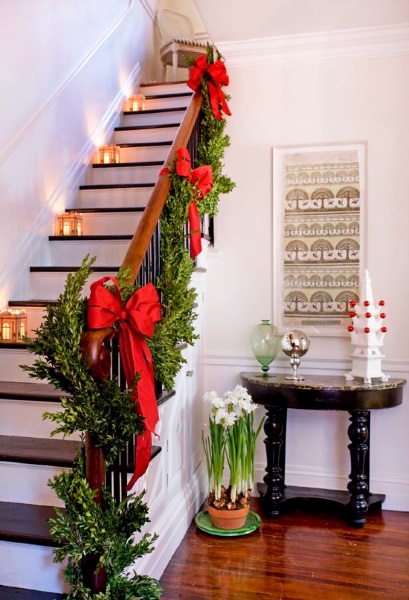 Candy Cane Christmas Staircase
Wrap your staircase poles with white and red ribbon for a North Pole effect. Would be cute to have the elves do this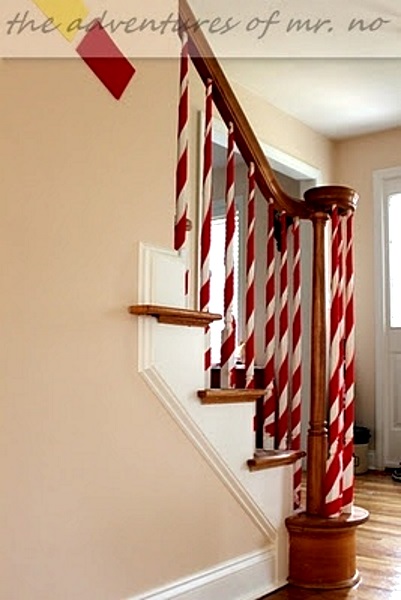 Creative Christmas Staircase Decorating Ideas
Instead of ornaments, you can hang Christmas postcards, greeting cards or family pictures on your garlands. Use some stylish clothespin.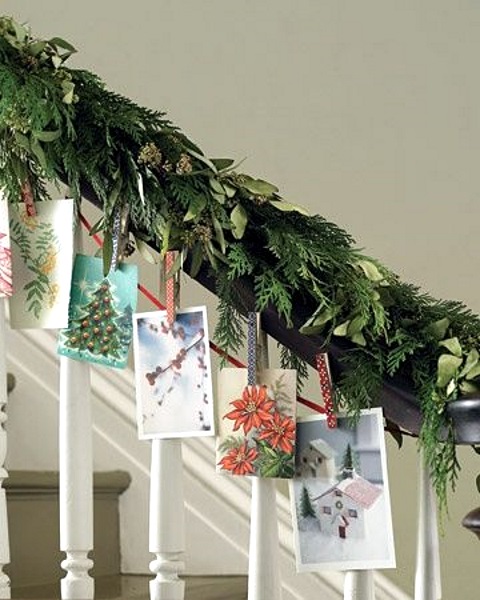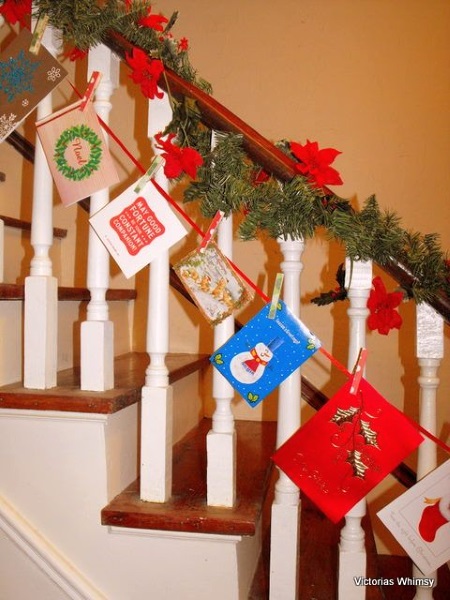 Display your own family's Christmas cards from years past. LOVE!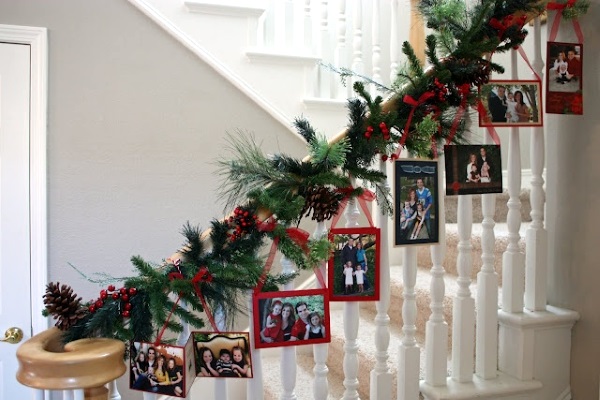 Picture of "Presents" Christmas Staircase Decorations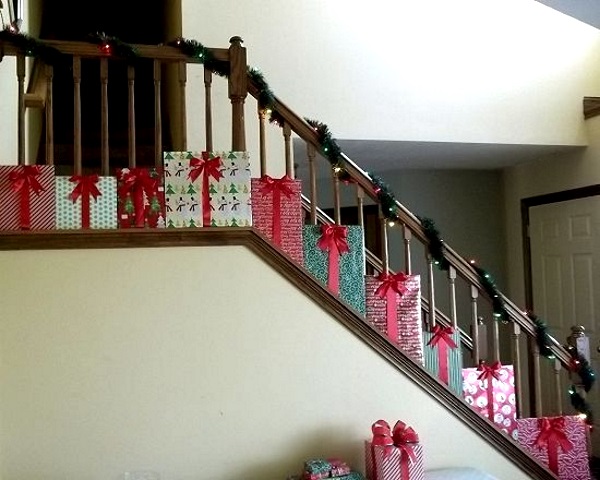 Fresh juniper in vintage enamelware. Easy DIY Stair Christmas decor but again, if you have kids and pets don't dare try this!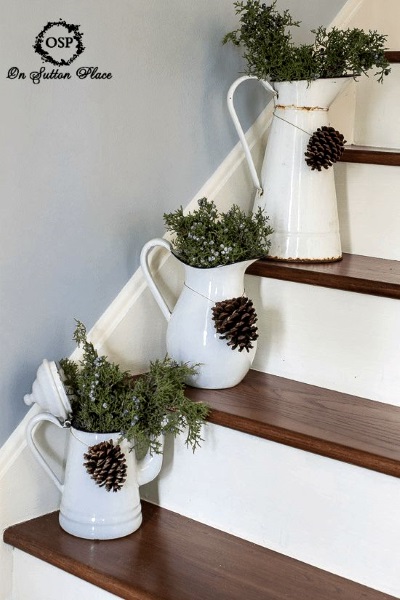 Now THIS is a unique penguin DIY Christmas decoration for stairs. This would be perfect for any family with little ones!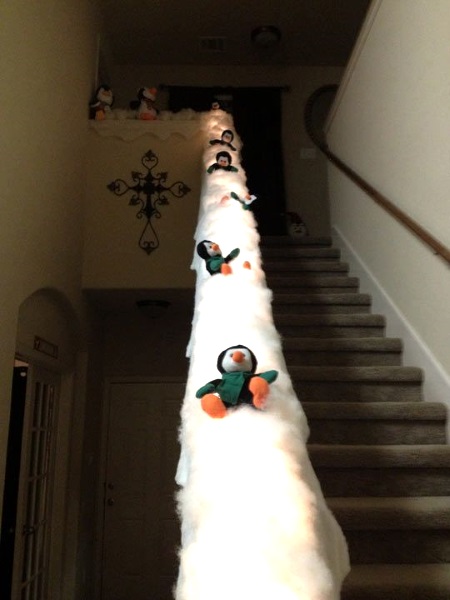 These stair decorations are really inviting. Your guests would really love to get close, take pictures and maybe explore your 2nd floor too. It may sound funny or selfish, I remember seeing one photo sample below if in case you don't like visitors going upstairs. Fill all the steps with Christmas balls, so there'd be no way people could take a single step upstairs. LOL. Anyway, I do hope you found your ideal stair decoration for this year. If you would ask your kids, I'm sure they'd pick the sliding penguins! Don't hesitate to share you DIY Christmas projects with us via the comment section. We would love to feature your work here. Keep sharing to Pinterest, Facebook, Twitter or email so your family and friends would be guided with their decorating sessions too. Till next time dear readers!