Who is Pou?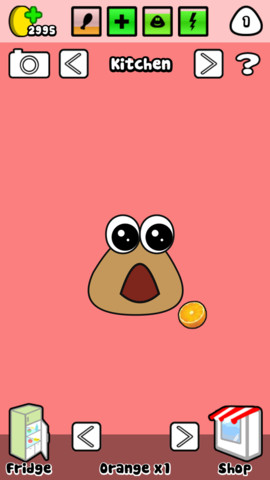 Pou for android and iPhone is an application,but for me it's more of a game. The character is said to be an alien which you can install through Google Play Store for Pou free download and Itunes for $1.99. Now you have your very own virtual pet. This photo is exactly how Pou would look like as a baby. Isn't it cute? Those big eyes and that wide mouth for a tiny body? Even without legs and feet, Pou is still adorable.
This is my assessment about Pou's name.
Look carefully, this character has the "poop" shape, so if you say it on slang you'd be saying "poo" instead of "poop". It might be a mistake but who knows? The start-up color which is brown- is quite a co-incident for my assessment too.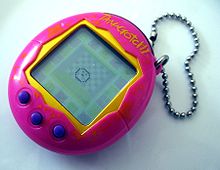 A quick recall, if you could still remember the famous but expensive handheld game gadget before which is called Tamagotchi, then you will realize that Pou is actually a modern and affordable Tamagotchi. The old virtual game was first sold by Bandai in 1996 in Japan and by 2010, 76 million were sold world wide. Unfortunately,it was so expensive that we were not even able to own one. It was a key chain gadget that can be played by people at any age. It is usually on an egg shape but has modification on later years.
The story of Tamagotchi was when these tiny aliens deposited eggs into the earth to know how it was to live in the world of human. That's how it all started, as an egg and their future will depend on the action of their human owner/keeper. They can be fed, cared, disciplined, can sleep, can play, go to the toilet and get medication too. Tamagotchi starts as a baby then child,teen,adult, seniors then eventually die. YES, this virtual pet dies either because of the owner's poor care or because of old age.
Now getting back to Pou, this game has lots of edges compared to Tamagochi .
For Android, it's FREE! Yup,since it was launched til now-despite the numerous updates Pou is still FREE on Google playstore! But for iphone users, it costs $1.99 at itunes but still affordable guys.
As long as you have an android unit, you can have this game and of course it's realistic that at least a household has one android unit user (more thank having an iPhone)
It's got MASSIVE exposure and promotion. From android app bloggers, Youtube reviews & testimonials. More users, more invites each day.
It's colorful unlike the LCD screen of Tamagotchi
It doesn't DIE. It gets sick too but at least it won't die. No kid will be upset.
Do you have anything to share? Comment below. Would be highly appreciated.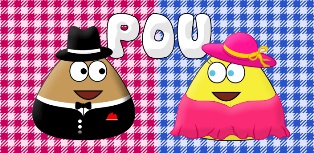 Pou is without gender at the beginning. You first have to do the usual routine of feeding,take care,gaming and letting it grow by experience +. With these activities, your Pou will earn coins and you will be able to shop stuffs for it. That's the time you can dress it up to determine it's gender. Buy dresses and other feminine items if you wish your pet to be a girl. They buy masculine items if you wanted it to be a guy. Those two above are just too awesome. They look good together too right?:)
This game is such a nice past time. For kids, it would teach them a sense of responsibility. They'd learn to check on this pet to see if it is well taken care of, else it's going to be sad or worst it's going to be very sick.
This Pou app has 5 rooms available. I've listed them below:
Note: You can change the wallpaper for every room. Just buy at the shop.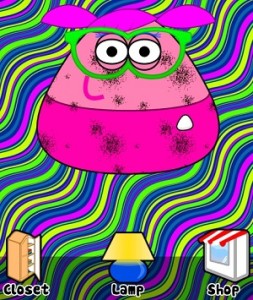 1. Bed room – This is Pou's resting place. You just have to tap the lamp to turn it off and on. By letting Pou rest, his/her energy will increase or eventually will be full. You buy from the shop so you can change the lamp color. The closet is also available in the bedroom. Just in case you have bought lots of items already, then you can check them all in the closet if you want to re-use other items.
2. Hall (latest among all rooms) – This room has a microphone and you can tap it for on and off. If it's on, it would work like Talking Tom. Your Pou will follow everything you say. Isn't it cute?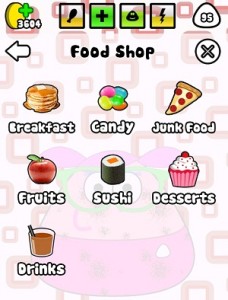 3. Kitchen – The fridge is located in the kitchen. It is where all you're shopped food are stored.
4. Lab – In the laboratory, you will find the necessary potions for Pou's living. Like health position, fat burner, energizer, max potion, hunger potion, adult potion (to make him grow fast) or baby potion to bring him back to being young. When your pet is dirty, you can find the soap here in the lab. Just touch the soap and wipe it to your pet. You will see bubbles and see that the dirt will disappear. The color of the soap can be changed by buying different colored soaps at the shop.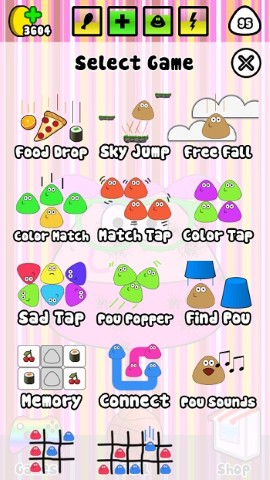 5. Game Room – it has 12 offline games and 2 online games(requires wifi connection). All games are really cute and cool, that would let Pou earn coins and increase xp (experience). These are the games and i love them all!
5.1 Food drop – touch Pou to move him left/right to catch falling food. Pou should catch only the "ood" and avoid the metal,shoe and toy – else your pet will die.
Feed Pou! Careful not to miss or feed it bad things!
5.2 Sky Jump – tilt phone left/right so your pet can bounce and land on rocks to reach as high as it can. Will it reach the moon? Will it reach the space? Well that's the challenge for you. This is my favorite because it's the game to earn lots of coins.
How high can Pou reach? Try to jump on as many platforms without falling!
5.3 Free Fall – tilt phone left/right while Pou is falling from the sky. Avoid the clouds else it's game over.
Pou likes to fall! Be careful not to hit any cloud!
5.4 Color Match – This is common move up,down,left ,right to group colors and pop them up. I think I am so good here because I only stopped playing because my phone died because the battery was emptied. Take note, I started with full energy lol.
Drag Pous to match 3 or more adjacent Pous of the same color!
5.5 Match Tap – It's similar to the color match but instead of pulling/moving the pous left and right- you only have to tap/touch the grouped Pou's for them to pop.
Tap on 3 or more adjacent Pous of the same color! Be quick!
5.6 Color Tap – The aim of this game is to turn all Pous into the same color, before the time ends. Supposed you have 10 green and 2 pink-when the game starts, immediately touch the 2 pink so they can be green. Just follow the majority so you won't have hard time.
Tap on Pous until they are all the same color.
5.7 Sad Tap – Tap the "sad pous". It starts with 4 Pous and gets many as you level up. There's a timer for this game so make sure to find all the sad Pous before the time ends.
Some Pous are sad. Tap the sad Pous! Be careful not to tap Happy Pous!
5.8 Pou Popper – This game is also a common shoot/throwing. Make sure to shoot of Pou on it's similar colors to pop them up.
Shoot Pou to pop all Pous! Be careful not to reach the bottom!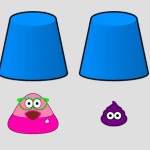 5.9 Find Pou – This game would assess your visual speed and memory. It begins with 2 cups. Guess where Pou is hiding. Other cups would contain a "poop". Ewwww. As you level up, # of cups will increase till 5 and the exchange positions will be very fast. So good luck.
Where's Pou? Under which cup?
5.10 Memory – This is another mind game and would assess your mind's capability to remember. You should have known this famous Nokia game way back on basic phones. Just remember where pair of items are located before the time ends. It starts with few boxes and with more as you level up.
Match all pairs of cards before the time runs out!
5.11 Connect – The aim of this game is to connect all Pous without leaving empty spaces.
Connect all Pous to it's SAME color! But don't leave empty spaces!
5. 12 Pou Sounds – 4 Pous with different sounds. You will hear 1 sound first then touch which of them made the sound. Then they will make 2 sounds, so again touch the 2 Pous consecutively. Until it reach 50 sounds- and yes you have to wait that long to get the highest award for this.
Memorize the sequence of sounds! Tap on the correct order of Pous!
Online games (requires internet connection so you could play with pets of other Pou users.
Join the community.
5. 13 Tic Tac Pou – online (make a line of 3 Pous). The first to create the line shall win.
5.14 Four Pous – online (make a line of 4 Pous) The first to create the line shall win.
Pou cheats? I don't have them but I have Pou for Android Tricks and Tips!
Well I am not that expert I know, but here are some useful tricks and tips on some games. I just discovered them by experience.
Sky Jump Tips – Always stay at the left most or right most side of the screen. Why? Because the clouds are usually on the center. Be quick in moving in case the clouds appear on the side most part but it just happens very seldom.
Sad Trap- play with a friend. So when you on higher levels and looking for 10 Pous, there's 2 of you tapping. Just assign who watches on the right and left sides. Tricky I know!
Perfect the Pou Sounds – I would usually number the Pous 1, 2, 3 and 4. I would list the sequence of their sounds. This game don't have a timer so it's safe to list the sequence of singing then tapping them accordingly. Try it yourself. Just timely but at least you're perfect at it!
Hope this would help you. If you have more in mind, I'd be glad to know about them in the comment section!
Purpose of this icons and other stuffs.
SHOP – The shop icon is shown on every room. So it's accessible immediately when you're needing something for your pet. It is were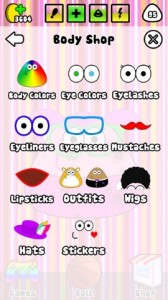 all items are found. Some items are locked and made available according to your level. Items for sale are balls, wallpapers, body shop (body accessories), food, potions, soaps, lamps, phone (Pou account and community) and the "Pou Store" which is selling "real mugs and t-shirts" in case you become a die hard fan of this application.
CAMERA ICON – You can take photos of your cute pet anytime then share it on your social networking sites. On few (just few) games it's not applicable.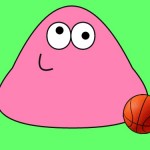 BALL – You can choose different colors or personalized where your ball has your country flag design. I'm from the Philippines. How about you? Cool right?
COINS are used to purchase from the shop. To earn this, be active on Pou by gaming or just doing the usual routine.
BODY SHOP includes body colors, eye colors, eyelashes, eyeliners, eyeglasses, mustaches to make it male and lipsticks to make it female, wigs, hats and outfits. Outfits includes shirts, coats, dresses, suits, jerseys, animal customs, Christmas and Halloweens too. Check it out and you will be so amazed with the lovely outfits!
XP or Experience – When this reaches 100%, it means you're reaching the next level. Last January, max level was only 80 but they updated so it's 100 as the highest level now I am at level 95 though I am not that active anymore.
RUB POU – your pet would sound like a sighing puppy. So cutie!!
TURN OFF LAMP WHEN HE IS FULLY ENERGIZED – he will make a confused(complaining sound) because you want your pet to sleep even if it's not sleep yet. It's still ready for activities..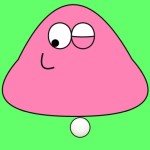 TAP THE BALL & THROW anywhere- to increase his happiness (smile) Look what I have done. I was pressing the camera icon and captured my Pou on an ugly look. I love doing this hahaha!
YAWNS with EYE BAGS – when he is sleepy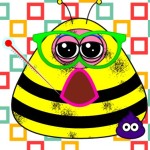 THERMOMETER – if he is sick because all the 4 boxes are low or empty (food,health, happiness, energy) I am a bad mom!
WIFI connected : When you're connected, you can even visit other Pous online! 🙂 You will be able to visit the Pou community. You can add them as your favorite, leave them a message on their guestbook, you can browse their rooms and achievements and the best thing about this is you will be amazed on everybody's look! Users are so created in dressing their Pou and I adore those cuties.
Do you see that egg shape at the top-right most portion of the photo?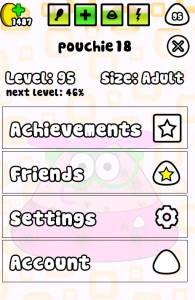 You will see # 95 in it. That's my level. If you tap/touch that egg, you will be seeing your pet's name, life status, experience left for next level, achievements, friends, settings and account
Achievements: There's lots of achievements for you to aim. Whether on eating, drinking, cleaning, potions taken and especially for the games. It allows you to beat your own record, so it keeps you playing and aiming for higher achievements.
Friends: You could only access this when you're connected to the internet. This is where you'd find the Pou community.
Settings: Sound, Music and Light options are found here.
Account: This is where you create/change the name of your Pou. This is where you assign an email address so you could be a part of Pou community online. You can be searched by others using your name and email address.
POU Community and the most famous Pou pets (Top Likes)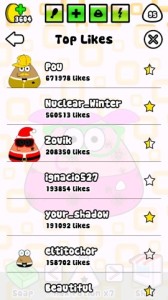 You can actually search Pous by nickname and email the user has provided. You can just browse on the random Pous to check on users global. You'd sometimes have a clue by looking at their "balls" because some users would use their "flag designed balls".
So far, these are the most popular Pous in the community. They are getting more likers each day because they have been shown on the the top likes option. Tell me if you find them cute too. Some are just simple but what to do? They've got much exposure already. Grrrr!
I think I've got slow internet connection, that's why not all pets are shown (loaded) completely.
For updates, you could visit their Facebook Fanpage or follow them at Twitter.
Download Pou App & enjoy gaming! 😀 I'll update soon as the Pou application also updates.
Please add my Pou? Will return the like and message 🙂

My cute thing is pouchie18 Thanks!

Comment your Pou name below so I could add you too!