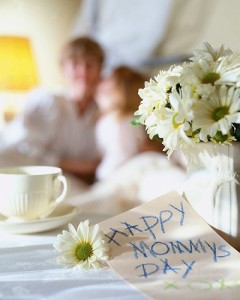 If Christmas, New Year, birthdays and anniversaries have countdowns then I encourage everyone to count with me for one of the most special occasion for the whole year round- the Mother's day.
Check our our Mother's Day Party Ideas !
Who wouldn't agree with me?
Every mother deserves the love and gratitude any child could ever give. Whatever you call her- mother, mom, mommy, mama or for my own Philippine language "Mamang". I am so sure it's one of the very first word a child have spoken.
Mothers Day is a celebration throughout the world to express appreciation for their own mothers. It started in America early 1900's when Anna Jarvis held a memorial for her mother and she started a campaign of Mother's Day in the United States. She was successful because evidently, the whole world is celebrating this lovely occasion until now.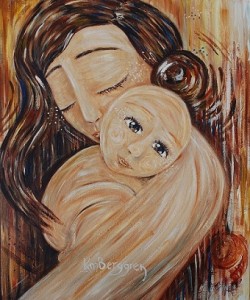 Our dear mothers loved us first even when we were not born in this world yet. She had 9 months of struggle to make sure her pregnancy is doing well so we will be born at our best condition. A mom will always be the first to celebrate her child's success and the very first to suffer when her child is in pain. That's the great connection between the mother and the child. That's the very reason why lot's of artists and painters have this "mother and child" paintings because they know that the relationship is extraordinary.
Mothers Day date is celebrated every 2nd Sunday of May or exactly May 12, 2013 for this year. It's exactly 8 days to go (Philippine standard). I am exerting my very effort to provide you a list of mothers day presents whether it's cheap or expensive. I would love to know how these ideas would work for you guys.
I am honestly not close to my mom before. The very reason is because my dad was so charming and affectionate towards the daughters, so my mom became the strict to implement discipline among us. I have always loved my mom and I know she loves me too, but I always had this fear towards her. I would sometimes feel uneasy in front of her and not as comfortable I am when I am with my father.
When I finished college and started to work, I became mature and eventually was starting mature conversations with mom about work, family issue and more. That's when I realize she's not that tough anyway and that she was just trying to portray that characteristic in my younger years so I and my siblings would always listen to them. This time, I could say I have become closer to her and it feels so overwhelming.
Our Mothers Day 2012 surprise for Mamang.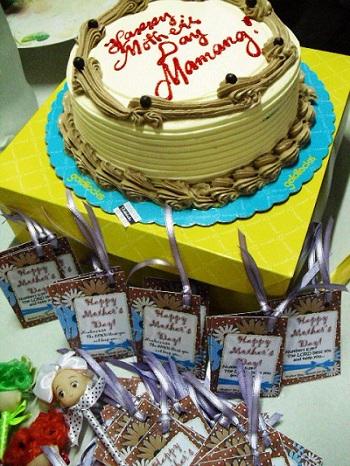 I and my sister started this mother's day preparation few years ago but I was just able to have photos for mother's day 2012. This was a top secret mission that even my father was not aware I was able to sneak a cake in our house. I bought the cake Saturday evening then hid it in our room. When mom and dad went to bed that's when I put in the refrigerator. So I and my sister got up early in the morning to light the candle that just as mom had woke up, she saw the cake and yes was so happy. I also loved to make personalized cards, tags and bookmarks so notice the stuffs around the cake. I will tell more about them on the later part of my post.
REMINDER: If you plan to do a surprise, don't keep it from your dad. I think my dad felt a little sad that we kept the plan to ourselves. Sorry Papang! 🙂
Mothers Day 2012 is over. Now what's your plan for 2013?
I am 99% ready for Mother's Day 2013. How about you? Please feel free to browse and I would be very glad to accommodate your own thoughts about this occasion plan. If you can prepare for your wife, husband, girlfriend or boyfriend- then how much more could our mothers be well deserving for such a great surprise right?
Mothers Day Gifts
Some could afford the expensive ones but it doesn't matter if you could give cheap or personalized gifts. It's always the thought that counts. Especially for kids who are not earning yet, well read more and see which mothers day gift ideas would suit your resources. Let's begin with the easiest things to do then the more complicated ones. For mom, nothing is quite complicated.
Breakfast in bed– mothers would always wake up early and serve for father and the kids. Why not on this special day, prepare her a special mothers day breakfast in bed. It would be so sweet!
Mothers Day Flowers – whether it's a grand bouquet of just few flowers from your own garden, sure your mom would love this. I know some are giving plant of pots especially to those moms who love gardening. Flowers are naturally pretty and every mom is lovely too. Sure they will complement each other.
Stuffed Toys– who says mothers won't like these? When it's from their beloved kid, then sure that would be very special.
Mothers Day Cake or Cupcakes – if you know how to bake, then good for you! Only that, if you plan to keep it a secret that would be hard to bake at dawn while mom is sleeping right? Why not try our mother's day 2012 plan? Buy the cake the night before and sneak into your house. She'd be so surprised!
Mothers day Cards – One of the cheap mothers day gifts. Very classic yet very special. Moms would always love it when kids express how they feel through words. If you are looking for the right mothers day poems , mothers day messages, happy mothers day quotes then I would love to recommend this lovely site that would provide you all you need with regards to quotes, poems and messages.
Mother day Crafts– moms would love personalized gifts. I usually encourage my little cousins to do it with me so they can give it to their mom. I also let my church Sunday school students do any of these crafts. They are simple, cheap yet very meaningful. This sample is a greeting using nail polish. Oh so cute.
Chocolate – sweet right? But for aged moms I suggest don't give this because they are not fans of chocolates anymore.
Picture Frames or Photo Collage – they sure would love looking on stuffs like these. Try to collect old and new photos of your mom. Include stolen shots of her motherly tasks like cooking, cleaning the house, taking care of siblings or shopping. Include a nice mothers day poems , mothers day messages, happy mothers day quotes to make it better.
Painting or Crossed Stitched – the mother and child design or just anything that appreciates mother.
Slide show – if she stays a lot in the internet especially Facebook and Youtube, sure she would love seeing a slide show of her photos with your special greetings. See below for mothers day songs or songs for mothers.
Jewelries – now let's begin with the expensive gifts for mothers. If you can afford, then buy her a watch, ring, necklace, or earnings. Mothers are precious as these jewelries.
Books – choose a book of her interests. Cooking, gardening, music, home designs or just choose an inspirational book that would uplift your mom in her everyday activities.
Shopping – some moms would enjoy buying new stuffs for their interest. Whether for the kitchen, garden, room, car or additional appliance. If you can, then treat your mom a shopping.
Spa or Beauty treatment –I know moms are so tired every day. They deserve a good body spa and massage. If not, try to bring her on a parlor for beauty treatment. She'd bloom more!
Gadgets – If your mom is still a techy mom, then sure she'd love new trendy phones, tablets or ipads. She'd enjoy using that stuff in her vacant hours.
Personalized Stuffs – like a mug, a pen, a shirt with captions like "best mom wearing this shirt", "best mom ever"..
Bag – my mom don't like this much because she stays a lot at home. But to those moms that still hangs out a lot with friends and relatives, sure she'd love a new bag given with lot by her child.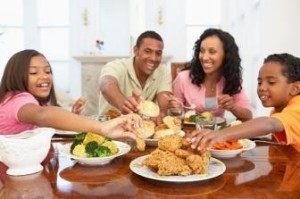 18. The very important part, mothers day dinner. Hey if you're planning to go out somewhere, please spend this dinner at home. It would make your mother happier that the day ends and still your celebrating the special day of gratitude towards her.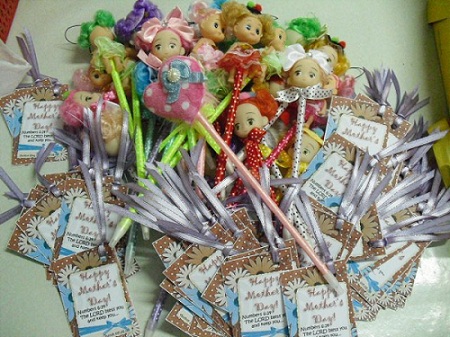 I am not rich but for some years I was able to make mothers day bookmarks for mothers at our church. You can also try it yourself. Give it to your aunts, office mates and friends. If you like, you could wrap 3 chocolates in a nice little bag and just put a lovely happy mothers day tag.
As promised, just when you're planning to make mothers day card or looking for SMS greetings, Facebook wall posts then here are some samples of:
Mothers day poems..
My mother, my friend so dear.
Throughout my life you are always near.
A tender smile to guide my way.
You are the sunshine to light my way.
Steadfast Devotion
Happy Mother's Day to you my mother
With courage and faith you soar higher
With endurance you fought with stress,
A never ending effort to give your best
You cross over valleys of defeat
Dream big for your kids
Never thought to surrender
But to push yourself further.
It is my pleasure to let them know
That I've been blessed with a mom like you
For all the things you've done
I am proud to call you mom!
Today is Your Day
Your toll is not a joke
It won't be relieved with a bottle of coke
Your hardships are incomparable
But you never showed that you are not able.
Your tears are unseen
But you have never been mean
I love you just the way you are Mom
Today's your day for being awesome.
Quotes about mother and mothers day messages..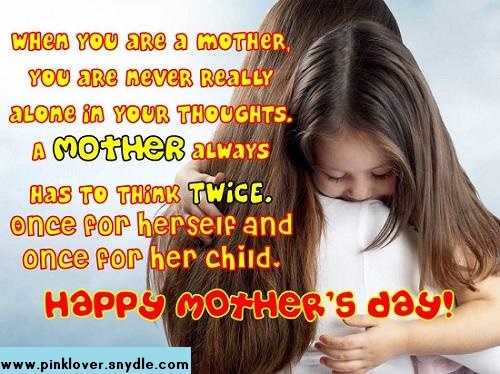 When you are a mother, you are never really alone in your thoughts.
A mother always has to think TWICE.
Once for herself and once for her child.
I always pray to God, may you live long. May you always be with me. Love you more than my life. Love you Mom.
"When you are a mother, you are never really alone in your thoughts. A mother always has to think twice, once for herself and once for her child."
"There is no way to be a perfect mother, and a million ways to be a good one."
"If Mama ain't happy, ain't nobody happy."
more of happy mothers day quotes for you to share to your mother, grandma, aunts and friends.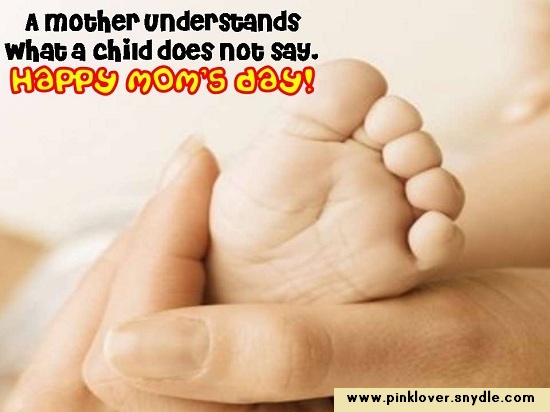 A mother understands what a child does not say. Happy Mothers Day!
I remember my mother's prayers and they have always followed me. They have clung to me all my life.
The best medicine in the world is a Mother's Hug.
Love your mother, the most beautiful person on this earth. Our best critic yet our strongest supporter.
You never appreciate things your mother did for you until you do the same things for your kids.
God could not be everywhere therefore He made mothers.
Mothers hold their children's hand for a short while but their hearts forever.
If you're planning to sing to your mother, then here are my top favorite songs for mothers day. If doesn't matter if you could sing really well or not, it's always the thought that counts guys!Make this occasion extra sweet and serenade her with these mothers day songs.
1. Good Morning Beautiful by TIM MCGRAW
2. Wind Beneath My Wings by Bette Midler

3. Mama by Spice Girls
4. Thanks to you by Tyler Collins
5. Beautiful In My Eyes by Joshua Kadison
.
For more, you could visit this site which has a collection of birthday wishes, Christmas greetings, holiday wishes, Anniversary wishes, party invitation wordings, quotes, poems, greeting card wordings, SMS and text messages greetings.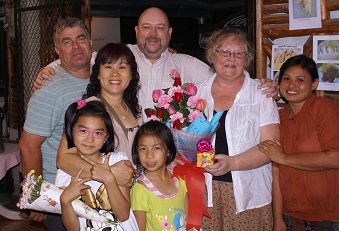 I hope I've provided these ideas just in time, right before the occasion. If in case you will try any of the lists above, please do hesitate to take Mothers Day Pictures. It would be great to capture these sweet moments of gratitude. You can always share it on our comment section or email me so I can have a Mother's Day 2013 Success Stories portion in this post. Please share additional good mothers day gifts too. I'd appreciate it a lot.
Let's strive to make our moms happy on their special day. M.Y.M.P. or Make Your Mama Proud.
I am 99% ready for the occasion. How about you?
Get back to this page and tell about your own experience this May 12, 2013.
Thanks for reading.
Happy Mother's Day Mamang!