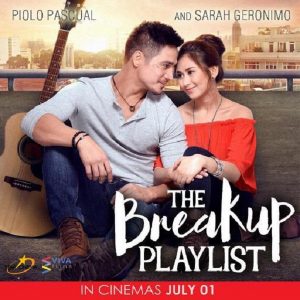 Finally, Star Cinema and Viva Films decided to team up two bankable stars of ABS-CBN. These are the certified box office king Piolo Pascual and queen Sarah Geronimo of Philippine movie industry. Built up and paired with different celebrities in their past movie projects, Piolo and Sarah have proved their excellence and captivated the hearts of the Filipino movie goers. With each of their characters and famous lines, every movie released was a sure hit and never could I imagine how better this project would be, knowing all their past movies were very remarkable. Piolo and Sarah are undeniably big stars of their own generations. With the age gap of 12 years, I never thought they could actually be paired in a love story-big BUT, the movie looks convincing. They do look like they're in love with each other on their sweet scenes. I guess that's what good actors are for. lol
Multi-talented as they are, Piolo and Sarah are both endorsers, program hosts and most especially they are awesome singers. That's how they met in the movie. For the love of music, Trixie (Sarah) joins the band of Gino (Piolo), made beautiful songs together and falls in love with each other. Only then Trixie realizes the pressure of being a band member, a law school student and with her parent's expectations which led to her misunderstanding with Gino as band mate and as a lover. What awaits for them? That's for us to find out. So for now, I invite you to watch the trailer of this very promising movie. The Breakup Playlist movie review very soon 😀
TRIVIA: The director of this movie is Mr. Dan Villegas, FCS which also directed English Only, Please last year. Lead stars Jennylyn Mercado won as best actress and Derek Ramsey won the best actor title for MMFF 2015 (Metro Manila Film Festival 2015). Mr. Dan has worked for different big movie projects being a DOP or director of photography (cinematographer). There's actually more, but I'm not listing them all. Just these movies below because I'm sure you know them well 😉
2014 Relaks, It's Just Pag-Ibig (director of photography)
2014 Beauty in a Bottle (director of photography)
2014 She's Dating the Gangster (director of photography)
2014 Bride for Rent (director of photography)
2013 She's the One (director of photography)
2013 Bakit hindi ka crush ng crush mo? (director of photography)
2013 Quick Change
2012 24/7 in Love
2012 ÜnOfficially Yours (director of photography)
2011 Forever and a Day (director of photography)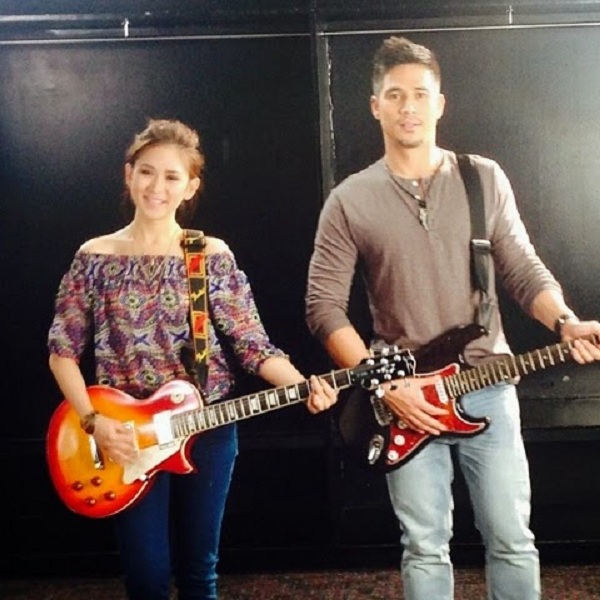 Watch The Breakup Playlist Trailer here
[youtube http://www.youtube.com/watch?v=ywgS8SG9hx8]
While here are some of Sarah and Piolo's pictures together, during the shooting of this movie, during their interviews and during the movie's block screening. Enjoy!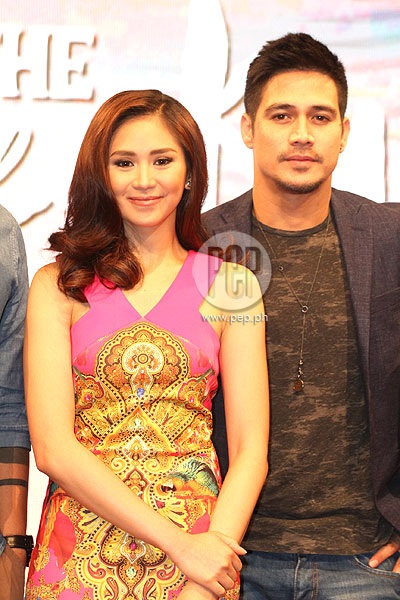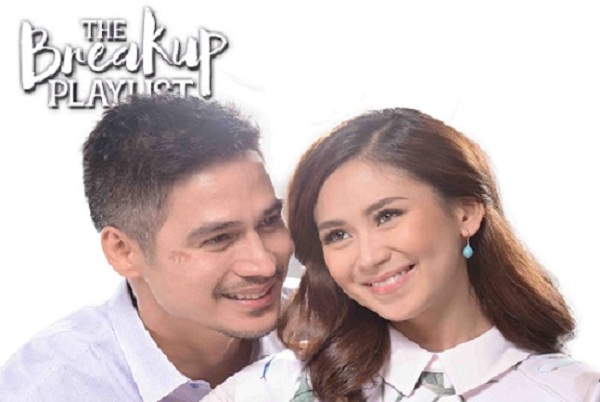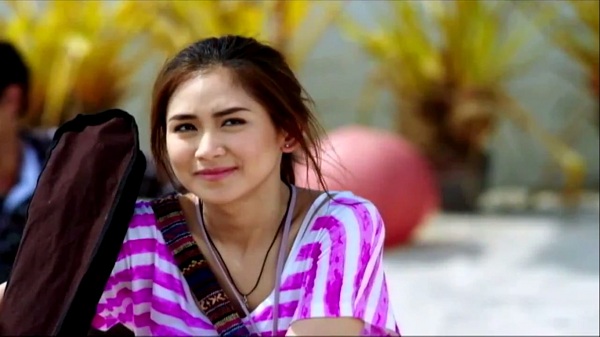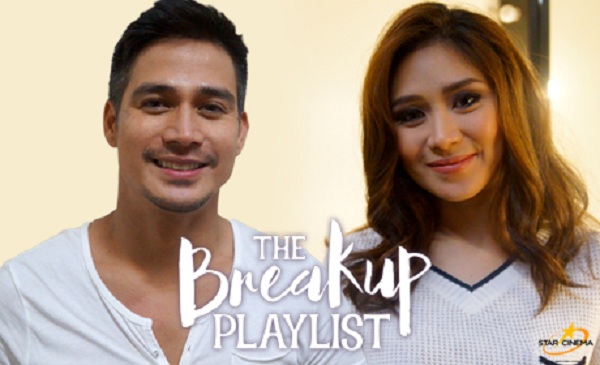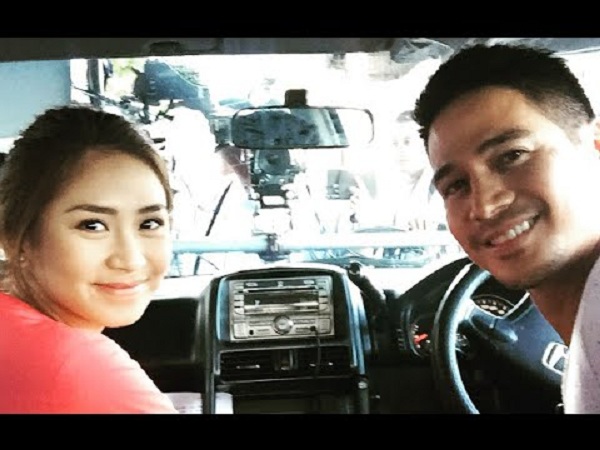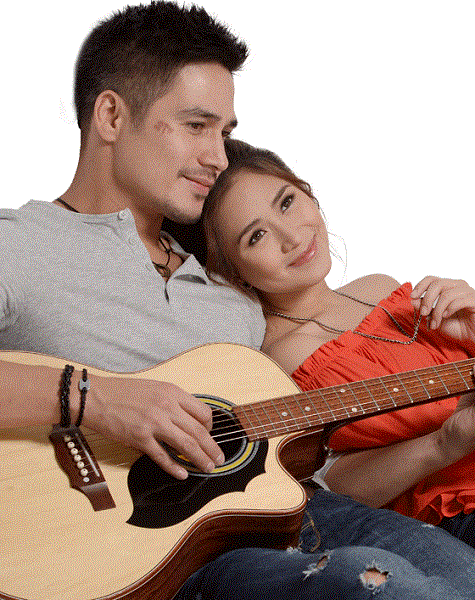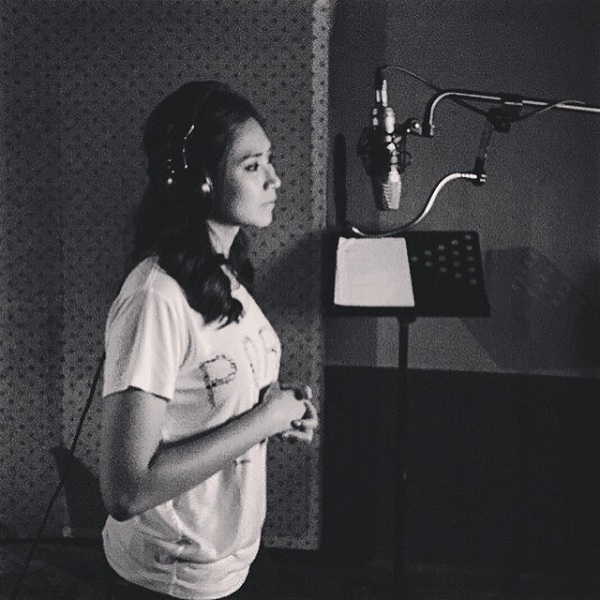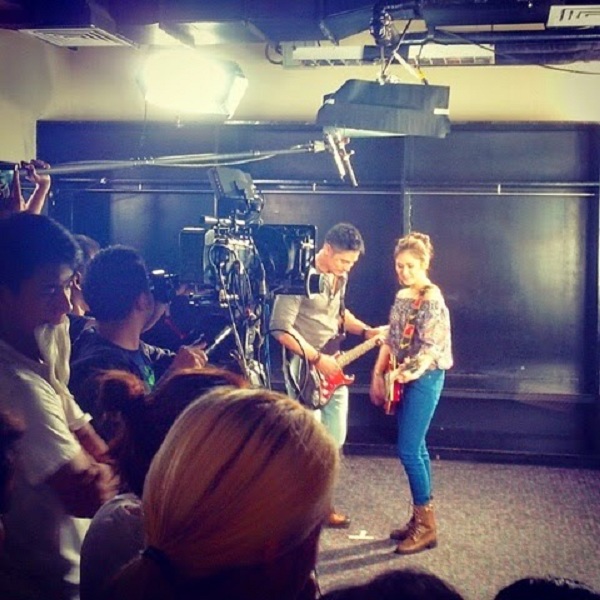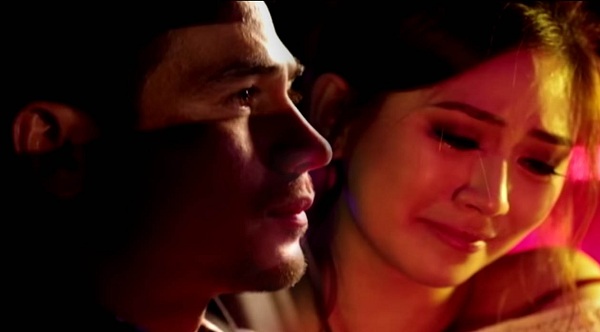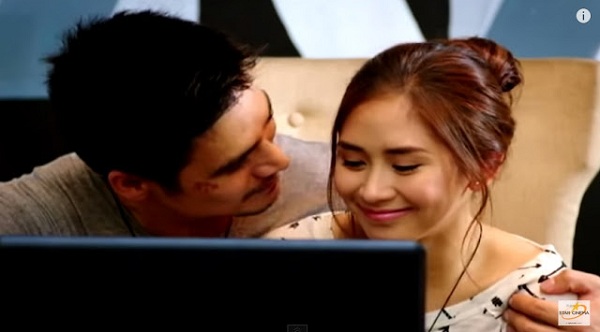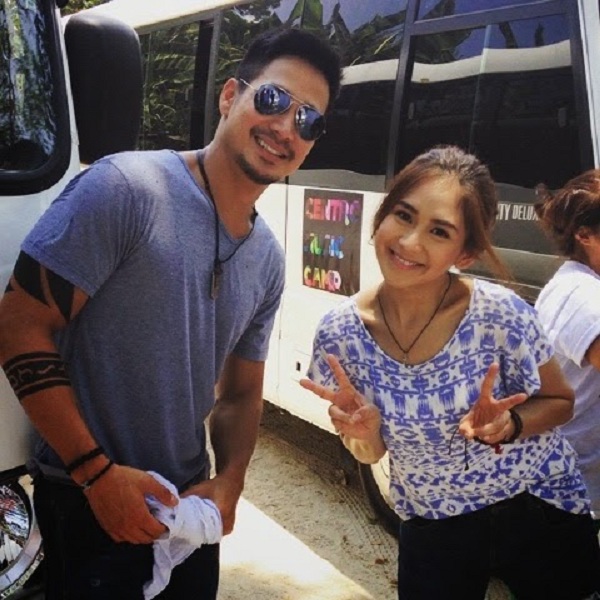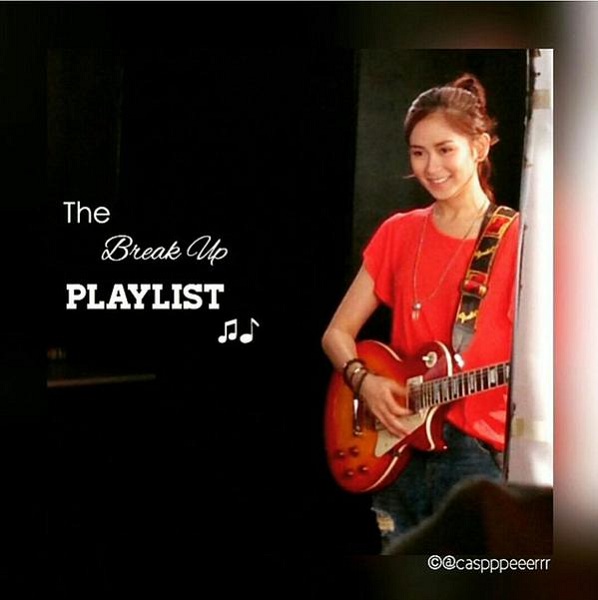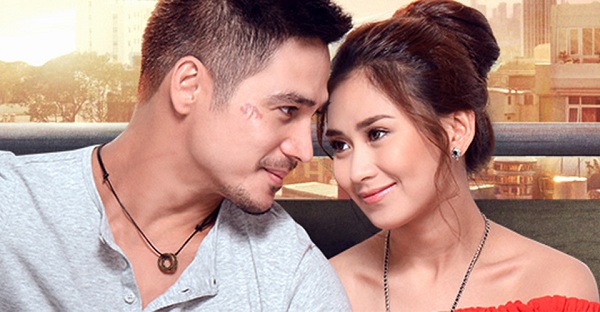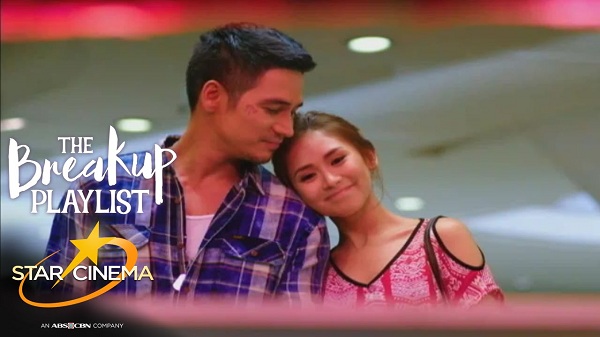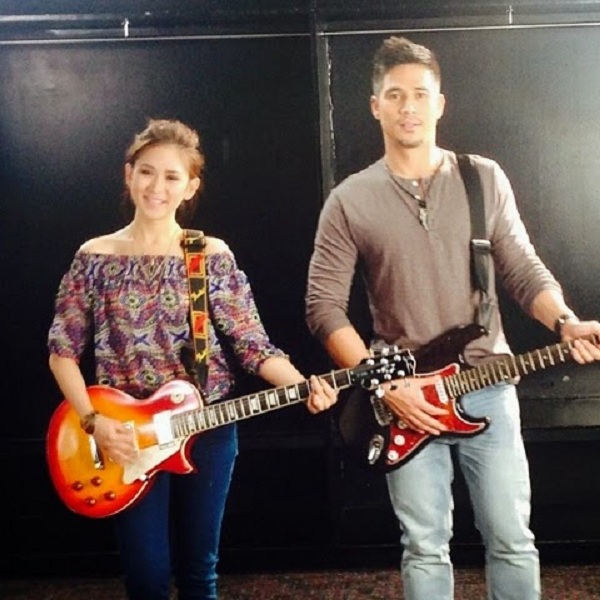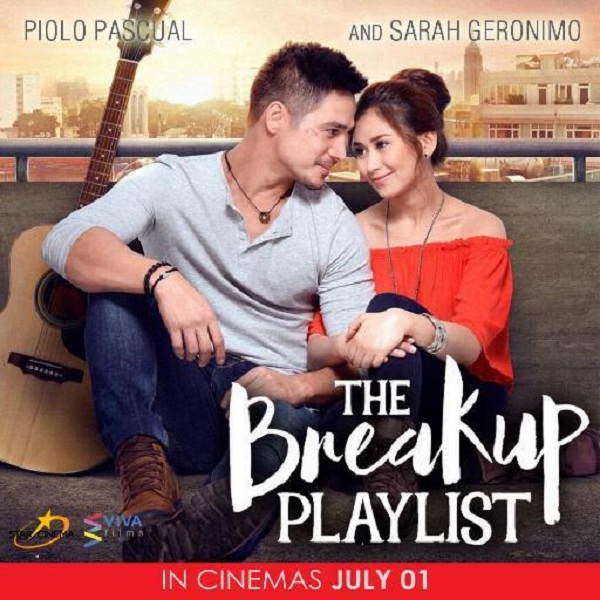 CREDITS TO STAR CINEMA, ABS-CBN, VIVA FILMS and THOSE WHO SHARED THESE PHOTOS ON TWITTER & INSTAGRAM. PLEASE SEE THEIR ACCOUNTS FOR MORE 🙂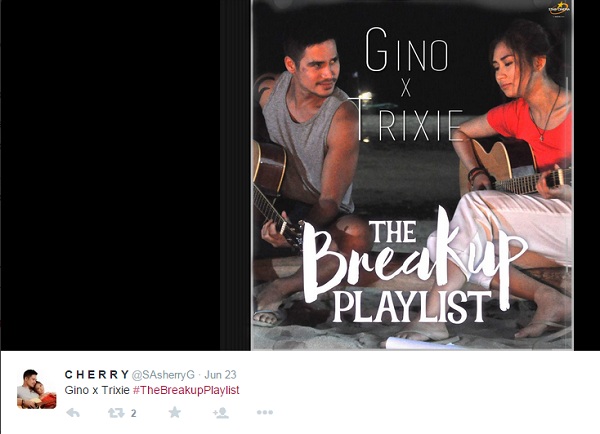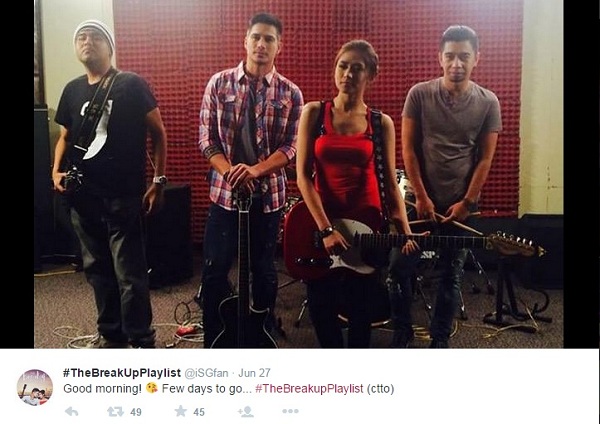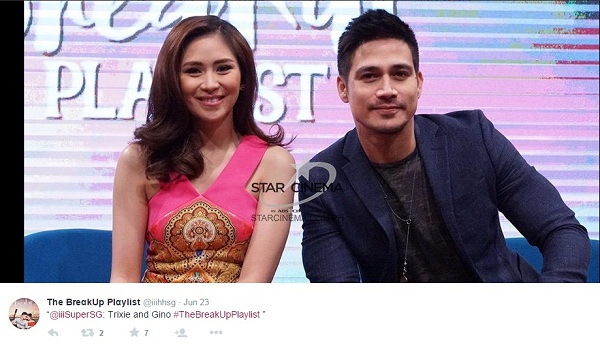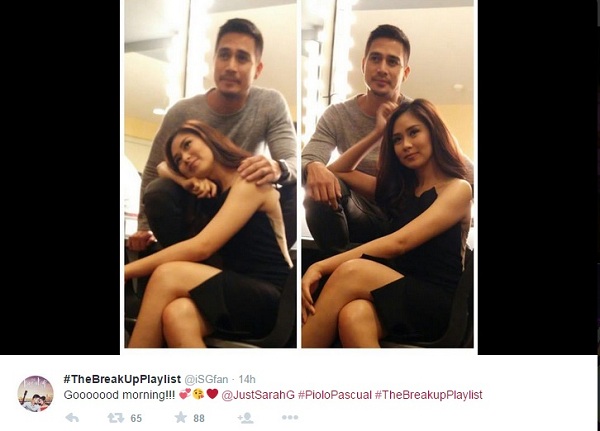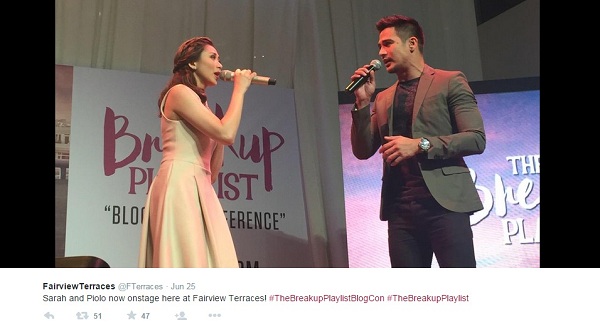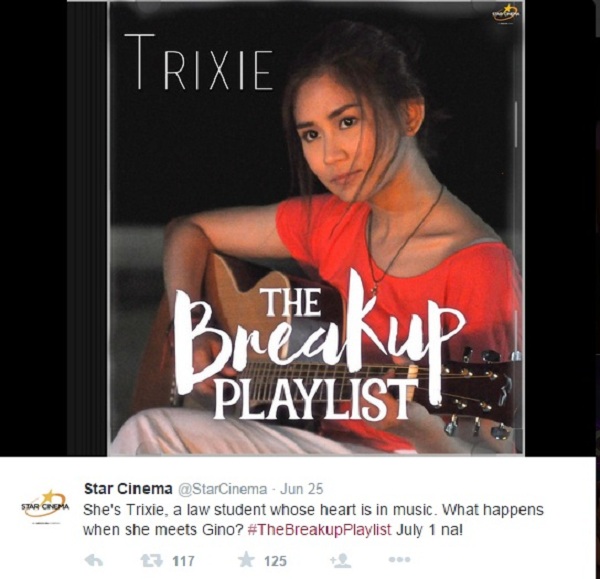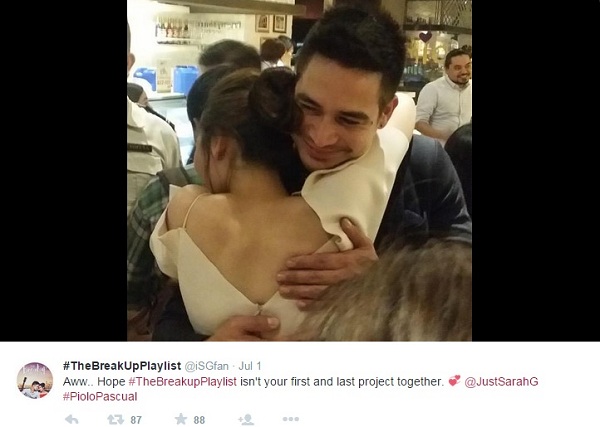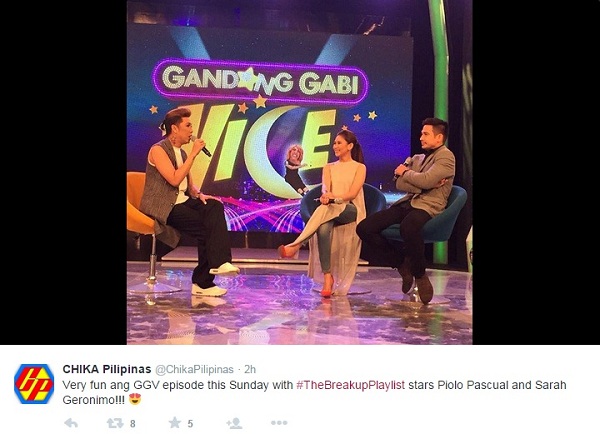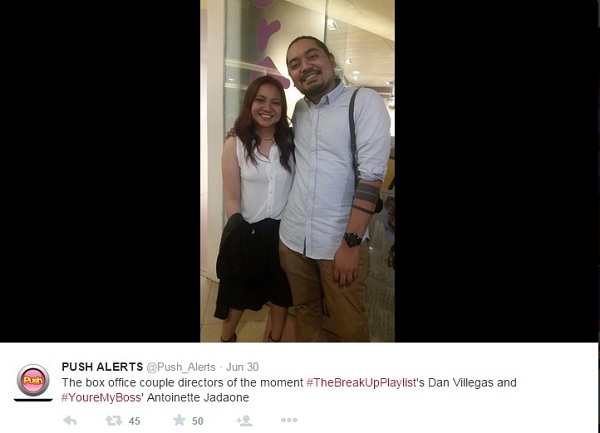 I will never wonder if this would also be a high grossing movie during opening or even if it would be a box office movie this year or of all time. It's not new for Piolo and Sarah to be even awarded as best actor and actress on different prestigious award giving bodies.They totally mastered their craft. Between Piolo and Sarah, I'd say I'm more of a Sarah fan. I don't hate Piolo, (PROMISE) but I am just not a fan. Maybe because I find him old for my generation (sorry!!!) but I have watched lots of his movies. Below are my top 5 movies from the two of them.
My Top 5 Sarah Geronimo movies (Best movies of Sarah Geronimo)
The Filipino movie viewers were used of seeing Sarah Geronimo do some romantic-comedy and a bit of drama movies with John Lloyd and once with Coco Martin. So The Breakup Playlist is going to be another first time pair up with Piolo and the trailer showed not much of the usual rom-com but a heavy drama instead. That's something to look forward to on July 01.
My Top 5 Piolo Pascual movies (Best movies of Piolo Pascual )
Piolo is known as a great dramatic actor. So make sure you're ready with tissues before watching these movies below, okay?;)
Making this movie The Breakup Playlist even more exciting and promising is their OST (official sound track) entitled Paano Ba ang Magmahal by Pencil Grip. This was originally sang by Erik Santos featuring PBB finalist Liezel Garcia. Their rendition is really great but when Sarah and Piolo sang their version for their first movie together, I admired it a lot. Their band Pencil Grip did a soulful and heartfelt rendition of the song. I have been searching for Paano Ba ang Magmahal guitar chords but I can't find it anywhere online. I sent my brother a message on Facebook, told him to listen to this song and send me the chords the soonest he could. At last, my brother loves me so much and I'm sharing the love to all of you. Please bear with us, because he was using a Ukelele when was determining the chords. For corrections, write me a comment below please. Here you go, the easy guitar chords of The Breakup Playlist's Official Soundtrack Paano Ba ang Magmahal.
Paano Ba Ang Magmahal Lyrics and Chords (updated this July 07, 2015) 😀
                      C
Heto na naman ako,
         Em                           Am
Nag-aabang ng bago sa istorya ko
                            F                               C
Paulit-ulit na lang, paulit-ulit na lang
                      C
Heto na naman ako
    Em                                           Am
Tinitignan sa'n nagkamali ang puso ko
                                       F
Parang walang katapusan
                            G
Walang katapusan
Pre-Chorus:
Am
Kahit pilitin pa ang sarili
G                                      F
Ibigin kang mali, ako'y mali
                Fm
Ako'y mali
Chorus:
                           C
Paano ba ang magmahal
                           Em
Palagi bang masasaktan
    Am
Umiiyak na lang palagi
       F                         Fm
Gusto ko nang lumisan
                          C
Paano ba ang magmahal
                                 Em
Kailangan bang nasasaktan
    Am
Lagi na lang di maaari
F                              Fm
Ngunit ayaw lumisan
                        C
Heto na naman ako
      Em                                   Am
Parang hindi nadadala ang puso ko
                        F
Kahit nasusugatan
                             C 
Aking ipaglalaban
Am
Kahit pilitin pa ang sarili
G                                             F
Ibigin kang mali, parang mali
                Fm
parang mali
                          C
Paano ba ang magmahal
                         Em
Palagi bang masasaktan
    Am
Umiiyak na lang palagi
       F                         Fm
Gusto ko nang lumisan
                            C
Paano ba ang magmahal
                                 Em
Kailangan bang masasaktan
    Am
Lagi na lang di maaari
F                              Fm
Ngunit ayaw lumisan
Bridge:
           Am                    G/B      
Kailan ba ang tamang panahon
           Am           G/B  
Kailan ba magkakataong
           Am                 F                Fm
malaya na ang puso mo at puso ko
                         C
Paano ba ang magmahal
                         Em
Palagi bang nasasaktan
    Am
Umiiyak na lang palagi
       F                         Fm
Gusto ko nang lumisan
                           C
Paano ba ang magmahal
                                 Em
Kailangan bang nasasaktan
    Am
Lagi na lang di maaari
F                              Fm
Ngunit ayaw lumisan
                          C
Paano ba ang magmahal
                         Em
Palagi bang nasasaktan
    Am
Umiiyak na lang palagi
       F                         Fm
Gusto ko nang lumisan
                           C
Paano ba ang magmahal
                              Em
Kailangan bang nasasaktan
    Am
Umiiyak na lang palagi
    Em
Lagi na lang di maaari
    Am
Umiiyak na lang palagi
   Em
Lagi na lang di maaari
F                              Fm
Ngunit ayaw lumisan
Paano Ba ang Magmahal Lyrics and Photos – The Breakup Playlist Replay 18 minutes
[youtube http://www.youtube.com/watch?v=QBJuNwyt-KA]
Fore Paano Ba ang Magmahal mp3 free download, write me a comment below with your email address or Facebook id and I'd send you the direct link where you could download this song for free. 🙂 I will immediately delete your comment to keep it private 🙂
Will you do a Paano Ba ang Magmahal cover? Please let us know! We would love to feature your video cover in this page. 🙂
Watch Kris TV Episode with Piolo Pascual and Sarah Geronimo dated July 01, 2015
Here's the Patawarin Lyrics and Chords by Piolo Pascual (composed by Yeng Constantino) per request of Ms. Shelo Mae Perez 🙂