I noticed that my "I Miss You Quotes and Sayings" post got lots of unexpected hits since I published it by the end of May this year. I was really surprise. I was thinking to myself that it's either there have been numerous break-ups lately, or some long distance relationship have been visiting my page regularly and could also be that people are more emotional today. I asked my sister about this and she told me, could also be the singles being sentimental and were missing the feeling of being in love and of being broken. Yay, that's kinda deep. No matter what it is, I'm just so happy there are lots of people out there who share's the same boat with me since I've written that the "I Miss You Quotes and Sayings" collection was something personal for me. So okay, here I am again and to let you know I can't get enough of this reminiscing the old feeling, I've decided to pick the next set of Best Quotes to Say I Miss You. Loving and hurtful as the first collection was, I promise you I've compiled the soulful quotes to express how you long for someone of something that once was yours in the past.
Missing Your Girlfriend / Missing Your Boyfriend /Missing Your Wife / Missing Your Husband
This is what couples who are in a long distance relationship feel or when lovers just miss their special someone for random reasons.
To say I miss you is an understatement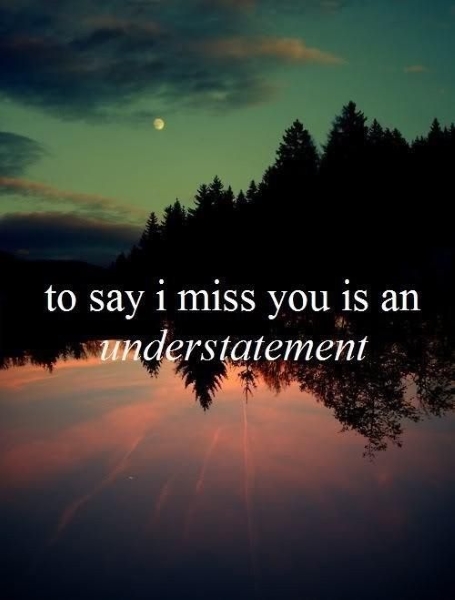 It's 2am and I'm lying in bed with nothing but the idea of you and I.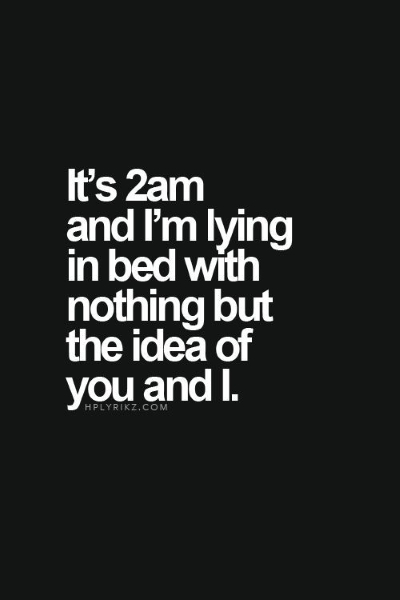 If I could, I would come visit you right now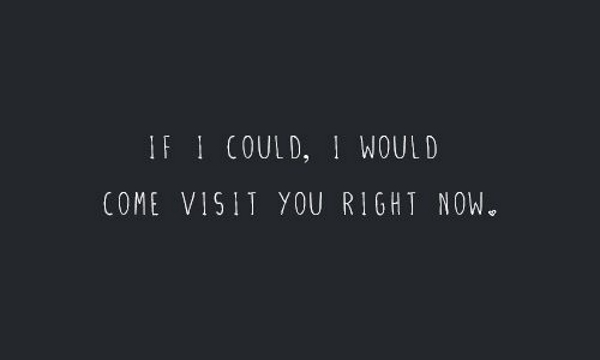 Sometimes I miss you the way someone drowning remembers the air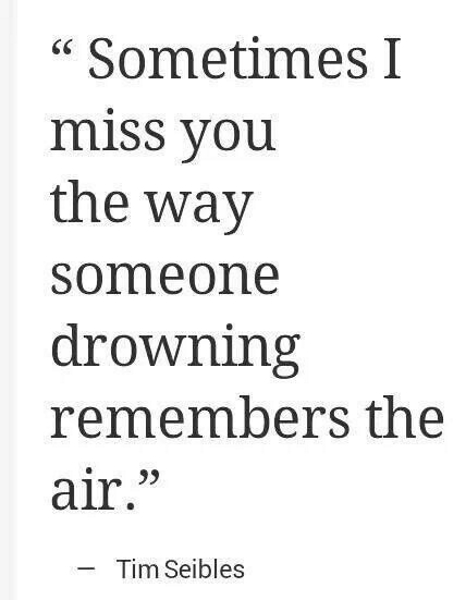 I wish I was kissing you instead of missing you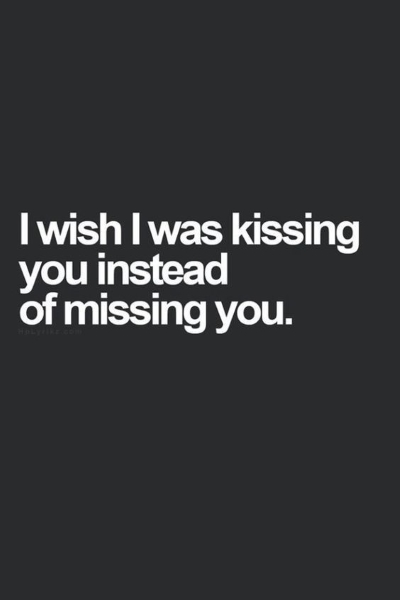 I wish you were here to tell me that everything is gonna be okay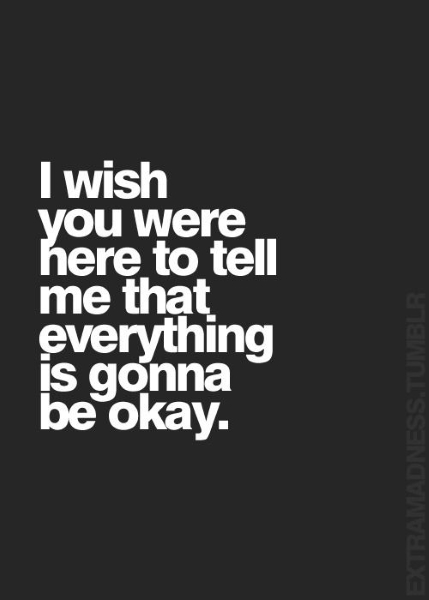 Our time together is just never quite enough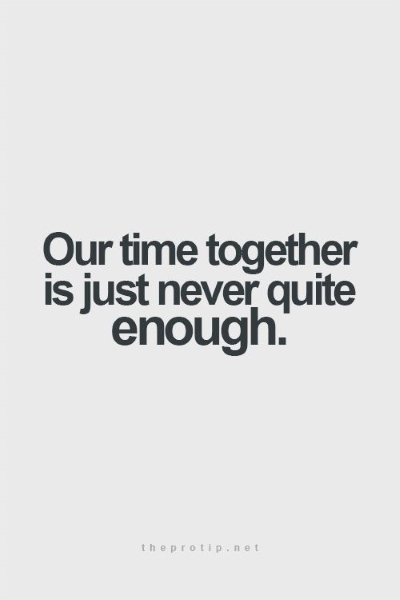 I miss you,, I don't know what else there is to say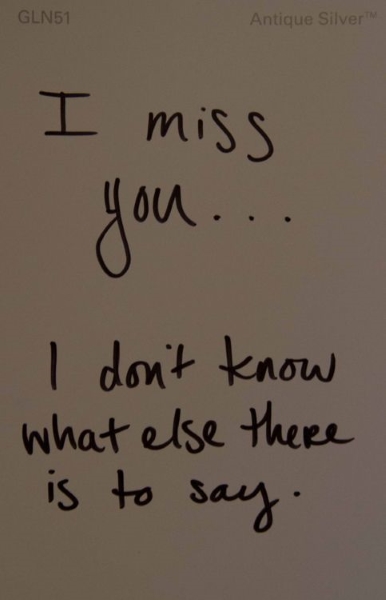 If you can't get someone off your mind, it's because your mind always knows what your heart is thinking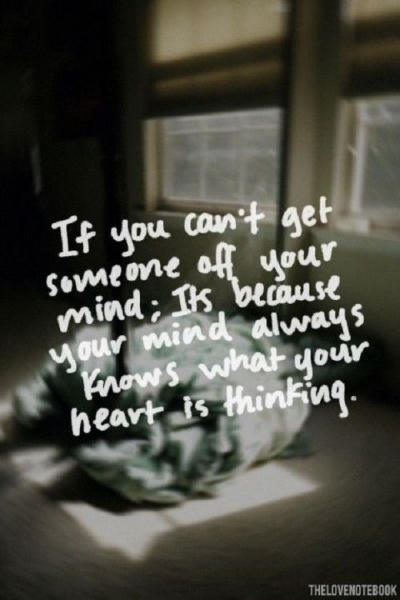 I love you past the moon and miss you beyond the stars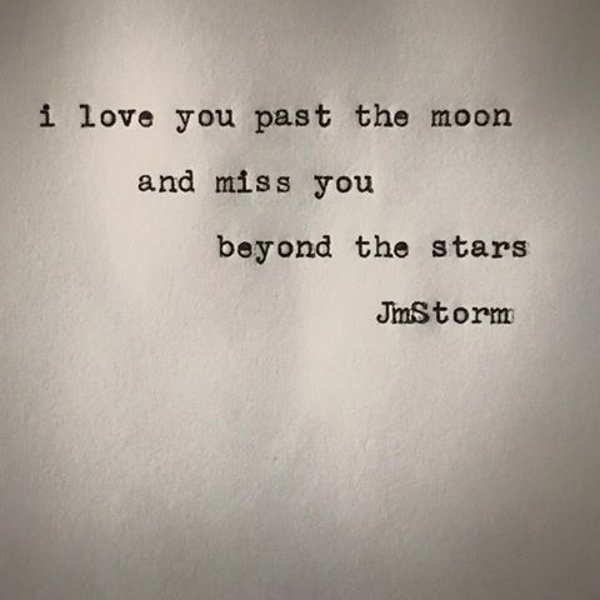 Today I caught myself smiling for no reason… Then I realized I was thinking about you.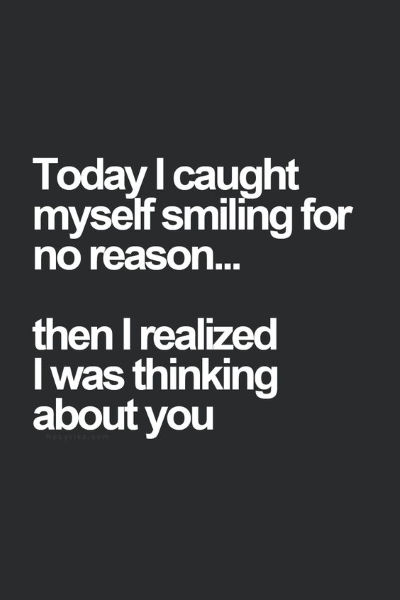 Please come home to me, I miss you like crazy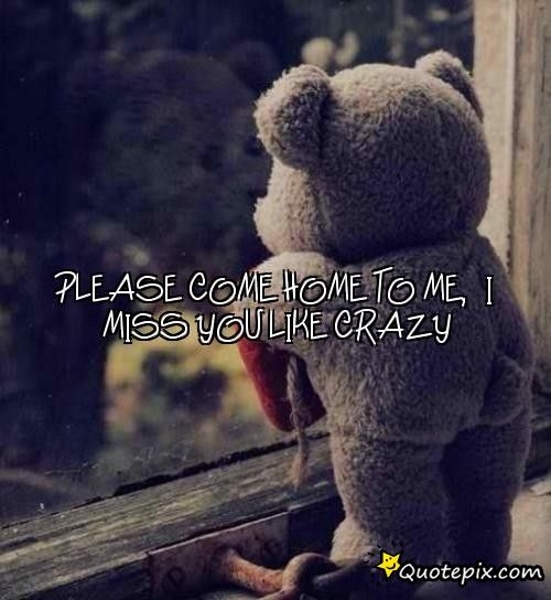 The dumbest thing ever is when you both love each other but aren't together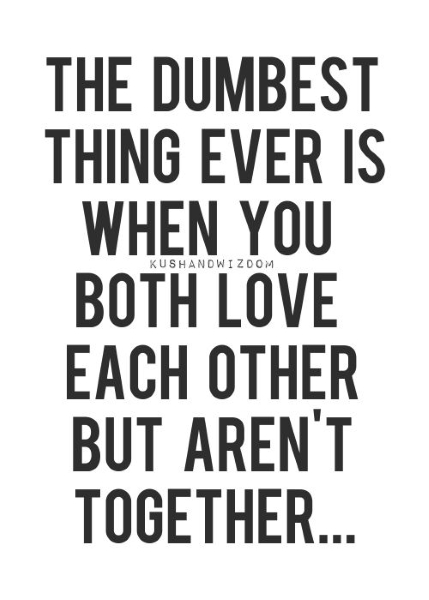 When I'm with you, hours feel like seconds. But when we're apart, days feel like years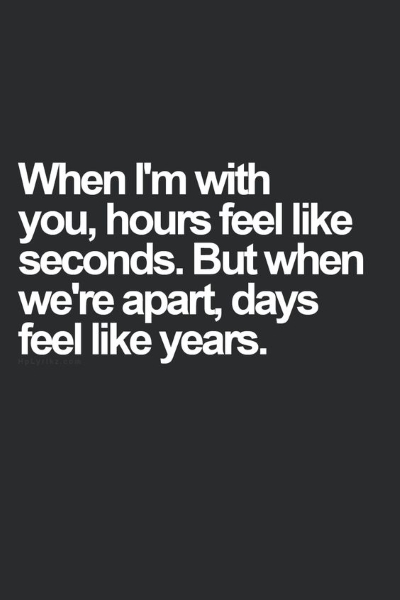 Just because I don't talk to you or text you first, doesn't mean I don't miss you. I'm just waiting for you to miss me.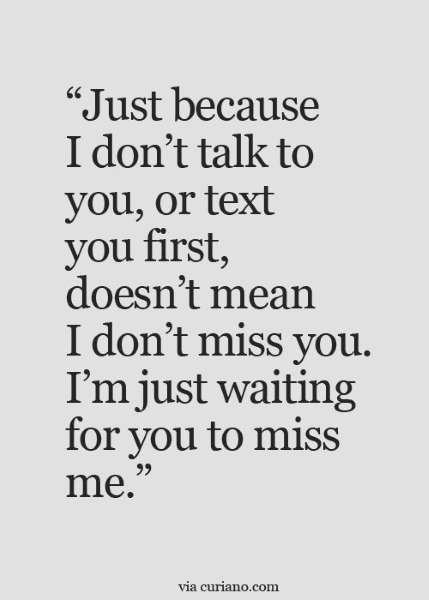 It's about who you miss at 2pm in the afternoon when you're busy, not 2am in the morning when you're lonely.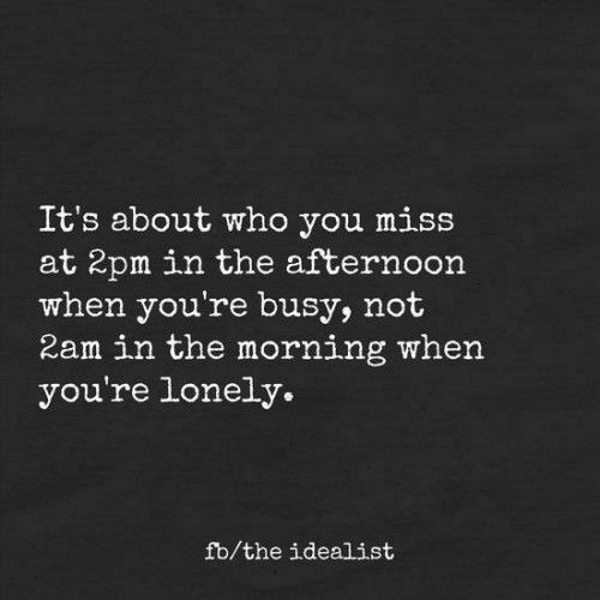 I only want two things in this world. I want you and I want us.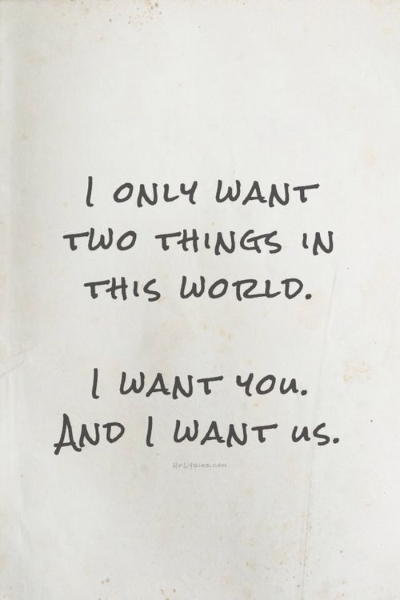 I miss you. A little too much, a little too often and a little more every day.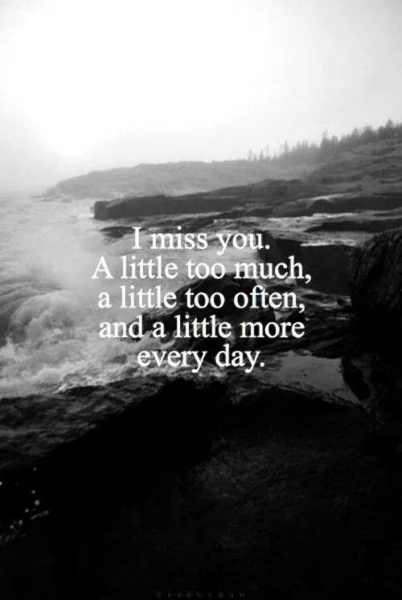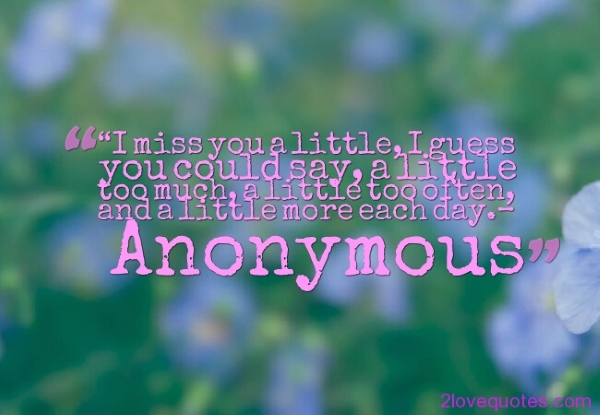 I just want to lay on your chest and listen to your heartbeat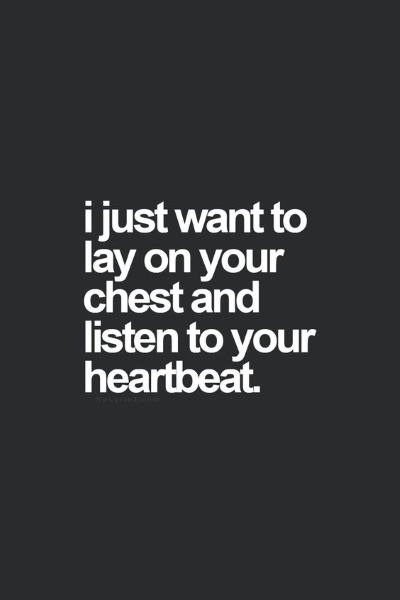 I will stop missing you when I am with you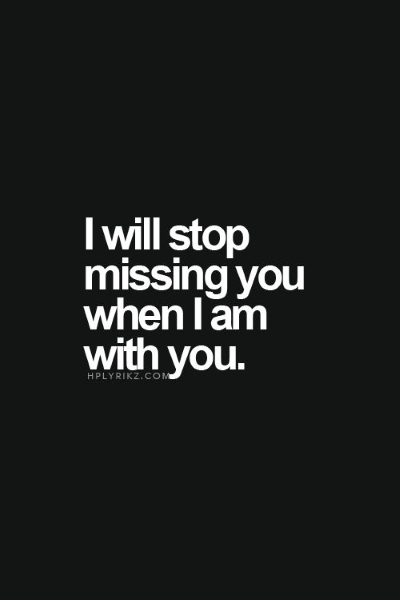 Have you ever missed someone so much feel physically sick?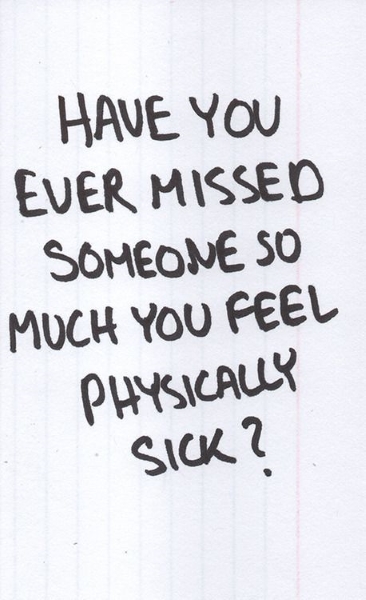 Missing Your Ex-Girlfriend / Missing Your Ex-Boyfriend
I'd refer to these quotes as sad missing you quotes. Most of them expresses hope for a reconciliation while few would express overcoming the feeling yet missing some piece of that person.
How do I say I miss you in a way that will make your heart ache as mine does?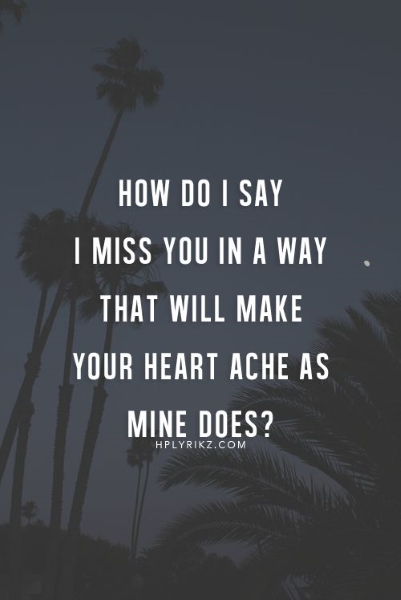 I'm sure if I saw you somewhere ten years down the road, my heart would still speed up a bit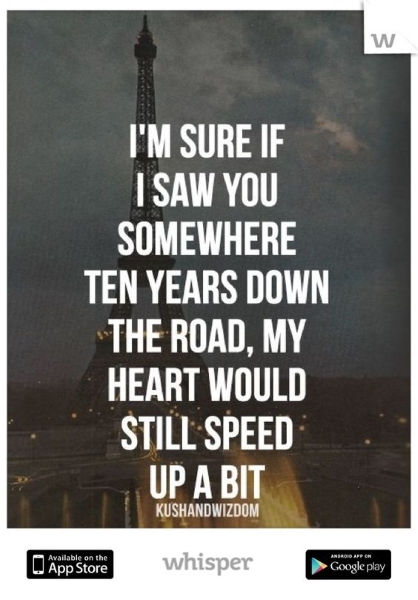 Missing you isn't the problem.. It's knowing you're never coming back that's killing me.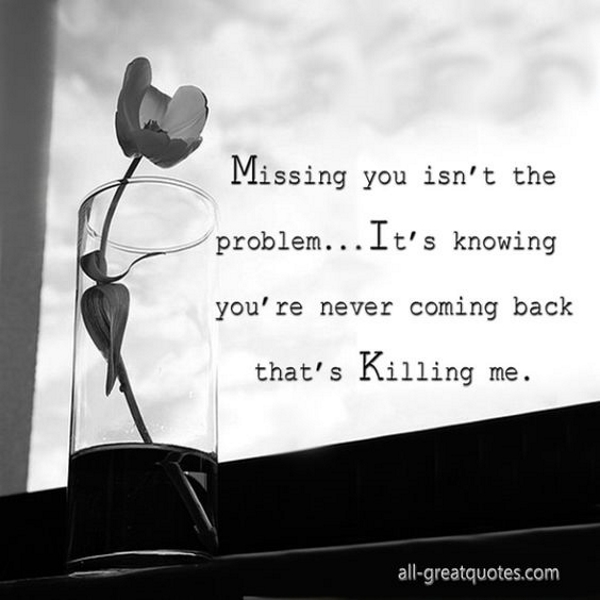 It hurts when you have someone in your heart but you can't have them in your arms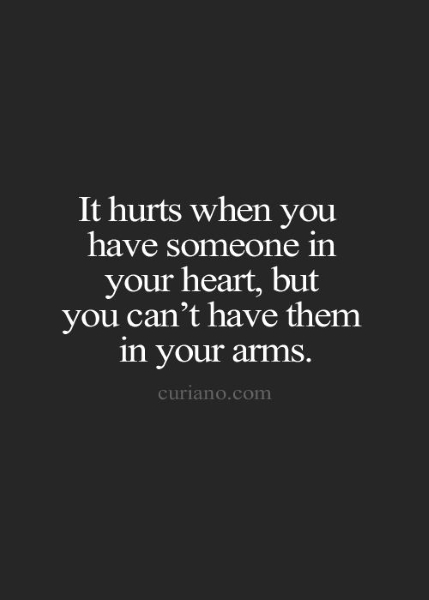 It hurts to know that you will never look at me the way I look at you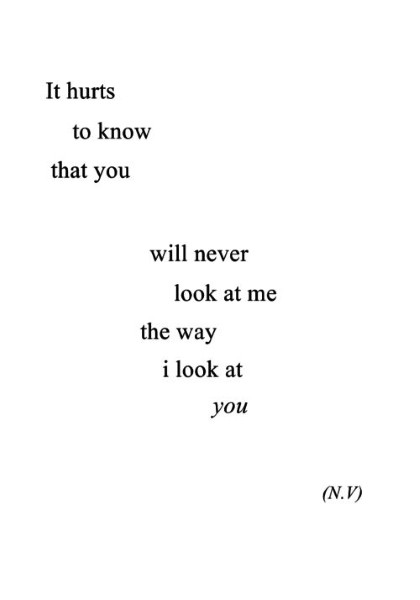 Just so we're all clear, it's okay to miss people you no longer want in your life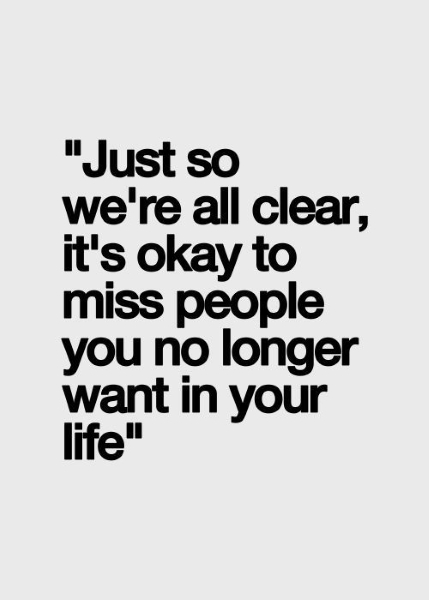 I miss the fun we used to have together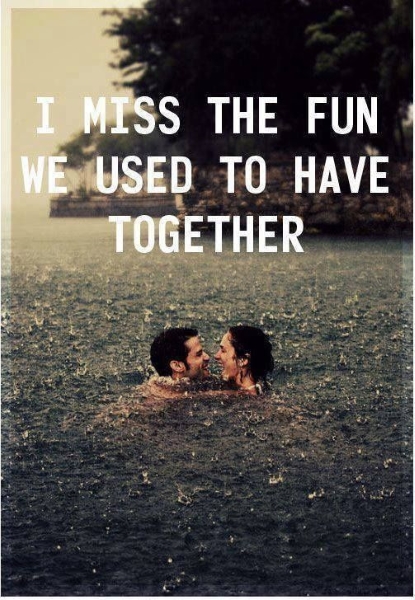 Sometimes we aren't meant to get over someone, and we go on living a little bit emptier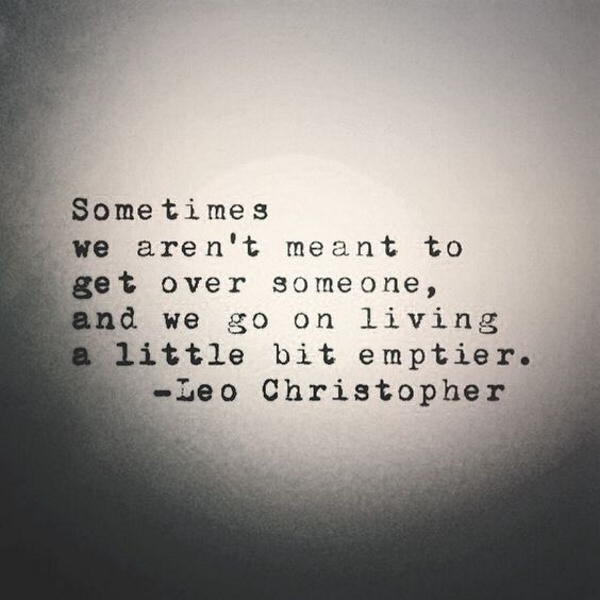 I miss you, NO, Let me correct that. I miss the old you, the one that cared about me.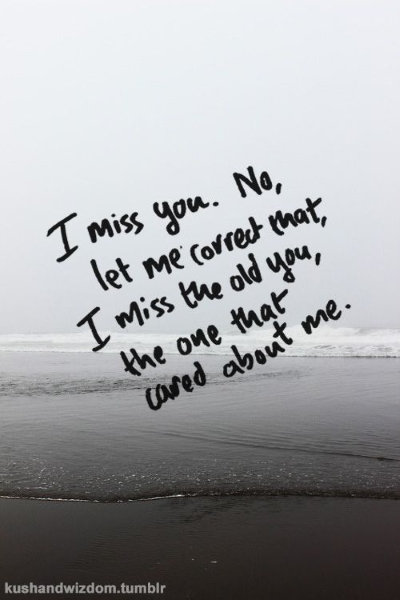 "I miss you" a few weeks after a breakup really means "i tried to find a better girl but i couldn't"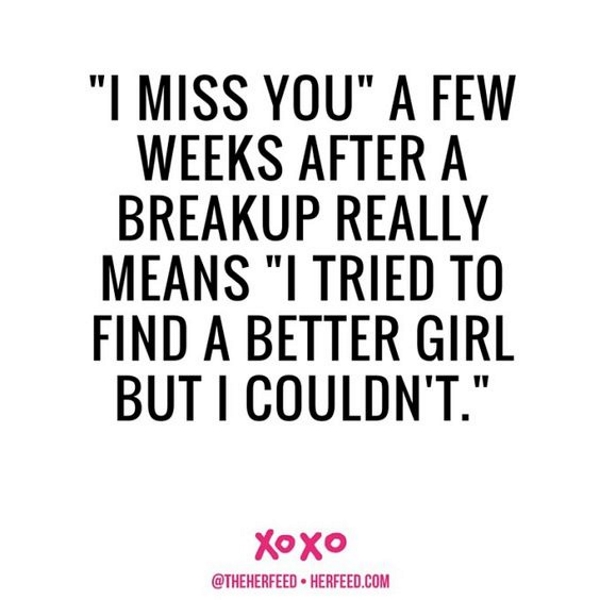 I just feel like I'll never get over you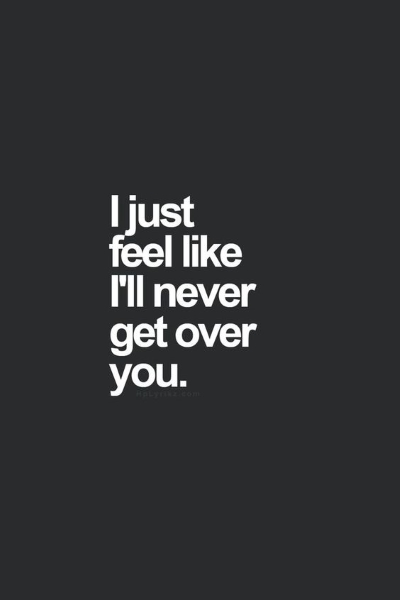 One of the hardest things you will ever have to do , my dear is to grieve the loss of a person who is still alive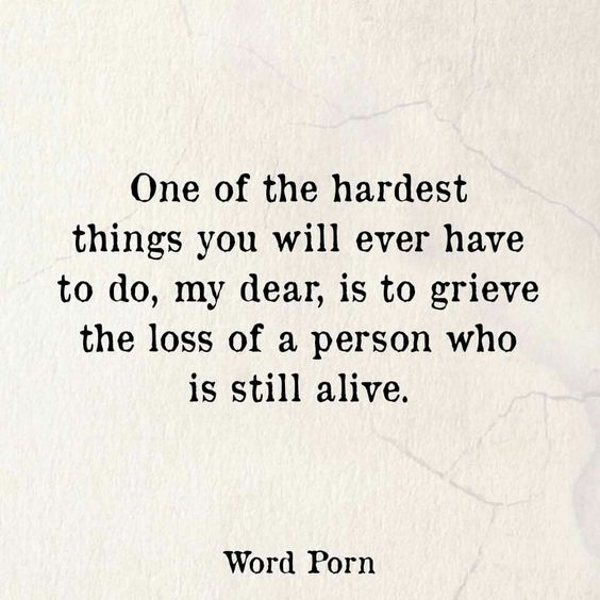 I think it's important to realize you can miss something, but not want it back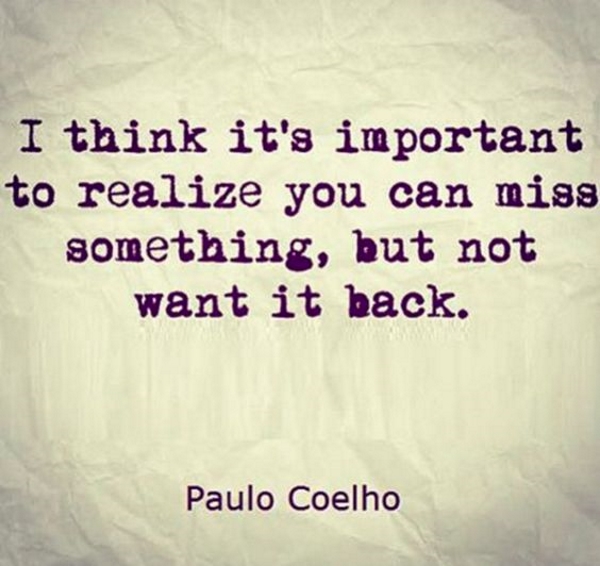 Why am I thinking of your when i know you're not thinking of me?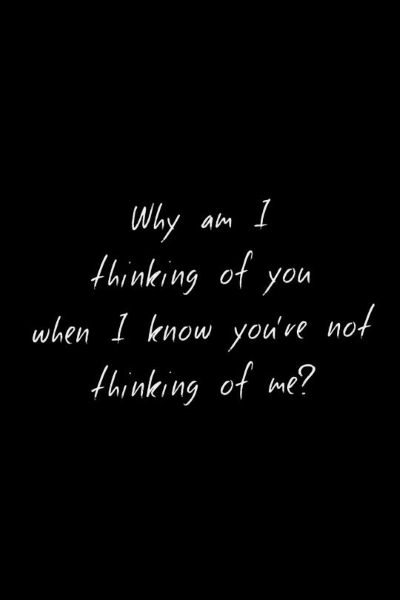 If you start to miss me remember, I didn't walk away, you let me go.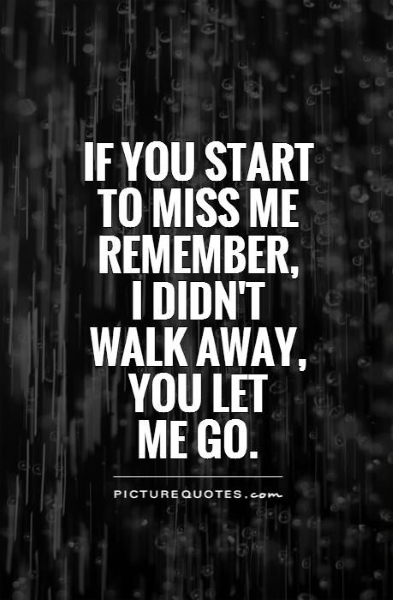 I miss how happy I was with you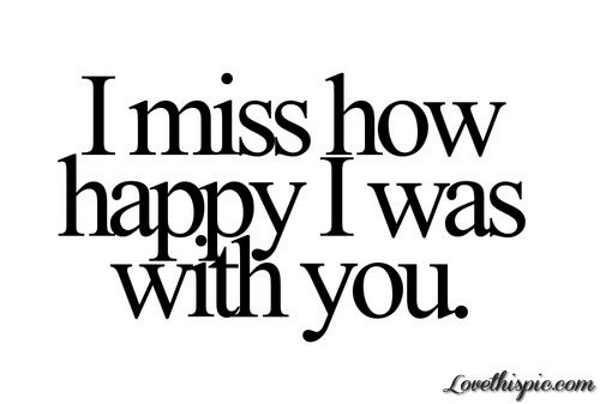 The trust is you miss them and you are still trying to figure out what to do with that story. The pages still haven't burned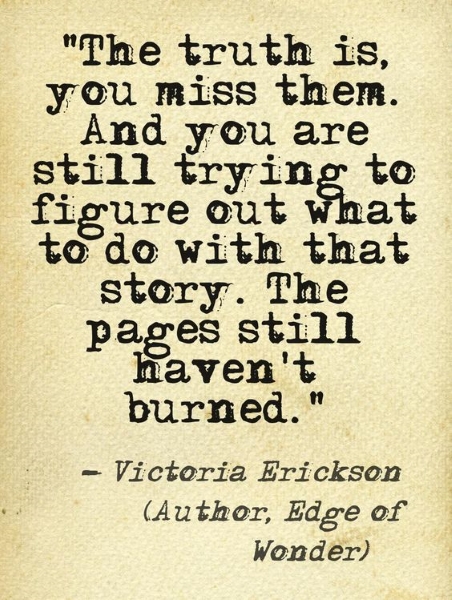 It hurts to know you'll never remember the things I'll never forget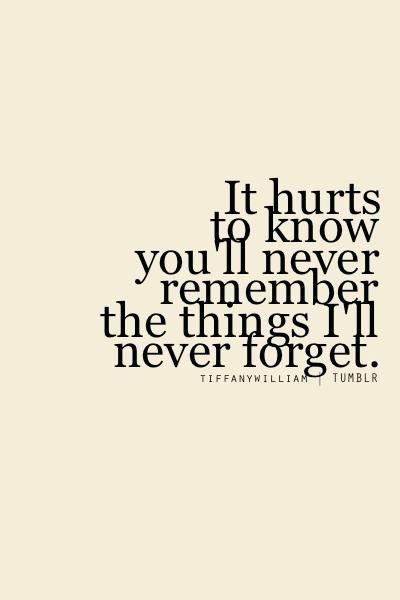 Sometimes two people have to fall apart to realize how much they need to fall back together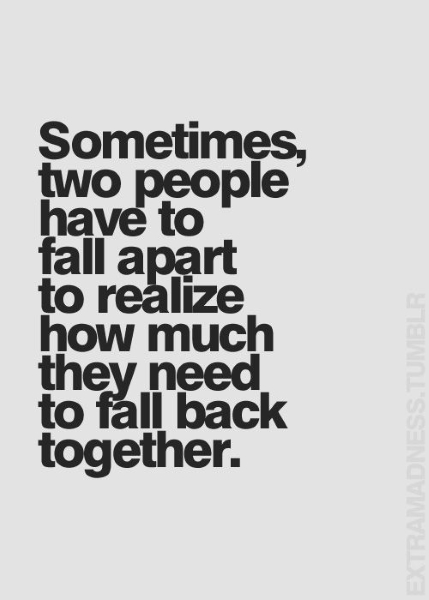 I constantly wonder if I'm on your mind as much as you're on mine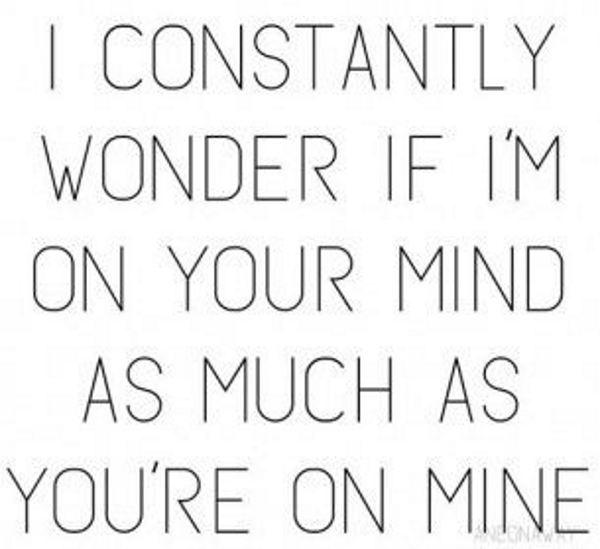 I will never regret you, or say I will I'd ever met you, because once upon a time you were exactly what I needed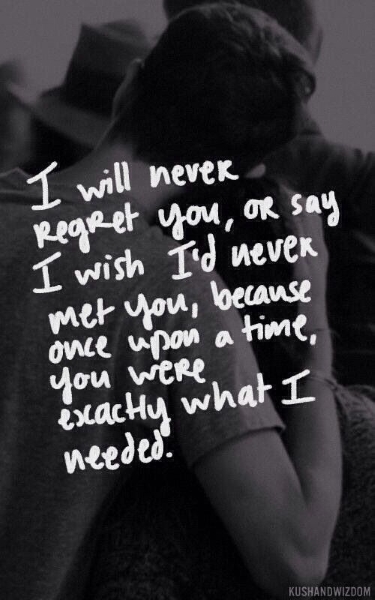 I would give anything for a day with the person you used to be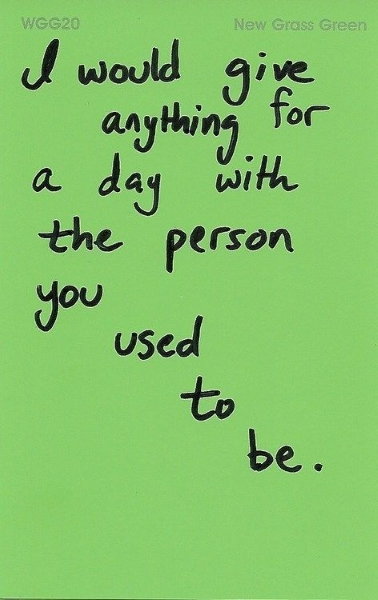 Yeah I miss you. I miss us. I miss having you to talk to whenever I want. But I know I have to move on, because this is pointless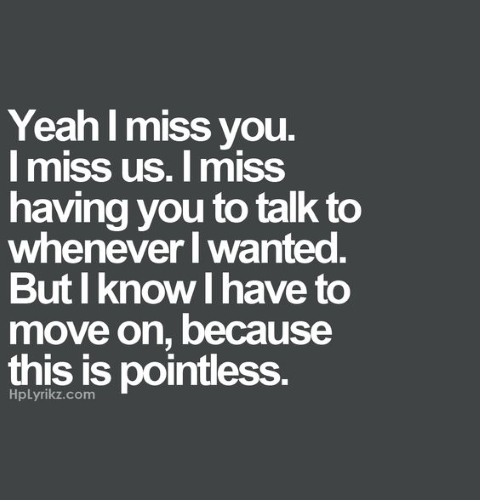 You're not mine to think about but I still do.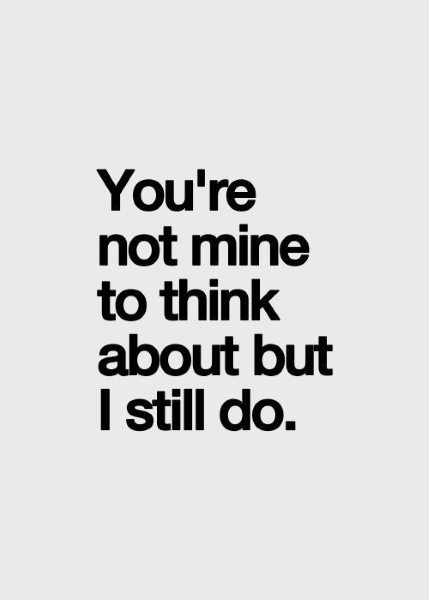 You will never know just how much I would give up to have you back in my life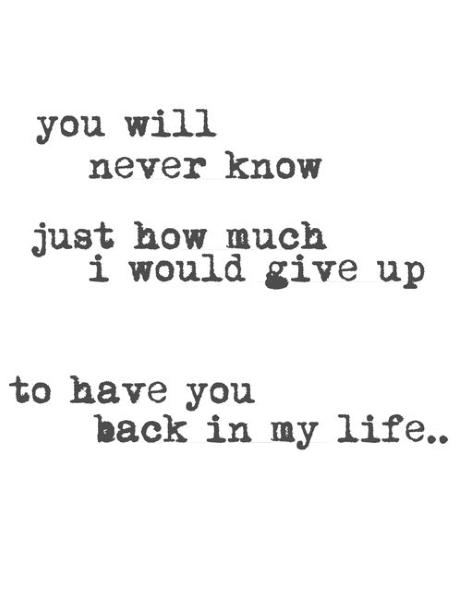 Missing Your Friends / I miss you quotes for a friend
Ever had a serious fight with a friend? You realized you've turned into strangers from treating each other as sisters or brothers. Admit it, there's a lot of reasons to miss that person.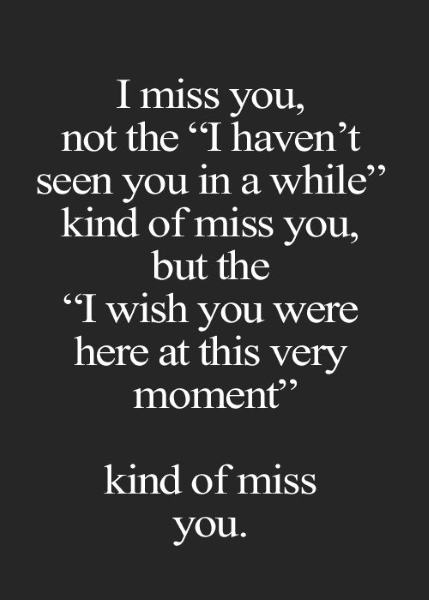 The hardest thing is not talking to someone you used to talk to everyday
It's sad how the people you were once so close with can become just another stranger you don't know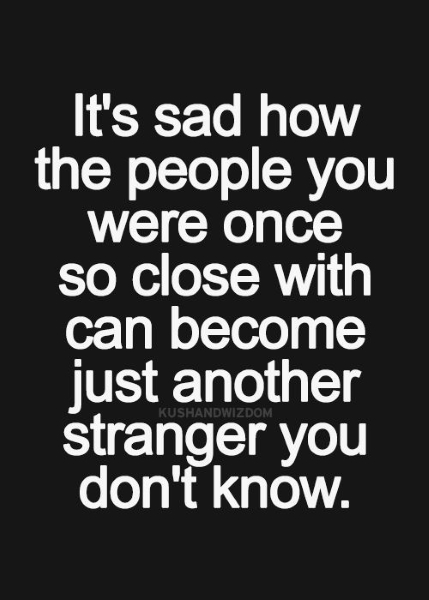 I had planned to say all these terrible things to you but in the end, I just want to tell you I miss you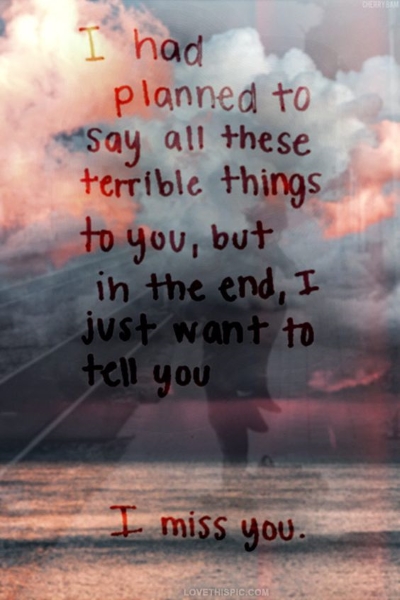 I hide my tears when I say your name, but pain in my heart is still the same. Although I smile and seem carefree, there is no one who misses you more than me.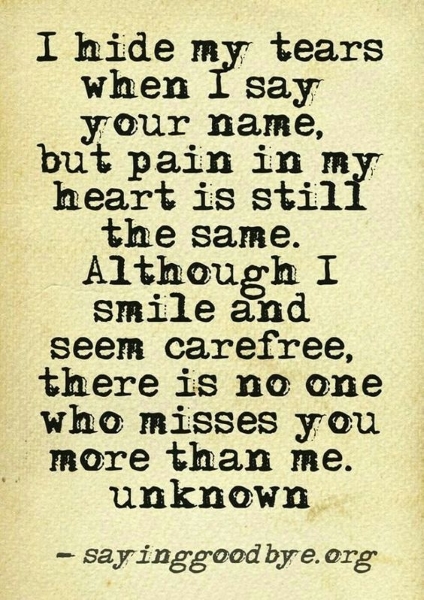 I think of all the things you said you liked about me and hope they're enough to make you miss me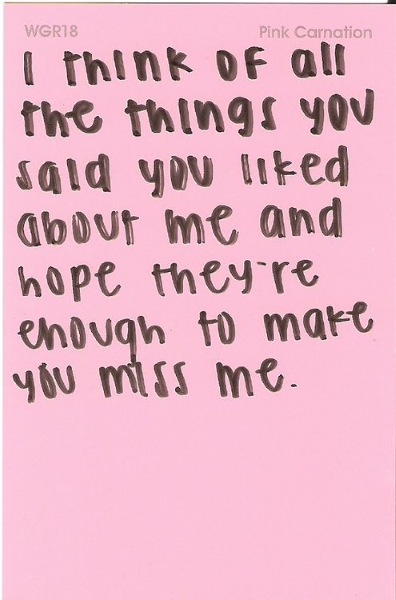 Somebody asked me if I knew you. A million memories flashed through my mind but I just smiled and said I used to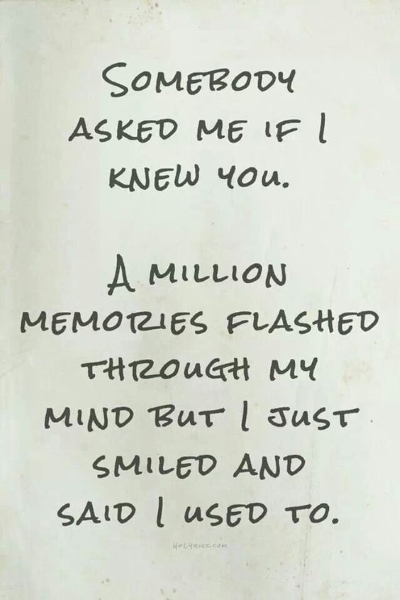 I admit, i really miss how things used to be. But I can also admit, that I've accepted the fact that things have changed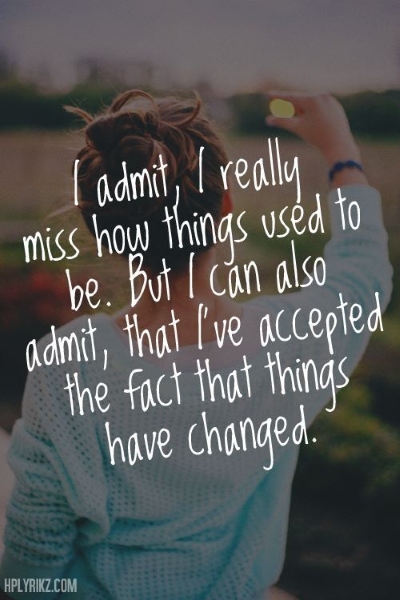 I'm afraid we'll be one of the ones who miss each other their entire life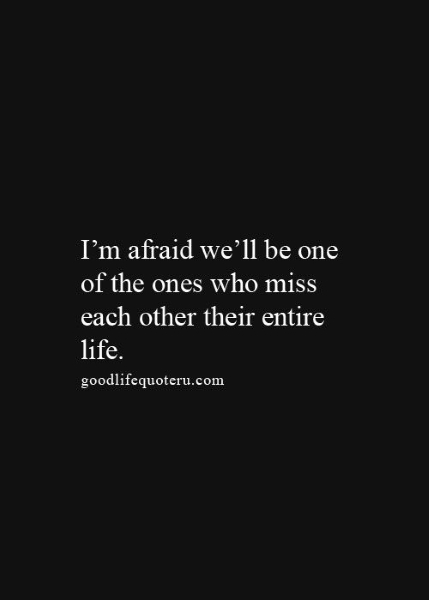 So let's ignore each other, try to pretend the other person doesn't exist but deep down, we both know it wasn't supposed to end like this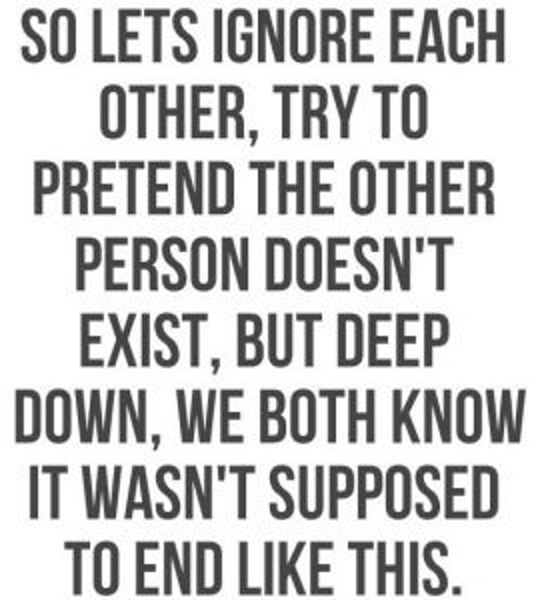 I do miss you, but I'm trying my best to stop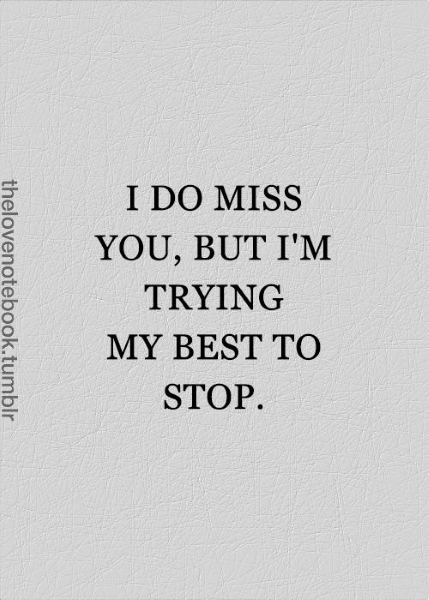 I have a thousand things to say to you and a thousand reasons not to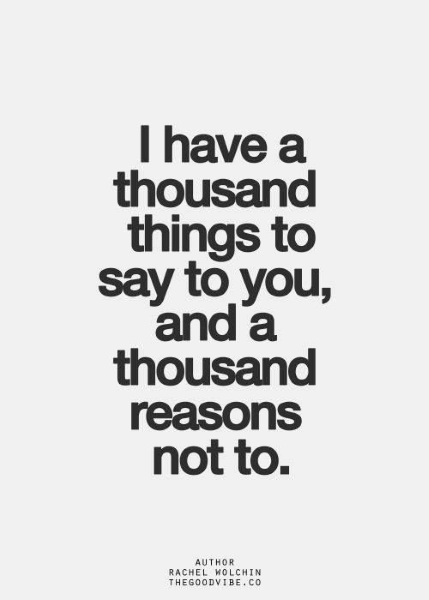 for once, i want to talk to you again just like the old times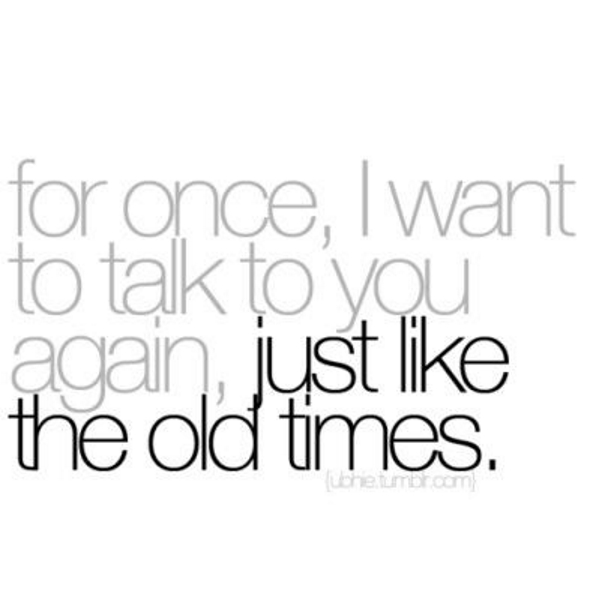 This is also suitable for someone who died, a special person whom you miss a lot and know that you could never have a conversation with him/her anymore. So you yes speak in silent ways to express what you feel for that person.
I closed my eyes and spoke to you in a thousand silent ways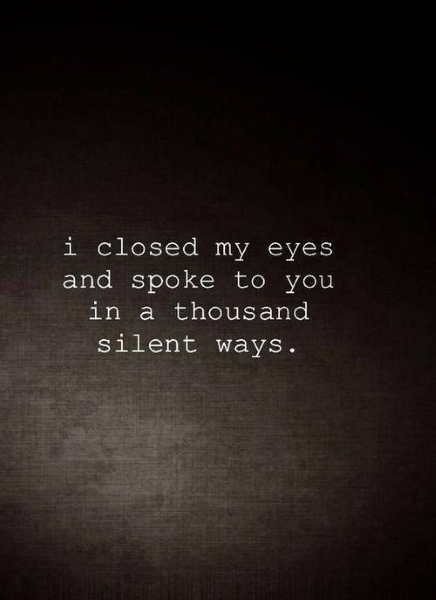 I've come to realize that nothing in this life can prepare us for losing someone we love. Nothing.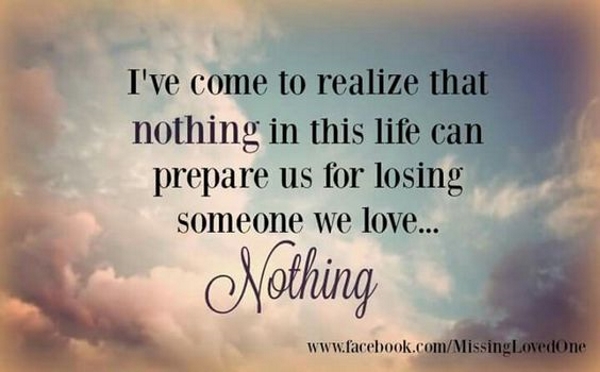 Whatever is the reason why you're missing someone, the feeling is equally intense and heartbreaking. Lucky are those that are given the chance to be with the person they miss and a sad story for those who parted ways with the one they longed for. Whatever it is that you wanna say, say it while you have all the chances. Remember, regrets are always at last.