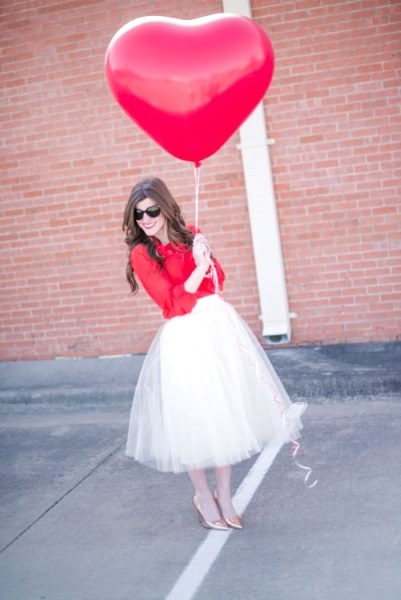 While the guys get busy thinking of a memorable romantic surprise on Valentines day, the only thing that girls would do is to prepare themselves, dress up and be really pretty for their Valentines date. Girls are obviously more vain than boys, we love ourselves very much and we do admire how we gorgeously look with new hairstyles or hair colors, shades of makeup we're using, the dress we stylishly wear and the shoes the we choose to match our outfit. Not that we're self-obsessed, but yes we love looking at ourselves in the mirror more than we look at celebrities on TV(yeah). We love collecting accessories too, whether they're genuine or fancy and last but not the least, some girls go crazy with really attractive nail art designs. To the extent that they would have their nails done with season themed designs.
You may want to go out on a date with that simple look,rugged, girly or sophisticated – we would love to tell you that there are tons of creative and unique Valentine nail designs that would suit your taste and style. Just imagine the lovely outfit matched with very awesome Valentines nail designs? Whether it's red nail art designs or pink Valentine nail designs, this collection is going to be very helpful for ladies who wanted to try some easy, cute, simple, sweet, elegant, Beautiful DIY Valentines Nail Designs. Try it yourself or call your girl friends and enjoy our best love month nail art collection!
Cute Valentines Nail Designs
This pink minion nail design is very unexpected since minions are famous being yellow.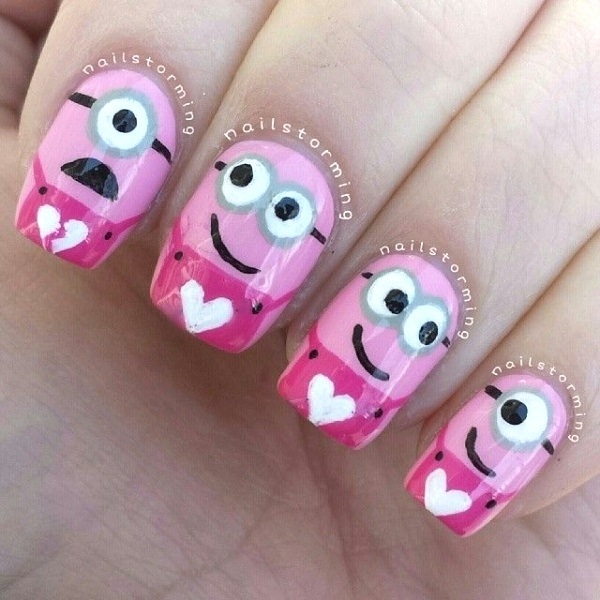 That's a half-pink and half-red nail paint for the base with white heart in the middle.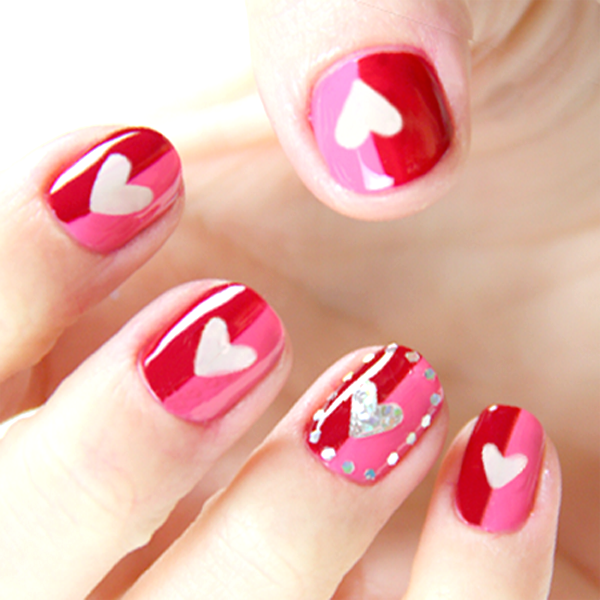 Arrows and hearts nail design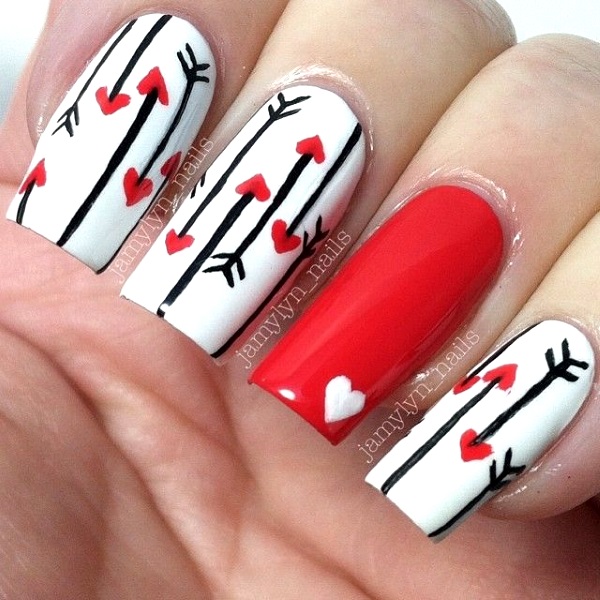 Heart Kiss Valentine Nail design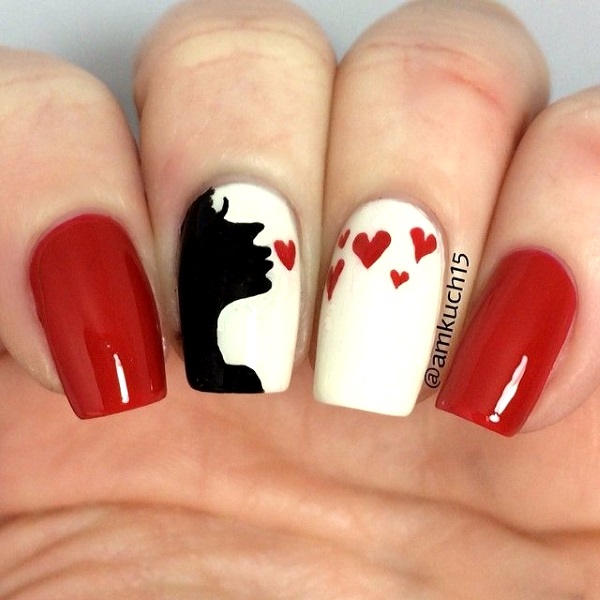 Romantic Boy and Girl Holding Hearts Nail Design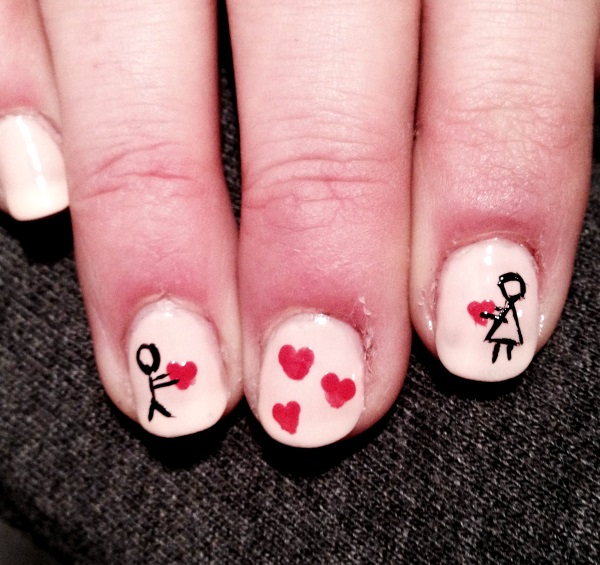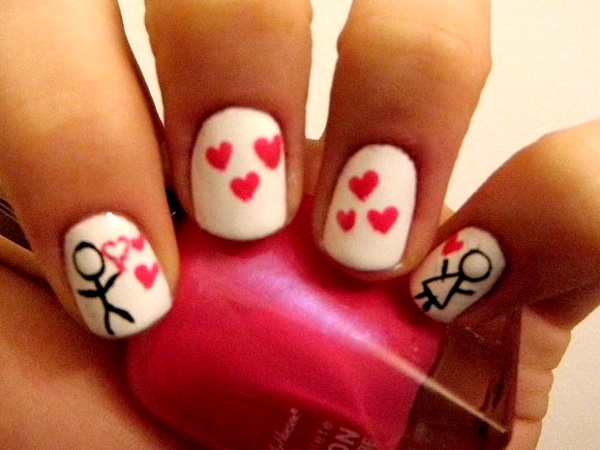 Love Letter Valentines Nail Design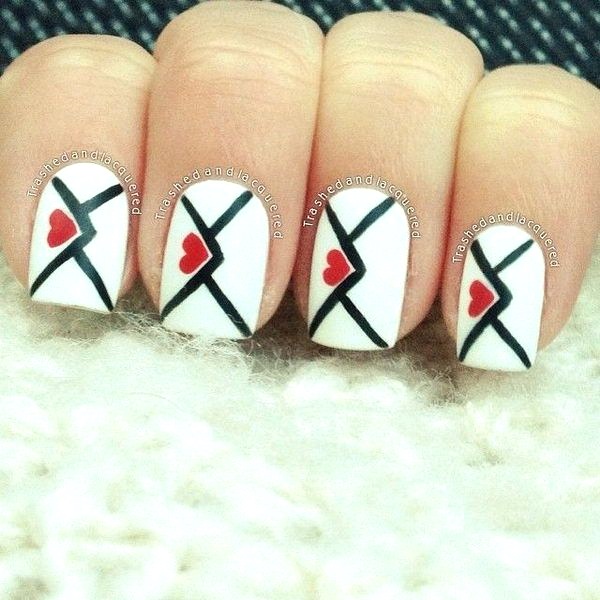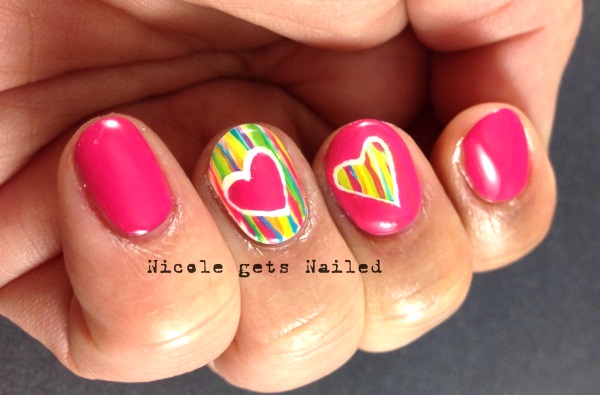 Polka Dots with heart nail design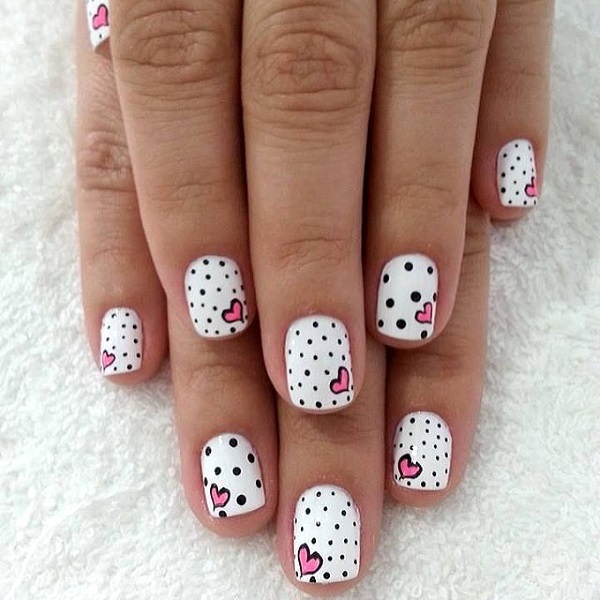 Glittered French Tip Nail Art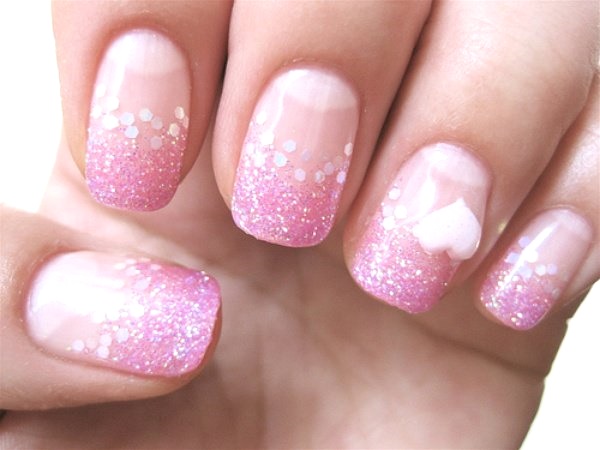 Black Valentine Nail Design Ideas
This is definitely a Valentine nail design for teens that aren't too much girly, those that aren't fans of red and pink so choose to have a tiny bit of red heart with white and black stripes.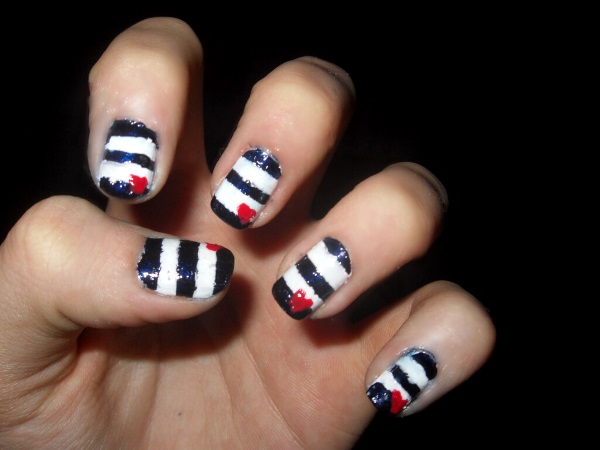 Here's another black Valentine nail art with hearts..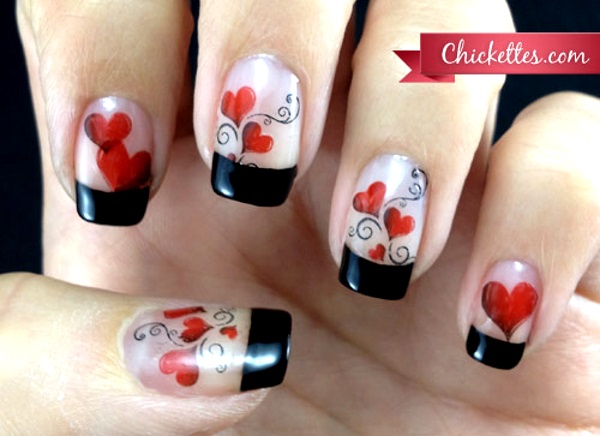 Black and Pink Nail Design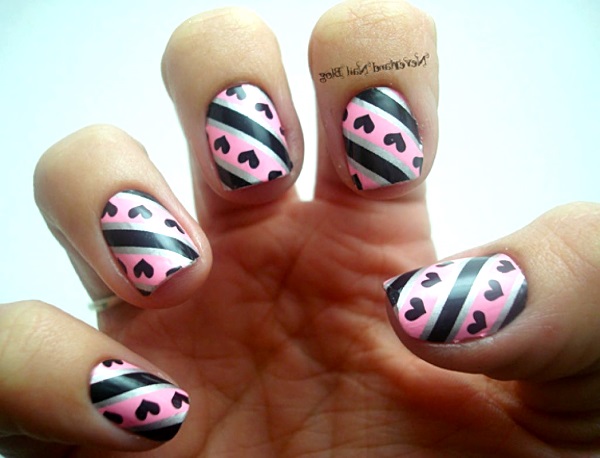 Glittered hearts on black nail paint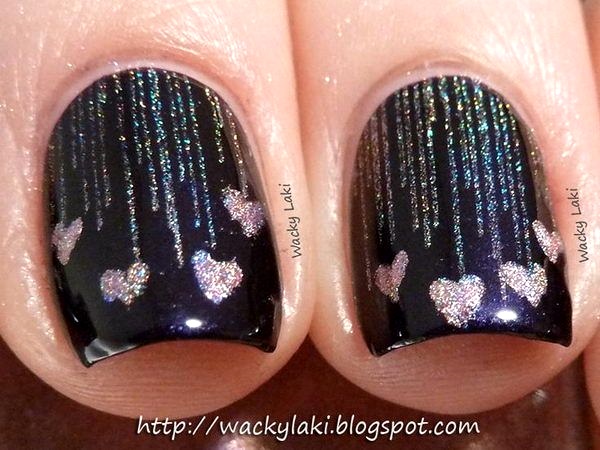 Red and Black Valentine Nail Design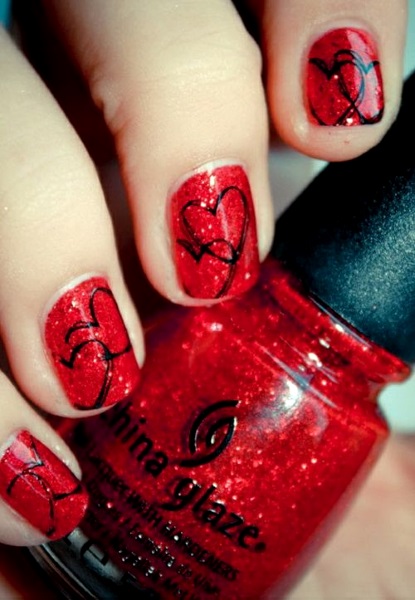 LOVE Nail Designs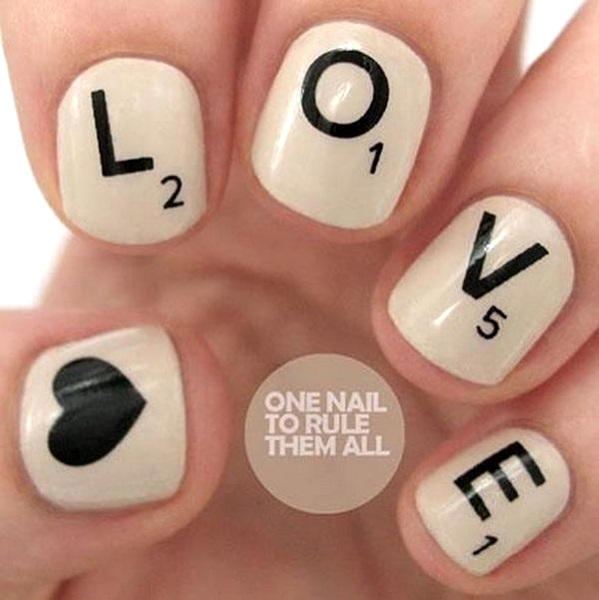 Or if not black, try experimenting your nail design using blue nail paint.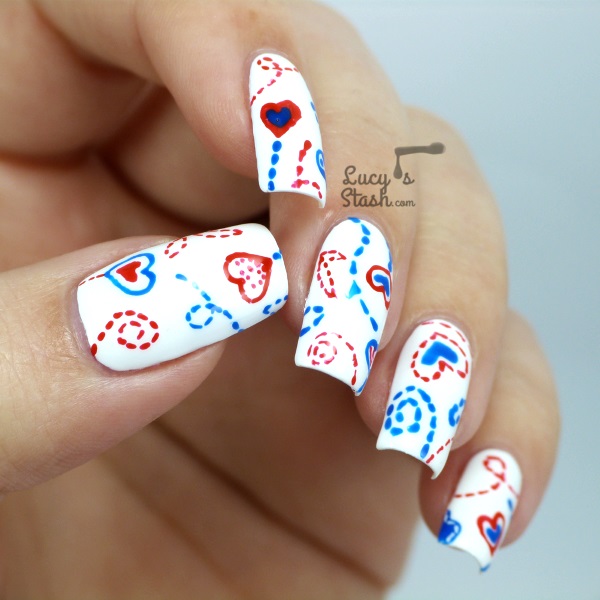 Or if not black, try experimenting your nail design using purple Valentines day nail design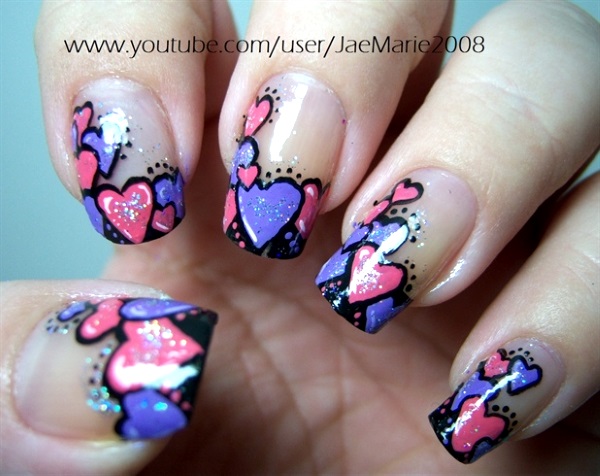 Beautiful Valentines Nail Designs
These are the prettiest design I've seen online. If you're pretty talented given with the right tools for nail painting, you might wanna try these creative nail art ideas for Valentines.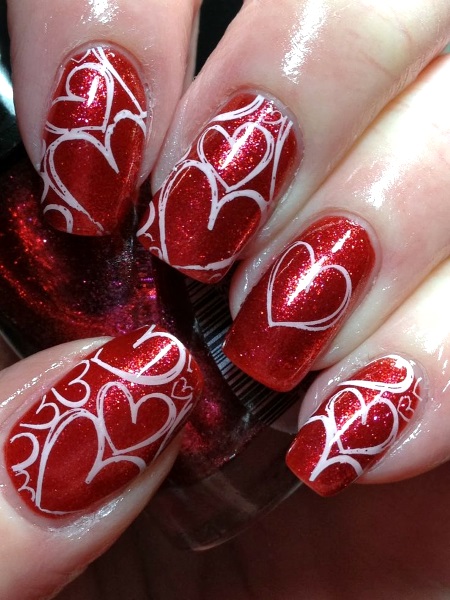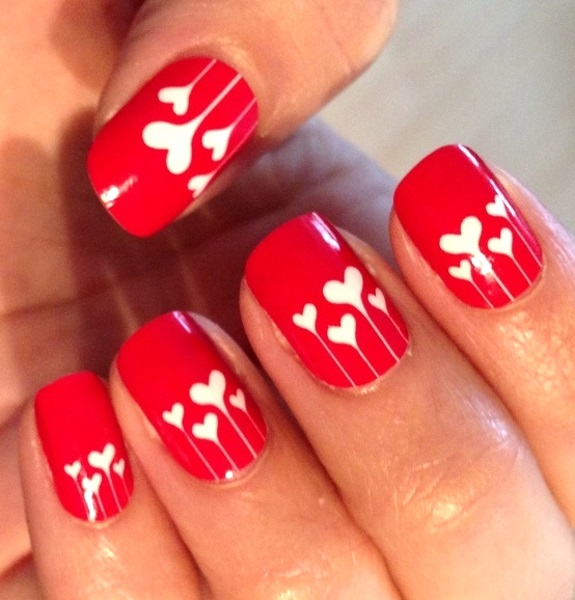 Such embellishments do really make your fingers look sophisticated. Perfect for a fine dining date!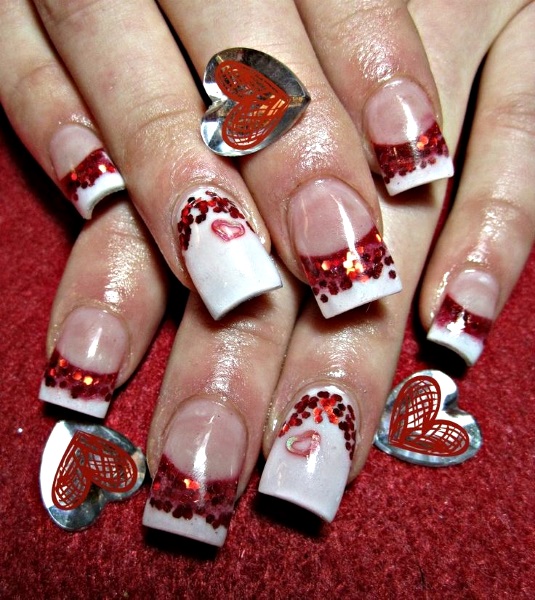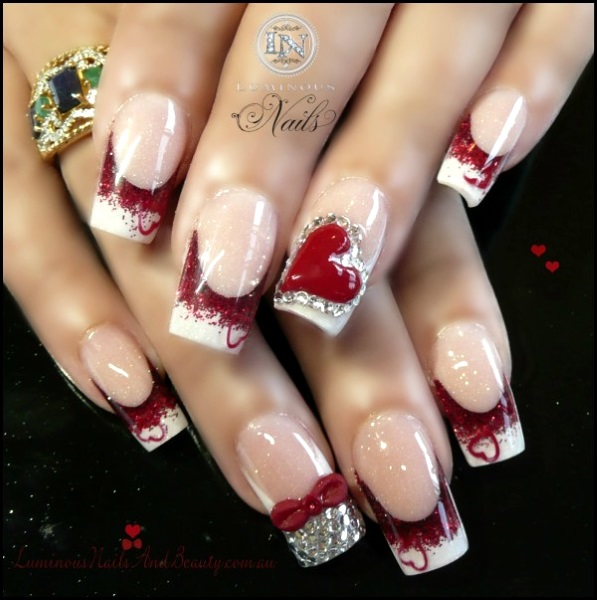 These relative colors are wonderfully done in stripes. Red, dark pink and light pink with white for the heart and line details.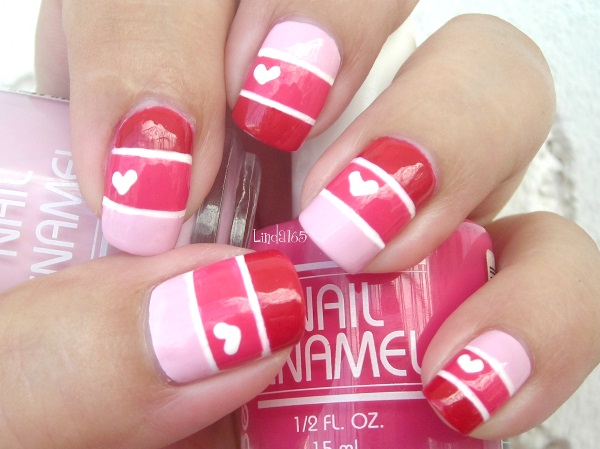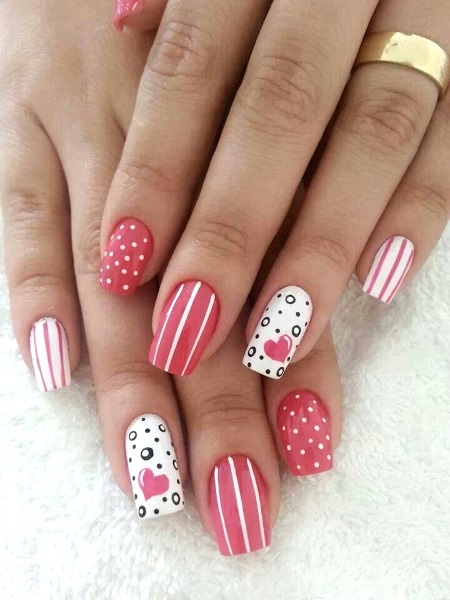 Another superb Valentine nail design that would surely win the ladies' hearts. You won't take your eyes off your pretty nails!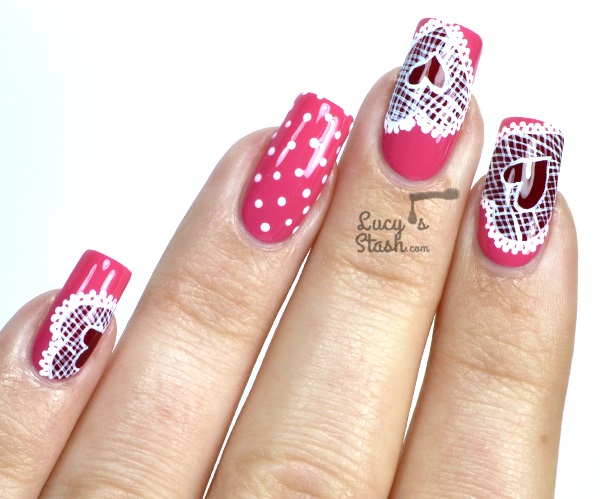 I don't know how this is done, or what materials those are but I would admit this is my most favorite Valentine nail art in this collection. Really!!!! I'm sure the Pinterest community would love to see this on my Acrylic Nail Designs board.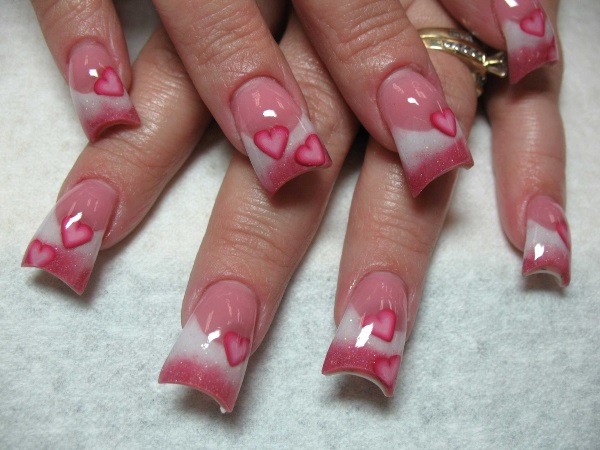 Valentines Nail Design French Tip with those lovely embellishments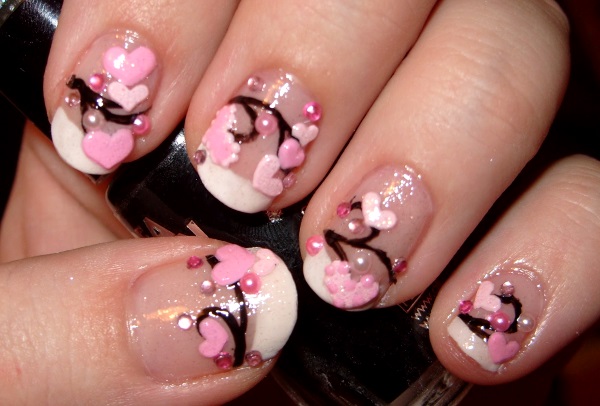 Elegant Valentine Nail Designs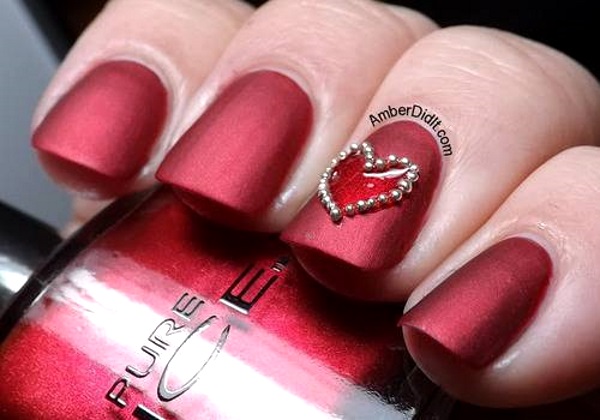 Heart Balloons Nail Design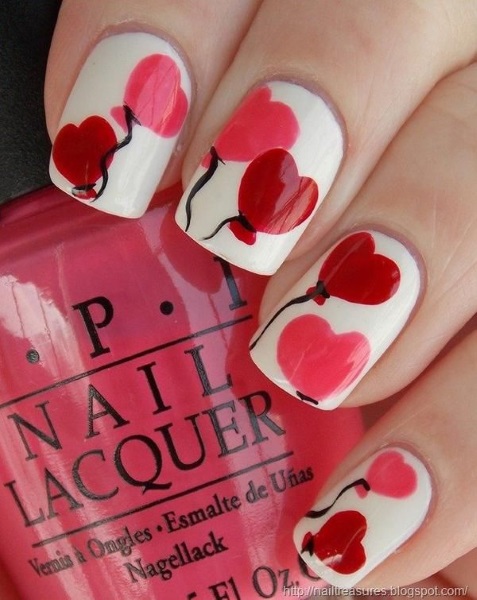 Marble French Tip for Valentines day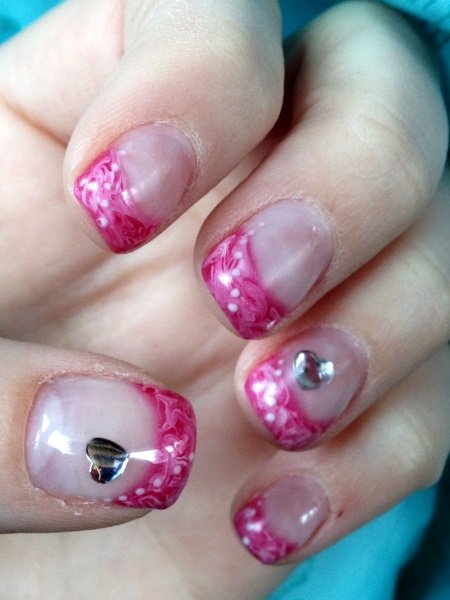 Because I love pink along with simplicity very much, this is my second favorite in this collection. Having only one nail with the white and black stripes made it more interesting.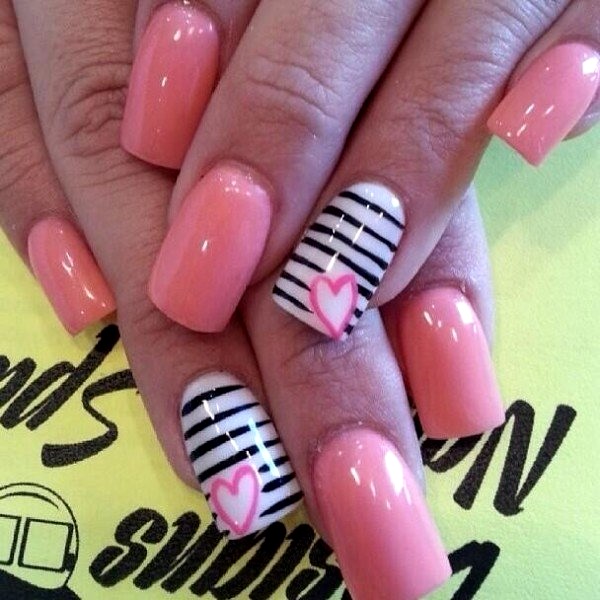 More Beautiful Valentines Nail Art Designs to choose from..
Simple Valentines Heart Nail Designs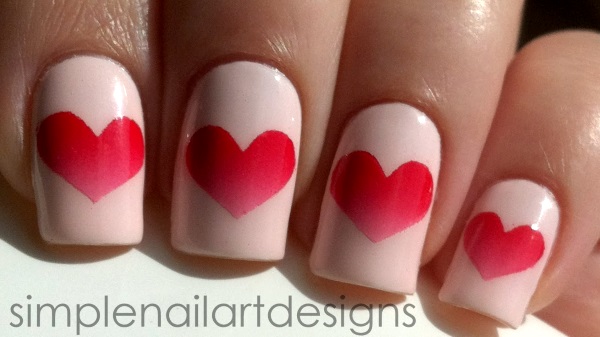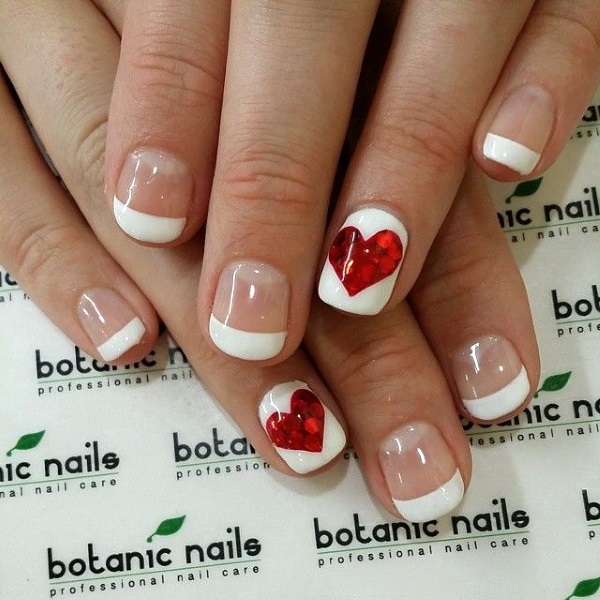 DIY Valentines Nail Design Ideas
Looking at this photo, you'd know for sure that it wasn't done by a professional manicurist. Try it yourself! Who knows, you might talented with this field 😉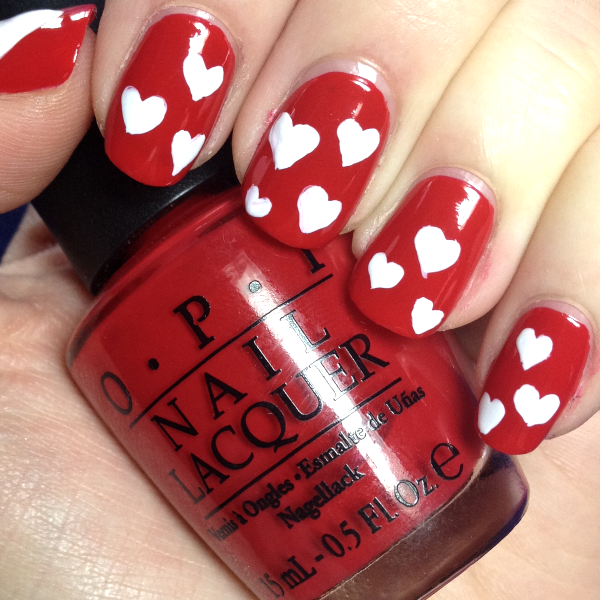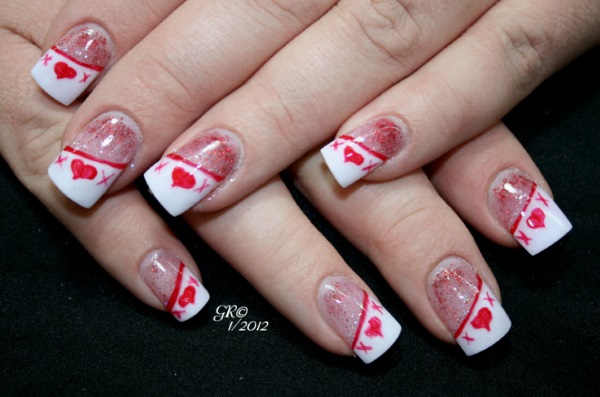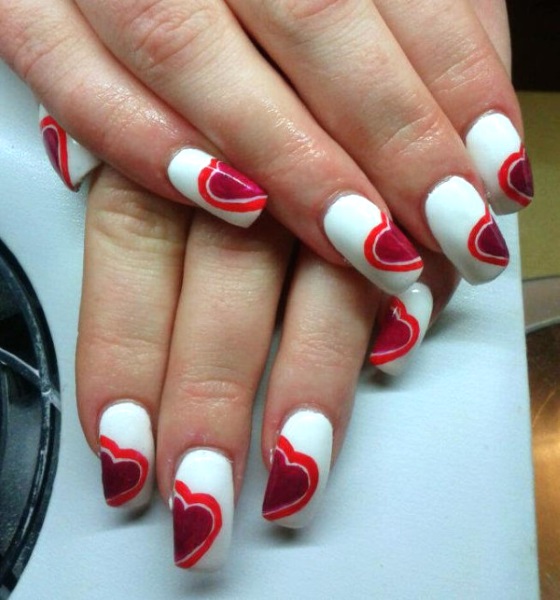 Heart flowers Valentines nail design are simple, yet attractive!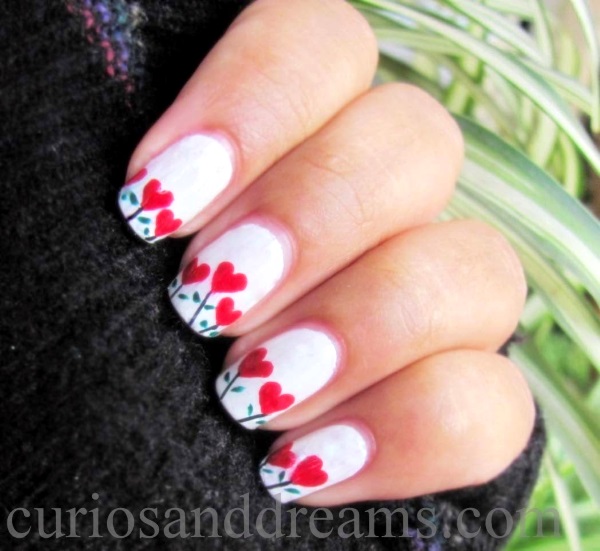 This is pretty smart. Heart-shaped french tip? Just wow!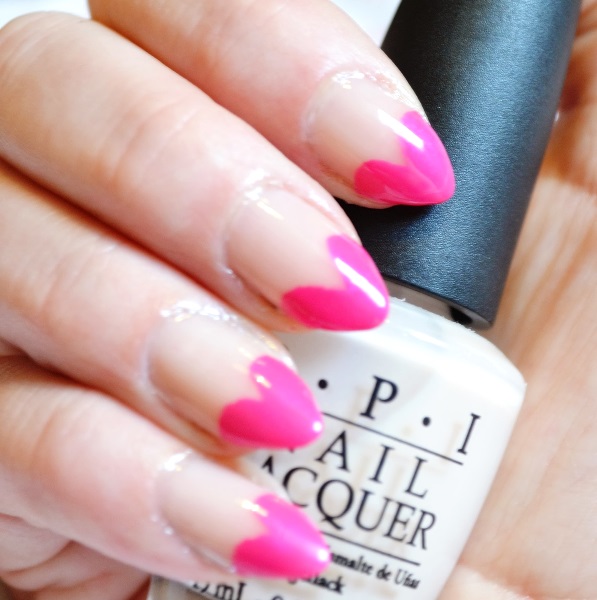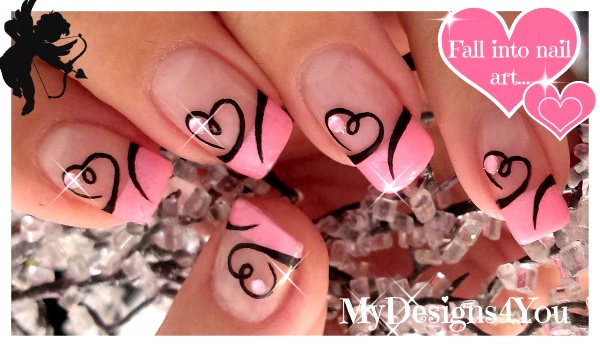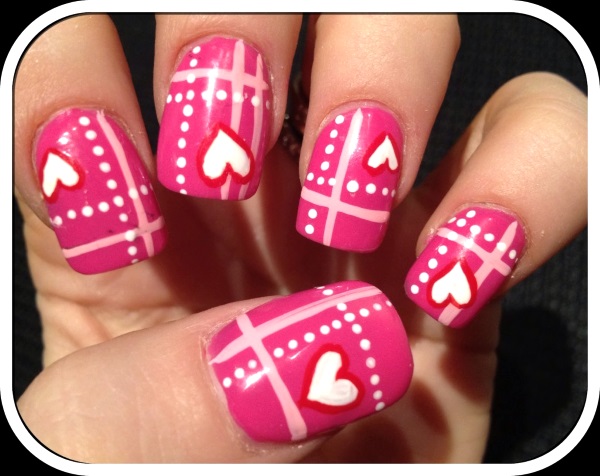 Those white dots are pretty to contrast with the solid red hearts.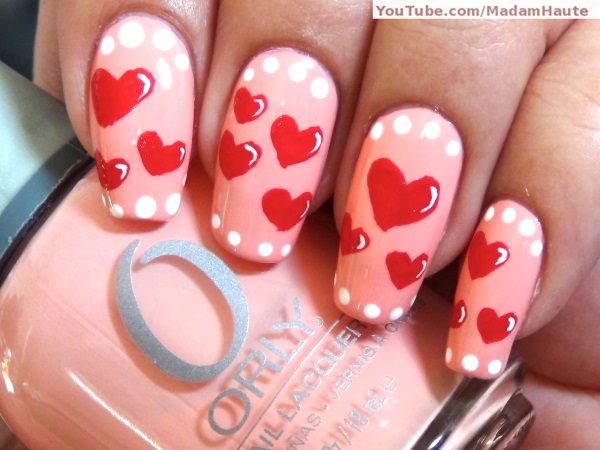 Heartbeat Valentines Nail Designs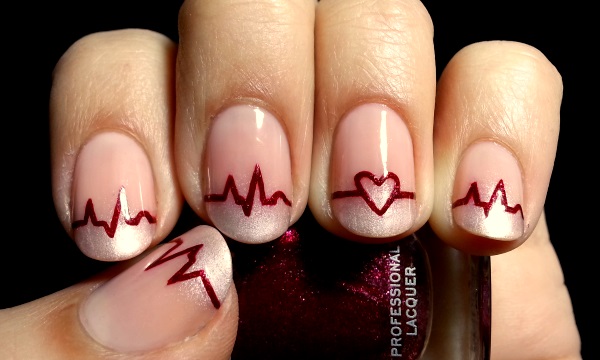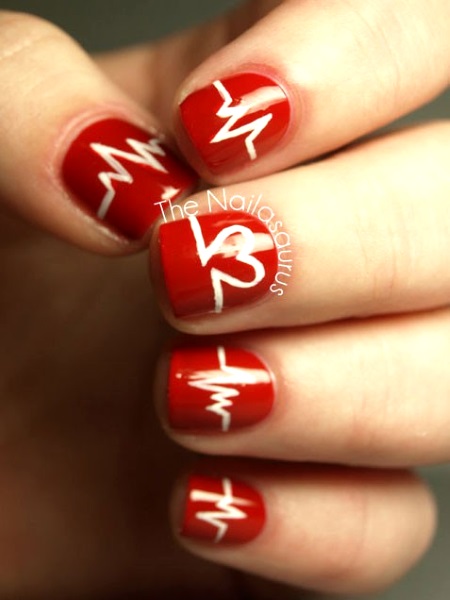 Valentines Kiss Nail Designs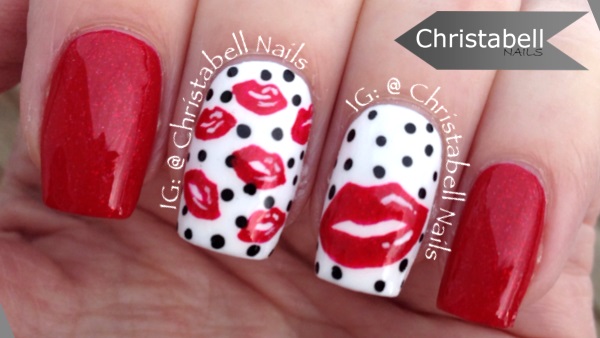 More of Valentines Lips Nail Designs
This is a bit simple, but it rocks! The base is glittered red, then each nail is designed with different images/patterns.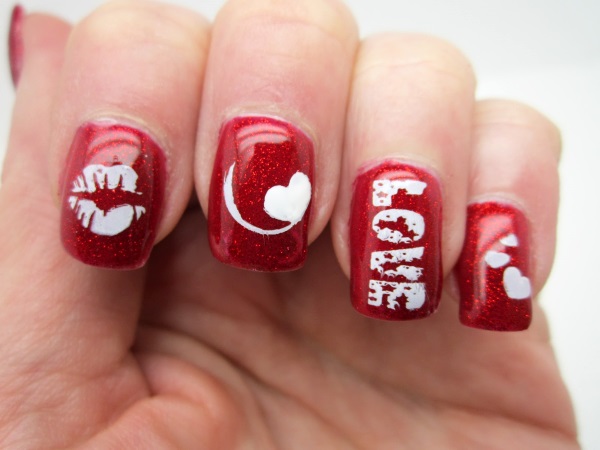 LOVE Valentines Day Nail Designs
From hearts and heartbeat nail designs, to kisses let's have the letters L-O-V-E for your nail on hearts day!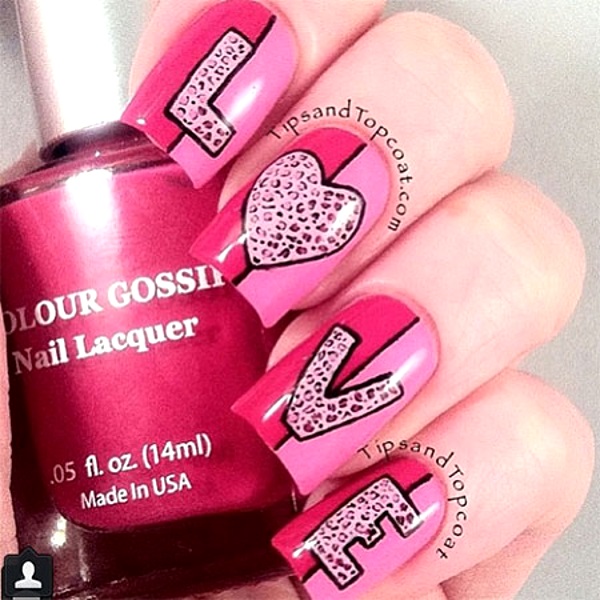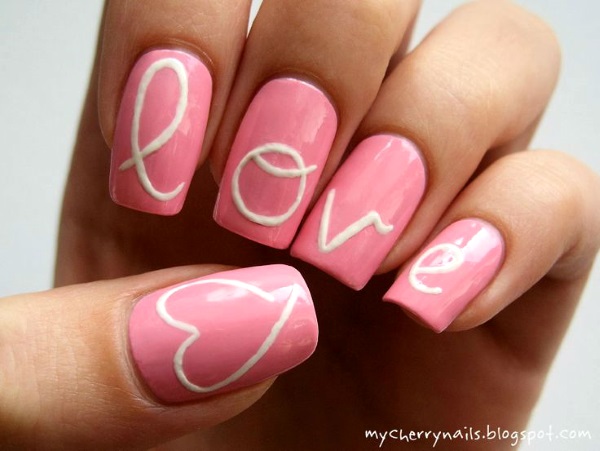 This one, having the word LOVE only on a single nail. Still really pretty!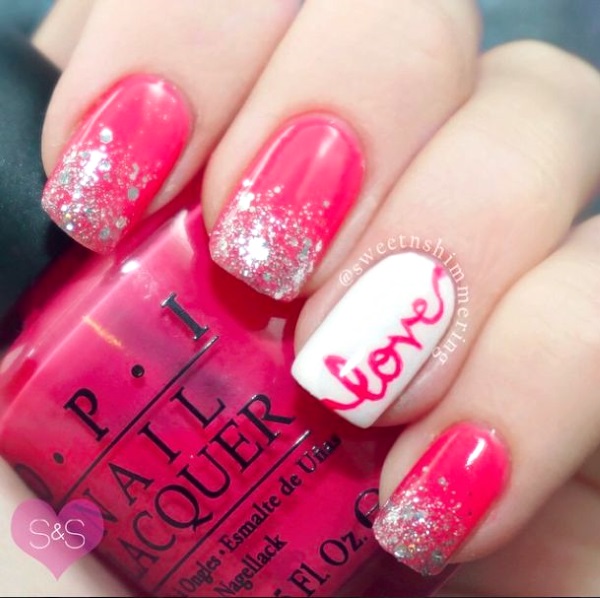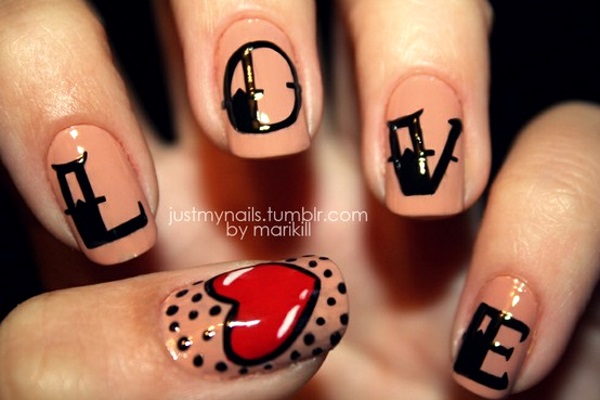 I love you, Hugs, Me + You, Kisses are sweet words you may also want to be designed on your nails. What do you think?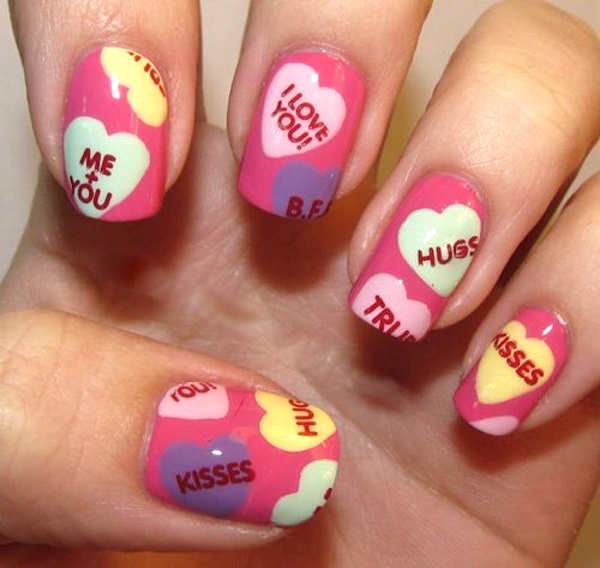 Well, you've just browsed the best Valentines day nail patterns and even if you would show this to a little girl, I am sure she'd ask you to try such pretty nail art ideas for her. Grooming on Valentines isn't just for those ladies who are taken, the single ladies are also very welcome to pamper themselves. Go on movies, spa, parlor, spend time with family and friends. I and my sister would surely do some simple DIY nail design above, I just needed to buy nail paints today. I will be uploading the photos later. If you enjoyed this collection, please leave us a comment below! Or if you have more interesting designs, we would love to feature it here for our followers. We would glad if you could share this page to your friends on Facebook, Twitter, Instagram or email. Taken or single ladies, let's enjoy Valentines day the way we want it. Spread love and positivities everyone!