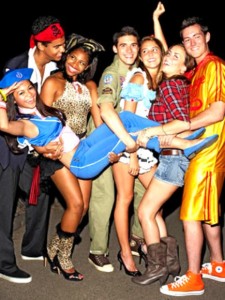 Attending the Halloween costume party is much more than fun being with someone. Could either be with your girlfriend or boyfriend, office mates, friends and especially when you're with your family and relatives. We're done with the Scary Halloween Costumes, Funny Halloween Costumes and the Celebrity Halloween Costumes that would suit anyone who'd party on solo, but how about those who are going in duo or in group? Well worry not because in this Halloween Costume Ideas Part 2, sure you will be delighted to see the lists of our Top Couples Halloween Costumes and Group Halloween Costumes Just in case you wanna be in the same costume theme with people close to you, then this will give you quick hints of what to wear for Halloween 2013 Costume Parties! So bring your wife, kids, siblings, friends, workmates, cousins or neighbors and enjoy the party!
Top 10 Group Halloween Costumes
Here are some fun costume ideas for group of friends or workmates going to the same party. You guys just needed to come up with a concept then decide who's who from a certain group of characters.
1. Plant vs Zombies Halloween Costumes
This is such a hit when it was published as a computer game by PopCom in the year 2009. It's been 3 years ago but its popularity didn't dropped at all because lots of android and iPhone applications have been created until now. Even more and more of toys and apparels so for sure Plants vs Zombies is still a fun costume idea for 3 or more group of people. The best thing about this concept is that there are more than 50 characters to choose from (both plants and zombies).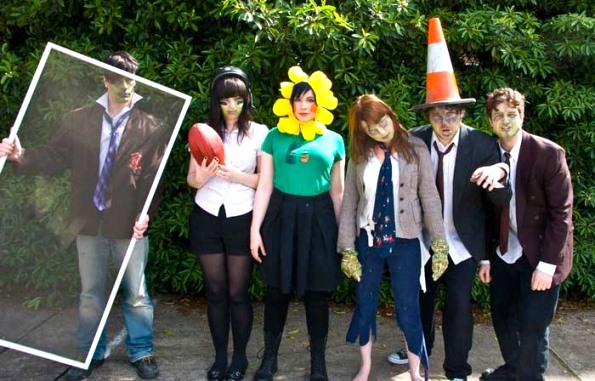 2. Spice Girls Costume (All Female / Gay Group)
Supposed you're going to party with your girlfriends of sisters and cousins, then this could be a cool costume idea for a group of 5 ladies. The British pop singers who were icons not only of the teenage girls but as well as the kids and even more with the gays. Why? Because these 5 girls have their own styles of clothing making the audience excited for their next get ups. They are Melanie C, Melanie B, Victoria, Geri and Emma. Get reunited on Halloween and continue to spice up your life!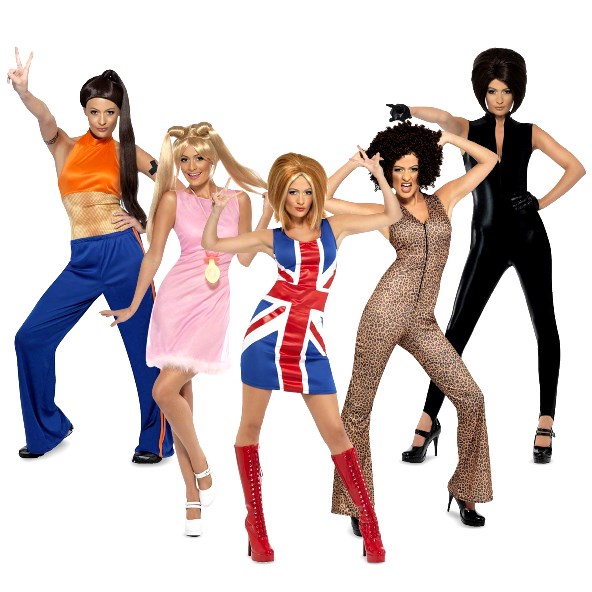 3. Disney Princesses Characters Costume (Zombie Versions)
Giving a twist to the famous Walt Disney characters who are popular to adults and especially to the kids, particularly the girls. These cartoon characters are enchanting and very inviting to let the little girls put themselves in the shoe of every princess character. The photo below suits the adults who would like to be undead Disney characters because I'm sure kids wouldn't want to look like these. Characters from left to right:
Belle of Beauty and the Beast
Aladin and Jasmine
Mulan
Cinderella
Ariel of Little Mermaid
Esmeralda of the Hunchback of Notre Dame
Pocahontas
Alice (in the Wonderland)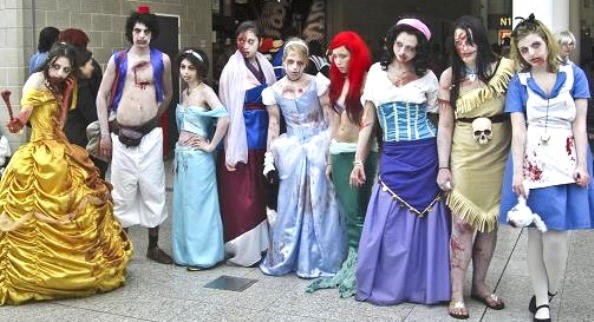 4. Pirates and Wenches Costumes
To the hunky pirates along with their sexy friends to dress up like wenches. Dress up and bring that Caribbean atmosphere to anyone's Halloween Costume party this year!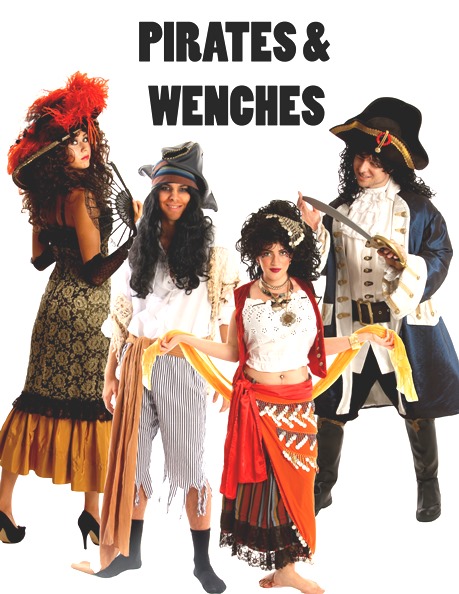 5. X-Men Superheroes Costumes
Who doesn't know about the heroic group mutants found by Professor X of Marvel Universe? The photo below shows 4 characters namely Magneto, Storm, Gambit and Wolverine (left to right) but there's actually more to choose from like their leader Cyclops, Iceman, Phoenix and the rest from the list of x-men characters. As what I've said somewhere in any of my Halloween post, this season brings out the child in you again!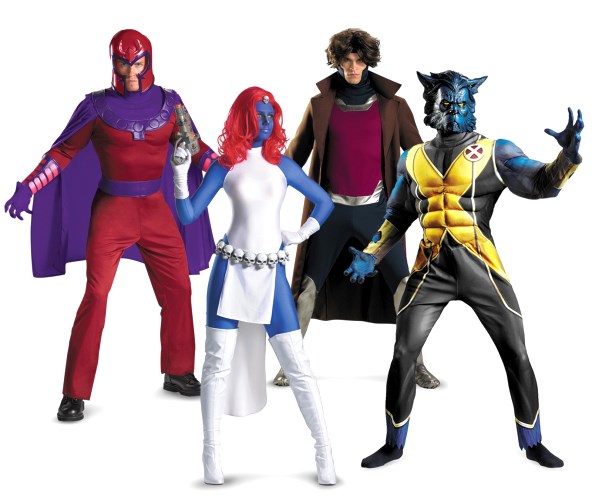 6. Sailor Moon Costumes (All Female / Gay Group)
Another concept for all girls or all gays attending a costume party. For those who still love being the Pretty Soldiers then consider dressing up this way. The picture below shows 5 characters but there's actually 10 of them so you can choose from the rest of them.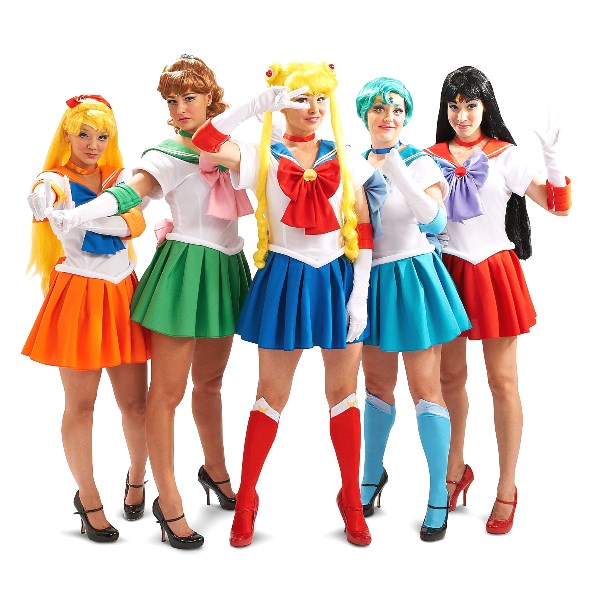 7. Fraggle Rock Group Costumes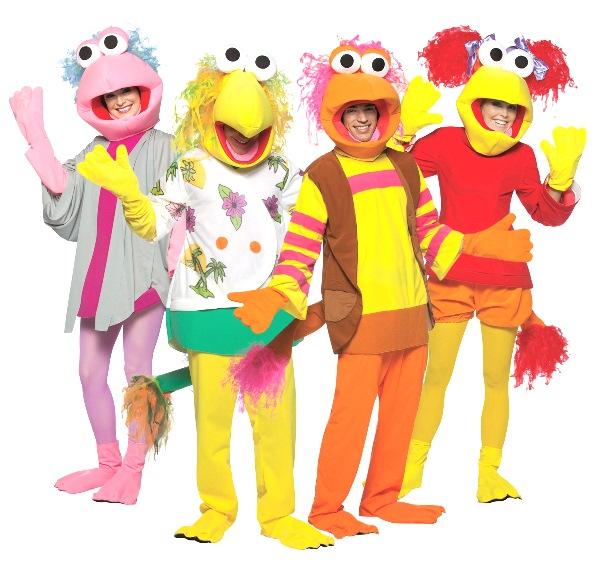 8. Alice in the Wonderland Costumes
Also known as Alice's Adventures in Wonderland, with different characters both male and female and creatures too. It was a novel about Alice's adventures when he fell in the rabbit's hole and everything unexpected.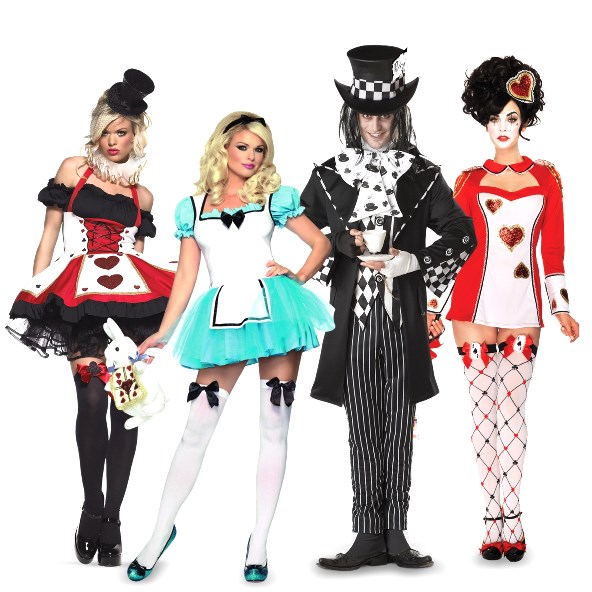 Three Blind Mice Halloween costume for sexy girls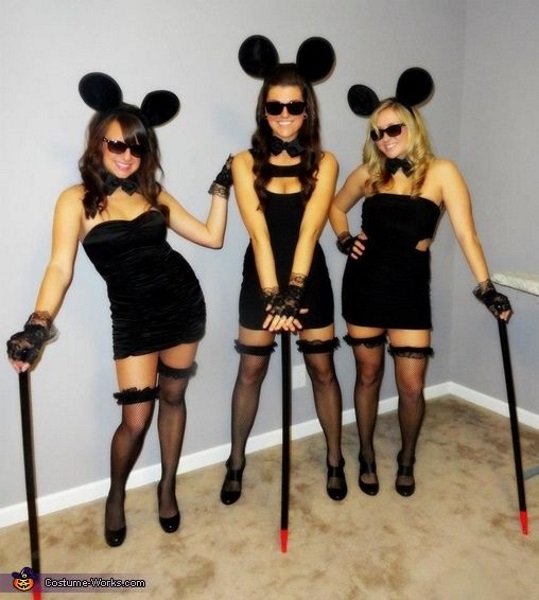 9. Looney Tunes Costumes
If you love cartoons very much, I'm sure you knew about Looney Tunes too! The home of the very clever Bugs Bunny, his hotty sweetheart Lola Bunny, hot-tempered Duffy Duck, tandem of Sylvester and Tweety Bird, super fast Load Runner, hungry Tazmanian devil and etc. These characters also starred in the Space Jam along with some NBA Superstars like Michael Jordan, Patrick Ewing, Larry Johnson, Charles Barkley, Muggsy Bogues, and Shawn Bradley and more. Characters are actually more than 4!

10. Micky Mouse Cast Costumes
Also known as Mickey and Friends, certainly last on my list but never the least! These are still all-time-favorite costume characters not only for kids but as well as for the adults. The sensational 6 are:
Mickey Mouse
Minnie Mouse
Donald Duck
Daisy Duck
Goofy
Pluto
Since the photo below shows only the couple Mickey and Minnie, obviously this suits for a Couple Halloween Costume which is going to be my be next list.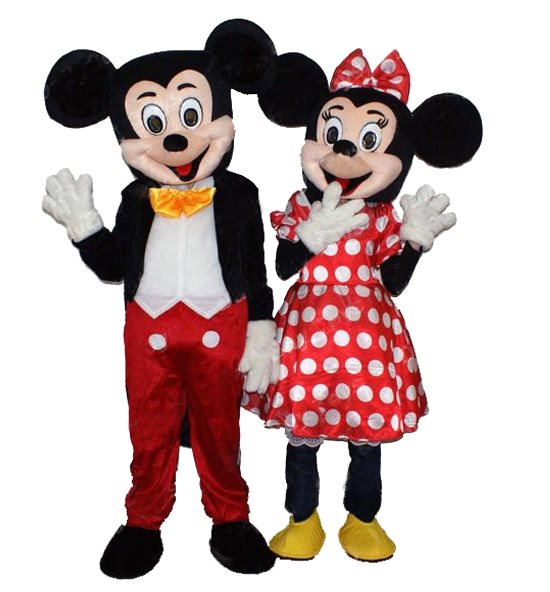 Top 26 Couples Halloween Costumes
(Note: 21-28 are Adult Couple Costumes)
These are awesome matching costumes for couples! Well looking at them they don't just suit married couples or girlfriend and boyfriend going to party because some would be fine for boy and girl best friends or how about a brother and sister for the same concept to wear right? Parties are even exciting to see them project the character they should be for the All Hallow's Eve gathering. Here are the very most commonly seen pair up get up for costume parties to those who will be attending in duo. The 26 Halloween couple costumes below are randomly funny, scary, celebrity, gross, naughty, sexy and humorous too. Good luck!
1. Clown Couples Halloween Costumes
This concept has 2 samples below- the funny clowns and the scary clown costumes for couples. Since Halloween is expected to be more of a fright night, then you might consider the scary clown costume more. Oh just be careful with those sharp props!
Funny Clown Couples Halloween Costume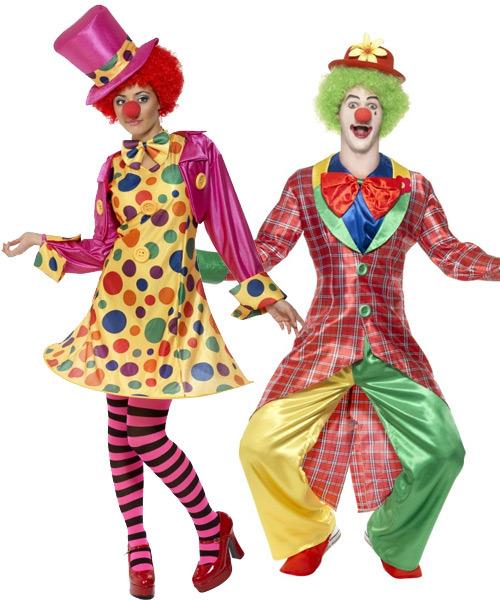 Scary Clown Couples Halloween Costume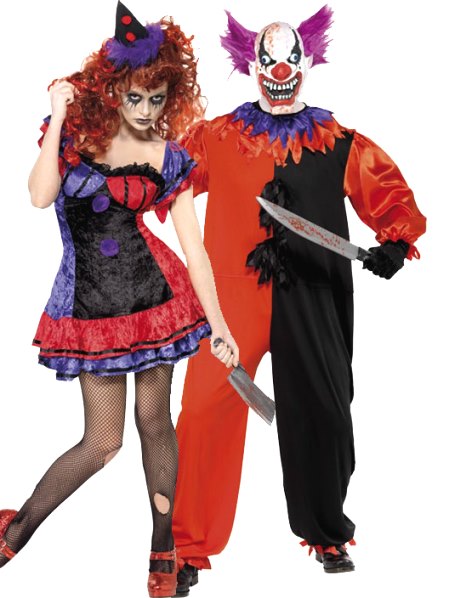 2. Shrek and Fiona Couple Halloween Costume
These characters aren't born to scare people but what can we do if they are born to be different from the human being? That's Shrek, the lead star of fantasy and comedy film produced by DreamWorks. For someone with a clever personality, then do consider Shrek along with your girlfriend or wife as Fiona!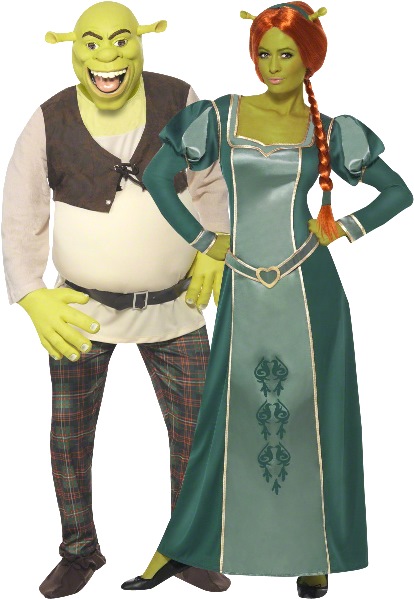 3. Cowboy and Cowgirl Couple Halloween Costume
Bring that Wild Wild West atmosphere into the party venue by wearing a cowboy get up. That rusty and rugged look and a gun for props would make it perfect! Just don't bring horses not unless they are mentioned to be welcome in the Halloween party invitation.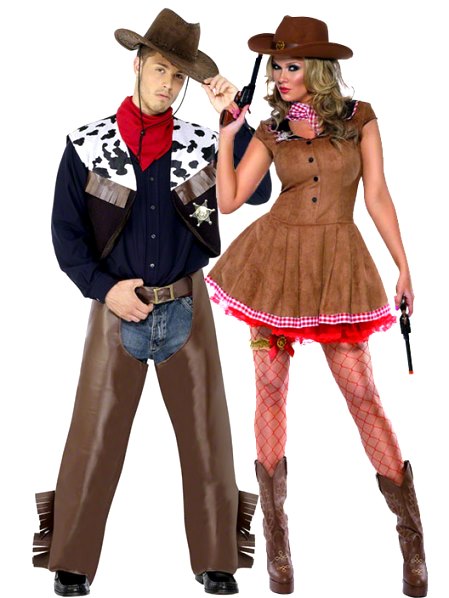 4. Roman God and Goddess /Greek Couple Costumes

Being one of the most known people ever told in the history – good looking, brave and rich in arts and literature. If it's your dream being the goddess of beauty called Aphrodite (Greek) or Venus (Roman) then this is your chance along with your husband or boyfriend in a Roman or Greek god costume too.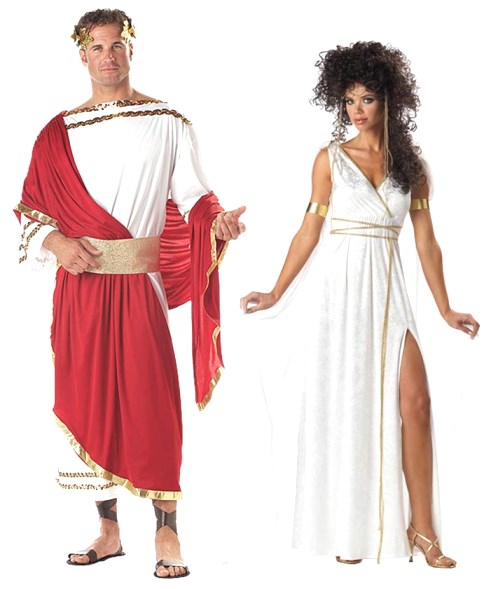 If not being the god and goddess, for more adventure then try being the hunk and aggressive Roman and Greek warriors. Still wonderful!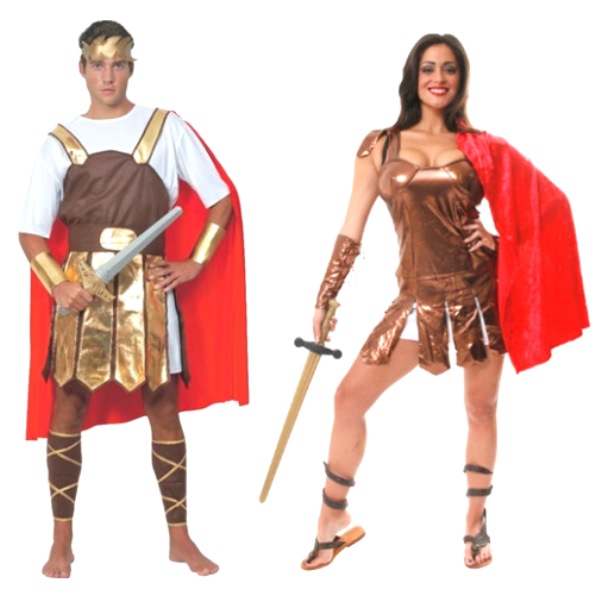 5. Pirate Couple Halloween Costumes
I've found 2 photos for these concept. One is the usual Caribbean Pirate and Caribbean Woman, if you're a fan of Jack Sparrow sure you would like this.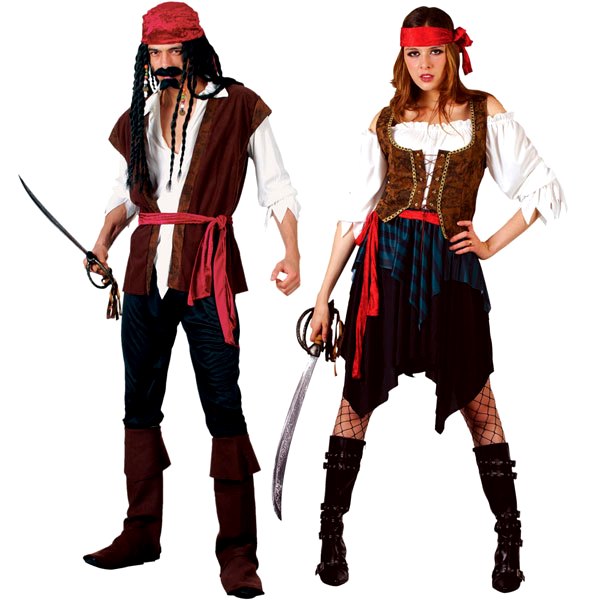 While the other is the ashy Scary Ghost Ship Pirates, supposed the ship got drowned so the area where it sunk becomes haunted and mysterious. Enough with the story telling and here they are!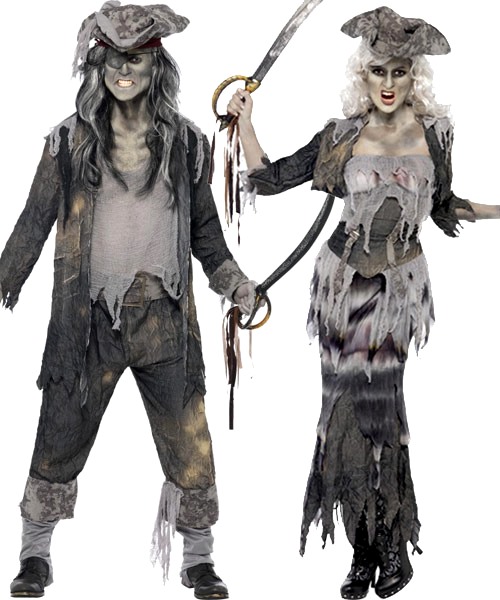 6. Barbie and Ken Couple Costume
From scary to something fun and wholesome – Barbie and Ken! Very sweet couple to tame the wild party goers on a Halloween evening. But what makes it more clever these days is the modified version of it. It's not the usual get up of lovely dolls in pink and blue get up, instead seeing them inside the doll box! Straight from the department store I guess.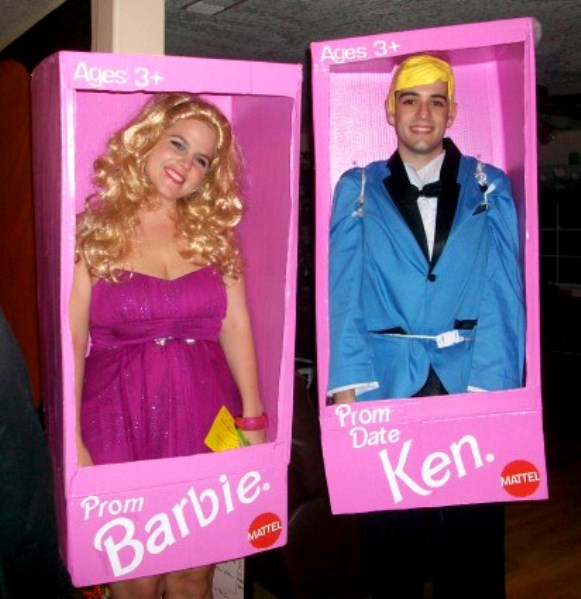 7. Skeleton Couples Couple Costumes
Since skulls and skeletons are one of the most common Halloween trademarks, then consider wearing these couple skeleton costume on a party you're attending this year. Consider this a sexy costume because the ladies' costume if very fit (body hugging) and seductive.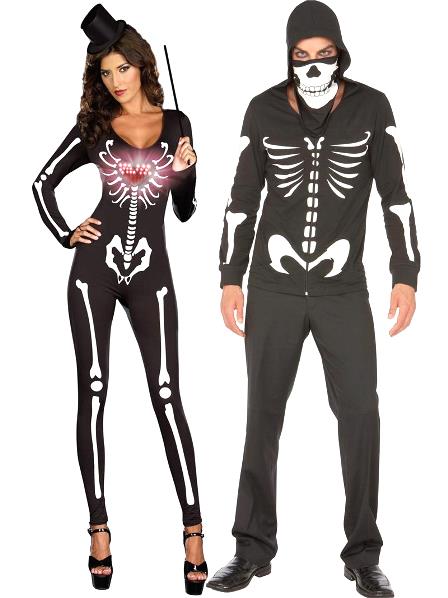 8. Witch Couple Costumes / Scary Sorcerer and Sorceress Halloween Costume
Since witches are said to cast out spells, then they may be referred to as sorcerer and sorceress that are involved in performing black magic. Freaky costume! Other guests won't mess with you and your girl, else you would turn them into frogs!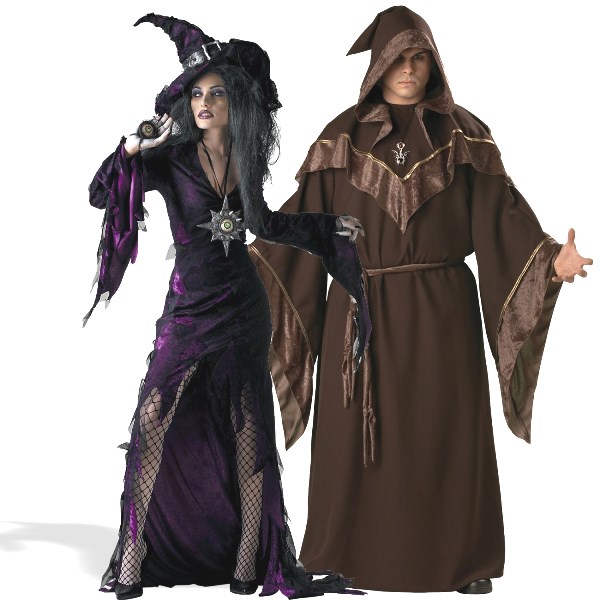 9. Freddy Kruger Couple Costume
Black and red stripe sweater for Freddy, so how about the same black and red stripe torn dress for his love interest? With that matching hat, sharp claws and stylish boots. Perfect match made in hell! lol
10. M&M Candy Couples Costume Green Poncho & Blue Poncho
Oh these chocolates are indeed sweet just like you and your love one. But ooops, remember there are other more M&M Candy colors so be very cautious. I do hope they aren't 3rd or 4th parties or it's going to be a total riot in the party.
11. Super Hero Couple Costumes
Be brave, be very brave to wear the fantasy super hero costumes along with your super supportive wife or girlfriend in their own super leading lady costume too. Here are some few samples you might consider:
Captain America and Peggy Carter Couple Costume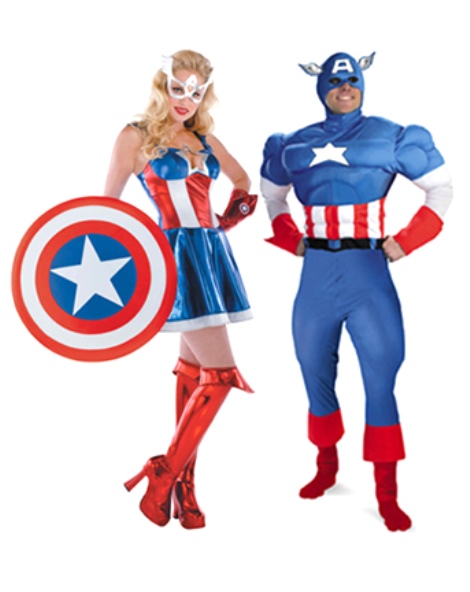 Spiderman and Spiderwoman Couple Costume

Batman and Batgirl or Batman and Catwoman ( I just can't suggest Batman and Robin – lol!) Such a lucky super hero with 2 possible lady love!

photo: bryonytheatrical

Superman and Supergirl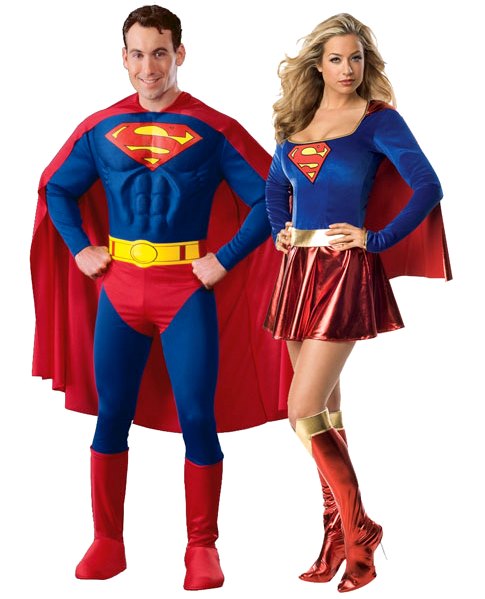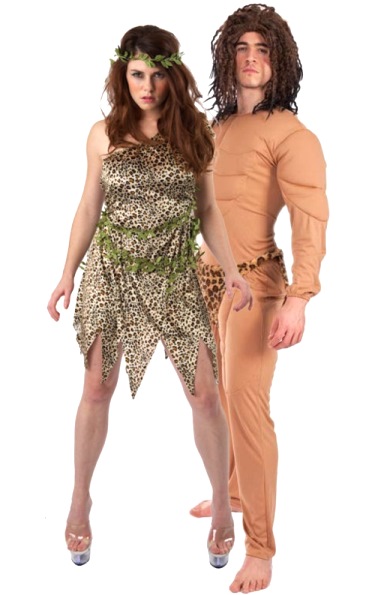 12. Spoon and Fork Couple Costume
Where there's fork, spoon should be there too. That's the love story of these dining utensils and make it your own love story on a Halloween party too.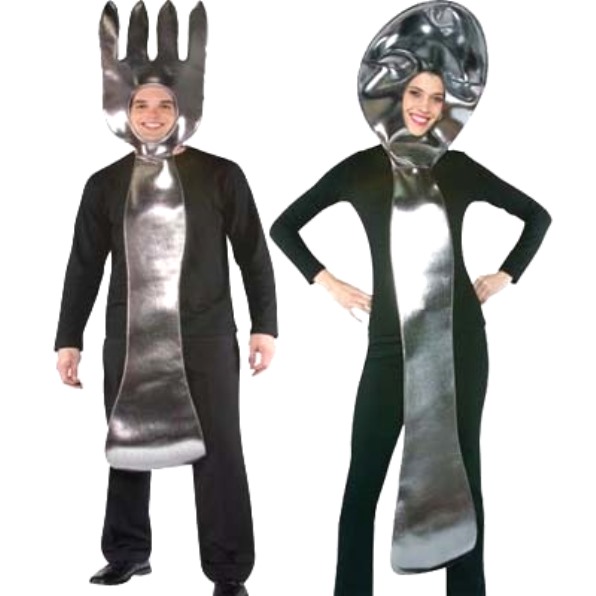 13. El Toro and Terri Bull Couple Costume
Well if it's okay with the guy being underdog and for the lady to be dominant, then do consider is humorous costume concept.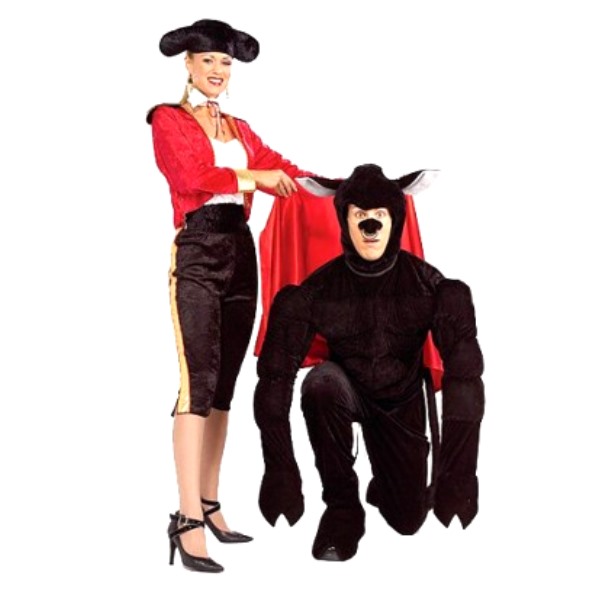 14. Cartoon Characters Halloween Couple Costumes
There are couple costume ideas from cartoons or movie animations that have become iconic on costume gatherings. If not love teams, at least one party is in love with the other character like our very first sample.
Peter Pan and Tinkerbell Couple Costume ( It should be Wendy I know, but Tinkerbell likes Peter very much and most importantly she has better costume than Wendy :p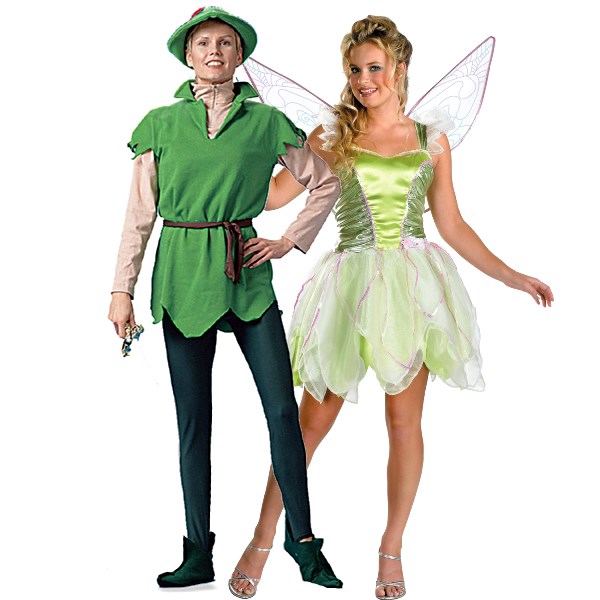 The very famous movie that justifies the quote "in love, looks doesn't matter".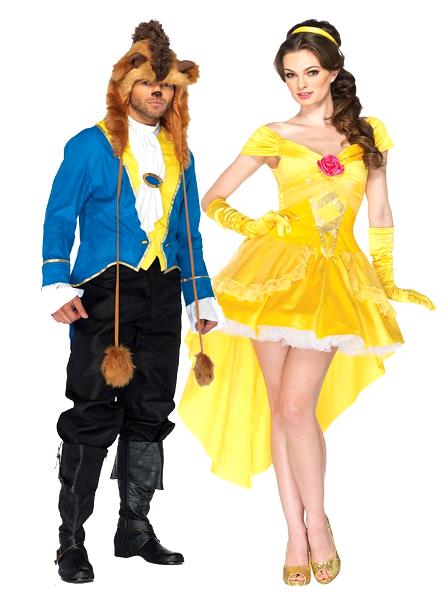 15. Chucky and Bride Tiffany Couple Costume
Given the brief background of Chucky and his bride Tiffany on one of my post, here's a bright idea for a Halloween couple costume. The horrific couple character of the famous Child's play series.
16. Popeye and Olive Couple Costume
The famous till head over heels in love with each other couple from the video game Popeye. Though the rude Bluto will try to harm Olive and keep her for himself, Popeye the Sailorman will do everything to save her. Be the night's hero and leading lady wearing this nice couple costume. In case of emergency, please don't forget to bring your spinach too 😉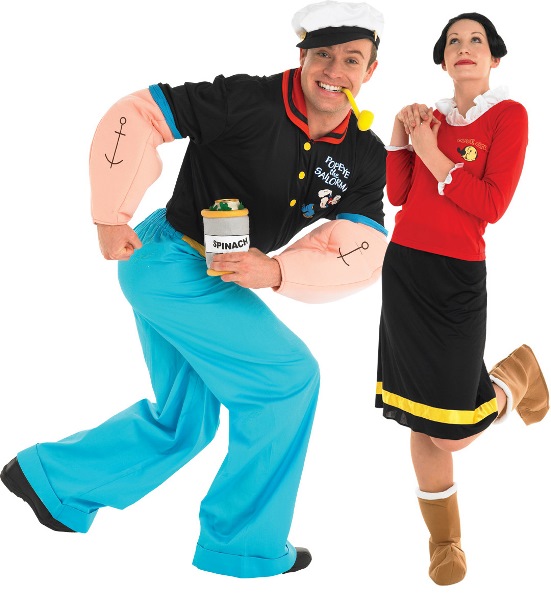 17. Zombie Footballer and Cheerleader
If you're a sporty type, then you might wanna be on your usual football attire and your girlfriend or wife as your avid cheerleader. Giving a twist to this costume is to make yourselves look as zombies! You can sure do it!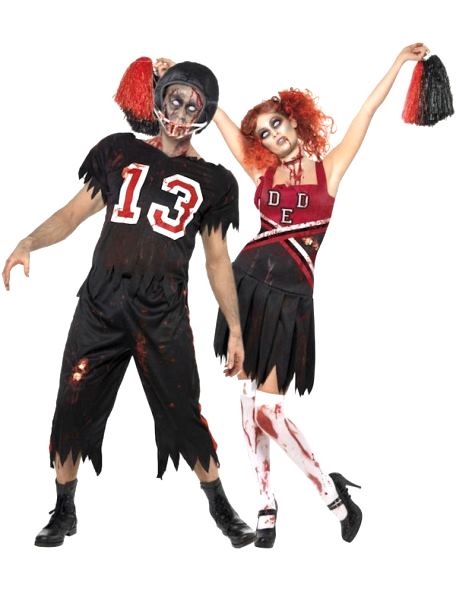 18. Mario and Princess Peach Halloween Costume
Oh my Luigi is going to be very jealous that Mario went on a party with Princess without him around.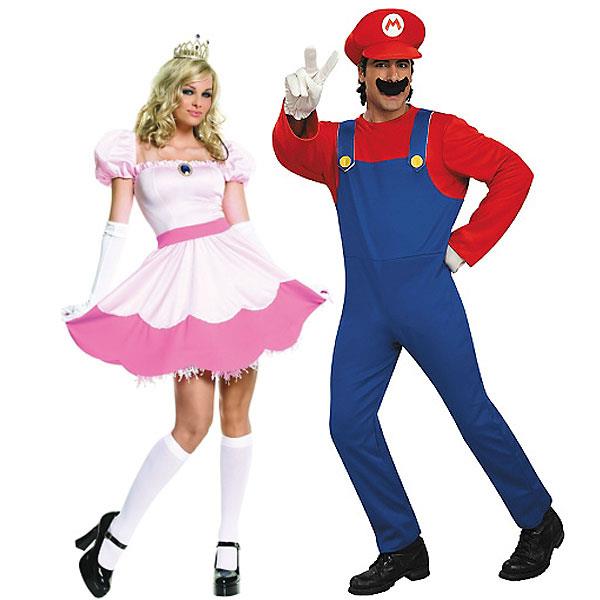 19. Geek or Nerd Couple Costume
Checkered, high (really high) waist pants or skirts, bow ties, slender and especially glasses are the very trade made of a geek or nerd look. You might consider this for Halloween costume party 2016.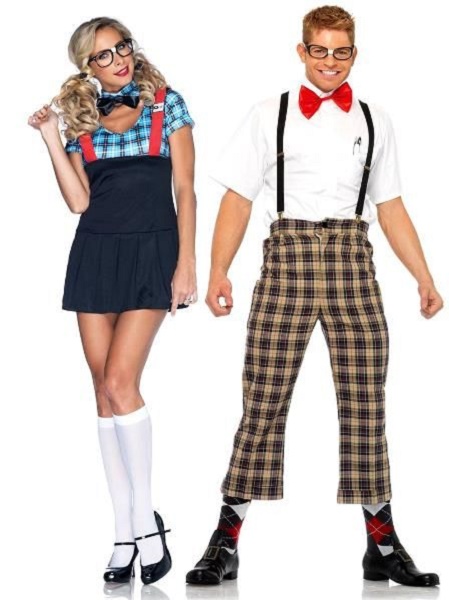 20. Sunflower and a Bee Couples costumes.
BEST DIY (do it yourself) Couples Costume I've ever seen!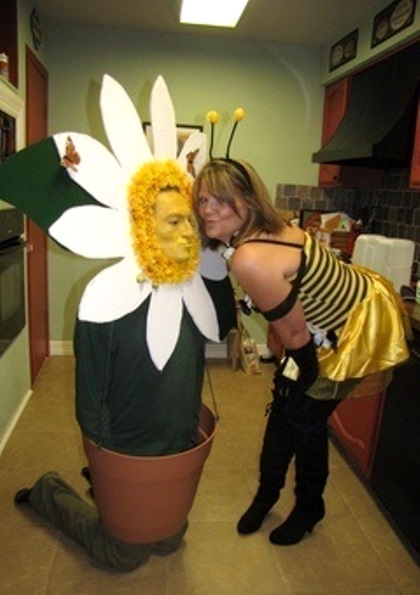 Adult Couple Costumes
If you're sure a party is going to be exclusive to adults, then this kind of costumes are very welcome. But if not, consider to wear child-friendly costumes to avoid confusion for them. Some may be sexy or naught couple costumes.
21. Private Parts Couple Costume
I am just not sure if your girlfriend or wife would agree wearing this costume for the female since the photo below shows that a guy is wearing it. Unless the party is actually expected to be having all grown up guests.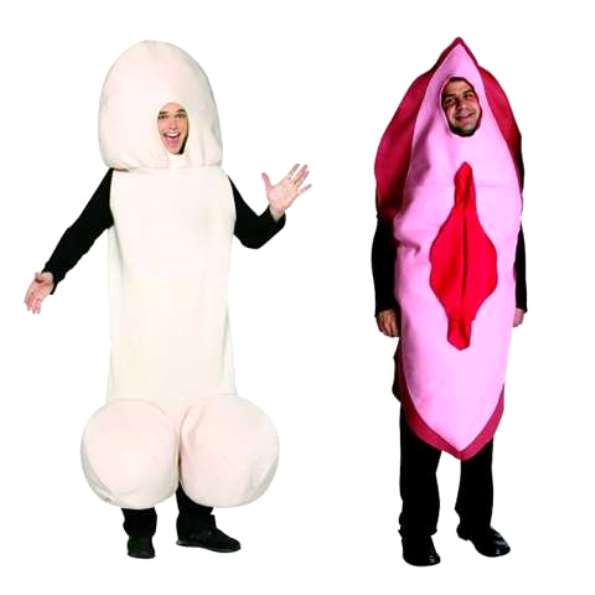 21. Plug and Socket Couple Costumes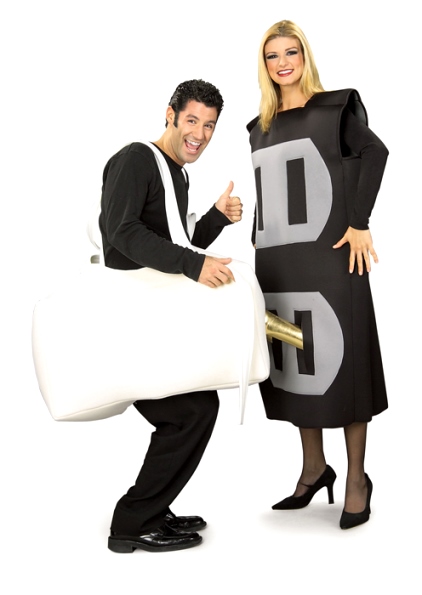 22. Nut and Bolt Couple Costume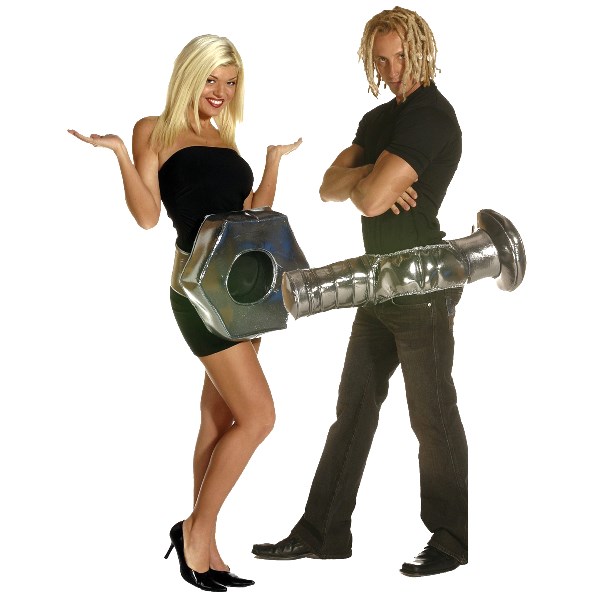 23. Eve and Adam Couple Costume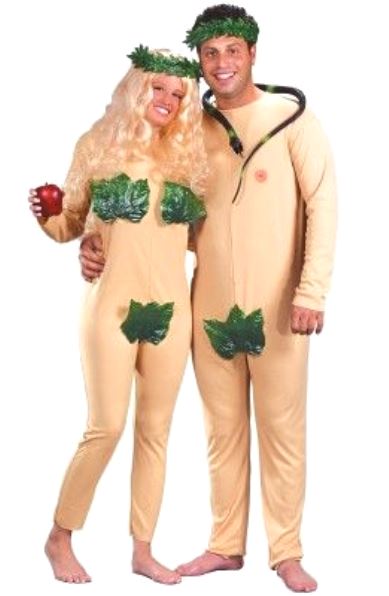 24. USB Flash Drive and USB Port Couple Costume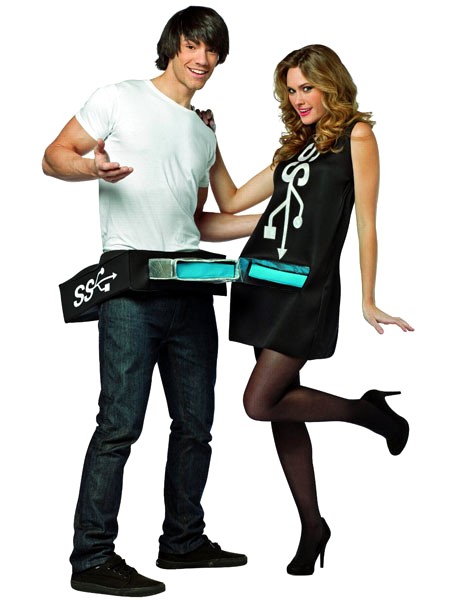 25. Lock and Key Couple Costume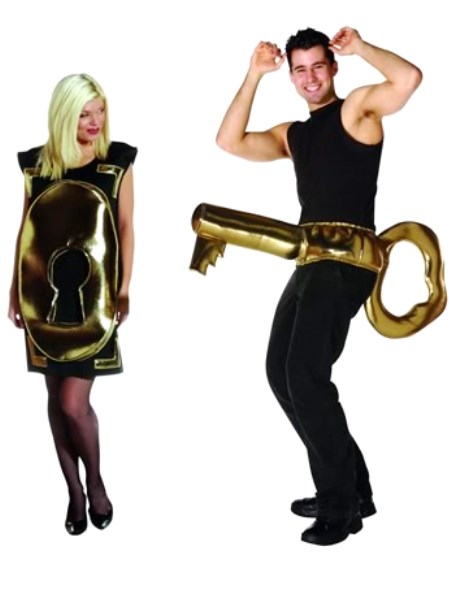 26. Burglar Halloween Costume for couple
27. Aladdin and Jasmine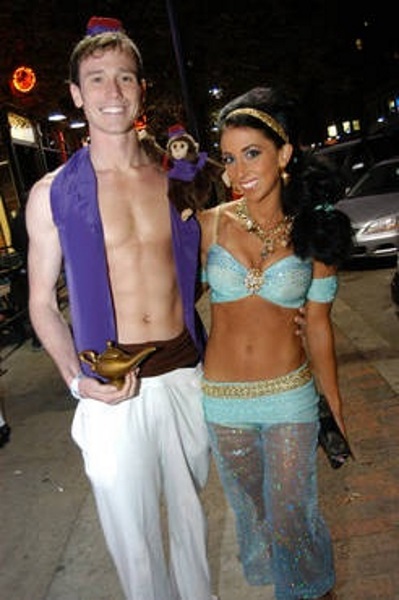 We are just so happy to suggest the Best Halloween Costume Ideas for those who are going to party in group and in duo. We aim to give you the best we can. It's a month and 3 days before Halloween guys, so get yourself busy preparing. I hope you had fun browsing!
Family Halloween Costumes
If partying out is already fun being with friends and colleagues, then just imagine spending the night with your beloved family! Let this be a Halloween to remember, bringing your wife and kids to mesmerize the crowd with your party outfit for group of 3, 4 and even for 5. I'd say we're more focus for the Kids Halloween costume in this post both for girls, boys, toddlers and infants. Also available are Pregnant Halloween Costumes for expectant moms. So what are you waiting for dad and mom? Browse down pick the perfect Halloween Costume concept that's perfect for your family. A family that party outs together, gets tons of Halloween game prizes at the end of the night! I am just so sure of that. Let your family be the star of the Halloween neighborhood party or the Halloween party reunion. Your children will be so excited if you plan to go with them trick-or-treating too. Cheers!
Top 10 Family Halloween Costumes
Scary Halloween Costumes for Family
Well if you plan to be scary, just don't make it totally horrific else you'd be frightening your own kids. Make it something cute in a way that they would still recognize you as their mom and dad.
1. The Addams Family Inspired Halloween Costumes
This cartoon series has 9 main characters. This family are far different from the usual American family. Though they are very rich and sophiscated, they didn't noticed that their ghastly atmosphere and way of living frightens the neighborhood very much. The couple are Gomez and Morticia, kids are Wednesday, Pugsley and Pubert Addams. Living with them are Grandmama, Lurch (manservant of the family which looks like Frankenstein), Uncle Fester (brother of Gomez) and Thing which was a mysterious full-bodied watching the family but in the series, it became a fictional character being a "hand" alone.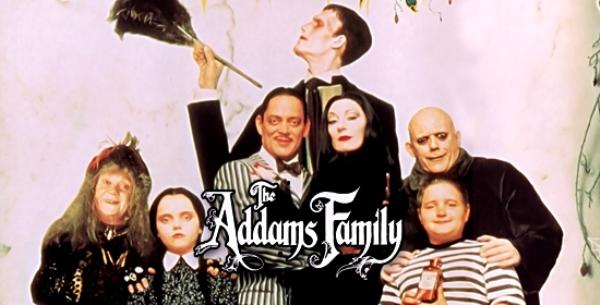 Let mom and dad be Morticia and Gomez, then for the rest it's up to up who is who. Maybe you have uncle and aunts going with you or older sisters and older brothers.
Note: There are currently 10 Addams Family cast since Uncle Fester finally got married.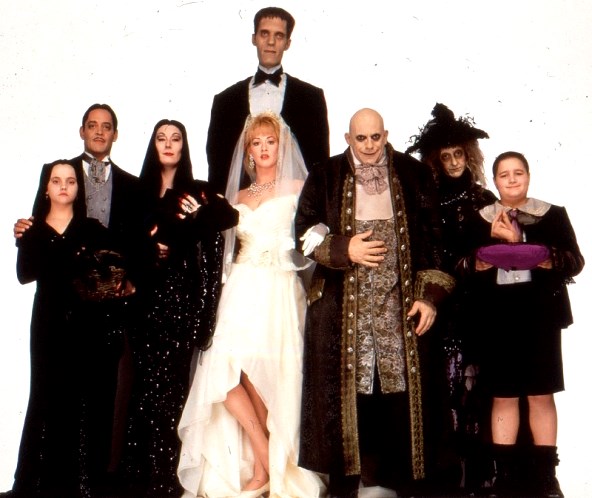 Here's a very limited casting from Costume Express Blog
Here are samples of some families that dressed up as The Adams Family for Halloween.
2. Warcraft Characters Family Halloween Costume
This is from the blog thegirlsprojectgroup and while reading it I've discovered this one is actually homemade! They made this possible in one long month. If you think you have that artistry and creative personality, you might wanna consider this kind of costume idea for the family. Mom, older daughter while dad and the cute baby as the 2-headed ogre. So adorable and the group who made these are just so talented!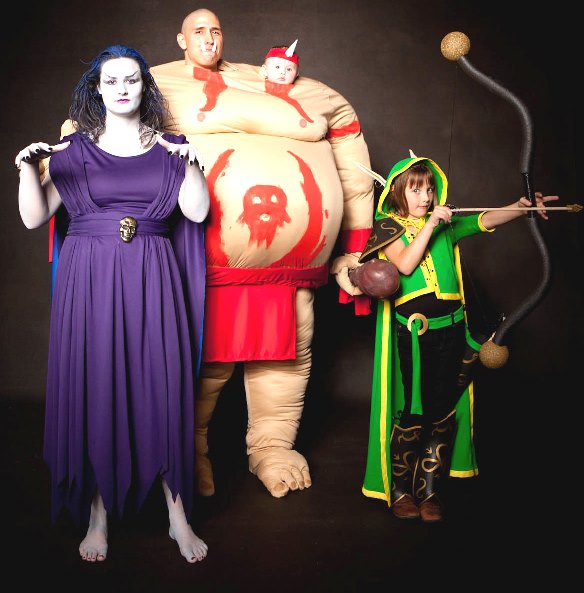 3. Toy Story Family Halloween Costume
Since this animated film is about toys, expect for lots of characters to choose from. Whats funny in the photo below is that the family took time to find a dog halloween costume for their pet. The lead stars are Woody and best friend Buzz Lightyear.
4. Avengers Halloween Costume
These are superhero characters with different strengths and weaknesses. Lead by the very brave Captain America as the First Avenger, here are the rest of the cast are you might consider to be for this year's Halloween Costume party. Other characters are;
Abyss
Black Widow
Cannonball
Captain America
Captain Marvel
Captain Universe
Ex Nihilo
Falcon
Hawkeye
Hulk
Hyperion
Iron Man
Manifold
Nightmask
Shang-Chi
Smasher
Spider-Woman
Star Brand
Sunspot
Superior Spider-Man
Thor
Wolverine
5. Super Mario Brothers Family Halloween Costume
Oh just so cute having grandma around as Mario. There's dad as Luigi, Mom as Princess Peach, then 2 sons as Toad and Goomba while their dog was wearing a Koopa costume. Cool family indeed! This is one of the best Homemade Halloween Costumes or DIY Halloween Costumes I've ever seen and it's my pleasure to share put it here.
6. The Flintstones Family Halloween Costume
This is a cartoon series about how people were living during the stone age. No doubt they were also fashionable those times as how their characters are shown in the said cartoon. Characters are Fred, Wilma, baby girl Pebbles and adopted Little Bamm-Bamm.
7. The Incredibles Family Costumes
From the old age to a superhero family called The Incredibles. Sure your kids would love the idea of having secret super powers. 😉
8. Alice in Wonderland Family Costumes
This was a novel and later on had a film. The story line got lots of characters so expect that you will be able to find interesting characters for your family to wear on a costume party. The photo below from left to right are : Queen of Hearts, Alice Kingsleigh, Tarrant Hightopp, The Hatter, White Rabbit and Ace of Hearts soldier.
9. Futuristic Family Halloween Costume
Turn everyone into galaxy girls and boys! Play with your imagination to come up with cool space inspired costumes.
10. Spiderweb Mother and Sock Spider Baby Costume
Supposed dad couldn't come and only mom and little baby could, then do consider this lovely and sweet mother and child costume idea. The little one as a spider while mom on white dress painted as a web. No doubt a baby feels at home when he or she is with mommy!
11. Angry Birds Family Costume
The villains and the lead characters together, oh that looks so sweeet! Consider this trending game characters for a Halloween costume.
12. Little Mermaid Cast Family Costume
Geeee such a cutie! There's little mermaid Ariel, then dad is still her dad King Triton, the baby as Sebastian and the only scary thing is that villain Ursula will be portrayed by mommy. It's just a costume even anyway, so still it looks fine!!!
13. Mr. and Mrs. Pacman and Ghosts Family Costume
Such a talented mom to be able to create the Pac-Man themed homemade Halloween costume along with Blinky, Pinky and Inky.
14. BLT Sandwich Family Costume
Well that looks healthy and yummy, not scary at all! Indeed a very kid-friendly costume idea. BLT is Bacon, Lettuce, and Tomato or a type of sandwich.
15. Crayola Family Costume
Going out to party with the family is literally colorful right? 🙂 They all look cute!
16. The Simpsons Family Costume
Those popping eyes are so so Simpsons! Very funny Halloween Costume for the entire family.
17. Ghost and Ghostbusters Family Costume
Not that the parents are gonna defeat the little babe, looking at her I could say she's a friendly ghost, even friendlier than Casper I may say. So adorable!
18. Superheroes Family Costume
There goes the superheroes out in the open to attend a Halloween costume party. So now we know that Superman + Supergirl is equal to Batman and Robin! Hehehe. Cool family and adorable kids indeed, superhero at those young age 😉
19. Scarecrow Family Costume with a Baby Pumpkin
Celebrity Alyson Hannigan and husband Alexis Denisof are spotted as scarecrows while their baby as a cute bright fresh pumpkin! Scarecrows are supposed to frighten crows, but if they are good looking as these, I doubt that crows would be scared.
20.Skeleton Family Costume
Well we have 2 photos for you. First is the Scary Skeleton Costume and the second is a more wholesome Skeleton Costume to make it safe for the kids. Again, don't frighten you kids (lol!)
Top 11 Pregnant Halloween Costumes or Maternity Halloween Costumes
These are random shocking, crazy, funny, clever, sweet, touching and creative Halloween costumes and make up ideas that a pregnant woman could think of. These are really interesting ways of how these moms had turn their bumps into a total attraction among people seeing them.
1. Crazy Pregnant Mom Costume
You would sure catch everyone's attention if you walk around in this costume idea.

2. Ladybug Tummy Pregnant Halloween Costumes
3. Alien Baby Pregnant Halloween Costumes
4. Skeleton Pregnant Halloween Costume
5. Trick-or-Treating Baby in Mom's Tummy
6. Basketball Tummy Pregnant Costume
7. Pumpkin Tummy Pregnant Halloween Costume
8. Angry Bird Pregnant Halloween Costume
9. Watermelon Tummy Pregnant Halloween Costume Idea
This is such a brilliant idea painting the bump as a sliced watermelon. What makes it humorous is when mommy was eating watermelon too. Yayyy!
While this one shows a watermelon still whole. Very cute!
10. Baseball Tummy Pregnant Halloween Costume
A sporty mommy-to-be would love the idea of wearing a baseball outfit while the bump area is painted as a baseball, just perfect for the ball's shape. Cool!
11. Bun in the Oven Pregnant Halloween Costume
I believe this one is the most modern idea among the rest of the maternity Halloween Ideas in this list. Whoever thought of this is really smart. Bun in the oven means waiting till it's cooked or simply, baby is still in the process till it's time for mom to give birth.
Kids Halloween Costumes
Obviously, children are very fond of the Halloween season because of the trick-or-treating in the neighborhood and especially participating in the party games. The very license to be involve in such activities is simply when they are on their Halloween costumes, yeah right! So as early as now, find the perfect Halloween costume for your kid that would make them stand out and adorable in the site of the house owners and party hosts. Remember every child desires to be appealing to be able to gather lots of treats and prizes so don't dare ruin their goal!
Girls Halloween Costumes
Disney Princesses
We need not to argue that every little girl's dream is to be a princess as what they always see on Disney Princesses films. So let's make it happen on a Halloween costume party!
Little Witches
Loony Toons
Mickey Mouse Cast
Flower Costumes
Boys Halloween Costumes

Just like the little ladies, these little men would like to be grown up really soon. It's either because they can be who they wish to be, a sports icon, a super hero, a wizard or in short – someone who excels. Why not let them be their favorite character on a Halloween Costume party? They'd so love you for letting them dress up like the person they mimic a lot! Common costumes for little boys are:
Superheroes (Batman, Superman, Spiderman, Captain America, X-Men)
Occupation Costumes (Police, Soldier)
Sports Attire
Pirate
Cowboys
Muscleman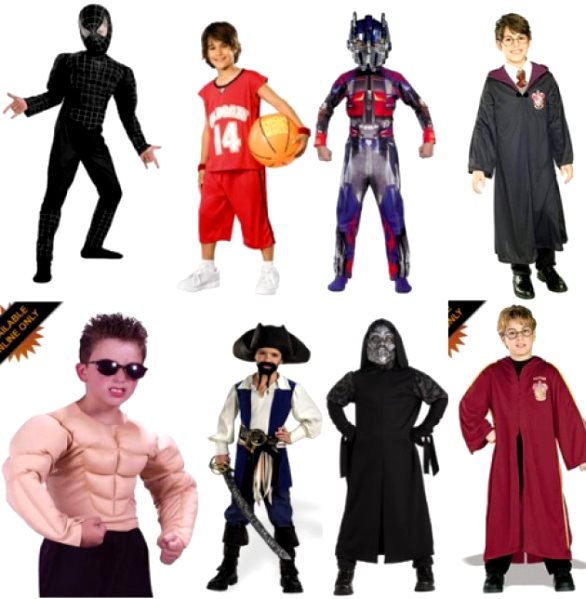 Baby Halloween Costumes or Infant Halloween Costumes and Toddler Halloween Costumes
So they are just so adorable and sweet. Let your babies be stunners on events like this. There are the cutest Baby Costumes that are even applicable for other holiday's costume party. The most common costumes for babies are: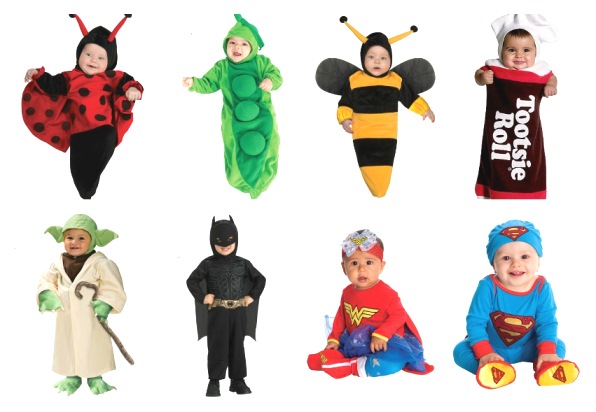 Creatures and Stuffs Associated to Halloween
Ghost Baby Costume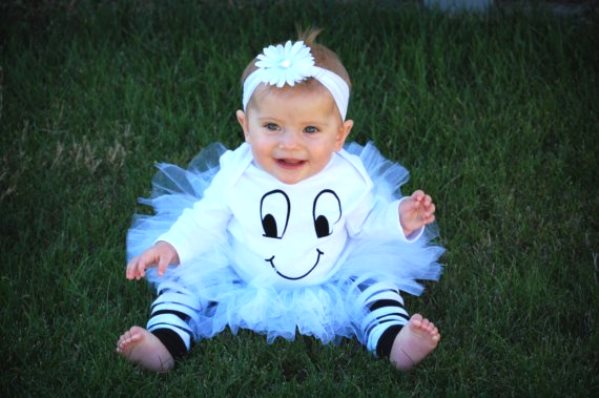 Bat Baby Costume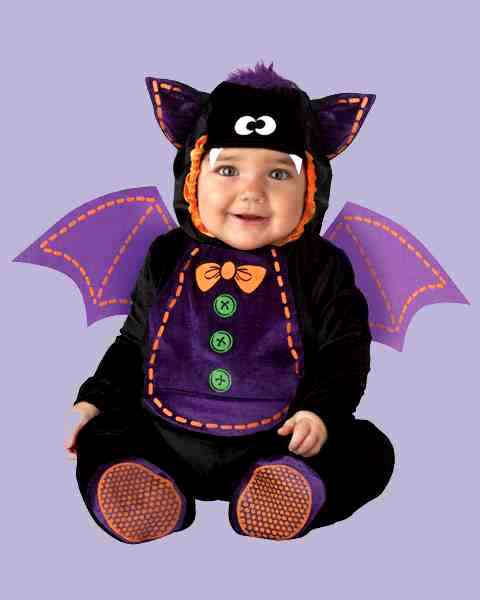 Skeleton Baby Costume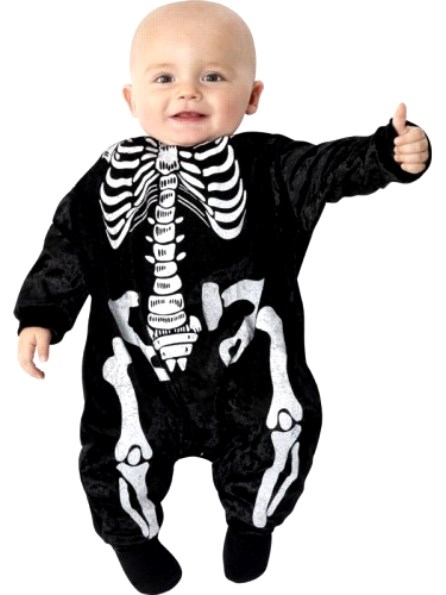 Pumpkin Baby Halloween Costume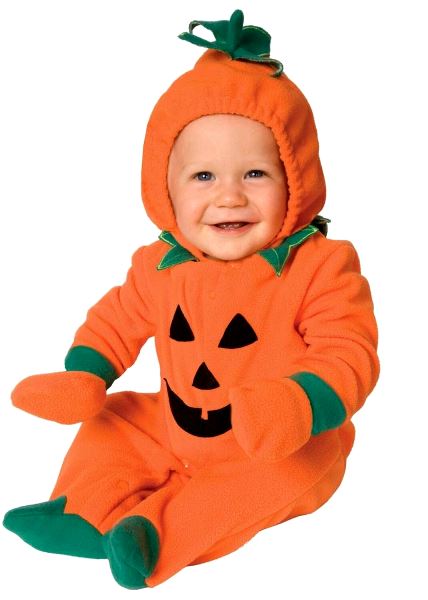 This one is just a pumpkin inspired costume for a baby girl, orange and green.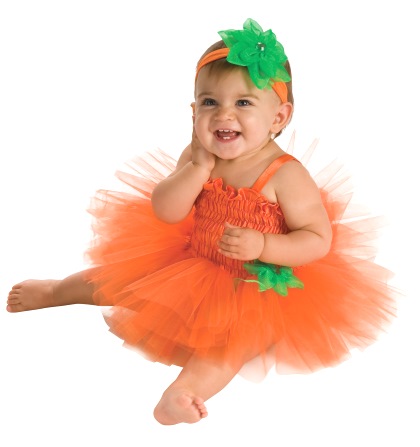 Animal Halloween Costumes
Octopus Baby Costume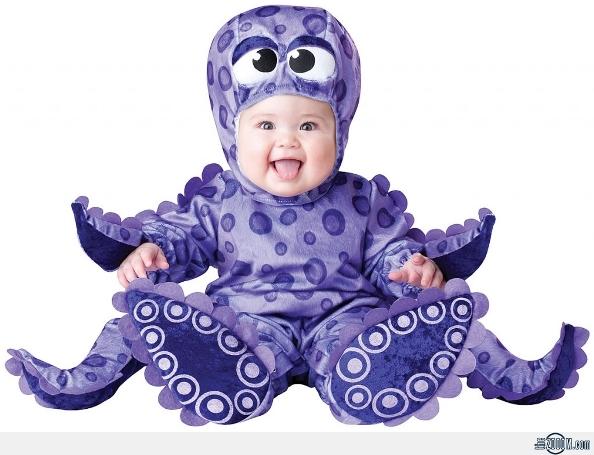 Lobster Infant Baby Costume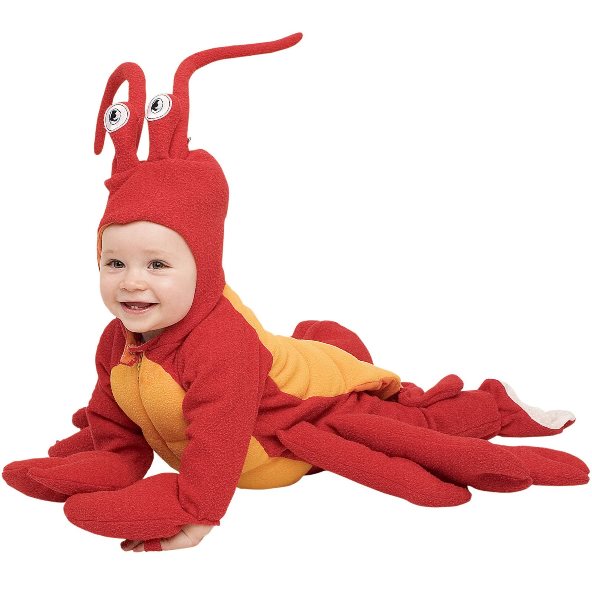 Owl Baby Costume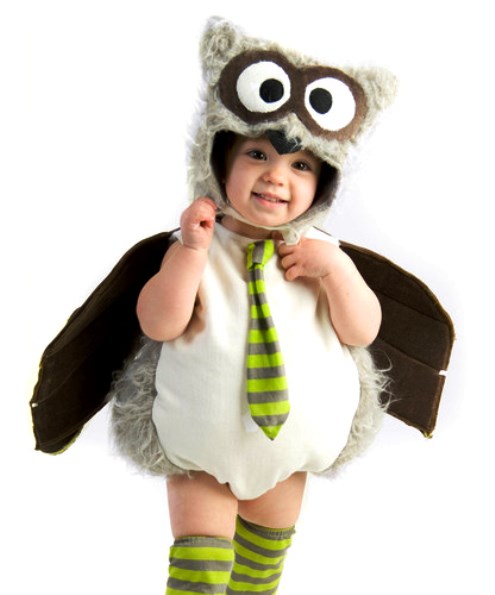 Little Lion Baby Costume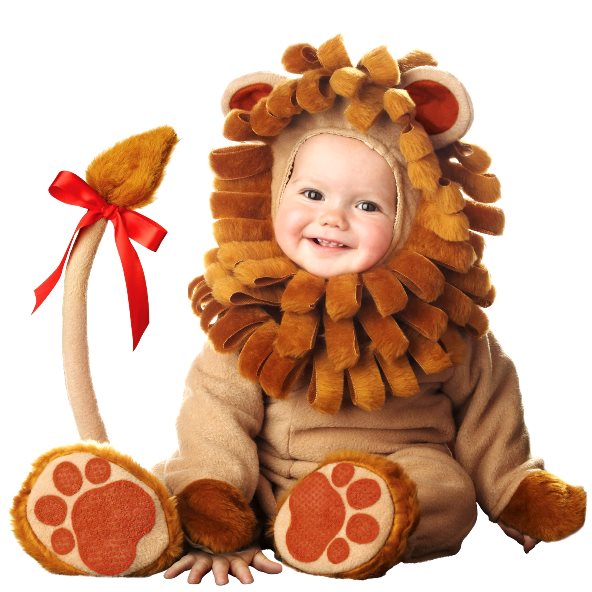 Food, Fruits or Vegetable Halloween Costumes
Pizza Baby Costume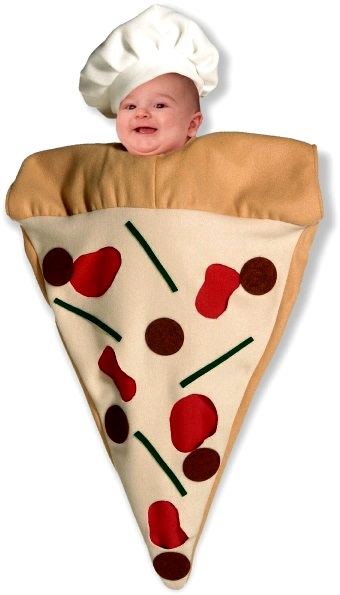 Sunny Side Up Egg Baby Costume
Banana Baby Costume

Chili Pepper Baby Costume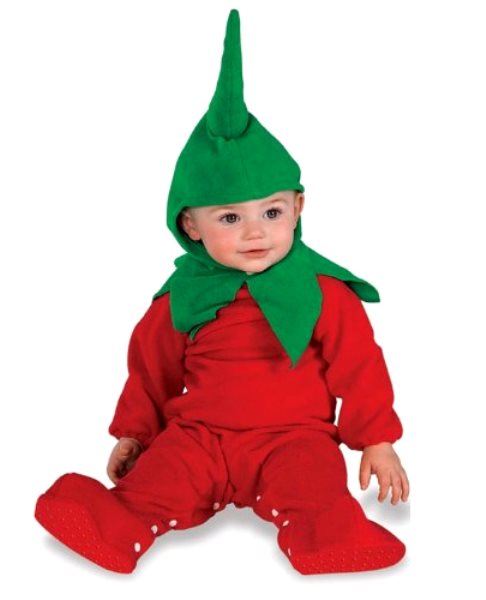 Cartoon Characters Halloween Costumes
Be it from Walt Disney, Micky Mouse Cast or Looney Toons
Superhero Baby Costumes (Superman, Batman, Supergirl, Spiderman, Catwoman)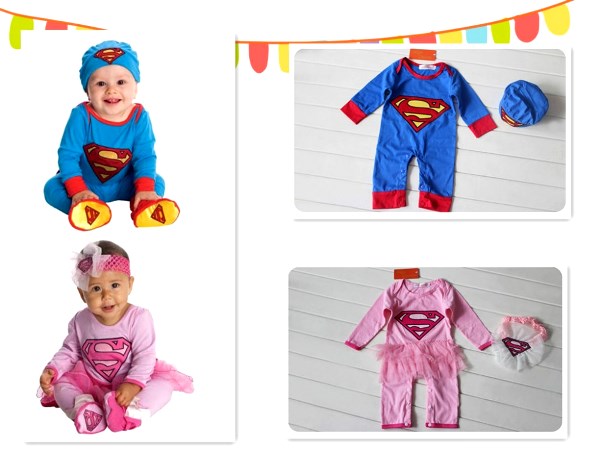 Reminder:
Make sure these children's Halloween Costumes are just right for them so they won't stumble in wearing outfits that are too loose or large.
Make sure that you lock the zippers (in case) else the kid would zip themselves.
Make sure there are no itchy tags or pointy accessories in the outfit that could hurt the kid.
Scout for some Cheap Halloween Costumes or Simple Halloween Costume Ideas from different online shops and local shops. Some blogs are even generous enough to teach on creating Homemade Halloween Costumes or DIY Halloween Costumes or Original Halloween Costumes. Definitely these are awesome Halloween costumes that sure would drive you nuts is choosing which would you plan to buy, create and wear for Halloween 2013.