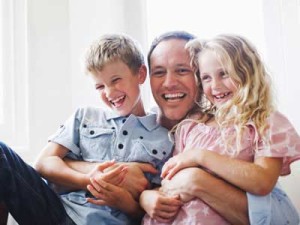 Fathers Day is just around the corner and if in case you don't have any budget for a neat gift and treat, please don't ever let it pass without heartfelt words spoken. Just when you know it's going to be a gift-free occasion, a sweet fathers day card with your own messages, warm mobile greetings, an email or a tagged Facebook status would do in case your dad is away from you. This occasion is something you celebrate knowing you have a father or father figures around you that you really are thankful for and looking up to. This day is just for them- to be honored for their kindness, love and being a responsible "father". He's someone who would give up the luxuries of his own interest just to provide for the household's needs. He's someone who'd take less just to give much for his wife and especially the kids. That's exactly how I see my own father too and I can feel he's doing that not just because it's his responsibility but because of his love for us.
A father's love is immeasurable. What is expressing back our love towards them extra special on Fathers Day? Here's some of the sweetest and nicest fathers day quotes, fathers day poems, fathers day messages,wishes, picture messages and greetings. Any of these will surely flatter and melt the hearts of our dear amazing fathers. Enough of the speechless thanks and instead send them your choice of warm greetings. Don't forget to seal it with a hug and kisses!
Some nice Fathers Day Quotes and Sayings that you could write on your Fathers Day card. Just add "Happy Father's Day" at the end of each quotations.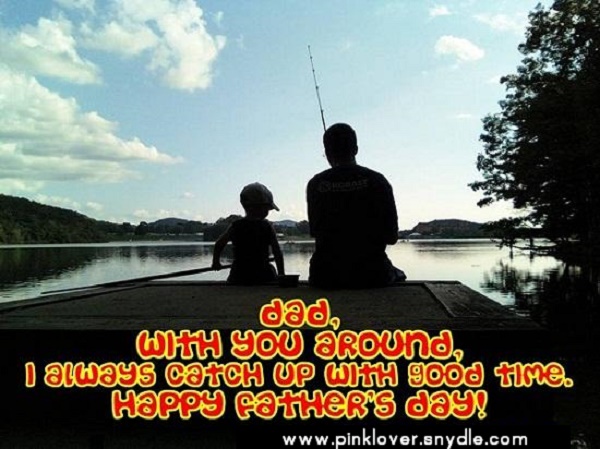 Dad, with you around, I always catch up with good time. Happy Father's Day!
Dad, you're someone to look up to no matter how tall I've grown".
Happy Father's Day means More than flowers and gifts It means saying Thank You It means saying I Love You You are the best dad, and my best friend Today is your day.
A dad is someone who holds you when you cry, scolds you when you break the rules, shines with pride when you succeed and has faith in you even when you fail.
Happy Father's Day!
Dad, your guiding hand on my shoulder will remain forever.
Blesses indeed is the man who hears many gentle voices call him "father"!
-Lydia M. Child
A truly rich man is one whose children run into his arms when his hands are empty. To a man of few words but of great wisdom, your actions have always spoken louder than words and have always been an inspiration to me.
You don't raise heroes; you raise sons. And if you treat them like sons, they'll turn out to be heroes even if it's just in your own eyes.
-Walter Schirra Sr.
A good father is one of the most unsung, unpraised, unnoticed and yet one of the most valuable assets in out society
-Billy Graham
Suggested Reading For you
You may be interested to read my article about Fathers day gift ideas
More to use as Happy Fathers Day Quotes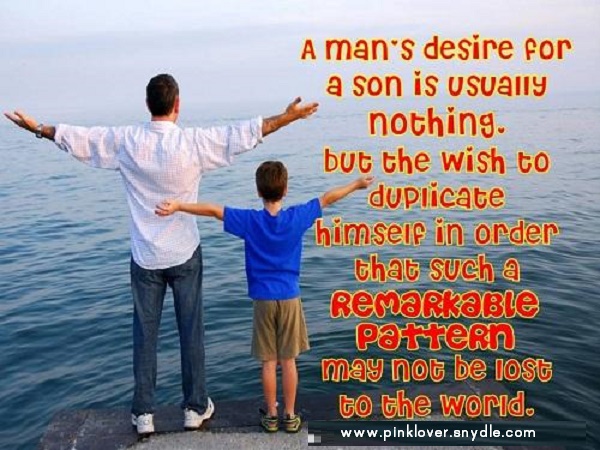 A man's desire for a son is usually nothing, but the wish to duplicate himself in order that such a remarkable pattern may not be lost to the world.
-Helen Rowland
One father is more than a hundred schoolmasters."
-George Herbert
You can play like a kid, give advice like a friend and protect like a body guard.
Happy Fathers Day!
I've had a hard life, but my hardships are nothing against the hardships that my father went through in order to get me to where I started".
-Bertrand Hubbard
For being my support, my guide and my strength.
Yesterday,today and always. I love you and Happy Fathers Day!
For all the laughter and smiles. For the happiness & care. Loving and sharing..
For your strong shoulders and kind heart.Love you and Happy Father's Day Dad!
Fathers, like mothers are not born. Men grow into fathers and fathering is a very important stage in their development.
-David Gottesman
What do I owe to my father? Everything.
-Henry Van Dyke
You know, fathers just have a way of putting everything together.
-Ericka Cosby
Some funny Fathers Day Quotes and Greetings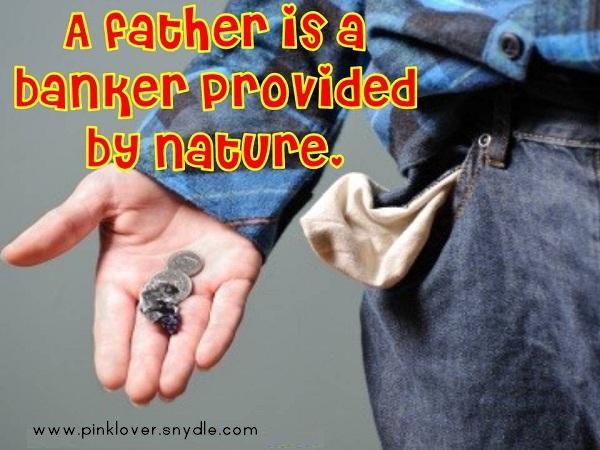 A father is a banker provided by nature.
– French Proverb
A father's words are like a thermostat that sets the temperature in the house."
-Paul Lewis
Small boy's definition of Father's Day: It's just like Mother's Day only you don't spend so much.
Thanks for being there through the tears,laughter and dirty diapers. Happy Father's Day!
Quotes about Fathers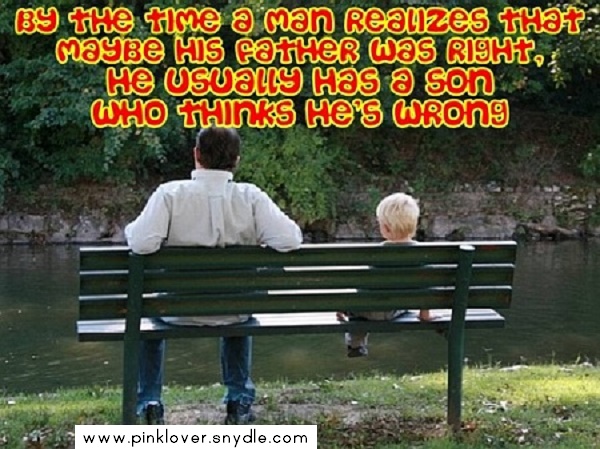 By the time a man realizes that maybe his father was right, he usually has a son who thinks he's wrong
-Charles Wasworth
"Sometimes the poorest man leaves his children the richest inheritance."
-Ruth E. Renkel
A dad is someone who wants to keep you from making mistakes.
My father always told me, 'Find a job you love and you'll never have to work a day in your life.
– Jim Fox
It is a wise father that knows his own child.
-William Shakespeare
A man's children and his garden both reflect the amount of weeding done during the growing season.
A man never stands as tall as when he kneels to help a child
-Knights of Pythagoras
A father's disappointment can be a very powerful tool
-Michael Bergin
When you teach your son, you teach your son's son.
-The Talmud
The older I get, the smarter my father seems to get
-Tim Russert
What I learned most from my fahter wasn't anything he said; it was just the way he behaved. He loved his work so much that whenever he came on set, he brought that with him and other people rose to it
-Jeff Bridges
There's really no point in having children if you're not going to be home enough to father them.
-Anthony Edwards
We call the Creator father, because we rely upon Him to protect us, guide us, feed us, keep us warm, to discipline us and all those things. I try to take my cue from the Creator with regards to my children.
-Terrence Howard
Being a father helps me be more responsible..you see more things than you've ever seen -Kid Rock Being a father to my family and a husband is to me much more important than what I did in the business.
-Tom Bosley
Here are some Fathers Day Poems
The first one is a reality of how a child usually responds toward his or her dad according to the child's age. Please take time to read from age 4 till the child is adult and already 65 years old. It has a nice message towards the children.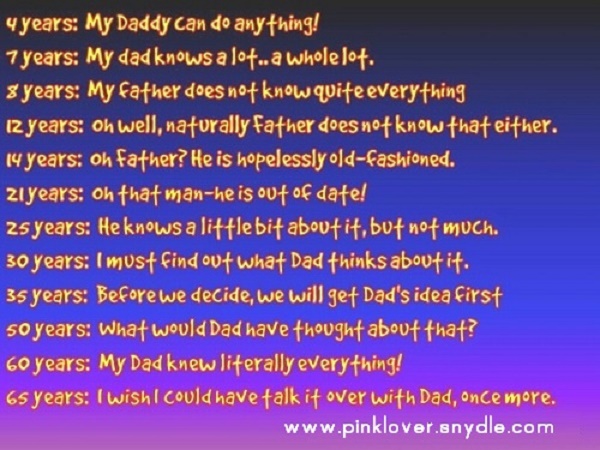 4 years: My Daddy can do anything!
7 years: My dad knows a lot.. a whole lot.
8 years: My father does not know quite everything
12 years: Oh well, naturally Father does not know that either.
14 years: Oh Father? He is hopelessly old-fashioned.
21 years: Oh that man-he is out of date!
25 years: He knows a little bit about it, but not much.
30 years: I must find out what Dad thinks about it.
35 years: Before we decide, we will get Dad's idea first
50 years: What would Dad have thought about that?
60 years: My Dad knew literally everything!
65 years: I wish I could have talk it over with Dad, once more.
-Unknown
Dad,
When I was born, you were there to catch me when I fall,
whenever and wherever.
When I said my first words, you were there for me, to teach me the whole dictionary if need be.
When I took my first steps, you were there to encourage me on.
When I had my first day at school, you were there to give me advice and help me with my homework.
I still haven't finished school, or walked down the aisle or had my first child.
But I know you will be there for me through all these times and more, the good and bad.
So I just wrote this to say I love you Dad
-Louisa Mansfield
When I scratched my knee,
Or if I bumped my head,.
When I was afraid of the dark,
Or that thing under my bed,
When I cried in the night,
Or even in the day,.
You were there for me,
To make it all okay.
You tickled my feet,
And laughed at all my jokes.
You taught me to believe,
In having high hopes.
You are my father
You did what you had to do.
But more than a father
You are my friend too.
You made everything good,
That was once bad.
I just want you to know
I love you Dad.
-Jennifer S. Williams
Daddy, I Love You
Daddy, I love you
For all that you do.
I'll kiss you and hug you
'Cause you love me, too.
You feed me and need me
To teach you to play,
So smile 'cause I love you
On this Father's Day.
Don't forget to send them these great Fathers Day Wishes too!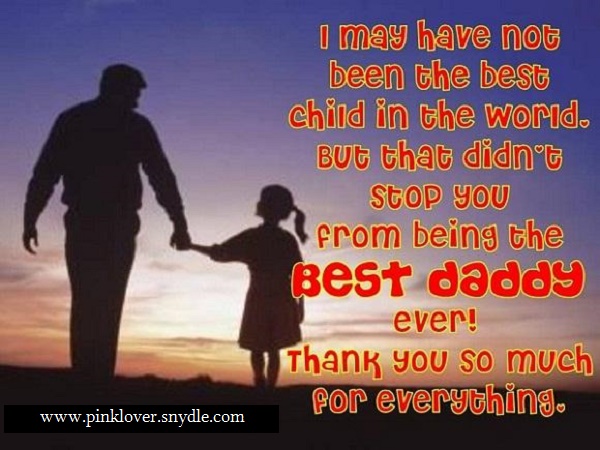 I may have not been the best child in the world. But that didn't stop you from being the best Daddy ever! Thank you so much for everything.
On this lovely occasion of Father's day, I just want to remind you that you mean the world to me. I wish you lots and lots of happiness, cause that is what my Daddy truly deserves. Happy Father's day.
May you be blessed with a long healthy life. May all the happiness in the world come and bow in front of you. May whatever you always dream of come true. May you have the best Father's day this year. Happy Father's day to you.
I'm sorry if I ever hurt you. I'm sorry I am not able to spend this day with you. But guess what Dad, I am sending you lots of warm hugs, nonstop kisses and unlimited supply of love for eternity. Happy Father's day.
I'm sorry I am not able to spend this day with you. But guess what Dad, I am sending you lots of warm hugs, nonstop kisses and unlimited supply of love for eternity. Happy Father's day.
Wishing a special dad a Father's day filled with all the things that give you a warm and happy feeling and leave you with bright memories to look back through the year. Happy Fathers Day
On this day may God bless you with good health, lots of happiness, success and love. All this and more, because my daddy deserves the best! Happy Father's day to you.
I may not be with you right now, but I just want to tell you that I miss you much more than you can imagine. I'm sending you lots of my love, prayers and wishes on this lovely occasion. Happy Father's day.
If you're a daughter, then sure you must pick from these Fathers Day Poems and Quotes from Daughters or about a Father and Daughter.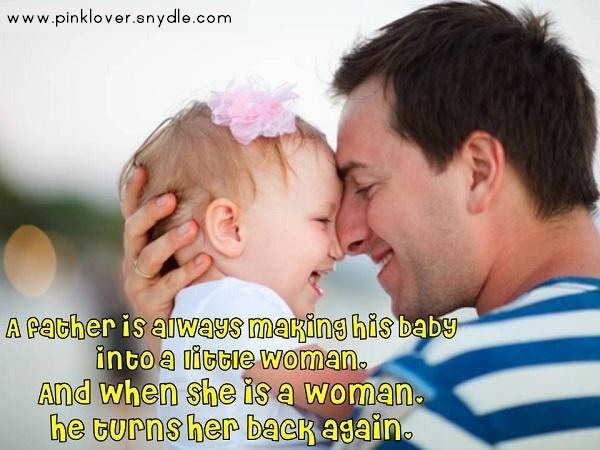 A father is always making his baby into a little woman. And when she is a woman, he turns her back to being baby again.
-Enid Bagnold
I am not ashamed to say that no man I ever met was my father's equal, and I never loved any other man as much.
-Hedy Lamarr
No matter how many boys come into my life, Daddy you will always be the first man I've ever loved. I love you so much. Happy Father's day to you.
"Fathers, be good to your daughters. You are the god and the weight of her world". -John Mayer
I have never been a material girl. My father always told me never to love anything that cannot love you back.
-Imelda Marcos
To her (or name of daughter), the name of her father was another name for love.
-Fanny Fern
Fathers Day Quotes from Sons or about a Father and Son.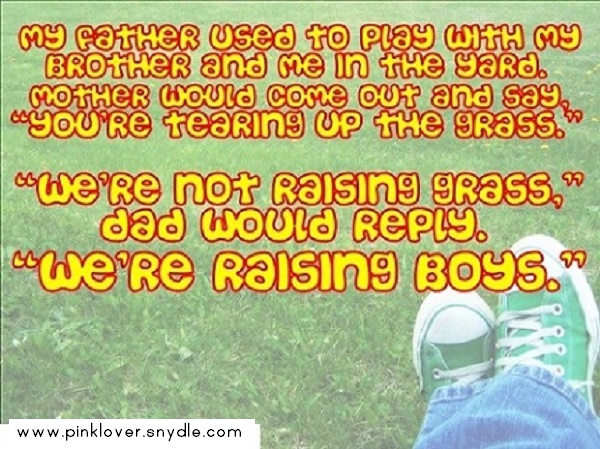 My father used to play with my brother and me in the yard. Mother would come out and say, "You're tearing up the grass." "We're not raising grass," Dad would reply. "We're raising boys."
-Harmon Killebrew
Good fathers make good sons
A dad is not just someone who wants to catch you before you fall but instead picks you up, brushes you off, and lets you try again.
Small boys become big men through the influence of big men who cared about small boys.
The father who does not teach his son his duties is equally guilty with the son who neglects them
He didn't tell me how to live; he lived and let me watch him do it
-Clarence Budington Kelland
I inherited that calm from my father. You sow, you wait for good or bad weather, you harvest but working is something you always need to do.
-Miguel Indurain
I talk and talk and talk, and I haven't taught people in 50 years what my father taught by example in one week.
-Mario Cuomo
I cannot think of any need in childhood as strong as the need for a father's protection.
-Sigmund Freud
I decided in my life that I would do nothing that did not reflect positively on my father's life.
-Sidney Poitier
Or rather choose from these Fathers Day Images
These images can be used for MMS greetings, share on your father's Facebook wall, tag on fathers on your friend list or set this as your fathers cellphone wallpaper or your computer's desktop wallpaper to surprise him. That would be awesome! 🙂
Credits to Android Application Father's Day Wallpapers by Peaksel who compiled these nice images.
If you plan to sing a special song for him, then here are some Fathers day songs to serenade him. These are my personal favorite and sure I'd update if there'd be additional songs for dads. If you have something in mind, please don't hesitate to share at the comment section.
1. Father and Son by Cat Stevens
2. I love you daddy by Ricardo & Friends
3. Wind Beneath My Wings by Bette Midler
4. Leader of the Band by Dan Fogelberg
5. Have I Told You Lately by Rod Stewart
Here's a song being famous in remembrance of fathers who passed away already.
-Dance with my Father
Here's some Christian Fathers Day songs. Youths and kids can sing any of these to the fathers in their church. Some songs are godly songs usually sang in the church while others can be modified to suit the occasion within the church community.
1. I am my Father's child
2. So you would come
3. You raise me up
4. Merciful Father
5. You are my world
6. So close I believe
7. Reaching for you
8. Angels brought me here
While here are some bible verses for Christian Fathers or quotes and sayings about Christian fatherhood.
Proverbs 20:7
The righteous who walks in his integrity— blessed are his children after him!
Ephesians 6:4
Fathers, do not provoke your children to anger, but bring them up in the discipline and instruction of the Lord.
Psalm 103:13
As a father shows compassion to his children, so the Lord shows compassion to those who fear him.
Proverbs 13:24
Whoever spares the rod hates his son, but he who loves him is diligent to discipline him.
Colossians 3:21
Fathers, do not provoke your children, lest they become discouraged.
Proverbs 13:22
A good man leaves an inheritance to his children's children, but the sinner's wealth is laid up for the righteous.
Proverbs 19:18
Discipline your son, for there is hope; do not set your heart on putting him to death.
Proverbs 10:1
The proverbs of Solomon. A wise son makes a glad father, but a foolish son is a sorrow to his mother.
Matthew 7:9-11
Or which one of you, if his son asks him for bread, will give him a stone? Or if he asks for a fish, will give him a serpent? If you then, who are evil, know how to give good gifts to your children, how much more will your Father who is in heaven give good things to those who ask him!
Proverbs 3:11-
My son, do not despise the Lord's discipline or be weary of his reproof, for the Lord reproves him whom he loves, as a father the son in whom he delights.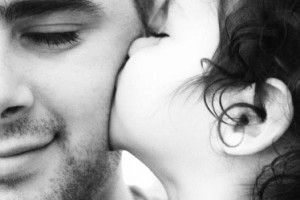 It is our pleasure to provide you this collection because every father deserves to be happy on their special day. Remember to keep the family close in celebrating the occasion because it will make it a perfect Fathers Day 2013! Express your love and thanks to our first love and first hero!
More Resources About Fathers Day
Fathers Day gifts, ideas from about.com
Fathers Day messages from easyday
Fathers day Cards from Hallmark.com
Fathers Day Gifts From gifts.com
Happy Fathers Day dear dads everywhere in the world!