Summer is almost over and I'm feeling bored since I wasn't able to have a summer getaway, even just an overnight trip -nothing at all. I was trying to see the good in the bad (not really bad, just bothered) and keeping myself busy with Pinterest and picking some awesome photo collections. I couldn't think of any other interesting topics than Father's Day and 4th of July. Obviously, these are both holidays and events that would take place the soonest. Father's Day on the 3rd Sunday of June and 4th of July would be, of course July 4! I'll be bringing our my American-ish personality by browsing and selecting the best DIY 4th of July Crafts and Projects that conquered the Pinterest community. What's good with these ideas- they could be a small craft or a big project, they could be done using recycled items or some would need materials to be purchased, most importantly some could be done alone while most are better to be done in a group whether with friends or with the kids. It will totally develop anyone's creative skill and patience in doing handmade projects. Share your patriotic spirit by filling your office, home, classroom or yard with any of these Pinteresting fourth of July DIY crafts. Consider it your bonding moment! Are your feeling excited? You should really be! Let's begin 🙂
Don't forget to check out our previous 4th of July collections!
4th of July DIY Crafts for Kids
Let the kids be involved in this great time of celebrating your freedom by having the kids engaged with these patriotic crafts . Here are some simple and fun DIY 4th of July crafts to help you celebrate this wonderful American holiday. In most cases, you need to assist the child especially in using the pair of scissors, glue or glue gun and paints.
This 4th of July Wreath craft idea can by done by kids. Assist in cutting the stars and teach them to paste by overlapping on other colors.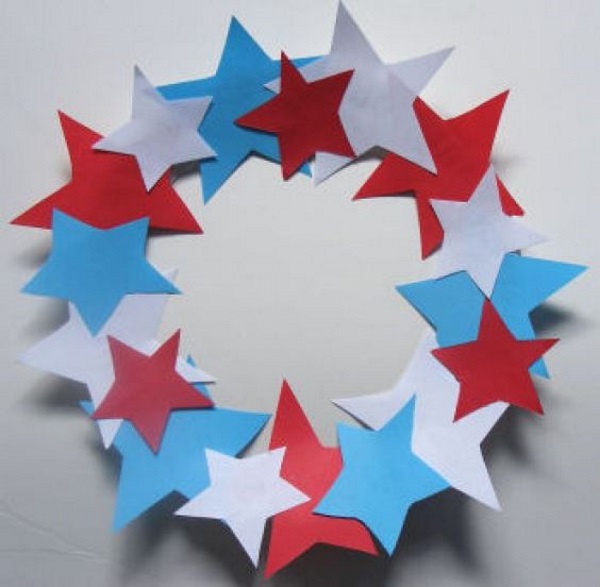 4th of July DIY Card Ideas
Can be done for a 4th of July Greeting card design. Cotton buds dipped in red and blue then glued on the cardboard.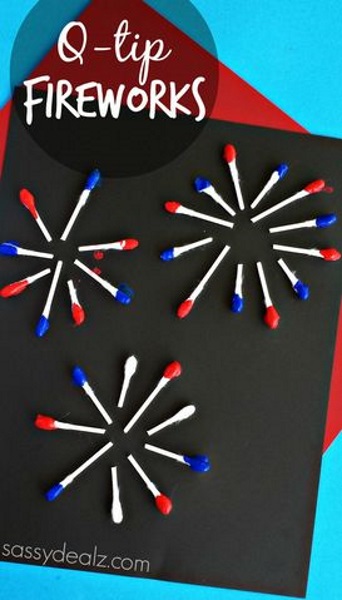 A patriotic work of hands, literally from the hands of a child.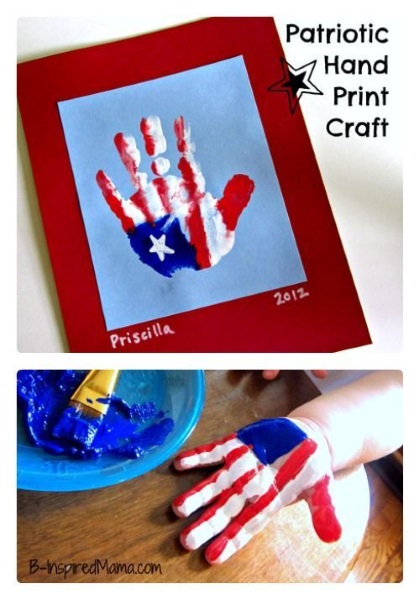 Fireworks painting is a quick and easy 4th of July kids craft to keep them entertained as well as celebrating the memorial day.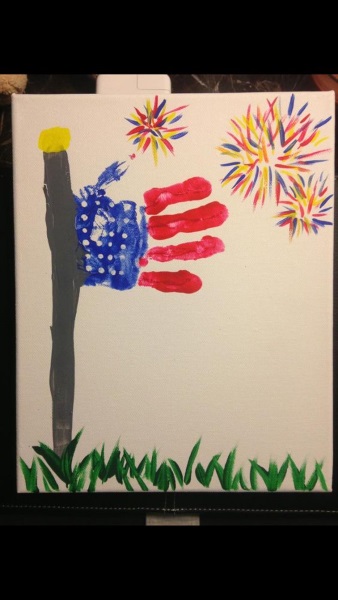 Another hand print in a flag pattern. Cute if you could have it framed.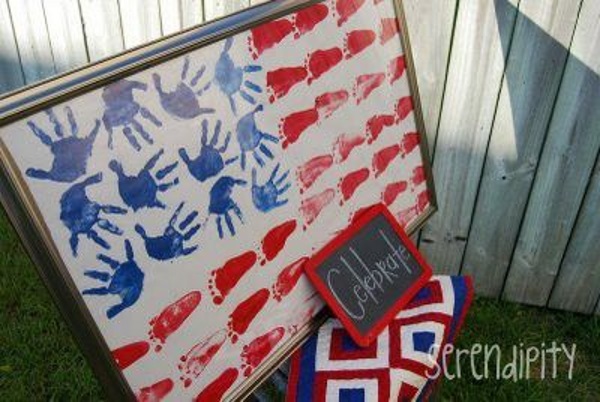 Nice way to create fireworks effect on your extra white t-shirt.

Fireworks Craft using a fork! Great for a kids 4th of July craft or memorial day art project!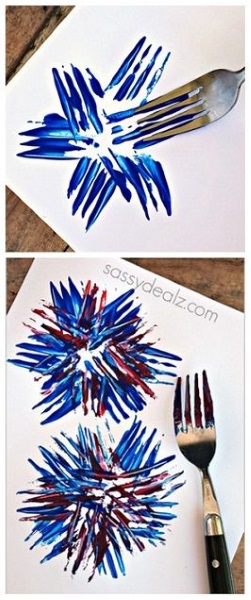 If not fork, use the tube of the toilet paper. Brilliant idea!

Or a bunch of straws as a stamper!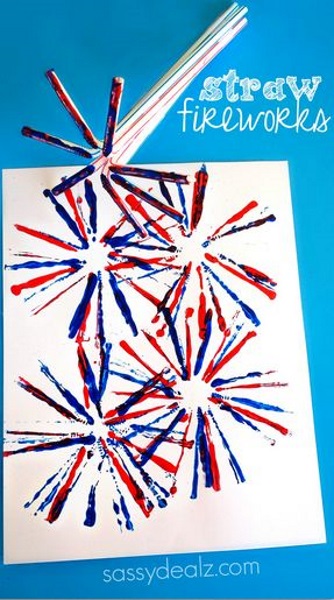 Teach the young ones the pattern on making this American flag inspired necklaces and bracelets. This would also develop their counting skills.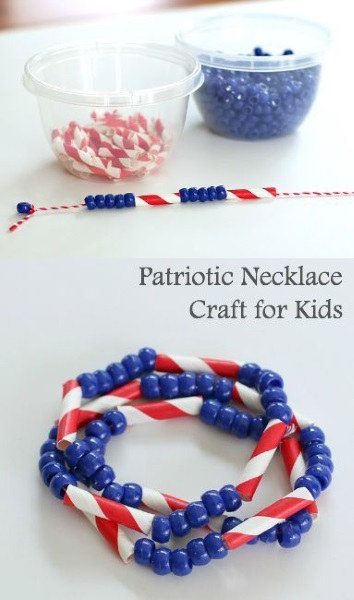 Super cute 4th of July t-shirt. Hand print of each member of the family on their very own t-shirts!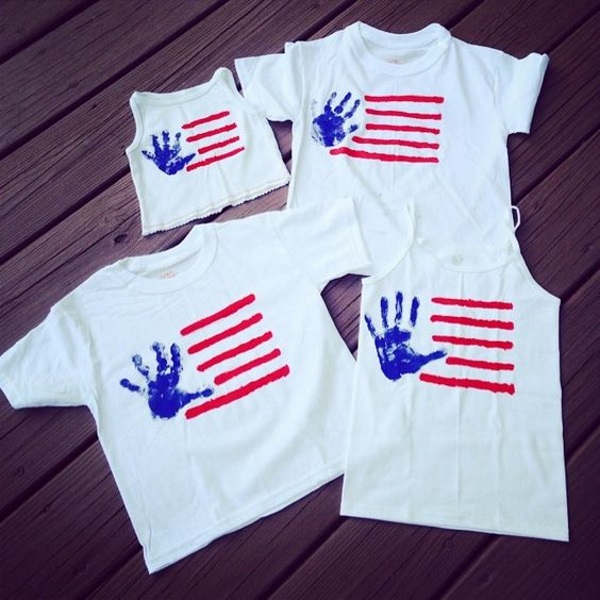 The 4th of July is right around the corner. So for rush DIY projects, this could be your choice. Even kids can help in stamping using the eraser of the pencil for uniformity of dots.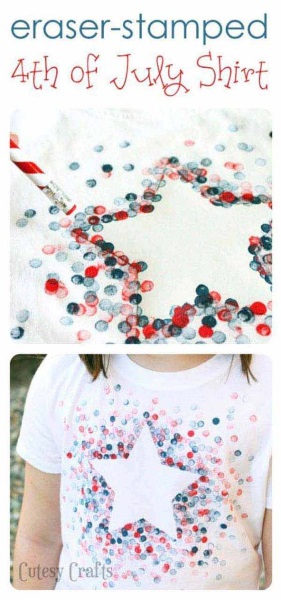 Firecracker Tie Dye Shirt for Fourth of July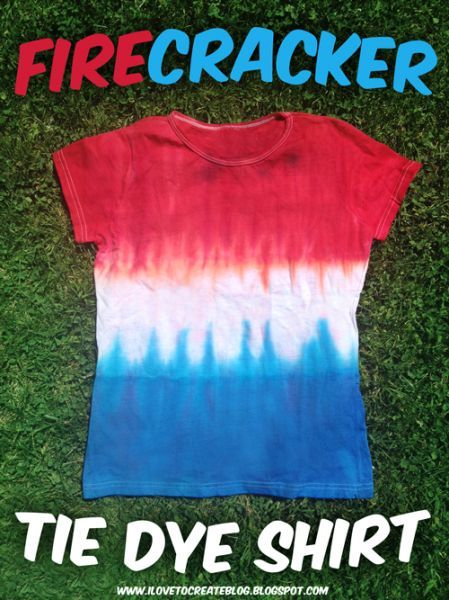 4th of July Tutu Craft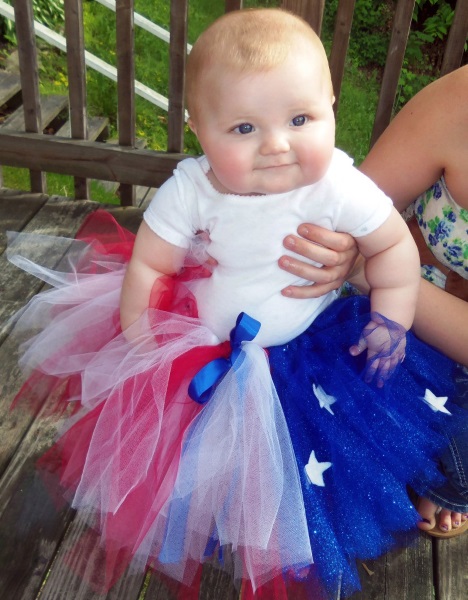 DIY 4th of July Fireworks Crowns and it would be best if it would be a matching crown for mom and kid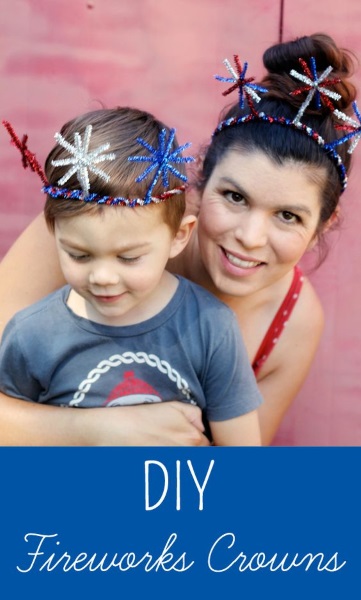 4TH OF JULY HEADBAND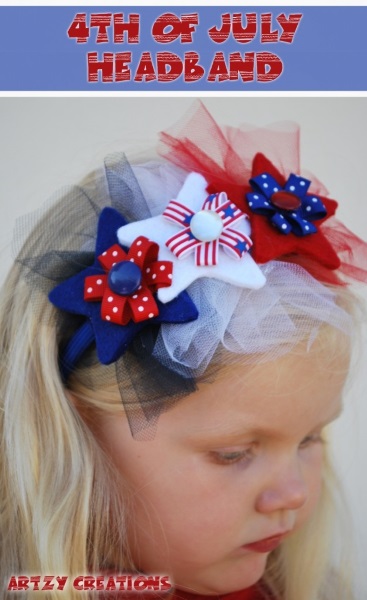 Mother and Daughter matching DIY 4th of July slippers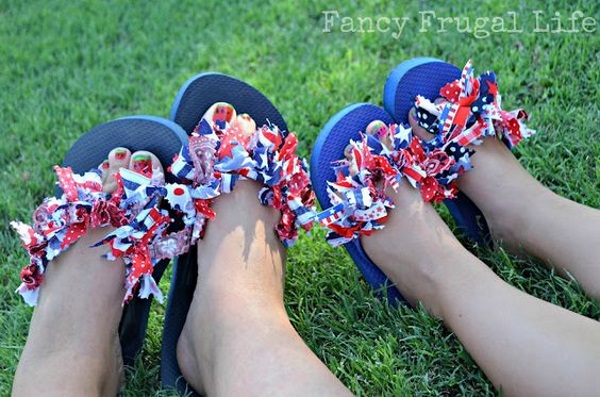 Patriotic/ 4th of July Korker Boutique Flip by allthingsgirlybows,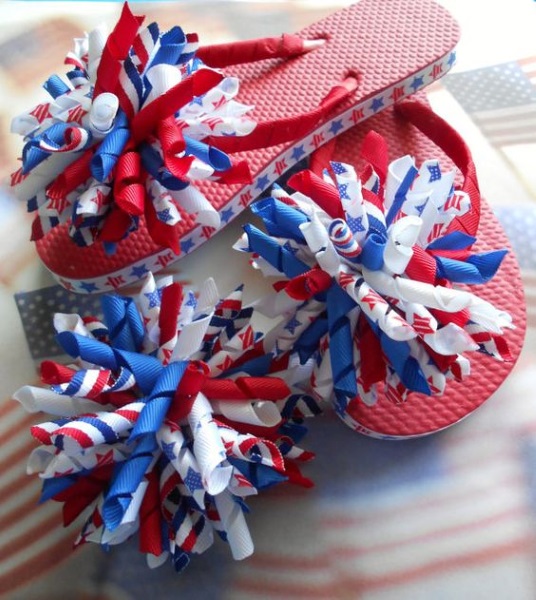 DIY 4th of July Crown that would make your little girl happy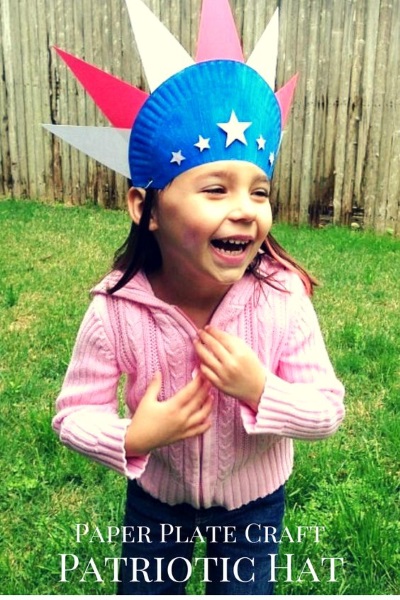 Make a 4th of July Eye Mask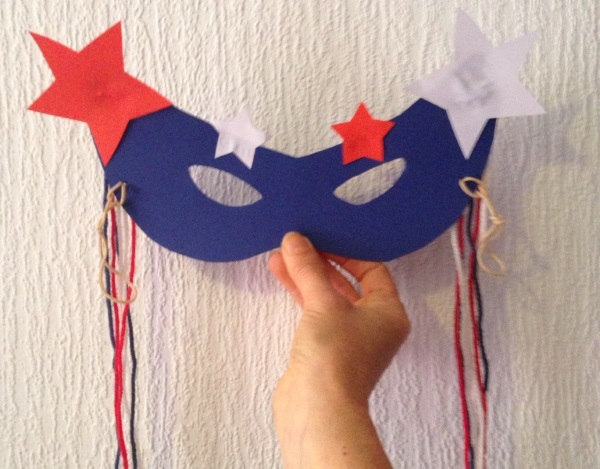 Make a few Confetti Launchers for the 4th of July! Party poppers of blue, red and white!

Glitter 4th of July Letters! Quick, cute and easy way to decorate in time for this weekend. You could also use white and blue too, not just red.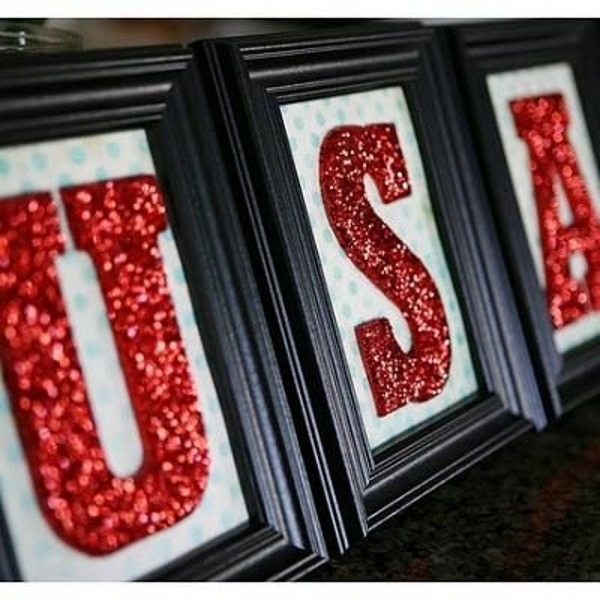 Reversible Summer & 4th of July blocks. When summer is over, just reverse for the next event!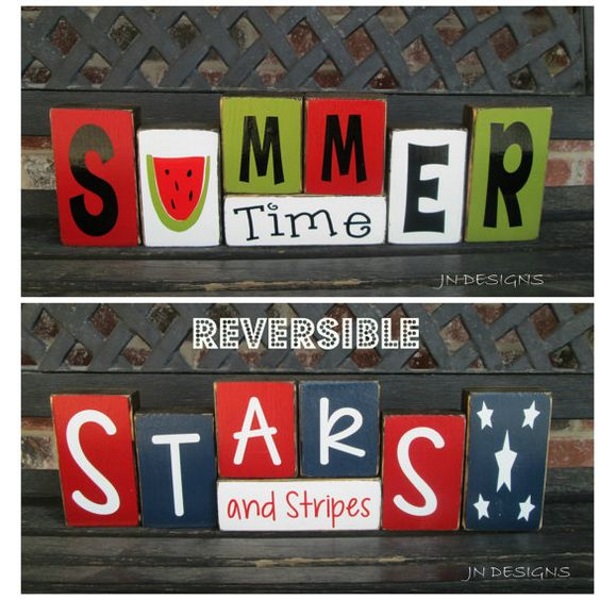 Barn Wood 4th of July home decoration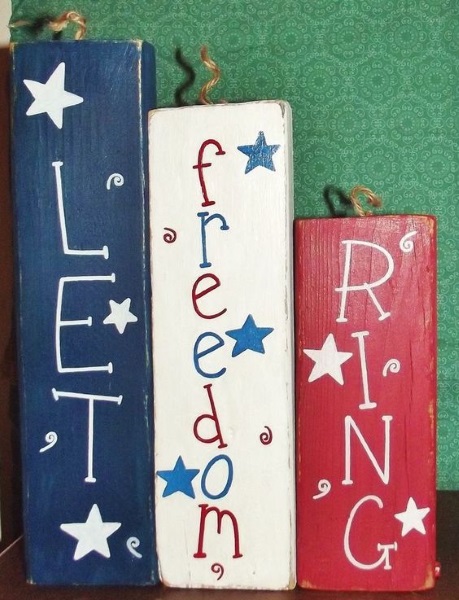 Use some of your spare or unused buttons. Different sizes would look cool!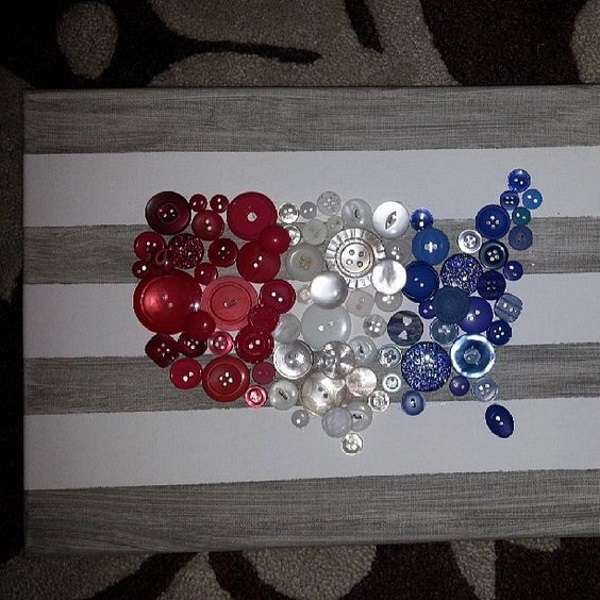 Unused pallet of woods can be the best decorations for any event. From Halloween, to Christmas, Valentine's Day and of course 4th Of July too!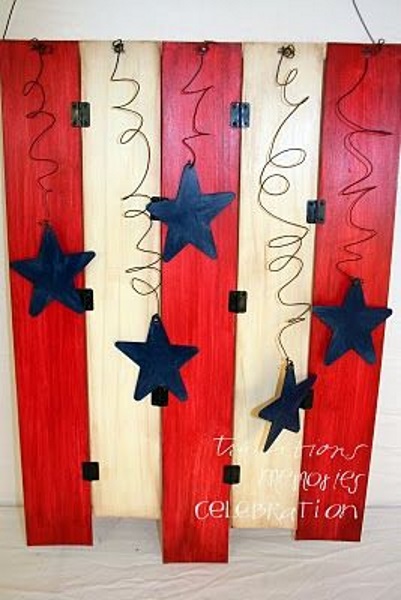 Handmade & Painted "Pallet" Wood Sign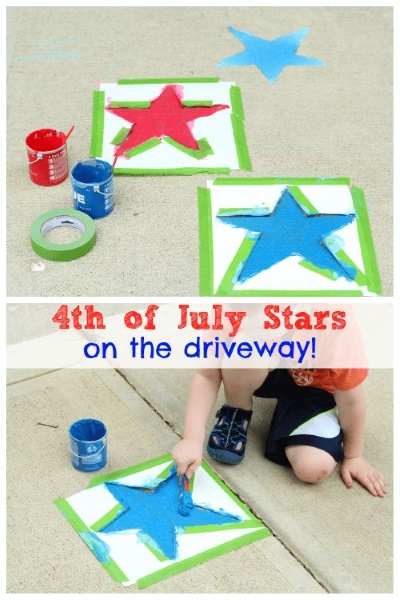 4th of July Indoor Decorations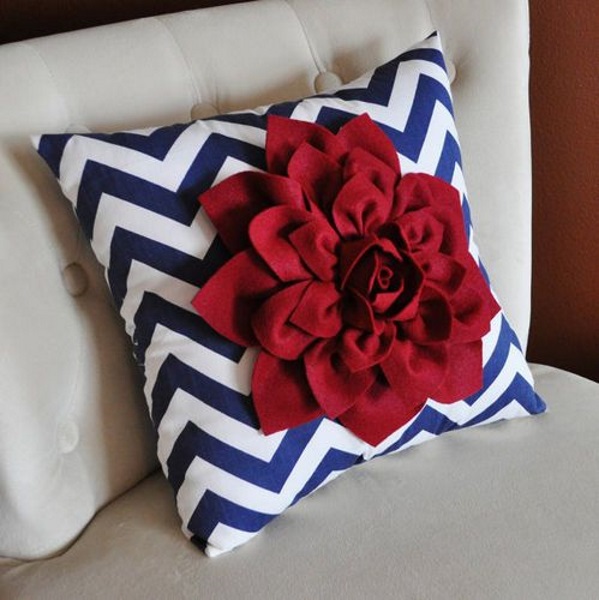 4th of July Craft Ideas for Adults
Recycle bottle crowns, paint them red , blue and white. Create your cheap and simple 4th of July wreath.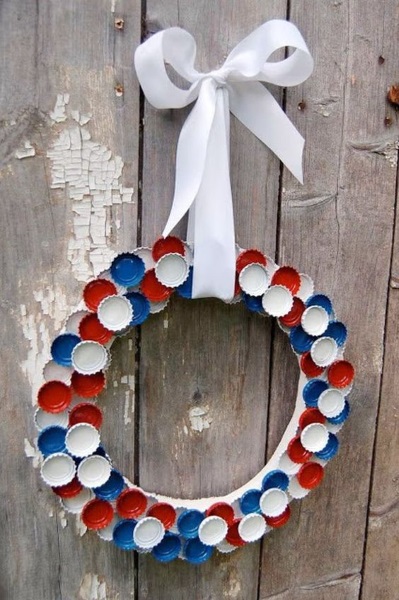 If you have extra cash, buy some clothespin and do this unique 4th of July door decoration

Make a paint stick American Flag for the 4th of July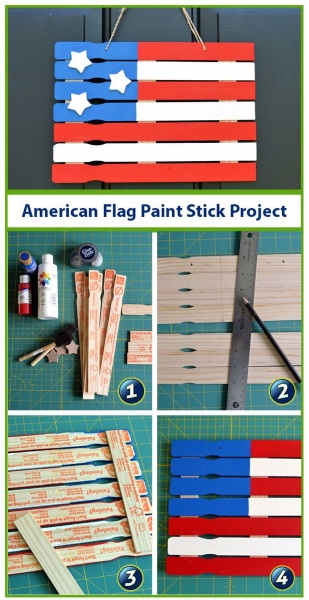 American Flag Bandana Wreath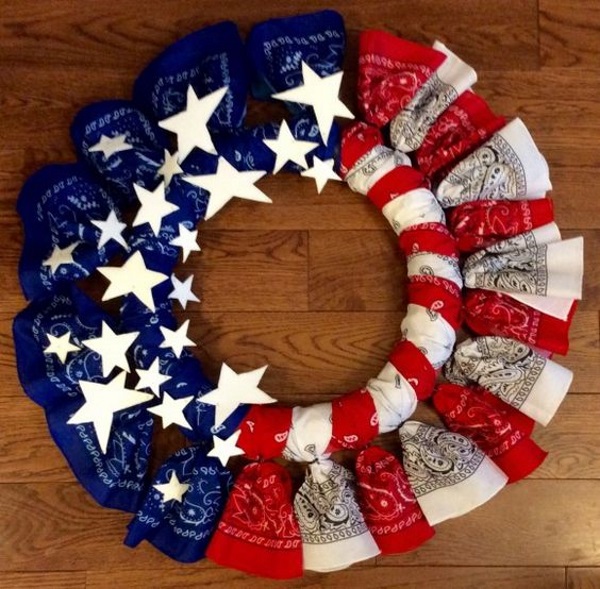 Rustic 4th of July Wreath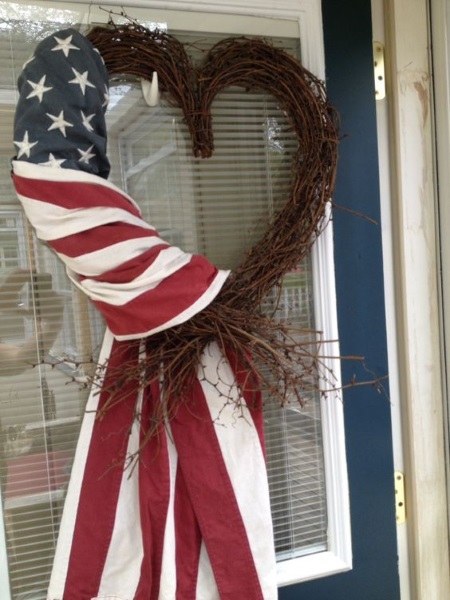 4th of July crafts hanging flag using recycled clothe and laces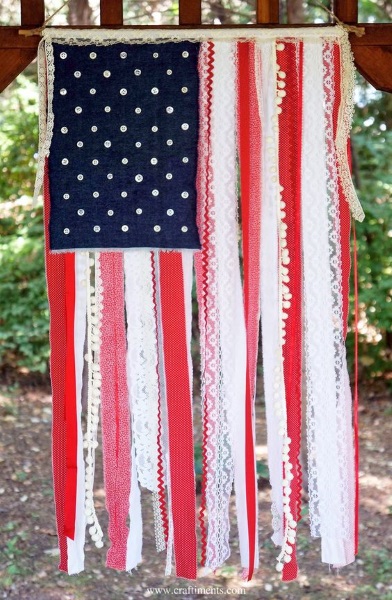 Planning for a barbecue party on 4th of July? Well, these are randomly cute 4th of July outdoor decoration ideas. Place them anywhere in your yard. Your family and friends would really enjoy the red, blue and white patriotic theme you would prepare for them. Try it this year!
4th of July rocks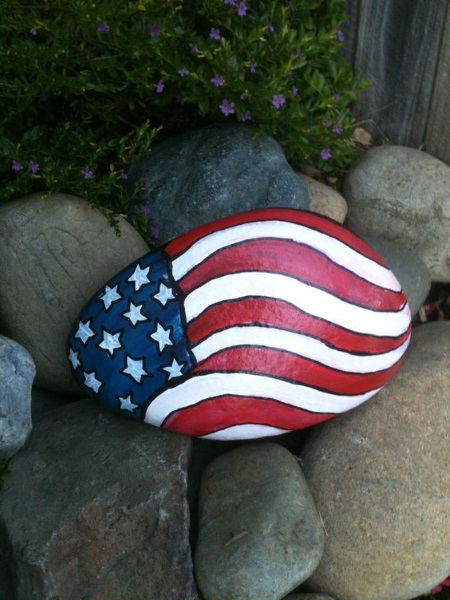 4th of July windsock from tin cans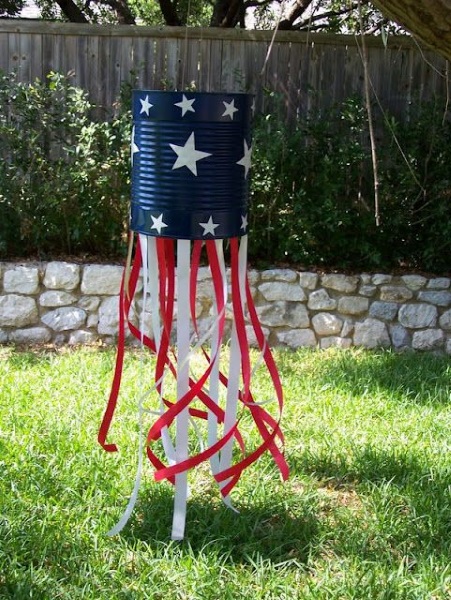 Make these fun red, white and blue paper stars for your Fourth of July decor.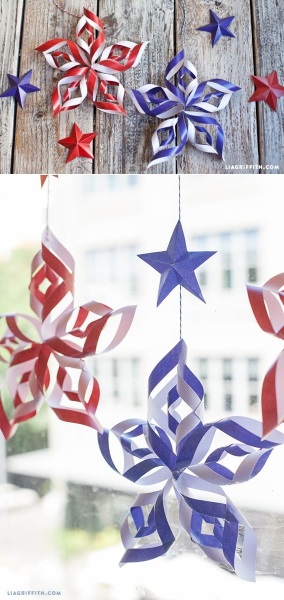 Red, white and blue pinwheel rosettes!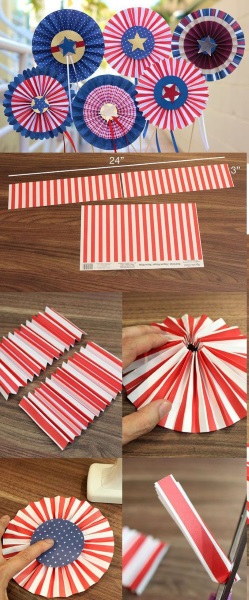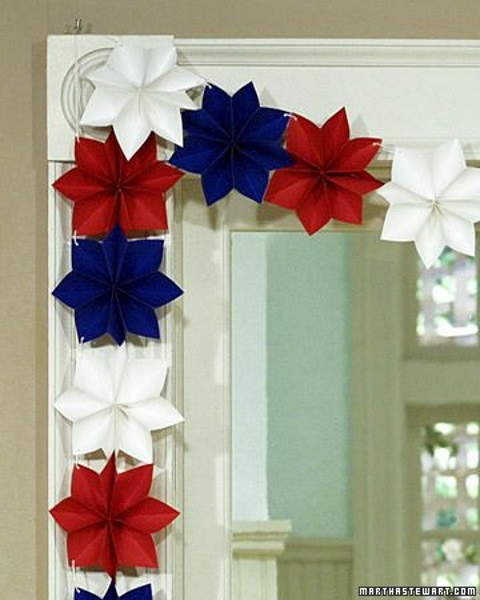 patriotic banner made from paint chips!!!!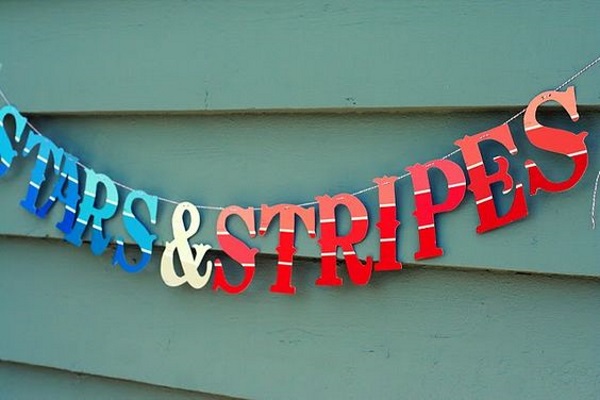 cut up and tie plastic tablecloth to outdoor light strands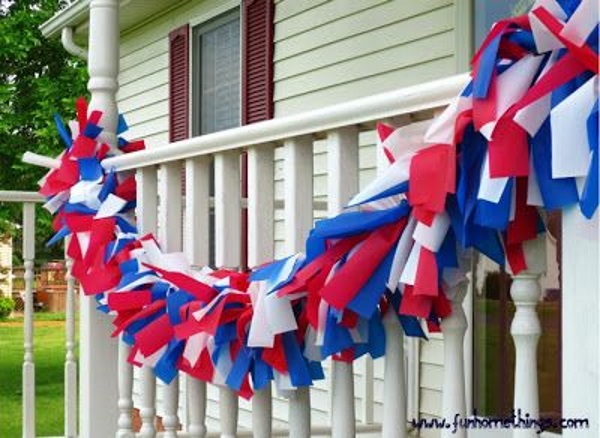 Outdoor decoration ideas for July 4th are full of charm.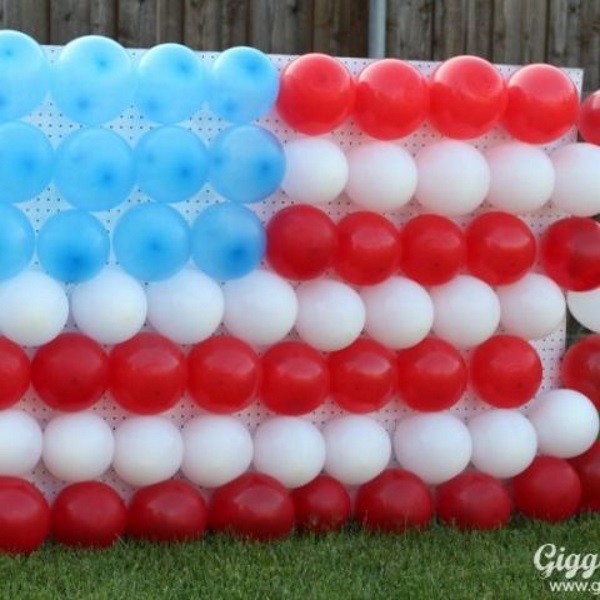 Brace yourselves! Be amazed that mason jars, wine bottles, flower pots and more can be very useful for luminaries, lanterns and table decoration projects. See for yourselves!
Patriotic Votive Candle Holders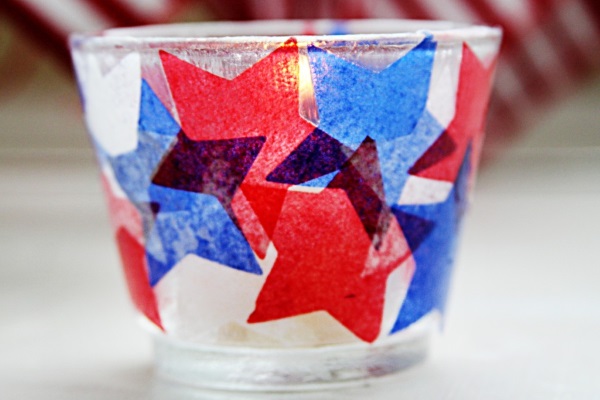 Outdoor Patriotic Luminaries From Mason Jars !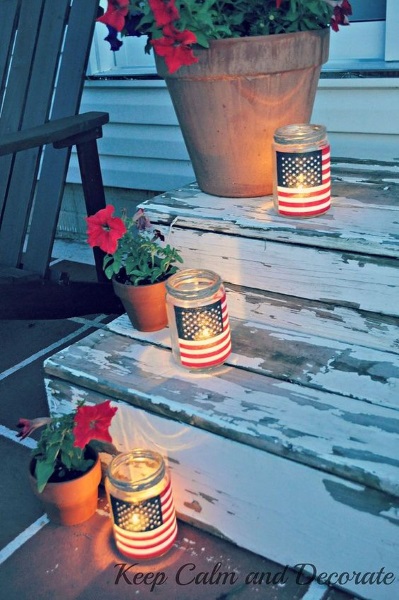 These lanterns are for patriotic fun.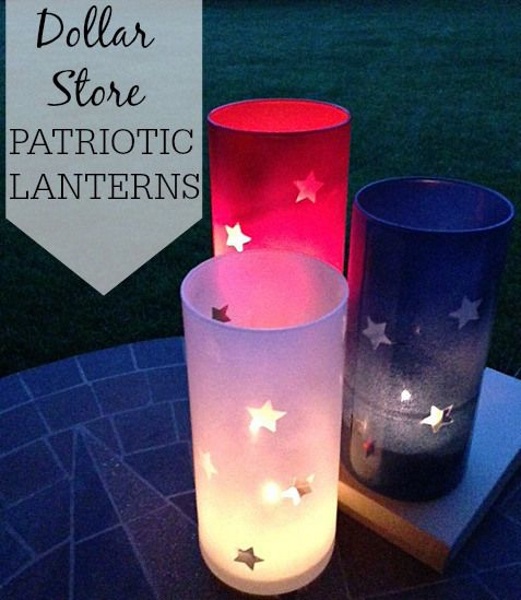 July 4th Party Flower Pot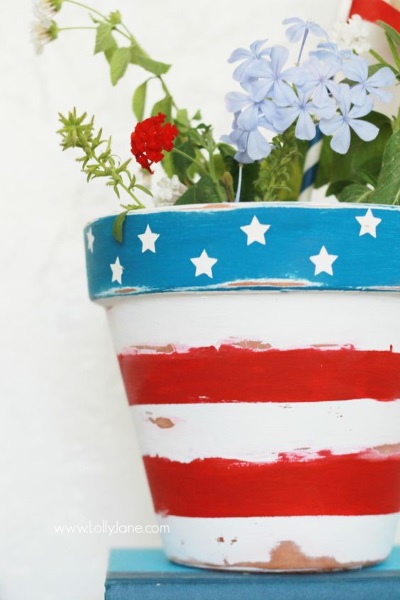 Another 4th of July yard decoration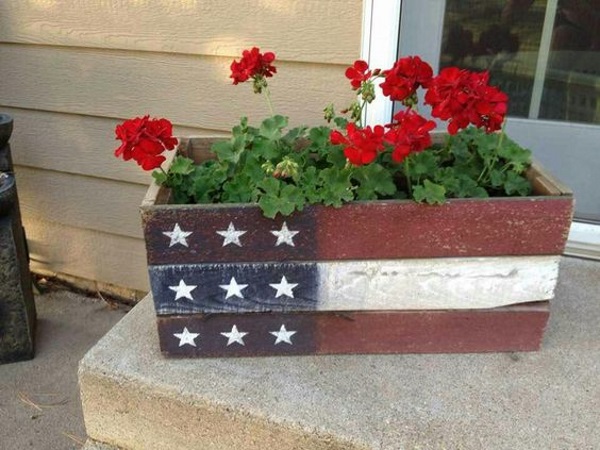 Uncle Sam Craft – Clay Pot and Dish, Can, and Acrylic Paints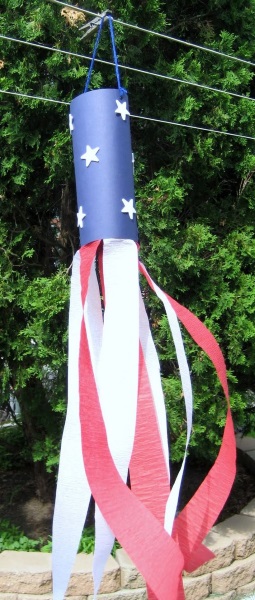 Table Runner or Table cloth for the Fourth of July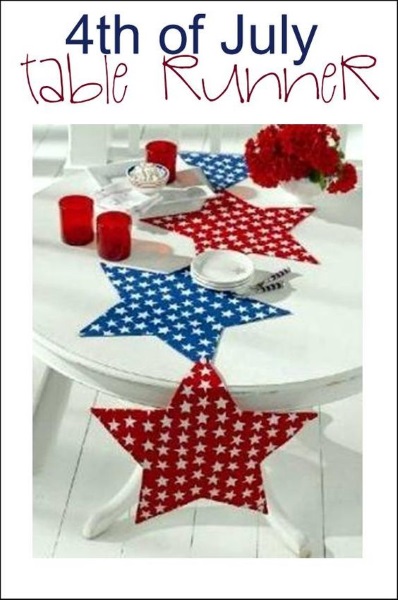 4th of July Table Decorations / Fourth of July Centerpiece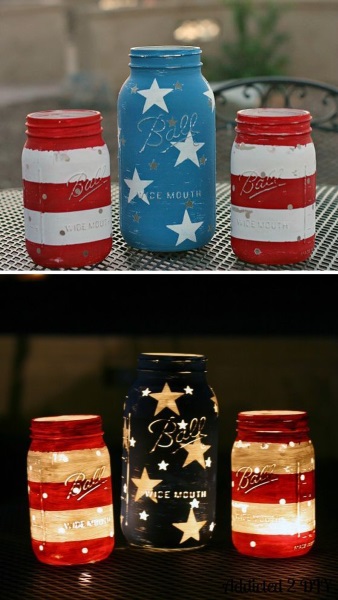 Give your 4th of July table a little splash of red, white, and blue with this colorful centerpiece.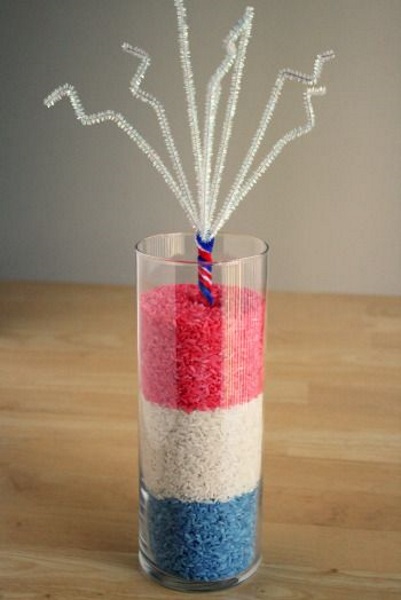 Wine bottle 4th of July Decoration!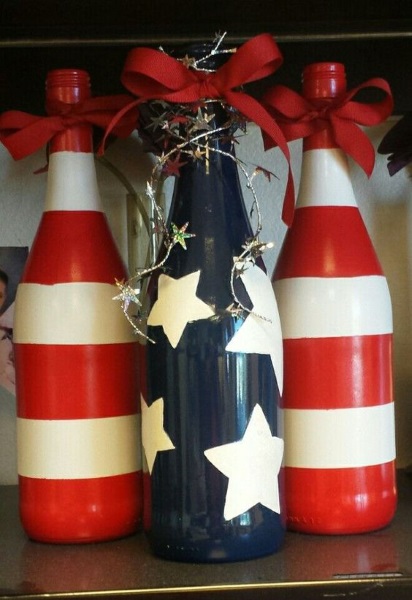 DIY Patriotic Mason Jars. You can DIY these adorable Flag Mason Jars

4th of July Firecrackers Centerpiece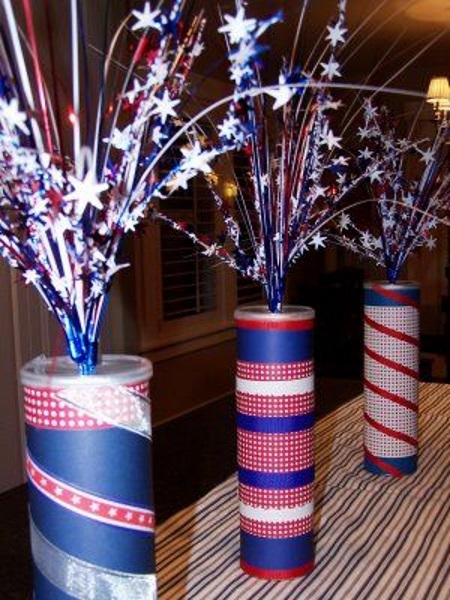 4th of July Home Decoration Ideas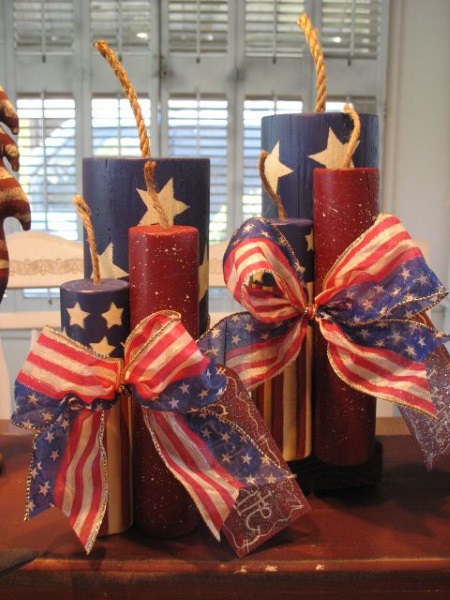 Patriotic Wine Glasses (Candle Holders)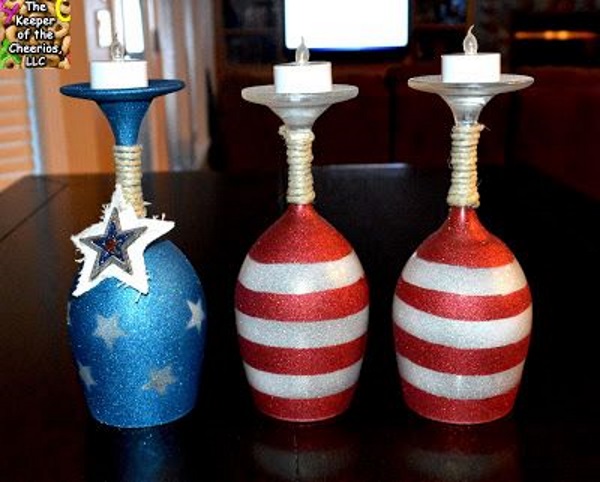 Fourth of July Decorations centerpieces

DIY, Red, White and Blue Stars and Strips Centerpiece (kids project)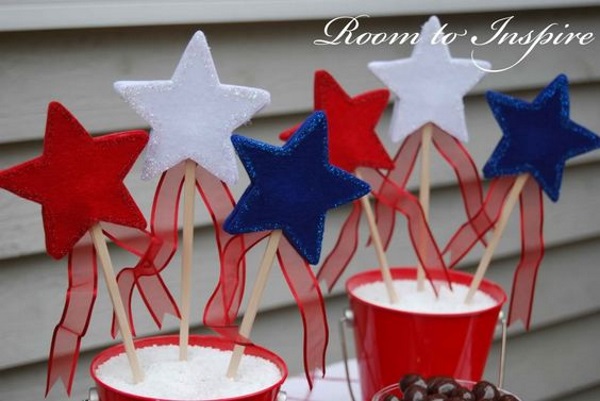 Red, White and Blue, let it spin!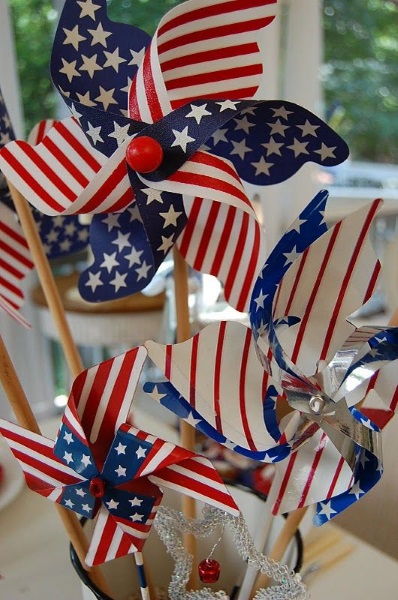 Paper-Roll American Flag Craft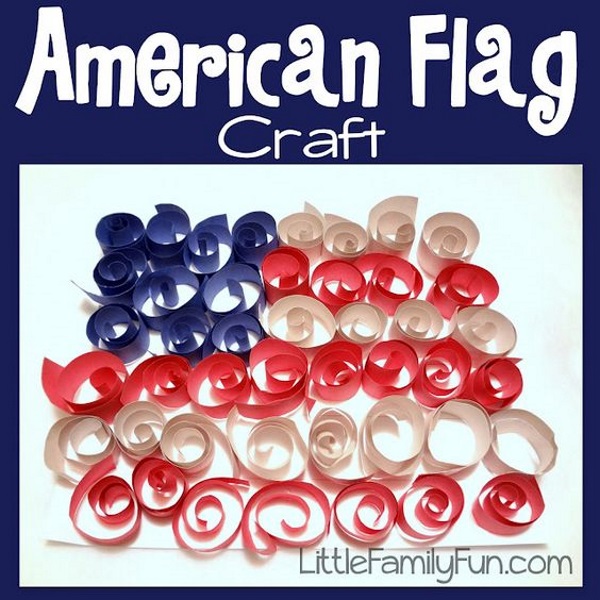 Nobody celebrates Independence Day like Americans do. It's totally overwhelming and very inviting to join them. Well, if given the chance I would love to try a 4th of July celebration, who knows someday right? By now, I do hope you've found the ideas that would suit your home, personality and your kids interests. We would love to hear about your crafting activities. We might feature you here if you would share us your output pictures. Don't hesitate to tell about this page. Keep sharing on Pinterest, Facebook, Instagram, Twitter and email your friends too. Let the sound of freedom ring!