Less than 2 months from now would be the grandest Independence Day celebration in the world, the fourth of July! Americans on their costumes parade in the street, celebrating their freedom. Loud and joyous music, colorful floats, flaglets and definitely smiles on everybody's face. Even tourists are interested to be a part of the 4th of July parade and experience partying the American way. Establishments, offices and households are filled with decorations related to the said events. Lucky you, if you found our party decoration collection and you sure have made your place attractive and have shown your love for your country.
My 4th of July Decorating Ideas has been up since last year and I forgot to do my follow-up post which is supposed to be my all-time favorite collection, party food ideas! The color red, blue and white being the patriotic color combination of the United States of America can create cool and yummy looking party treats. If you're doubting me then you better see these delicious looking 4th of July Party Food Ideas. Basic designs and patterns for the 4th of July food ideas are colors red, blue with white, stars, fireworks, flags and banners. Indeed, a very festive event celebrate! These desserts are a perfect way to begin your patriotic celebration. If you're entertaining a large crowd or just having an intimate get together with your family, they will surely be impressed on how creative you can be.
Also, check out 4th of July Crafts Pinterest Loves!
Watermelon Stars, the healthiest in this collection. Good for the elders! 😉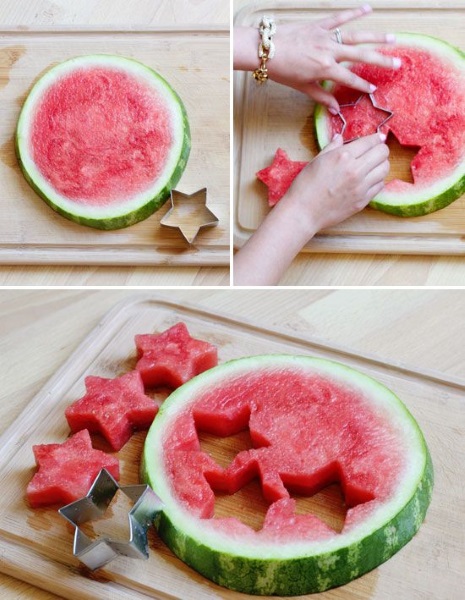 Here's how you prepare it!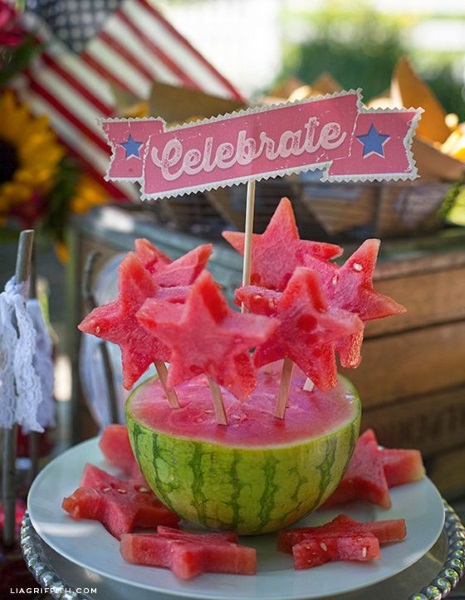 4th of July Fruit Kabobs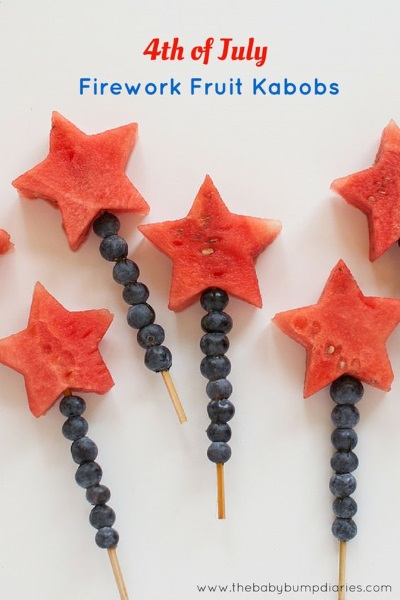 Red, White & Blue Strawberry Cheesecake Bites

Healthy snack for 4th of July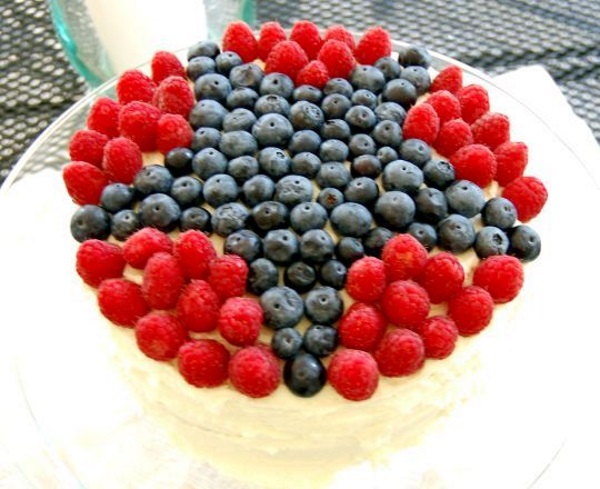 Cherry Bombs are cherries soaked in vanilla vodka then dipped in melted candy and sprinkles. A fun red, white, and blue dessert for Fourth of July.

Apple dipped in sweet coating, candy coated apples dipped in blue sprinkles. So cute, so easy and so yummy!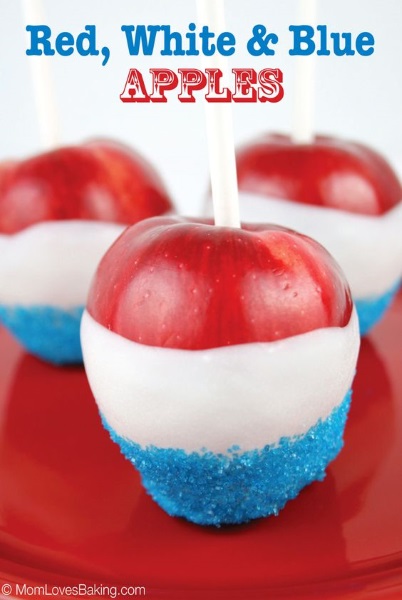 Strawberry 4th of July dessert, the berries are healthy not just the sugar coating :p But surely kids will love these.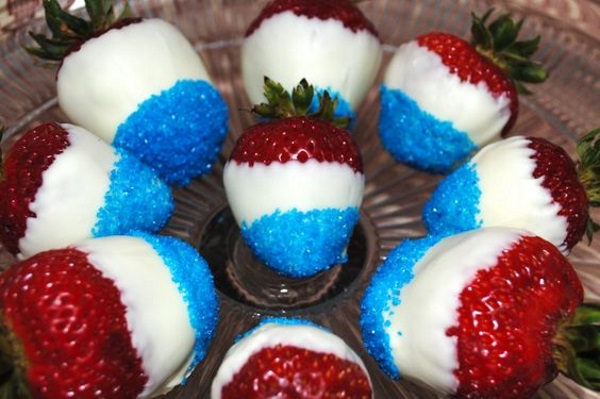 Go Red, White and Blue! Quick and Easy Fruit Kabobs for Your Fourth of July Celebration!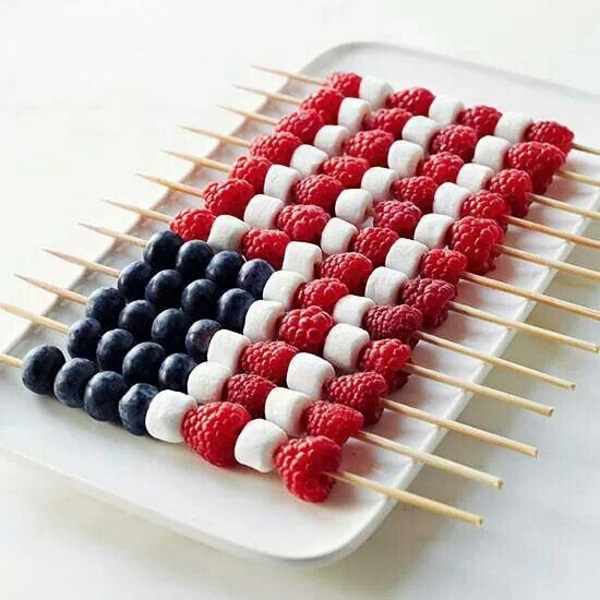 4th of July Candy display or could pass as a DIY Patriotic Lollipop Centerpiece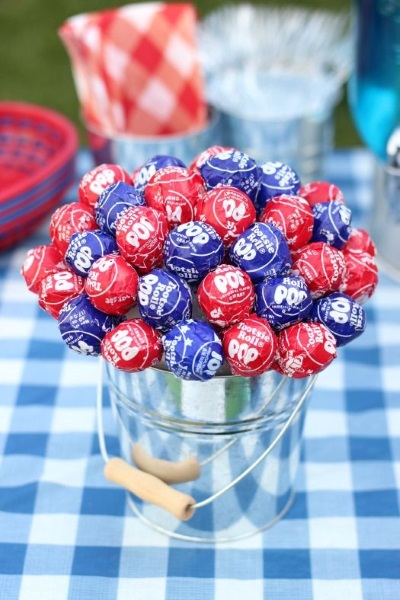 Make your party sparkle radical red, white and b'dazzled blue with these patriotic candies and DIY table decorations!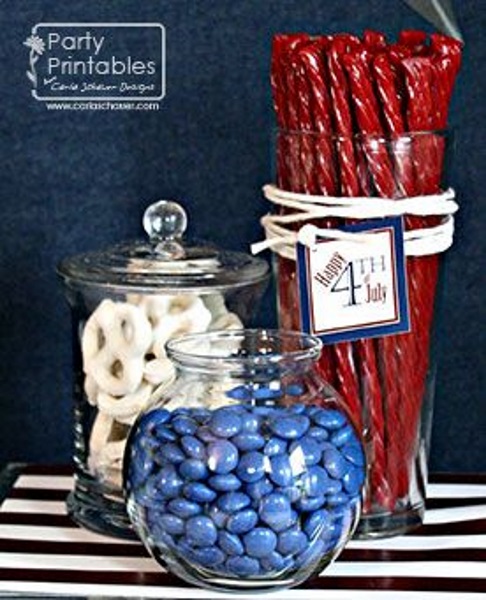 4th of July Breakfast ideas
Red White and Blue Deviled Eggs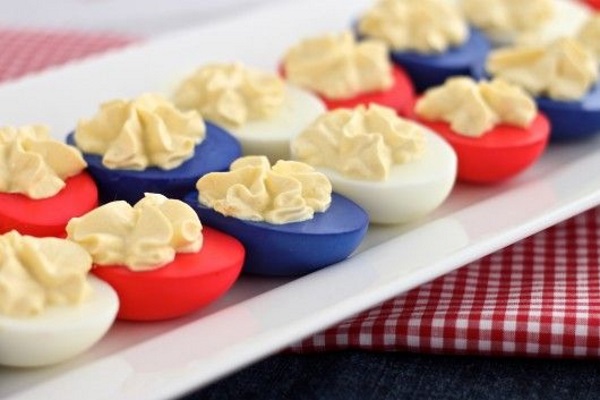 4th of July Firecracker Dogs, the perfect kid food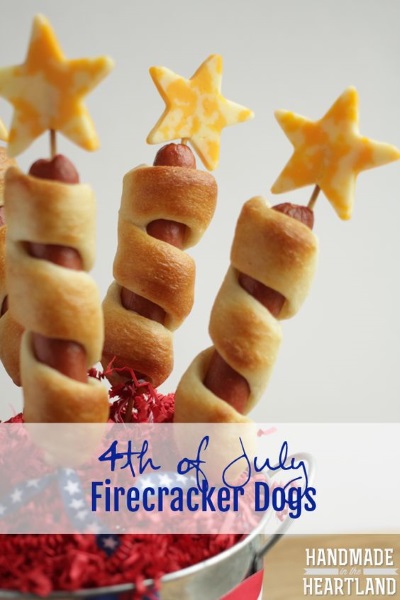 Red White and Blue Hot Dog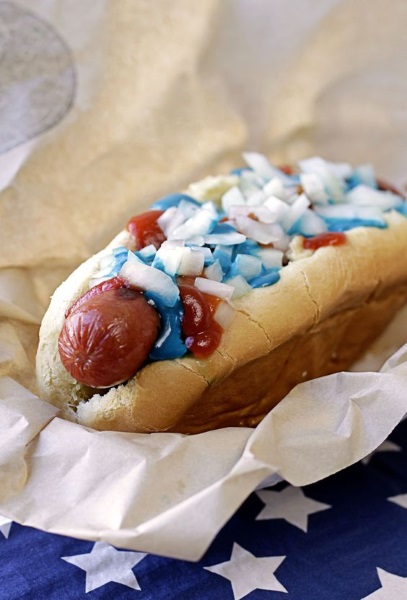 Firecracker Pancakes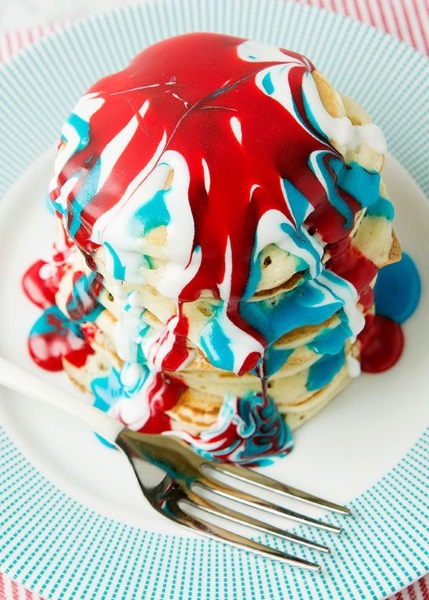 More of Fourth of July Dessert ideas
Fourth of July Cookie Treats, 4th of July Star Cookies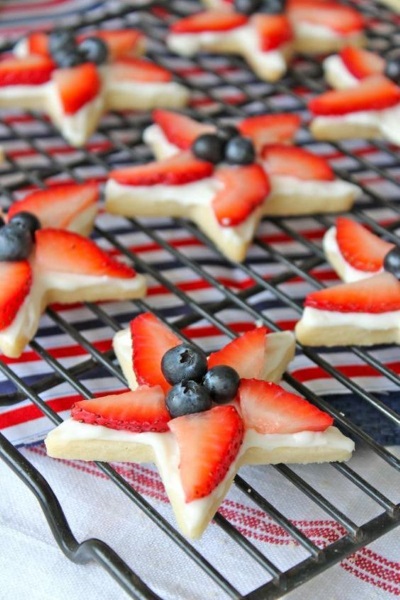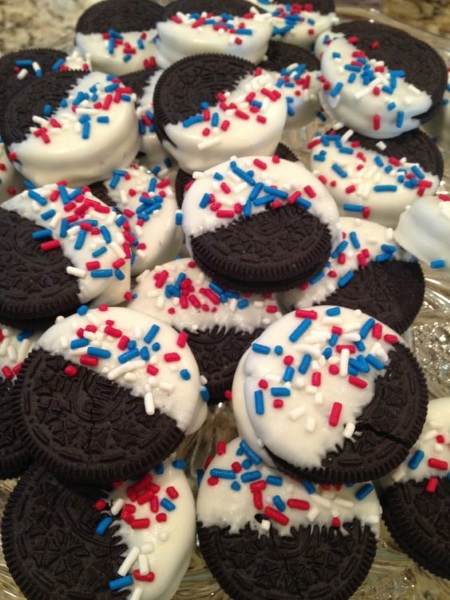 Patriotic Pretzel Bites are the perfect dessert for a 4th of July Party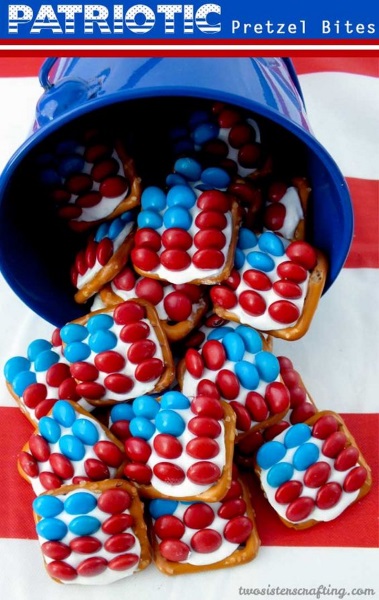 Patriotic Pinwheel Cookie Recipe

Red, White and Blue Chocolate Dipped Oreos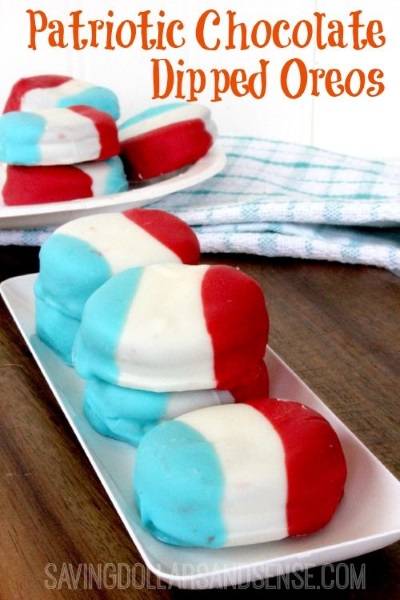 4th of July Bark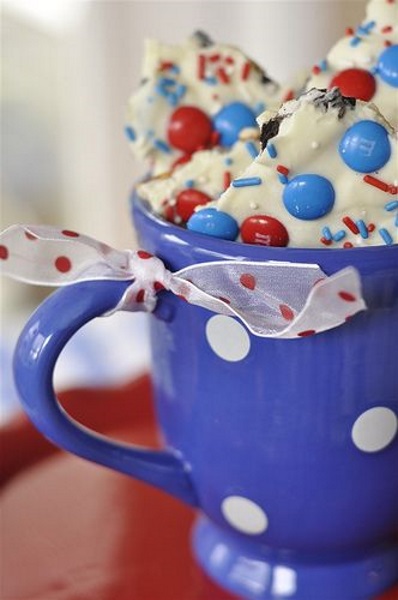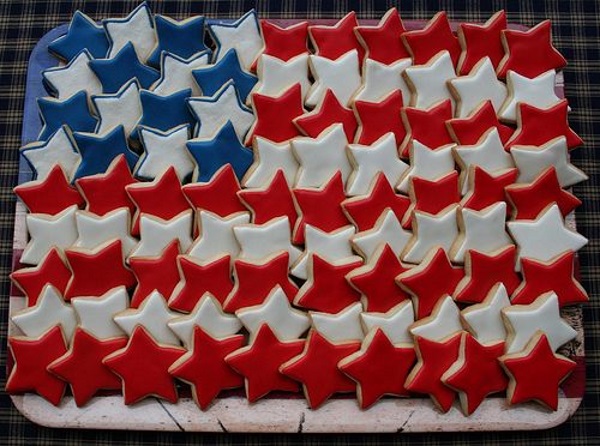 Fireworks Pudding Cookies

Pretzels are one of the most helpful instant dessert buddy when mixed with different sweets, creams, toppings and fillings!
Patriotic Caramel Pretzel Bites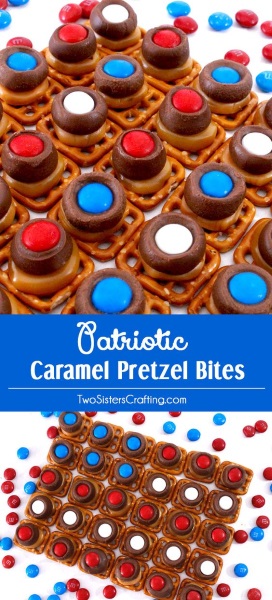 blue white and red dipped pretzels

Patriotic Cheesecake Pretzel Bites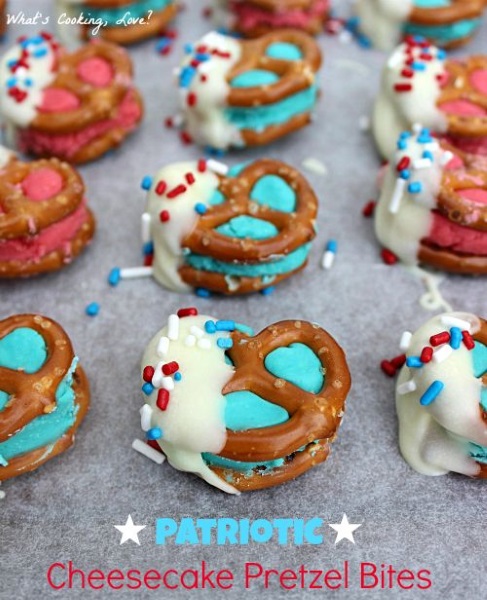 DIY Red, White and Blue Celebration Pretzel Sticks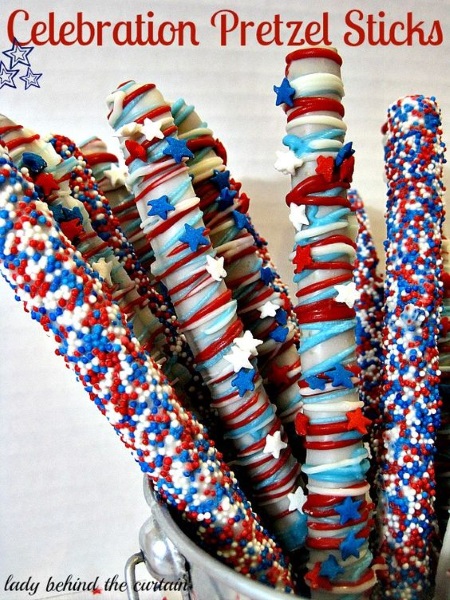 Blueberries , Pretzels & Strawberries make a good flag-designed dessert!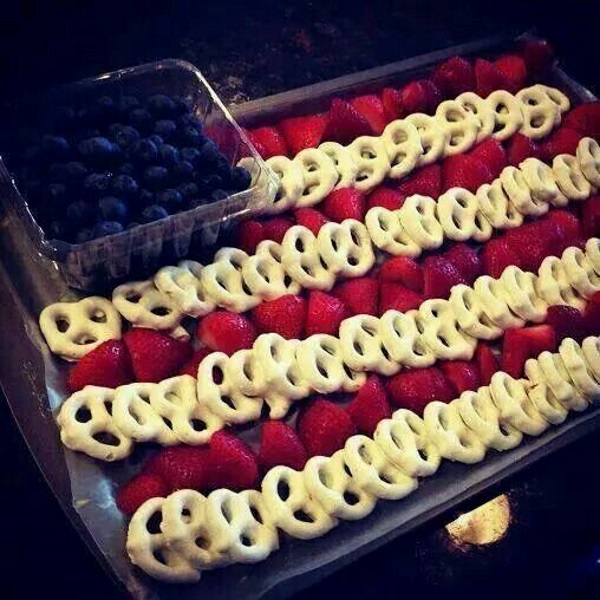 Bake Cake Batter Truffles are tasty bites of cake batter

4th of July Fudge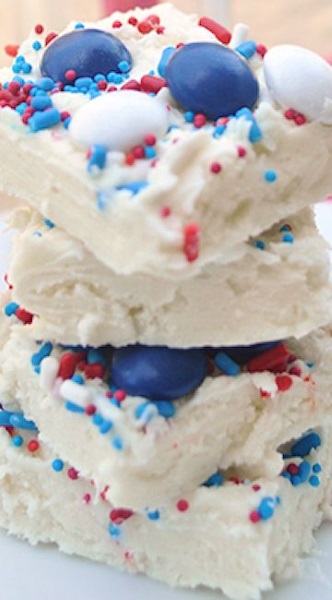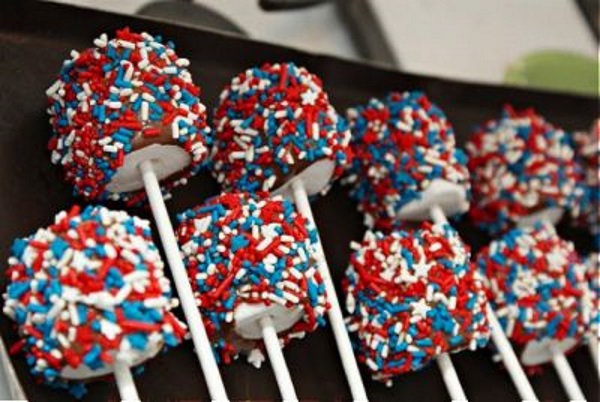 Patriotic Oreo Pops

4th of July Rice Krispie Treats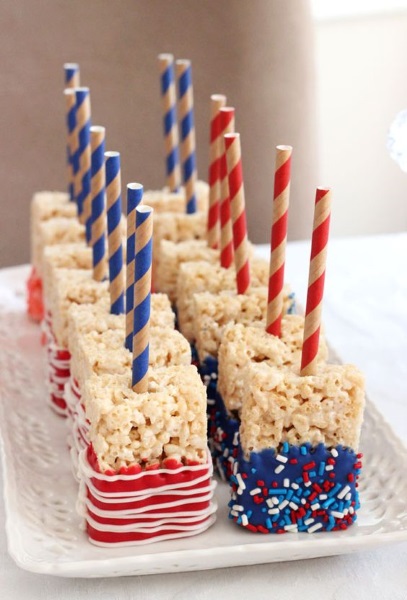 Love this fun twist on a old classic. The Patriotic Rice Krispie treats are so cute!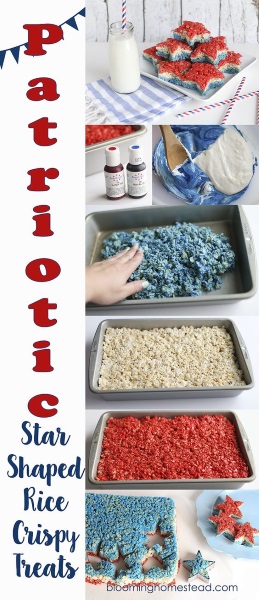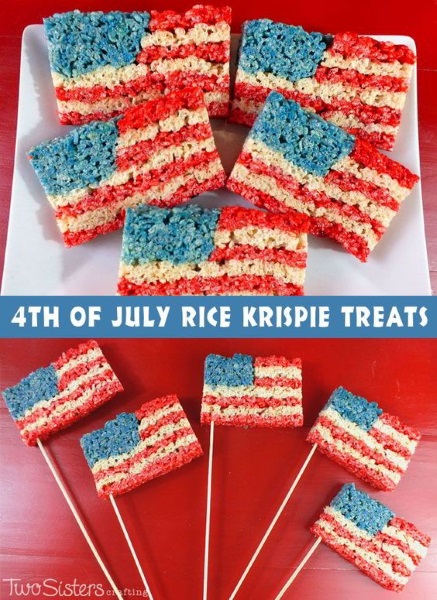 Firecracker Rice Krispies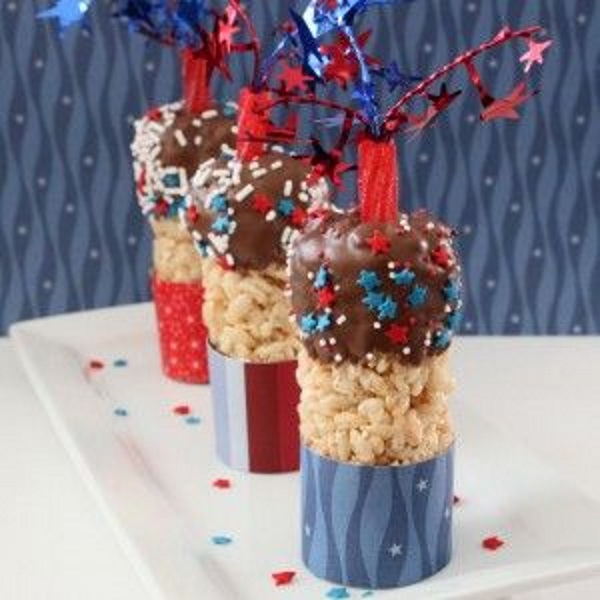 4th of July or Memorial Day pasta salad. Use red and blue food coloring in water when cooking the noodles.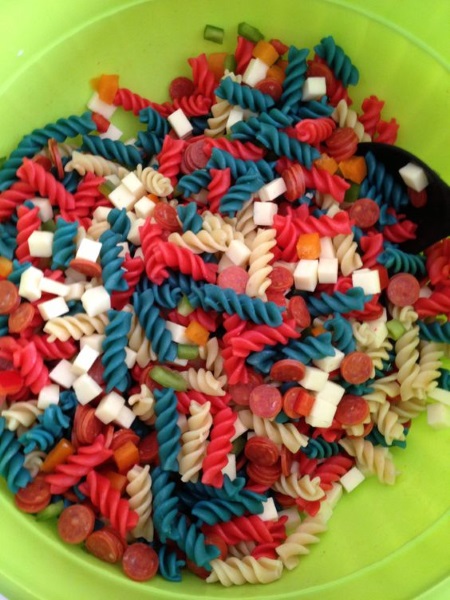 coconut water and fresh berry popsicles

These red white and blue Popsicle are made with berries and yogurt for a healthy and patriotic treat!!

4th of July Ice cream Bar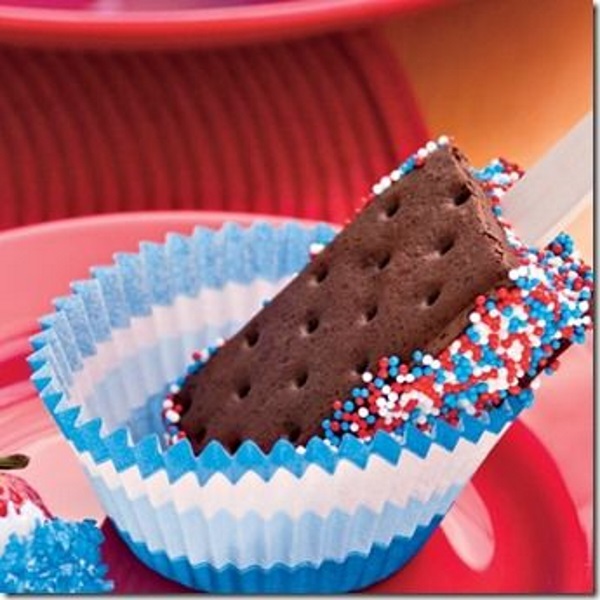 If you are serving up ice cream, cones would look good this way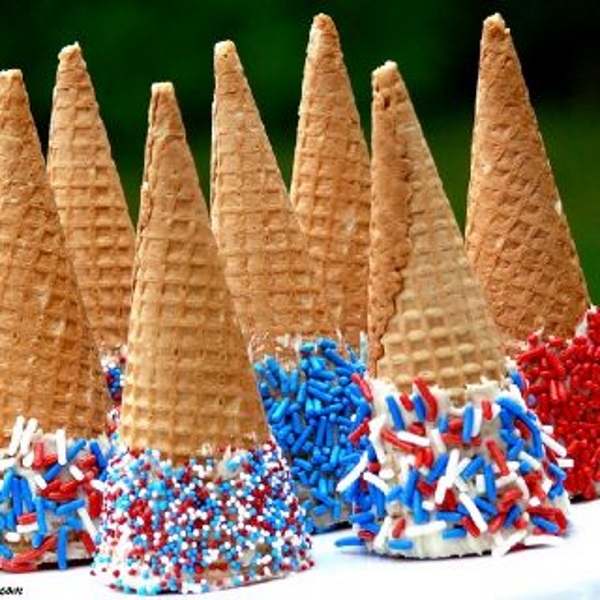 4th of July Kid-Friendly Ice Cream Cone Fruit Cups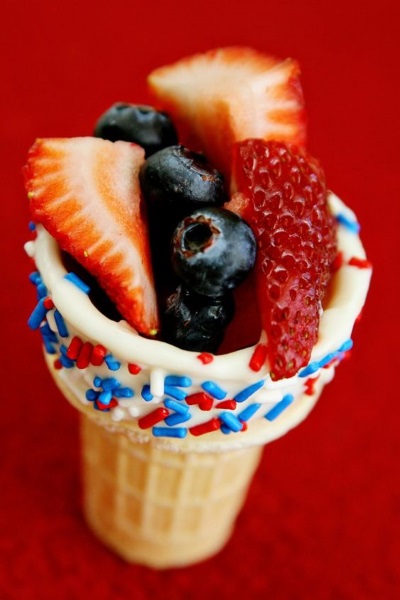 Ice Cream Cone Cupcakes- Super simple and fun dessert. Great treat for parties. Perfect for July 4th.

JELL-O Firecrackers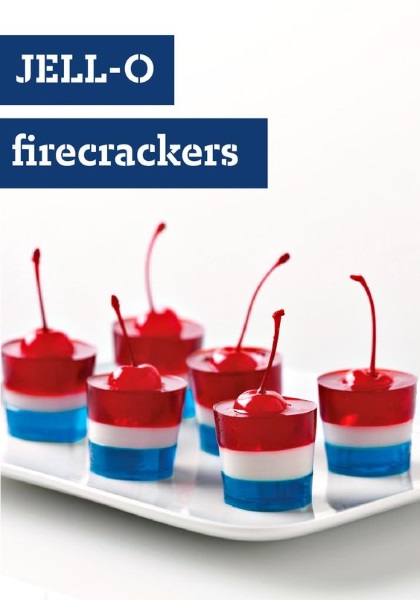 or serve Jello Shots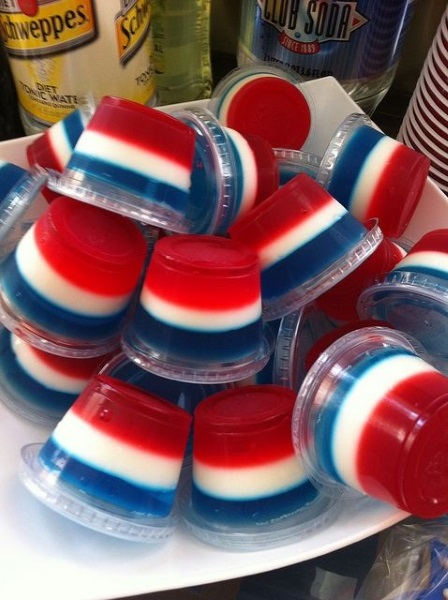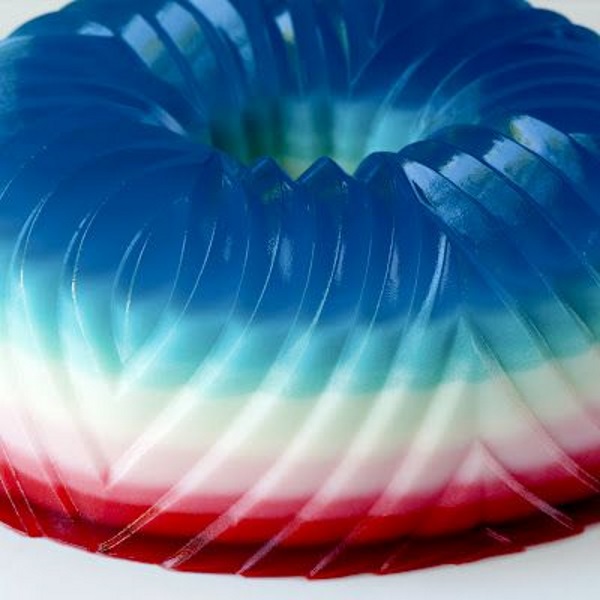 4th of July Blueberry Pie

Summer berries and a flaky butter almond pie crust create a perfect pie for the Fourth of July.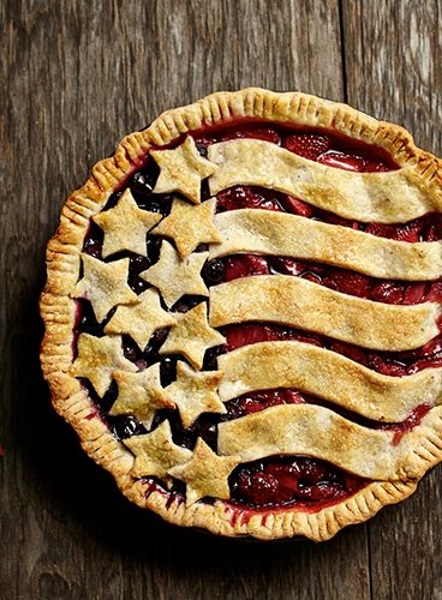 Taco Salad American Flag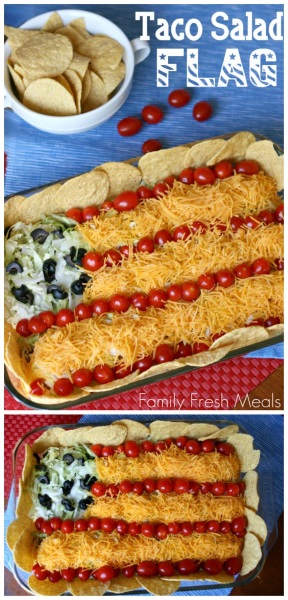 Firecracker Popcorn for the Fourth of July or Memorial Day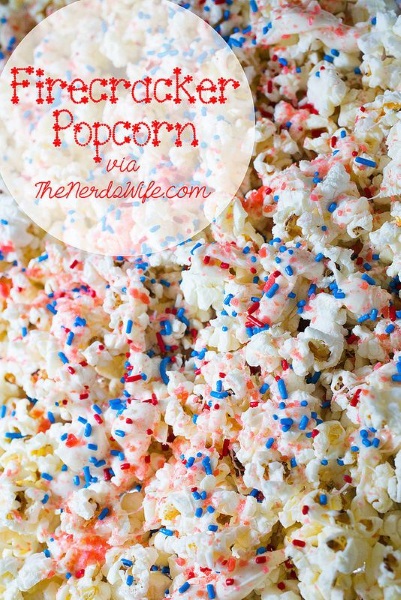 Fun patriotic popcorn balls!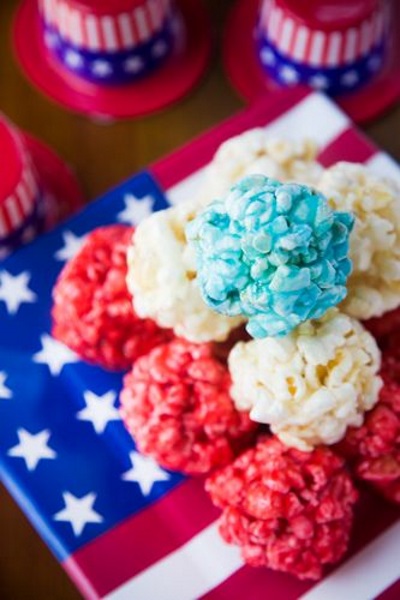 A no-bake blueberry trifle

4th of July Cupcakes with a Twist!
Serve festive Red, White, and Blue Cupcakes in wine glasses filled with candy for 4th of July, Memorial Day, Veteran's Day or patriotic event.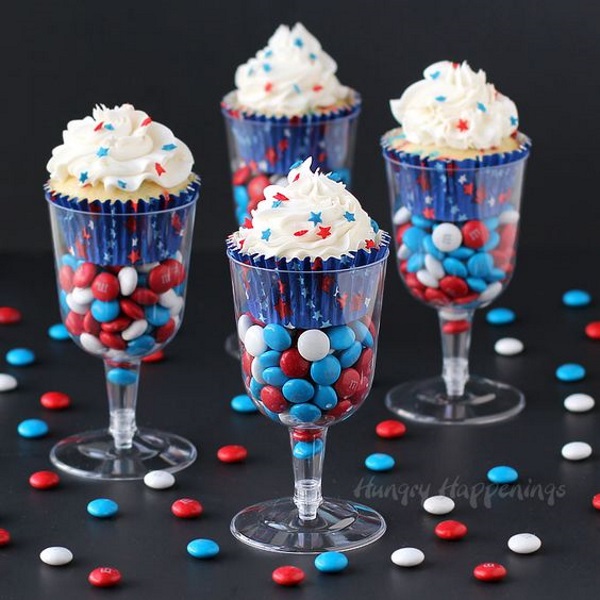 4th of July Red Velvet Cupckes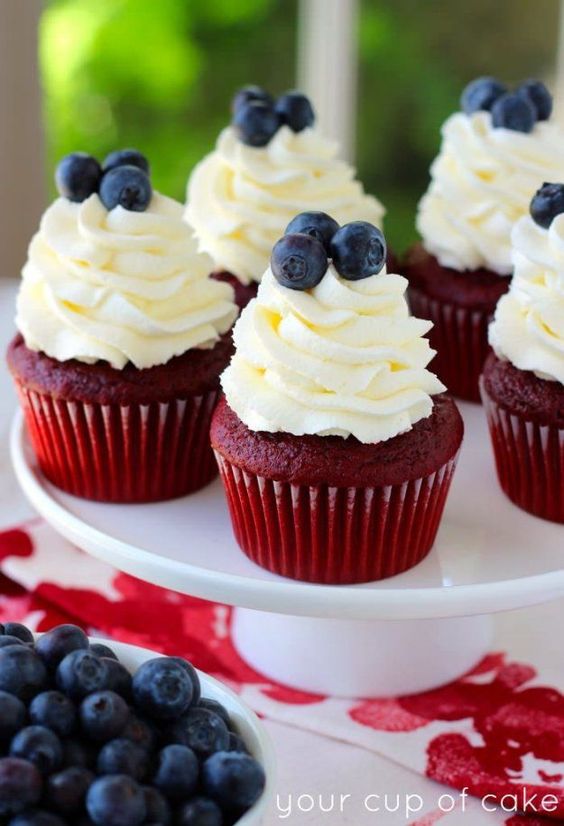 Twizzler Firecracker Cupcakes. So fun for a July 4th party! Perfect edible craft to make with the kids.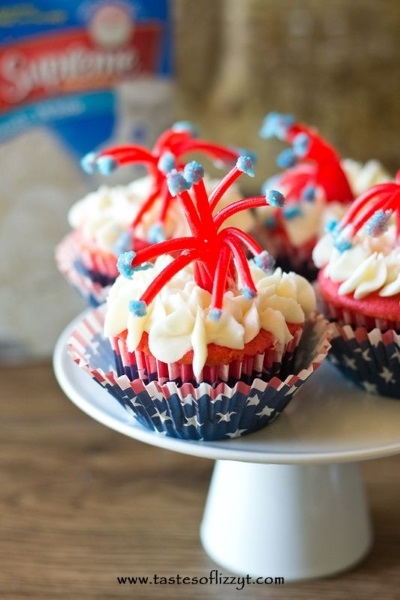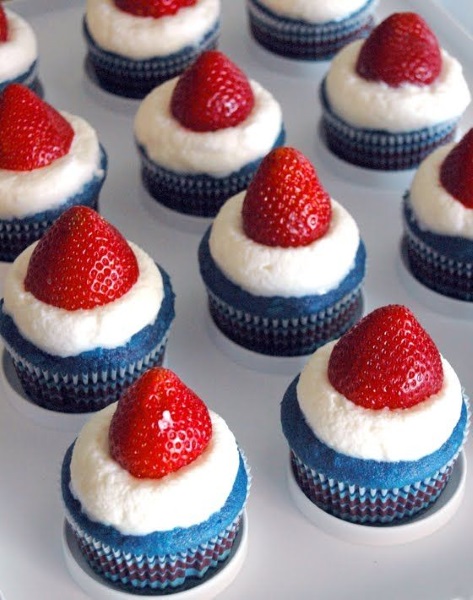 Celebrating the red, white, and blue with cupcakes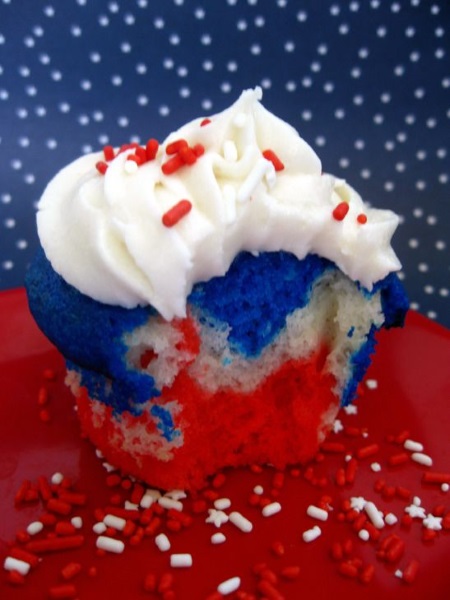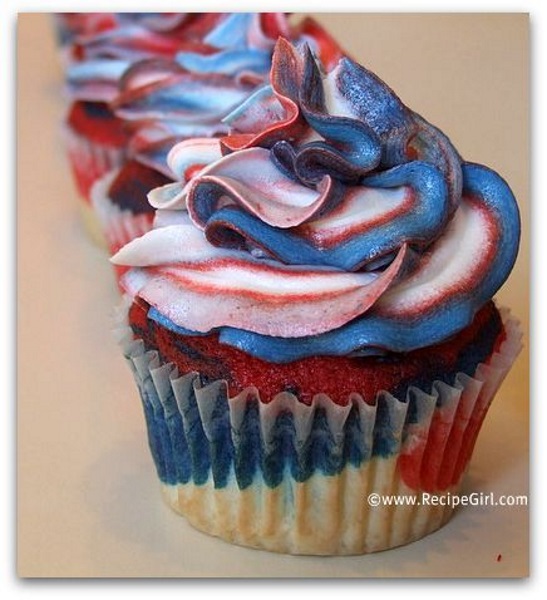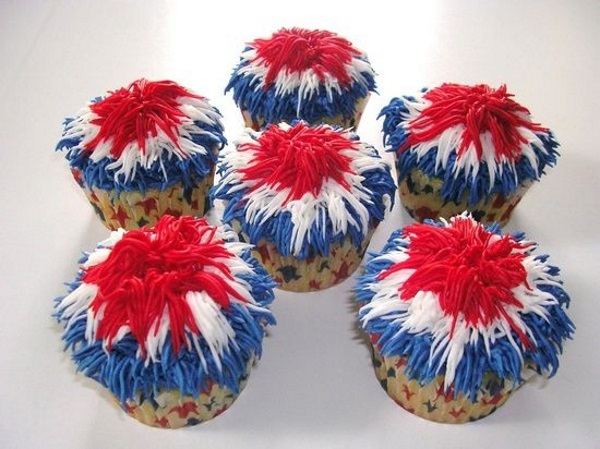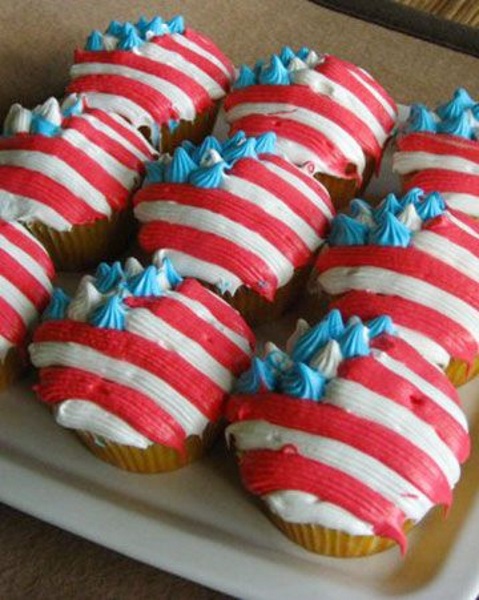 4th of july cupcakes like it's waving in the wind. Fun idea!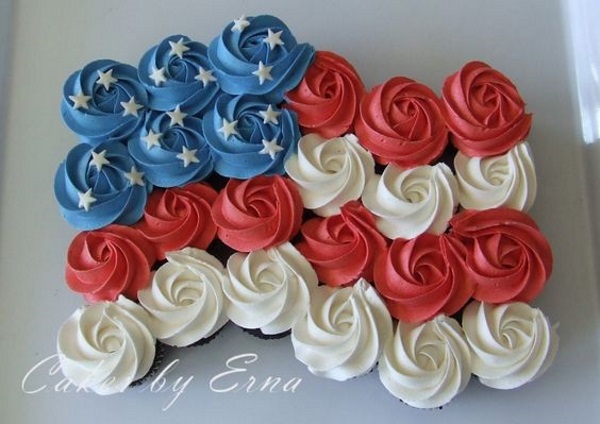 4th of July Strawberry Shortcakes!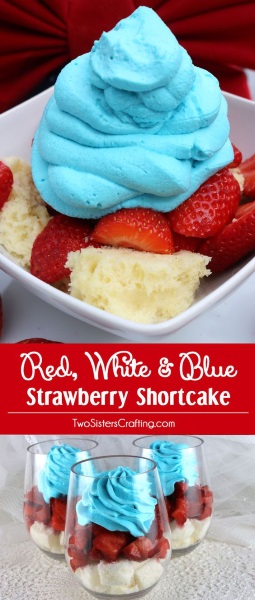 Show off your patriotic side with creative food ideas that may be simple but totally eye-catchers! Look at these 4th of July Cake ideas!
4th Of July Firework Mini Cakes

This M&M Flag Cake could not be easier to decorate and it is a great last minute dessert for a 4th of July party or a Memorial Day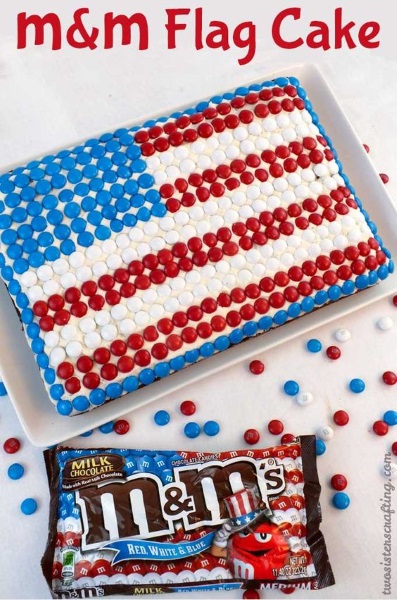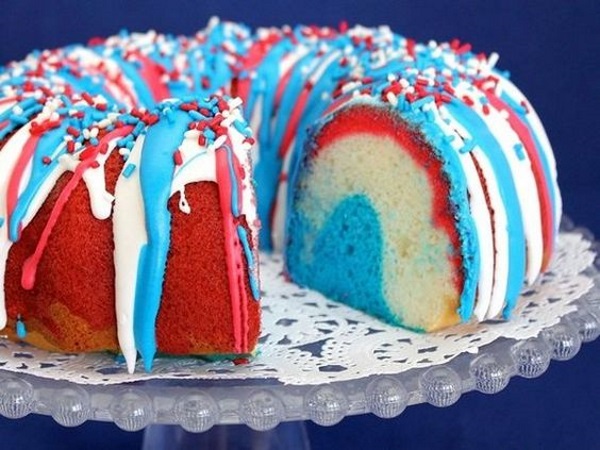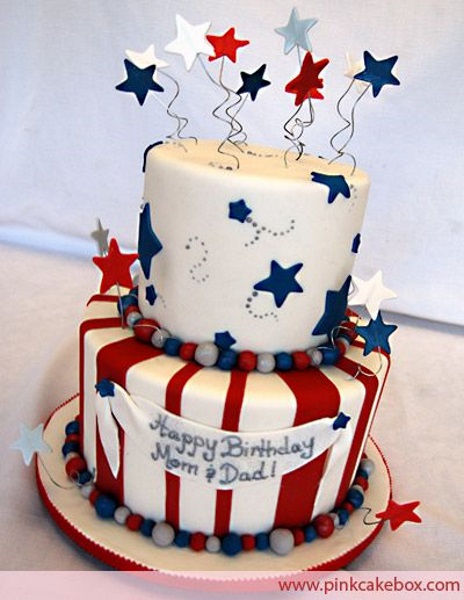 Recipe for Red, White and Blue Cheesecake Cake- a white cheesecake layer sandwiched between red and blue cake layers.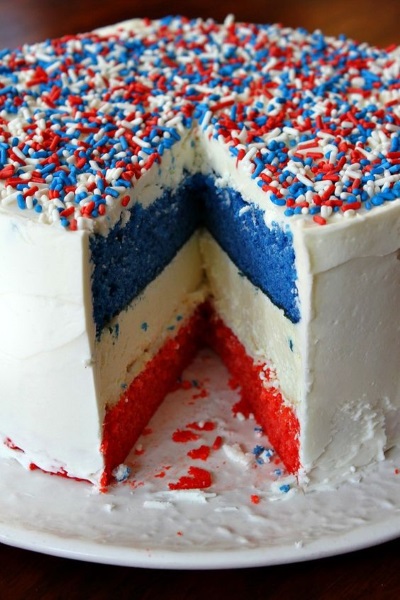 4th of July Treats and Eye Candy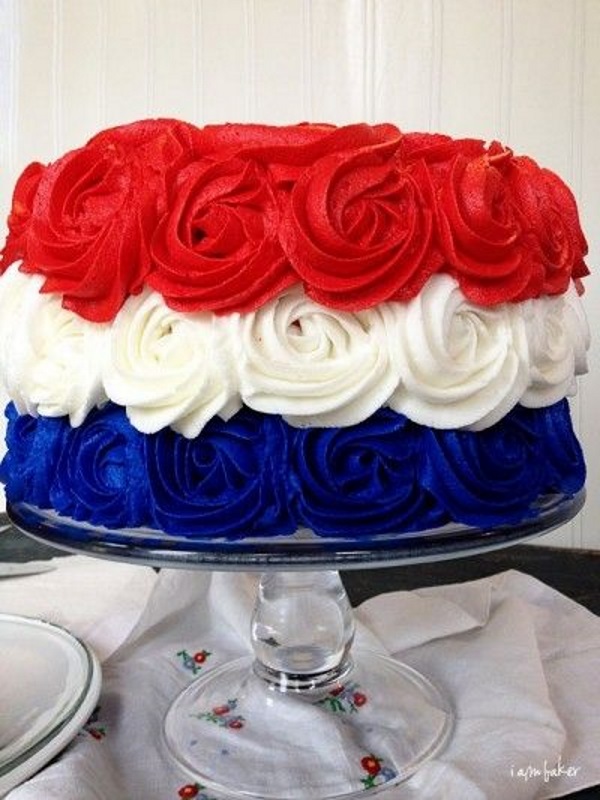 Flag Cake idea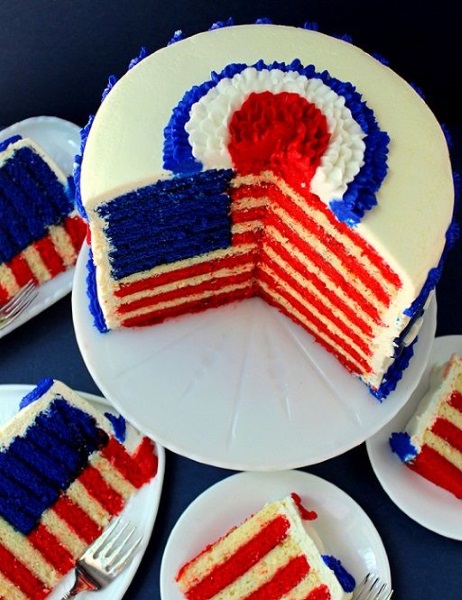 4th of July Drink Sprite and Red White and Blue KoolAid Ice Cubes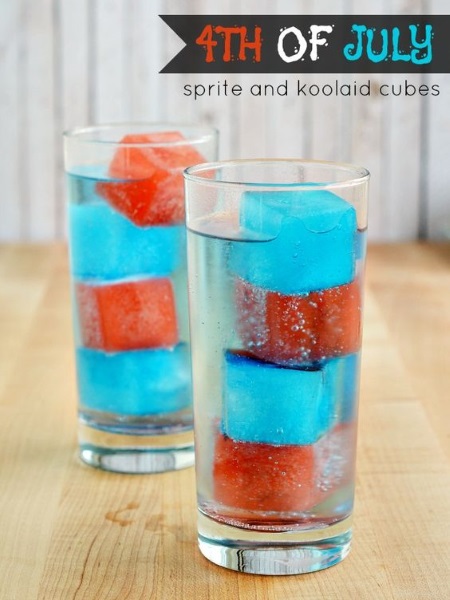 Nonalcoholic layered drinks for the 4th of July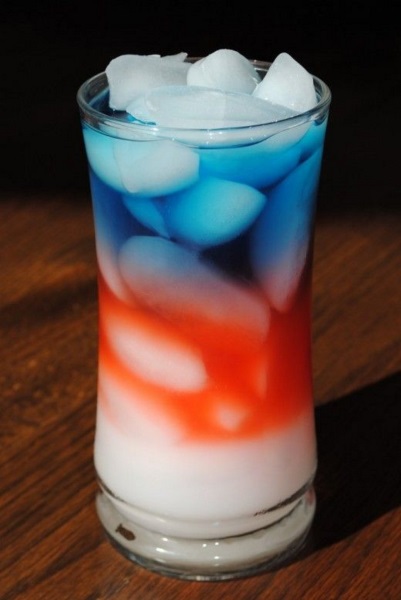 Nice try, fill mason jars with a blue drink then add star shaped watermelons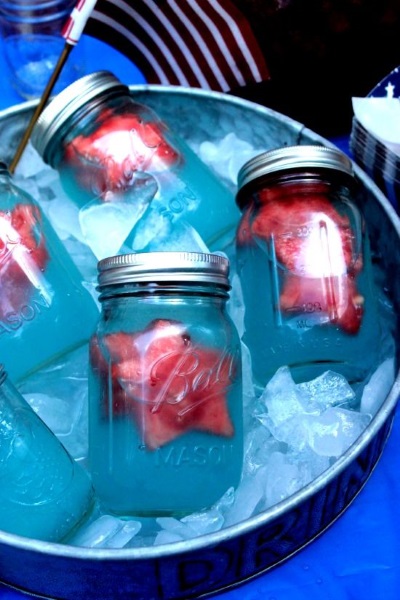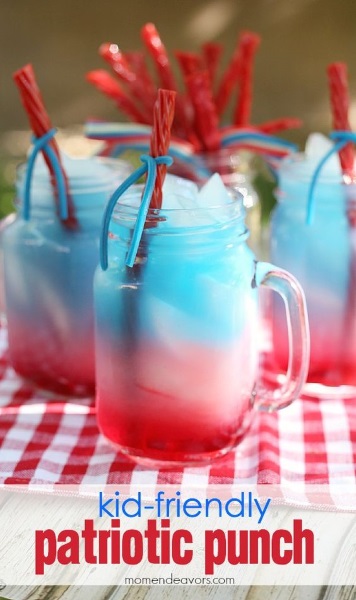 Time to get star-spangled hammered.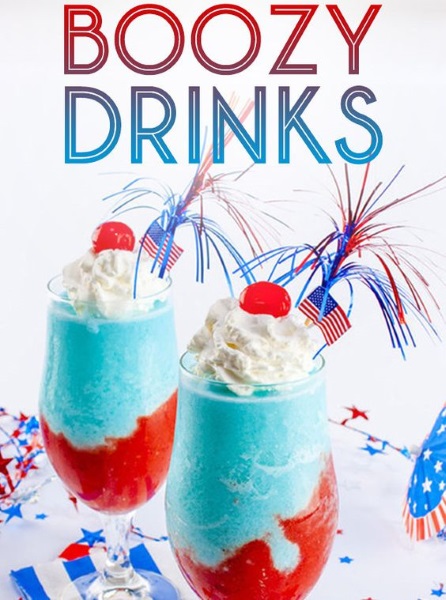 Layered drinks. The tips for getting those clear layers. So fun for Fourth of July or use other colors for other holidays!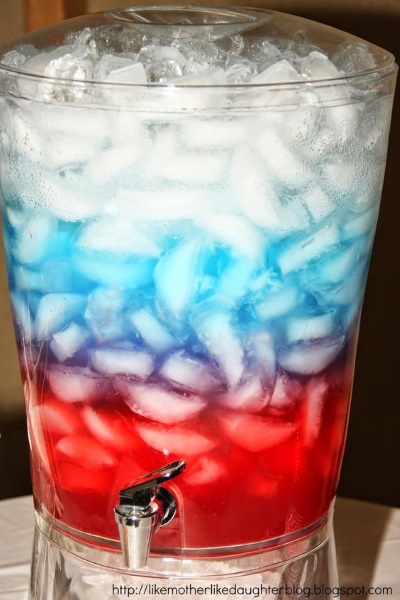 I'm sure these mouthwatering 4th of July food ideas made you crave for something sweet and yummy by the end of this collection. What's your favorite idea? Mine would be the watermelon stars since they look the easier of all. Next would be the dipped oreos and for the drink, I'd say the blue one with watermelon stars are the best! Do you have any other ideas that would fit this collection? Please write us below at our comment section and we might feature you here and on our Pinterest boards too. If you think this collection is worth sharing, then we would be grateful if you could like this page and post on your Facebook page, Twitter, Instagram or email us to your American friends who are foodist too!
The freedom every country has claimed is still worth celebrating every year. Be reminded of how our old generations fought for it and defended it for the longest time. Be brave and be proud, that your country is enjoying the independence it deserve not being a slave of other countries. To the Americans out there, advance Happy 4th of July! God bless America!