Preparing something cute, cool, unique, creative whether big or small for Mother's Day and Father's Day is a yearly task yet very fulling for me, I must put emphasize on that. It makes me happy that every little thing I do is appreciated, when in fact I was doing it for them to be appreciated. I listed lots of DIY Mother's Day gift ideas, but I was surprised myself to come up with something simple yet useful this year. Here's what I gave them. These are high quality sign pens tied on a nicely done bookmark/card with a very comforting bible verse. I didn't expect their reactions, it was sweeter and happier than the previous Mother's days we had.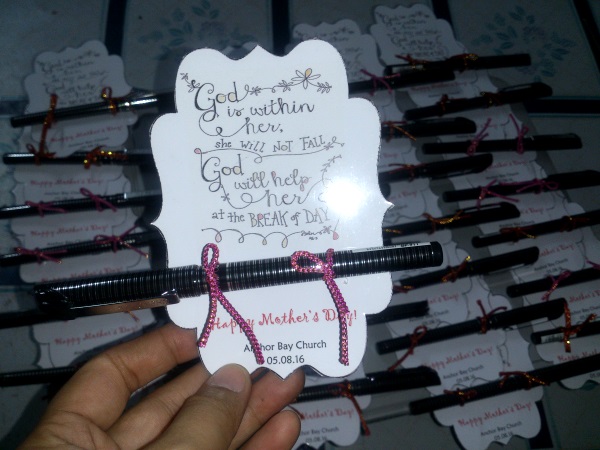 Fair enough, as early as now I'm browsing for Father's day ideas and decided to have a collection of Father's Day party ideas first. This would work well for gatherings at church, office, family reunion or in any way you would want to spend the appreciation of fathers. A tribute to the first love of every daughter and the superhero of every son. Dads may differ in personality- some are sweet while some may not be expressive to show their feelings but I know for sure they care and love in a way we (children) couldn't imagine. If you are thankful for having your father around, join me in my quest for the most adorable Father celebration ideas. If you're looking for a way to show Dad how special he is this Father's Day, why not decorate your home with stuffs that are associated with dads. This page would be useful if it happens to be your dad's birthday celebration too!
The decorations may depend on every dad's personality. For a working office dad, have some neck tie or bow tie, a macho dad with superhero decors, a dad who loves fishing could have fishing decorations, a dad who loves golf could have Father's day golf party, a prim and proper dad could have Tuxedo decorations but generally dads could be represented by mustache. That would be fun and you might find some interesting decors from Little Man Party Ideas I created in the part. I also think checkered, stripes and polka dots are the best patterns for him.
You might also be interested in our other collections:
Father's Day Backdrop / Father's Day Decoration Ideas
Those are necktie banners over there with "Happy Father's Day" lettering suits well with brown background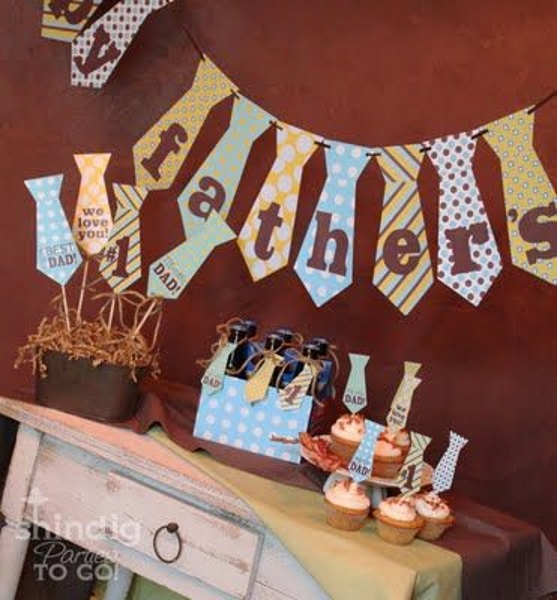 A Tropical Father's day celebration won't make him less manly. Without pink and red, I think the red, mint green and white are very refreshing.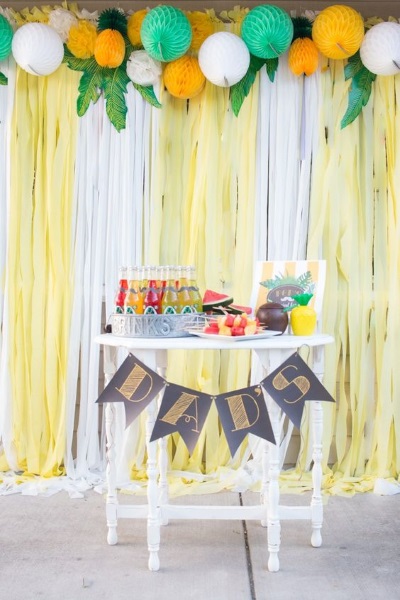 Cute father's day printable, displays and decoration stuffs

For a daddy who loves fishing with the family, he will surely enjoy this theme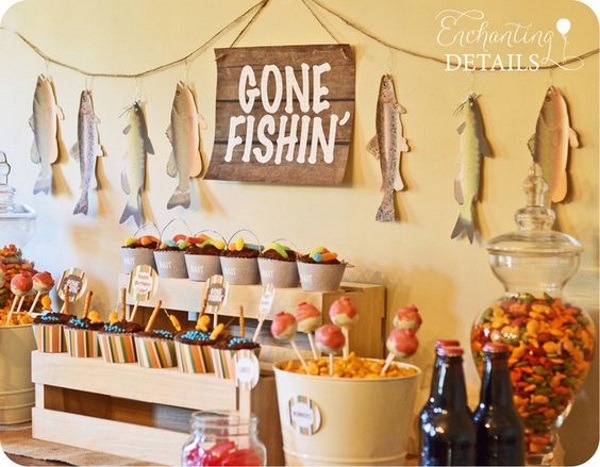 Excellent Fishing Birthday Party Ideas or Father's Day idea. Look at those gummy worms!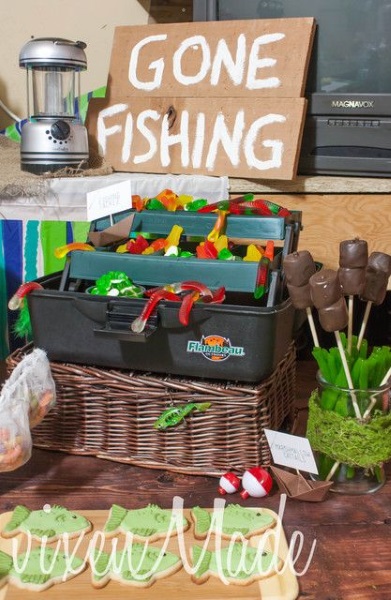 The paddles, the lamp and the wood are awesome props too!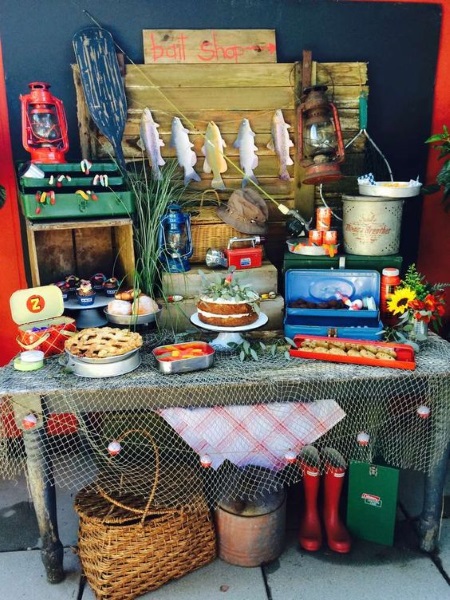 Simple Father's Day Decoration ideas. Show how much you love your dad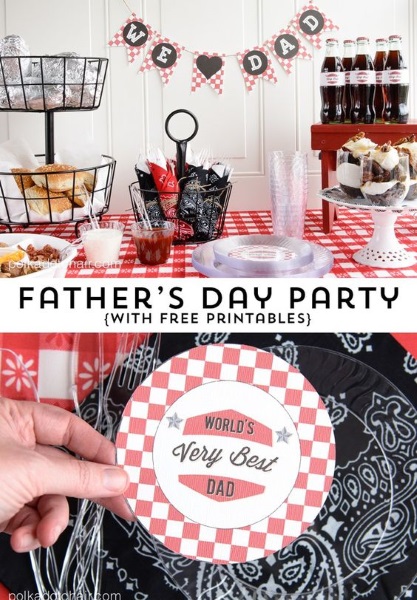 Another Father's Day Buntings and banners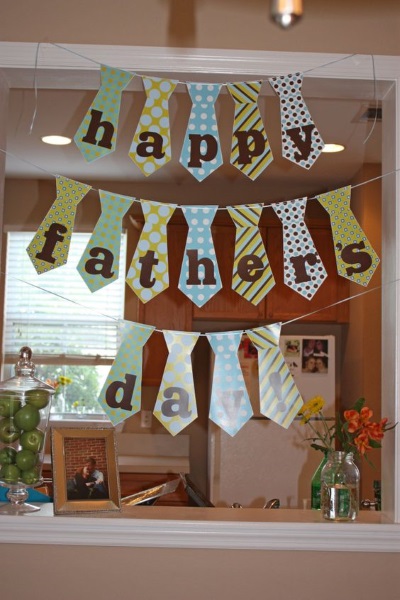 I told you the stripes, checkerd , zigzag and polka dots are any of dad's favorite pattern especially when it's blue or green.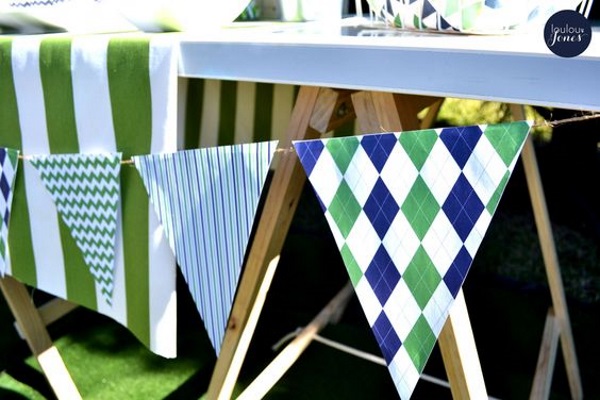 Clip photographs of your daddy, using the very helpful clothespin. He would surely reminisce on these memories.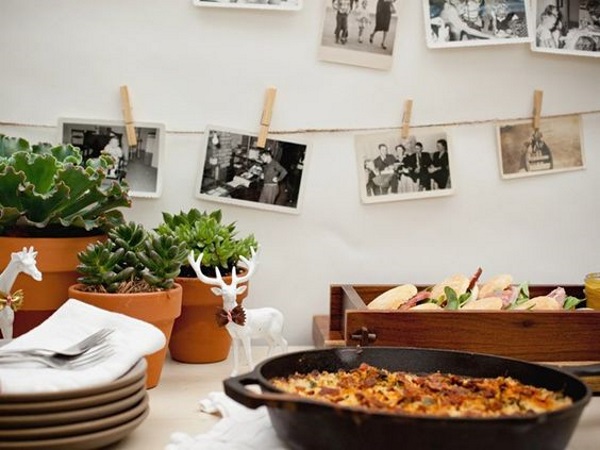 There you go, the necktie and mustache together!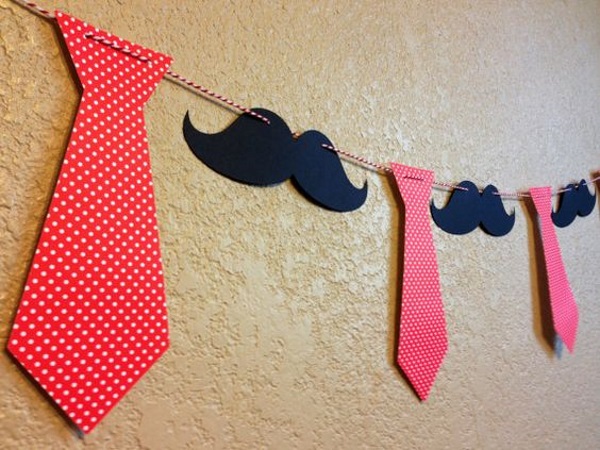 How about a Father's Day wreath made of neckties?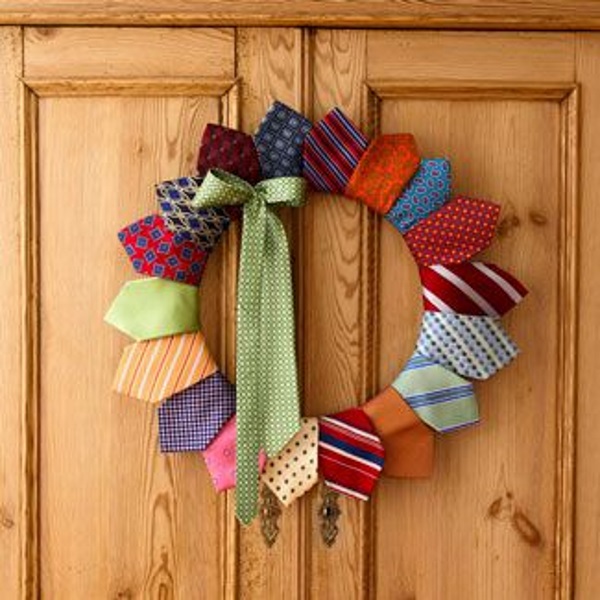 A Father's Day poster. Such a cute idea! Have the kids write on it.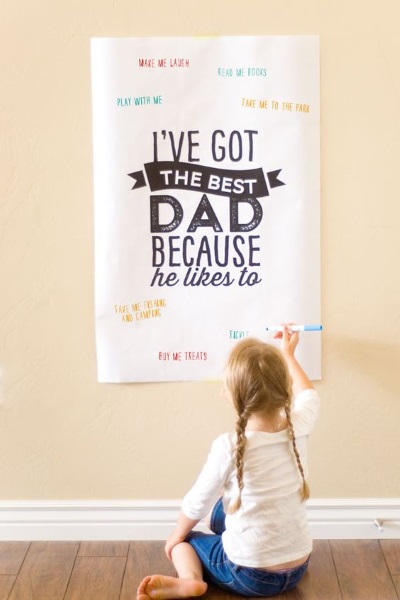 Photo board of your family members! Nice wall decoration for the party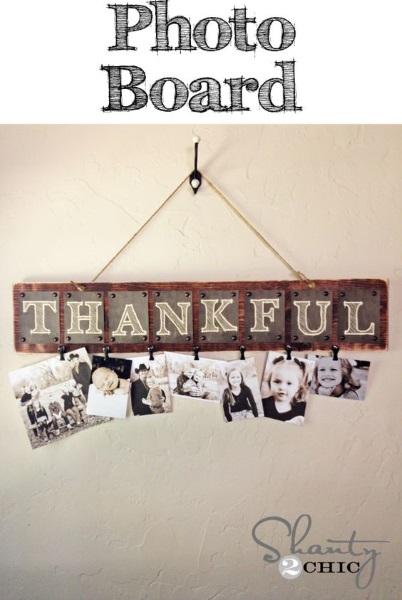 Superhero Centerpieces for a dad who always bring out the heroic personality in him.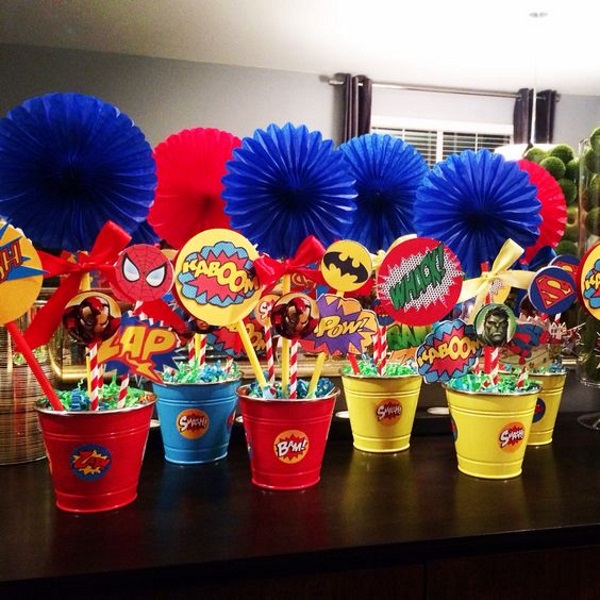 Father's Day Party Centerpiece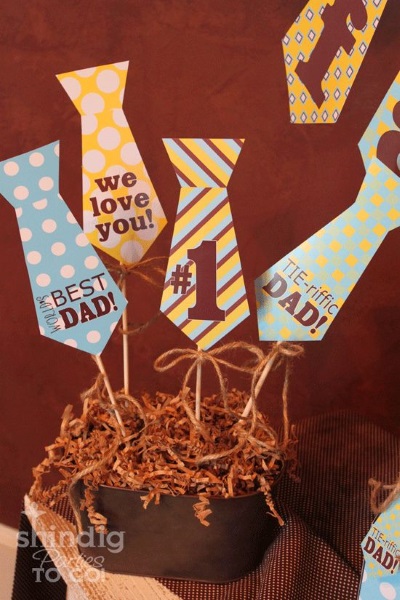 Looking for an easy and fun way to decorate the table for Father's Day? Look no further than these cute reused Dad's root beer bottle…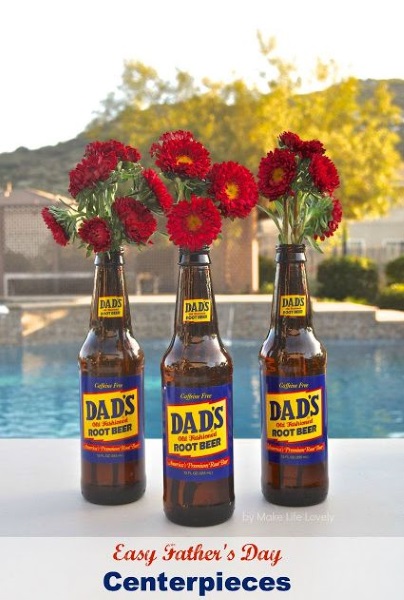 You can either have bow tie or mustache for the guests to use as props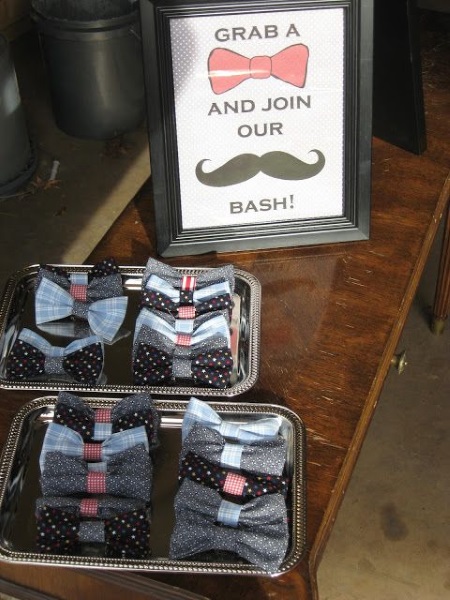 A huge table decoration for a Superhero Father's day party
Bow tie table setting for Father's Day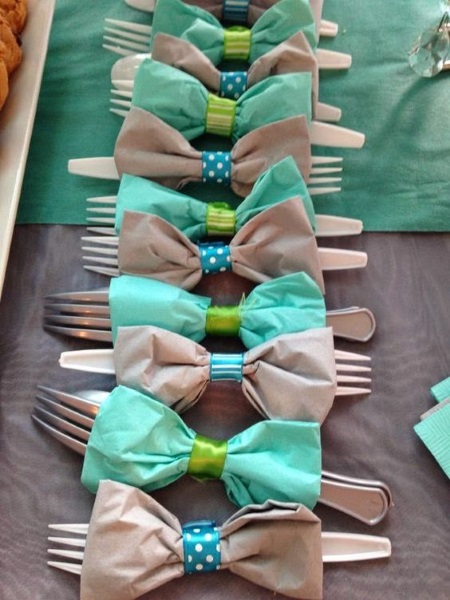 Make Dad feel extra-special by folding a napkin to mimic a necktie.

Dress the Cola's with neckties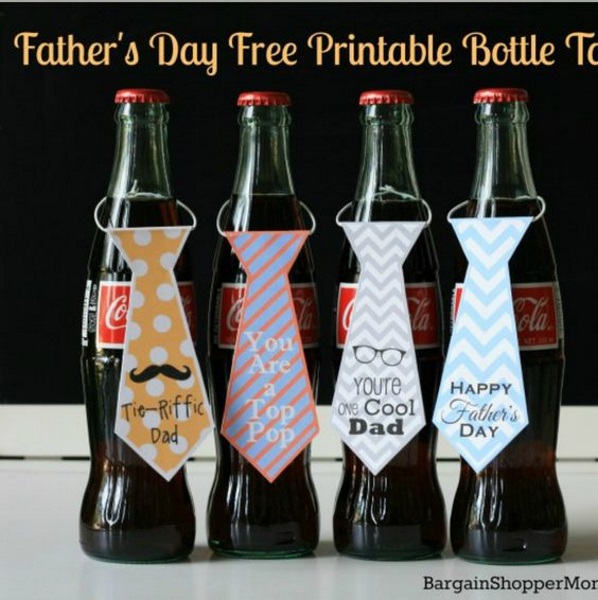 Or dress the drinks with bow tie!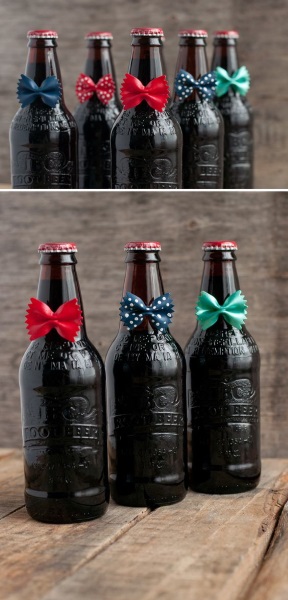 How about hanging some sweet notes like this?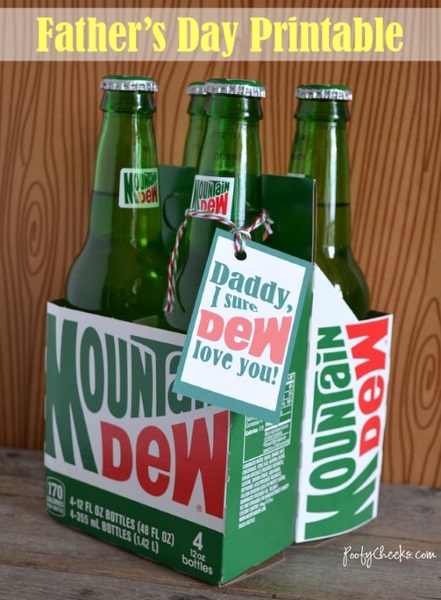 National Champ dad, for a father who loves watching baseball!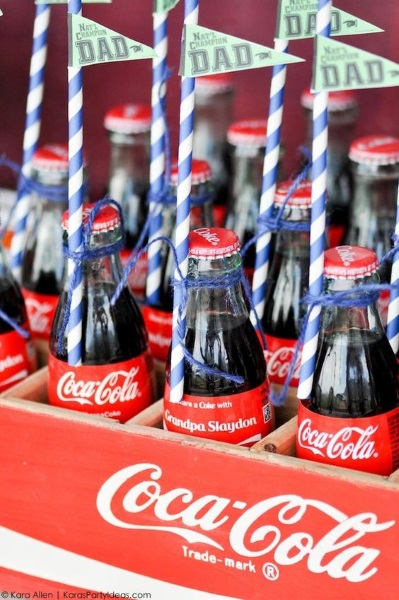 Father's Day is just around the corner and Dad deserves something sweet and yummy. These are few Father's Day food ideas!
Father's Day Fishing Cupcake ideas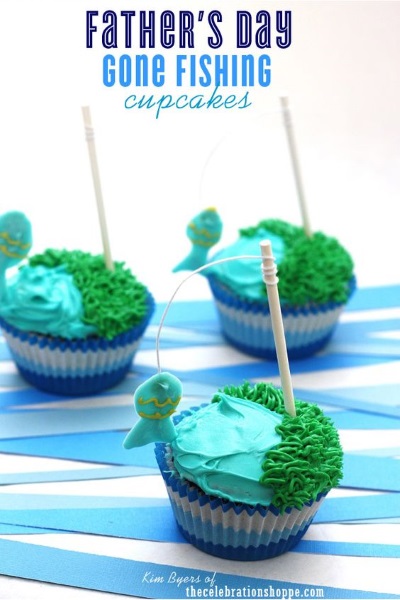 Grill Cupcakes dessert to help you celebrate!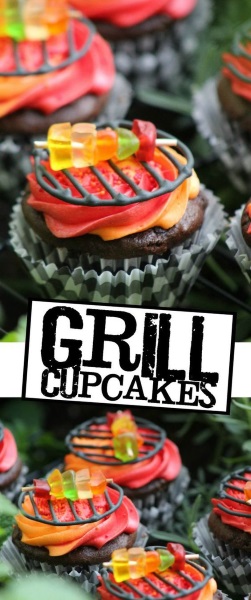 Father's Day Lawn Mower Cupcake
Father's Day Cupcake designs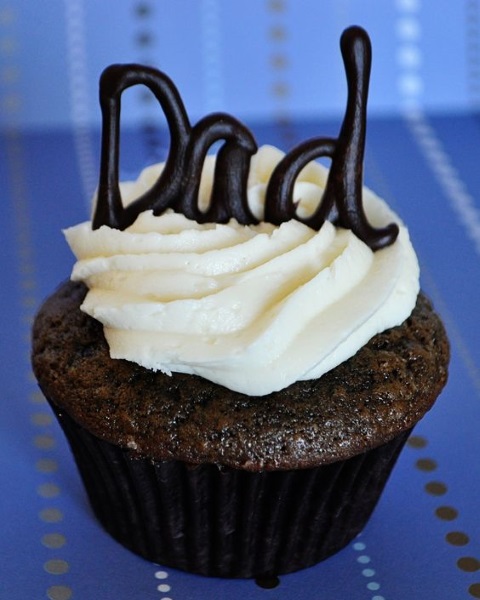 Father's Day cupcake with necktie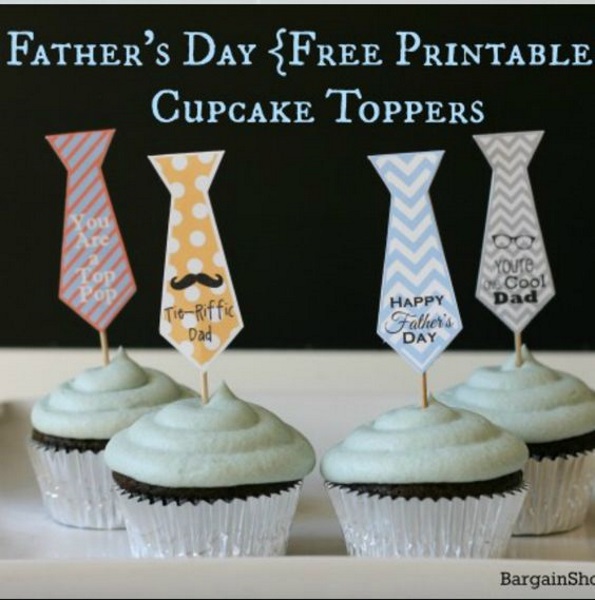 Father's Day Cake Ideas
Here's a fishing father's day cake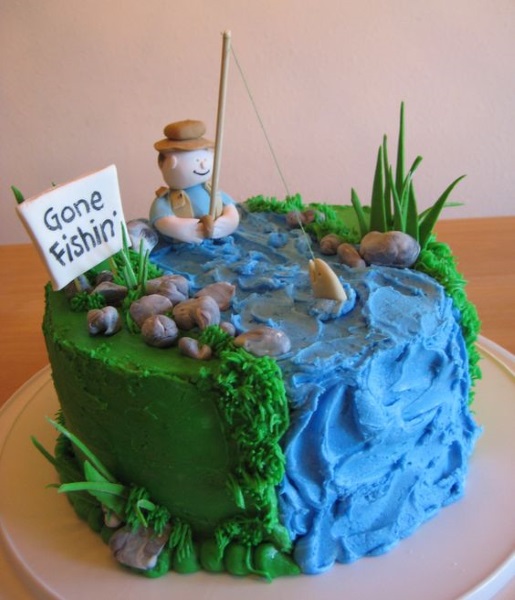 Or a Father's day cake design for a dad who loves dirty job like construction and gardening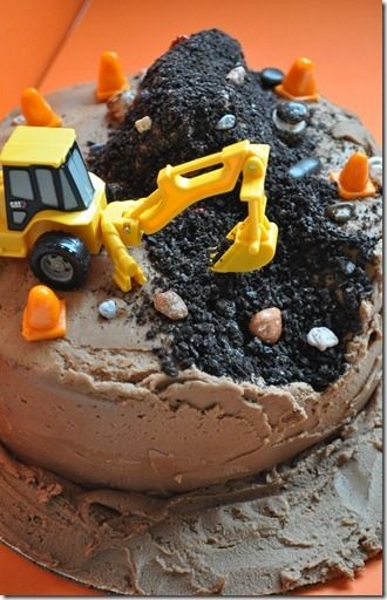 Mustache Cake for Father's day!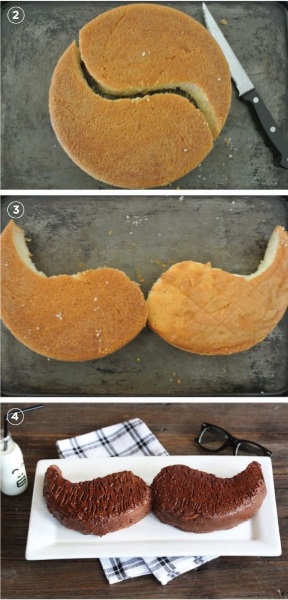 We adore this grassy lawn Dad cake for Father's Day!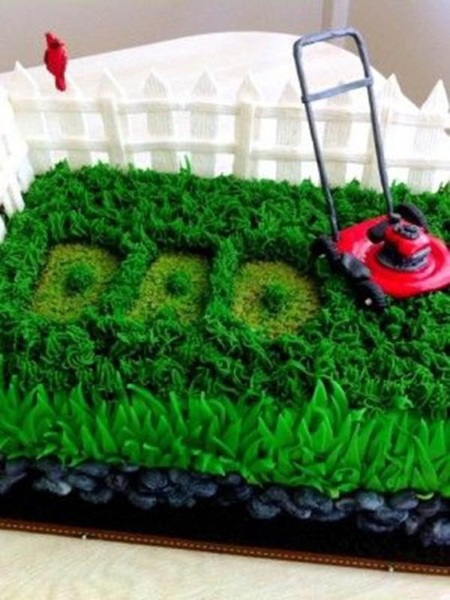 A coffee design cake for a dad who is coffee addicted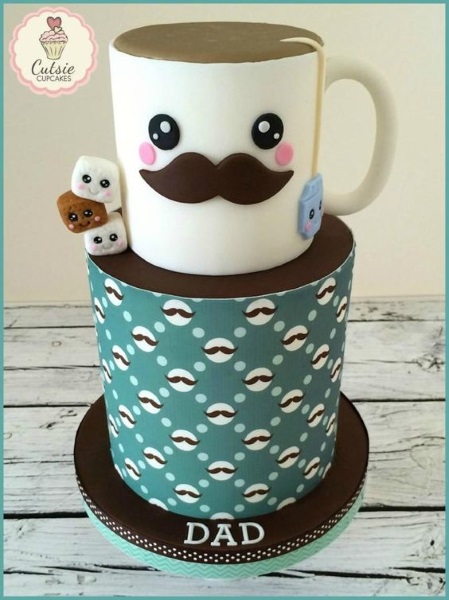 Superman Cake or FATHERS DAY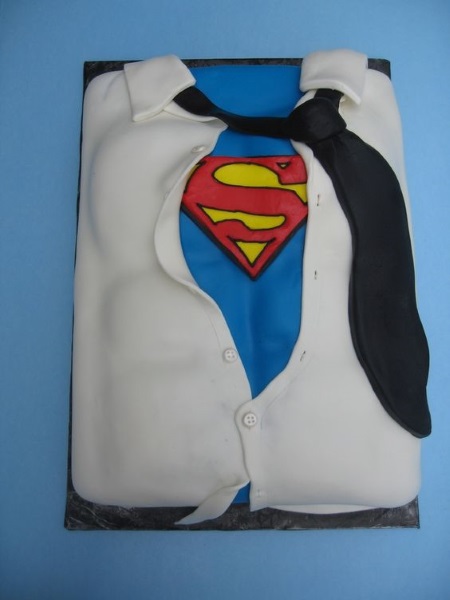 Bow tie cake for your beloved daddy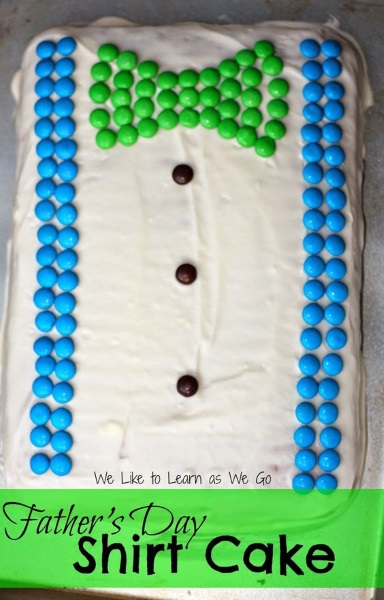 Tuxedo Strawberries, aren't these cute? I don't even wanna eat them 😀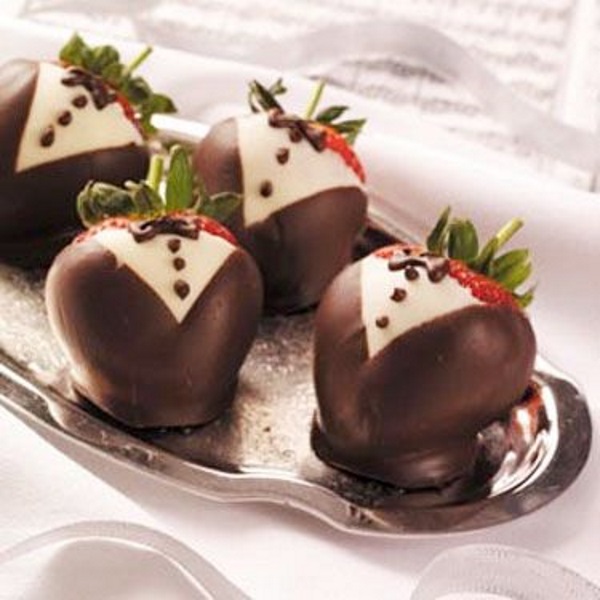 Celebrated in class and style with these healthy Father's day snack
Hot dog Sandwich Tuxedos that look gorgeous in their formal attire.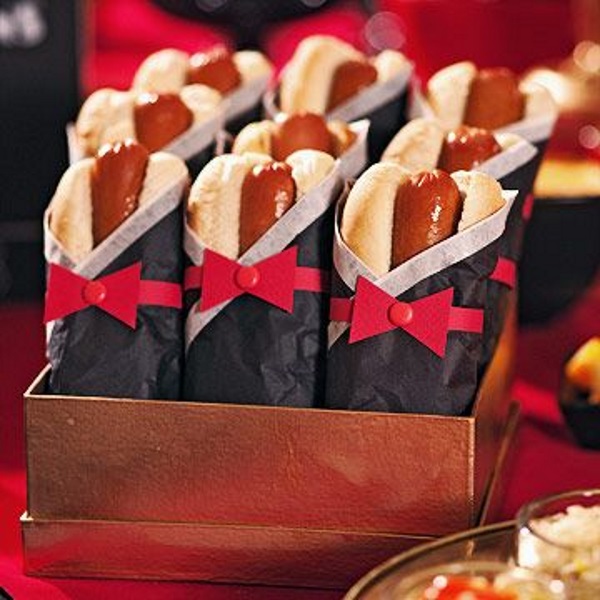 Dads would love this burger-looking cupcakes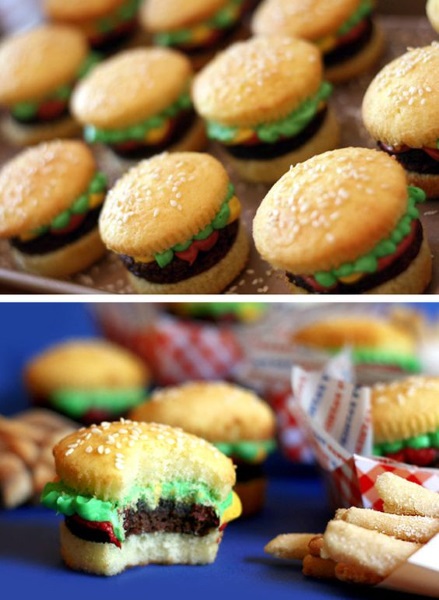 Father's Day would be much enjoyable even for the younger guests with the help of these designed cake pops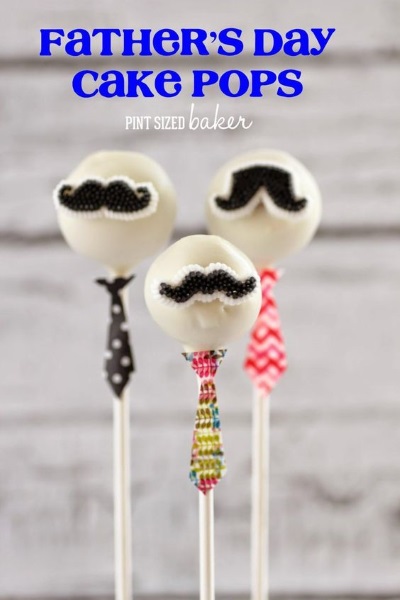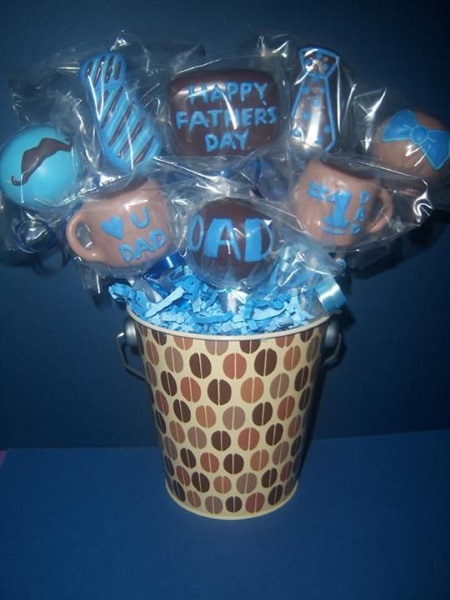 Or use unique containers to entertain the guests!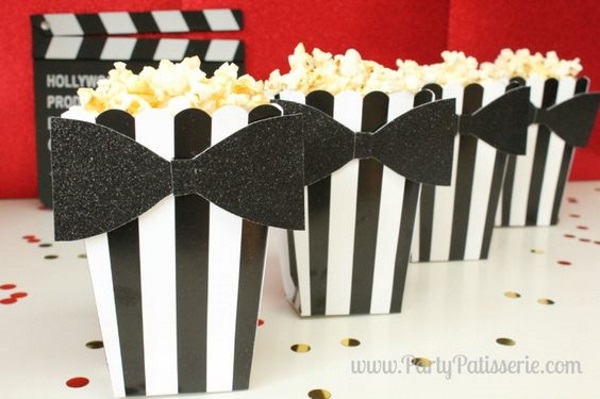 Superman Father's Day Party Ideas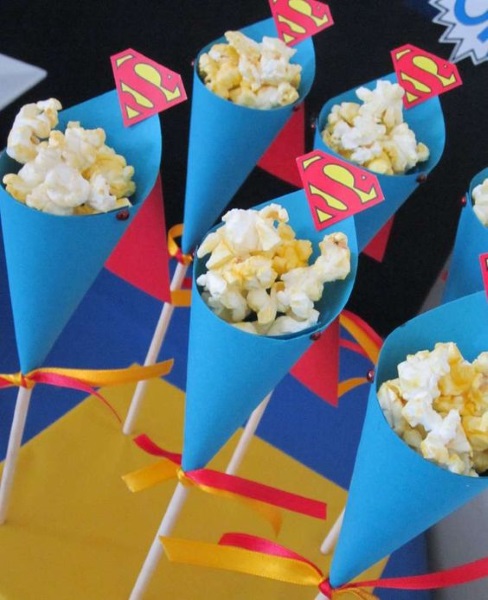 For the fishing Dad's day, here are cute fishing rod with bait of gummy worms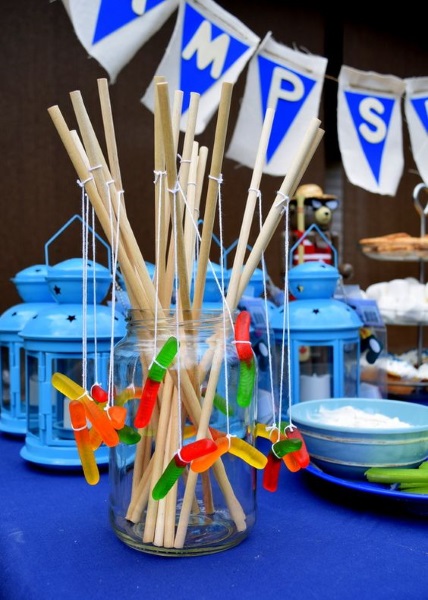 Love cakes? Forget about your boring old chocolate cake and have this awesome idea for grown ups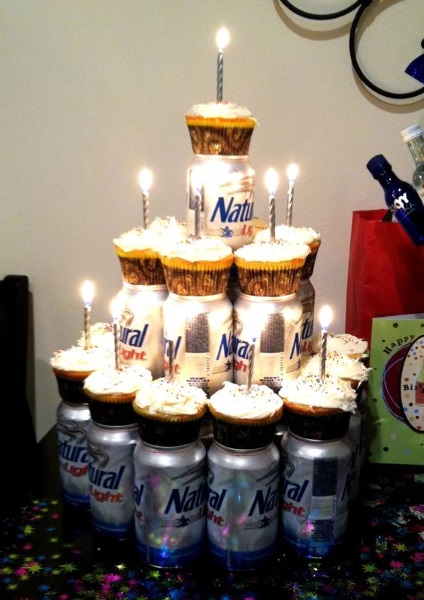 A "cake" that your fathers or husband would really celebrate for!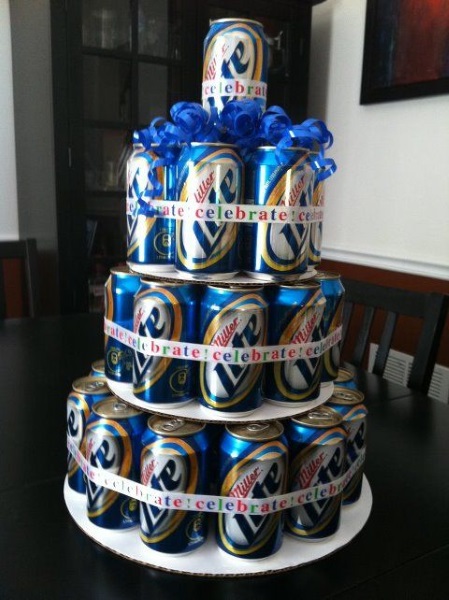 If you could spend few moments for a game, try this indoor golf.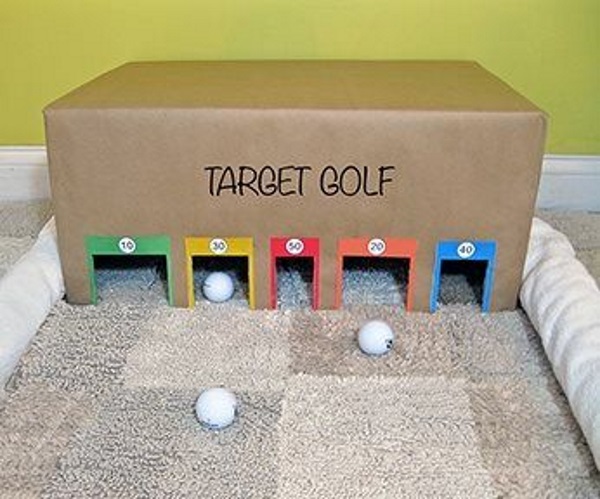 If you have lots of dads in the party, this is a cheap yet sweet Father's day giveaway idea. Let them know how you "SUPER" love them for being super dads!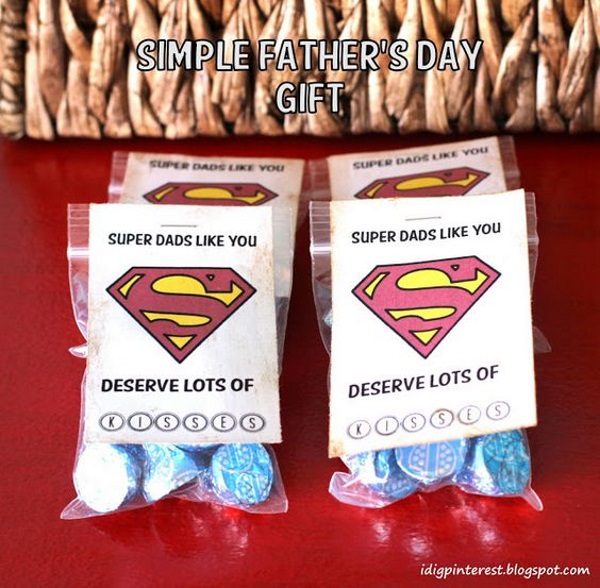 Have you finally decided which ideas would be perfect for your own? I guess the coffee theme would be just right! My dad drinks not less than 3 mugs a day. Take note, not cup but huge mugs! If you think this page is interesting, you can share us via your Pinterest, Instagram, Twitter and Facebook. If you have more ideas and would love to be featured here, leave a message on our comment section. Let's help each other in making the best Father's day tribute we could every try. Our dads deserve a day of celebration too, for their hard work, patience and love for the family. Send my greetings to your dad – "Happy Father's Day & God bless him with strength and joy in everything he does!"